This article may contain affiliate links; if you click on a shopping link and make a purchase I may receive a commission. As an Amazon Associate, I earn from qualifying purchases. 
Change in weather, preparing for BlogHer and other vacations, and spending the majority of last summer in a bulky cast has caused me to do some clothing shopping! Here's what I've tried and which things were fails and which were wins: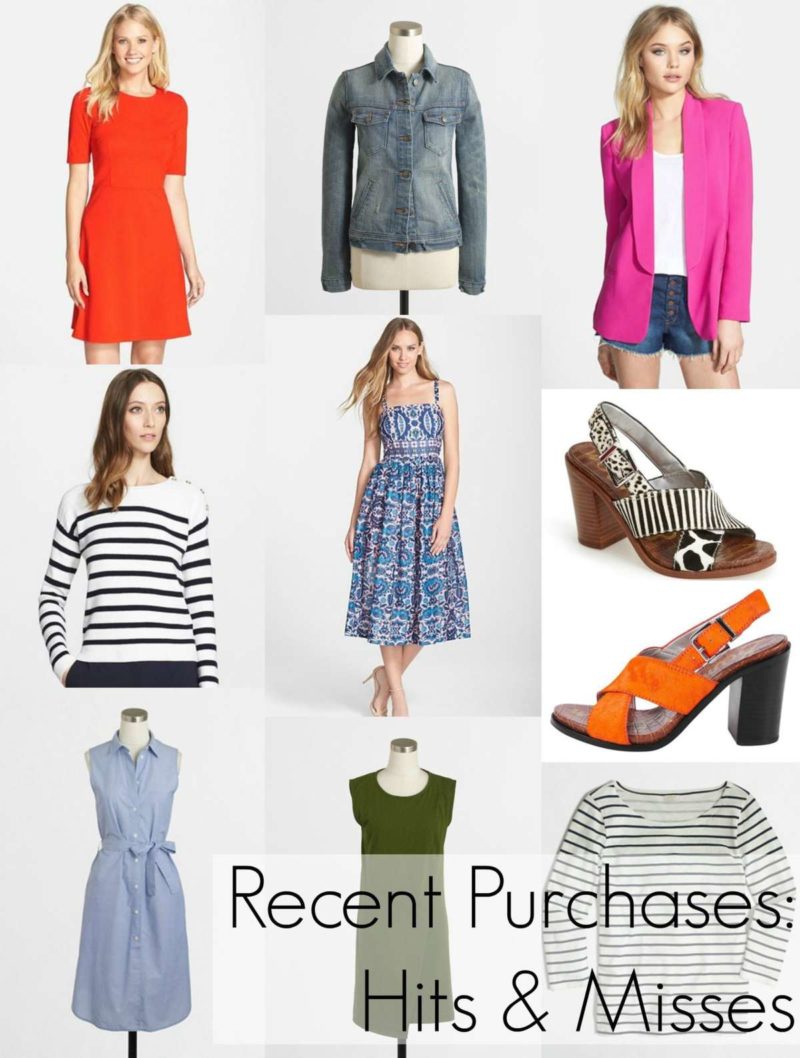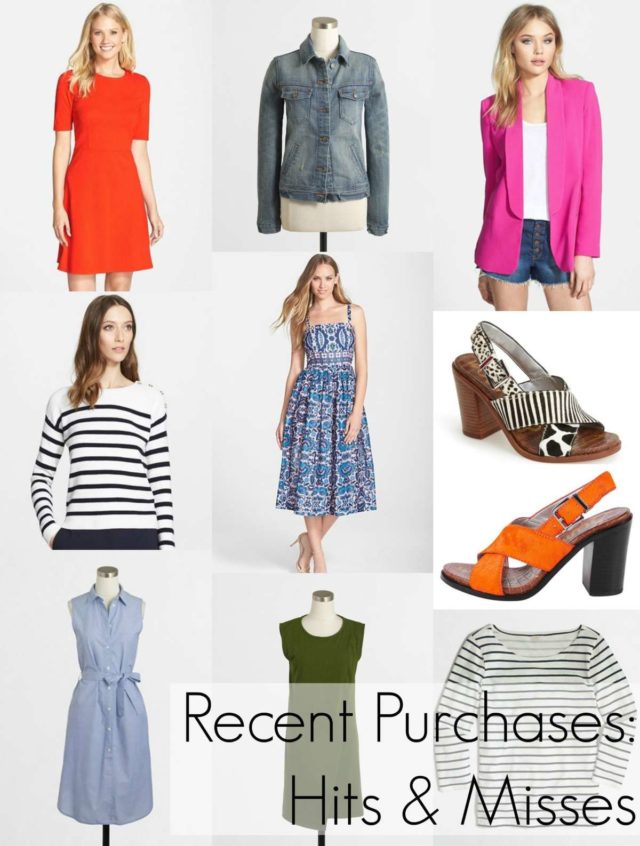 Shop the Post:


Mega win! I've been turned off by denim jackets since my years working for Express. Back then, management (and especially brand management like me who was to lead by example when it came to dress) had to wear three pieces of Express clothing and there was nothing easier than a denim jacket to throw over a Metro Tee and pair of Editor pants. When I left the company, I had six Express denim jackets to my name. A couple years ago I bought a denim moto jacket and wore it a total of two times before retiring it, feeling too much like my '90s self. But denim jackets ARE useful, and with my new company having a more relaxed dress code, a denim jacket seemed like a smart addition to pair with dresses, skirts, as well as weekend looks. J. Crew Factory was having 40% off so I took a chance.
It's not too light, but not dark (Antique Sanded Blue). It's weathered, but not too distressed to look wrong in a creative business casual environment. Patch pockets at the chest, slash pockets at the waist, and two internal pockets that are the perfect size for my iPhone 5 with a chubby protective case. But best of all? The fabric looks like standard denim but has stretch, making it comfortable and more flattering with my curves. I ordered an XL because I wanted this to be a jacket I can wear as an actual jacket over lightweight sweaters and long-sleeve knits; this was a good choice but it's not too oversized for wear with a simple tank or sundress. The sleeves are long, but I roll all jacket sleeves anyway and the sleeves are loose enough that I can roll four times without restricting blood flow to my hands.
Fail. The color is gorgeous, the knit is thick enough to not cling or show VPL, but man is this unflattering. I believe if I were tall and willowy or more straight or athletic of a figure this could work, but with my curves it looked like a hospital gown.
I ordered a Large in Blue and it fit well in the bust, shoulders, and under the arms but was HUGE in the waist. Cinching with the self-belt and even switching out for belts in my wardrobe caused the fabric to bunch so much I had this weird shelf under the belt of fabric, pleats, and pockets.  If you have a smaller bust, you can size down on this dress and it may actually be pretty great for a hot summer.  The dress is breezy cotton but opaque enough even in front of bright light to go sans slip and it doesn't have buttons all the way down so no fear of them popping open or gaping.
Anyone surprised I found this a win? Flattering neckline, flattering width of stripes, nice and opaque and stretchy and a looser fit that looks nice with ankle jeans or shorts. It makes me want to buy a pair of colorful ankle pants so I can style the two together and finish the look with my leopard calfhair pointed flats… and maybe the denim jacket come fall! I have a Large and it's roomy and relaxed of a fit (too loose to look nice tucked into a fuller skirt).
I don't own a lot of cashmere because at my income level, I can't afford very high quality and mediocre cashmere regularly pills and gets worn patches. Honestly, I'm a Merino gal – it's pretty, it stretches, it holds up great, it can be washed, and it fits my budget. But I keep hearing about how good cashmere is worth it, I bought this cashmere piece from Nordstrom Signature last year and ADORE it, so when I saw This sweater went from $445 to under $200 and I had $60 in Nordstrom Notes I ordered it in XL. It arrived, I tried it on, and boxed it back up to return. See how on the model it hits right below the waistband and fits her long arms? Yeah, that's how it fit on 5'3" busty moi. The sleeves were a good 8" too long but the sweater ended right below my jean waistband. Though Nordstrom's TRUE FIT said I would want a Large, the XL was very fitted and also fit in the shoulders. It's itchy, the ivory is a chevron knit though the navy stripes are not, and the gold button closest to the neck won't stay buttoned. Mega pricey fail.
I loved the white one so much, I thought maybe the pink one would be awesome. Nope. I looked like I was working a makeup counter circa 1986. The pink made the oversized style look Talking Heads oversized, the shoulder pads more pronounced, and all that was missing was blue eyeliner and Aqua Net bangs. However, I still adore the white one and wear it regularly. I even machine washed it and it turned out great!
I am a sucker for anything that is red-orange like this dress. It looked promising, and I own other pieces from this brand. I ordered it in XL, which is supposed to be a 14. While this fit in the arms, it was way too tight everywhere else. It smashed my boobs and was so tight on my belly you could see the depth of my belly button. It's a shame because it is a gorgeous color and a heavyweight fabric that is a hybrid between scuba and ponte that could dress up and down with ease.  If this dress came in a larger size I would order it, it's so nice otherwise.
This dress is blue and a warm salmon pink; the combination is unique and I think could be quite pretty on a darker complexion but looked on me as though I accidentally washed the dress with a red tee shirt and wore it while I was battling the flu. The dress is made for someone at least 5'6", the straps were too long, the bodice a hair too long, the pockets were at an odd too-low point where I couldn't easily access, and the skirt almost hit my ankle bones. If you have a small or very firm bust, this dress could possibly be worn sans-bra as it is lightly boned. Well made, but clearly not made for me.
I usually do well with Sam Edelman, and when these shoes went on sale under $100 I snagged them in orange as well as the ivory/black combo print. I think these are the type of shoes that look great peeking out of a pair of dark denim, can be styled with ankle pants, look great with a full midi skirt but can also be cute with some straighter skirt and dress styles. The heel is nice and wide for comfort and stability, and wide straps are far more comfortable when it's hot and your feet swell. If my feet were more narrow and my toes longer (my pinky toe hung out between the straps and my middle and ring toes were hidden under the straps yet the shoe fit everywhere else) I would rock the heck out of these shoes. So buy them for me, send me a picture of you wearing them, and let me live vicariously through you, okay?
I mentioned in this post that I bought this jumpsuit but haven't properly reviewed. I bought an XL regular in Black, and there's no way I could wear a petite without having a perma-wedgie. I've found sizing up on jumpsuits is a smart choice for the rear view anyway. The jumpsuit is traditional jersey – not shiny, not terribly thick, more for weekends or casual wear. With my bust, I find I can wear without pinning, but a smaller chest may need a cami or safety pin. On weekends I usually just wear with silver Birkenstocks and my silver cuff, but I've worn to work with heeled caged sandals and a scarf or wide belt.
Now it's your turn, bought any great pieces lately?  Any fails you want to share to warn your fellow readers? I'd love to read all about it!