This article may contain affiliate links; if you click on a shopping link and make a purchase I may receive a commission. As an Amazon Associate, I earn from qualifying purchases. 
By Rosana Vollmerhausen
A question I often get from clients interviewing me is if I shop only at Saks and Nieman's. The answer is… no and no. As a personal stylist/shopper, my clients are real people with jobs, families, busy lives and real-world budgets. Living and working in the DC area, even those clients that can afford to splurge, still want the most bang for their buck.
They recognize that how you present yourself to the world does matter — whether it is in business or off-duty. They know that looking and feeling good often go hand-in-hand. But they also know that it's got to make sense in terms of time and money.
Even if I am shopping at a higher price point, there are still some wardrobe pieces I don't advocate spending a fortune on (white t-shirt – I will never, ever spend more than $30 on a white t-shirt). And sometimes, your budget that season is just that — budget.
This spring, I am finding a myriad of affordable, well-made and on-trend options that will update and add "spring" to any wardrobe. Here are my picks for this season's must-haves that won't leave your budget in ruins.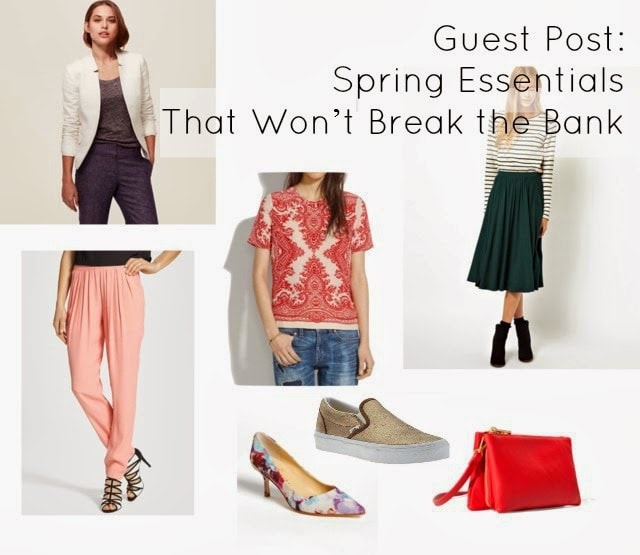 The full midi skirt – Midi skirts are one of those trends that has been kind whispering from the fashion side stage for several seasons now. The frump factor was just too high for it to really break into the mainstream. It's finally time though. Time to give the midi a day in court. To mitigate any potential frump, stick with pointy-toe, low-contrast shoe (metallic, nude, animal print) to elongate your leg line. Then prepare to enjoy a fun, feminine, alternative to a-line or pencil skirts.
My pick is this Asos skirt in a rich, forest green — the color of the season. Pair with a lighter mint green top, a fun scarf or necklace and some neutral pumps.
The dressy track pant – An oxymoron you ask? How in the world can a track pant be dressy? Pants are getting more relaxed this season (wide leg!) so prepare to give your skinnies a little rest.
The pastel pink of the Wayf pair at Nordstrom (on sale for $28) with a white tee, that new white blazer from Loft (see below) and snakeskin pumps makes for the perfect spring evening out.
Slip on sneaker – Oh joy! The wedge sneaker's position on the shoe-trend throne has been usurped. In its place…the much more comfortable and sensible and, in my opinion, aesthetically pleasing, slip-on. You'll see many designer (priced) versions, but can't beat original Vans.
Can't wait to wear with dark rolled jeans, a bateau-stripe tee for days out and about with my three kids.
The white jacket – I have been a broken record for years when it comes to the white blazer. Sometimes the white blazer jacket can feel too dressy. And then if it's a denim style…too casual. This LOFT option (now 40% off $98!) has a nubby texture that feels more relaxed, but the tailored body and mandarin collar keeps it dressy enough for work.
Shift blouse – We all know what a shift dress is. The shift blouse is the same silhouette but made into a top: boxy fit, t-shirt style. With the relaxed athletic-style trouser, a pencil skirt, the fuller midi skirt, boyfriend jeans…the options are endless.  Find at Madewell and Modcloth.
The floral pump – It doesn't take much more than a great pair of colorful pumps to add polish to a pair of jeans or punch up a neutral day dress. I recently fell in love with a pair Manolo Blahnik floral pumps, but not the price tag. These Ivanka Trump pumps make the same statement. And, while the heel height will be gentler on your feet, the price tag will be kinder to your wallet.
Flower in Spring clothing always felt too…precious. But with boyfriend jeans and an oversize white boyfriend blazer? Perfect mix of masculine/feminine elements.
The red bag – I often get the question: How can I easily look pulled together? The simplest way to add polish to your look, no matter the season, is to add a red bag. Jeans and tee? Red bag. White blazer, buttondown and cropped khakis? Red bag. Black shift dress and pumps? Red bag. I think you get the idea.
This Zara mini messenger bag gets the job done. For day, use as a crossbody. For dressier events, tuck the strap and use as a clutch. Insta-chic.
Voila! Now you are ready for spring…and have enough left over to tuck away for that summer vacation.
Rosana Vollmerhausen is a personal stylist serving hundreds of men and women in the DC area since 2009. Her diverse clientele have included stay-at-home moms, attorneys, lobbyists, diplomats, college graduates entering the professional workplace, business executives and more. She has been featured as a wardrobe and fashion expert in The Washington Post, The Washingtonian, on NPR and more. A working wife and mother of three, she is a firm believer that you don't have to sacrifice personal style because life is busy. If you have the right wardrobe pieces that make sense for where you are in your life, personal style is accessible to anyone who wants it. You can learn more about her personal shopping and styling services at www.dcstylefactory.com or follow her on Facebook, Twitter and Instagram.
Follow Me | Twitter | Facebook | Instagram