This article may contain affiliate links; if you click on a shopping link and make a purchase I may receive a commission. As an Amazon Associate, I earn from qualifying purchases.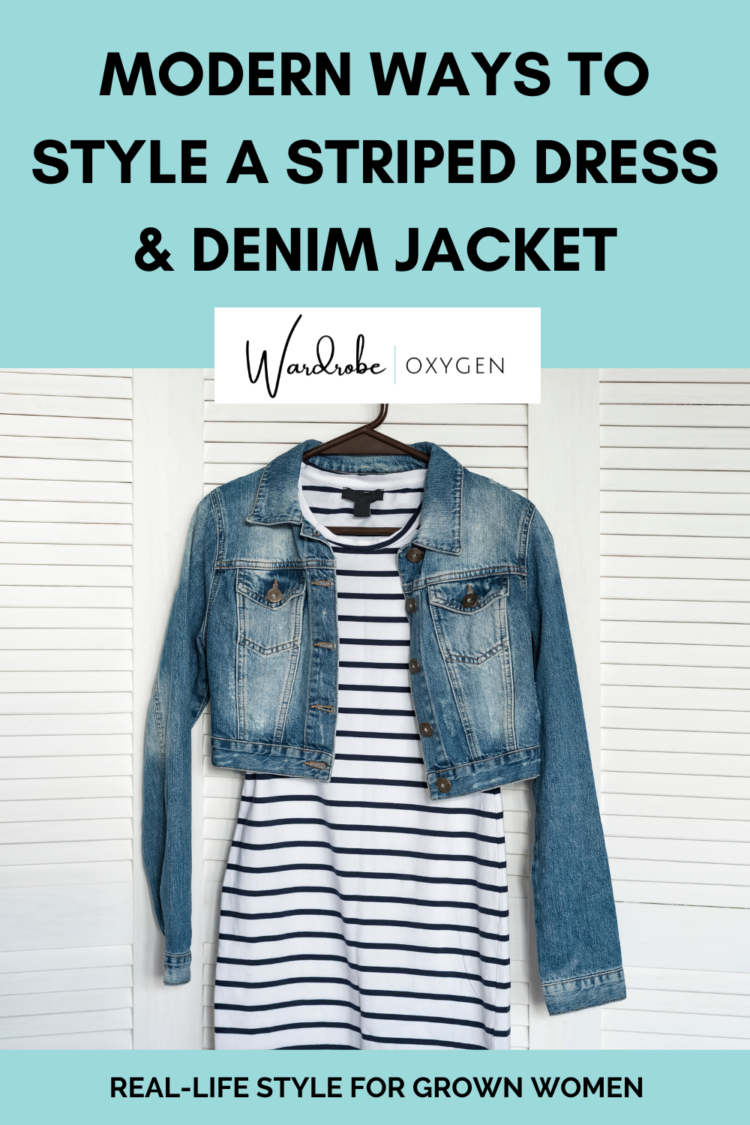 We're in that weird period of the year where it's still incredibly hot out, but we're preparing for back to school and fall. While I am not against buying what clothes you need for now, I think it's smart to think about anything you buy, thrift, or sew be something that can be a summer to fall transitional look.
A classic summer to fall transitional look is the striped dress with denim jacket. Stripes are nautical-inspired which feels summery, and a denim jacket is an easy layering piece for breezy evenings and dropping autumnal temps. However, because of this look being so popular for so long we all likely have some feelings about it.
Modernizing the Striped Dress and Denim Jacket
I think the first way to switch up this classic combination is the silhouette of the dress. While a fit and flare look is easy and comfortable, in stripes it can feel juvenile. Add a denim jacket, and the ensemble is very 2000's (which may be hard to believe but was 20 years ago). Switching to a tank or a straight shift silhouette will instantly modernize the vibe.
Shop Striped Dresses:

As for the denim jacket, the look right now is relaxed. That well-fitting stretchy denim jacket shouldn't be donated, but consider trying an oversized denim jacket or a denim jacket in an untraditional silhouette. This is a piece where you may be able to find a winner at a thrift store, in your attic, or even in the closet of your partner or kid.
Shop Denim Jackets:

Dated Style Rules and Wearing Stripes
Many of us, especially at the age we are, were raised with several style rules. Wear this to look taller, wear that to look slimmer, don't wear this if you have a large bust, don't wear that if you have a certain skintone. And I am here to say all those rules are bunk, especially the one about how horizontal stripes make you look shorter or wider or emphasize a large bust.
Pretty much every man owns a horizontally striped shirt, whether it's a t-shirt or a golf shirt or a sweater. They are tall, they are short, they are all sorts of shapes sizes and and ages and abilities and they buy stripes because it is something more interesting than a solid and a classic pattern that doesn't go out of style. And rarely does one say, "Wow, Steve would look so much more svelte if he switched that striped polo for one in solid black." Maybe the fit is off, or the specific stripe isn't the right choice for his personality, but guys rock those stripes with full confidence.
There is nothing you can wear, other than maybe a corset or a well-padded bra, that will change your body enough that others will notice. A striped dress will not make your stomach or rear or hips or breasts or back or thighs or shoulders or whatever look larger than they are. Now if you're not comfortable in stripes, that is another thing. Wear what makes you feel good, and if a striped dress doesn't do that, don't wear it.
You are a grown-ass woman who deserves to wear what she wants. Push yourself every so often to try something new and see how it feels, but don't force anything. I am always offering guidance, not gospel. You know you better than anyone else, trust your gut.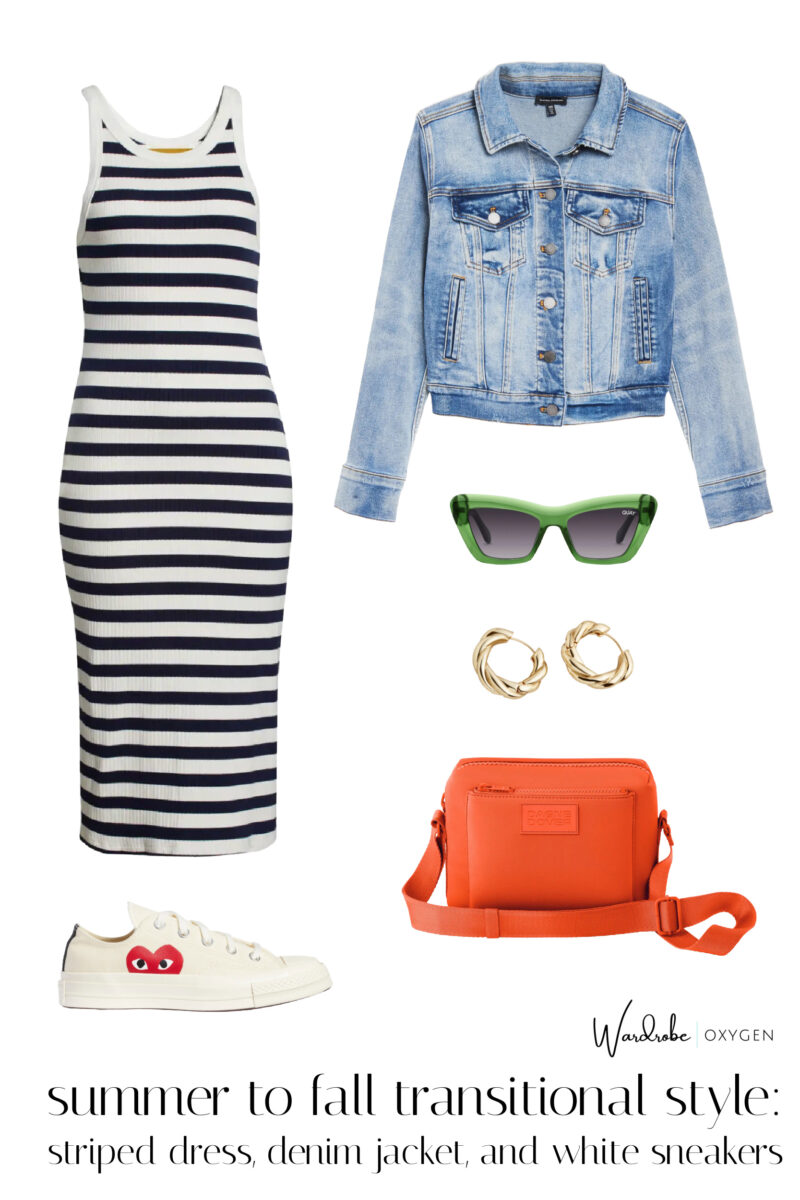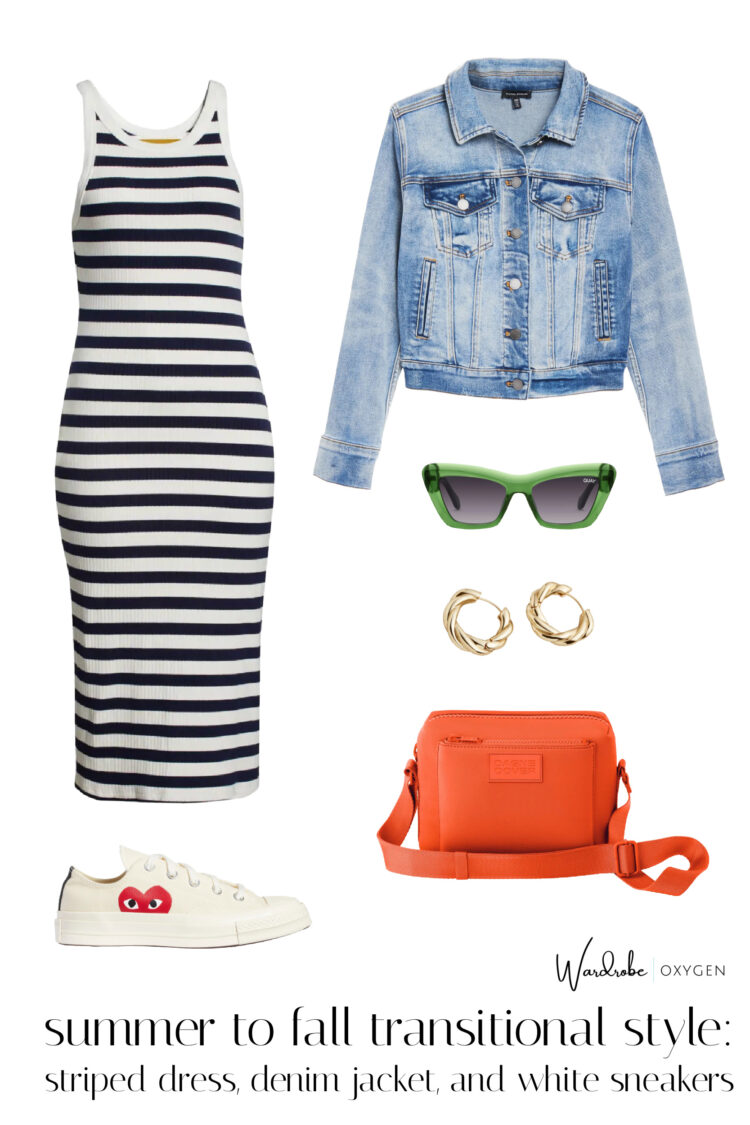 dress (XS-XL) | jacket (00-40) | shoes | sunglasses | earrings | crossbody bag

Pair light denim and bold stripes with blocks of color, which is very on trend while feeling very summery. Elevate the look with a pair of classic and comfy yet designer sneakers that have been stylish for a decade and will continue to be on trend. Finish the look with gold hoops.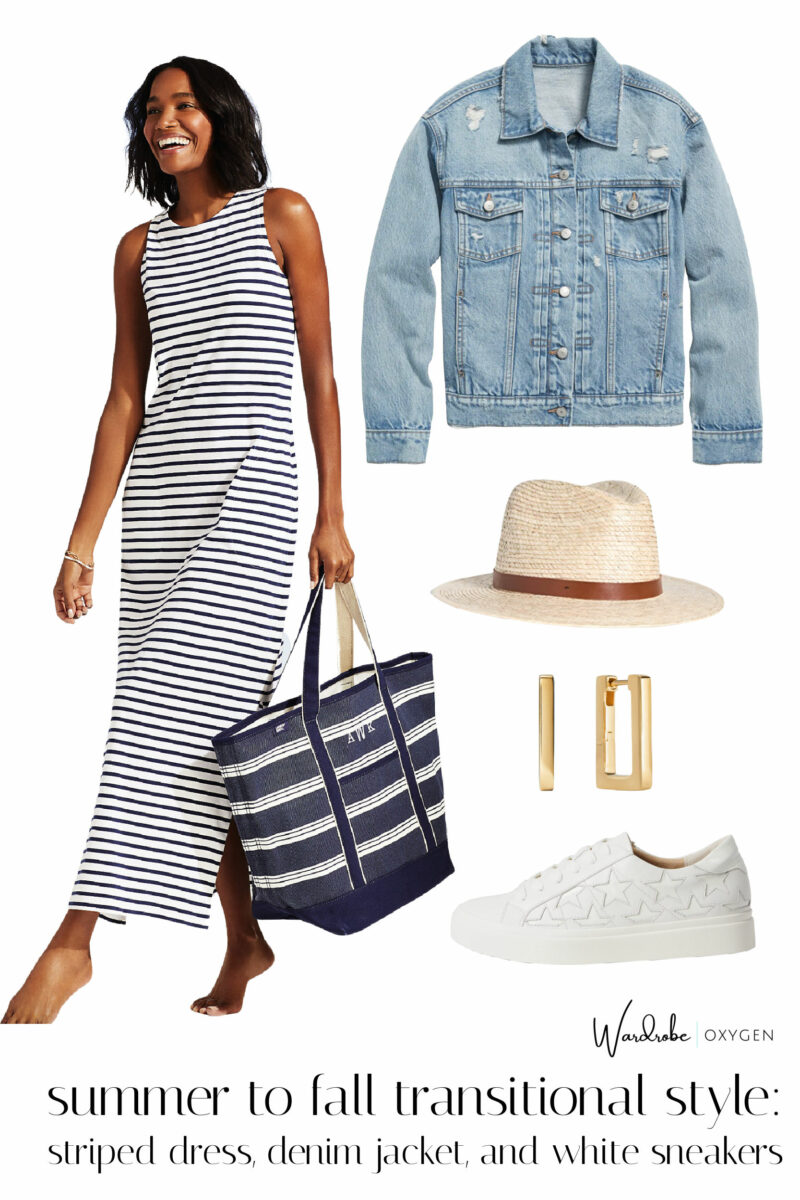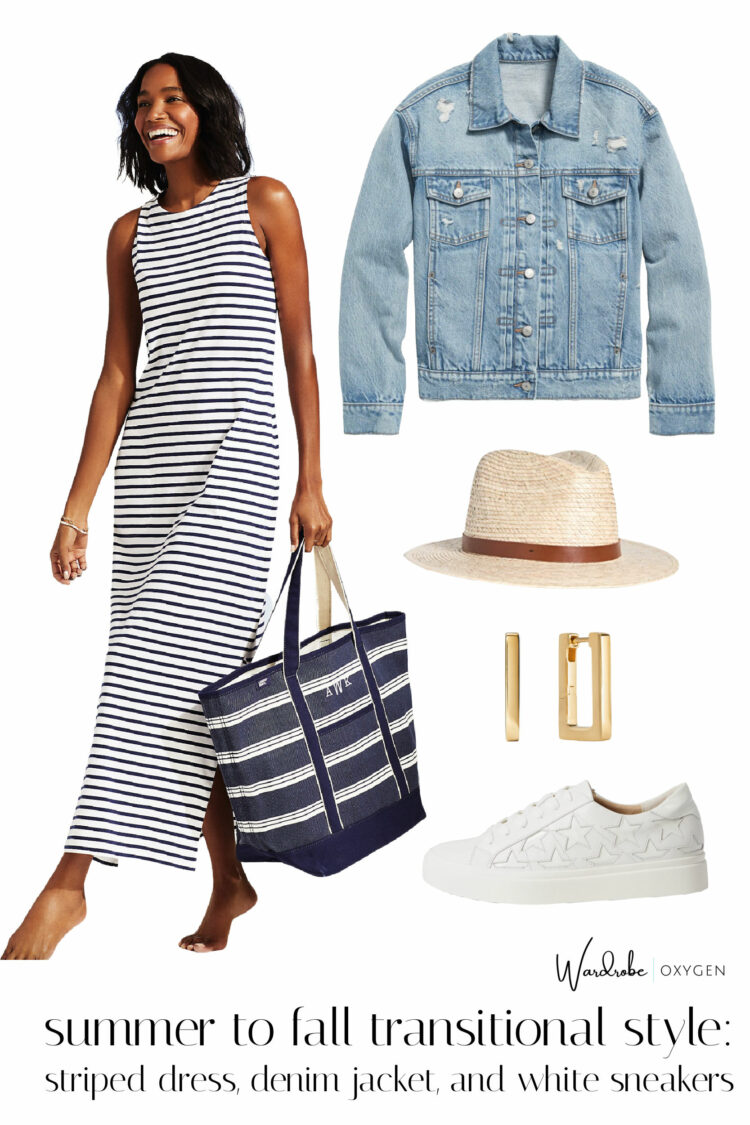 dress (XS-3X) | tote | jacket (XS-4X) | hat (XS-L) | earrings | sneakers

A striped dress doesn't have to be fitted; this looser style maxi is still summery chic and come fall will look great with boots and a longer cardigan. Sticking with a navy and white palette is classic and crisp. The sneakers come in widths and have subtle interest with the cut-out pattern but are still very versatile. Come fall, switch out the canvas tote for leather, the straw hat for felt.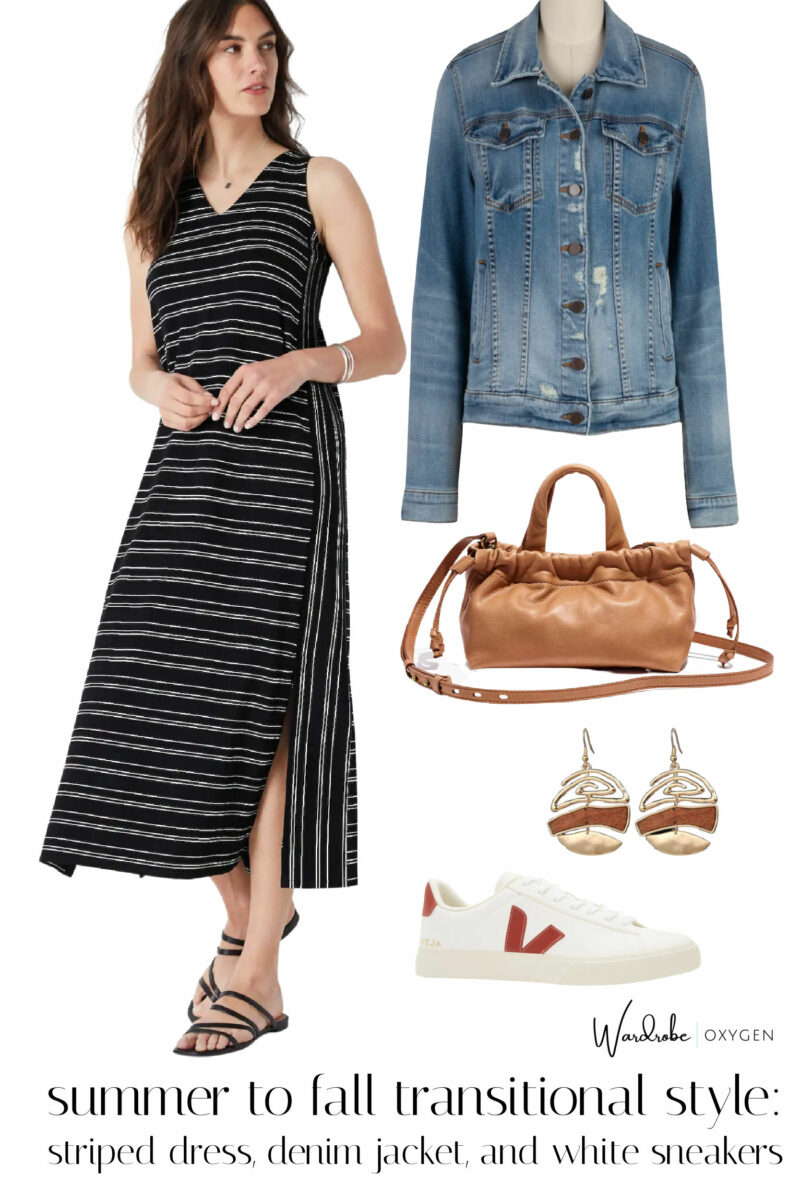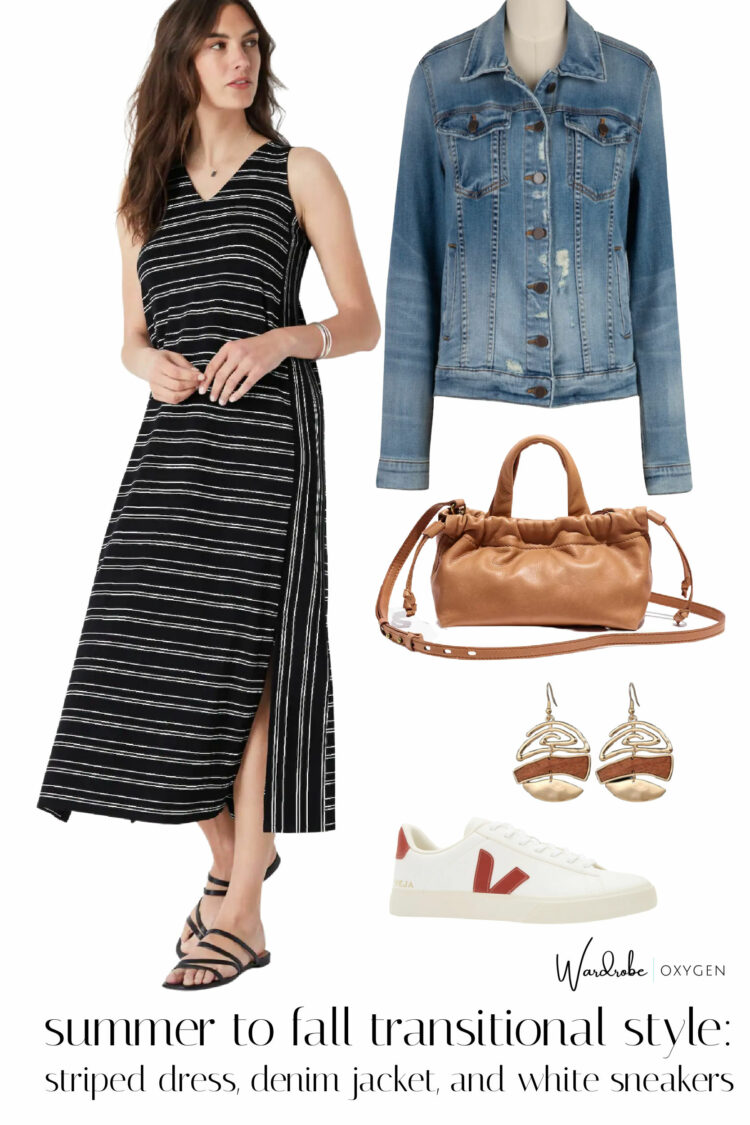 dress (XS-4X with petite and tall) | jacket (XXS-XXL) | bag | earrings | sneakers

You can still get a summer vibe even when incorporating more autumnal of colors. A black-based striped dress is breezy but easily transitions to cooler weather. Warmer tones in the bag, earrings, and the sneaker accents fit now and come October.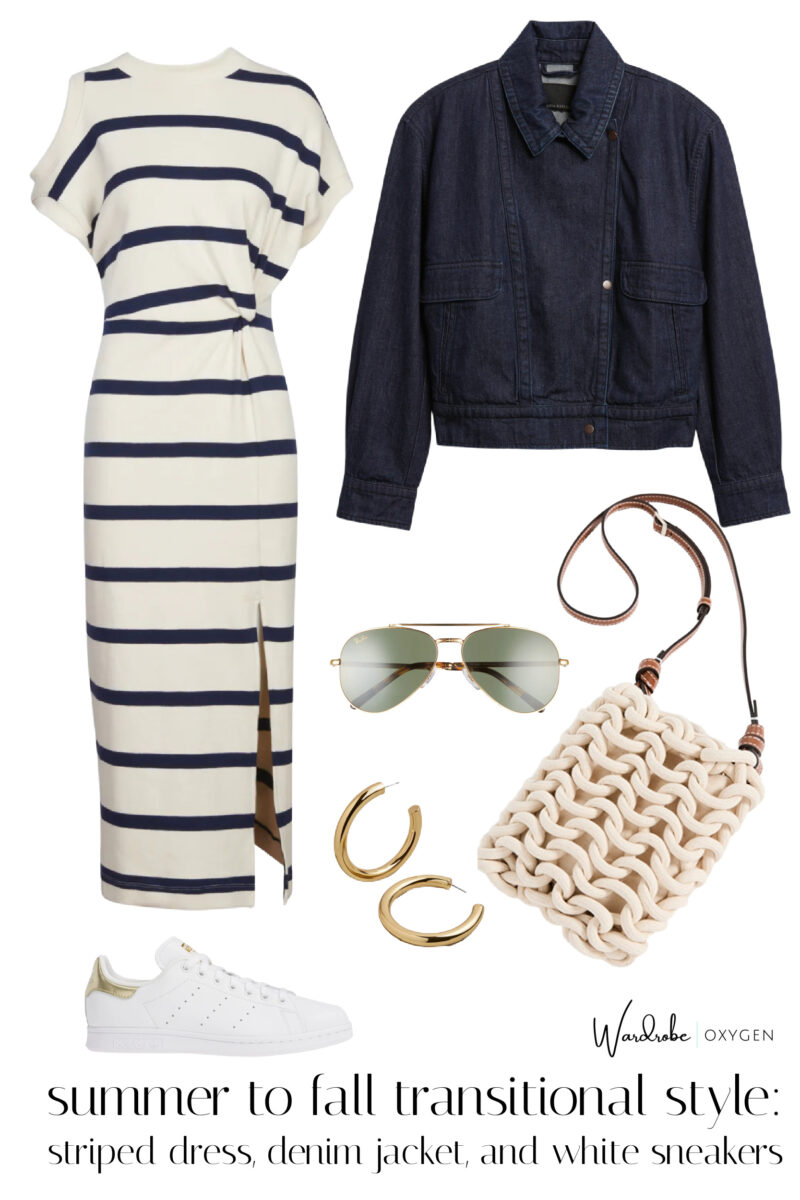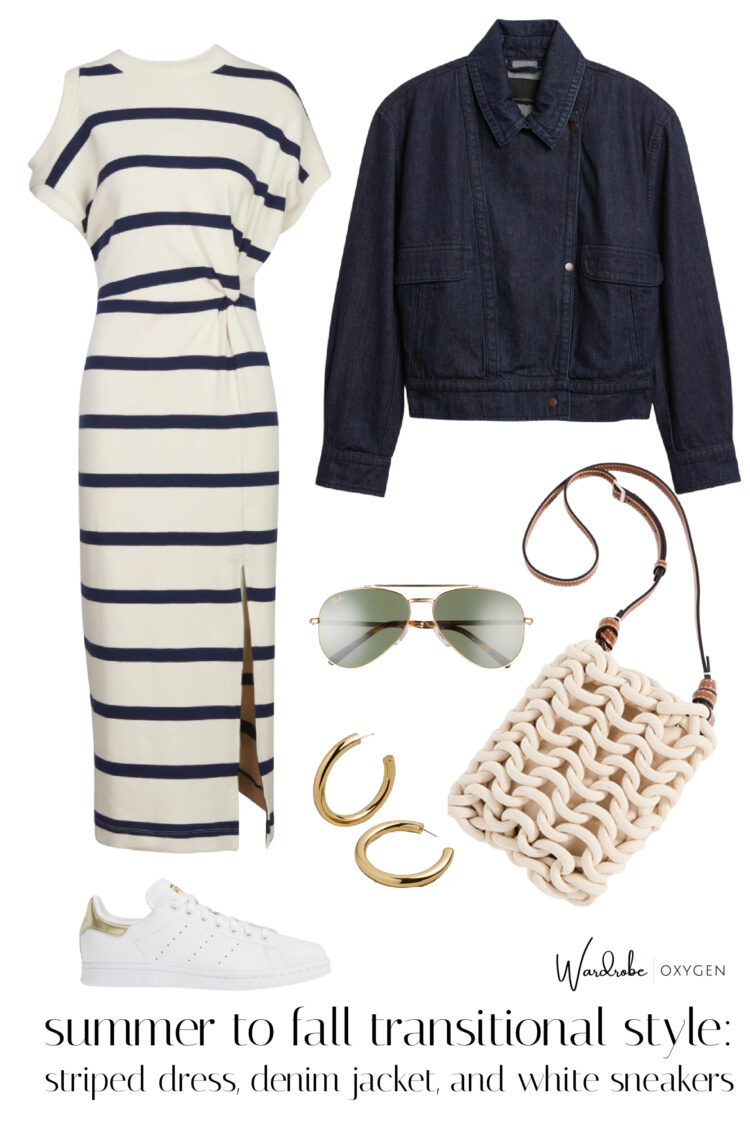 dress (XS-3X) | jacket (XXS-XXL and petite) | sunglasses | earrings | bag | sneakers

Yes, a striped dress and denim jacket with sneakers can look elevated! Who says you need to stick to traditional washes and silhouettes? This look pairs a dressier striped dress with a denim flight jacket for a look that could go from a casual office in August to brunch in October with ease.
All of these looks can be done with a solid-colored dress, or a floral, or whatever makes you more comfortable and brings you more joy. But if you aren't wearing stripes because you were told once long ago you couldn't for some reason or another, I encourage you to dip a toe into the striped clothing waters. Maybe start with a short-sleeved Breton that can peek out from under a jacket. Whether you rock stripes or solids, it is the same exact body and it works damn hard. It deserves to wear what is comfortable for both it and you.