This article may contain affiliate links; if you click on a shopping link and make a purchase I may receive a commission. As an Amazon Associate, I earn from qualifying purchases.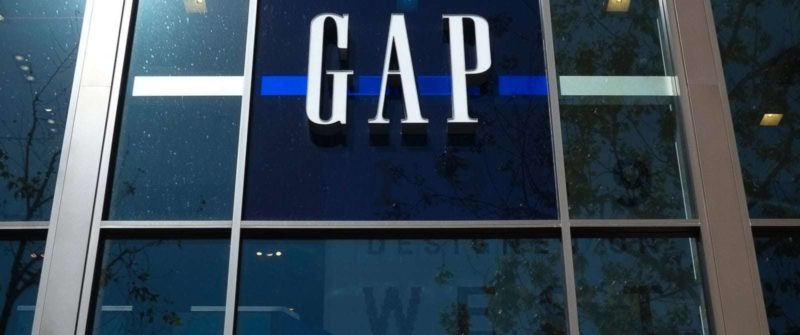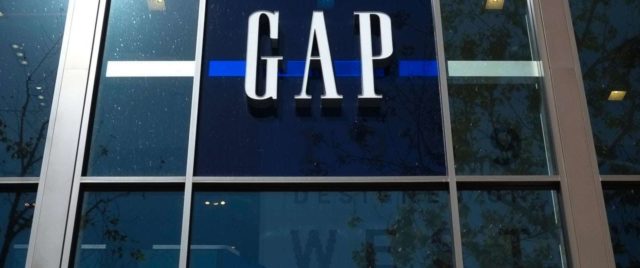 SuperGap was the pioneer outlet store – a cheaper version of the famous Gap brand, it sold lower-priced versions of their wardrobe staples and irregular and damaged pieces from the classic Gap stores. Growing up in middle-class America, our first stop for back to school shopping was at the nearby SuperGap, getting "name brand" clothing for a reasonable price. If it weren't for SuperGap, my 6th grade and on wardrobe would consist of poorly-thought-out fashions from Bradlees' located just a mile down Greenbelt Road.
The nearby strip mall had a SuperGap. As soon as I turned 16, I turned in an employment application there, in hopes to get a job there and a discount on high school must-haves – jeans, hoodies, rugby shirts and ragg socks. I was never called for an interview but my friend Wendy did get a job there.
SuperGap eventually changed to Gap Warehouse and carried less factory-store items and more irregulars and returns from the traditional Gap locations in the fancier malls. Hours were spent after school, pouring through rounders and racks for jeans and sweatshirts that fit and didn't have obvious garment flaws.
A few years later (1993, the same year I graduated from high school), SuperGap shut down, but opened up at the end of the same strip mall, with the new name – Denim Supply Company, a brand name under the new Gap Warehouse subsidiary of Gap. Wendy was still with the company and I was able to get the lowdown on the change. Supposedly Gap was doing an experiment in a select few markets – this lower-end Gap that had their own brand, own label, own line of clothing. Not a Factory Store, a separate entity added to the Gap brand.
From a 1993 article in the New York Times:
In an internal memo, the company said the "Gap Warehouse collection was created specifically to improve the productivity of 48 of our current Gap stores 'which have been an undervalued asset in our company,' says Mickey Drexler, president of Gap Inc."
Analysts said the new merchandising strategy was a good way for Gap to compete with other purveyors of basic merchandise without eroding the image of its Gap brand.
For more than a year, Gap stores have marked down prices of their basic merchandise to compete with the department stores and discounters that have begun selling their own versions of Gap staples: T-shirts and blue jeans.
[The Gap is] confronted with the question of whether they're doing basics or whether they're doing fashion," said Heidi R. Steinberg, a retail analyst at Lehman Brothers. "If they stick with basics at Gap, then they're competing with Wal-Mart and Target, where you can buy Fruit of the Loom all-cotton T-shirts for half the price they are at the Gap."
"Gap Warehouse clothing will be priced lower than Gap brand clothes because the company is using manufacturing techniques and fabrics that are less expensive. Athletic Department sweats, for example, are 59 percent polyester and 41 percent cotton, while Gap sweats are 100 percent cotton. T-shirts are double-stitched instead of triple-stitched, and there is less detail over all, analysts said.
The company, based in San Francisco, said the new line was not likely to cannibalize the sales of Gap brand clothing because it would appeal to a different type of customer. Robert F. Buchanan, a retail analyst for Alex. Brown & Sons, said mass merchants like Wal-Mart and Kmart were gaining a bigger share of the market for basic clothes, and their customers were different from those who have shopped at the Gap.
"The Gap already has two types of customers: those who shop its store at full price, and those who are looking for sale items," he said. "There's a third customer who hasn't shopped there, and that's where a lot of the basics business is going."
A few years later, it seems this experiment worked for Denim Supply Company/Gap Warehouse as that this location (and all others across the county) shut down and a few months later, right next to the old SuperGap location (which was now an H&R Block) they opened an Old Navy, which exists to this day.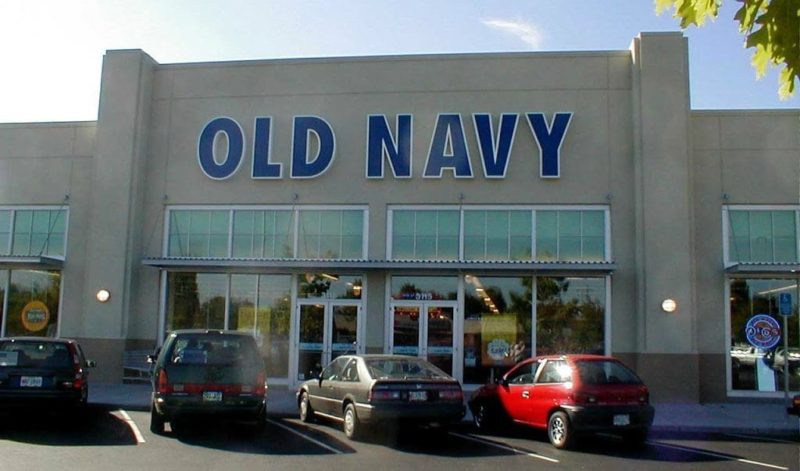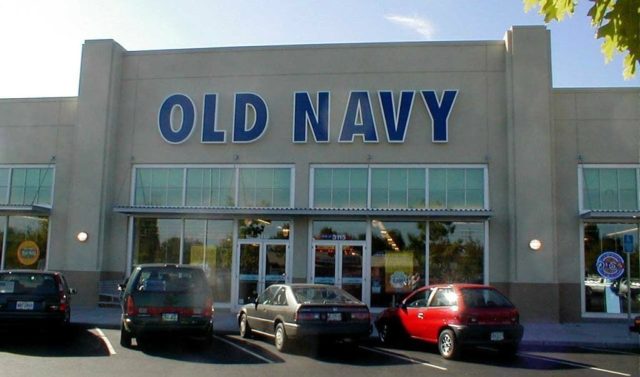 Old Navy fit the feeling of the time – the grunge era, where it was cool to not spend money on clothing; where fashion came from thrift stores and not from higher-priced specialty and department stores.
Named after a bar the Gap CEO visited in Paris; Old Navy Clothing Co. was the new member of the Gap company (though the original name was going to be Elevator, Monorail or Forklift, to evoke the industrial bare-bones concept of the store). Unlike lower-priced peers like Sears and Kmart, Old Navy combined cost-affordable apparel with great ambiance – loud popular music, quirky ad campaigns and colorful store décor within a warehouse-inspired core. Old Navys were put in lower-rent strip malls (like my nearby Greenway Center) instead of higher-cost malls to help keep prices low and target the appropriate customer – the customer who also shops Wal-Mart, Kmart and Toys R Us. They also did it by taking the staples of Father Gap, but recreated them with cheaper materials, stitching and fabrication (a CNN Money article from 1996 quotes an Old Navy customer as noting that denim shirts from Old Navy are only washed once before selling, versus Gap shirts being washed three times. This difference ensured consistent color in Gap shirts, but a far lower cost to create the Old Navy version).
Years later, we forget when Gap Warehouse ended and Old Navy began. Old Navy, like Target and Starbucks has become a standard in the culture, language and lifestyle of Americans. What was a random experiment by The Gap in attempt to revive slumping sales has become a necessity in the wardrobe of all income levels and ages of our society. I mean, who these days doesn't own at least a tee shirt or pair of lounge pants from Old Navy?
In honor of my favorite discount fashion Mecca, here are a few links about Old Navy that may interest you: