This article may contain affiliate links; if you click on a shopping link and make a purchase I may receive a commission. As an Amazon Associate, I earn from qualifying purchases. 
I love HOBO Bags – they are well-made, not overly trendy, not covered in logos, and have a clean look that fits with my personal style. I also love that HOBO is based out of Maryland, where I have lived almost all my life. Since they are based out of Annapolis, Maryland I have easy access to their semi-annual sample sales. Once or twice a year, HOBO opens up their warehouse to sell off samples, discontinued styles, damages, and overstocks. This weekend I attended my third HOBO Sample sale, and yet again I left with fabulous bags at fabulous prices!
Last HOBO sample sale, I went on the first day and it was utter insanity. So many people showed up, we had to wait for people to leave the warehouse to get in. Once in, it was a flurry of women grabbing bags and wallets left and right and I found it pretty overwhelming. Also since I went on a Saturday morning while my husband teaches, I had to bring Emerson. A sample sale is NOT a place for a toddler, she was having too much fun and my family and I were having too much trouble keeping up with her to properly shop. This year my friends, family and I went first thing on Sunday – we knew it wouldn't be as good of selection, but figured it would be worth it to be toddler-free and most likely have fewer attendees.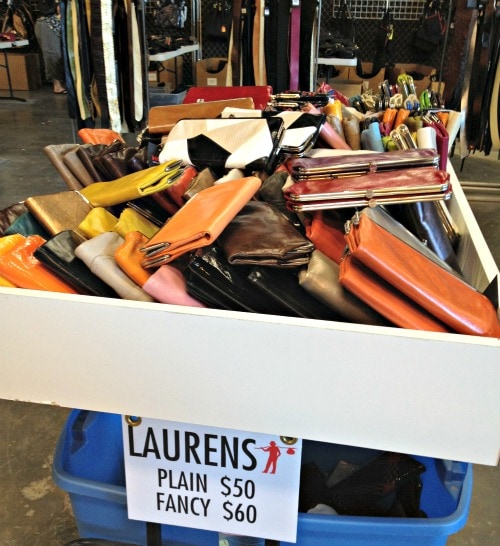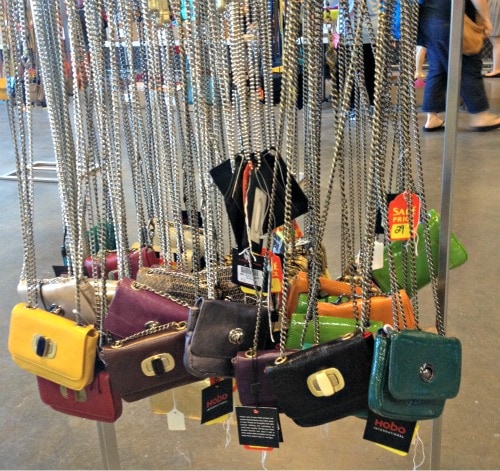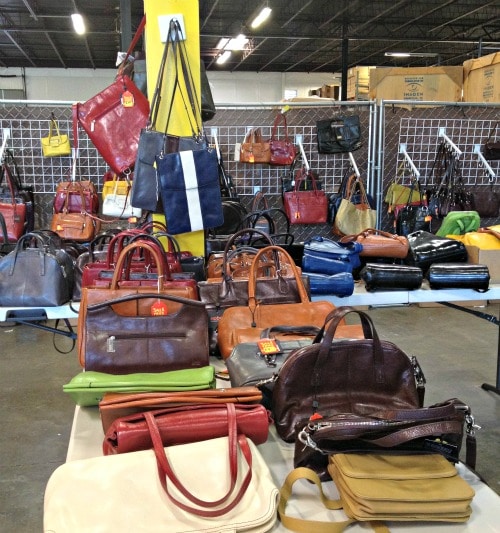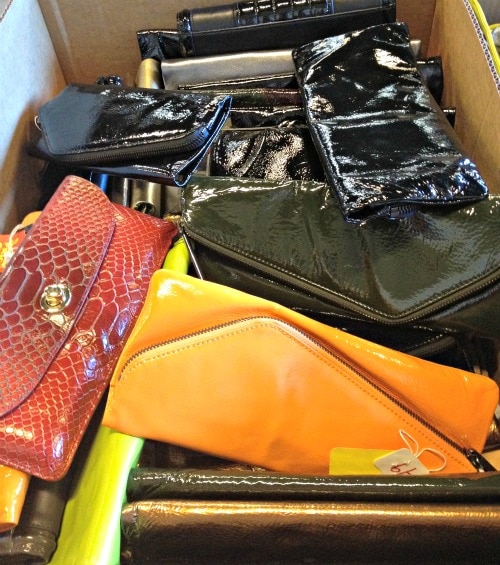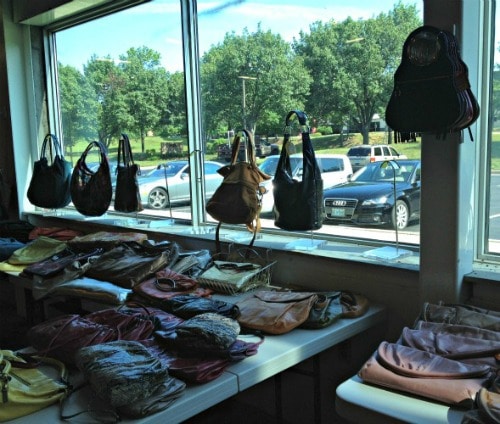 While the selection was reduced greatly by attending on Sunday, we practically had the warehouse to ourselves. Not only that, all remaining merchandise was reduced further in price, and they were having "Light Blue Light Specials" every 15-30 minutes where they would have a whole table or rack of bags at a steep discount. While there may not have been as many brand-new styles in the warehouse, it was still brimming with beautiful bags, wallets, belts, sunglasses and other accessories.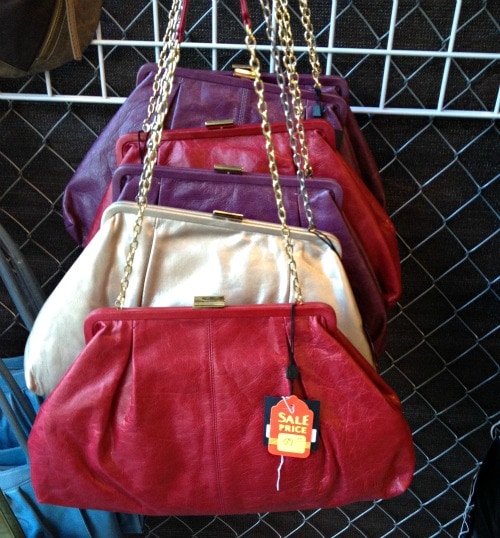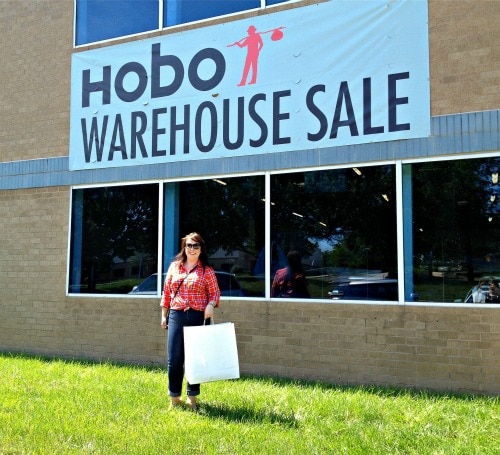 After the sale with my bag of goodies!
What I Bought: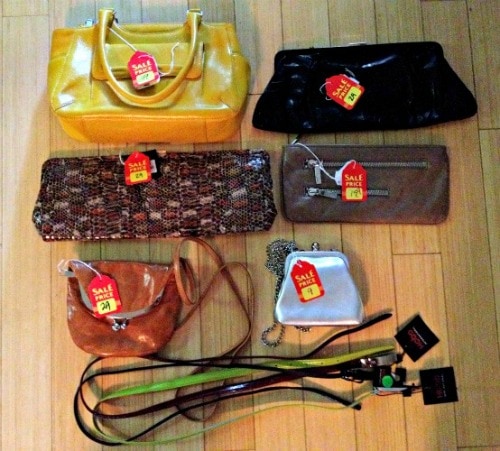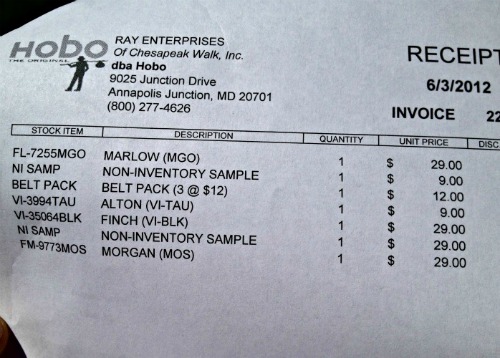 Sorry for the quality of the photo, I forgot to take pics yesterday and just snapped one this morning before I left for work. But what I got:
HOBO Marlow in Yellow – it's an old style and no longer available online, but I love the retro look to it and heck, a leather handbag for $29? Yes please!
HOBO Finch in Black – this bag is still selling online for $188, I got it for $29 (you can see me carry it in this post). I love how you can tuck in the handle to make it a classic clutch. While I have this black clutch, and this patent black clutch, I didn't own one that was solid leather and could dress up. Problem solved!
HOBO Alton in Taupe – this is a mini version of my beloved black leather HOBO clutch (seen here), it was one of their Light Blue Light Specials for $9.
HOBO Libby in Silver – This shape sells online for $65, got for $9. I already have this bag in Pumpkin (see here) and love the size – it can fit my iPhone, keys, lipstick, and my ID and some cash, looks cute hanging from my shoulder or as a crossbody. The silver makes for a fun yet secure festive purse that I could carry to a wedding or a club.
HOBO Camel tiny crossbody (NOT the Morgan) – $29. I wanted a casual crossbody for weekends or the occasional concert that was not black and not a statement color. This one is small, but when unfolded could hold a bottle of water. While the receipt says Morgan and the tag's SKU claimed it was a Morgan, even the cashier knew that was not correct.
HOBO snakeskin clutch – can't find online, got for $29. Like the Finch, it has a handle that can tuck inside to make it a classic clutch. I've been wanting another printed clutch to work for those times when a solid is too stark, or I need just a bit of texture or interest to a simple ensemble.
Three belts – $4 each. I have this belt that I got at a HOBO sale a couple years ago and I LOVE it. I found the same one in an acid green, and a very similar style in navy with a gold buckle, and burgundy with a pewter buckle. Expect to see these quite a lot on the blog in the future.
If you live in Maryland or DC, I highly recommend you check out the HOBO sample sales – follow HOBO on Facebook, sign up for their emails, and you too could score some amazing deals on fabulous leather goods! Maybe next time I'll see you there!
Follow Me | Twitter | Facebook