This article may contain affiliate links; if you click on a shopping link and make a purchase I may receive a commission. As an Amazon Associate, I earn from qualifying purchases.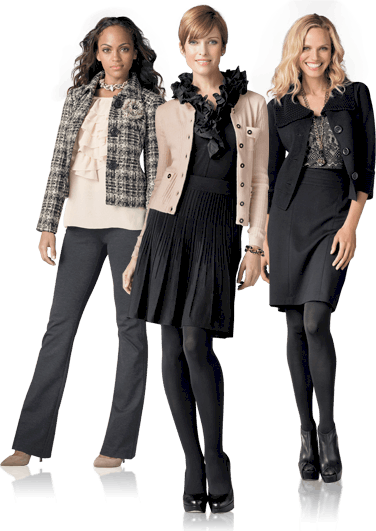 Some of the CAbi Fall 2011 Collection
After my first experience with Carol Anderson by Invitation (CAbi) clothing, I really wanted to see the fall collection. Many of you readers told me that I needed to see more of this line, that they did have dresses and skirts, that their collections coordinated not just within each other for a season, but across seasons and years. That CAbi deserved a second look.
So this Sunday I hosted a CAbi party. For those who haven't heard of CAbi, it's a line of clothing that is sold at home parties, a la Pampered Chef or Silpada. Carol Anderson used to sell her line of clothing at department stores like Nordstrom, but soon was frustrated that shoppers couldn't experience her entire line, only that which the buyers decided was best for their stores. She decided to go independent, and CAbi was born.
My CAbi Party
An hour before the party was to start, my consultant Lisa showed up. She had two collapsible rolling racks, and at least four giant canvas garment bags holding all the clothing. On one rack, she had one piece from the entire fall line, separated by collection (this season each collection is named after a movie); on the other rack were duplicates of the line in different sizes. She covered both racks with a black CAbi-logoed drape, but not before she invited me to pull a couple pieces from the line to change into. As she said, it's easier to see how the clothes fit and look if you see them on a human body. I immediately was drawn to the Classic Shirt, and after not really liking any of the skirts on me (and knowing the pants would be too long for my petite frame), I grabbed a pair of the Classic Jean. I dashed upstairs for an application of red lipstick to finish the look. When I came down, Lisa had set up two full-length mirrors in my house, and had a basket full of order forms, catalogs, and pens. She even had two pairs of hot pink reading glasses and a CAbi calculator! Lisa also had style boards – big black posters with pictures of the clothing being modeled in different combinations.
At 3pm, my friends started showing up. I must say, it's hard asking friends to attend a party like this – you know you are expected to drop some cash at the end of the affair. I found CAbi to be even more difficult because of the high pricepoint. I told my friends I didn't expect them to buy anything, I just wanted their opinions on the clothing, and wanted to experience a CAbi party. Eight friends ended up at my house – for me I found this to be a perfect size.
Lisa showing off the Curl Wrap Tee
Once we were all settled in, finished hugging one another hello and all were armed with a glass of wine, Lisa began her presentation. She gave a brief history of how CAbi came to be, and told us a bit about her experience as a consultant. Unlike many other at-home party consultants, I didn't feel as though she was trying to force me into being a consultant, but she still made the job and the company sound appealing. Lisa then presented me with a CAbi canvas tote as my hostess gift (I am such a sucker for reusable bags, and this one is big and sturdy!).
My mom modeling the Corporate Jacket
Lisa presented each collection individually, pulling out pieces, hanging pieces over one another to create looks. The rolling rack had a bar off the front over the drape so she could hang the garments while mentioning them. She not only showed the pieces, but explained a lot of the thought process behind them – why there was certain seaming, why a ruffle was placed where it was, how a piece could be worn in multiple ways. It was interesting to know that not each CAbi piece is made to fit the same exact fit model, and that seams and details are not just to look pretty, but to specifically flatter a woman's figure and help with what Lisa called "situations" (soft belly, soft arms, etc.). Every so often, Lisa would ask me or my mom to come up and model a piece so my friends could see how different it looked on a human body.
While this part of the party was really helpful, informative, and thanks to Lisa quite entertaining; it does take a long time. There is far more to display and discuss than say at a Pampered Chef party. And unlike kitchen gadgets, you really need a good description and visual for clothing. We also kept asking questions about sizing, washing instructions, and garment details, which added to the length of the party. Lisa did a good job of answering our questions and showing all the clothing without making us bored. You could tell how much she believes in CAbi and the clothing.
After the presentation, Lisa took the drapes off the racks and we got to try on the clothes. The main rack had primarily size medium clothing, while her other rack had larger and smaller sizes (CAbi runs XS – XL or 0-16).
Sizing of CAbi Clothing
While I am usually a Large or 12/14 in most retailers, I found that I was comfortable in Medium and 10 in CAbi. One of my friends had a hard time accepting the fact that she looked best in a 0 or size XS in CAbi clothing. Friends who usually wear larger than a 16 found that there were pieces of CAbi clothing that fit and flattered their frames.
When I first experienced CAbi clothing in March, an issue I had was that they didn't offer petite and long sizes. With the fall collection, I saw that a couple styles of jeans and pants came in regular and long lengths. I mentioned before that I wore the Classic Jean during the party – the Classic Jean comes in regular (32" length) and long (35"). The regular was a perfect length for me if I was wearing heels. Unfortunately, they do not have any of their tops in petite or long lengths – yet again I drooled over their gorgeous jackets but didn't even consider purchasing one because I would have to spend so much on alterations. Even in a Medium, every single jacket was at least 2" too long in the arm.
I also mentioned in my original post that I was surprised that CAbi didn't offer plus sizes. After seeing my friends try on CAbi, I am a bit more forgiving. CAbi clothing runs large; a woman who wears an 18 or 20 shouldn't completely rule out the line. She may be surprised at how well many pieces may fit and flatter.
Styles of CAbi Clothing
When I checked out CAbi clothing this past spring, I was dismayed to see there weren't that many skirts or dresses in the collection. This fall they had one dress (Faux Wrap Dress) and five skirts (one maxi, one mini, and three that are designed to hit right above or at the knee). I tried the Faux Wrap Dress on in a Medium and while it fit me in the shoulders and length, it was too tight in the body and arms, and I think a Large would have been too big. If I had a smaller bust or was more toned, a Medium would have fit my 5'3" frame quite nicely. The only skirt I tried on was the Vogue Skirt, and found a size Medium fit me perfectly. Not only that, I found it to be incredibly flattering. The pleating is very strategic, making it unique looking, but also kind to curves. While it's cotton, it looks like a wool blend; I think the cut would look lovely with a top tucked in, but also with a fitted untucked top.
As I saw in March, you really need to try on CAbi clothing to get the full feel of each garment. Pieces I thought were utterly fugly on the hanger were really flattering on my body; in turn pieces I thought I would like didn't hang properly on me when I tried them on. While a piece would look ridiculous on me, it would look fabulous on a friend with a completely different shape. The Ponte Bootlet pant in Medium made it around the party – four of us with completely different shapes, sizes, and heights tried it on and liked how it fit (if I was an inch taller or shorter I would have bought them).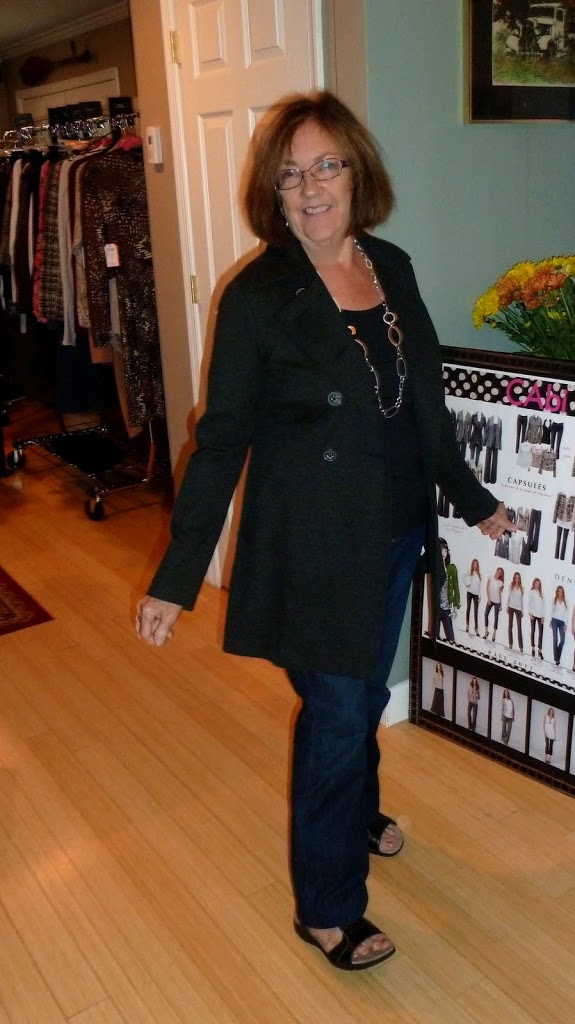 My mom in the Ponte Trench Coat
And speaking of Ponte… you all know how much I love this fabric. Well CAbi had over a dozen separates in black and charcoal Ponte! Sleeveless shells (both plain and embellished) to pair with a skirt for an elegant dress-like look or with pants for a work ensemble, a trench that could be a lightweight fall jacket or a chic alternative to a blazer, a simple pencil skirt, and pants in multiple cuts and lengths. Lisa informed us that they carry Ponte clothing all the time, so you can mix and match with pieces from previous seasons. They also have a lighter-weight version of Ponte for Spring/Summer.
I was very curious about the denim. With my weight loss, I am at a point where I have very few jeans that fit. I found the Classic Jean to fit extremely well. The denim has a lot of stretch, but a heavy, sturdy feel that looked polished and felt great. The waistband was comfortable – slightly wider than usual, curved so it didn't dig into my tummy when I sat and I didn't have to hitch them up every time I stood. No goofy embellishments, washes, or labels.  I would have purchased them except I didn't like the stonewashed color (they only had a dark rinse wash in one style, which was too skinny for my frame), and my friend told me that they had started to sag in the rear over the course of the party (love honest friends!). However, the jeans are really well made, nice weight and quality of denim, and flattering yet classic cuts. My friend with a longer, leaner frame looked fantastic in the Contemporary Jean and Lisa looked great in the Bootlet Jean. While it's nice that some styles come in long lengths, it would be great if they also considered petite lengths (the styles that didn't come in lengths were far too long for me to wear and I wouldn't be able to wear the regular length with flats or kitten heels).
My friend and I both in the Editor in Chief Jacket
I fell in love with CAbi's jackets this past spring and I did again this fall. My friend and I agreed that the Studio Jacket and Cameo Cardigan looked very Rachel Zoe, the Editor in Chief Jacket was drool-worthy, and I know I will be snagging the Chinchilly Jacket from my mom (she bought it at the party) at least once this winter. Again, I wish they came in petite sizes.
The knits are brilliant. Their camis have adjustable straps, and all of their tees have strategic rouching and wrapping to flatter the figure. Other than the slub-knit tees, the white knits are opaque – no bra straps or belly buttons showing through! The Slouch Tee looked ho-hum on the hanger, but on it looked incredibly chic and expensive – think one of those amazing tees that an Olsen twin would wear shopping. I really liked the Button Up Tee – a button-down shirt made out of jersey. Again, a piece that looks far better on the body than the hanger.
Summary
I like CAbi. I think the quality is stellar – can rival brands like Talbots or Ann Taylor in that regard. I liked the mix of trendy and classic pieces, and loved how pieces from this season not only mix and match with one another but with other seasons. I love how they show how the pieces work in different combinations, giving inspiration for ensembles.
Have you attended or hosted a CAbi party?  What did you think of it?
Note: While CAbi was aware that I was hosting a party, they did not ask me to host one nor did they ask me to write this post.  All opinions and decisions are 100% my own.
Follow Me | Twitter | Facebook
Save