This article may contain affiliate links; if you click on a shopping link and make a purchase I may receive a commission. As an Amazon Associate, I earn from qualifying purchases.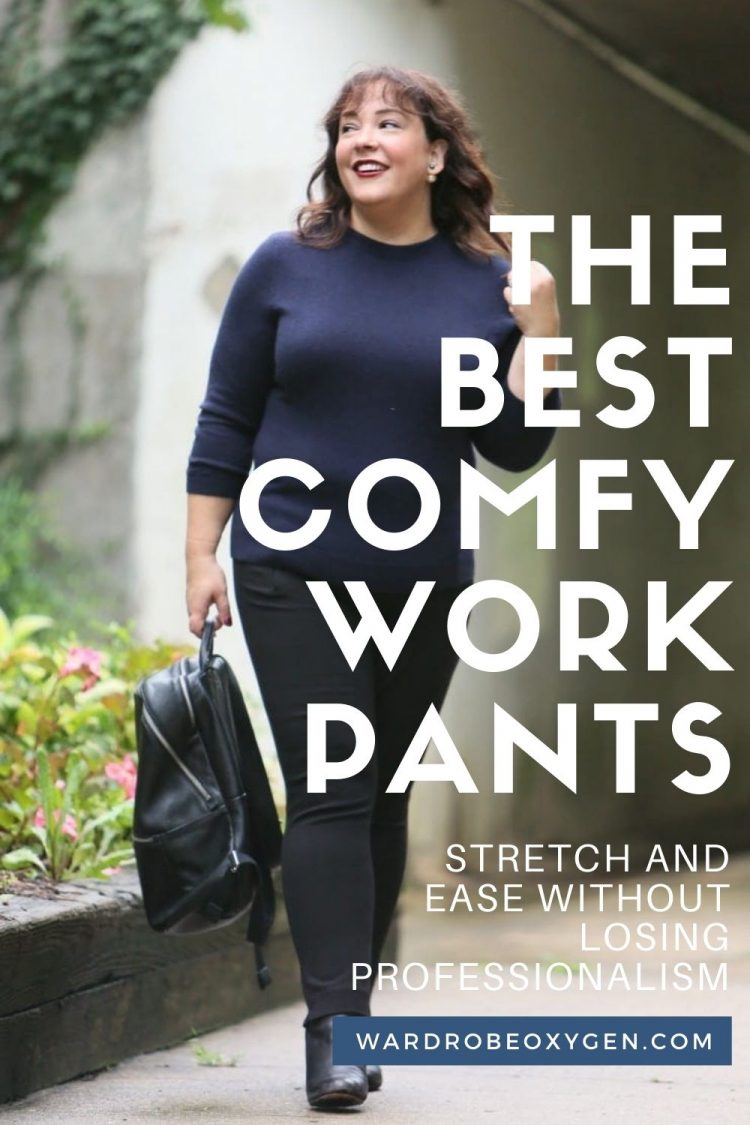 Recently in the Wardrobe Oxygen community, a member asked about the best comfy work pants. She was returning to the office and wanted to look polished and professional, but not lose the comfort from her work from home wardrobe. I commented recommending the Chico's Juliet pants but then when going through the archives, I realized I haven't reviewed the Chico's Juliet Pant since 2018.
It's funny, last year I donated my Juliet pants finding that I didn't wear them that often with my lifestyle. And now it's 2020 and I want pants just like them that are both comfortable and polished.
I reached out to Chico's asking if I could get another pair of their Juliet Pants and knowing that they too are comfy work pants, asked for a pair of their Brigitte pants.
Below I share details about these comfy work pants and why I continue to recommend them.
Comfy Work Pants from Chico's
Chico's Brigitte Slim Pants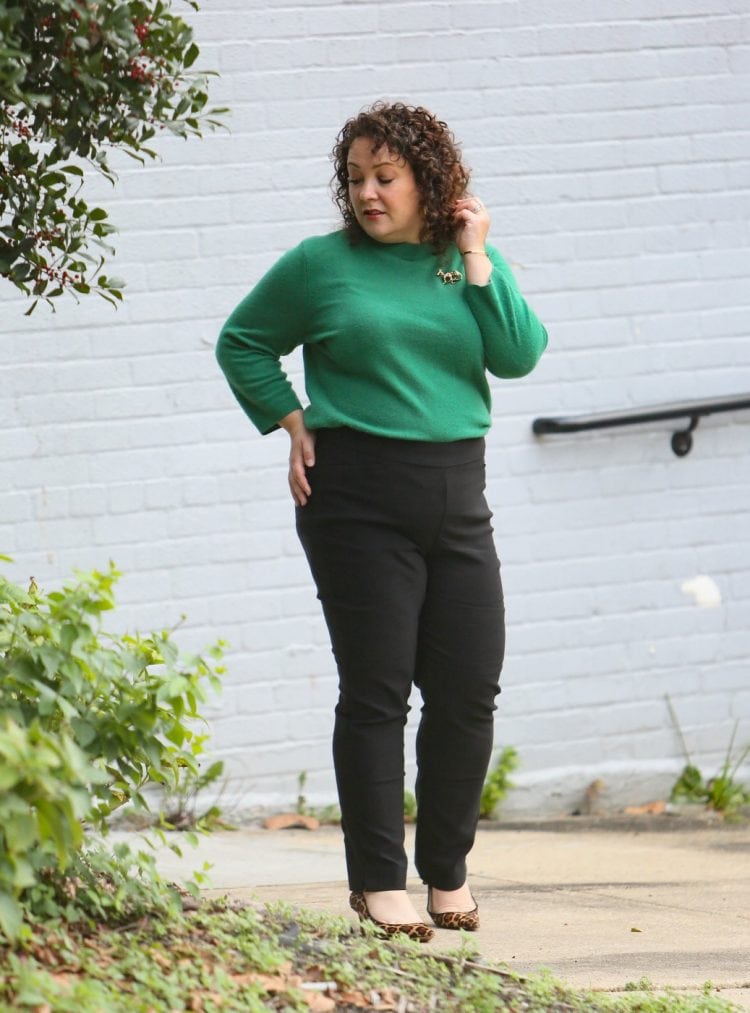 I hadn't tried the Brigitte pant from Chico's before, but I know it is one of their bestsellers for fit, shape, and versatility.
Made from a rayon/nylon/spandex blend, these pants have almost a crepe finish but are tightly woven, a substantial weight, and look quite polished.
Back in the '90s I worked for the clothing company Express and they had the Editor Pant which was a similar stretchy crepe-finish fabric that was work-appropriate with a sweater or one of the matching blazers (yet was also great with a tiny little polyester "club top" and Steve Madden wedges for a night out). And for those who remember and miss their Editor pants, Express still has them!
Well, the Brigitte is the Editor's sophisticated older sister. It's a more elegant fabric and a fit that is better suited for the woman who has worked her way up the corporate ladder.
For those who are oh-vah ankle pants, these are a nice choice. I am wearing the petite, which is a 28.5″ inseam; the regular is a 30.5″ inseam and the tall has a 33.5″ inseam.
They are a pull-on style with a wide waistband, and functional front pockets and faux back pockets which give more of a "work pants" look while still being comfy and not adding bulk.
These pants have Chico's So Slimming® technology which I know many love but I don't really get it. It doesn't seem to hit at the lower belly where I and most women I know would want a little support and smoothing.
But the technology is just a panel inside that doesn't affect fit or comfort, it doesn't determine whether I will or won't wear a style from Chico's.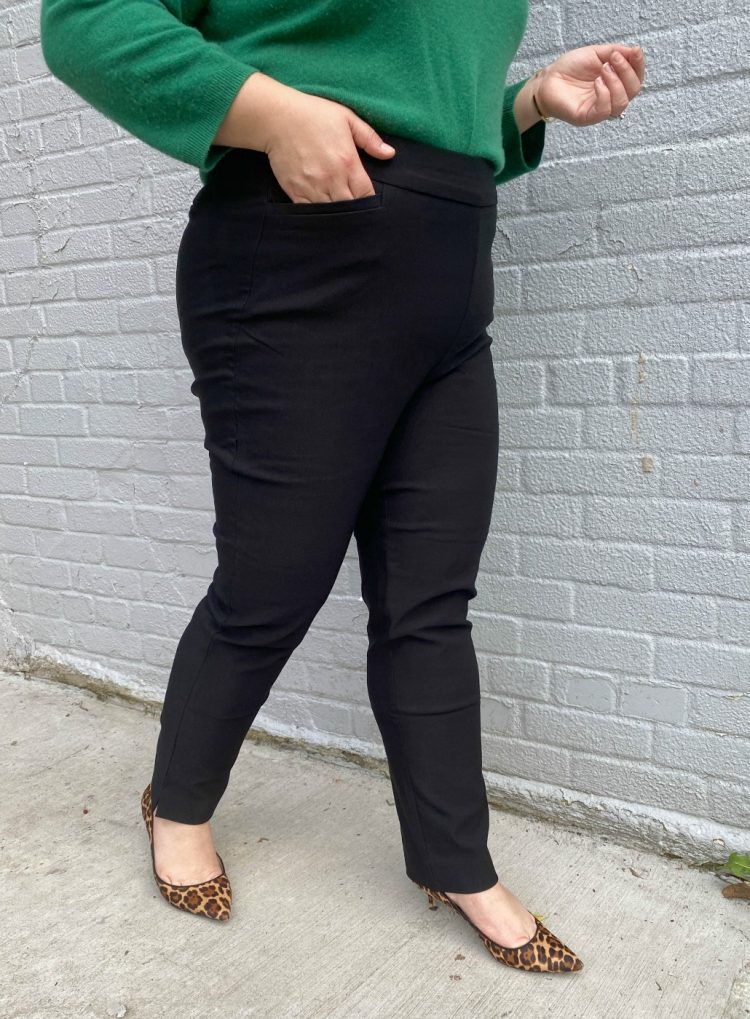 I got these in a 2 petite (equivalent to 12/14 petite) and I think I should have sized down; I'm not totally sure of my size lately since I haven't been trying on clothes in stores and have been wearing a lot of stretchy knits while also changing my diet and fitness.
But considering my Large and 12/14 pants still fit, I'd say these run a bit large in the waist and long in the rise. Next time I'll size down.
These specific pants come in black, olive, and ecru in sizes 0-20 (Chico's sizing 000-4). The Brigitte Pant is a popular one at Chico's and at this link you can see the range of colors, fabrics, prints, and details available in this silhouette.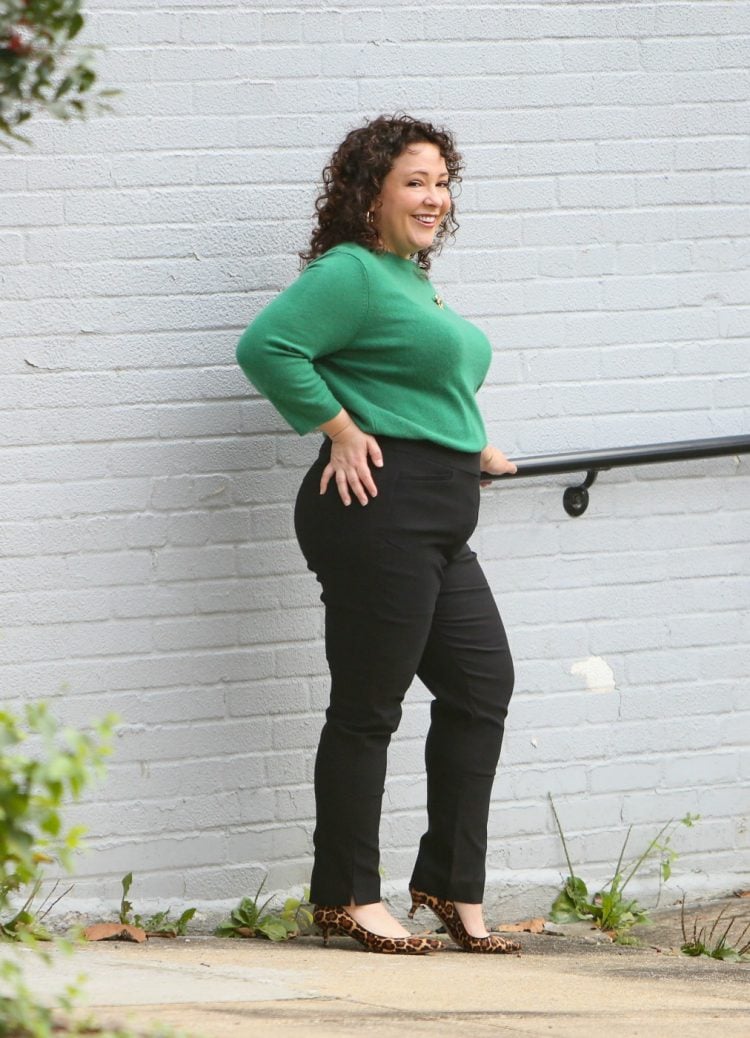 Chico's Juliet Ankle Pants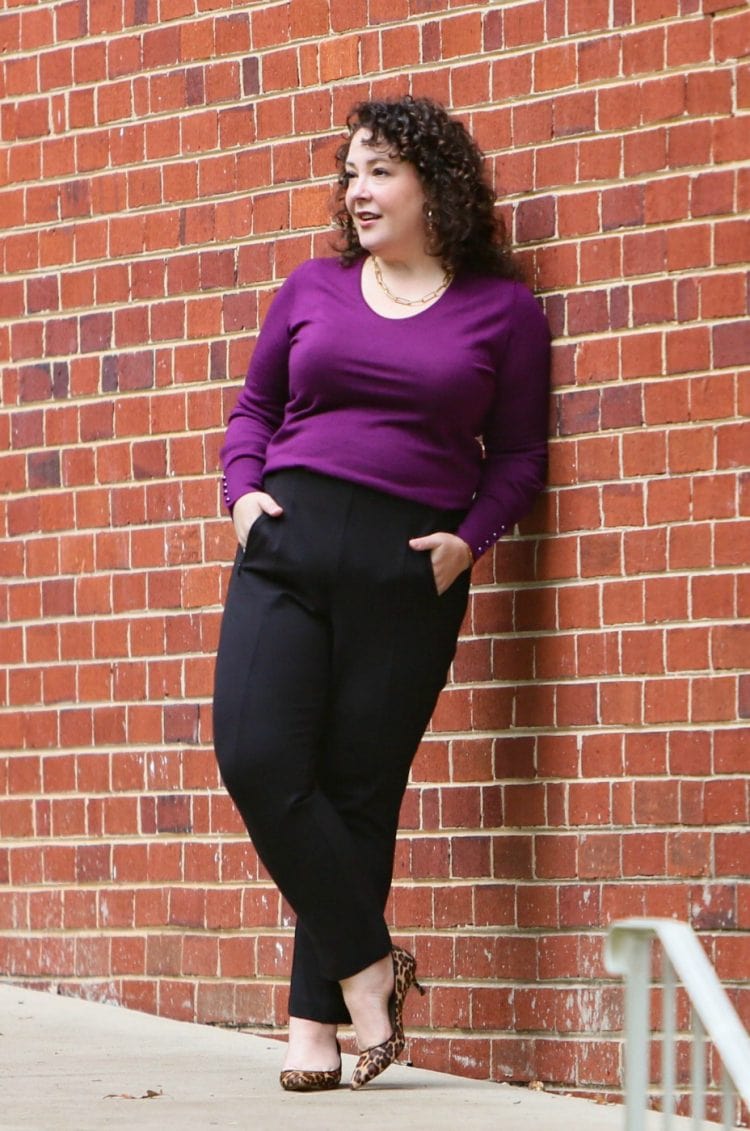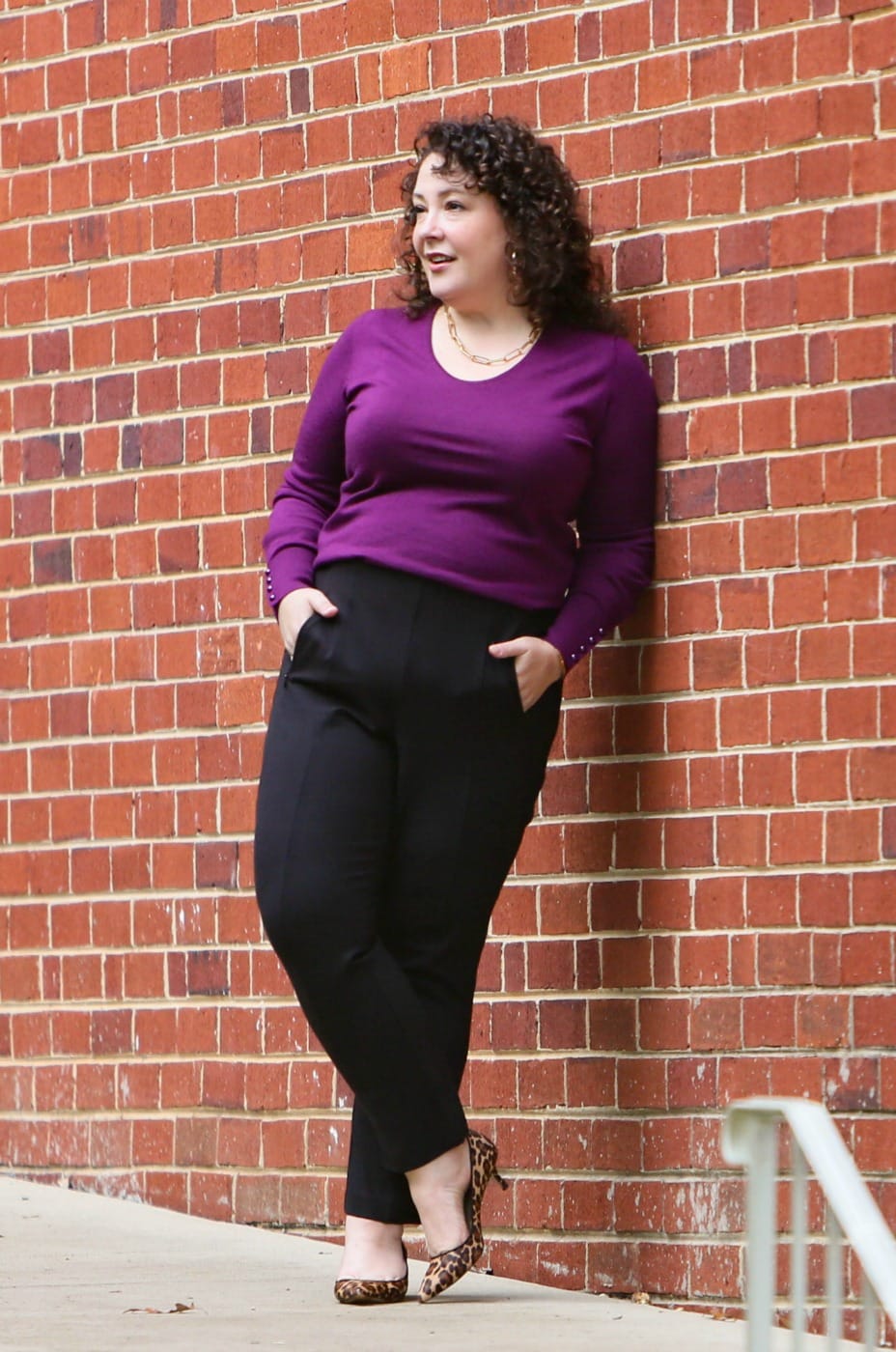 The last time I had a pair of Juliet pants, it was this style – a little side vent, clean lines, but they had faux pockets. And in 2020, I need me some pockets in every pair of pants I own. So I asked to try the Juliet Seamed Ankle Pants which have a sewn-in seam down the front of each leg as well as two front pockets that are not only real, but also zip closed.
Unlike the classic Juliet Ankle Pant, these have strategic seaming in a variety of places creating a bit more modern/athleisure vibe but still being a fabric that is professional and work-appropriate.
The fabrication is rayon, nylon, and spandex which doesn't mean a whole lot since the Brigitte is also the same mix of materials but in this case it means ponte.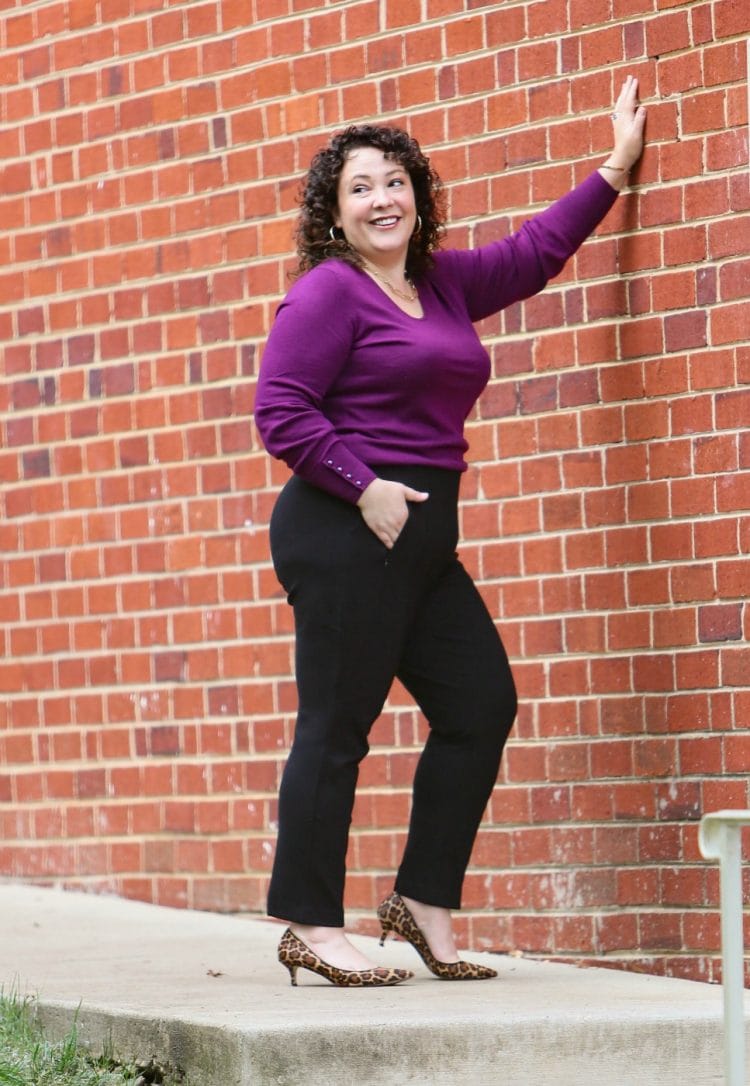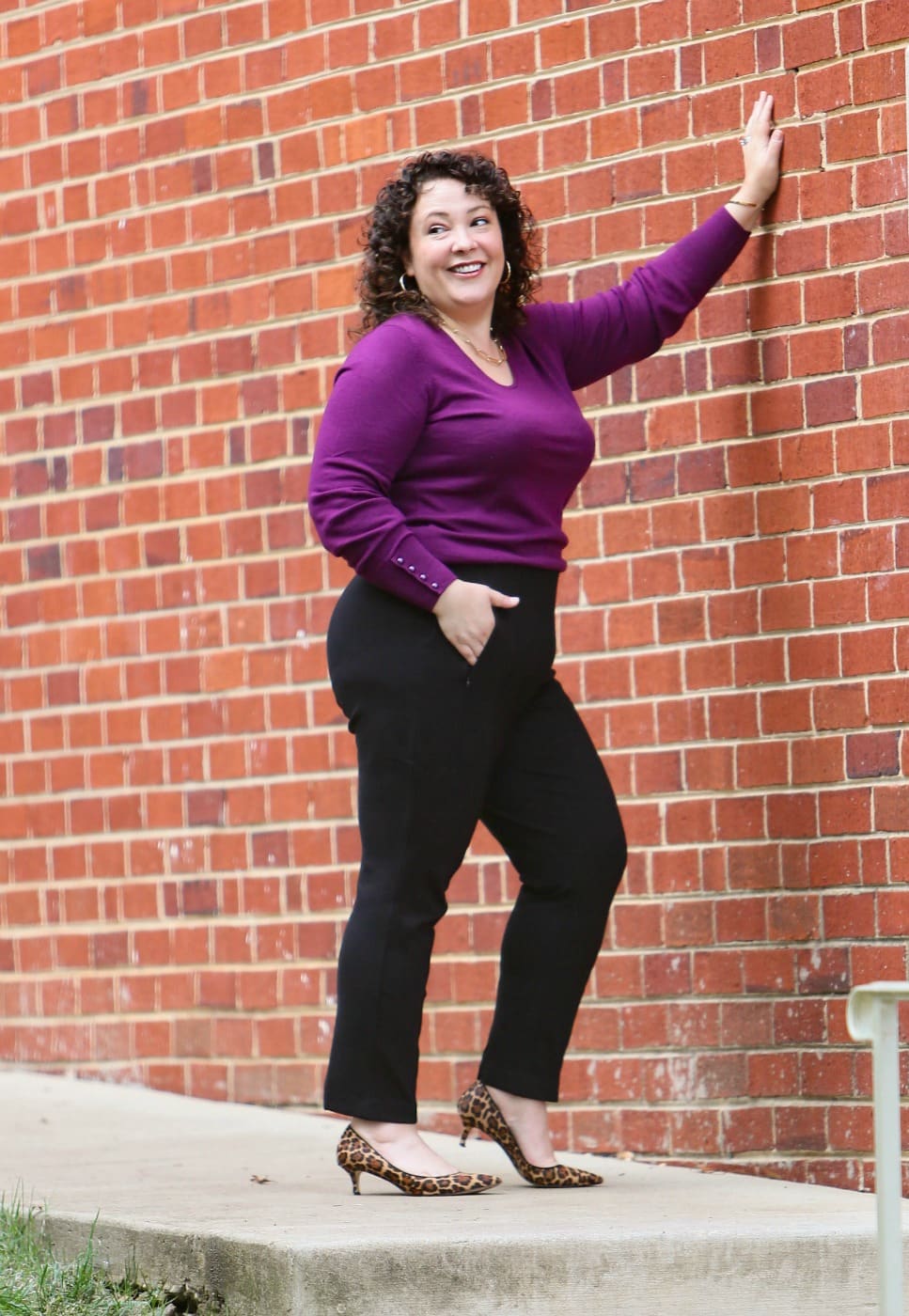 We all by now know ponte knit, which is actually short for Ponte de Roma, a tightly-woven heavyweight knit that feels like you're wearing athleisure but look polished enough to head into the boardroom.
I have written about and loved ponte knit all the 15 years of Wardrobe Oxygen and it's a big reason why I love these pants.
I again went with a 2 Petite, and again wish I sized down. Looking at the reviews for this style of Juliet pants, I am not the only one who found they run big. I remember this being the thing for my last pair of Juliet pants and even in my original Chico's Juliet Pant review I said I sized down.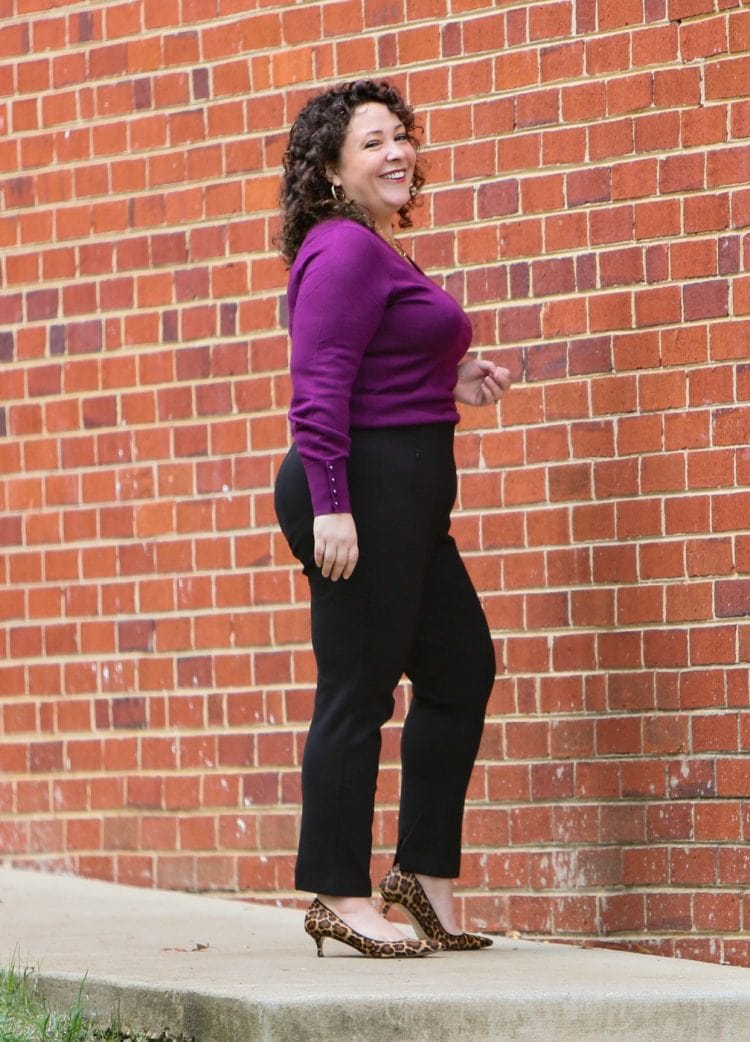 I also find the placement of the pockets odd; I think it may be because these pants too have that So Slimming® technology and the pockets would interfere with it?
These pants are a true ankle pant with petite having a 26″ inseam, 28″ for regular, and 31″ for tall. Unlike the Brigitte I felt these were the right rise for my 5'3″ self.
These are pull-on pants and at first they may look like leggings, but when you put them on you realize they are cut and wear like trousers.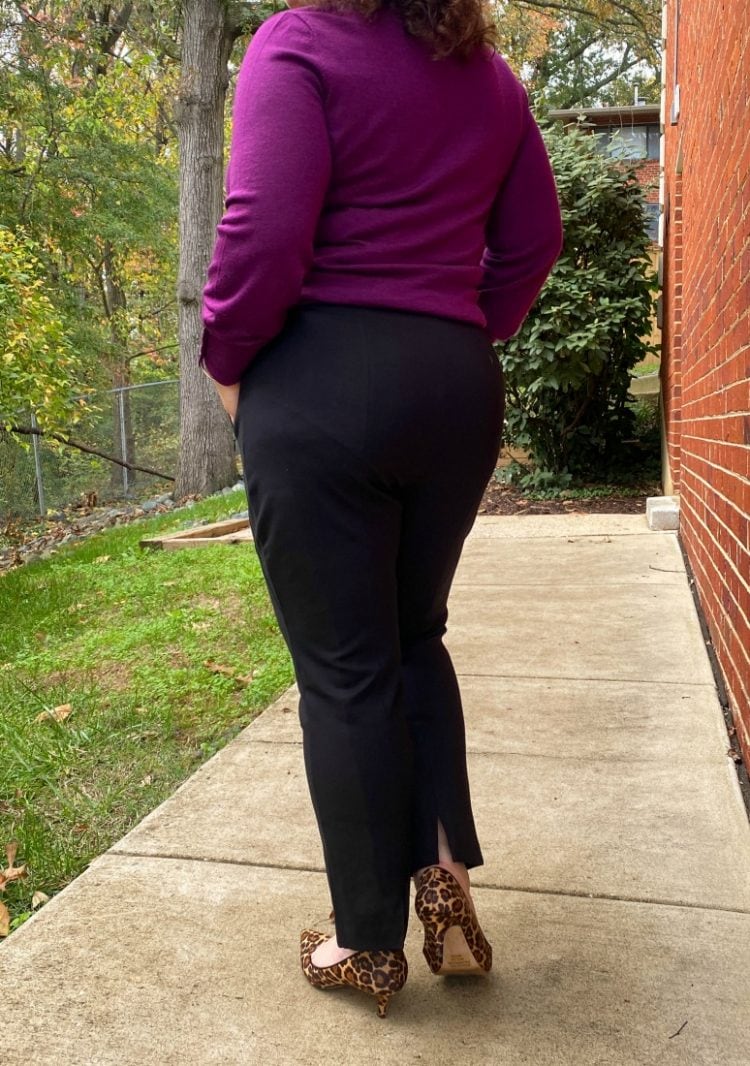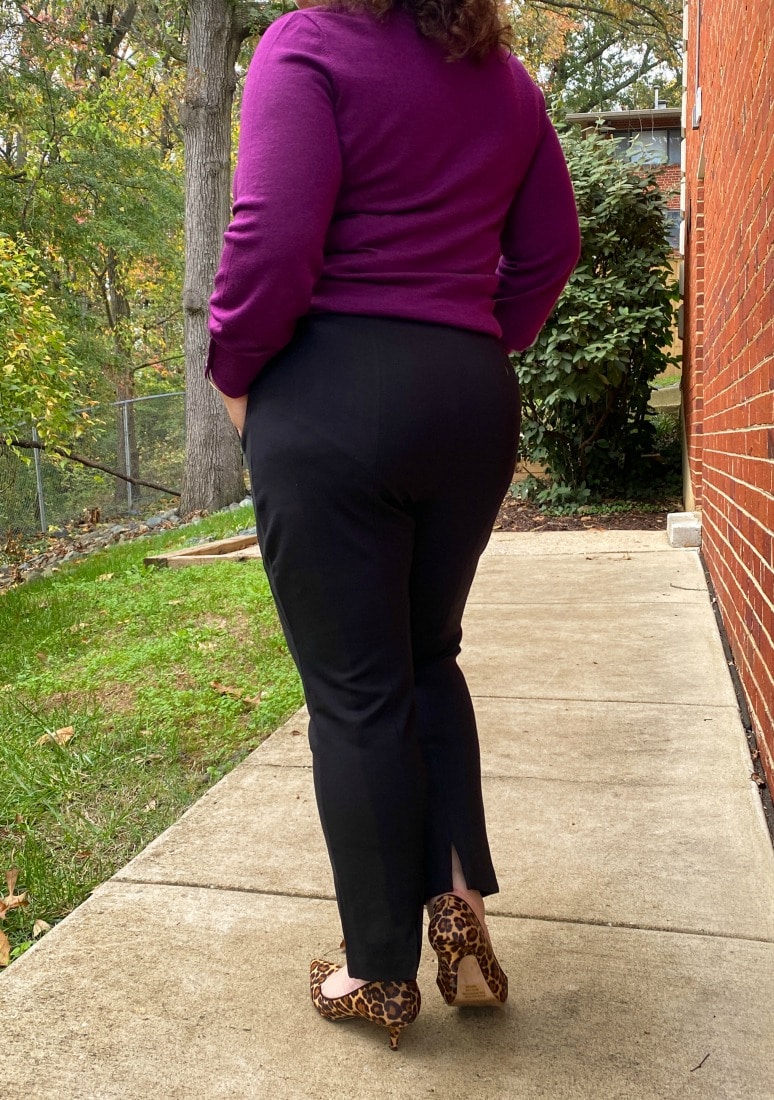 I specifically wore underwear without a seamless edge so I could show the level of VPL; if you wear seamless undies (these are my favorite), you won't have any panty lines because this is a thicker ponte and the pants aren't cut to be as tight as leggings.
These May Be My Favorite Comfy Work Pants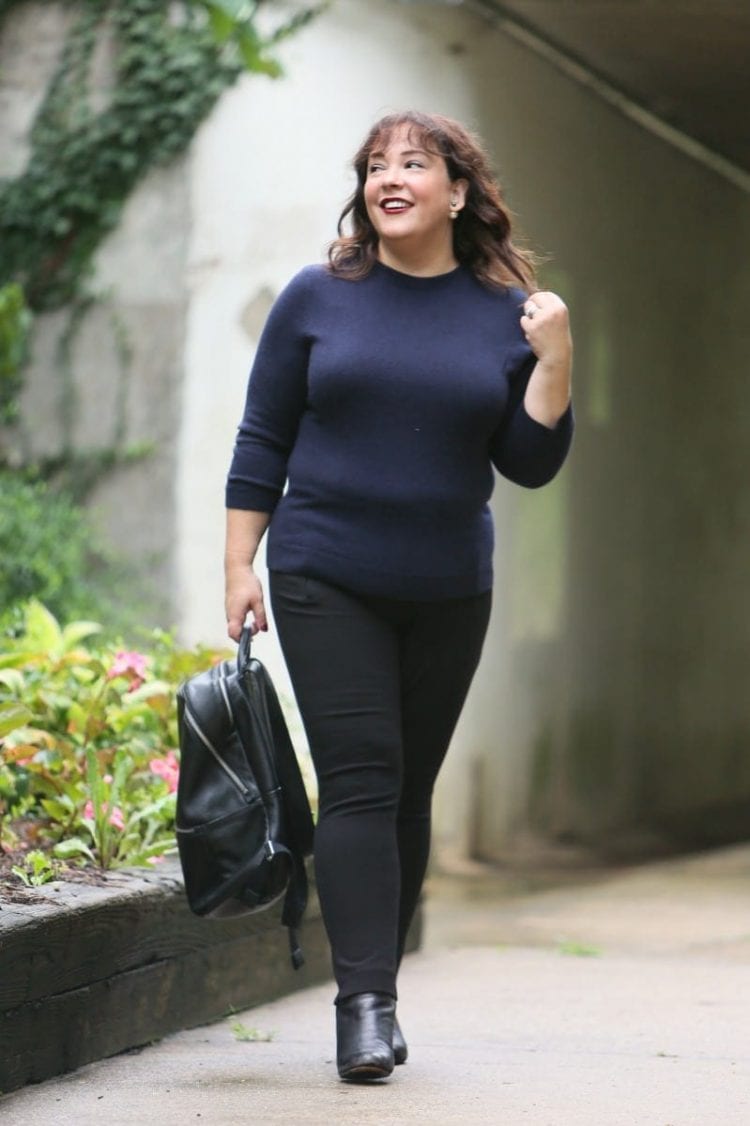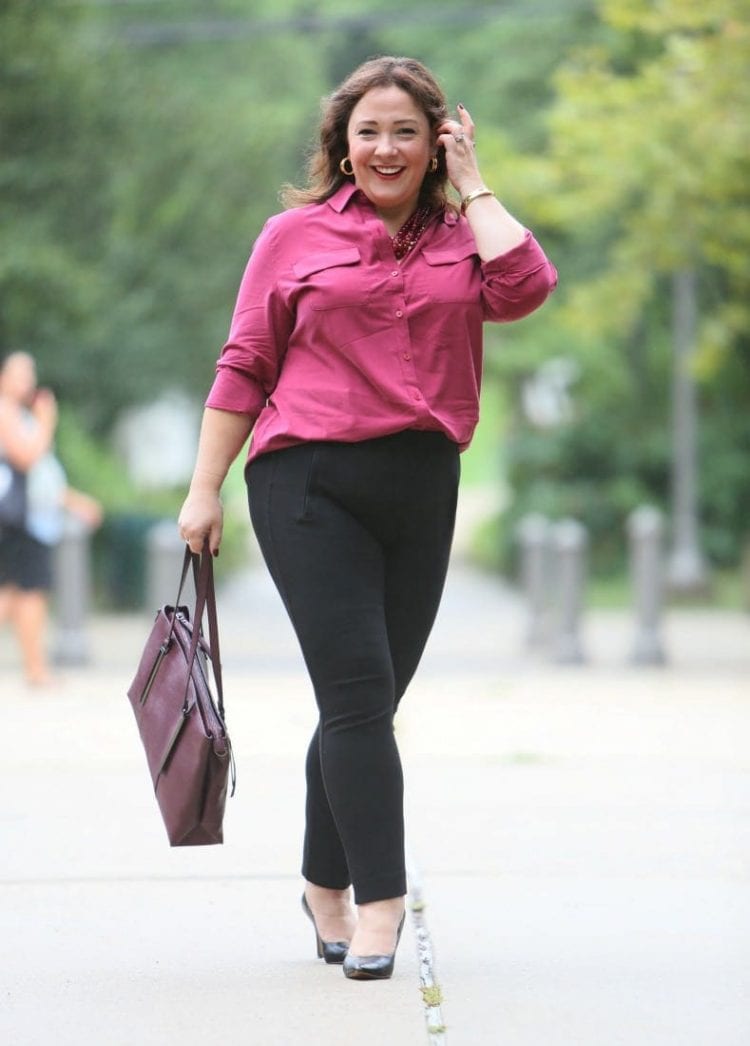 I am sharing these photos from 2018 of me in the Juliet because I think for work, the Juliet Side-Vent Ankle Pant is a bit more polished and professional of a style.
This style of the Juliet pant also comes in more colors (the pocket ones come in two, the no-pocket comes in six colors) and get a higher rating and more reviews from Chico's customers.
These are comfy work pants that are also versatile. With the faux pockets they look more like traditional pants for tucked-in and shorter tops, but the smooth pull-on style makes them perfect to wear with untucked looks.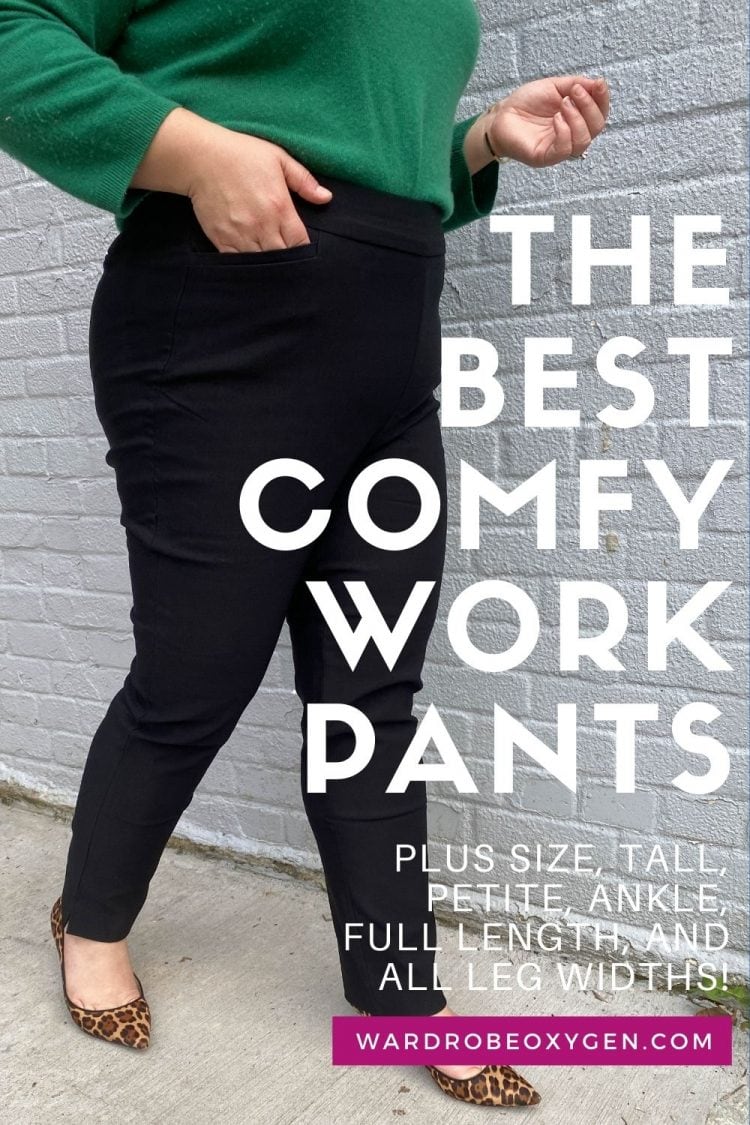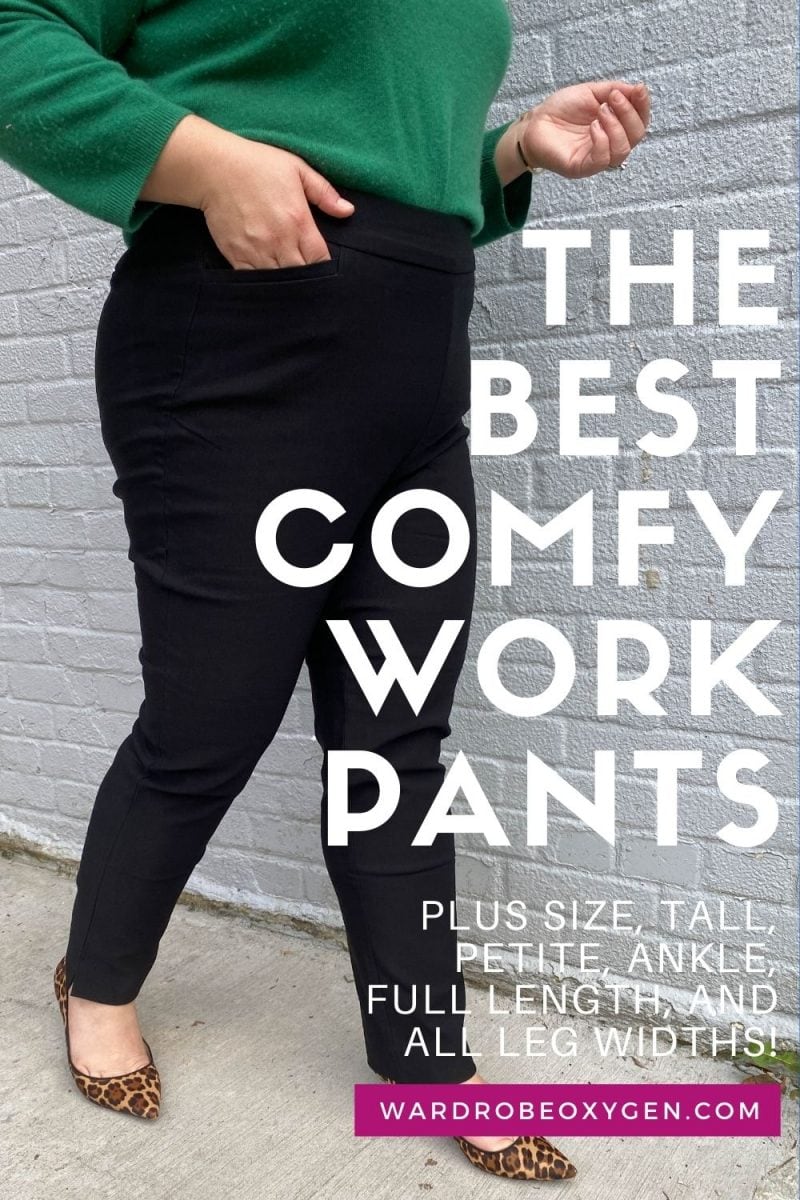 The Best Comfy Work Pants – Your Recommendations
I found the original conversation about so pants so interesting and helpful that I wanted to share the comfy work pants that were suggested by members of the Wardrobe Oxygen community on Facebook and comments on Instagram and previous posts on the blog. This list offers a variety of cuts, fabrics, and a more extensive size and length range:
I'd love to hear from you! Do you have a favorite comfy work pant that isn't mentioned in this article? Do share in the comments as your suggestion may be just the work trousers another has been wanting!
Shop Comfy Work Pants: