This article may contain affiliate links; if you click on a shopping link and make a purchase I may receive a commission. As an Amazon Associate, I earn from qualifying purchases. 
I have multiple health conditions which make dressing nicely difficult. The two hardest are that 1. I can't wear pants (or tights!) of any type and 2. I can only wear a few "comfort" shoes. Mainly Algeria Palomas. I can get by with some cute Merrell flats or Uggs for a very short time, if I'm not going to be on my feet much. That's literally it for footwear. I am also a true plus size – size 20, and have trouble fastening very small buttons. So I tend to default to this skirt (because I freeze a LOT, my skirts are almost all this long), a tee or sweater, and my Palomas or Uggs depending on snow or not. Oh, and a cane. I desperately want to look more stylish but have no idea HOW with my limitations!
Style doesn't come from being able to wear a certain silhouette, brand, or garment. Style comes from creating a look that works with your lifestyle and your personality. When I read your email I thought of my friend Amethyst who I featured in my True Fashionista series. She has foot issues and prefers long skirts and comfortable, flowing fabrics but she has a very defined personal style and aesthetic. Her style may not be for you, but she shows how you can create style no matter your personal situation.
While I regularly mention statement shoes and how a certain silhouette, heel height, or color can complete a look, I don't believe a woman HAS to have a certain shoe to be stylish. As I wrote in this post, "pretend your feet and shoes don't exist and dress in a way that gives you joy. This way, people won't focus on your shoes and if one does, it's clear they are worn for health reasons and not because you lack personal style." A couple ways to create personal style:
Focus on Accessories
Many style icons are known for keeping their outfits simple, and showing their style through the details. Choosing a wardrobe of simple basics, and then incorporating great accessories is a way to make your specific sartorial needs create personal style.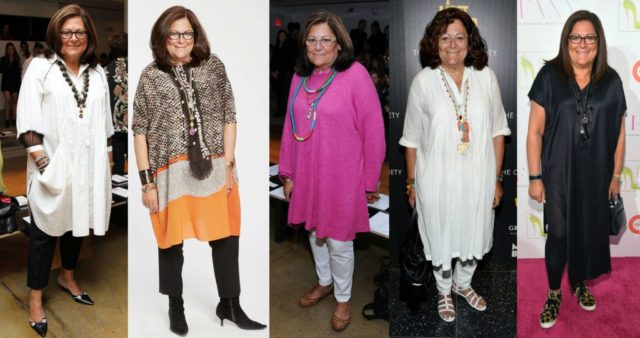 When considering this concept I thought of Fern Mallis, the creator of New York Fashion Week and for a decade, Executive Director of CDFA. Her actual wardrobe is pretty simple and sticks to the same shapes and silhouettes, but her personality comes with her choice of accessories and her signature glasses.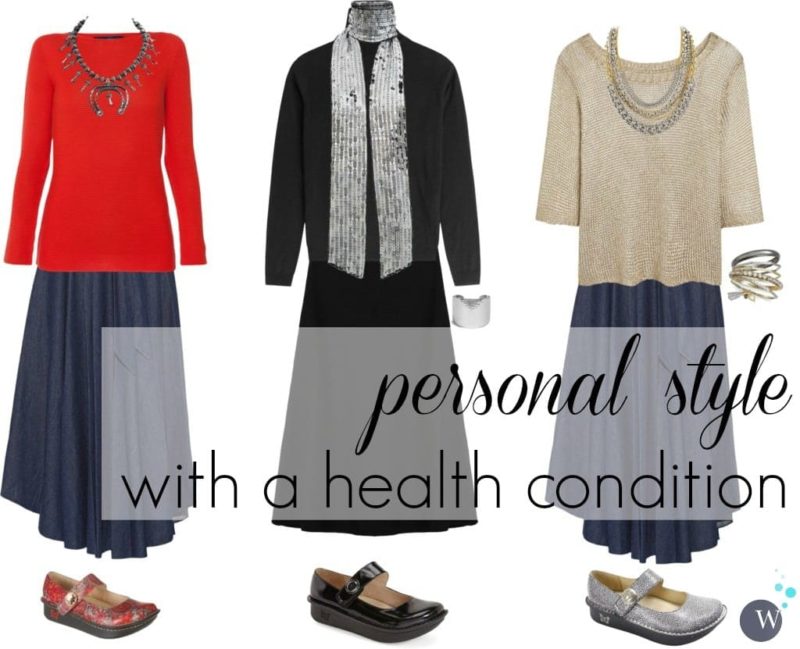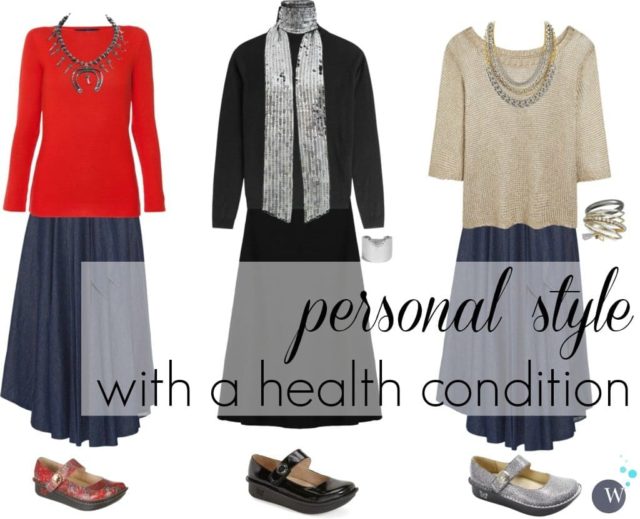 Shop the Looks: Red Sweater | Denim Skirt | Necklace | Red Shoes | Black Turtleneck | Black Skirt | Silver Skinny Scarf | Silver Cuff | Black Shoes | Gold Sweater | Denim Skirt | Chain Necklace | Bangle Bracelets | Sparkly Shoes
With these three looks I kept the wardrobe simple – sweaters and knits with long skirts but they create a stylish impact thanks to the use of accessories. I think the Algeria Palomas are great shoes because they do come in so many different colors, textures, and patterns so you can incorporate your personality into shoes that are good to your feet. Why not make them part of your signature style? Each look has a different pair of statement Palomas and I used them to create the color story and choose accessories to finish the look. As you see, you're not stuck to one style or concept because of your shoes. Whether they're pointed toe stilettos or comfort shoes, they can still make a fabulous statement and define your style. This is a great way to try different styles and find what feels you.
Create a Signature
Once you know what style/s fit your soul, you can create a signature style. A funky haircut, a wardrobe of amazing scarves, cool necklaces you buy from local artisans, a wrist of bangles, eye-catching glasses… all of these are examples.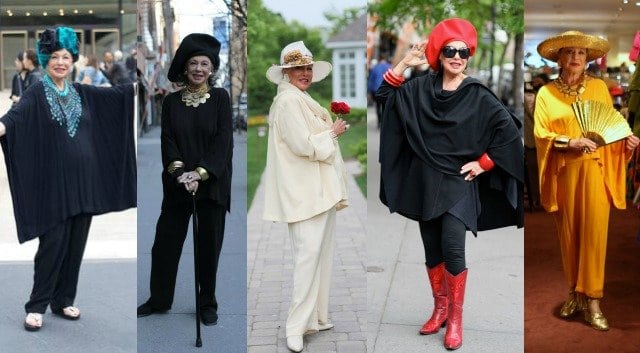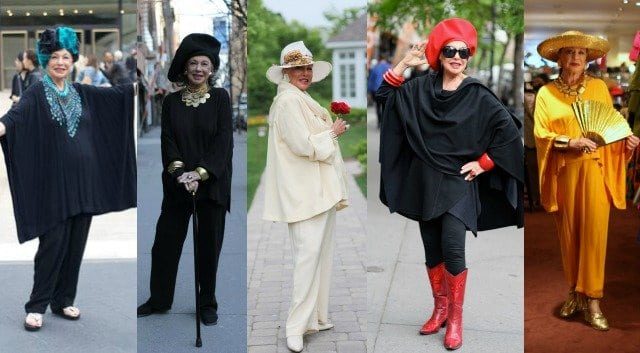 When considering this concept I thought of the late Lynn Dell, who was a boutique owner and seen on the blog and in the documentary Advanced Style. Dell had a very signature style, but it was created with her amazing choice in accessories. Hats, scarves, jewelry, and on-point lipstick gave an effect of glamour and sophistication while still remaining comfortable in soft knits and relatively sensible shoes.
Have Fun with Fabrics
Awesome prints and textiles aren't just for the slim and trim. Whether you're wrapped in black jersey or a floral jacquard, you will have the same body. If you're comfortable with it, have fun with amazing textiles that are still easy to wear, warm, and work with your health situation.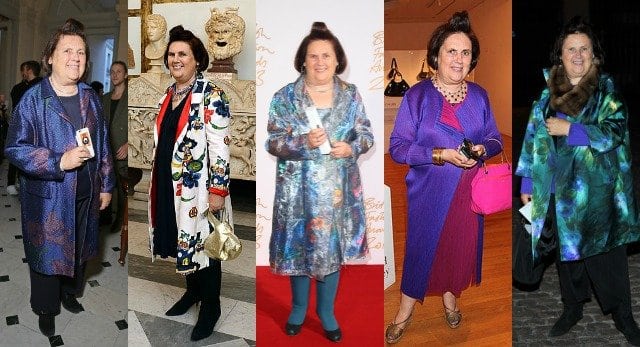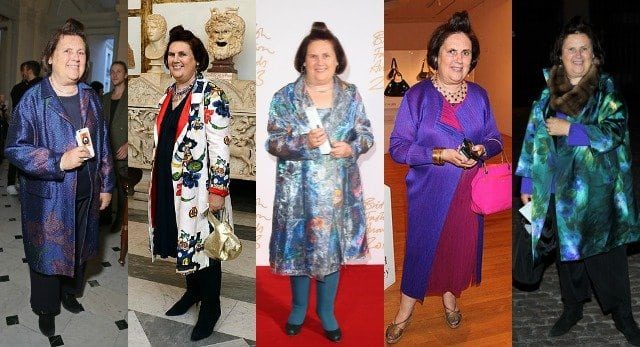 When considering this concept I thought of journalist and fashion critic Suzy Menkes. Well respected in the fashion arena, Menkes is regularly seen in jackets, scarves and tops in beautiful prints, luxe fabrics with sheen, and embroidery, styled with simple dark colored knit separates (and her signature hairstyle!) . She exudes personal style without needing to adopt the runway trends she reviews.
All three of these style icons may not be your shape, your age, or your style.  They are just examples of women who have not sacrificed comfort or health to achieve style.  Your style may be more youthful, less colorful, more simplistic, more elaborate… it's not about recreating or replicating but gleaning inspiration.
Personal Style is For Everyone
Personal style isn't just for the thin, the rich, the young, the healthy, the mainstream. It may not be as easy but it is possible for all of us. One woman's style is not the same as another. We are all snowflakes, whether it is our body type, our lifestyle, our specific needs, or what makes our soul sing. Whether we have a studio apartment or a palatial estate, we figure out how to make that house our home. Your body is your home, and it deserves to be styled in a way that celebrates its beauty while keeping it comfortable and safe. I hope this post can get your creative juices flowing. I wish you much success and joy as you embark on your style journey!