This article may contain affiliate links; if you click on a shopping link and make a purchase I may receive a commission. As an Amazon Associate, I earn from qualifying purchases. 
Fashion doesn't have to be complicated. While it's fun to see the creative and outlandish fashions on many blogs, it's equally inspiring to find someone who has mastered the art of simplicity. Someone who realizes that a whisper may be more powerful than a scream. An edited closet, good tailoring, knowing her shape and lifestyle and dressing for it is a talent, and one of the many talents of Monique, the woman behind the blog Tipa Tipa. Monique's perfect, simple, and easy vintage style inspires me on a regular basis, and that is why I asked her to be part of my True Fashionista series.
Monique's blog is no longer in existence but I kept her interview for style inspiration.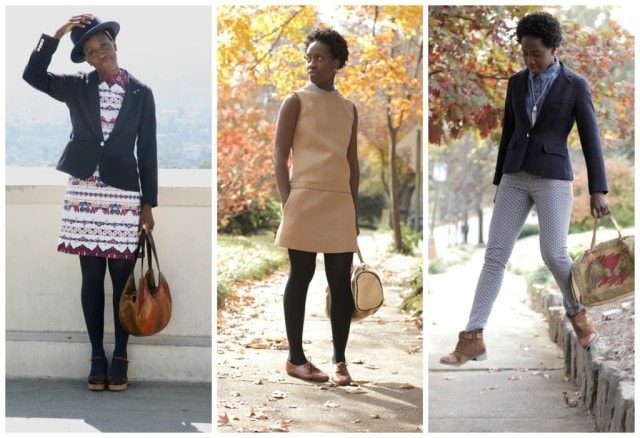 Style doesn't come from quantity, but quality. Quality doesn't have to mean designer labels, cashmere and silk, or high pricetags. Quality is not only in the construction of a piece, but it's value to your wardrobe and personal style. Monique masterfully mixes vintage, thrifted gems, gifts from friends, and pieces from wallet-friendly chain store. She knows that any piece right off the rack (be it in the mall or the neighborhood thrift shop) rarely fits well and understands the importance of a tailor. What makes her wardrobe so perfect is how it perfectly fits her. Proper tailoring can make a $5 thrift store find look like a million bucks. In fact, Monique admits that her tailor was one of the first to know that she was expecting. I look forward to seeing more of Monique's maternity fashion.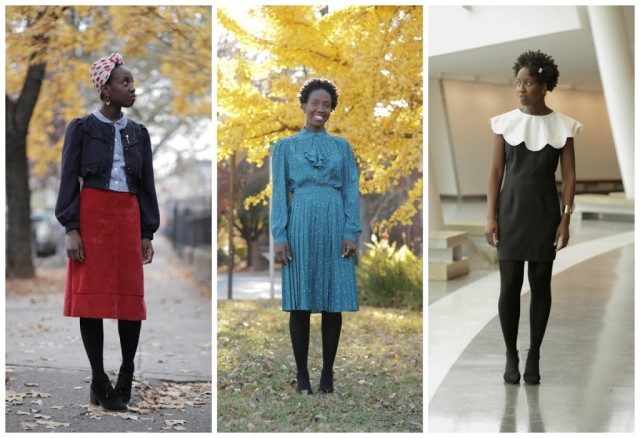 Tipa Tipa isn't just about Monique's personal style. She has an awesome feature – Film Fridays, where she delves into movies she has recently seen, providing images, trailers, quotes, and her personal opinion. Monique also regularly features different artists she likes or recipes she and her husband Josh have whipped up. Monique's personal style is clearly seen through these sorts of posts as well – elegant simplicity, focusing on the personal and the detail, again showing that a whisper can more powerful than a scream. Tipa Tipa is like a cool breeze – calming, refreshing, a reminder that there is beauty in the small things.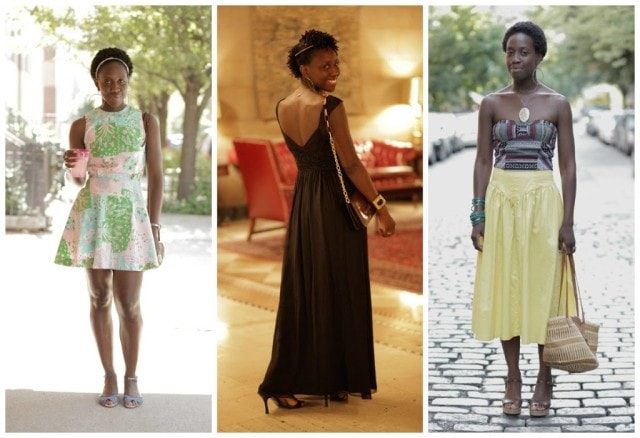 As with every other True Fashionista in this series, I asked Monique to answer the same five questions. Here are her answers:
How would you describe your personal style?
I would describe my personal style as vintage, urban, feminine with a sprinkle of preppy.
Where did you get your passion for fashion?
My passion for fashion, certainly comes from my mom and older sister. As a little girl, I remember every evening my mother would set out two outfits. She would ask me which one I thought was the better outfit. I would tell her my opinion and sometimes we'd mix and match the outfits to come up with one really good one. This evening ritual gave me a good sense of how to pair colors and decide what shoes are more flattering for a particular look. My sister who's three years older than I am would take me thrifting in the West Village back in the 90's when there were loads of great affordable thrift shops. She would pick up pieces that I would have certainly overlooked and then style them perfectly. She certainly nurtured the skill of finding treasures in heaps of second hand clothing.
Where do you find sartorial inspiration?
I live and work in Brooklyn, NYC. I am really inspired by the people around me. On the train or bike rides, I enjoy checking out how people put together their outfits.
What is the difference between fashion and style?
I see fashion as the umbrella that encompasses a variety of style.
Any advice for a woman who is starting to find her personal style?
The key to finding one's personal style is to figure out the dress cut that's most flattering for one's body and the colors that best compliment one's skin tone. It's important to appreciate and love your body. It's also great to have fun exploring and being open minded when it comes to figuring out what works best. Finding one's personal style doesn't mean spending a lot of money, but building a wardrobe of pieces that look and feel fabulous.
The purpose of the Friday True Fashionista series is to show women who use clothing to express their personal style. Each woman has a different, unique look and opinion on clothing and fashion. These women inspire me in my clothing choices, and possibly their bold sartorial statements will inspire you. Stay tuned, there will be a featured True Fashionista every Friday. And if you know of a True Fashionista in your life, tell us about her in the comments… you never know she may end up being featured!