This article may contain affiliate links; if you click on a shopping link and make a purchase I may receive a commission. As an Amazon Associate, I earn from qualifying purchases.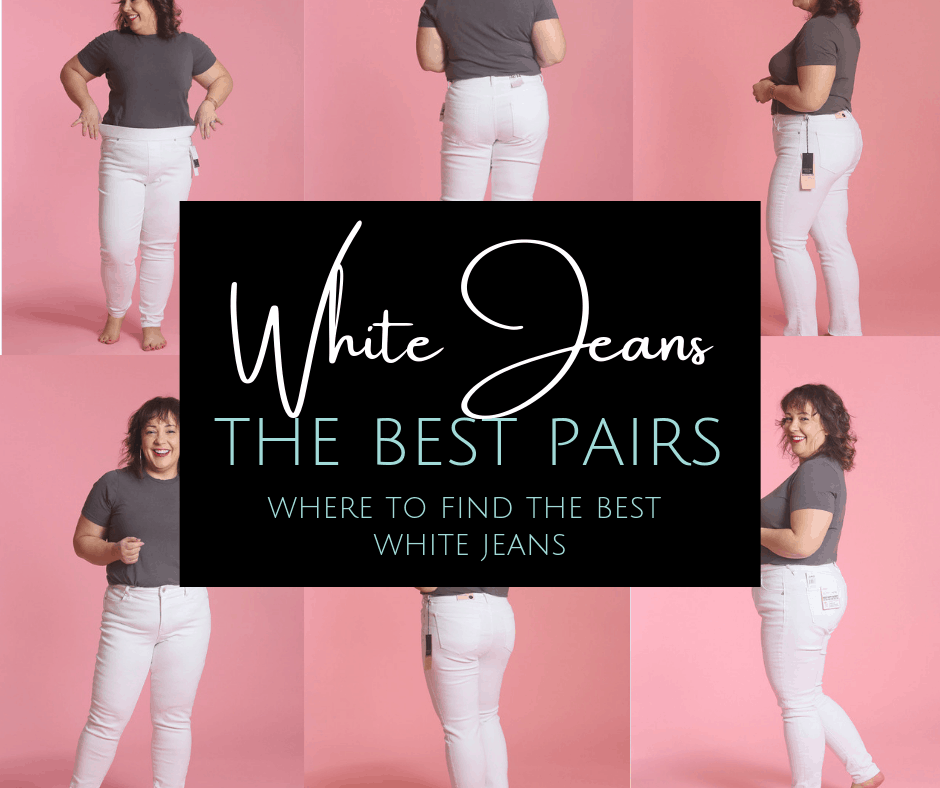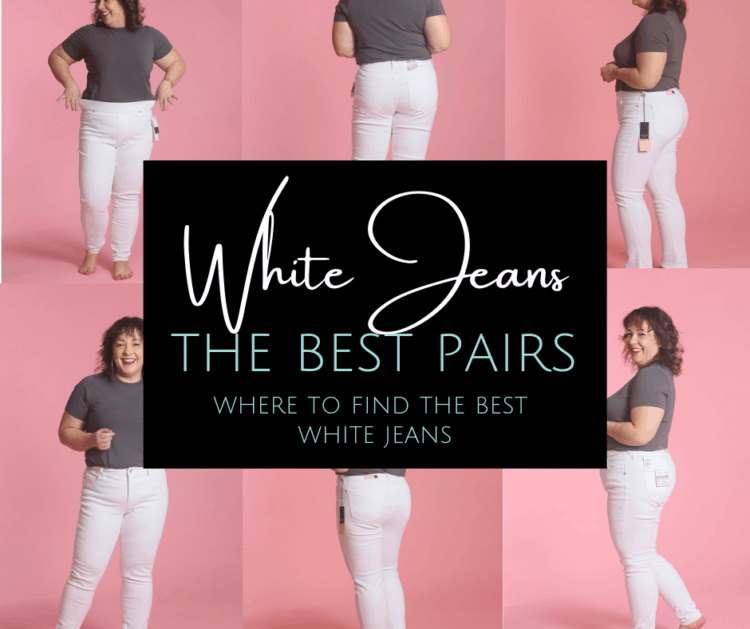 I find jeans to be one of the hardest things to shop for, right up there with bras and swimwear. When it comes to white jeans, it's even more difficult. They're transparent, they bag out, they're too thin, they're shaped weird… why is it so hard to take a wardrobe staple and make it wearable? I love white jeans, they are such an easy way to make an outfit look springy or summery, they're more dressy than blue jeans, they add class to a look. White jeans are a must-have in my wardrobe, but this spring I realized I didn't have any pairs that fit me well. I went on a search for the best white jeans. This post features photos of 12 different pairs of white jeans that I tried; at the bottom I share reviews for a few more that didn't make the shoot but I tried. There are also some tips on white jeans from readers and friends with brands and styles I haven't yet tried. I hope this review helps narrow down styles for you so you can find a great pair of white jeans that fits, flatters, and doesn't show every seam of your underwear.
For reference, I am 5'3″ and in pants and jeans usually choose a size 32 or 14. I find petite usually fits my figure best, but sometimes do better with the short or ankle version of a regular-cut jean. My curves are in my rear, belly, and thighs with smaller hips. I like a straight or slim cut white jean – not super skinny but I find a trimmer fit looks better with my shape and a variety of tops. For this review, I purposely chose burgundy colored underwear to see if they would show (this style to be specific). All the photos were taken the same day so no change in size, underpinnings, etc. If the jeans had been laundered, worn previously on the blog, or worn for a long period of time previously, I will state that. As soon as I put each pair on, I did the Squat Dance. You know that dance, where you hold onto the waistband of the jeans and squat low to the ground a few times, seeing how well the denim stretches and to make them a bit more comfortable.
My Search for The Best White Jeans
In the words of my husband who shot these photos, "WTF Alison, they all look the same!" And at first glance they do. But if you're reading this, you're likely like me, someone who wants better than okay. And small details make a difference. I will share the photos of the front, side, and back views but also the notes I took during the shoot to help explain why each pair was a hit or a miss.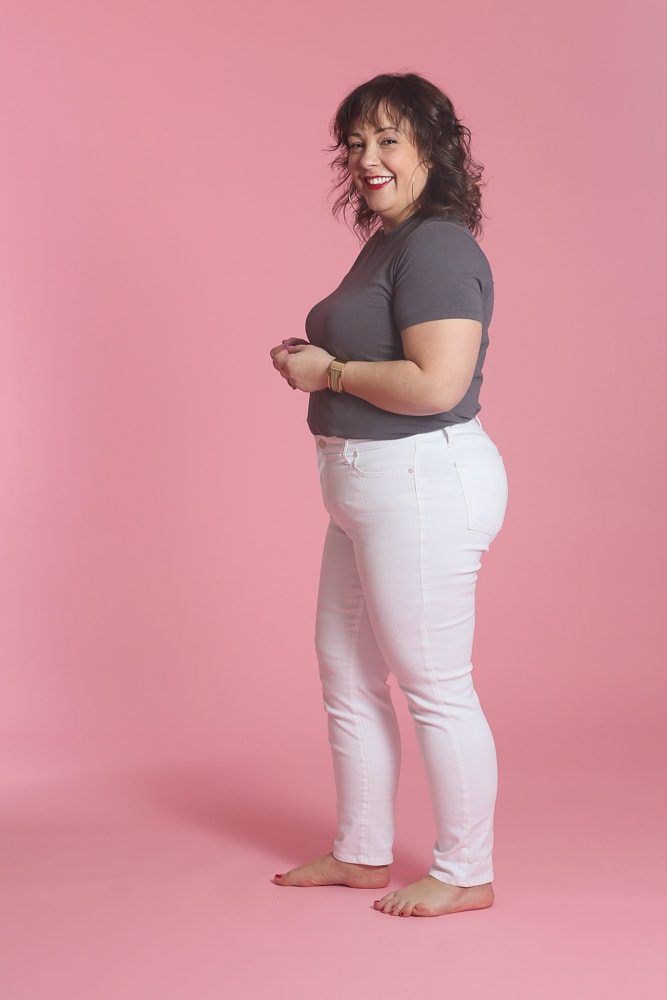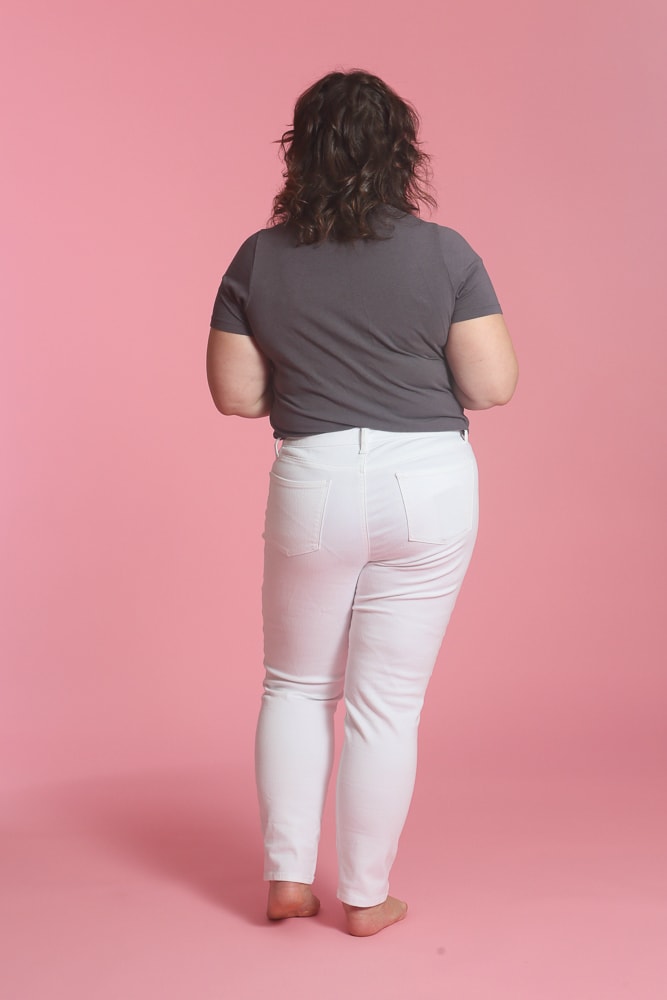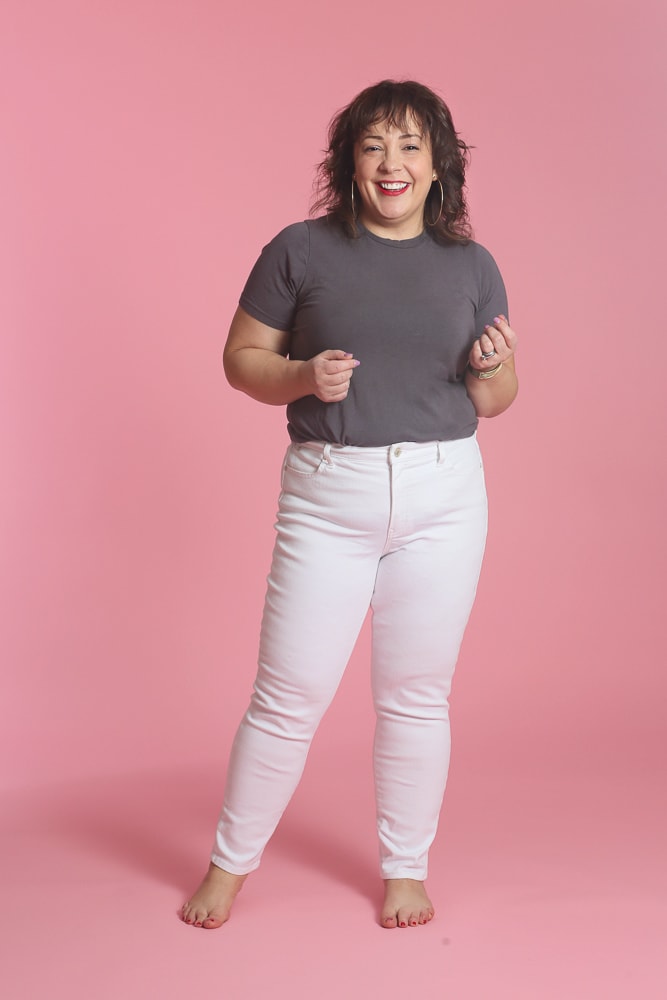 After liking these jeans in my last jeans review but wishing they were petite, I decided to try them in white and petite. Spoiler alert, this is the only pair of jeans in this entire review that I found to be the same quality, fit, and construction in blue denim as in white denim. And spoiler alert, these are my favorite jeans from the bunch. They've already been washed and dried twice and worn several times. They don't bag out when wearing, you can easily wear them multiple days between washings without having saggy rear. While the denim is thick and firm, it has stretch and is comfortable even when sitting all day. The only issue is you need to wear nude to you underwear with them. The pockets are beige which helps them disappear, but it's clear you can see my undies from the back. However, I've worn skintone undies under them without any visibility. These are some of the most expensive feeling denim from the entire review. These jeans come in misses, petite, plus, and petite plus sizes up to 24 and retail between $95 and $99 dependent on size and color. Win!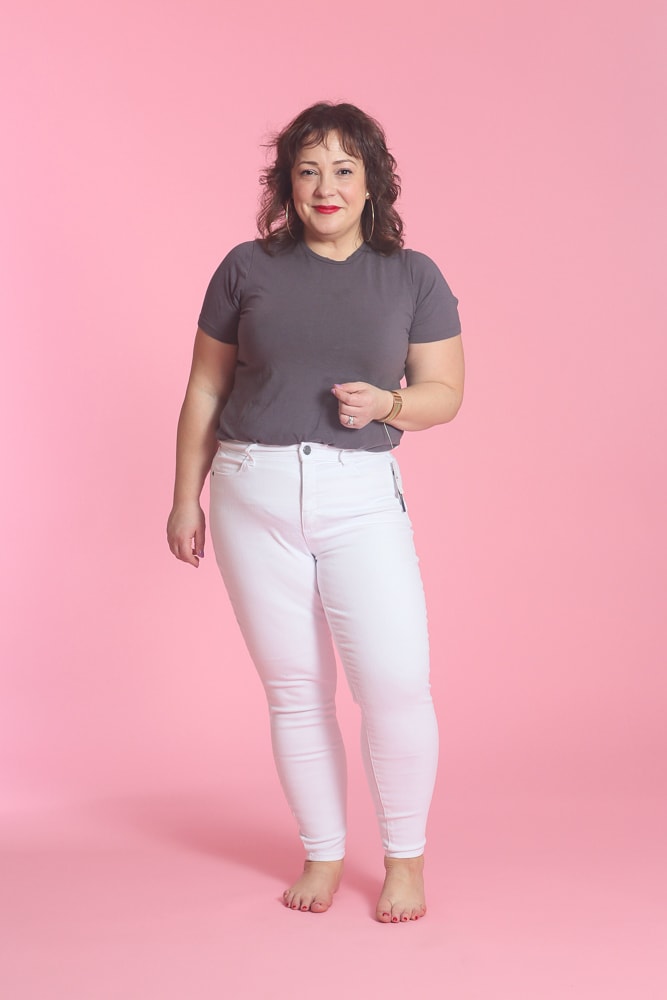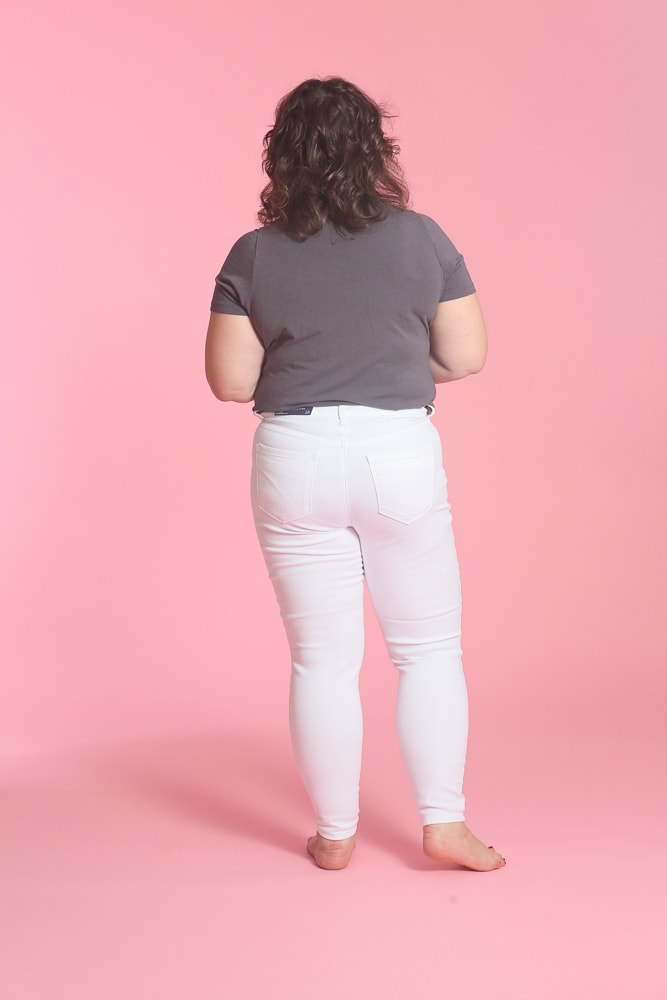 I liked the idea of the high waist, and thought a lighter weight denim would be nice for hot summer. Since I've had such luck with Talbots denim in the past, I figured these wouldn't be too transparent. I was right! If you're looking for a skinny jean or jegging in white that isn't see-through and isn't so thin you can see every dent in your knees, these are a great choice. I'm not sure what happened to my side view photo of these jeans but I hope this is enough to give you an idea of how they fit. Since they are so fitted and thinner, I wouldn't feel comfortable wearing these with a fully tucked in top (I'd do a half-tuck), but these would be great with a floaty top and sandals this summer. These jeans come in petite, misses, plus, and plus petite up to a size 26 and retail between $95 and $99 dependent on size. Win!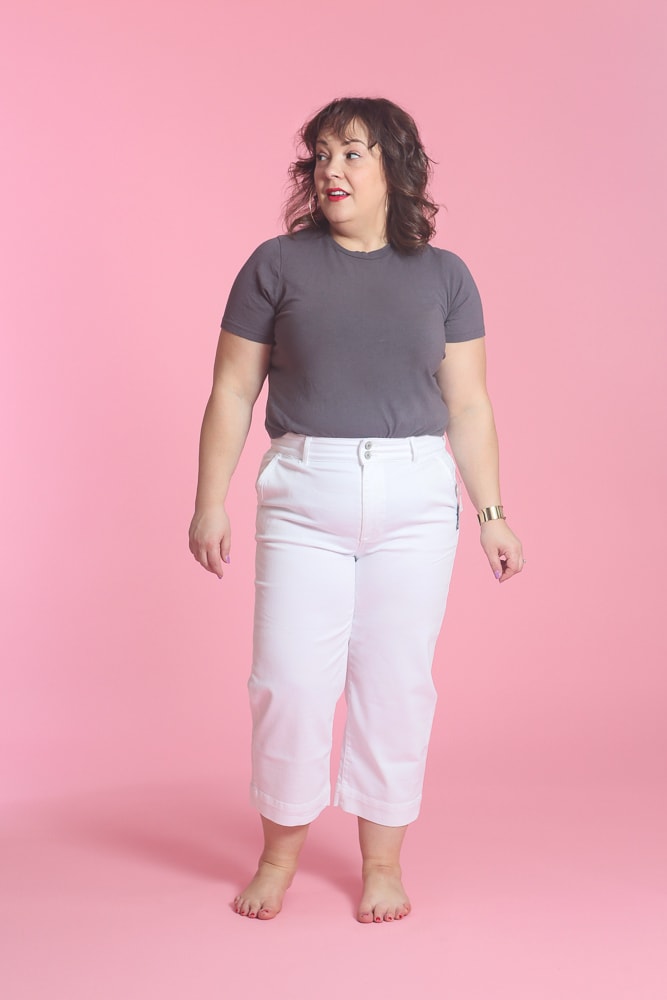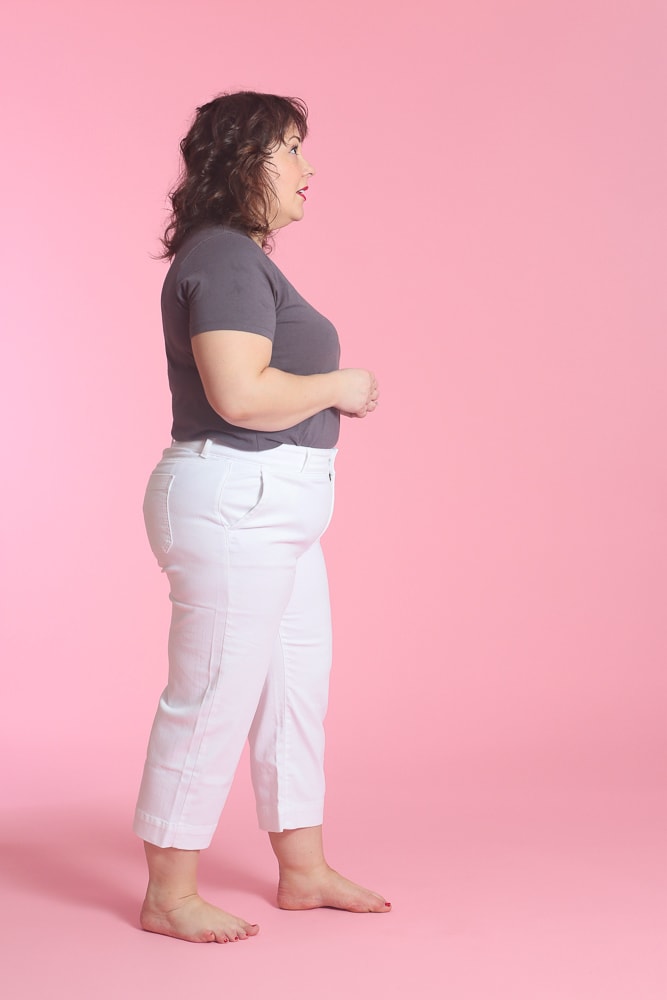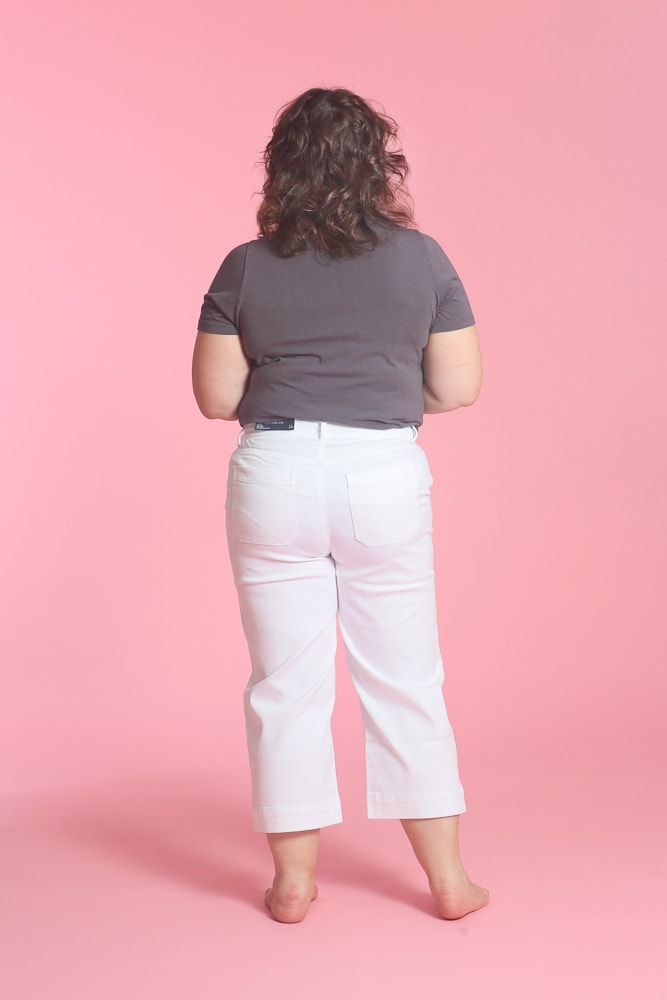 I love my wide leg cropped jeans from American Eagle so much (seen here, here, and here) I thought this would be a great choice. Nope, these are the epitome of why many of you think Talbots is too frumpy. I almost didn't add these to the review because they aren't a slim or straight full-length version but decided to because it's proof that no brand gets it right all the time and because a cut works at one retailer doesn't mean it will at another. I would have had to size up, but then I think they would have hung weirdly… more weirdly than they currently do with those bowing out pockets, crotch whiskers, and a wide waistband at just the exact place where it will be folded over when I sit. I also don't like the very wide hem and the double silver buttons – these details along with the cut make these jeans look dated and frumpy. They could possibly be modern and cool looking on a tall slim woman without a belly or much of a butt, but also a woman with that figure can likely find more stylish wide leg cropped jeans that are likely cheaper. These come in petite, misses, plus, and plus petite sizes up to 24 and range in price from $95 to $99 dependent on size. Miss.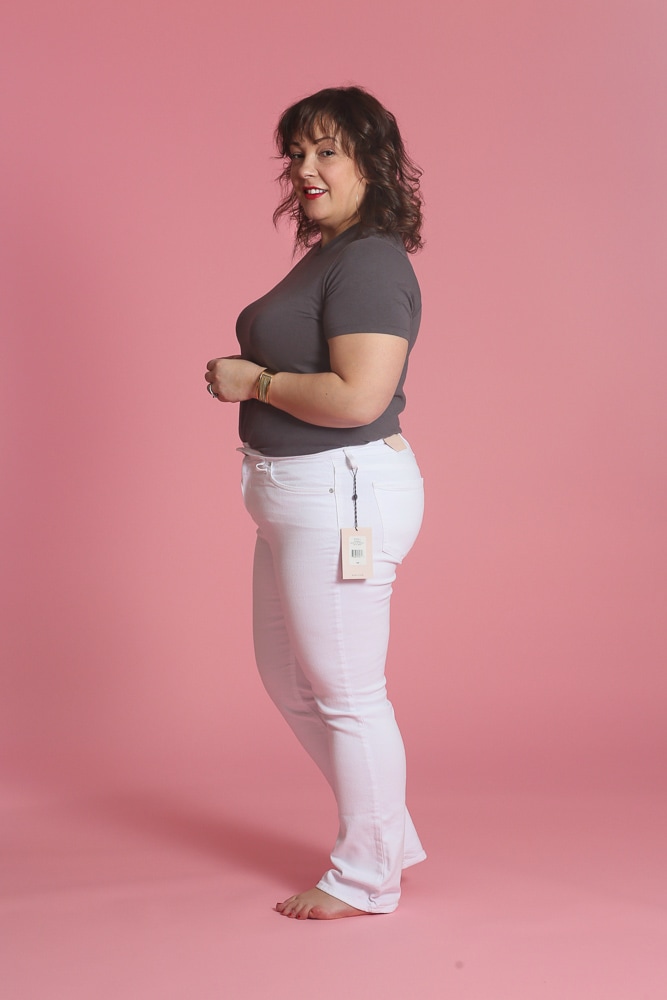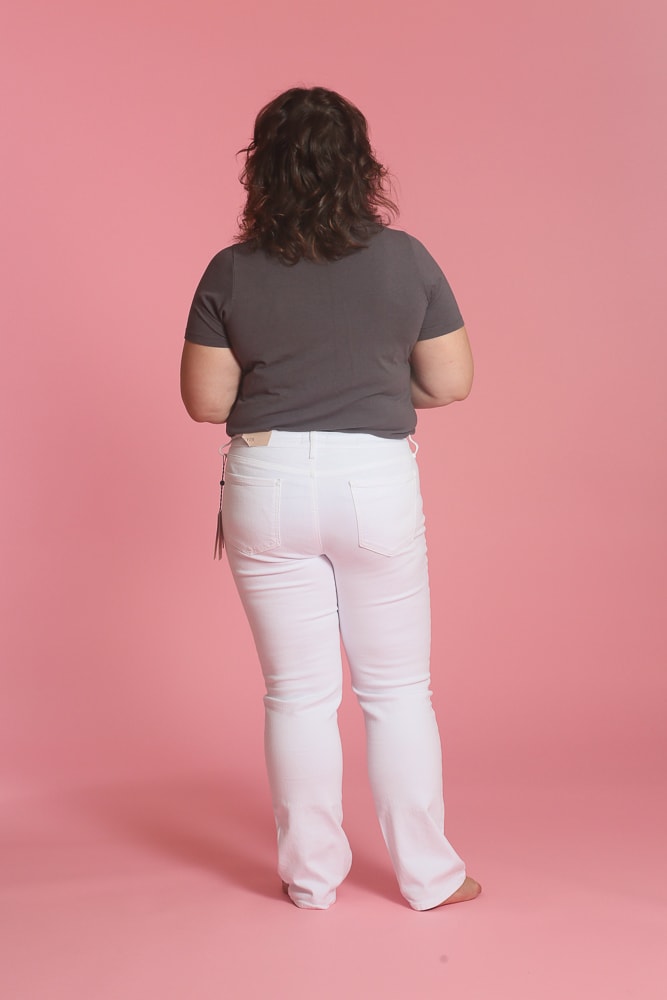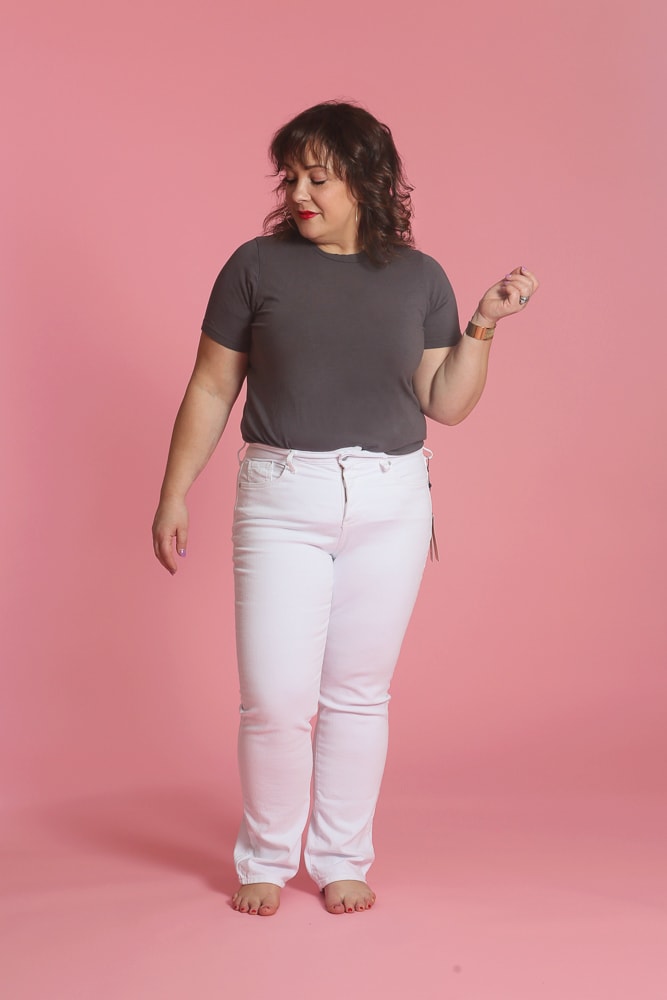 With NYDJ they always recommend you size down and I agree. While I sometimes can fit in a 12 jean, with NYDJ I wouldn't go down to a 10 but if you're unsure, size down. I chose the Marilyn because I have worn this cut from NYDJ in the past and liked it. It's a straight leg cut, but with my solid legs it's more of a slim to skinny fit on me. The Marilyn jean in white isn't exactly the same as the Marilyns I've worn in the past. The front pockets are small; I couldn't even fit two knuckles worth of my hand in them and surely wouldn't be able to fit a phone. The pockets are white, so they are visible through the jeans. Also… these are petites? The description says 32″ inseam and doesn't distinguish between regular and petite; these felt like a 31″ inseam which is crazy long for petite. The denim over the placket doesn't seem to be reinforced as it bubbles a bit thereby exposing the zipper. A bit of ironing may be able to help that, but considering I wasn't in love with these jeans I didn't bother. These jeans come in regular and petite sizes up to 18 and retail and are currently on sale for $88.25. They are also available in plus sizes up to 28, also on sale for the same price.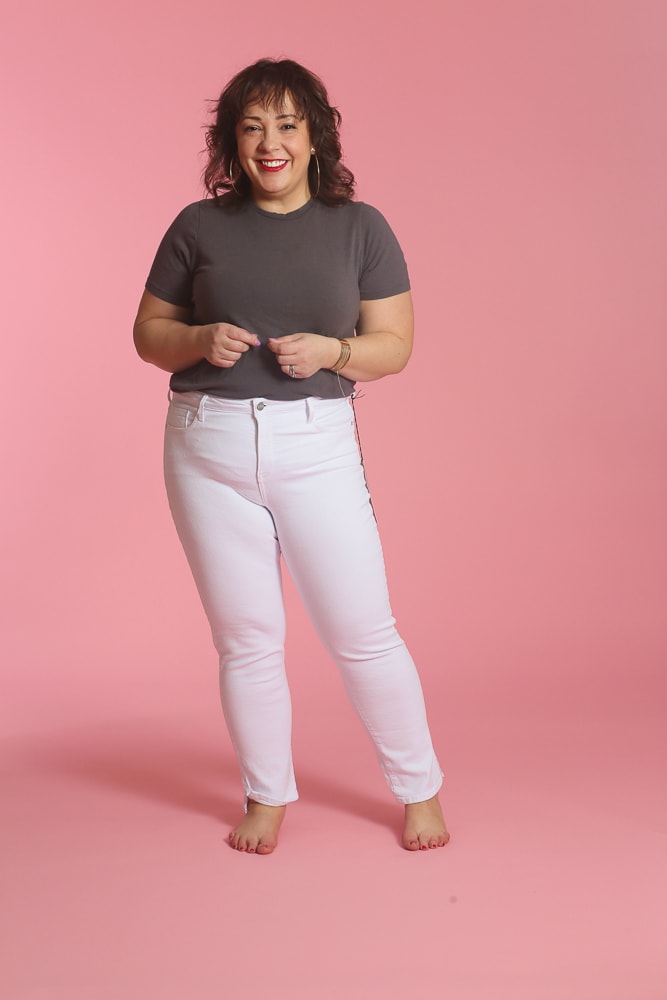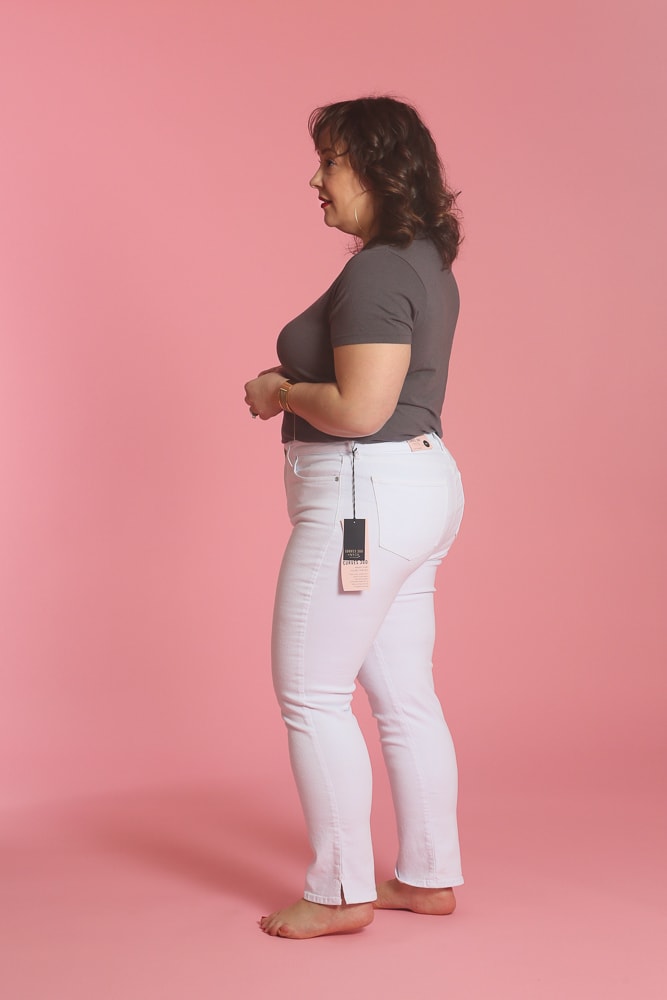 The NYDJ 360 collection is made with a four-way stretch that is to move with your body. These jeans come in seven different colors. I haven't tried these in any other color, but the white is just too thin and transparent for me. However, I like the denim. It's not thin spongey denim, but with that bit of rigidity that you want to hold everything in comfortably and not bag out with wear. These feel like expensive jeans and I would like them in a darker color. I do wish the waist was a hair higher or lower because it hits right at my belly button and folds over when I sit and says folded over. I also missed the detail of the slit on the ankles; this isn't bad but it's not what I want as I like to sometimes cuff my white jeans to make them shorter. These jeans come in regular and petite sizes up to 28 (yes plus sized petite offerings!) and retail for $109. Miss.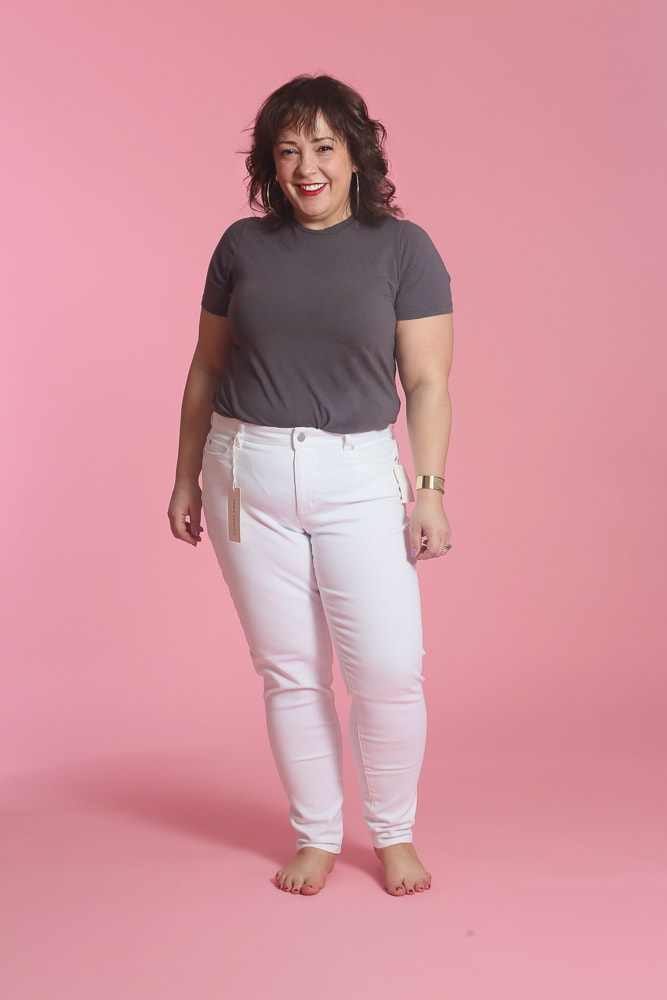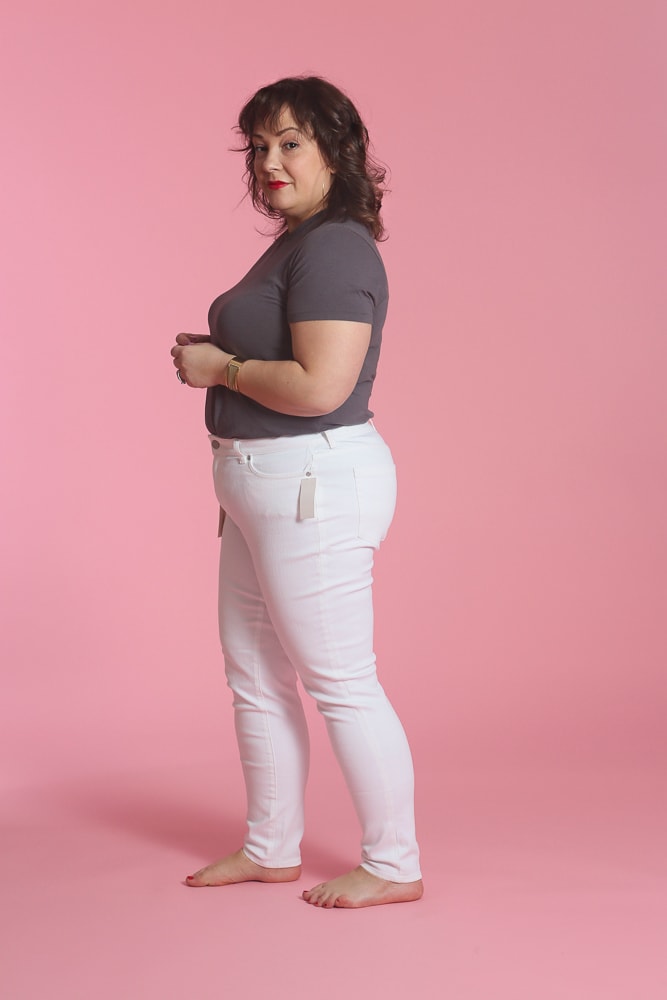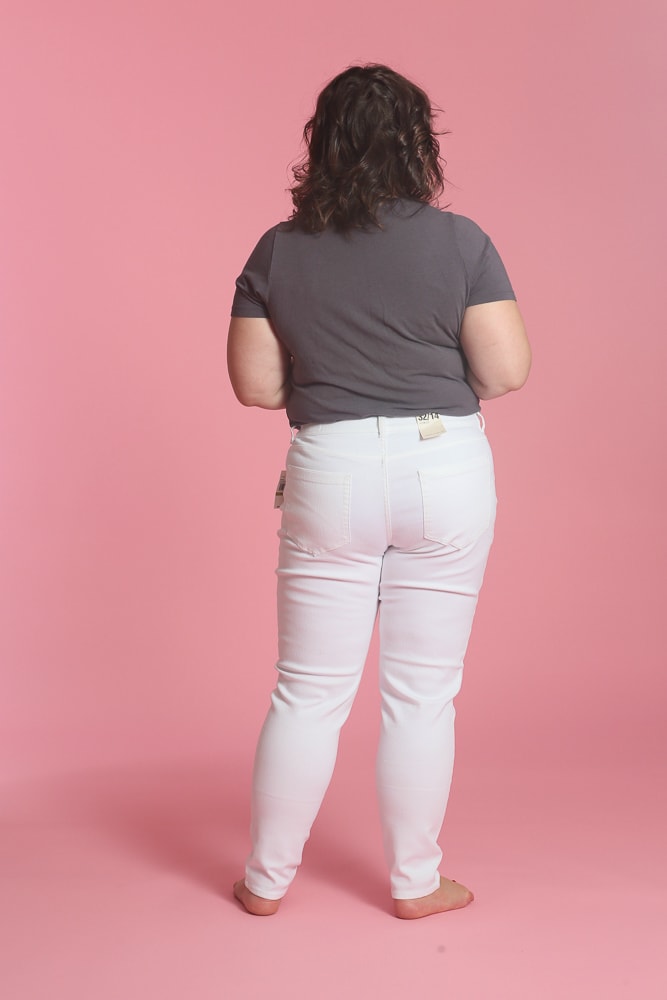 While I have owned a lot of Vince Camuto over the years, I have never tried their jeans. As always, if I am unsure of a brand's fit, especially when it comes to white jeans, I size up and went with a 14. These were the warmest of the white jeans I tried for this review. Not quite winter white, but enough of a contrast that it will look weird against bright white tops. These jeans stretched out as soon as I did one bounce of my Squat Dance and continued to stretch out as I squatted, walked down the stairs, and back up. Even so, these jeans felt too tight (weird since the bright white version that isn't on sale recommends one to size down). Oh, and the front pockets are both visible and too small to fit anything of worth into them. These jeans are currently on sale for $51.75 at Nordstrom and available up to a size 33. Miss.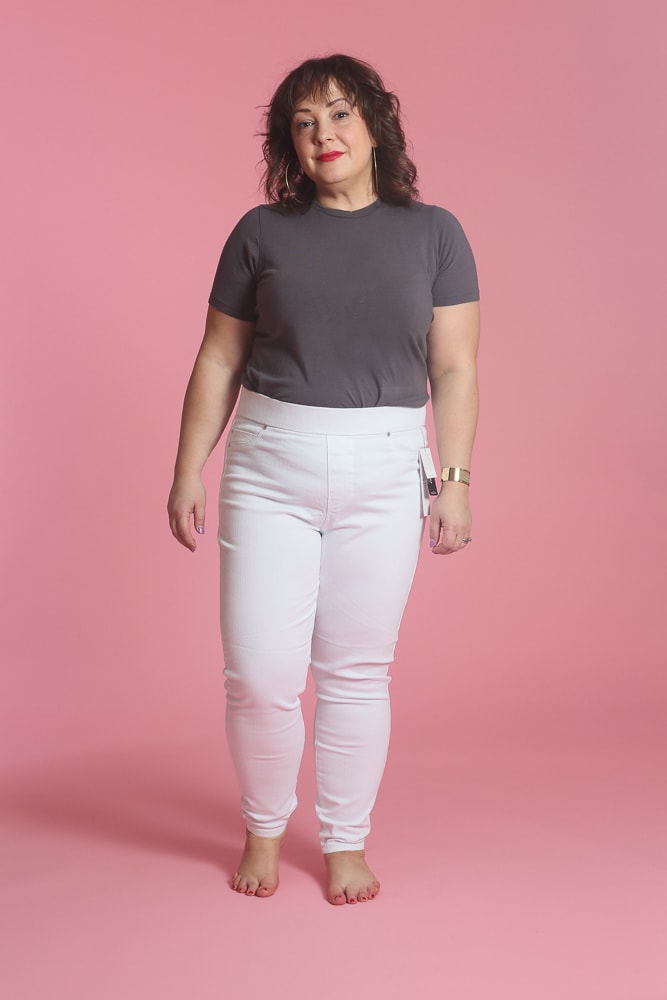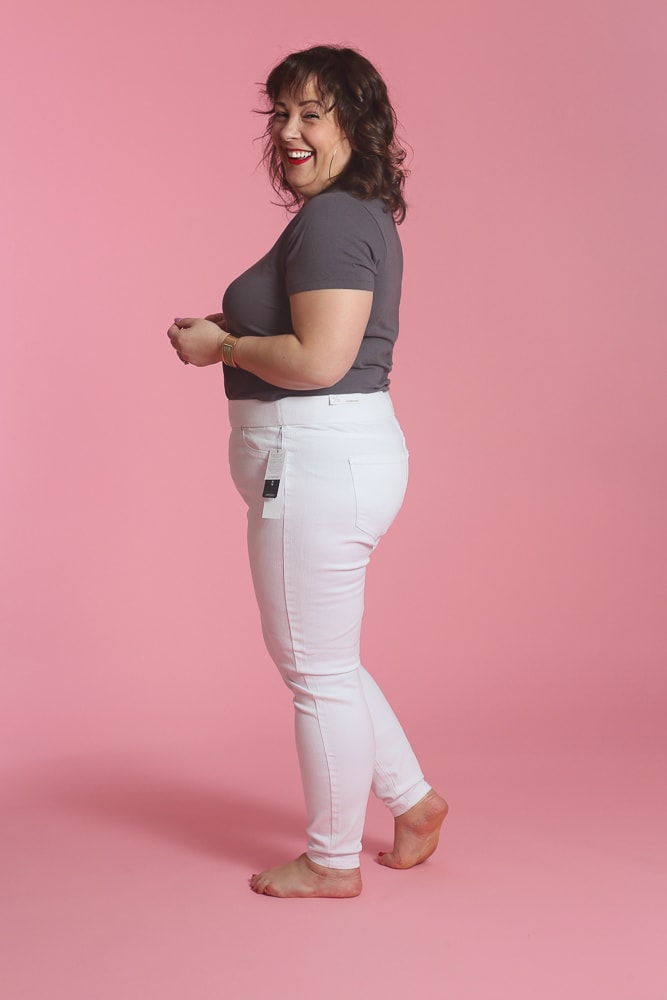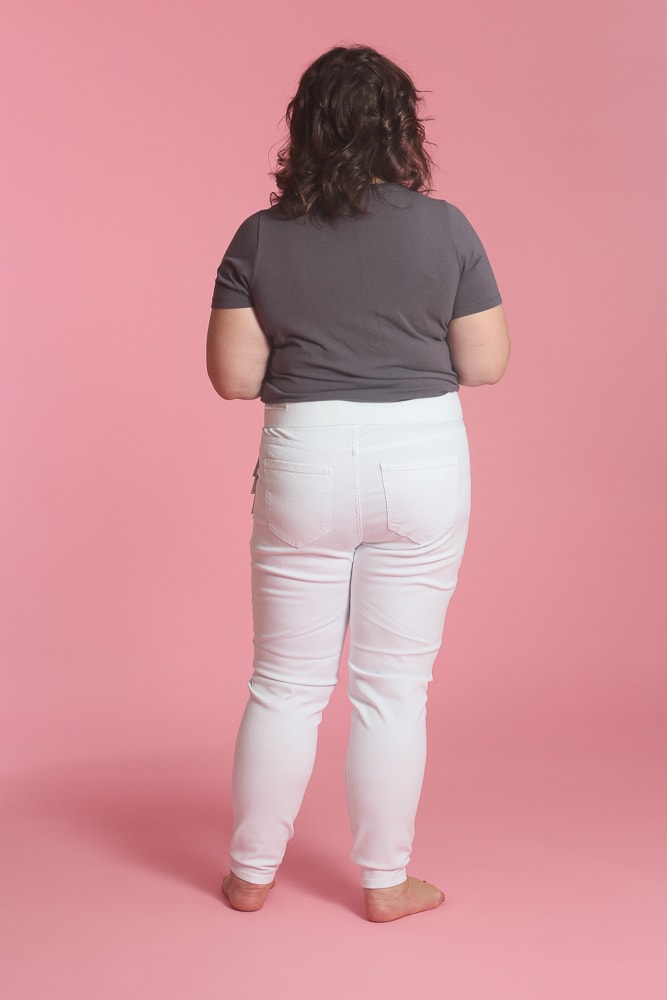 I wore Liverpool jeans a lot after having my daughter. I appreciated the price point and how soft and stretchy they were. When the postpartum belly started to firm up, I didn't like Liverpool as much because I didn't find the denim to be rigid enough to look polished. Great under sweaters and tunics, but baggy and unsupportive when the rise was visible. However, many of you have raved about Liverpool and they seem to have expanded their selection so I decided to order a pair. I'm not a big fan of the pull-up style since I often like to tuck in my tops, but I know many of you like it and it's a good choice for spring and summer as it's less bulk at the waist and a smoother look under lightweight fabric tops.
I should have gotten a 12, and I really need a petite (not available at the time of ordering). These don't look huge in the photos, but they are. Since the waist is thick, it's essentially sitting stiff resting on my hip bones to keep the pants from sagging at the crotch. You can see from the backview how the pockets are too low; if I had a smaller size and petite they'd probably have better placement. The front pockets are fake; that plus the surprisingly opaque fabric for the not so heavy weight makes these a great choice for those who desire a pull-on style. Just size down. These jeans are available in regular up to size 16 and petite up to size 14 and are currently on sale for $66.75. Miss.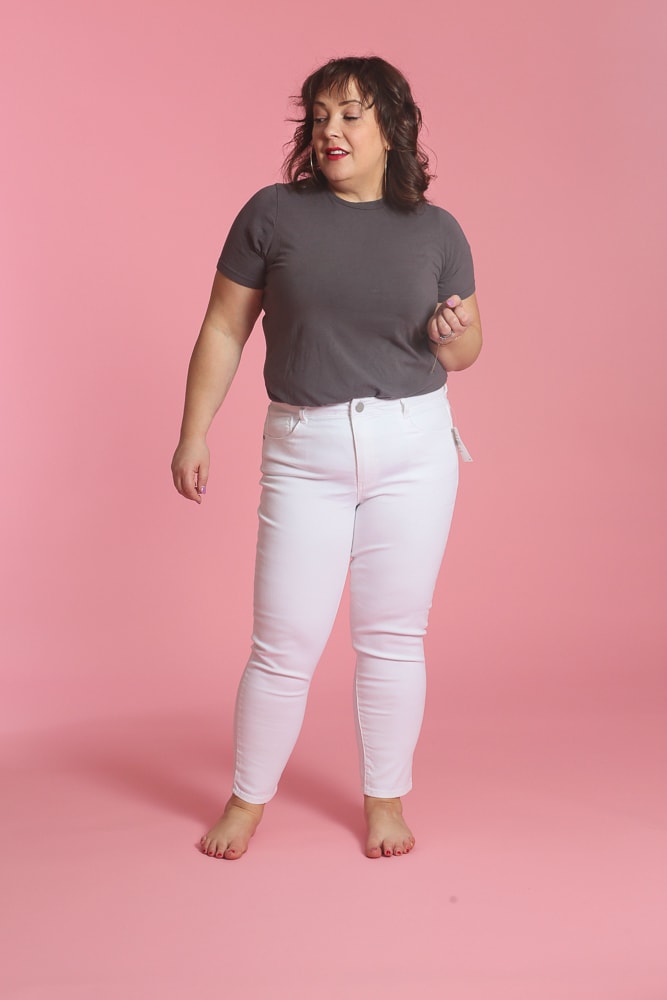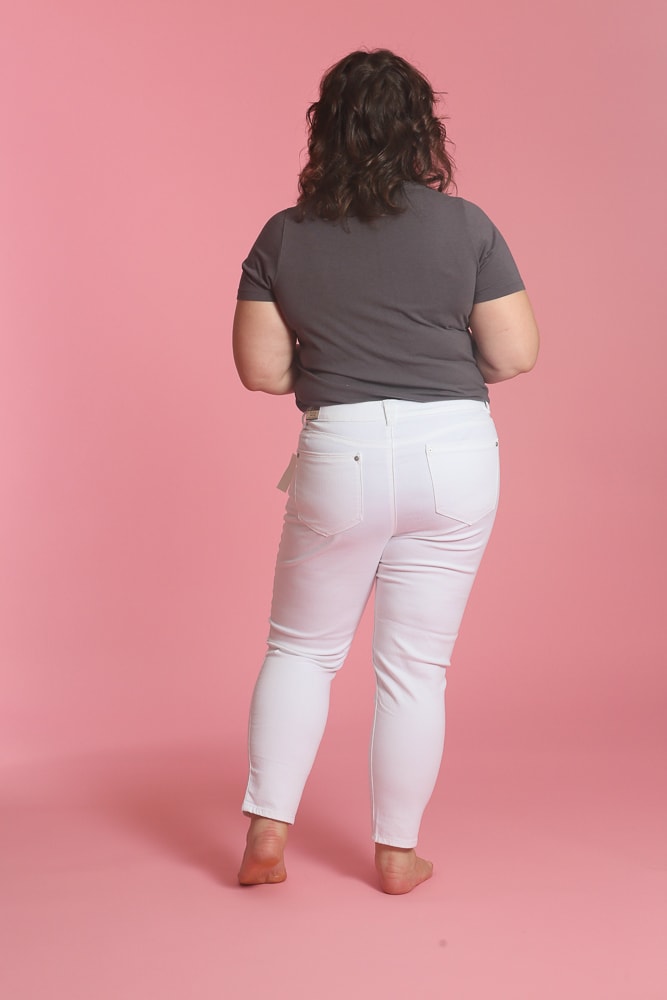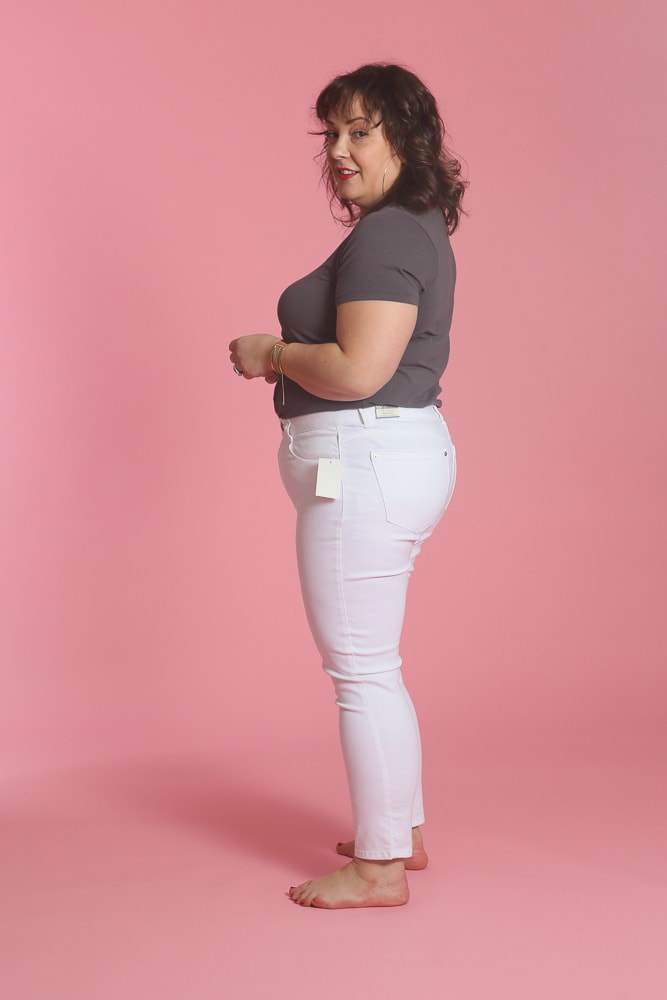 Y'all have raved about Wit & Wisdom for a long while. I agree, they're great fitting and I own some shorts from the brand. When I was looking for jeans the first brand I looked at was Wit & Wisdom and was happy to find a pair that is a high waist, a simple silhouette, and available in petites! And these jeans are a great fit. Comfortable, good shape, nicely sized pockets. The only thing is this denim is more transparent than I am comfortable with. I would prefer these jeans in a different color (which they have in regular and plus sizes). You can clearly see the pockets and these are one of the few jeans where you could clearly see the color of my underwear (sorry the lighting doesn't show it well). These jeans are available in regular and petite sizes up to 18 and retail for $68. Miss.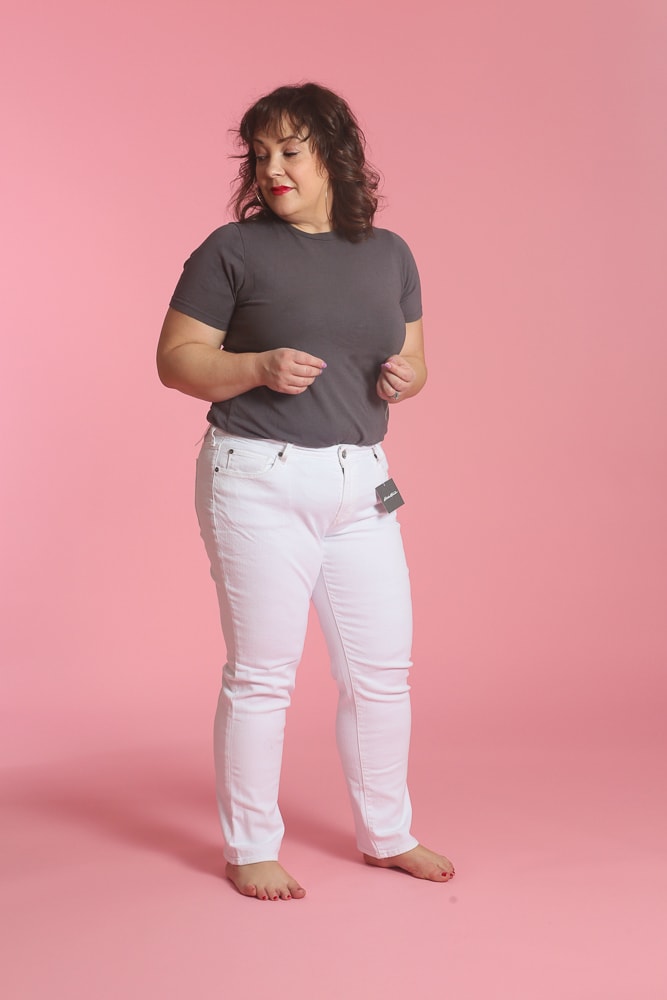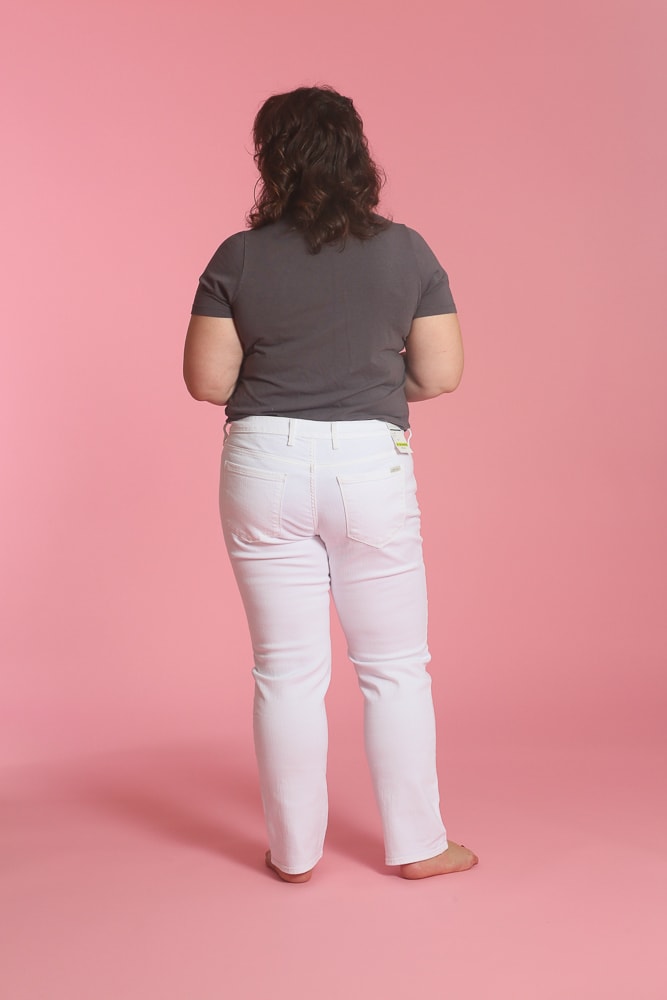 For Friday's post I had to pick an outfit from Walmart. Knowing I was going to do a white jeans review, I decided to have the outfit based off a pair of white jeans and this is the pair that didn't make the outfit post. And now I feel I am stuck with them. Walmart says all over their ads and their website free shipping and free returns. Nowhere on the site does it say that only is for Walmart products and not the varying other companies they have bought and incorporate into their site to show up in search blended with everything else. I got these jeans, I didn't want to keep these jeans, Walmart said well that's between you and Eddie Bauer so email them. I did, they didn't reply. I emailed again, they sent a super generic response that didn't help. I had to call Eddie Bauer, they said I needed to have the packing slip (which I didn't have because these jeans were on the same packing slip as Walmart items I returned) and they don't offer shipping assistance. They gave me the address, and recommended I did insurance because sometimes their returns get lost. So these jeans cost me $42 and it was going to cost me half the price of the jeans to return them. Now, I go to the site and it says it costs $5.99 to ship them but I didn't pay shipping to receive them. So yeah, not a happy customer. But let's get to the jeans.
These jeans are stuck in the '00s with their quality, their fit, their shape, and their shipping policies. The denim has a fancy name but they stretch out and bag like any mediocre pair of jeans and these are regularly $70. By the time I walked back upstairs after the shoot I could practically pull the jeans down without unbuttoning them. A reader recently emailed me asking me to explain fit, and it's hard to describe when it's good fit. I wish the light we used didn't blow out the denim so much so you could see how these are a dated fit that will make your body look older and less fit. We often choose relaxed silhouettes and softer fabrics because we think it's better for our curves but these jeans prove that theory is wrong. You're better than these jeans. These jeans come in regular, petite, and tall sizes up to 20 and are currently on sale for $42. Miss.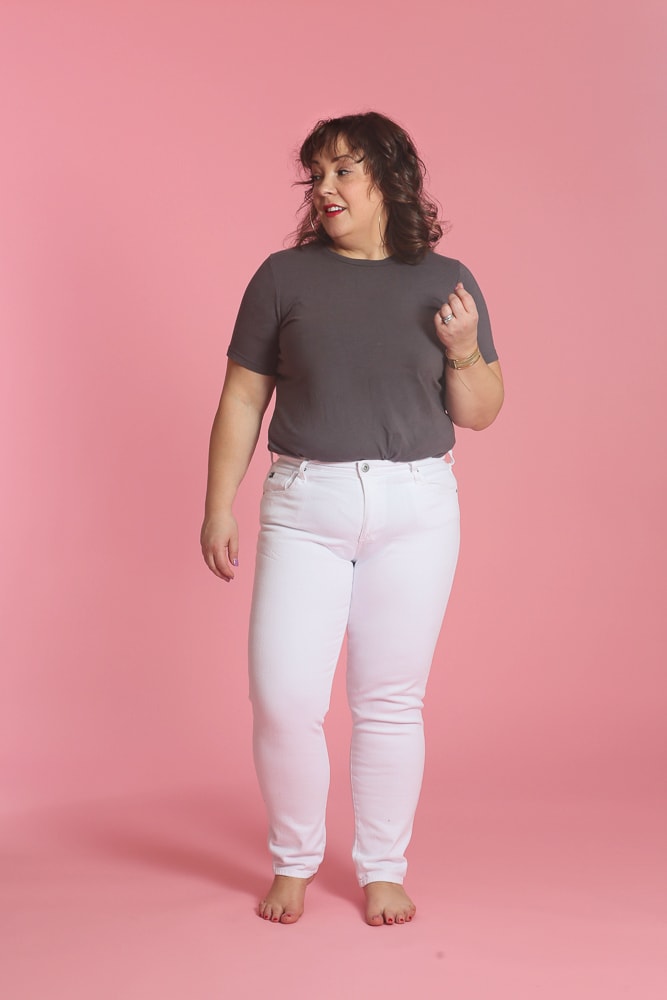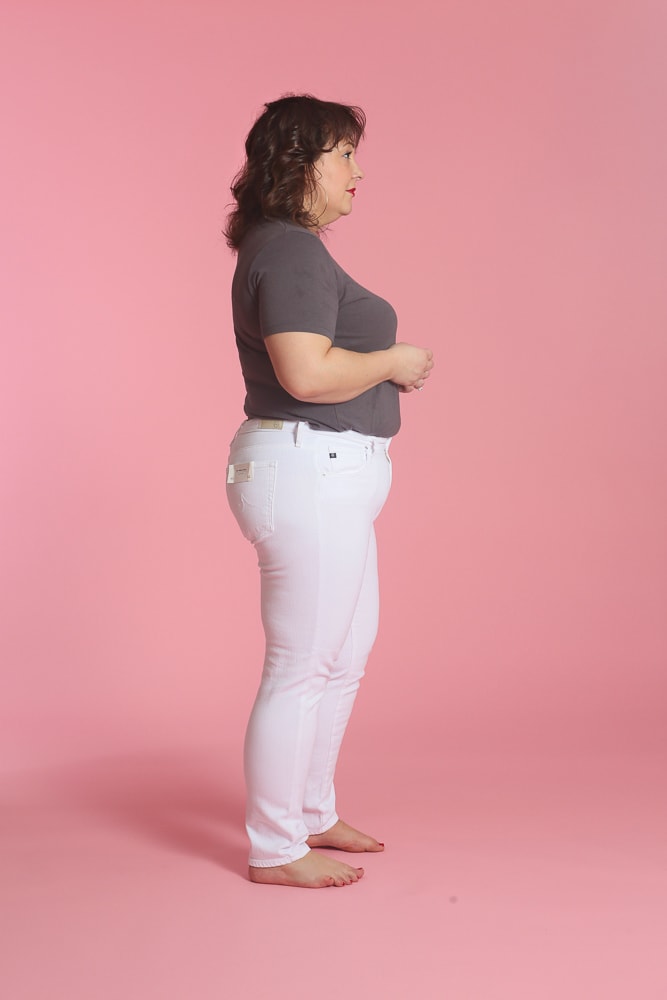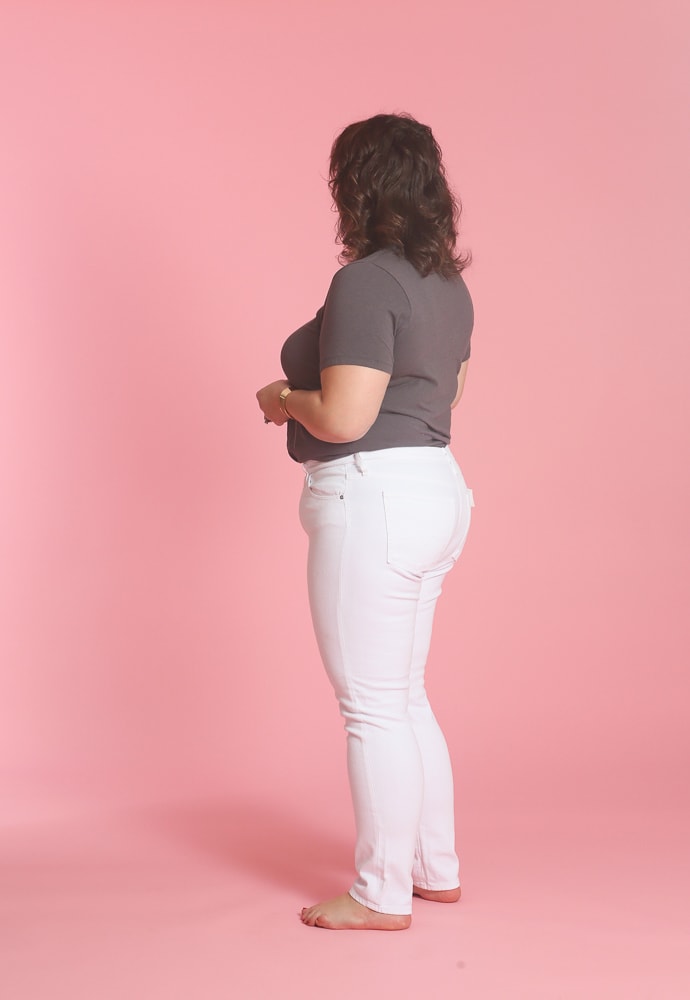 These jeans are way more expensive than I would normally spend on a pair of jeans. The only reason I ordered them is because I have 'The Prima' from AG in blue and they are by far the best jeans I have ever owned (I got them at Trunk Club, see them also on the blog in this post and this post). They're the perfect weight, perfect amount of stretch, they fit like a glove and molded to fit my body and have re-molded as my body has changed. They also haven't worn out with washings and wear; most jeans that go through what I've put these through would be in the scrap bin by now but my AG Jeans still look new. So if I could get white jeans to do the same in the long run it may be worth the purchase.
Nope. These run SMALL. They are the same size as the pair I own but I could hardly zip them and couldn't squat all the way down for the Squat Dance. What's weird is these are 98% cotton and 2% polyurethane just the same as my Primas, yet these are thinner and more rigid. The plus? They are opaque. These jeans only go up to size 32 and retail for $188. Miss.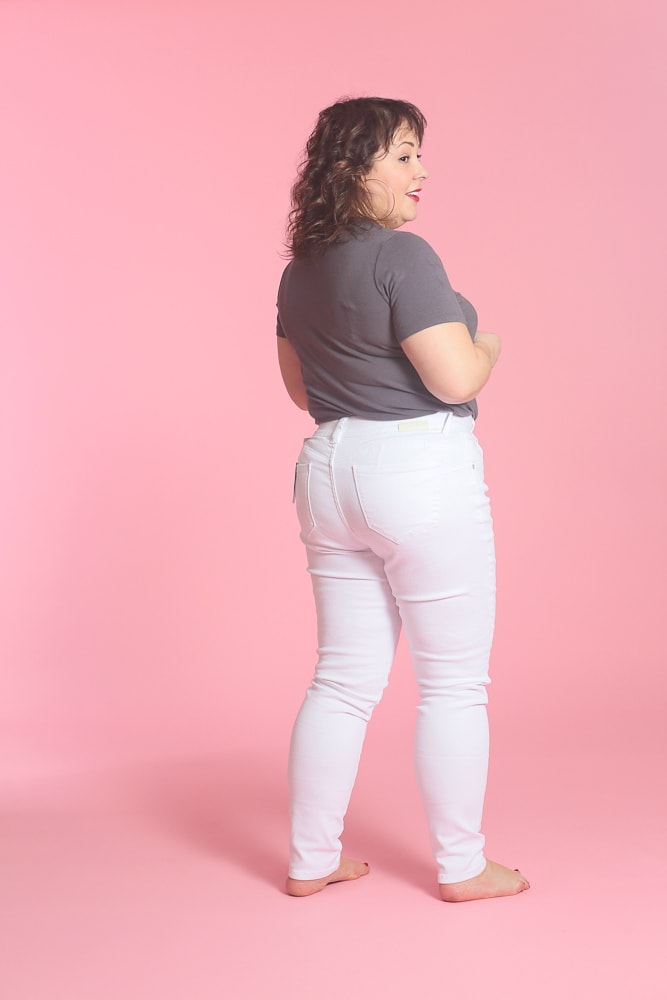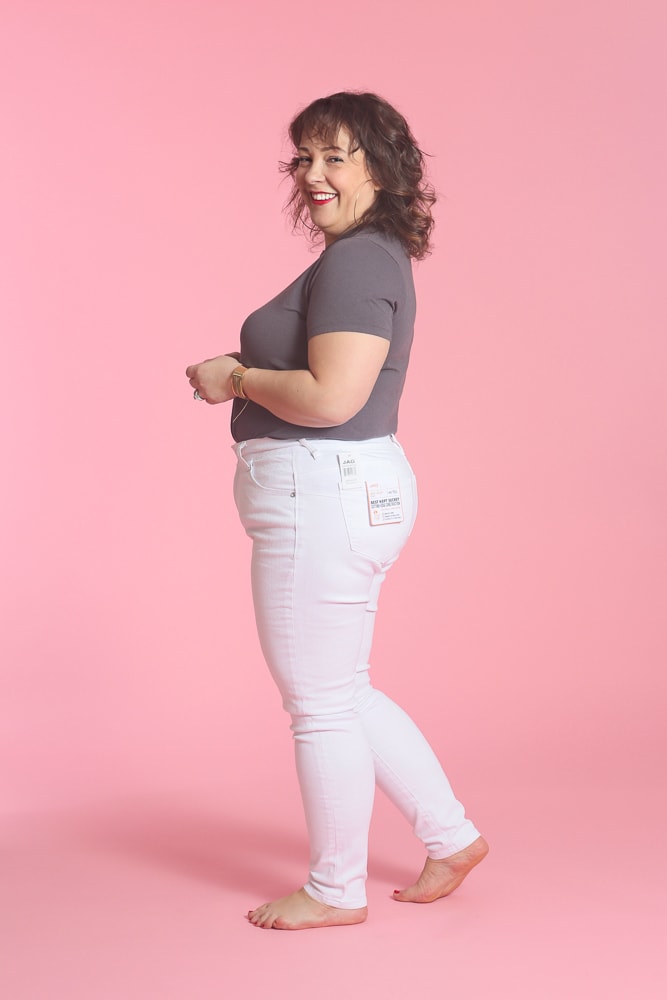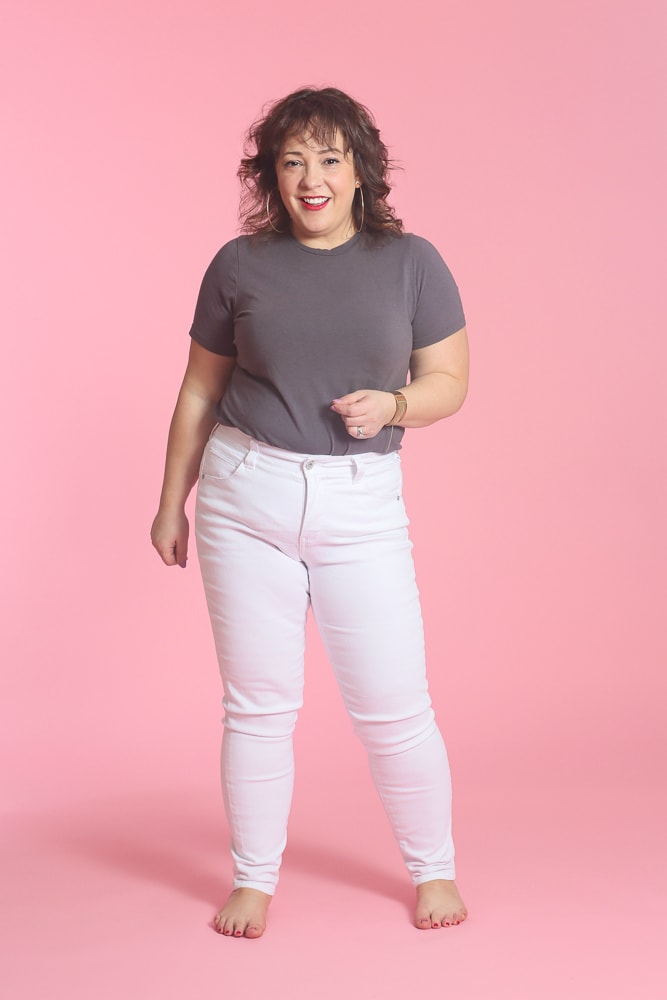 I have liked JAG Jeans for many years. The denim is great quality, the price isn't bad, they fit well. However, JAG is known for making OTT jeans. They can't be simple, they have embroidery or extra buttons or a weird wash or a lace up cuff or they are the pull-on style which always hits at the wrong place on me making them uncomfortable. When I find a simple unremarkable pair I get excited, so I was thrilled to try these jeans. I really wish these came in petite. You can just look at them and see they need to be shorter in the rise, shorter in the leg, adjusted for my petite frame. That being said, these are fantastic jeans. Inside the waistband is elastic which keeps the waist from buckling and helps provide a better fit. The denim is opaque, a great weight that will hold its shape all day. No weird details, a classic jean that would be great… if you're at least 5'5″. These jeans are available up to a size 16 (regular length only) and retail for $84. Miss.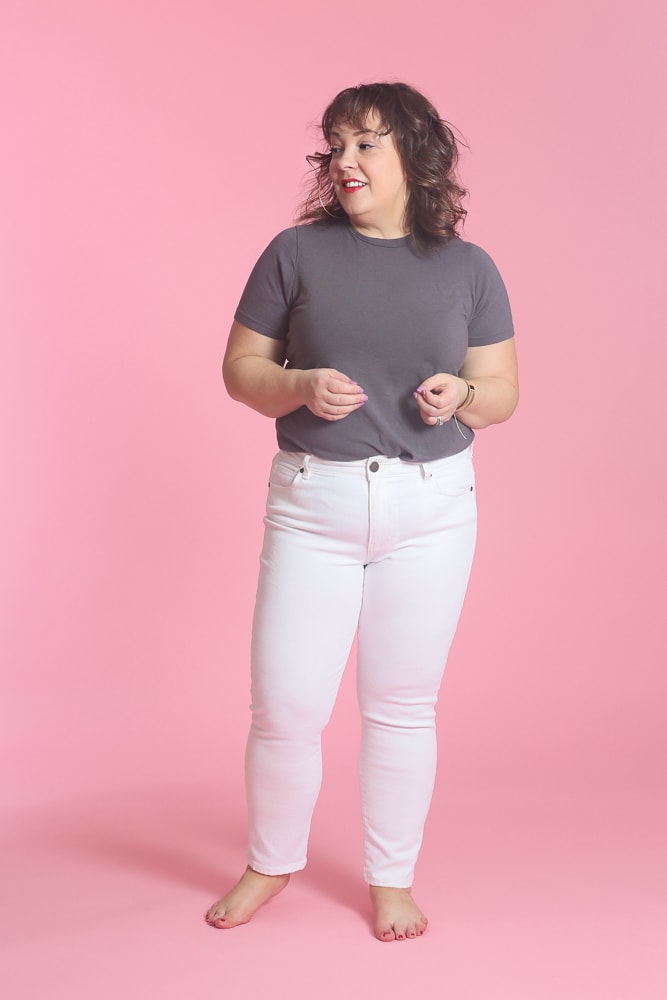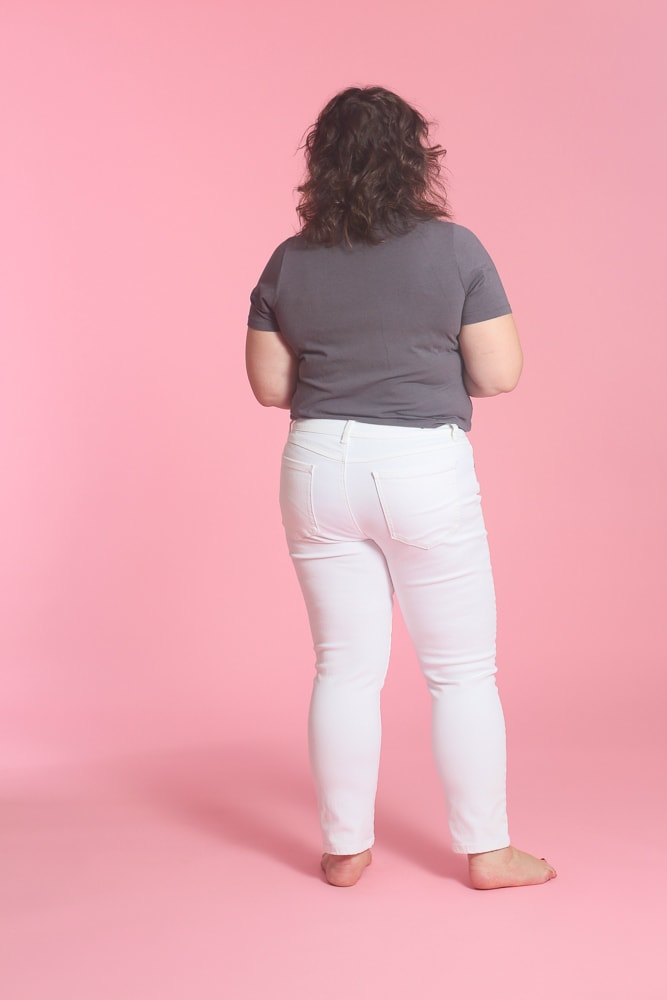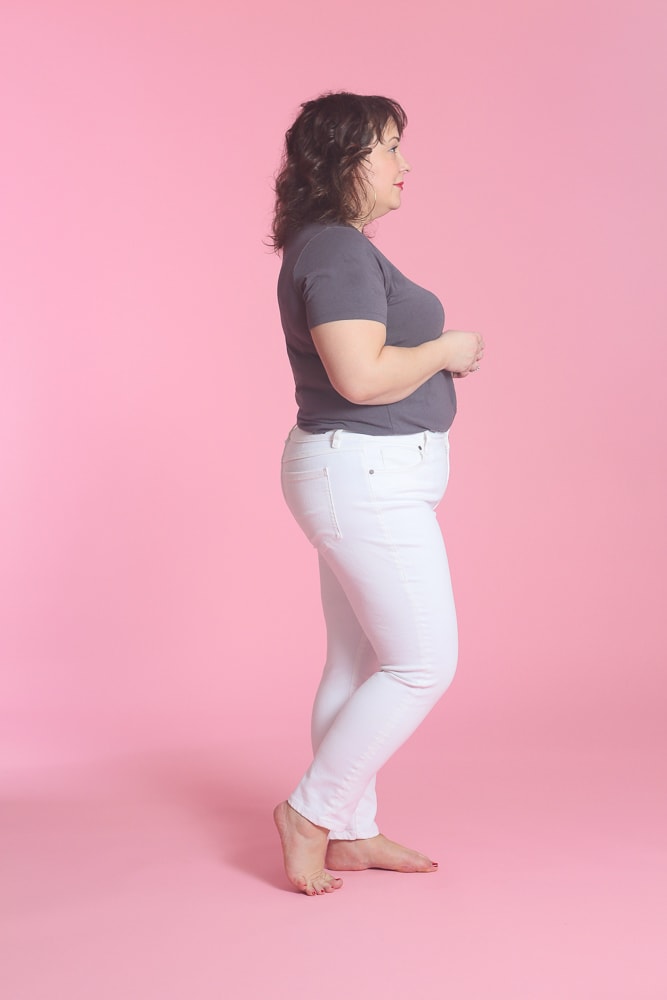 When I featured these jeans in my cabi capsule wardrobe I received so many emails, DMs, and comments asking about them. I'll be honest, cabi jeans don't usually seem to be made for my body. I'm too short, also I find my belly and booty causes them to stretch out quickly. This spring has impressed me as the jeans seem to work better for me. Like most cabi jeans, these are soft but they're not thin or transparent. The softness does cause them to stretch, but not so much I can't wear them a second day. They are a midrise and lately I'm preferring a higher rise, but these hit at a better point than most midrises and along with the soft denim don't seem to segment me so much. They are a slim but not skinny fit and I feel comfortable wearing them with a tucked-in top. These jeans have been washed and dried three times and haven't changed color, size, or shape. Please note I had them taken to a tailor to be hemmed this length. These jeans retail for $109 and come in sizes 0-16. Hit!
White Jeans That Didn't Make the Shoot But Are Worth Checking Out
Shop the White Jeans Mentioned in This Post:

If you have a pair of white jeans that you love, do share the details in the comments!