This article may contain affiliate links; if you click on a shopping link and make a purchase I may receive a commission. As an Amazon Associate, I earn from qualifying purchases.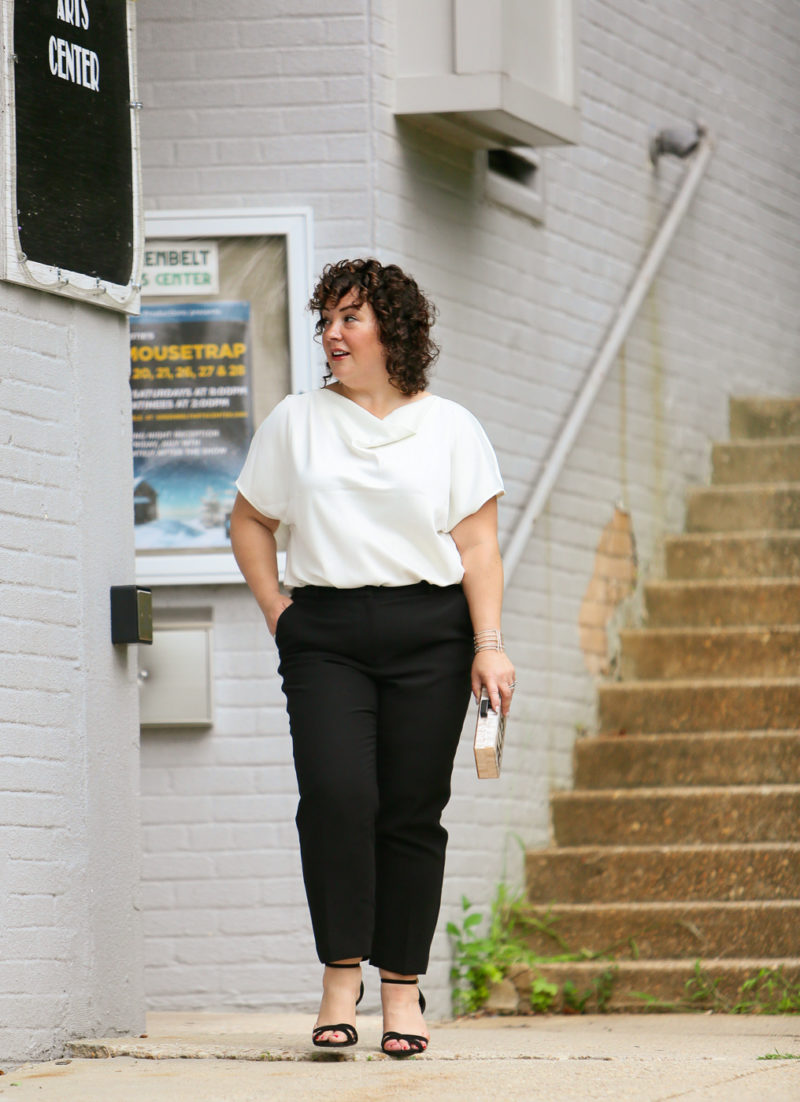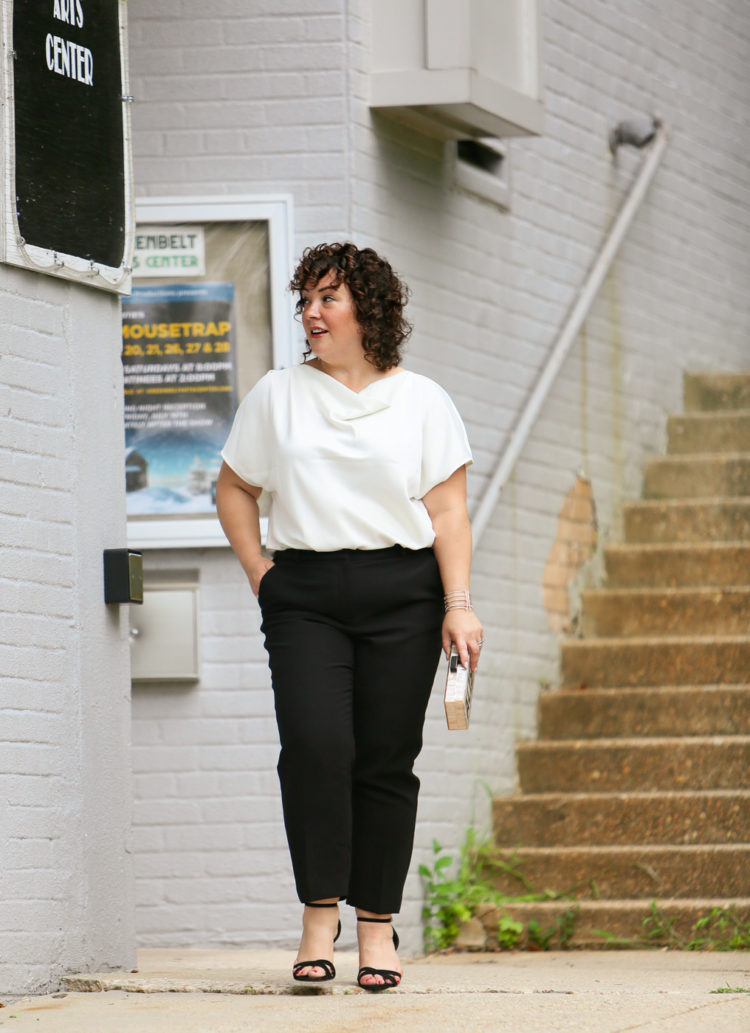 Outfits don't have to be complicated to be dressy. Fabric can go a long way in transforming relatively simple pieces into a more formal ensemble. Essentially a t-shirt and ankle pants, sheen and tuxedo-inspired details elevate it to after-five attire.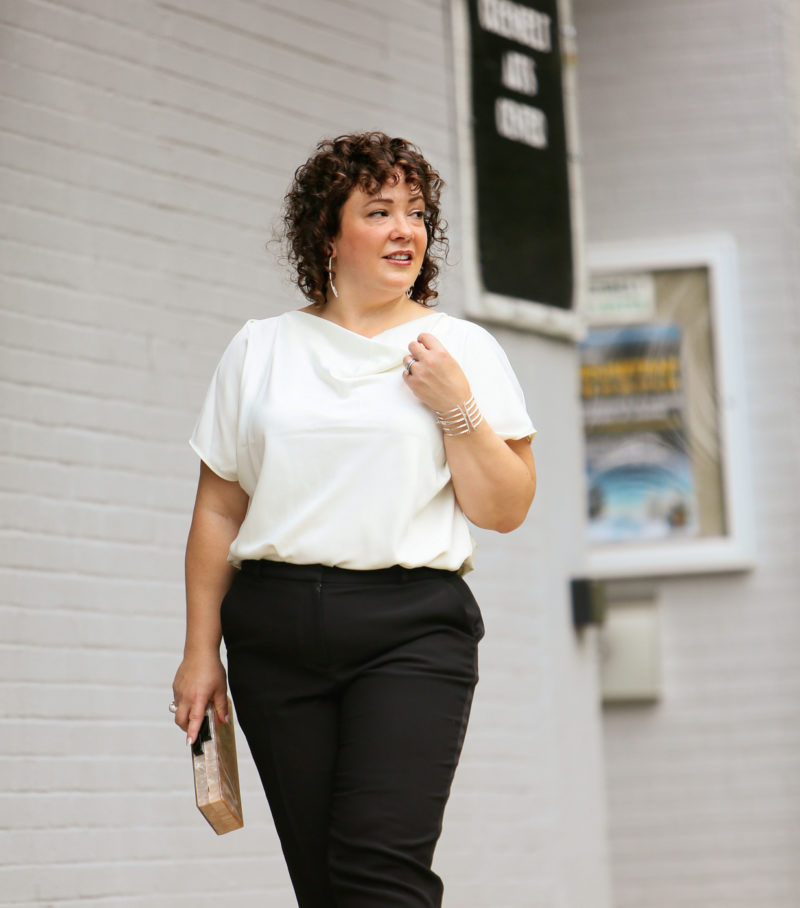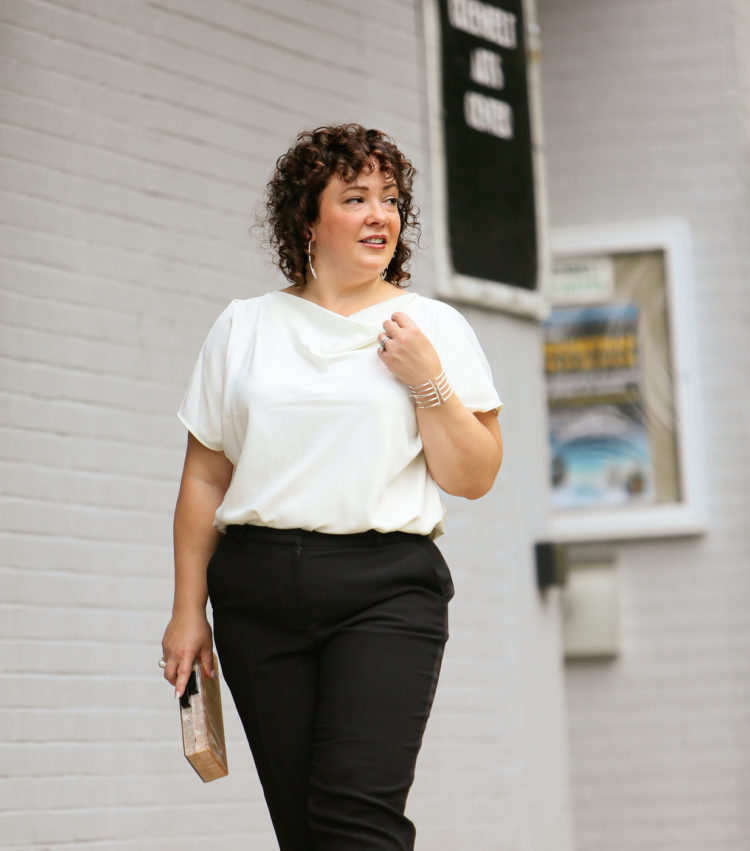 blouse | pants | bag | shoes | earrings | bracelet | ring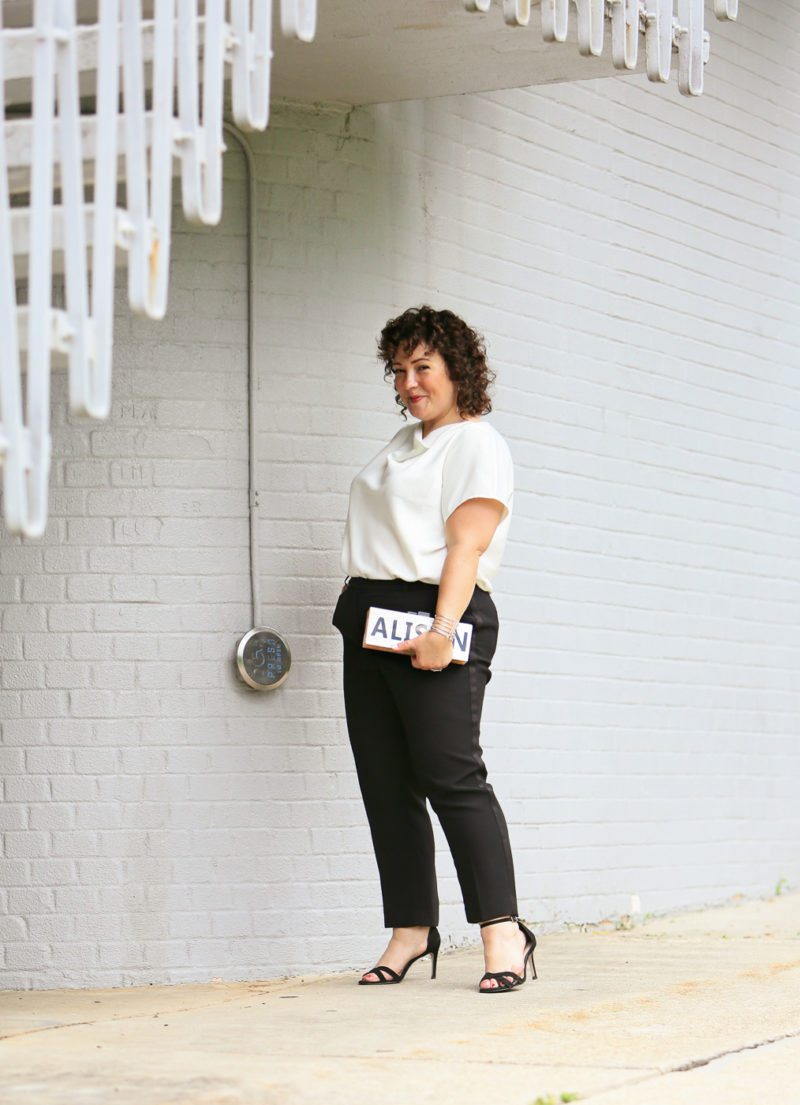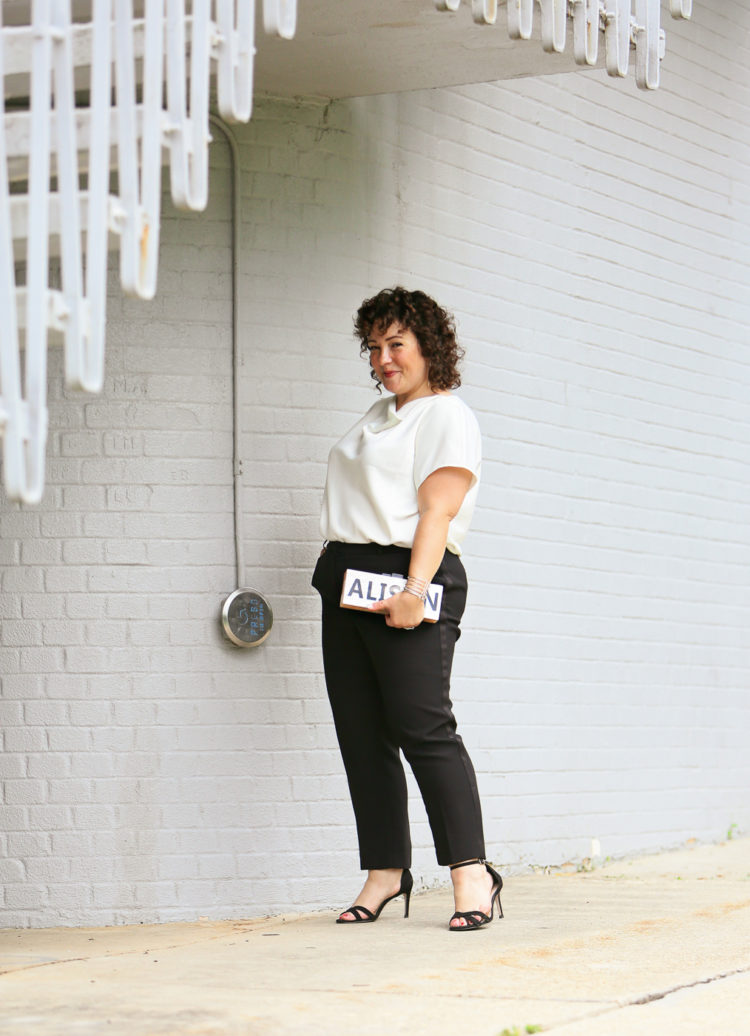 Blouse: Viva Boatneck Top c/o Universal Standard (XS) | Pants: Tuxedo Pants c/o Talbots (old and tailored twice to current shape; similar in straight sizes, similar in plus sizes) | Shoes: ASOS (old; similar concept but with more practical and modern heel) | Bracelet: Sceptre Linea Corset Bracelet c/o REALM | Earrings: Sceptre Linea Luxe Exclamation Earring c/o REALM | Ring: Sceptre Pave Ring c/o REALM | Bag: Gift (similar) | Lipstick: NARS "Pigalle" with Fenty Gloss Bomb in "Fenty Glow" over it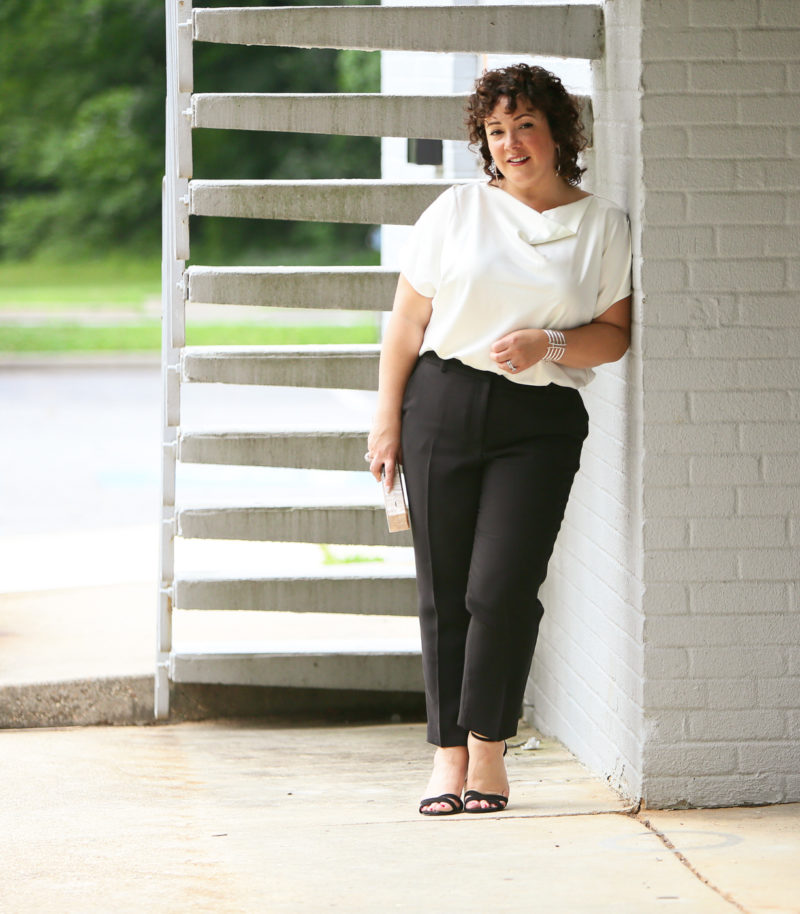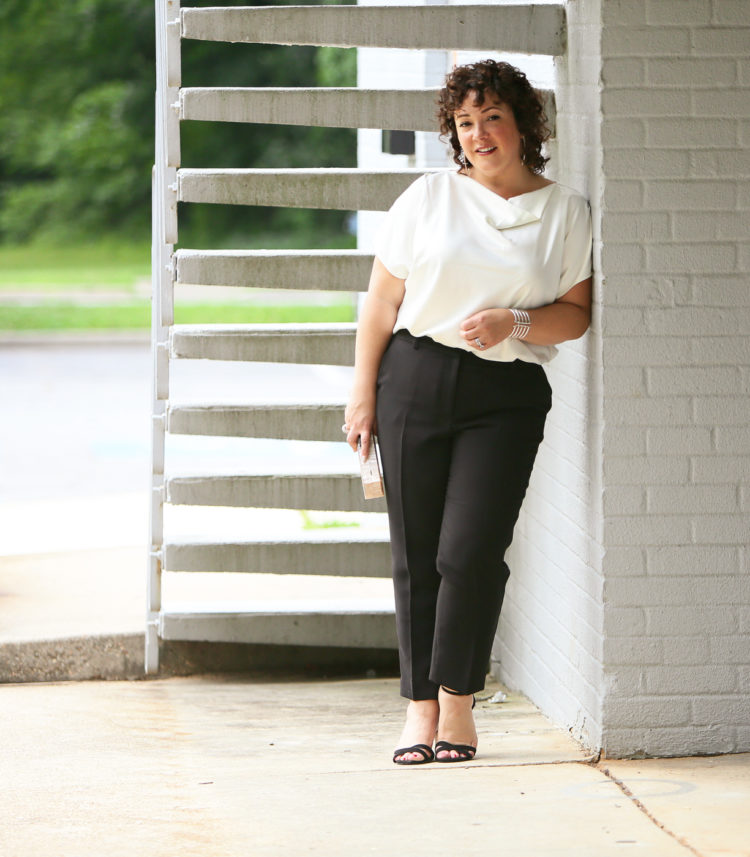 When Universal Standard came out with this blouse, I reached out immediately and asked if I could have one to style. I had just received the white high-waisted denim trousers from Talbots (seen in this post) and I thought oooh… the white high-waisted jeans with this silky white t-shirt and some badass silver jewelry… Universal Standard was kind enough to send it to me.
It's not a true white, in fact, the bag it came in was labeled "Marshmallow." That's a perfect description. It's the kind of not-white that would work as a blouse with a true white suit for a monochromatic effect but with just one other white piece it looks off. And in this fabric, it's like wearing a pearl; it's really pretty, a great weight, and feels luxe. It arrived on a Saturday and I wore it that night with these shorts from Talbots in Sage, my Jenny Bird Cober Hoops, and my silver Birkenstocks when we went to dinner at our friends' house.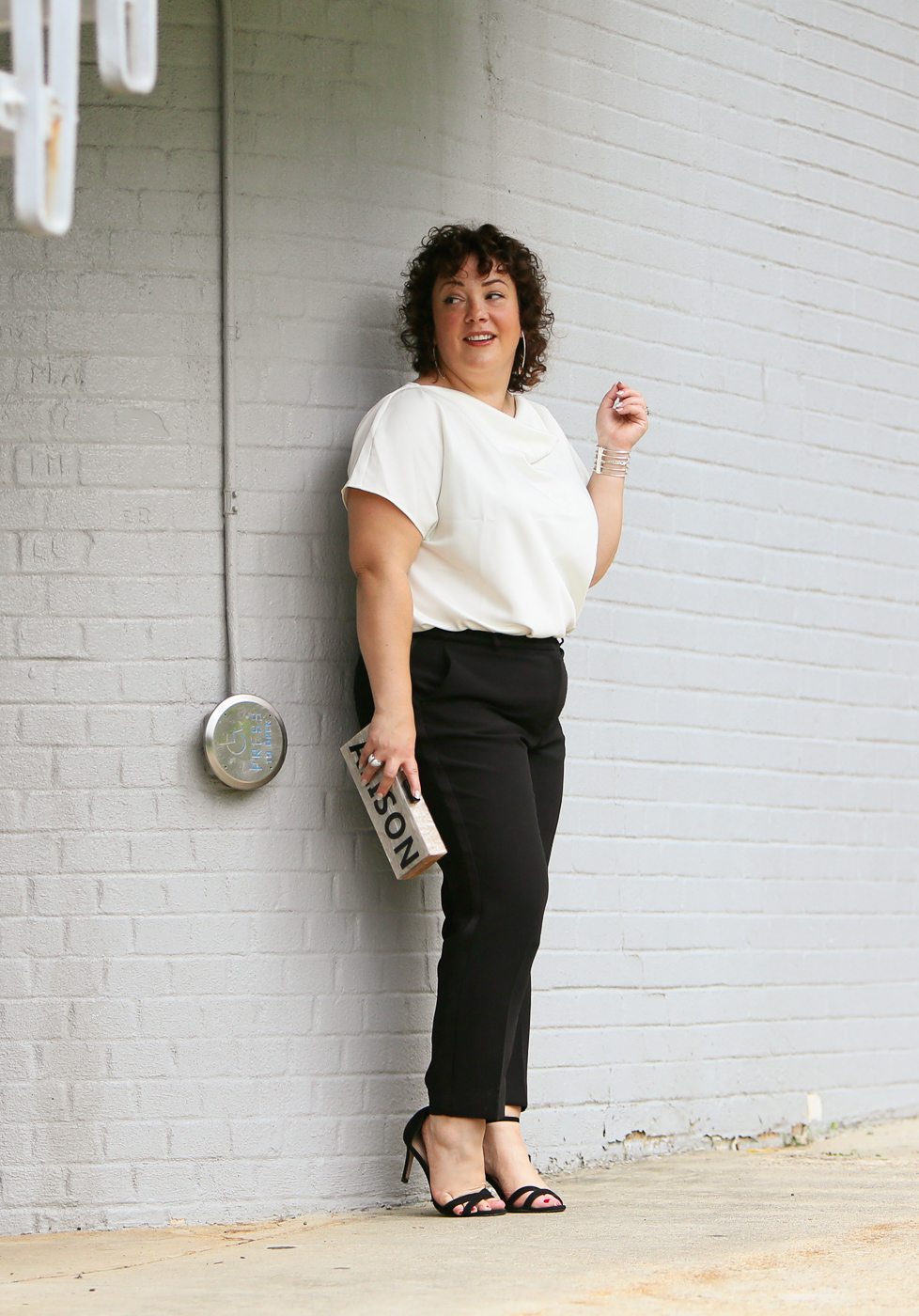 After finding this blouse not right with the white jeans, I thought my black culottes from And Comfort and my Jenny Bird monogram necklace. And it was cute. I tried a slim gold metal belt (like this one I wore from ASOS but half as thick) and it felt like glam minimalism but I didn't have the right shoes. Like seriously everything I owned killed the vibe. My silver Birkenstocks dressed it down too much for what I wanted at the time. I was feeling heels and slim pants and a clutch.
These pants are from this suit I wore almost two years ago for a sponsored post with Talbots. I love this lady tux so much I have tailored it twice to fit my changing shape. I wore it again in this post, the pants alone in this post, and the jacket in this post. The tuxedo stripe down the side is subtle but instantly adds a dressy factor to the trouser. My tailor tapered the pants slightly and hemmed them to ankle length which works with a heel like this or a cute D'Orsay flat.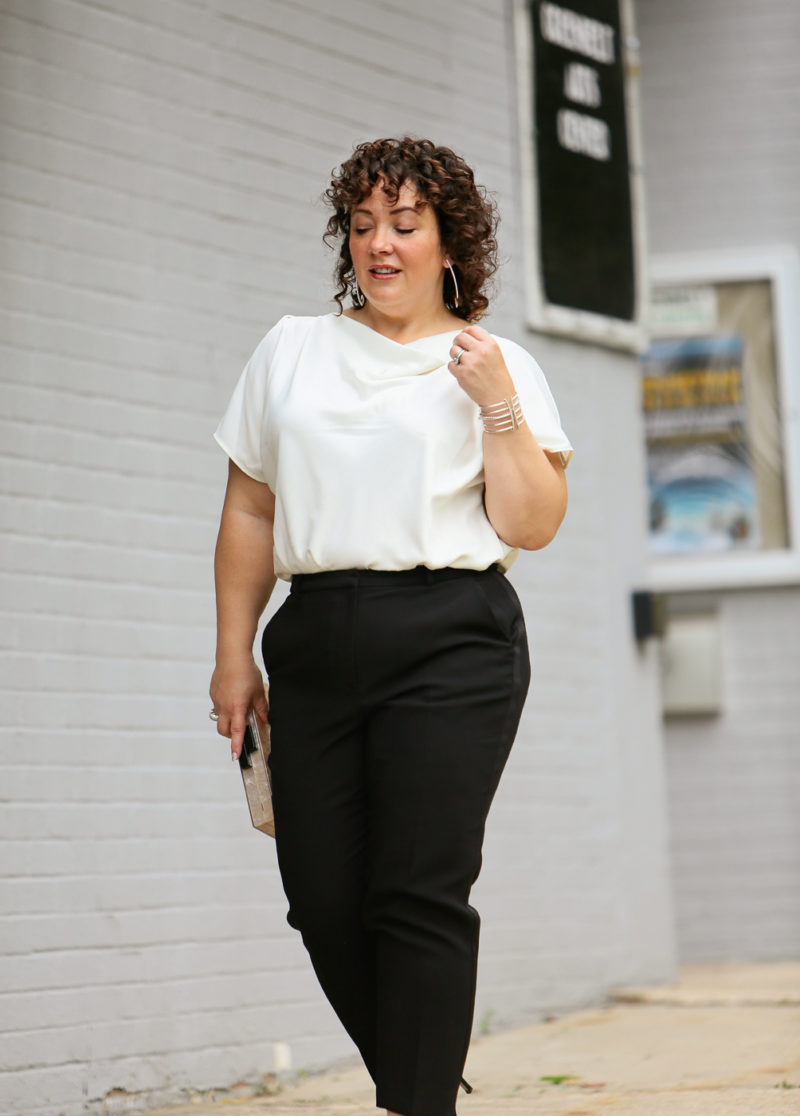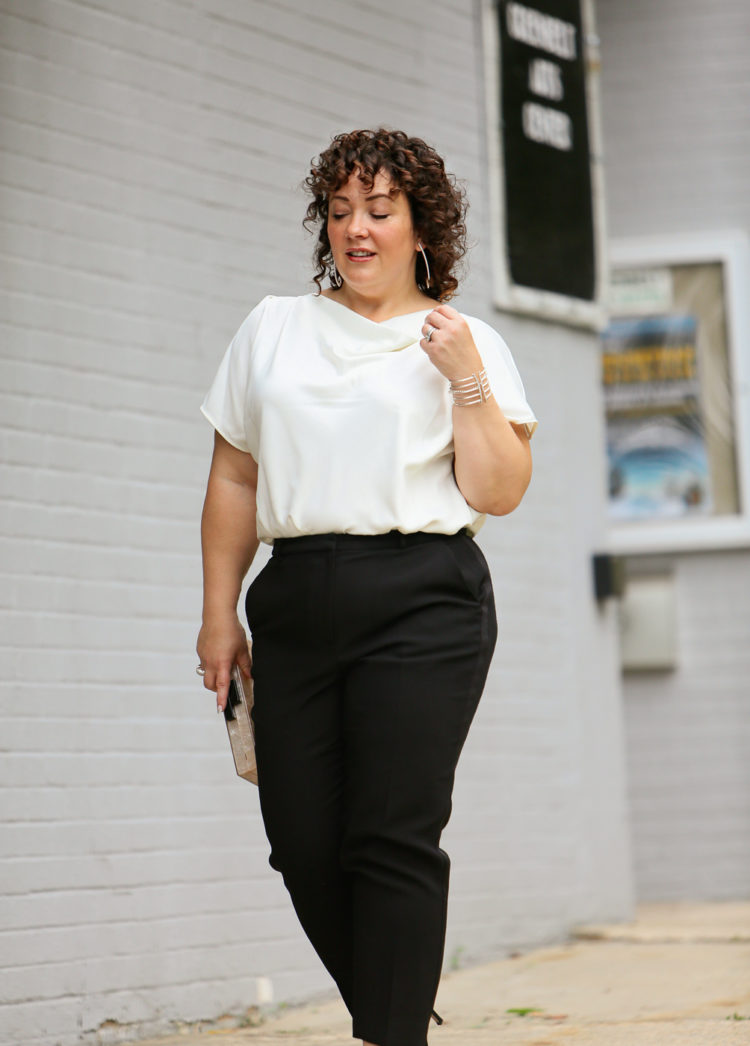 I'm a bit obsessed with REALM jewelry. Designer Ann King Lagos creates some beautiful jewelry that exudes strength. I love this bracelet, it's like an elegant Wonder Woman cuff. These three pieces are the nicest jewelry I have ever owned outside my engagement ring and the style is so on point. I find myself styling looks around these three pieces so I have a reason to wear them. The last time I wore this set on the blog was in this post.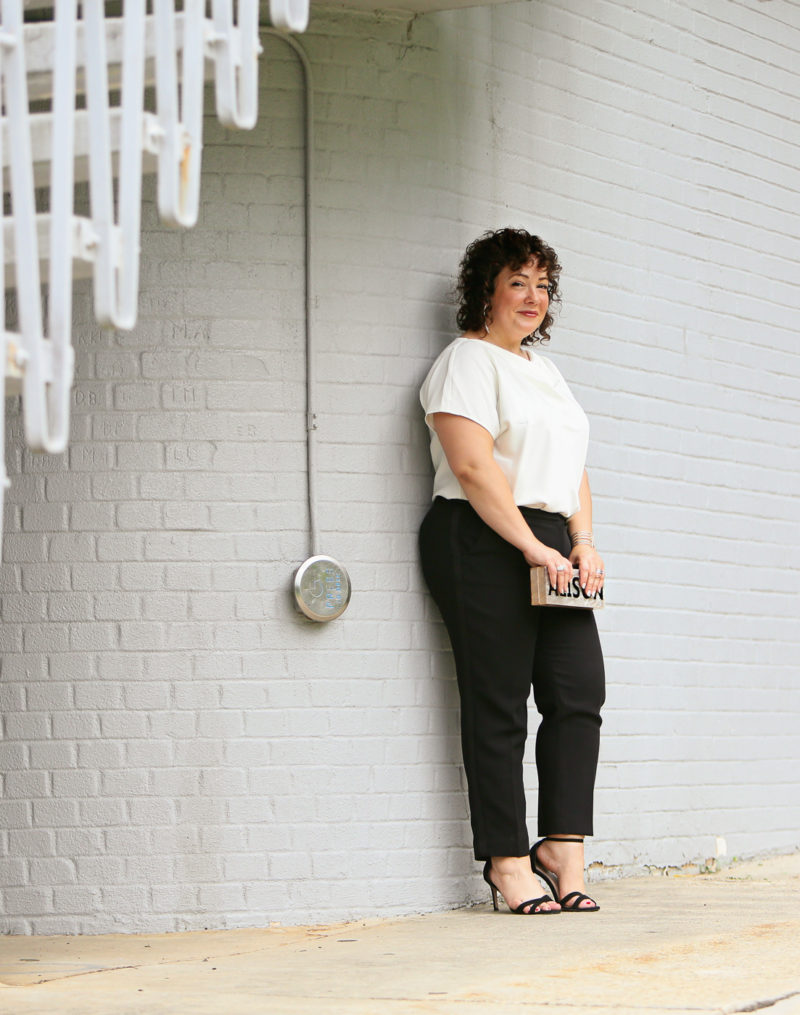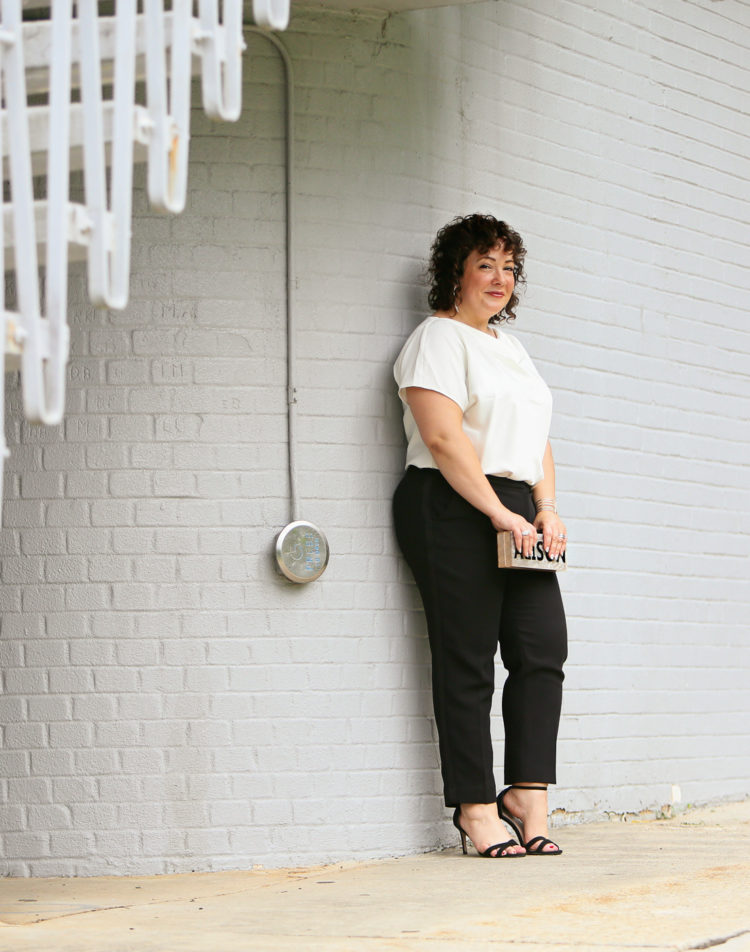 So anyway, back to this blouse. I, in typical Alison fashion, spilled something on it during dinner at our friends' house. I came home, doused it with Bac-Out and threw it in the hamper. Next day I washed it gentle cycle and hung it to dry. Stain gone, blouse same size and shape, and didn't even need to be steamed. It has a curved hemline and looks nice tucked or untucked. This blouse comes in navy as well and in sizes 00-40.
Shop the Post: