This article may contain affiliate links; if you click on a shopping link and make a purchase I may receive a commission. As an Amazon Associate, I earn from qualifying purchases.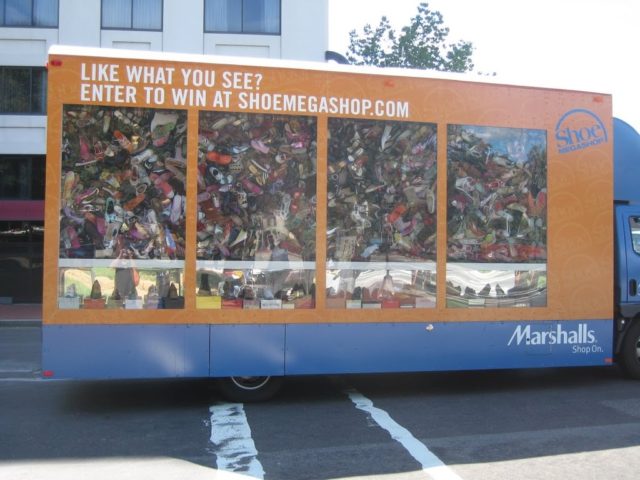 Walking around Washington DC this weekend I saw this truck. It was at a red light and I was only one of over two dozen women who had stopped dead in her tracks to gawk/drool over the display. Click on the photo for a larger version.
This truck was an entire ad for Marshall's – both sides were like this. Glass sides holding hundreds of real shoes, and below glass compartments holding real shoe boxes from well-known brands. Pumps, boots, trainers, sandals in all styles imaginable.
Women were stopping and pointing at the styles they liked. They crossed the street with not regard for traffic to get a closer look. Women in jogging suits and power suits alike were admiring the view. I was not the only one to pull out a camera. I would have gotten a few more shots but the light turned green and the truck zoomed off.
The most brilliant marketing campaign I have seen in a long time, I know I am trying to figure out the next time I have available to hit a Marshall's and check out their shoe department!