This article may contain affiliate links; if you click on a shopping link and make a purchase I may receive a commission. As an Amazon Associate, I earn from qualifying purchases.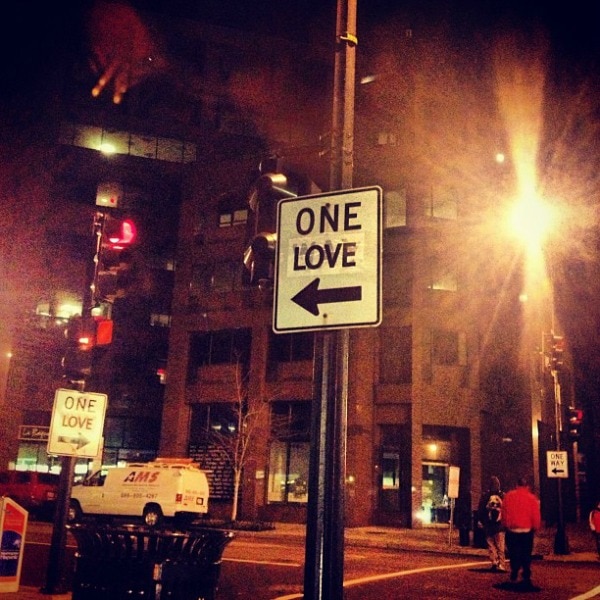 Call me Scrooge, but I just don't like Valentine's Day. I love all of you every day of the year, not just February 14th; I don't need the media to force me into buying flowers and candy and pink lingerie to show love. But I saw this awesomeness on the way to work this morning and I just had to share. Now THIS is the kind of Valentine's Day fun I can support!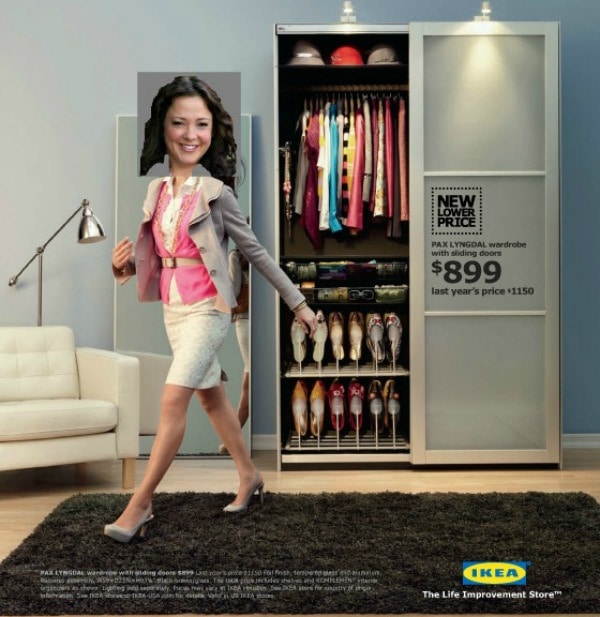 I KNOW you're jealous of my photo editing skills! But come now, how can you resist meatballs, budget-friendly and smart furniture, and my floating head?
What are you doing March 9th? Do you live near College Park, Maryland? Like meatballs, Swedish furniture, and me? Well come to the College Park IKEA for their BYOF Day. Giveaways, food specials, and seminars on how to improve your life, including one by yours truly! I'll be discussing, "Closet Cleanout and Organization: Refreshing your Wardrobe by Honing your Personal Style" at 1pm. Come and be kind – it's my first speaking engagement of this sort for the blog (I've been waiting for a really great partnership and if you've looked at any of my home you know I love IKEA!). But it would be so great to meet some of you, and it looks to be a day of fun for the whole family! Read the PDF about the event here, and click here to register on Facebook!
When you're a blogger, you get a ton of email pitches. Check out this brand, feature this watch, would you like to do a giveaway of this glow in the dark bedazzled needlepoint bookmark? I try to scan each one I get (though if I can tell from the snippet on Gmail that they call me Dear Blogger or Dear Wardrobe I may delete without opening). Many are strange products, many are great products but not appropriate to this blog, and few actually excite me. While this jacket isn't for everyone, when I saw it in the email I was so tickled by it I replied right back on my iPhone when riding on the Metro and had to show it to you.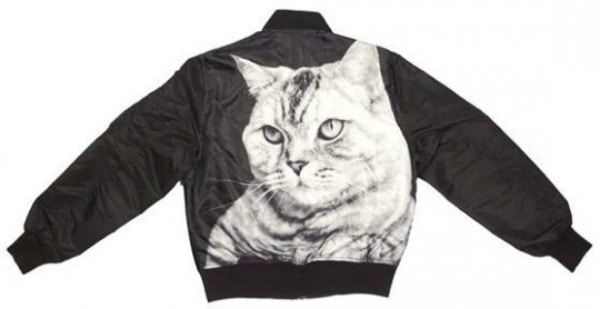 While I don't have to plans to purchase this cat bomber jacket from MadeMe any time soon, I totally love it. Imagine with leather leggings and wedge sneakers, with a tulle skirt and Doc Martens, or over a bodycon dress with killer heels. I love how random and tongue in cheek it is, it's a fun change from overly serious or twee fashion.
Yesterday and today are super early days at work, so no outfit posts, but yesterday I wore this slouchy black maxi dress and I am IN LOVE. To make it work appropriate I wore a striped tank underneath, but it's extremely flattering (even my husband said he liked it and I didn't even ask for his opinion), super ultra cozy and makes me feel cool like Stephanie from Odyssey Home. I'll be wearing it on the blog soon, but I swooned so much I had to share now. As for today… striped tee, sweater coat, skinny jeans and tall boots – my standard early morning work day uniform!
Follow Me | Twitter | Facebook | Instagram