This article may contain affiliate links; if you click on a shopping link and make a purchase I may receive a commission. As an Amazon Associate, I earn from qualifying purchases.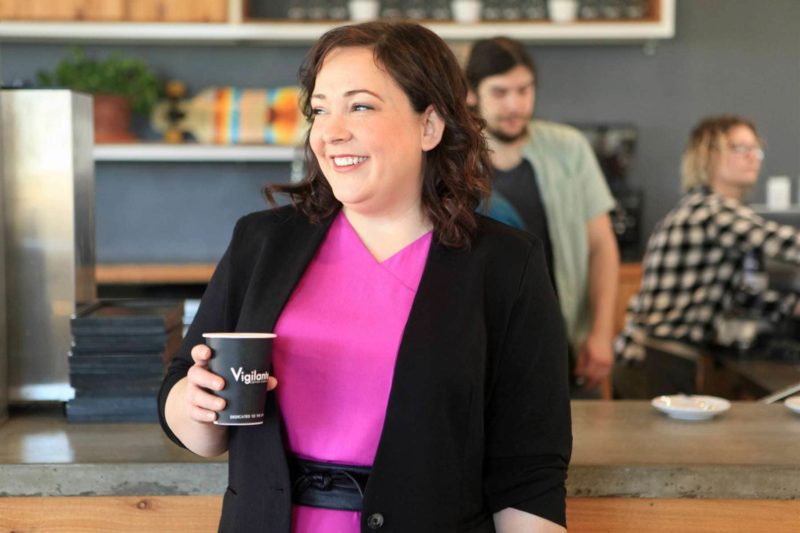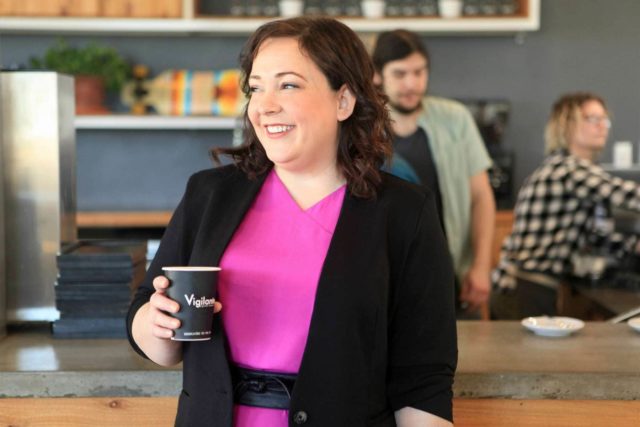 The plus size personal styling subscription box service Dia&Co invited me to takeover their Instagram account yesterday and show a day in my life and how my clothes from my most recent Dia boxes fit into my everyday.  It was a fun opportunity, and a great way to show some of the small businesses in my area that I love.  I took more photos than could fit in the feed, a few of the outtakes are shared here (plus a giveaway at the end!).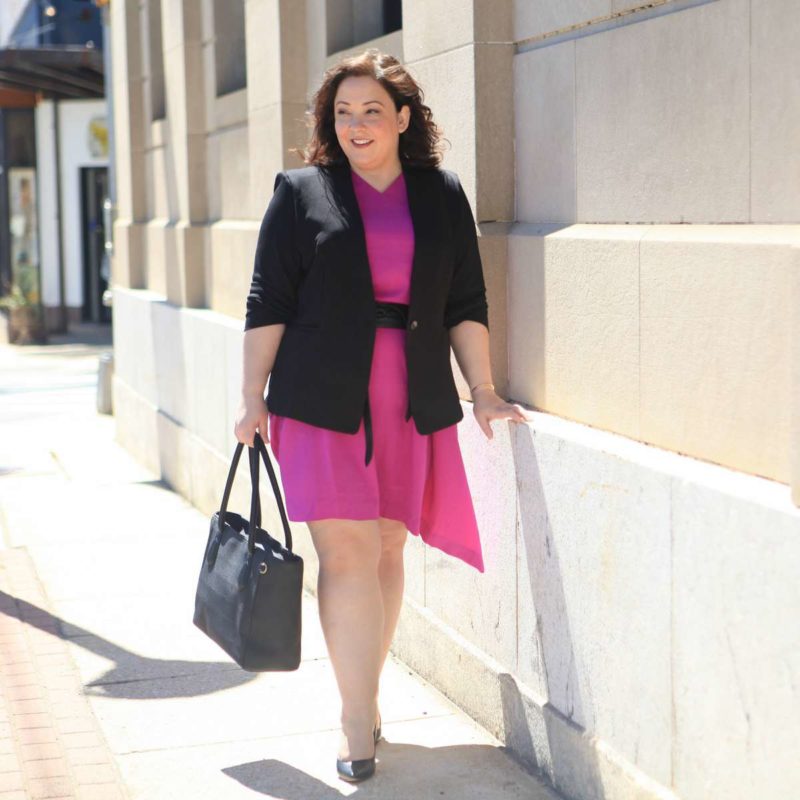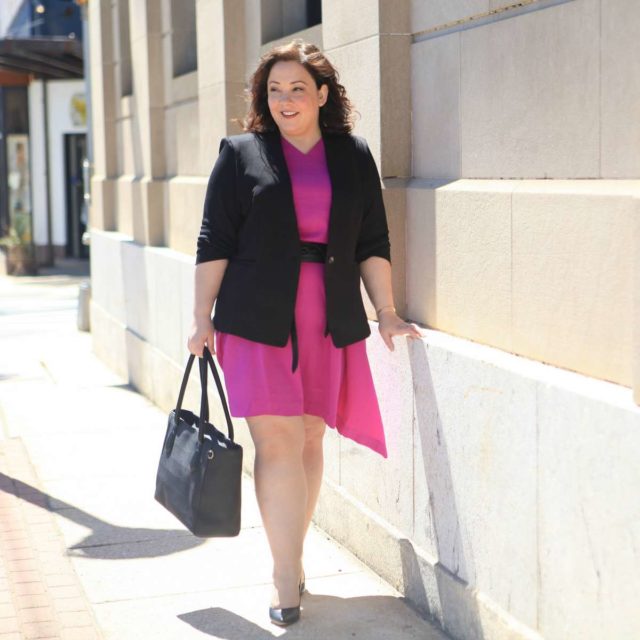 I started the day with a work outfit – a crepe dress from Rachel Rachel Roy I got in my latest box.  I belted it with a black obi belt I've had in my closet for a while (similar).  Over it I wore a black ponte blazer also from Rachel Rachel Roy that I'm obsessed with; it came in my second Dia box.  I love this blazer and have worn it several times over dresses, with slim twill pants, with jeans. I carried my Dagne Dover 13″ tote which is one of my favorite work bags.  On my feet, my trusty Nine West 'Flax' pumps.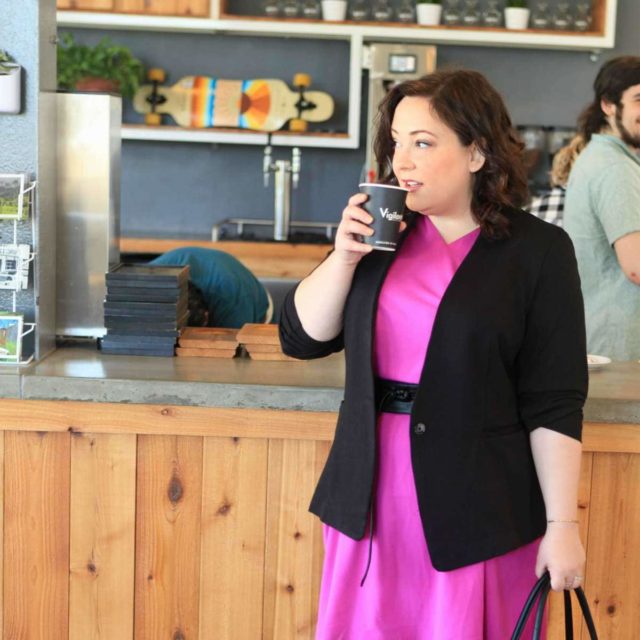 I started my day at Vigilante Coffee in Hyattsville, Maryland.  An independent roastery, Vigilante's first cafe was this location in the Hyattsville Arts District, just a few miles from my home.  They're coffee artisans, and now offer classes to help others learn the art of coffee.  I've featured Vigilante on the blog before, Karl and I love to go there for happy hour and it's a great space to work in when I need to get out of the house.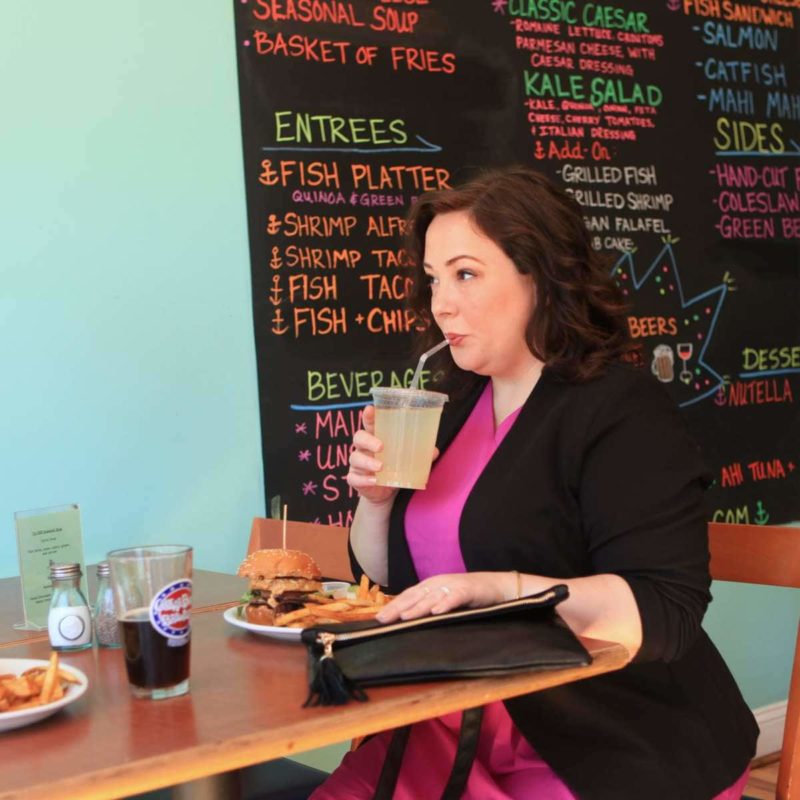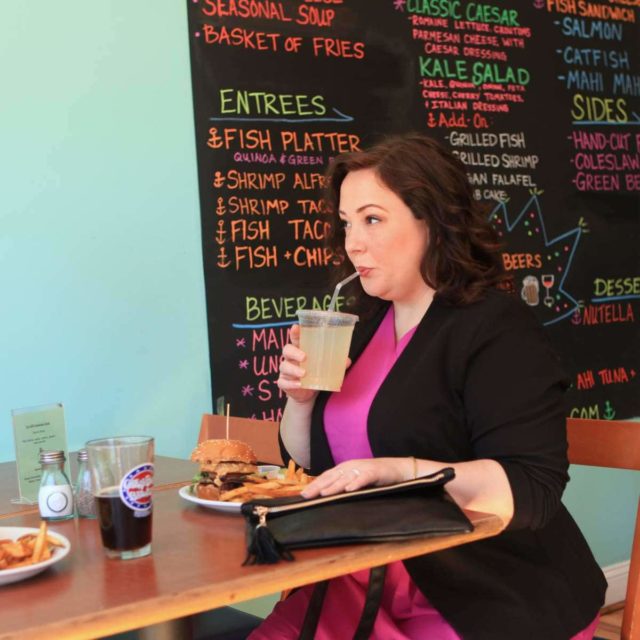 For lunch, I featured Fishnet.  This little hole in the wall in College Park, Maryland is an absolute treasure.  Some of the freshest fish in the area, their sandwiches are colossal and so delish.  I had the crabcake sandwich with their awesome fries (with malt vinegar, natch) and lemonade.  When the weather is nice, it's lovely to sit outside at the picnic tables.  Down the street is the Smile Herb Shop which is the coolest house turned store full of herbs, natural care products, art, and more.  It's a must visit when going to Fishnet!  I've learned to tuck a clutch bag into my work tote for heading out to lunch or happy hour; so much better than lugging my big work tote with me!  This black foldover clutch (can't find online; similar concept) came in my latest Dia box; I love the tassel detail which keeps it from looking too utilitarian.  This is a bag that can dress up and down with ease; a perfect piece to take on travel to use to organize your jewelry in your luggage then use for a night out on the town.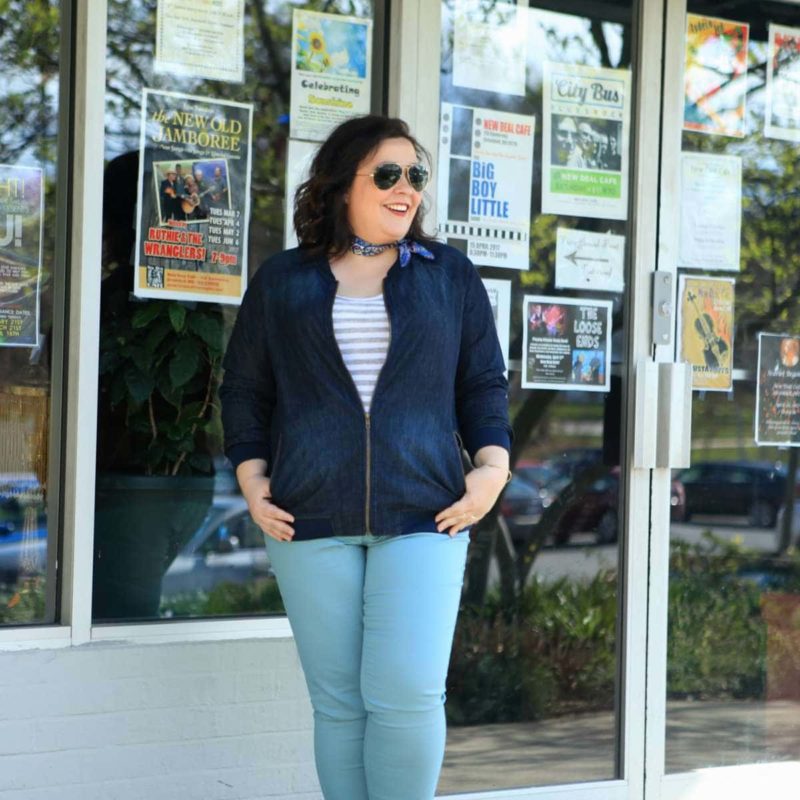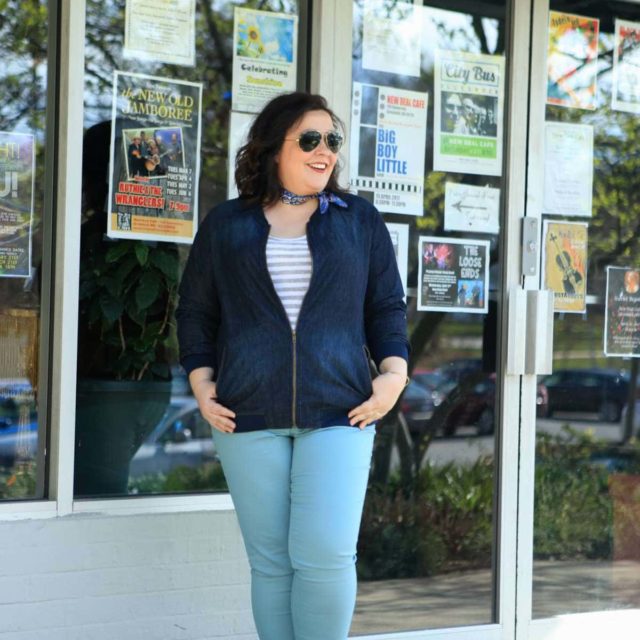 After work, I love to meet my friends (including my sister who lives half a mile from me) at The New Deal Cafe in Greenbelt, Maryland.  Known as "Greenbelt's Living Room," The New Deal Cafe is a laid-back cafe with full menu, bar, and music venue where you can feel comfortable enough to go alone because you know you'll see someone you know or make a new friend.  They have live music almost every night, from local artists to nationall touring bands.  There's always an exhibit of art on the walls, often by Greenbelt residents.  When the weather is nice, you can sit out on the patio and enjoy a microbrew or glass of wine.  Since I live so close, I had time to head home and change into something more relaxed.  If you watched my Facebook Live with Dia&Co you saw this denim bomber from Love and Legend.  It's a great piece for this transitional weather; I paired it with pale blue-green stretch skinny jeans from Junarose that came in my latest Dia box.  I decided to cuff them to style with my tan suede Clarks booties.  To finish the look, I added this Rebecca Minkoff scarf and a Gap striped tee I've had for a while (similar).
While I shared links to my items, I can't recommend enough the benefit of getting style like this picked just for you through Dia&Co.  For those who don't know Dia&Co, it's a similar concept to other personal styling subscription boxes but it's tailored specifically to women sizes 14 and up.  A lot of their stylists are plus size women who get what you need and want for fashion.  When you join, Dia&Co asks a lot of questions to get to know your personal style and wardrobe needs.  You can share your social media and photos to better assist your virtual stylist.  Your box comes with a personalized note and details about the items in your box.  What you like, you keep and your monthly fee is credit towards that purchase.  What you don't like, send back in the included pre-addressed bag.  Working with your virtual stylist and providing detailed feedback on your items, each box will get closer and closer to your personal style and wardrobe needs.  I've received three boxes and while not every item has been a hit, the ones that are hits are super good, from high quality brands. While I have received my three boxes for free, I'm happy to honestly any question to the best of my ability.
And finally… giveaway time!  Head over to my Instagram account where I'm offering a chance to win a free Dia box!
Save
Save