This article may contain affiliate links; if you click on a shopping link and make a purchase I may receive a commission. As an Amazon Associate, I earn from qualifying purchases.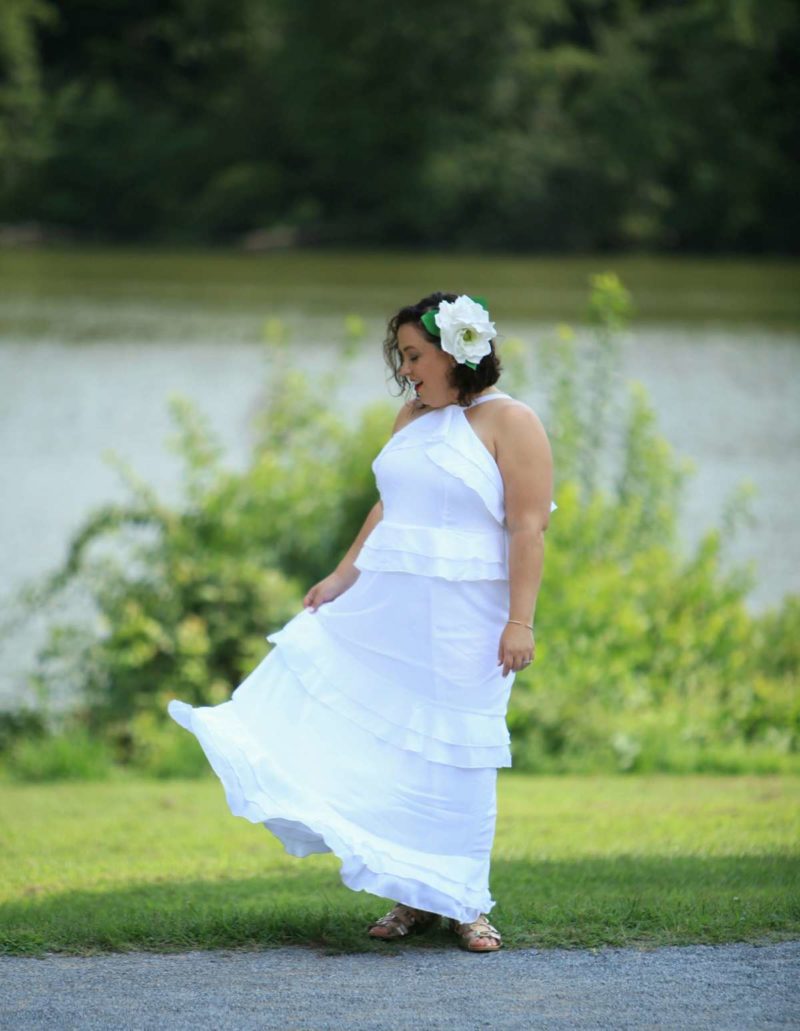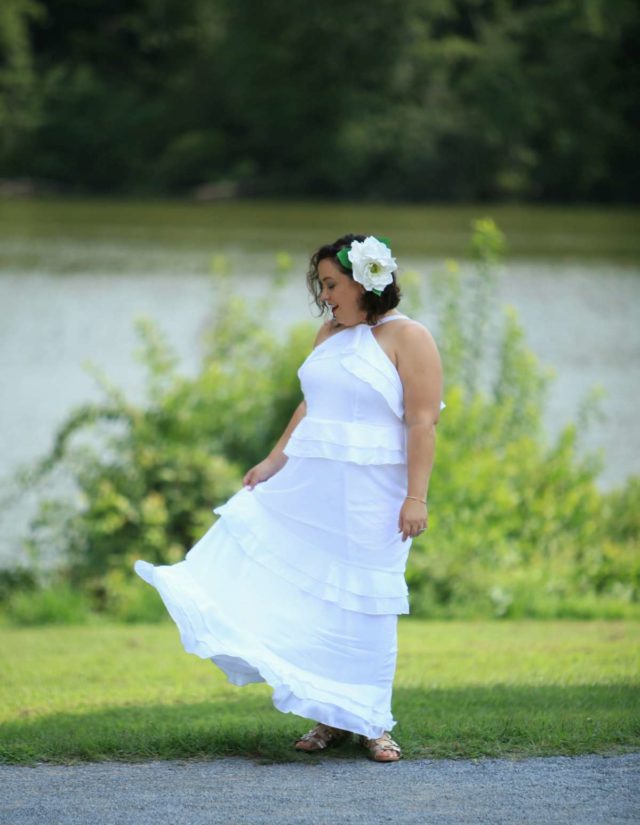 Have you heard of Dîner en Blanc? The Dîner en Blanc concept began in Paris in 1988 when Frenchman François Pasquier invited a group of friends to an elegant outdoor dinner at Bois de Boulogne, asking them to dress in white so they could find each other. Since then, Dîner en Blanc has become a worldwide event, spanning six continents. August 26, it took place in Washington DC. Below I share what I wore to Dîner en Blanc in Washington DC.
When I first heard of Dîner en Blanc I thought it sounded like a hassle, and a pretentious one at that. But last year I decided to join and this year I was able to get tickets. I say don't judge until you've walked a mile in someone's shoes, or walked a mile to attend an all-white dinner!  I had a wonderful time.
What I Wore to Dîner en Blanc Washington DC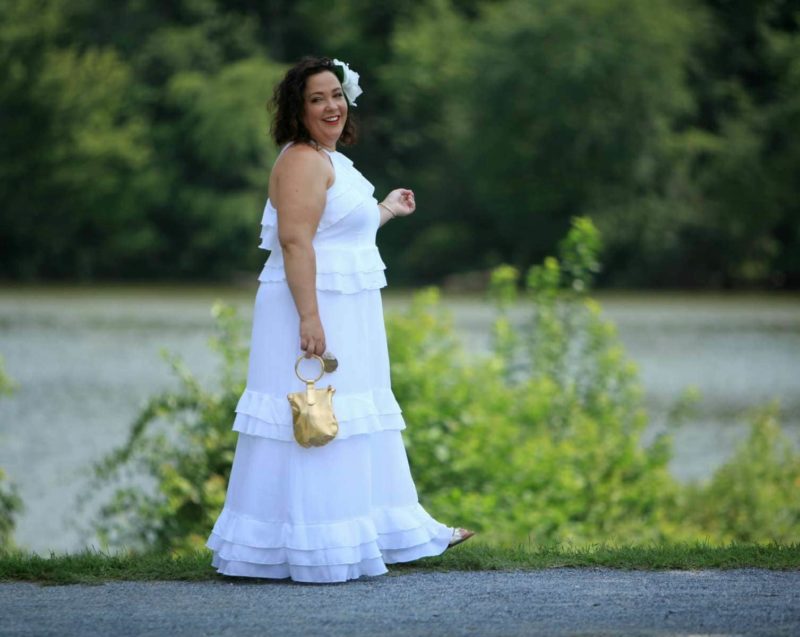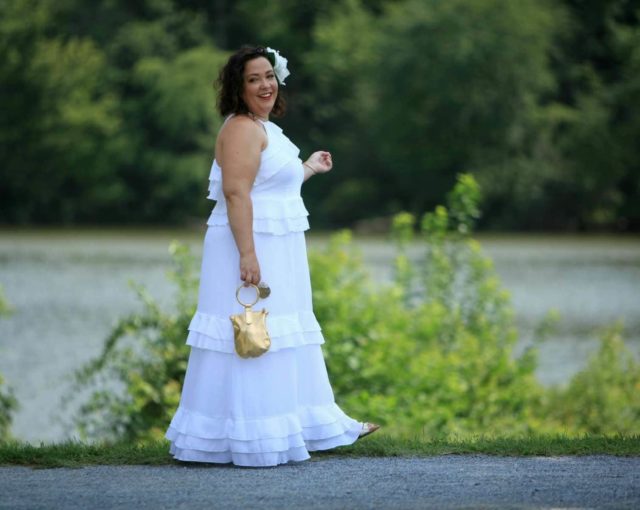 ELOQUII was kind enough to dress both me and my sister for the event. I chose their Studio Flounce Tiered Dress. My sister wore ELOQUII's Textured Overlay Dress. I had a tailor shorten the straps, but that is all the alterations needed; my sister chose to tuck in the neck straps on her dress.  You can see my sister in her dress on Instagram.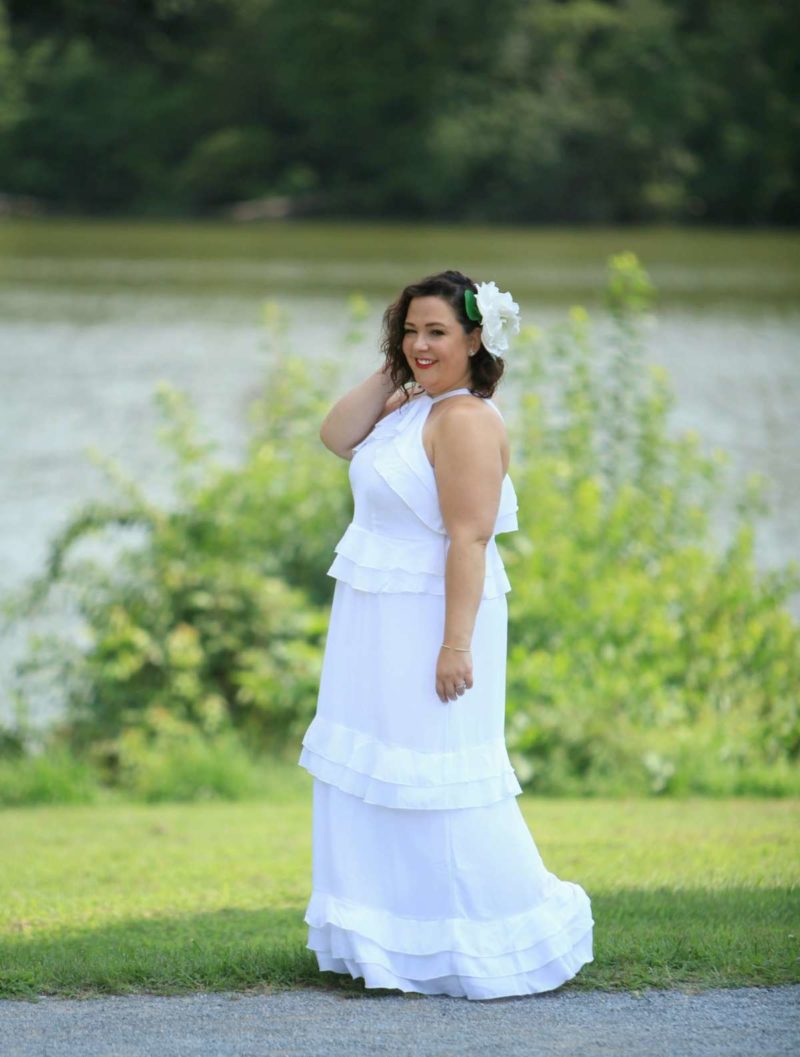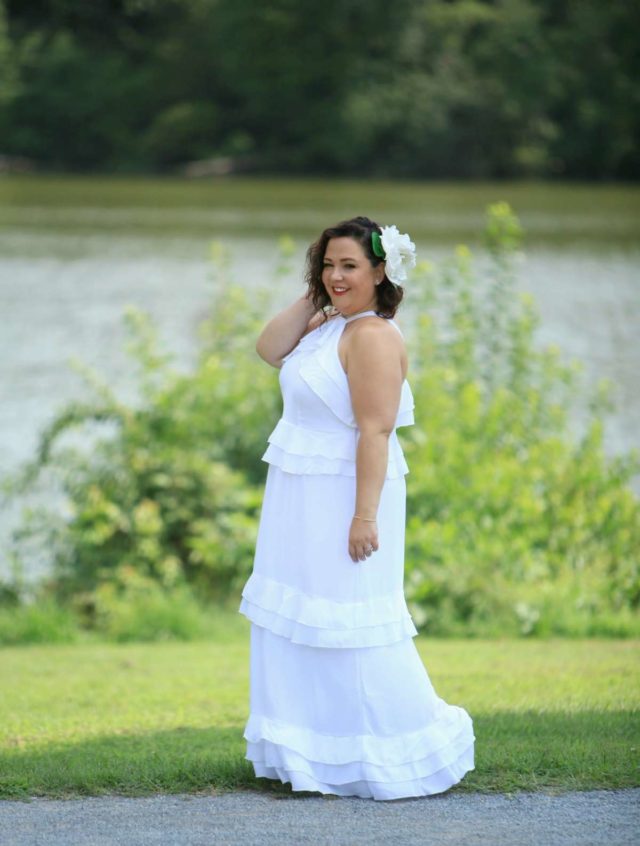 This dress is usually above the ankle, but I liked how it became a true maxi on me.  I know some reviews online say the dress is heavy but I don't feel that is the proper way to describe it.  This dress is a chiffon overlay and traditional poly lining.  However, the way the ruffles are laid, it weighs down the chiffon so it swings and drapes instead of being a fluffy cloud.  This is a good thing, it's a very swingy dress that doesn't cling, wrinkle, or tangle around your legs. For underpinnings I wore this strapless bra with Spanx Higher Power shorts both in nude to me colors.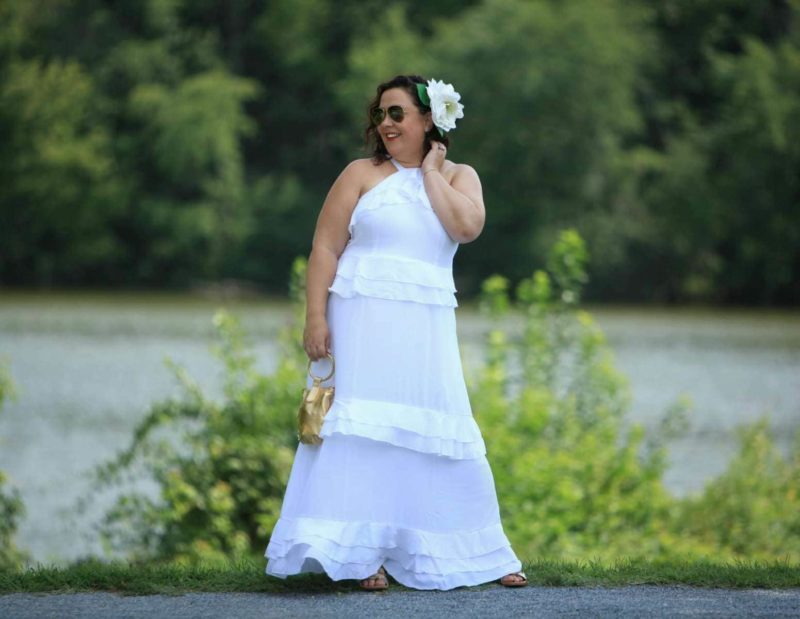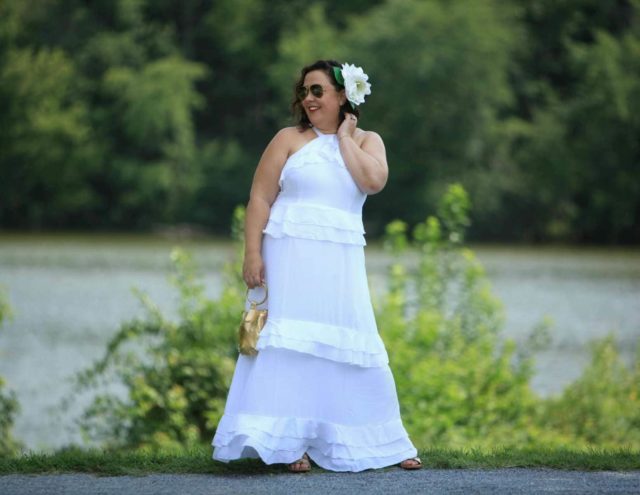 For shoes, I wore my gold flat gladiator sandals. We didn't have to walk too far from our meeting spot to the secret destination but it was too far to wear any sort of heel. They went well with the garden party theme I was going for without leaving my feet in pain at the end of the evening.  I was glad to have sunglasses; we met at 5pm and walked from 5:30-6:00 and sometimes it was right into the sun.  Also as we walked down the street tour buses were full of people gaping at us and it was nice to have on sunglasses so I could gape back!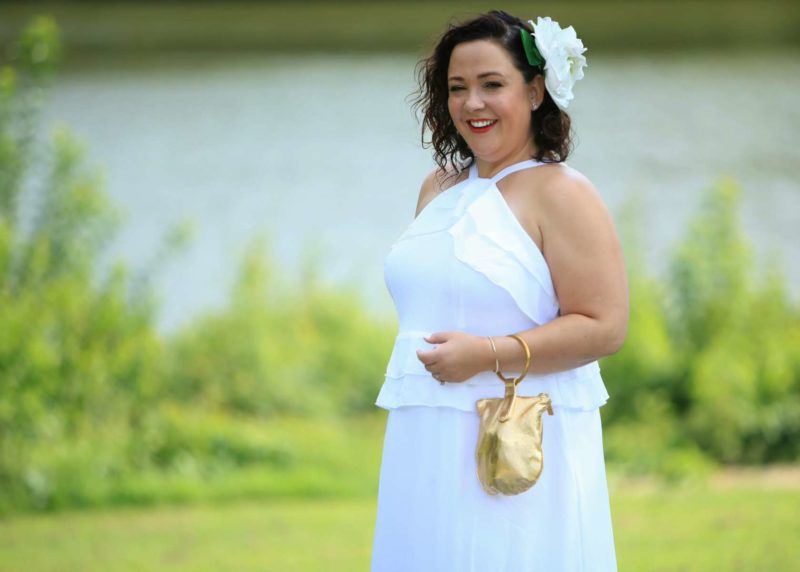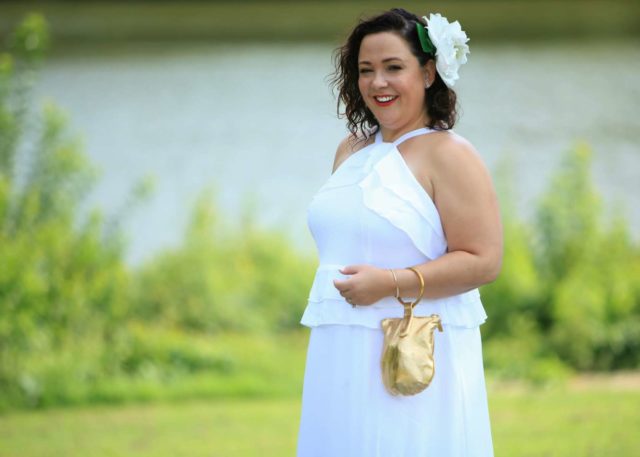 I found this fake flower hair clip on Etsy and felt it would not only be a great accent piece, but a great way to style my hair so it wouldn't be too much trouble and wouldn't be destroyed if I got sweaty, it was humid or raining. I'll admit I got this flower before I even had tickets for Dîner en Blanc, maybe it's my lucky charm for getting me on the list this year (I read there were over 30,000 on the waitlist!).  I kept the jewelry simple to let the dress and flower shine. To have my wallet and phone on me if I went to the dance floor or socializing, I chose my gold leather wristlet which was perfect also for carrying my receipts and phone when standing in line to pick up the food and wine we ordered.
Dîner en Blanc is rain or shine. I planned my outfit before I knew the exact forecast, but we ended up with perfect weather – it was around 70 degrees, sunny, with the occasional light breeze. Last minute I ordered two of this fan from Amazon for me and my sister. We only used them for a bit when we were in full sun waiting to go to the secret destination, but I bet we would have really been happy to have them if it was any warmer.