This article may contain affiliate links; if you click on a shopping link and make a purchase I may receive a commission. As an Amazon Associate, I earn from qualifying purchases.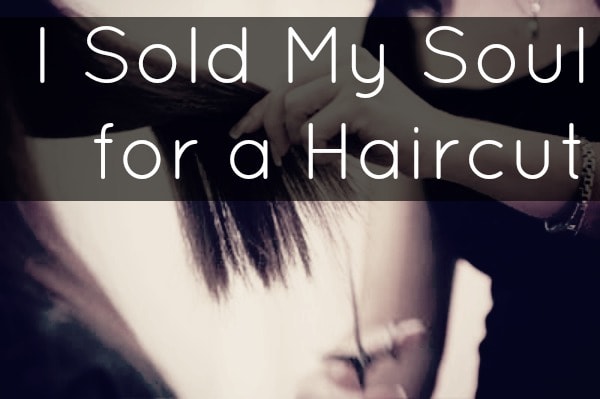 Let me let you in on a little secret about blogging – we bloggers sometimes get paid for what we write. This actually shouldn't be a secret as the FTC requires bloggers to disclose compensation, but many who are not bloggers are unaware of this. With Wardrobe Oxygen, I always disclose at the end of a post if I was compensated in any way for the post (true "sponsored posts" not hosted by BlogHer are actually hosted on a different site); I often even disclose at the end of a post if it may seem as though it's sponsored but in fact is me just being a hardcore fan.  I try to stick to brands that I like, that fit with Wardrobe Oxygen, however…
Sometimes, money can cloud your vision.
Recently, I was contacted by a national chain of hair salons to do a sponsored post and giveaway. They offered me cash as well as a substantial gift card to make an appointment, have a cut and/or process, and share my "before and after" photos. I've been seeing and loving my current stylist for over a decade. I've strayed here and there and have even cut my hair myself, but at 38 I can no longer hide too-short bangs or crooked layers with a strategically placed rhinestone bobby pin. Hair is not my forte and I've learned that I need someone who understands not only my tresses but also my personality. But the lure of cash and a free haircut and color was strong and so I accepted. I justified it, thinking that promoting a budget-friendly national chain fit with my blog. Many of you readers tell me you can't afford fancy salon visits and are always looking for quality yet low-cost beauty alternatives and I made myself believe that this partnership was good for the blog and good for you readers.
In all honesty, I was terrified. I went on Yelp and checked out the four closest locations of this chain and read the negative reviews. I asked friends and neighbors for recommendations on stylists so I wouldn't be flying completely blind. And I put it off… for months. The post had to go live before the end of February, and the 28th was right around the corner. So this past Friday, I went and got my haircut. Standing outside the salon afterwards, fighting back tears and trying weird angles and poses to hopefully capture a decent "after" photo, I realized I sold my soul for a haircut.
The salon experience was… fine. The haircut is… fine. Nothing was terribly traumatic, nothing worth screaming on Yelp or contacting the company, but Wardrobe Oxygen isn't about mediocre on a budget, it's about choosing quality in every aspect of your life within your means.
I don't want you to settle. You deserve so much more than that. Some things you should spend time and money on – your shoes, your skin, your purse, your hair. These are things that truly determine your style, your comfort, and your confidence. All four can be rocked on any budget, but all four should be purchased and chosen with care. You can get a $25 haircut at many salons, and you may have an amazing stylist at this very chain who gives you covetable hair on a regular basis. But if you are receiving mediocre for your hard-earned cash, you deserve better.
This… fine haircut only cost $15 less than the ones I get from my stylist at an independent well-rated salon, and I think I could have had my mom give me a better cut, sitting on the toilet in her master bathroom, using her hair scissors from 1986. This haircut is everything I am against on Wardrobe Oxygen – looking for the best deal and losing your personal style and dignity in the process. This is why I rarely go to malls, never go shopping on Black Friday, and only visit Costco when I have a very specific shopping list. It's easy to get lost in the land of extreme couponing, freebies, and gifts with purchase. It's easy to settle for mediocrity when it's cheap and convenient.
Quality not quantity, that has always been the motto of Wardrobe Oxygen. I try to live my own life by this motto. When I can't afford a trip to the salon for cut and highlights, I buy a bottle of Natural Instincts to cover my grays, but still get the quality cut. If I can't afford a brand new pair of boots for winter, I get my old well-made boots reheeled and resoled and buy some new inserts and give them a good shining. If I'm on a budget and it seems that my entire medicine cabinet and makeup drawer has expired or run out at the same time, I scrimp on lipstick but splurge on facial moisturizer. Point is, you can be thrifty in one way to justify the cost for another to maintain quality. Prioritize, stick to your budget, and don't sell your soul or your style for a good deal… or a sponsored post.
Now I'm off to buy some rhinestone bobby pins…
Update: A big thanks to my sister for helping me clarify what I was trying to say in this post.  Do know I am not knocking this company or any other bloggers who took part in this promotion, it just was not a good fit for me or this blog.  And no, there will not be a review, I contacted the company and told them I could not do the post in good conscience.
Follow Me | Twitter | Facebook | Instagram