This article may contain affiliate links; if you click on a shopping link and make a purchase I may receive a commission. As an Amazon Associate, I earn from qualifying purchases. 
There are some bloggers that I just get attached to. A combination of their personal style, their blog voice, the peeks into their life… they become not just fashion inspiration but virtual buddies. That is how I would describe Cammila from the blog Dressed Up Like a Lady. I used to follow her blog, somehow lost her, found her again, and have loved catching up via her blog and Instagram. Over the years, Cammila's personal style has evolved, but still with the same underlying themes. She knows her body, she knows her style, she has a unique perspective, and that is why I consider her a True Fashionista.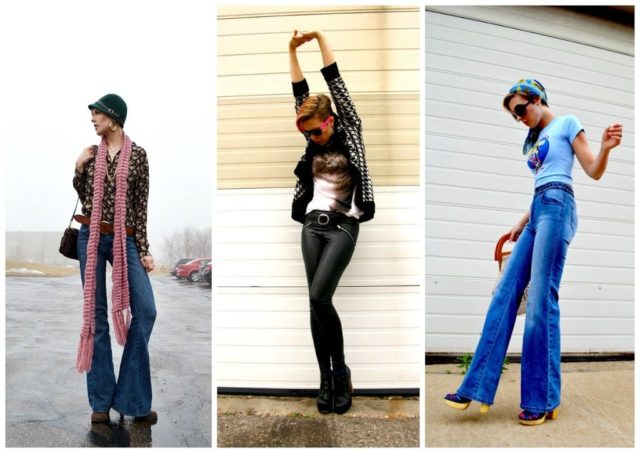 Cammila's style on Dressed Up Like a Lady makes me think of how my style could have gone if I had a different college experience. In high school I was partial to what I would call feminine androgyny with parts of may head shaved, mixing masculine with feminine, grungy rock star with current girly trends. In Cammila's style I see how that look could have evolved with time and current trends.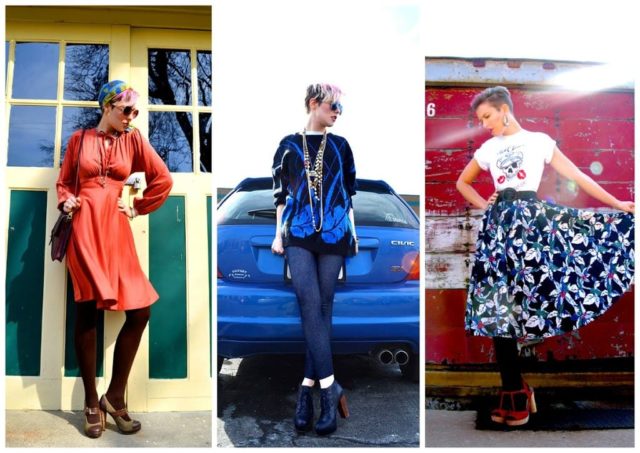 Cammilla's inspiration is pretty clear in her ensembles as well as her poses. She and her husband MC are writers, they're in a band together, Cammila is a major movie geek (one of my favorite recent posts about cinematic style) and all of this is seen though her choice of clothing and styling of her wardrobe. Heck, it was even clear in their fabulous wedding which took place this past summer. I love when she breaks down her style inspiration with images of retro advertisements or music videos; that added detail really helps one understand her sartorial message.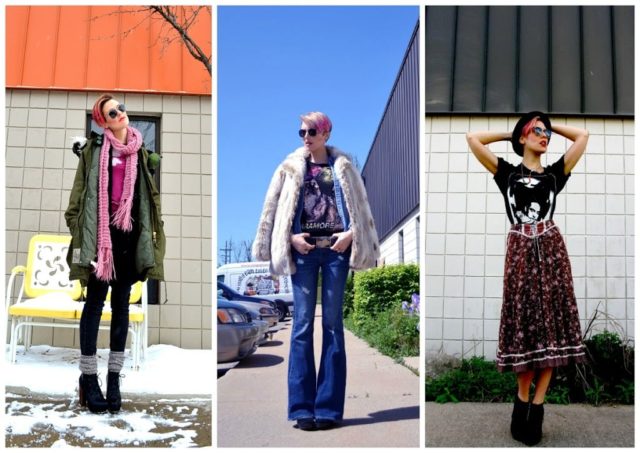 Cammila's lean dancer's figure is the complete opposite of mine, yet I am regularly inspired by her combinations and often think to her ensembles when creating weekend and social ensembles. Cammilla has the effortless ability to mix hippie with rock star, vintage with modern, casual with fancy; she regularly inspires me to also think outside the box . Also, as the temps are below freezing in many parts of the country, it's great to see bloggers like Cammila show their cold-weather style and how they honestly dress each day.
While Cammila's blog is no longer in existence, I kept her interview for style inspiration.
Cammila makes fashion fun and is proof that you can have a clear and defined personal style without breaking the bank. I asked her to answer the same five questions I ask of every True Fashionista, here are her answers:
How would you describe your personal style?
A sexy, androgynous, 11 ft. tall badass rock star, locked in a borderline-uncomfortable embrace with a tasteful, feminine sophisticate.
Where did you get your passion for fashion?
I love stuff. The charisma of good stuff — books, movies, history, music, etc. — always seems to be the character behind it, whether it's fictional Holden Caufield charming you with his biting, depresso snark, or real life front man Freddie Mercury channeling a great rock song through his giant voice. When I dig an album or a photo or whatever, I want to eat it up, I want to be it. That delighted desire to dress up in a costume that somehow abstractly (or sometimes literally) manifests the part of me that screams "OH YEAH!" when I see or read or hear something awesome is probably what motivates me the most.
Where do you find sartorial inspiration?
Vintage magazines from the 70's, 80's, and 90's. The the women in those pictorials convey so much swagger, confidence, and unapologetic sexiness. It's partly because the effortless clothes from these eras seem to slide right through the page and into your head. But it's also the overall attitude at play in the way these spreads are photographed, and the models chosen to appear in them.

You can't deny that while Jerry Hall is no doubt a size zero beanpole, her body isn't pubescent or emaciated, it's athletic! As lean as it is, her body is muscular. And her poses, as well as the way she connects her gaze with the camera, are steady, present, and knowing, never vapid, blank, or coquettish. You see this again and again in the women on these pages from the 70's-90's, from Gia Carangi to Kelly LeBrock to Cindy Crawford, from the Glamazon fashion editorials of Vogue, to the teeny-bop advertisements of Seventeen, to the Patrick Nagel pin-up illustrations of Playboy.

MC and I have a nice vintage mag collection, but blogs like Sighs and Whispers and Get Some Vintage-a-Peel offer tons and tons of scans as well.
What is the difference between fashion and style?
Well, etymologically, the word "fashion" comes from the Latin factionem, "group of people acting together," whereas the word "style" comes from the Latin stilus, "manner of expression." Word origins don't always stick, but I think in this case, they do. "Fashion" implies trend, or groupthink, whereas "style" implies personality, or expression.

Any advice for a woman who is starting to find her personal style?
It's not so different from developing your writing or musical style. It seems daunting from the outside — how much of this is about my unique, personal style, and how much is about objective knowledge? How do I "train my eye?" How do I know if I'm getting better when there's no accounting for taste? But if you just watch and experiment and keep at it, you'll discover that what seems impossible in theory is actually not that hard in application. You'll figure it out.
The purpose of the Friday True Fashionista series is to show women who use clothing to express their personal style. Each woman has a different, unique look and opinion on clothing and fashion. These women inspire me in my clothing choices, and possibly their bold sartorial statements will inspire you. Stay tuned, there will be a featured True Fashionista every Friday. And if you know of a True Fashionista in your life, tell us about her in the comments… you never know she may end up being featured!