This article may contain affiliate links; if you click on a shopping link and make a purchase I may receive a commission. As an Amazon Associate, I earn from qualifying purchases. 
So I was visiting my friend Nicole's blog (won't link because she likes her job – and not for them to read her blog) and she did a meme that involves handwriting.
Interest piqued!
I used to get failing grades in handwriting when in elementary school.  I hold writing utensils in a weird way, where I have two to three fingers on top of the pen, versus the standard one finger (I say this is a good thing since Princess Diana and Michael Jackson both supposedly held writing utensils in the same manner).  This caused my handwriting to slant in 50 different directions.  I would come home with that mushy wide-rule paper with big red slashes through it, showing my crooked illegible cursive.
I decided to embrace my handwriting, make it an art form, love it for what it was.  I love my handwriting, and I LOVE to write.  I write in journals not to pen my thoughts, but for the relaxing meditative results of pen to paper.  I prefer old-school college-rule spiral notebooks (the more subjects the better) and a black pen with a medium tip that just glides across the paper.  Seriously, I dig my Bic.
So the meme is – write the answers to these questions on a piece of paper:
What's your name/your blogger name?
What's your blog's name/URL?
Write "The quick brown fox jumps over the lazy dog." (original meme forgot the word brown)
Favorite quote?
Your Favorite song?
Your favorite band/singers?
Anything else you want to say?
Tag three to five other people.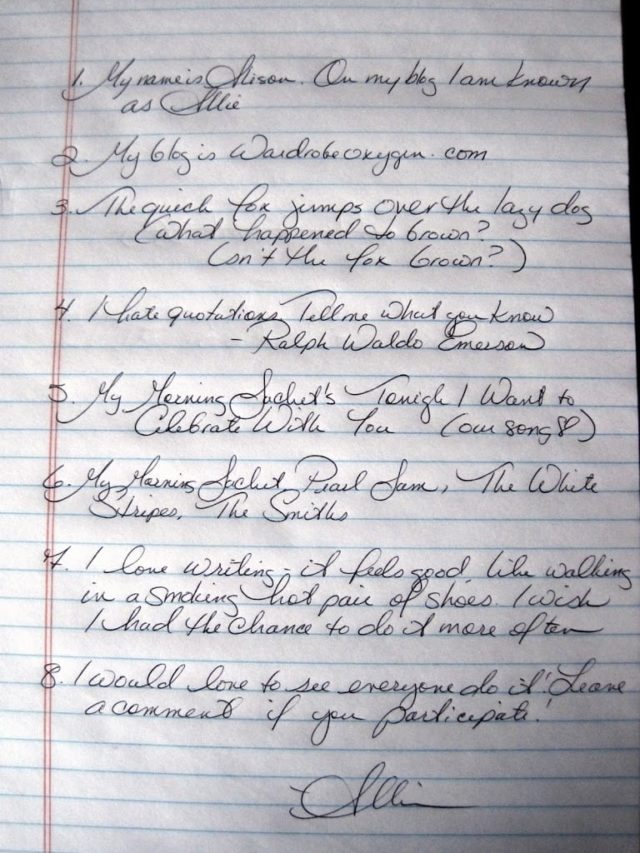 As you see above (if you can read my handwriting), I am tagging everyone who wants to participate.  I would love to see your handwriting!  Blogging is a great way to connect with fab people from across the globe, but we rarely get to know regular in person things about our blogging friends – what we sound like, how we laugh, what our handwriting looks like.  Gosh in this day and age, how many of us still write on a daily basis?
I want to know you better!  If you do this meme, come back here and let me know so I can get to know you better!
And if you would like to know more about what your handwriting says about you, check out these links:
http://www.personalityquiz.net/innertraits/handwriting.htm
http://www.3smartcubes.com/pages/tests/handwriting_analysis/handwriting_analysis_instructions.asp
http://handwriting.feedbucket.com/