This article may contain affiliate links; if you click on a shopping link and make a purchase I may receive a commission. As an Amazon Associate, I earn from qualifying purchases. 
Tall boots have been in style for years, but this season they seem to be a must-have, be they paired with tiny dresses, pencil skirts, or pulled up over skinny jeans. Daily I check the stats of this blog and what keywords are used on Google and other search engines to arrive at Wardrobe Oxygen. Half the time, the question on the search engine user's mind is "Where can I find boots for wide calves?"
I wrote a detailed review of Duo boots here. Duo is known for having one of the most extensive lists of calf sizes and their quality cannot be beat. In this post, I wrote about many companies including my experience with Wide Widths, a company that has a collection of several brands of wide-calf boots. And here, I also mentioned wide-calf boots.
Well this weekend I had two more experiences I wished to share with you.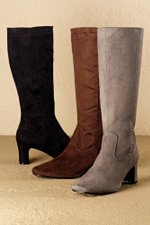 First, I received a pair of tall boots from Silhouettes. Silhouettes is a company that sells clothing for women in sizes 12W and up, and shoes as well that have wide calves and wide widths. They seem to have a few of their own styles, and also offer a few brands that are known for selling quality wide-width tall boots (Naturalizer, David Tate, Ros Hommerson). Many of Silhouette's style of boots are far more budget-friendly than Duo or Wide Widths, but I was wondering about the quality. Often times cheaper brands are such because they scrimp – the seams are not as strong, the fit is strange, the heel is flimsy, the fabric is obviously man-made and why is it that cheaper brands add so many details and flourishes? Don't they know that cheesy gold-tone buckle and the purple zipper details make the item look obviously cheap?
The boots I received are not currently available on Silhouette's site, they are a suede boot with man-made lining; the heel is also suede-covered. They scrunch a bit up the shaft like their pleated ankle boot, but are tall like their microsuede boot. The color I received is a gray-tinged chocolate brown. Though I usually wear a 7.5, these boots are an 8W (it often is a good idea to go up a half a size for boots). The heel is about 1″ (you can see them being worn here).
These boots are quite comfortable. Though I couldn't pick my calf size a la Wide Widths or Duo, these boots fit my monstrous (we're talking wide calf styles from J. Crew and Ann Taylor just don't cut it) calves. No zipper marks embedded into my legs after wearing, no pinched toes and no leg pouring out of the top as though my calves are stuffed sausage. I wore these boots shopping and to dinner (about four hours) without any pain or issues. I did purchase a pair of comfort insoles to slip in, as these boots have no support or cushioning (very flexible yet thin sole), but that is pretty common in lower-priced shoes and fashion boots. The suede looks just as expensive as higher-end boots and didn't scuff too easily. The man-made lining is a bit spongy which helped the boots stay up and not cut into the skin, but did cause my leg to get a touch sweaty. The zipper is sturdy, same color as the boot so not too obvious. I like that the boot is free of adornment so it compliments your outfit and doesn't draw attention to the width of your leg or the price of the footwear.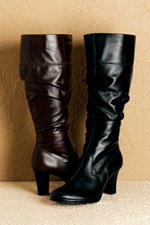 Silhouettes has a great return policy for the boots, though they only give 90 days for returns, your return during that time period is 100% guaranteed. This means you can actually wear the boots and see if they are comfortable and sturdy. No tip toeing on your carpet, these shoes can prove their worth. If they are like this pair I received, I doubt they will be heading back to the returns department. These are not boots you will own for decades, but if you are looking for stylish wide-calf boots at a very reasonable price, Silhouettes is a great place to check out.
As for my second experience… eBay! We all know eBay as a place to find a great vintage piece, a designer purse at a good price and a goldmine for finding random things you didn't know you even wanted or needed. Well there is a great selection of wide-calf boots as well. Naturalizer has a boot called the Kiersten that is sold most everywhere. It is a classic tall boot in brown or black leather and when I searched for this boot on eBay, I found dozens in my size, most never worn with the tags still attached. These boots are found around $99 on most sites, but saw these same boots for $35 at eBay. If you know your calf size or have experienced a certain brand of boot, it is worth your time to check out eBay for quality leather boots at a great price.
As I learn about more wide calf boot companies and experience their product and service, I will be sure to report back here. Seeing so much traffic for just my blog on this subject, I hope more companies see this need and adjust their calf widths to be as varied as their shoe widths (also consider smaller calf widths, Dear Companies – there are many slender-legged women out there also wishing to wear tall boot but cannot find a good fit).
Boots shown: Microsuede Boot (on sale for $59), Emily's Closet Platform Boot (on sale for $89); both available at Silhouettes.