This article may contain affiliate links; if you click on a shopping link and make a purchase I may receive a commission. As an Amazon Associate, I earn from qualifying purchases.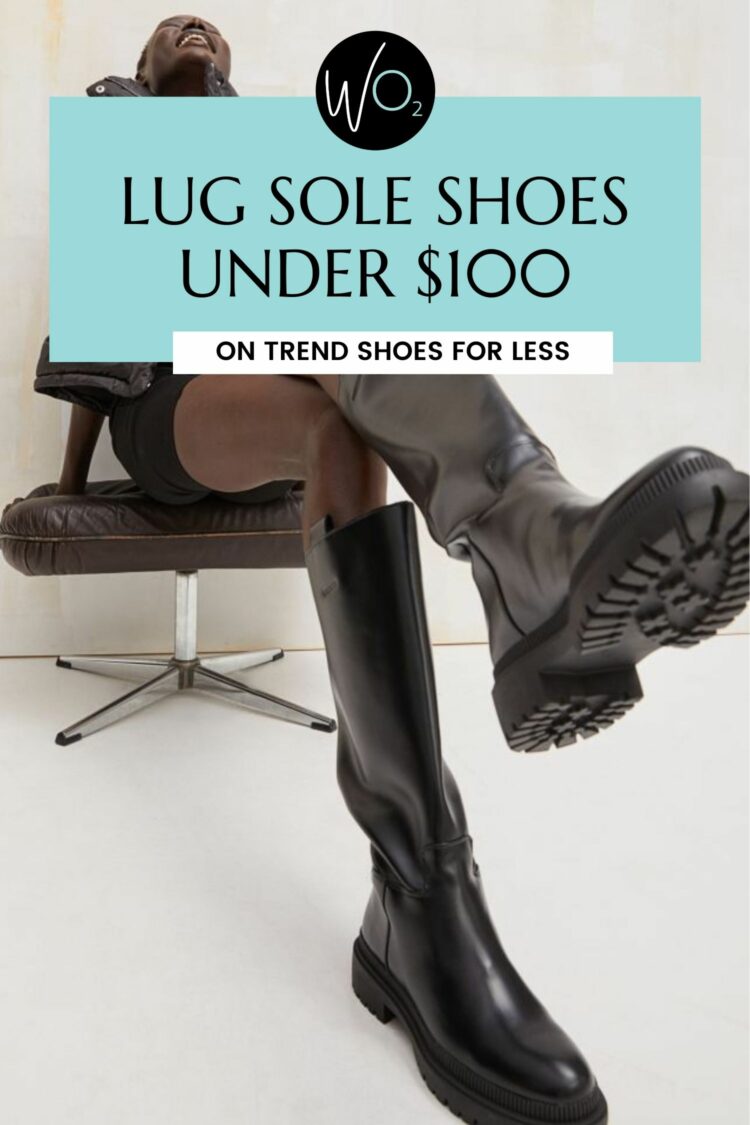 Last week I shared my picks of the best fall fashion trends, and I recommended buying a pair of lug-soled shoes for fall. The lug sole shoe is a hot trend this season, and a comfortable one at that. Looking great with jeans, dresses, trousers, and more, the lug sole shoe is an easy way to update your existing wardrobe for fall. Below I share my picks of lug sole shoes under $100 to embrace this trend.
What is a Lug Sole?
A lug sole is a thick rubber sole with deep indentations in a pattern designed to provide secure footing. Lug soles are often seen on work boots and give Dr. Martens their iconic style. Lug sole shoes are great for stability and comfort as well as on-trend style for the season.
Stylish Lug Sole Shoes Under $100
While I am a big fan of the lug sole trend and hope it sticks around for more than this season, I am hesitant to spend a lot on a trend its first season. Below I share several stylish lug sole shoes under $100 so you can try out this comfy and chic trend without breaking the bank.
Lug Sole Loafers Under $100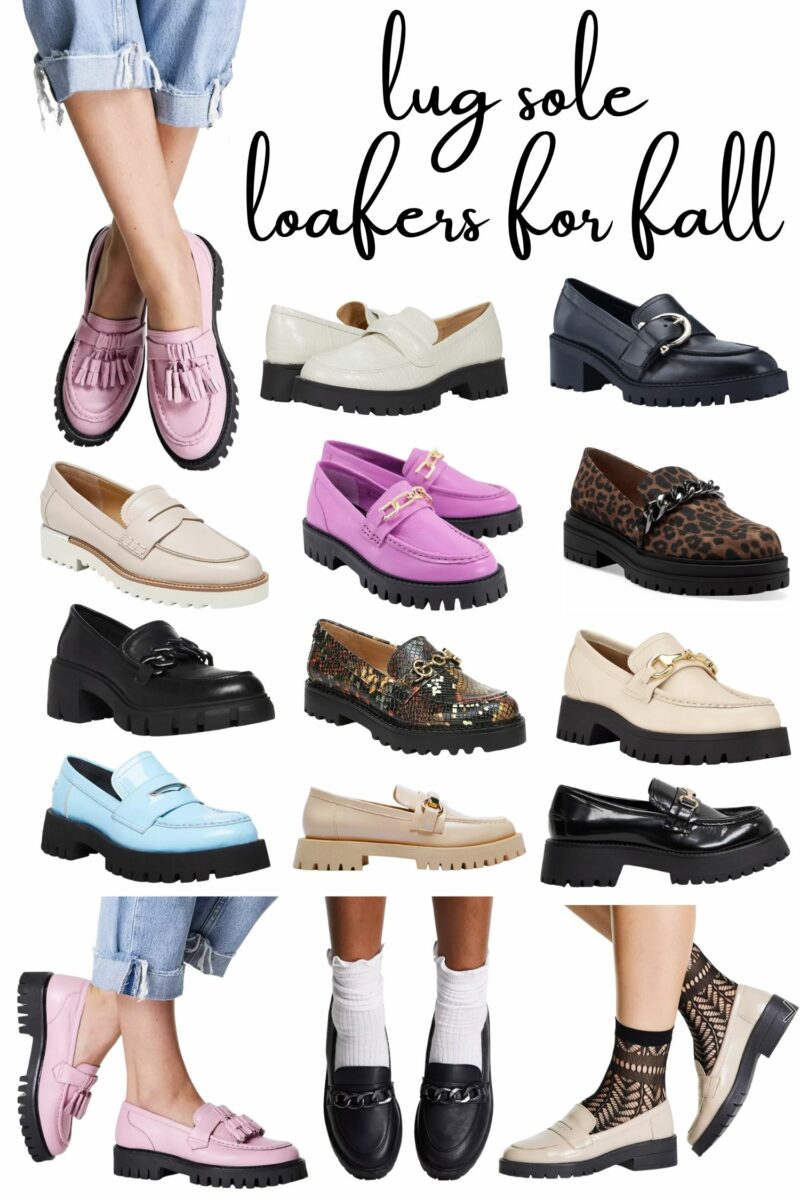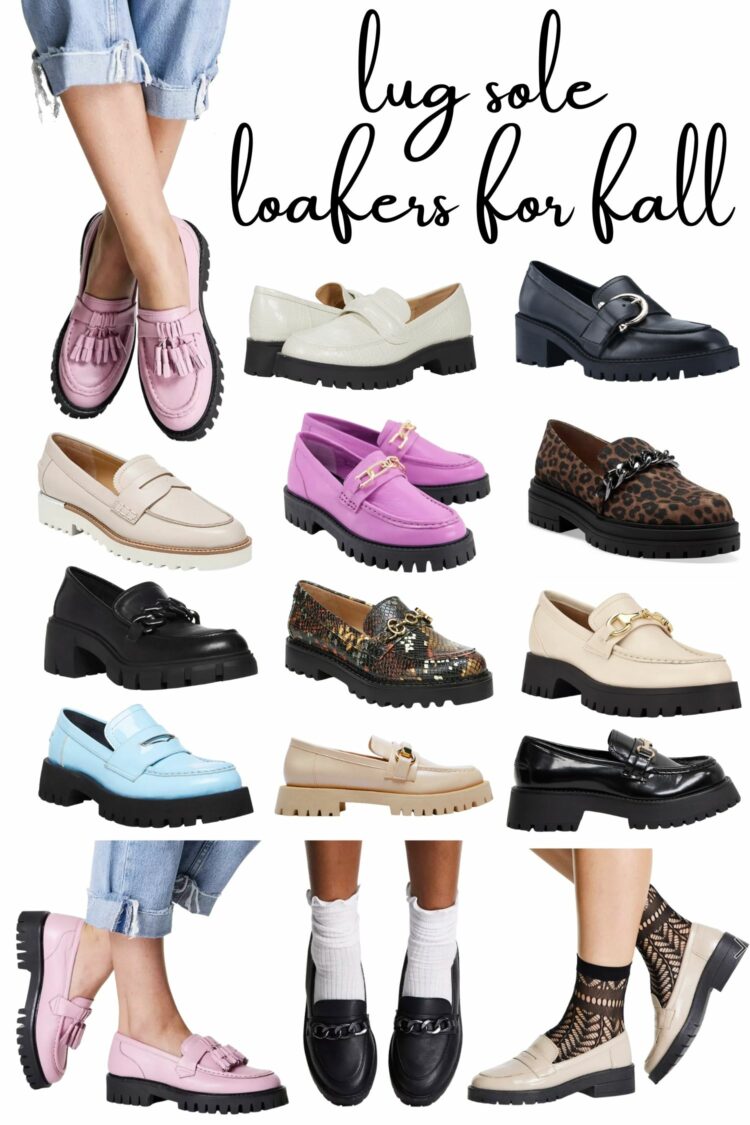 pink with tassels – $98 | ivory croco patent – $89 | black with large silver buckle and slight heel – $59.99 | cream with white soles – $99 | purply-pink with gold chain detail – $99 | dark leopard print with chain detail – $79 | black with black chain detail – $59 | dark snakeskin with gold bit – $79 | chunky cream with gold bit detail – $89 | baby blue patent – $99 | beige with beige soles – $59.50 | super chunky black with gold – $36 | pastel pink – $98 | black with chain detail – $48 | cream patent penny loafers – $46

Most come in other colors or textures; this one for example has nine different colors. Lug sole loafers are an easy way to update your current wardrobe for fall. Pair with your ankle pants and jeans, or wider-leg menswear-inspired trousers and looser denim.
Lug Sole Oxfords and Brogues Under $100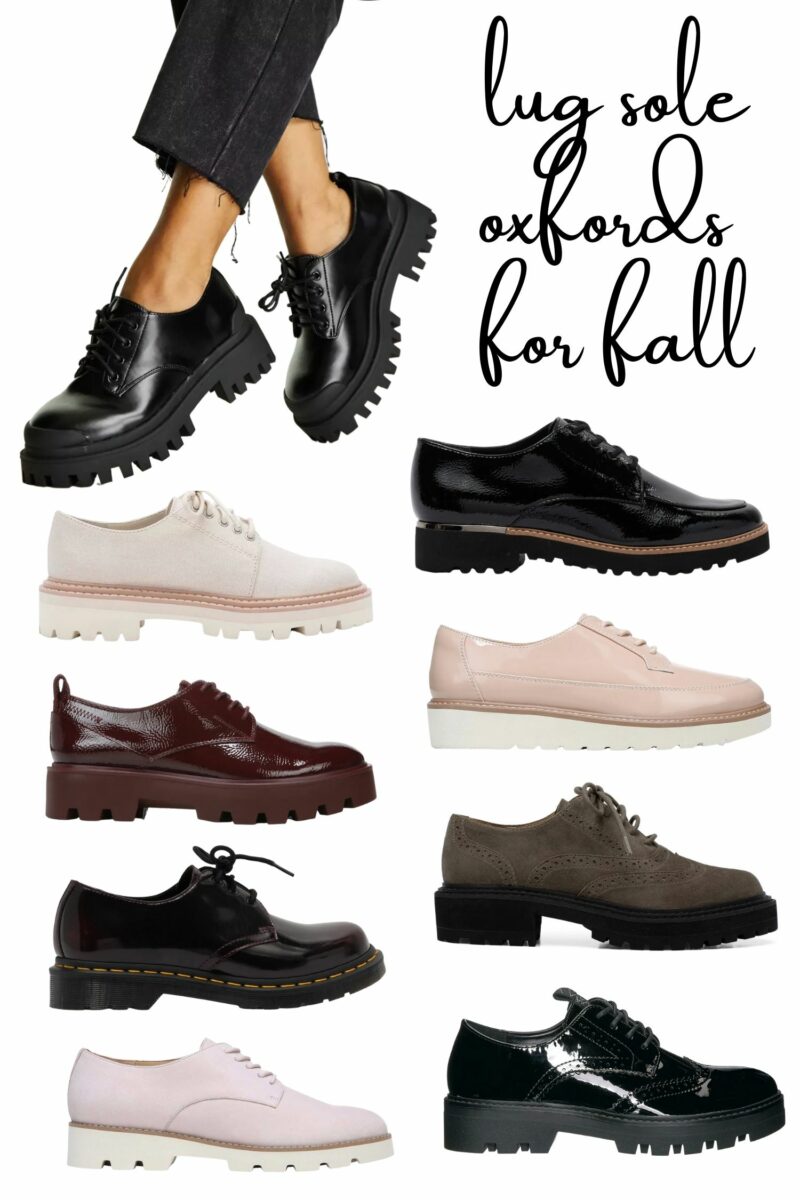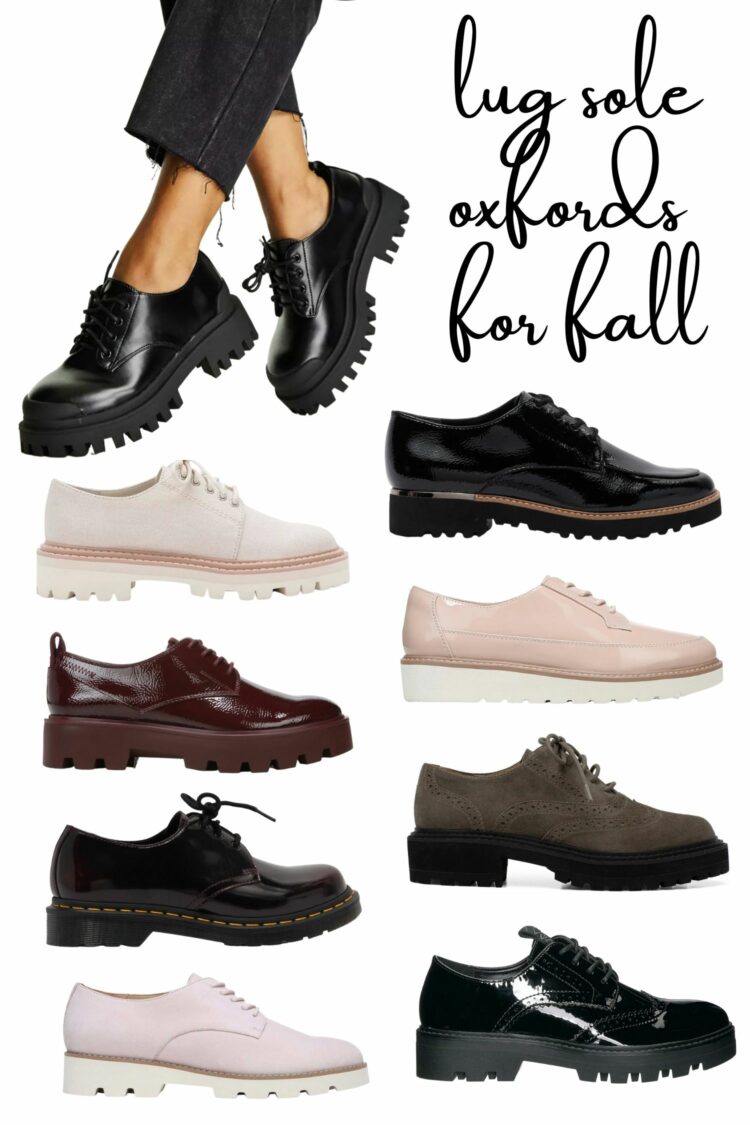 chunky black on the model – $43 | beige canvas with pink and beige sole – $74.99 | black patent with tan trim – $69.97 | burgundy patent – $99 | blush patent with white sole – $49.97 | black cherry Docs – $89.97 | olive suede – $99.95 | pale pink nubuck – $50.97 | chunky black patent – $59.03

Oxfords or brogues are harder to find under $100 but I found some chic styles that would be great for work or play. Like the lug sole loafers, these can be worn with most anything.
Lug Sole Warm-Climate Shoes Under $100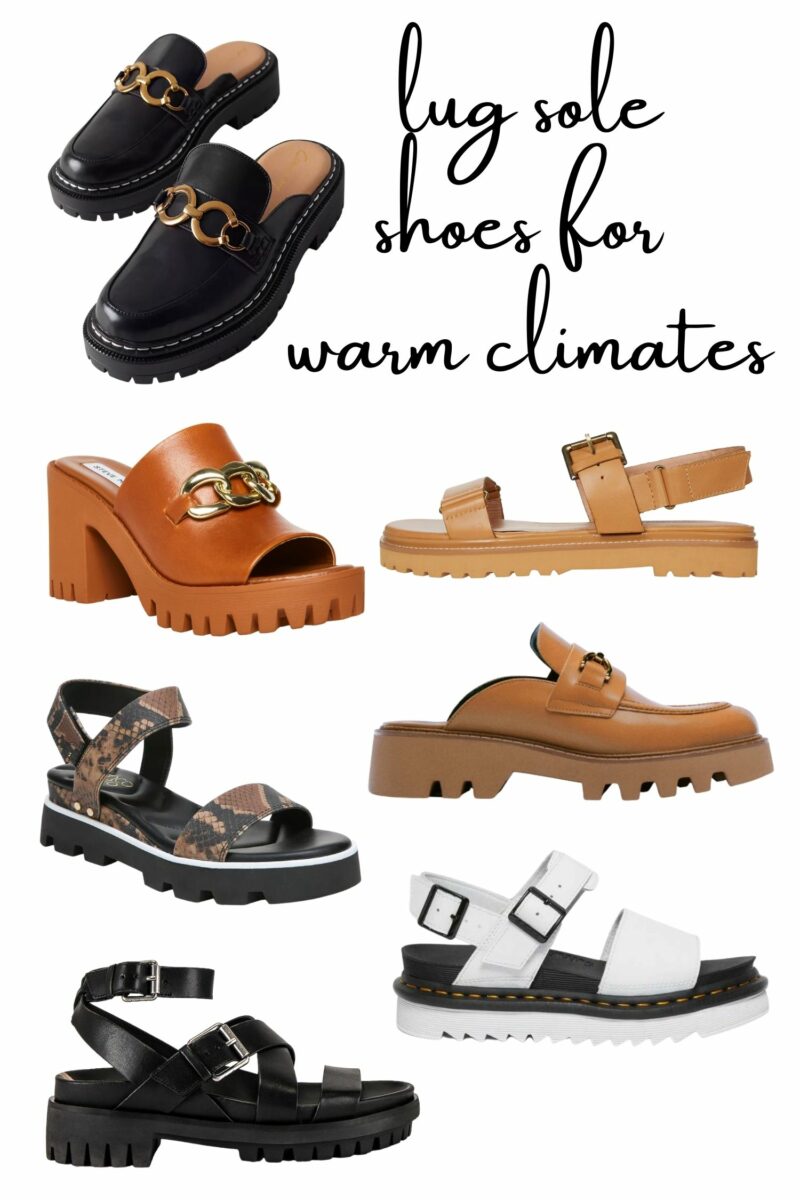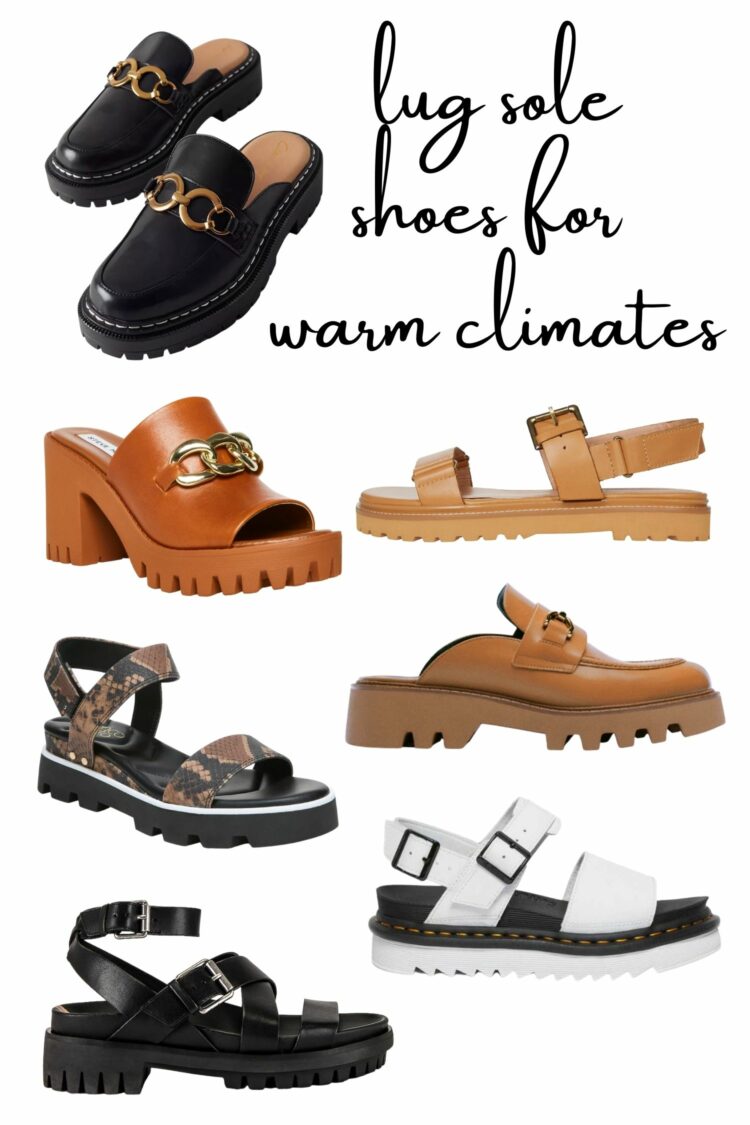 black loafer slides with gold detail – $90 | camel platform heeled slides – $59.99 | camel sandals – $89.99 | snakeskin sandals – $63.74 | camel loafer slides – $89.90 | black sandals – $72 | white sandals – $70

After the response I got from my article on fall fashion trends for warm climates, I had to share some lug sole shoes for those who live in the south and warmer locations! You're in luck, as lug soles were popular this summer and many styles in fall colors and fabrics are now on sale. However, many retailers have come out with lug sole slide versions of loafers for fall which look so chic with jeans and trousers. You can rock them all winter long while we'll have to store them for styles that can accommodate rain and show!
Lug Sole Pull-On and Chelsea Boots Under $100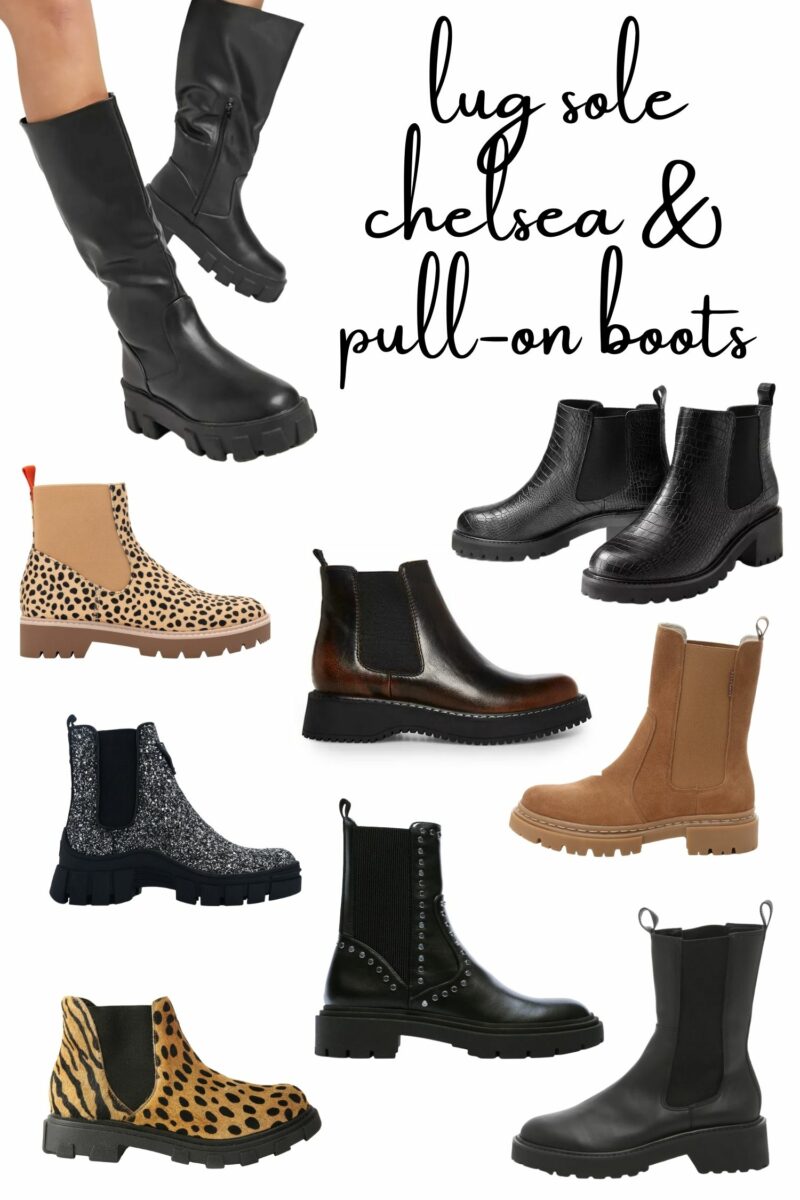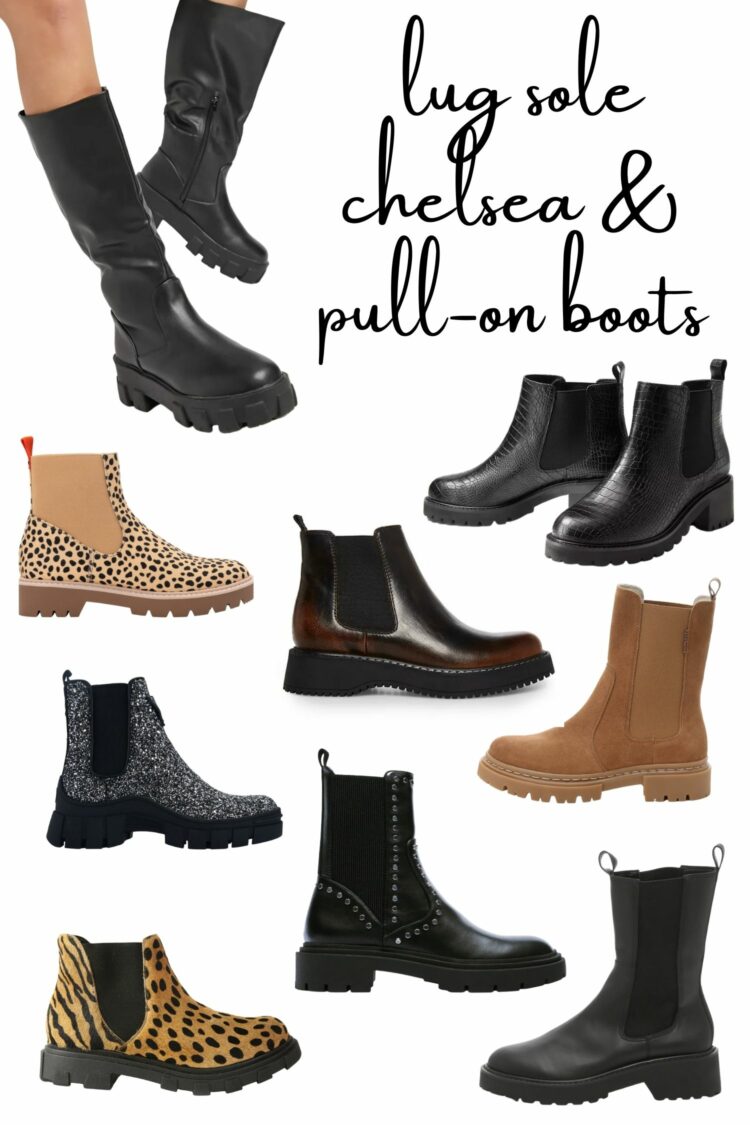 tall pull-on boots – $68 | tan spotted – $89.99 | glitter boots – $99 | animal prints – $98.95 | brownish-black – $49.95 | black with studs – $59.90 | black croco – $89.95 | camel suede – $99.99 | black – $99.99

With our new lifestyle, it's nice to have a boot that's easy to slip on and off when leaving the house. Whether it's running late to work or leaving the home to run errands, a pull-on or Chelsea-style lug sole boot will get plenty of wear this fall and still look classic enough to wear next year.
Lug Sole Lace-Up and Combat Boots Under $100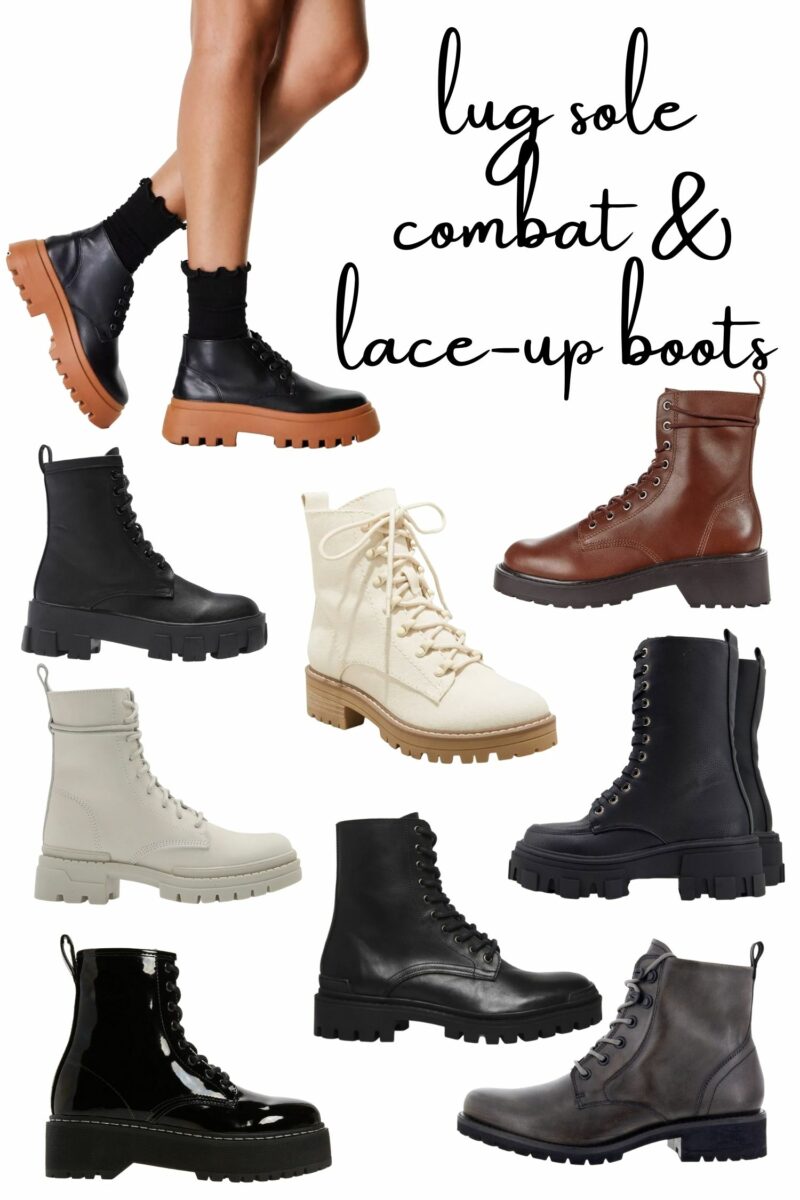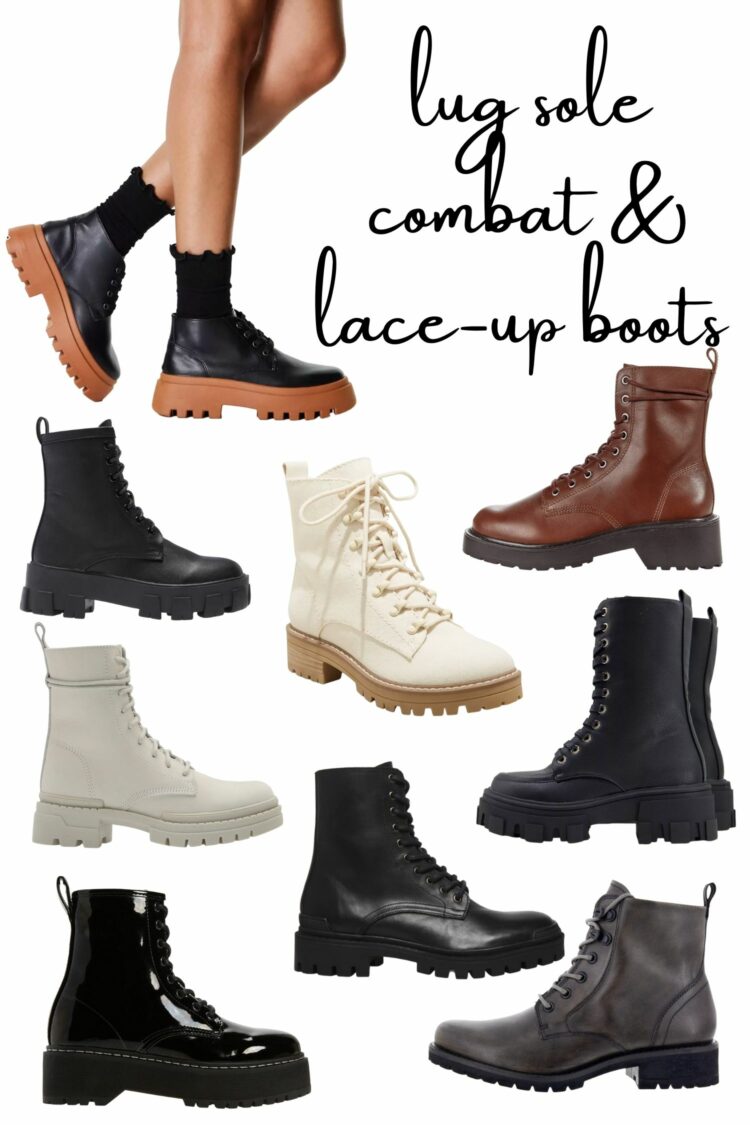 black with camel soles – $50 | black with chunky sole – $89.95 | cream canvas – $39.99 | brown leather – $89.95 | stone leather – $99.95 | classic black leather – $89.99 | tall black with silver grommets – $50 | black patent – $99.95 | dark gray – $89.99

What Socks To Wear With Lug Sole Shoes?
A rule of thumb is if your ankles will show, don't have visible hosiery. A pair of no-see socks will keep you comfortable without ruining the line of your outfit. If your ankles are covered with longer pants, wear what feels comfortable. I've been wearing my Bombas wool hiking socks under my Doc Martens; they're long enough to protect my ankle and wick away moisture but don't peek out of the top of the boot.

Tights and patterned hosiery are back; if you are wearing lug soles with a dress or skirt a pair of opaque tights or a sheer black patterned stocking is on trend.

If you are one who loves creative hosiery, a trouser sock or dress sock in a fabulous pattern can add a lot to a look. However, this isn't for novices as proportion and pant length determine if you look polished or like Pee-Wee Herman. If your hosiery is showing between your hem and your lug sole shoe, it should be fitted and either match your shoe or be a contrast or print to complement your ensemble.