This article may contain affiliate links; if you click on a shopping link and make a purchase I may receive a commission. As an Amazon Associate, I earn from qualifying purchases.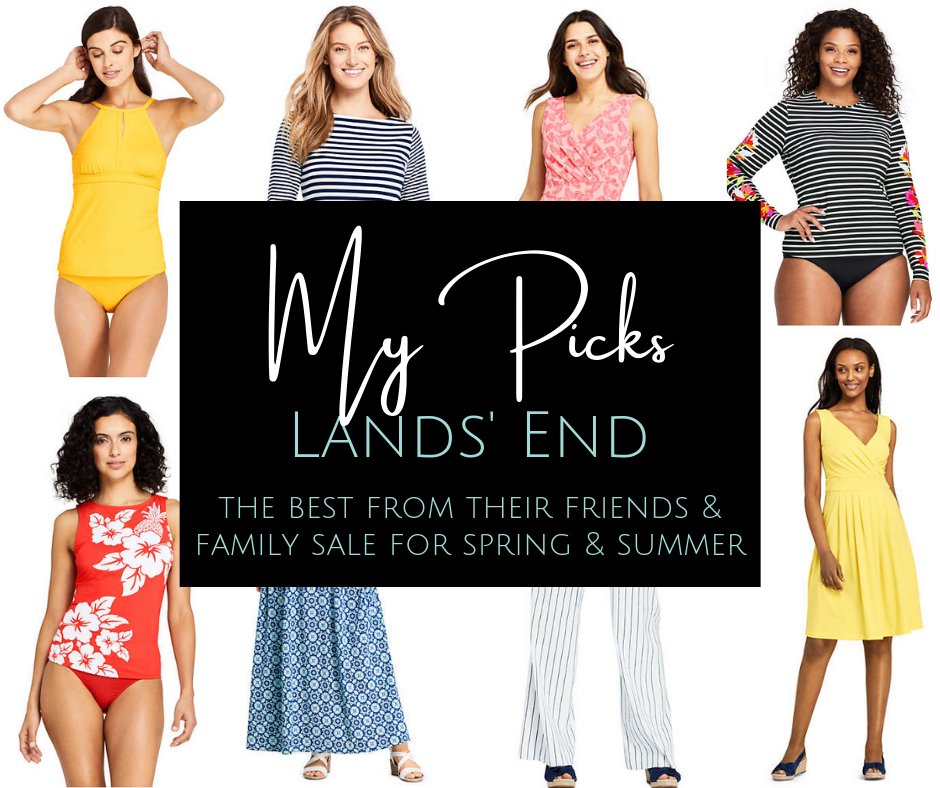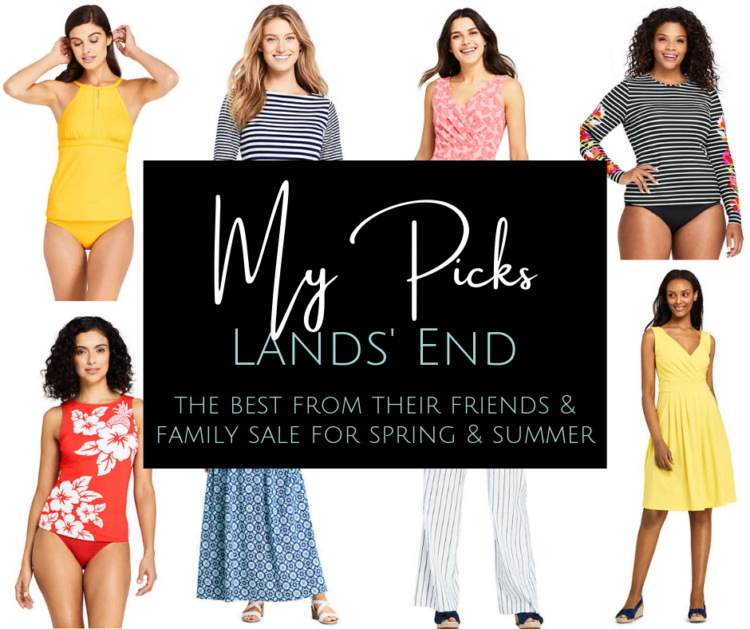 If there's ever been a best time to shop Lands' End it's right now. They excel in spring and summer fashion and gear. Even better, their Friends & Family sale started with 40% off full price purchases with promo code FAMILY and PIN 6894. I've been a fan of Lands' End for years; they do classic style well along with good quality and a nice size range. This sale is so worth it, I decided to dedicate a post and search the Lands' End site for the best products for you!
Must Buy – Lands' End Swimwear
I've raved about Lands' End swimwear before. The size range, the quality, the options for cup sizes and mastectomies and the variety of swim bottoms for your level of comfort and activity… I have Lands' End swimwear that is a decade old and still looks great and performs well. As I've mentioned in other blog posts, no need to buy your swim top and bottom from the same retailer. Most are the same fabric and mix and match with ease. Lands' End has the best variety of swim bottoms with regular, petite, long, and plus sizes (up to 26) but also such a great mix of lengths, fits, and needs for modesty, comfort, and activity. For tops, Lands' End has the best mix of necklines, cup styles, cup sizes, and fits for different activities and needs. I'm also a fan of their one-piece suits which are chic, stylish, timeless, and high quality. As an FYI for my links below, I focus on pieces that will work now and summers from now. I am not linking to clearance pieces since the size range is limited, and no textured pieces because they usually only work best with other textured pieces from the same year and collection. However, if you're looking for a specific size or color it's worth it to visit Lands' End and use their filters as there are so many available that I haven't shared!
Lands' End Swim Bottoms: My Picks
I love the idea of a true swim short; fabric that can handle getting wet, but also a style that works for street style. Great for kayaking, paddle boarding, snorkeling, canoeing, or just having more coverage at the pool or beach. Style with a bikini top, a tankini, or a rashguard. No need to match, the trend this season is mixing and matching of patterns and colors so treat it more like an outfit where you'd pair a floral with stripes, a pastel with navy, a bold color with black, or any combination that makes you happy. Coverage has finally become cool, so wear what makes you feel comfortable and have fun in the sun!
If you prefer the look of a swim skirt, Lands' End makes ones that are classically chic, not frumpy that come in a variety of lengths, silhouettes, and with different features. They too are easy to pair with a pullover and sandals to leave the beach and head to the cafe and provide a retro-chic effect with coverage.
For the best coverage, consider swim leggings with an attached short skirt. This is especially great if you are snorkeling or doing activities where your legs will get a lot of sun. Here is the link for regular and petite sizes; here is the link for plus sizes.
Lands' End makes traditional swim bottoms in a variety of styles and they're great quality (I have several that are years old and still fit and look great).

Lands' End Swim Tops: My Picks

When a tankini top gets reviews stating, "the best I ever had" and raving about support, fit, and style well I have to share it! Their Wrap Underwire Tankini Top comes in regular, petite, and long, with or without tummy control, and up to a DDD cup (FYI, I am an F and their DDD cup works for me). Here is the link for the same top in plus sizes. Here's the same top in prints in plus size; and here it is in straight sizes. I think this top would look great with any traditional swim bottom as well as all the swim skirts.
If you're looking for a tankini top that is still full of style but has more coverage, check out this top. It comes in regular, petite, and long and up to a D cup. Here is the link for the plus-sized version, which also comes in long lengths. This would look great with a traditional bottom, a swim skirt, but also look great with board shorts.
Whether you're looking for more coverage or more sun protection, this high-neck tankini top is so chic and so pretty and comes in regular, petite, and long lengths and up to a DDD cup. Here is the plus-sized version which has a long option and also comes in up to a DDD cup.
I don't fully get the trend for blouson-style tankini tops and those with lots of ruffles. Enter the water and suddenly you become a floatation device! I understand wanting the fabric to distract from your shape, but they're not terribly functional. This peplum tankini top has fabric to camouflage the figure but also looks functional and stylish. Available in regular and D cup options. This is the link to the plus-sized version.
For those looking for a bit more coverage… how about a swim dress? Here is one in straight sizes; the same suit in plus sizes.
I think a strapless tankini top is so chic, but they often get terrible reviews for support and fit. Lands' End gets great reviews. This is the top in solids which comes up to a D cup. This is the same top in prints. This is for the solid colors in plus size; and here is the link for prints in plus size.
For those who use their suits for regular time in the pool, Lands' End has chlorine-resistant suits that are made for time in the lap lane while still looking great. I love the print on this tankini (and here's the matching bottoms). This one has a high neck great for laps and will go with any black bottom. And here is a great one in plus sizes.
For those desiring a classic swimsuit look but want two pieces for fit, for ease of use, etc. this square neck tankini top is a great choice. Regular, petite, and long with up to DDD cup and the option to choose tummy control. The same top in plus sizes which comes in regular and long lengths and up to a G cup. This is another top that would look great with a bikini bottom, skirt, or shorts.
For those looking for a sports bra concept for coverage, an athletic vibe, support and the ability to survive water activities this tank-style bikini top is ace. This link is for regular and D cups in straight sizes. This link is for the top in plus sizes.
If you're looking for a bikini top that accommodates a large bust, Lands' End is a great choice and where I've found great fitting bikini tops. This is a "midkini" which has more rib cage coverage, comes in plus sizes as well as cup sizes. The same but in prints. The Twist Front Bikini has a retro vibe and comes in a variety of cup sizes. This is the link for straight sizes; this is the link for plus sizes.
If you desire a tankini top with a bit more… style, these two have prints and gathering and look quite sophisticated. I'm partial to this one in straight sizes and this one in plus sizes.
I didn't share one-piece suits, but do know they have several styles that are quite gorgeous, practical, and timeless. Click here to see all their options! For reference, this is my Lands' End Tugless swimsuit review.
Lands' End Rash Guards and Swim Coverups: My Picks
I love that rash guards are now stylish. It's easy to find a variety of prints and styles and no one looks twice if you're wearing one for modesty, sun protection (Lands' End rash guards are UPF 50), or to have fun in the surf. But don't keep rash guards like these just for the water; the prints and silhouettes make them wearable for other casual activities!
A good coverup can add style, comfort, sun protection, modesty, and make it easy to head to the snack bar or a beachside cafe at lunch. Lands' End has great styles that are quick drying and can also do double duty as a casual summer dress.

Must Buy: Lands' End Beachwear
Towels, and water shoes, and totes oh my! If you've been reading for a while and follow me on Instagram, you know our family LOVES Lands' End beach towels. I have some over a decade old that are still thick and soft with saturated color. And my favorite beach (and farmer's market and Whole Foods and dry cleaning and taking food to a friend's potluck and camping) tote is from Lands' End. Below I'm sharing what I actually own and can personally recommend.
I love a water shoe that looks like a normal shoe. They're great for the beach where you want to keep the sand out, your feet comfortable on the bottom of the ocean, but also want to walk up to the boardwalk. I wear them when we go canoeing or kayaking because I don't need to change when we go somewhere after for lunch.
Must Buy: Lands' End Bags and Luggage
Lands' End makes fantastic luggage and stands behind their quality and durability. I have bags decades old that still look and work great, and newer bags of just as great quality.
Must Buy: Lands' End Dresses
I have Lands' End dresses in my closet that are older than Emerson. I still wear them, and each time I wear them I get compliments. How many pieces in your closet can tell the same tale?
Their banded waist fit and flare dress is perennially chic and so versatile. Dress it up, wear it with sandals, style it with booties and a denim jacket, take it on travel, even throw it over your bathing suit. Stuff it in a bag, throw it in the dryer, it can take it and still look polished enough for work on Monday.
This is essentially the same dress but in a maxi length. I used to have this dress and LOVED it. My sister and several friends also own it and love it and it wears well year after year.
I love their elbow sleeve ponte dress and have owned a couple over the years. It looks polished, works year round, can dress up and down, and it has pockets!
Clearly, this isn't all that is great at Lands' End. I wanted to concentrate on what I know best, pieces I've worn or owned or I know people who have it. If you take advantage of this sale, do let me know in the comments. And if you have a Lands' End favorite not mentioned share that as well!