This article may contain affiliate links; if you click on a shopping link and make a purchase I may receive a commission. As an Amazon Associate, I earn from qualifying purchases.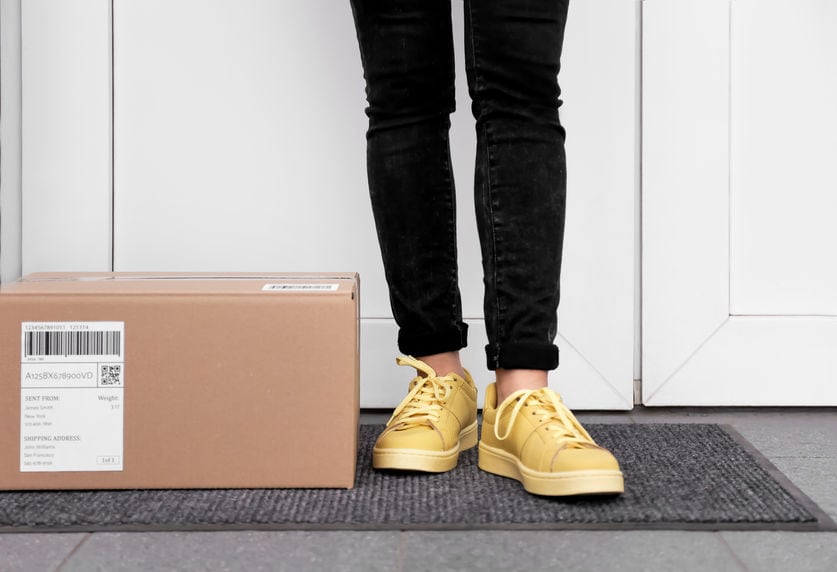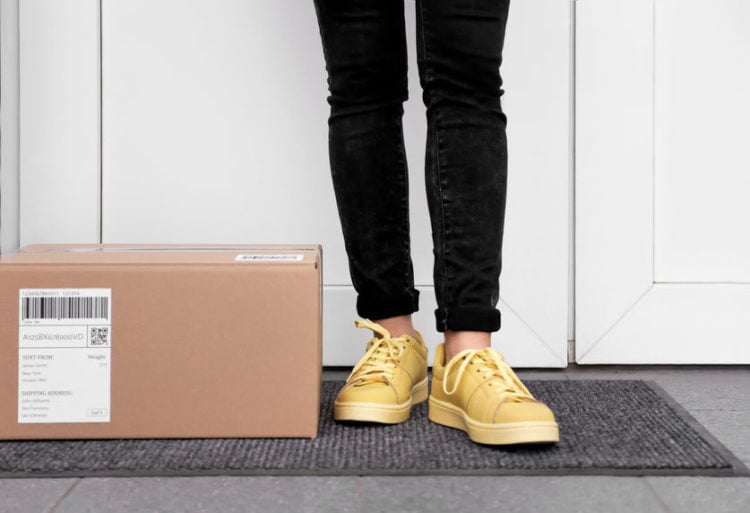 I've been there. I've stood in front of my closet and hated every single thing on the hangers. That has been worn so many times if I have to wear it again I'll scream. That shirt emphasizes my stomach. I wore that last time I saw these people. Those pants give me diaper butt by noon. That dress needs Spanx and if I have to try to wiggle on Spanx today I'll scream. Nothing matches, nothing fits, I just wish I could wave a wand and have a new wardrobe. I wish I was rich and had a personal stylist on call. I wish I had time to go shopping. I wish when I went shopping I knew what I wanted, what I need, what would look good on me.
And then as though our wishes were heard, on the scene came subscription clothing boxes. For a small fee each month, a stylist would read our survey, look at our Pinterest, read our desires to look like Audrey Hepburn or Katharine Hepburn or Michelle Obama or Michelle Williams and hand-pick items in our size and within our budget and deliver them to our front door. They would provide styling tips and motivational words to help us get dressed each morning with a smile. They would even offer a discount if we bought every item they chose for us.
The thing is, that wish didn't come true. Unlike a real stylist you hire, communicate with directly, and focuses on you, these subscription boxes offer algorithm-chosen house brands with a crazy markup. You ask for clothes to wear to work and get cold shoulders and backless dresses. You gained weight but still receive items in your previous size. Receiving the box at your front door is like Christmas, but opening the box is like opening that homemade sweater from Aunt Gladys with one sleeve longer than the other. Suddenly a gift meant to make you feel special makes you feel guilty and bad.
This weekend on Instagram Stories, I shared the latest I received from a clothing subscription box. I know my personal style, I know my body, I do this for a living. I've filled out the survey and updated it regularly. I share a TON of feedback, super specific with brand names, style icons, fashion terms and trends. Since fashion is my profession, I've upped the budget for each type of item that could come in my box and let them know I am interested in designer pieces. I've shared links to my blog, my Instagram, and my Pinterest. This is my 12th box with this company, which means 11 times before I have provided detailed feedback on what worked and what didn't.
Nothing worked.
"I'm sorry your last few [subscription boxes] haven't quite been your style; thanks for letting me know that you prefer brighter colors and glam, wow-worthy statement pieces. I'm hoping [this month's subscription box] fits the bill! I see that you're a fan of the wide leg silhouette, so I got you started with these soft wide leg jeans in crisp white to brighten your spring wardrobe. Wear them with the mesh detail blouse for a pop of color, then top with a classic denim jacket or a neutral open cardigan, and complete the look with cork wedges. The white jeans also look fab with the bright cobalt blouse; accessorize with nude pointed toe heels to make your legs go on for miles. For a casual dinner out, try the dress with the magenta jacket for a pop of color. Enjoy!"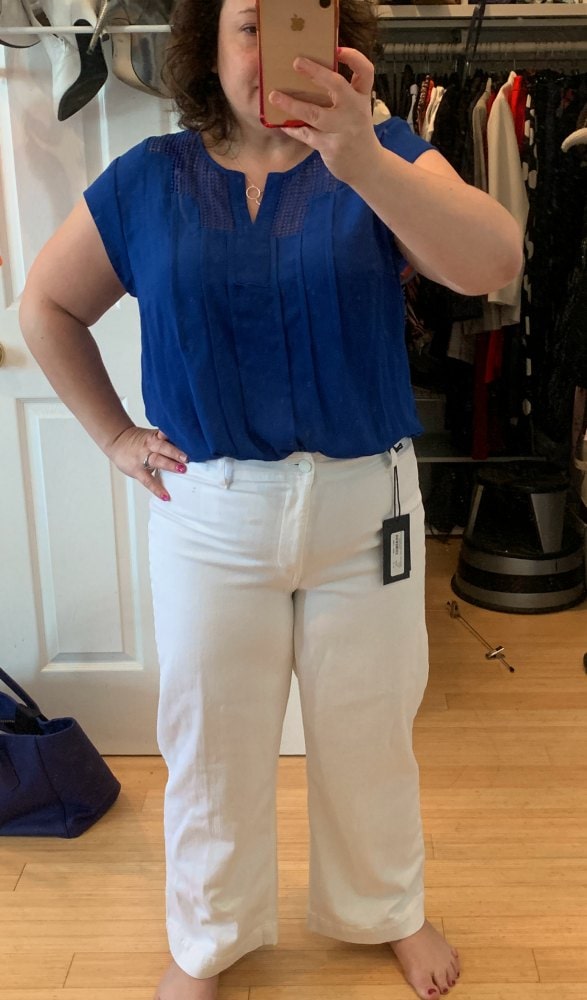 The blouse was a beautiful color, but a silhouette more appropriate for the office, and I work from home. It was a transparent cheap poly blend and priced at almost $70. As I shared on Instagram Stories, this was the kind of top I'd find a steal for $18 at TJ Maxx, but not something I'd look forward to wearing and surely not something I'd pay that much for.
The jeans were from a trendy designer brand, well made, and $168. I have repeatedly shared in my subscription box style profile that I am petite and need petite pants and jeans, yet these were regular length. And the regular length of these cropped wide leg jeans ended up at this awkward length on my body. Not bad, but not a keeper at $68 let alone $168.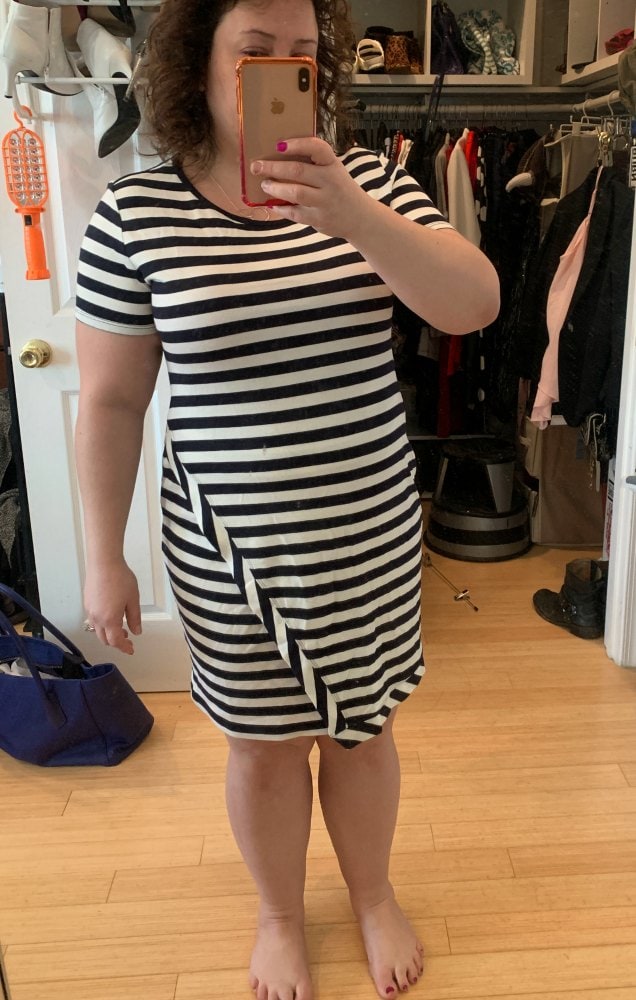 The dress looked like a win in the box. I love stripes and appreciated the heavier weight fabric. However, on my body, it was another story. It had this weird wrap skirt that gave an asymmetrical hemline and the two pieces only connected at the waist and hem. This meant when you sat the top layer buckled, leaving a gap between the layers and depending on how I sat, exposed my crotch. While the fabric would be great for work thanks to its weight, the style and hemline were definitely only right for weekends and that fabric was too heavy for a Maryland summer. It was also almost $70.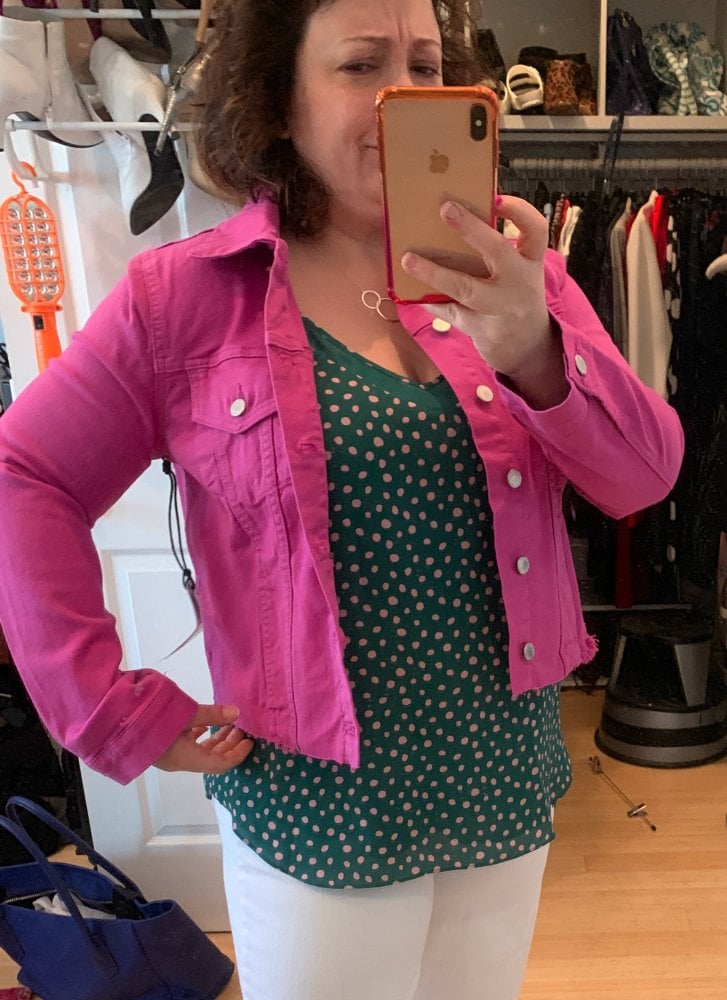 The camisole was a dark green with blush pink polka-dots and retailed for $58. It was double-layered for opacity and had a sheer green stripe along the neckline for interest. It fit well, it looked better on. It's the kind of thing that I would be so happy it fit I'd justify it. A fun cami, I can throw it under a blazer or cardigan or my denim jacket. I could wear it alone with white jeans. It would be cute with leather front leggings and a long cardigan. But honestly, I'd find the only thing it goes with is my denim jacket, which already goes with 50 other things. Very likely if I kept it a year from now I'd end up donating it, unworn, tags still attached.
And there is nothing glam about a bubble gum pink denim jacket with the hem cut off. Unless you are my daughter's age and shopping at Justice, there is no purpose for such an item in anyone's closet.
I was personally offended by receiving such items in my subscription box. But if this wasn't my profession, I think instead I would feel bad about myself. Clothing that doesn't fit and flatter, styles that don't work with my personality or lifestyle. Prices that seem too high for the quality. Is it me? Did I not explain myself well enough in the profile? This is a successful company and I know many of my friends, family, and coworkers who use and love this service. My body must be weird. I must be too needy, my expectations too high, my needs too unusual. I've spoken to many of you who have agreed, clothing subscription boxes feed on our insecurities and we often keep the contents not because we like them but because we feel guilty and/or defeated.
You decide to return everything from the box. The next day you stand in front of your wardrobe and hate everything and grab that cobalt cheap polyester blouse from the box you haven't yet taped up to return. Or you grab that green and pink cami that doesn't really go with anything but you wear it under your black blazer or your denim jacket and feel great because you're getting a high off the newness and maybe someone compliments you on looking so nice in that pretty color. Or maybe all your jeans are dirty so you wear those jeans even though they're too expensive and a weird length but you make them work and with some blush and lipstick and someone in the office says you're bold for wearing white jeans and you look great so you're envisioning in your head 500 ways to wear these pricey jeans to justify keeping them. And well, might as well keep the denim jacket since it's cheaper to keep it all and then you don't have to deal with returns.
Two weeks later, you pull that cobalt blouse out of the closet and put it on and realize it's too big and you can see your bra right through it. You try to make it work with a cami and a French tuck and when you go to the bathroom later that day and catch your reflection under the fluorescent lights you realize it looks like a sheer polyester tarp and you want to burn it immediately but you have a client meeting in an hour and you're meeting friends for dinner immediately after work and Sharon always takes the worst selfies and plasters them all over Facebook and Instagram and there you will be grinning from ear to ear with red eye and a shiny face in a bright blue camping tarp. That night you shove that top into the hamper and when it comes out of the wash it goes straight into the back of the closet where it will reside until the next time you get all Marie Kondo on your wardrobe or the next time you haven't done laundry and are desperate for something… ANYTHING to wear to work so you're not late or naked.
And then the next month the process repeats with a new subscription box of sadness.
My friends, these subscription boxes are not doing you any favors. It doesn't make shopping easier because the majority of the items that arrive aren't what you want or need. They aren't saving you money because usually, the things you keep from each box are the things that look the best on, not the things you actually require in your wardrobe. They aren't saving you time because you likely spend more on waffling in front of your closet, tucking and draping and styling to try to make items work… and then there's the packing up, the visit to the post office, the feedback form, the scrolling through the survey to see what you did to cause such a wrong box to arrive on your doorstep. And the biggest issue is that subscription boxes rob you of confidence and style.
I get the appeal. Shopping is hard. It's time-consuming and demoralizing and frustrating. No one wants to spend a beautiful spring weekend in a fitting room or taping up boxes of clothes to return. But you deserve better than a box of sadness arriving on your doorstep each month.
If clothing subscription boxes work for you, that is AWESOME and I am thrilled! I know they must work for some because it is a billion-dollar industry. But if they do not work, know you are not at fault, and you are not alone.
My goal with Wardrobe Oxygen is to simplify the shopping process. And I realize there is room for improvement. Not all of you live near a mall, not all of you can afford the brands I feature, not all the brands I feature offer your size, not all the styles I wear fit your aesthetic of lifestyle. While I won't change my personal style, I am going to make a concerted effort to offer more sizes, more price points, and expand my retailer selection. I hope that by doing this you will see fashion doesn't have to be so complicated, time-consuming, and frustrating and that you already have it in you to look good, feel good, and make good decisions. You deserve better than that cheap polyester blouse or ill-fitting knit dress in the subscription box and I will do my best to arm you with the tools and resources to create a wardrobe you deserve.
Note: I have used several clothing subscription programs in the past and currently receive one for free from the brand. You will see many looks in my archives that include items from clothing subscription boxes and many rave reviews. I understand the allure of such boxes, and you can sometimes receive gems. But over the years I have realized the issues with clothing subscription boxes and cannot continue to recommend them in good conscience.