This article may contain affiliate links; if you click on a shopping link and make a purchase I may receive a commission. As an Amazon Associate, I earn from qualifying purchases. 
A reader asked:
Skinny jeans seem to be EVERYWHERE! Should I get myself a pair for my wardrobe? Will I look dated if I stay with my bootleg denim?
I don't believe in adhering to all trends. Trends are usually flashes in the pan – a suede fringe purse, a cabbage rose-printed sheath, a day-glo vinyl clutch – items that seem fun but end up collecting dust in your closet before the season has even completed.
Jeans are a wardrobe staple that constantly changes. Each season there is a new trend – embellishment, distressing, high waist, low waist, boyfriend cut, stovepipe cut, sailor cut. Nine times out of ten, that trend will be passé by the time the next issue of Vogue hits the newsstands. However the skinny jean has been sticking around for quite a while.
So should one go skinny?
In my wardrobe staples I mention jeans – the original list mentions a slight bootcut for the most universally flattering style. Well I must admit that my boocut jeans are getting less wear these days and I am preferring my straight leg jeans. Nothing tapered, nothing tight, but a straight leg that works better with the shoe silhouettes that are currently in style. Does this mean I am heading in the skinny jean direction?
For some, the skinny jean is a great addition to a wardrobe, keeping in mind that it IS a trend. I highly doubt that the skinny jean will prevail and five years from now not a single soul will be wearing a different cut of denim. However a skinny jean right now can be quite versatile and flattering on many women (and not just the tall lean ones modeling the skinny jeans in all your magazines).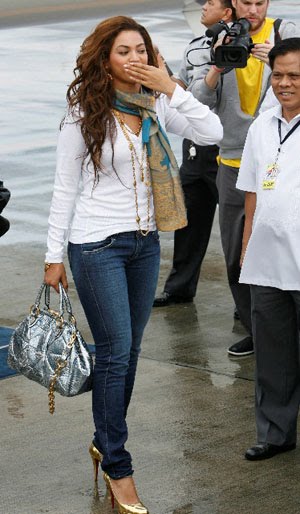 Skinny Jean with Heels
This is a very hot look right now, as seen by On the Street looks of celebs and any contestant on American Idol. Pair skinny jeans (slightly long so they can gather a bit at the ankle) with a pump, strappy heeled shoe or even a sleek high-heeled bootie. On top, a popular choice is a floaty camisole with a boyfriend blazer or a slouchy knit top or sweater.
This is a look that can look very fresh, can elongate a woman's leg and be very slimming. However it MUST be done properly or else it will look trampy or have the wearer look like a lollypop. A dark, even color and denim with some Lycra will give the best crisp look. Keep the shoes dark to have a continuous long line. Don't have the top too short or it can look very top-heavy (and have your crotch be the focus of the whole look). The shoe needs to be on-trend as well. You can't replace a platform pump with a black leather pump you wore to your job interview five years ago, or a funky open-toed bootie with a granny boot with low heel.
If you are curvy, this look can work for you, but make sure that the top you wear isn't too bulky. This can easily go the way of the 1980s where women wore oversized sweater tunics, leggings and hi-top sneakers and looked half-naked and not attractive. A top of a jersey or silk knit or a well-cut blazer with lightweight tank can look great on a woman with curves. You just need to be very aware of proportion and fit to have it look flattering and stylish.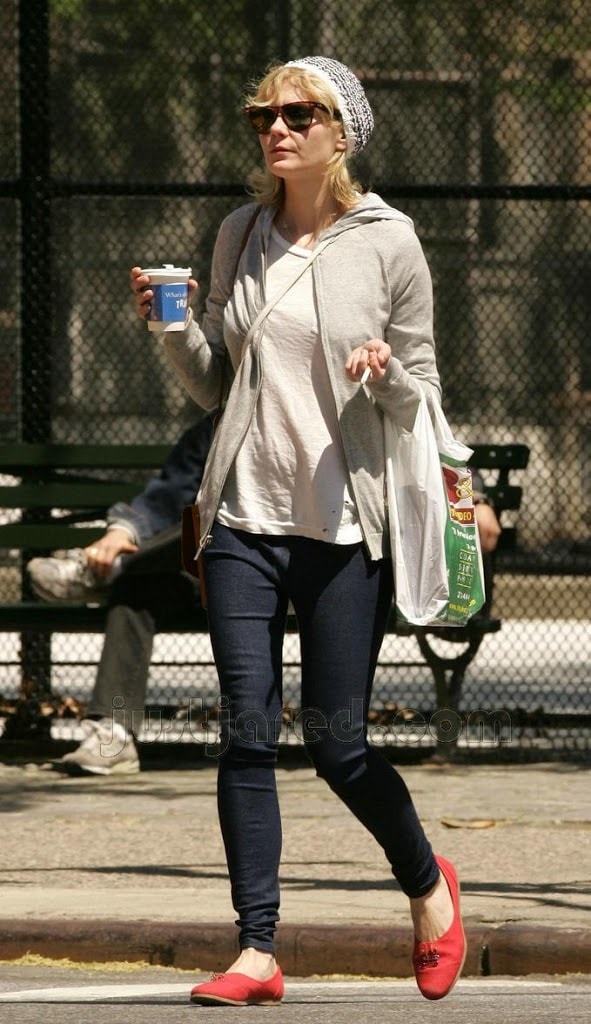 Skinny Jean with Flats
This is a look I associate with college students and recent grads. A skinny jean, a little flat in a fun color, a weathered tee advertising a band, and maybe a boyfriend cardigan. It's a really cute look… on the young and the slim.
If you are not straight and slim, this look is not going to be flattering. I hate to be the bearer of bad news, but it's true. I see so many women of varying ages and sizes wearing this look and it rarely ever looks flattering or even trendy.
The flat shoe and the slim leg combination will shorten any figure, will make anyone look top-heavy, and again will give that horrible 1980s leggings/sweater tunic combo look if not done properly.
If you are straight and slim but not fresh out of undergrad, this look can work with a not-so-skinny jean (see below).
Skinny Jean with Tall Boots
This is the best way for most women to be able to carry off the skinny jean. In this look, the skinny jean works like leggings, but in a less naked/more stylish manner.
I see women wearing skinny jeans with almost any type of boot – from Uggs to sleek glossy black pointy heels to lace-up goth inspired boots to cowboy boots. The most flattering style is to lean towards a riding boot – something with a thicker heel, not too tight, not too sleek, a bit casual. A slouchy boot can also look pretty smart. The shorter the boot, the longer and leaner your legs need to be – a calf or ankle-height boot will cut off the line of the figure, making your body look shorter and wider. A boot that is near the knee will give the leanest and longest look. It doesn't matter the color, though a light or bright colored boot will also cut the line and make you look shorter.
This look can work on most any figure, again depending on what you put on top. Too much weight and you can look top heavy, too lightweight of a top and you can look bottom heavy. Great options are a drapey cardigan with tank, a boatneck sweater (the wider neckline balances out the boots below), a trim blazer with camisole, a slouchy knit top with great drape.
Pretty much any other look with skinny jeans should be reserved to True Fashionistas and 'tweens. Skinny jeans can easily look tartish or tacky. Keep them dark, keep them crisp, and keep the rest of your look balanced.
The Less-than Skinny Jean
For those (like me) who are still wary of the skinny jean, that doesn't mean that you are stuck with bootcuts for all eternity. The new crop of straight jeans that are really flattering and give a similar concept to the skinny jean without being so… skinny. You can still get that lean, modern look without the worry of looking like a lollypop.
Pretty much any style mentioned above can be sported with a straight-leg jean. If the jean has a good amount of Lycra, it should even be able to be tucked into tall boots without looking like a swashbuckler by lunchtime (tip – tuck your pant legs into trouser or knee socks before putting on tall boots – this will keep the jeans from bunching at the knee as much).
Want to rock flats with jeans? A straight-leg jean is your best choice. A bootcut will make your feet look weirdly small and have your figure unbalanced; a skinny jean can make you look top heavy. A straight jean will give you a balanced look and still let you be comfy and cute in your flats.
As with the jeans in my original staples list, keep your jeans dark, crisp, well cut. Spend the money to have them altered to the right length, and baby them when laundering to keep the fabric and wash rich. Forego embellishments and fancy washes – these will go out of style much faster than whichever denim silhouette you choose.