This article may contain affiliate links; if you click on a shopping link and make a purchase I may receive a commission. As an Amazon Associate, I earn from qualifying purchases. 
I'm a born-again denim jacket fan. After too many years sporting them almost daily in the '80s and '90s, I couldn't fathom wearing one again in the new millennium. However, in recent years the denim jacket has again become a popular and versatile wardrobe staple, going beyond the look from the past. Denim lady jackets, chore jackets, belted field jackets, blazers, and bombers… denim jackets have come a long way, baby, and they are a great way to transition your wardrobe from summer to fall.
Summer to Fall Capsule Wardrobe with a Denim Jacket
Whether you are transitioning your wardrobe from summer to fall with a mix of neutrals, or looking for key pieces to take summer pieces into the cooler months, transitional dressing makes sense for your wallet and sense of sanity. The capsule wardrobe below will show how incorporating a denim jacket can extend the life of your summer clothing.
While the weather may still be warm enough to bare legs (and a couple of toes), you'll likely desire a couple of toppers and a way to temper summer vibes from breezy skirts and floral maxis. This capsule wardrobe is for a business casual office, or for the weekend.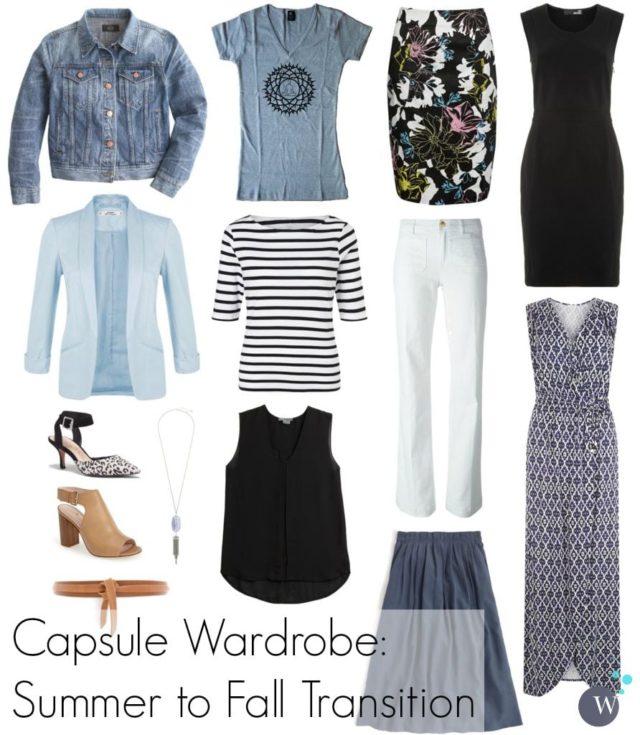 Shop Similar: Denim Jacket | Blazer | Tee Shirt | Striped Top | Black Shell | Pencil Skirt | White Jeans | Midi Skirt | Sheath Dress | Maxi Dress | Ankle Strap Shoes | Block Heel Shoes | Wrap Belt | Pendant Necklace
Feel free to change out pieces to better fit your personality. A dark rinse denim jacket, the blazer can be a different color or replaced with a leather moto, the gray tee with a band tee or one with your favorite superhero or book quote. Stripes are extremely versatile and mix well with other prints, but could be switched out with a different print or a solid. The floral pencil skirt can be replaced with a solid, leopard print, a-line, or a fit and flare shape. The jeans can be switched out for a different color, fit, or even a twill or sateen ankle or cropped pant.
A printed wide-leg pant is also a great alternative.  The gray pleated midi can be a cotton print, changed to a maxi, or switched out for culottes or another pair of ankle pants. The dresses are examples showing how different silhouettes and lengths can work; you can switch out for a tee shirt dress, fit and flare, and most any length from above the knee to ankle.
Don't be afraid to consider a jumpsuit, I wore one with a denim jacket in this outfit post.  As for the shoes, I chose two heels that are relatively walkable; the black and leopard one was chosen for the ankle strap (a popular trend right now) and how the print adds interest to solids and also plays nice with other prints.
Mixing High with Low, Dressy with Casual for Summer to Fall Style
Don't be afraid to mix high with low; we're used to that meaning designer with discount mart fashion, but it also means pairing denim with chiffon, your favorite band tee with a satin pencil skirt, a bit of sparkle with a bit of distress. The gray yoga tee will look chic with the chiffon midi skirt; you can tuck it in or knot it at the waist. Pair with the camel shoes or even your favorite flat sandals or slip-on sneakers and if it gets chilly, add the denim jacket. The gray tee also works with the printed pencil skirt; switch out the denim jacket for the blazer and the camel shoes for the ankle strap kitten heels for work in a creative office environment.
Denim Jackets in the Workplace
Denim jackets can replace blazers in casual and creative office environments; wear with the black ponte sheath dress and add the camel belt and heels to make it look more purposeful and cohesive. The black crepe shell and gray chiffon midi skirt would look at home in most business casual environments but may look a bit too summery come September; add the denim jacket, switch out sandals for the camel block heels and add the belt to make the look seasonally appropriate without being too wintry. Pattern mixing is still on trend and a lot of fun; style the Breton tee with the printed pencil skirt and ankle strap heels; add the denim jacket to tone down the prints and give a downtown vibe.
Double Denim is a Fashion Do
Double denim (wearing more than one piece of denim in an outfit) is no longer a fashion faux pas; if it still makes you uneasy, styling a denim jacket with white or colored denim gives the most contrast. While a graphic tee and white jeans may seem too ordinary, the addition of a pendant necklace and denim jacket creates a complete look.
The best bet for pairing denim on denim is to work with contrast; it's near impossible to match denim pieces so you'll be better off with rinse denim and distressed, colored with whitewash, white with vintage. The addition of a print (stripes are always a safe bet) makes the look cohesive and steers clear of "Texas Tuxedo" territory.
Balancing the Weight of a Denim Jacket with Footwear
If a denim jacket seems too heavy to wear with your favorite summer maxi dresses, consider holding down the dress with a wide belt and chunky shoes. Again, the camel belt and heels are a great choice. A wide belt is fantastic to cover any belt loops, built-in fabric belts, or waist details to give your maxi a completely different effect and look more appropriate for the later months of summer and early part of fall.
Denim Works with a Range of Personal Style Aesthetics
A denim jacket can not only help transition summer looks to fall, it can also pull together a wardrobe and create a cohesive look from boho, rock and roll, prep, classic, and romantic. Denim jackets look great with everything from leopard and leather to florals and silk faille. Do you have a denim jacket in your wardrobe? What is your favorite way of wearing it?