This article may contain affiliate links; if you click on a shopping link and make a purchase I may receive a commission. As an Amazon Associate, I earn from qualifying purchases. 
Hi Allie, I have three pairs of knee high boots. They're really nice quality and I paid a lot for alterations. I don't see a lot of knee high boots on bloggers these days. Are knee high boots still in style?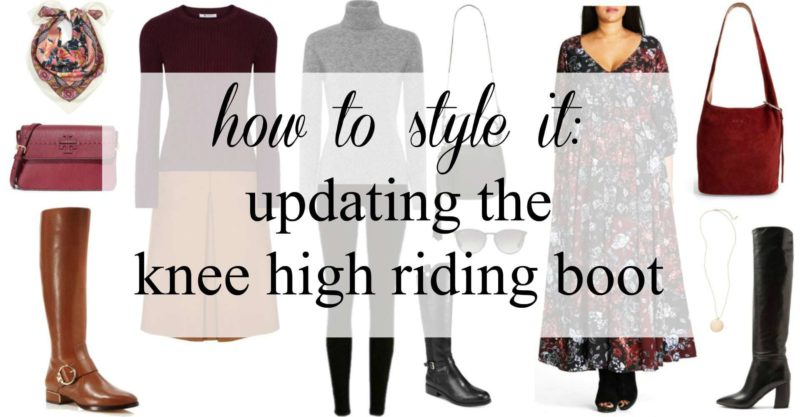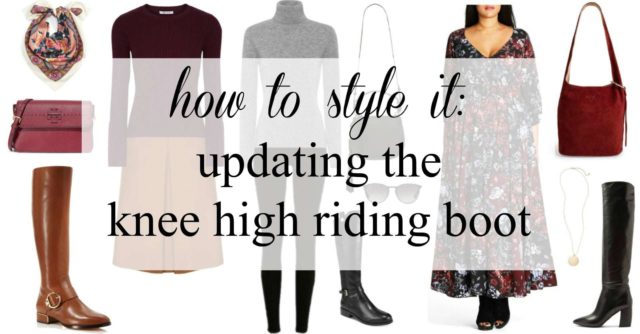 If you don't already own a pair of riding or knee-high boots, don't buy any this season. While such boots are pretty classic, the problem is the trend so over-saturated the market it was inevitable for it to fade from view. The trend has gone shorter – ankle boots or booties are more versatile, chic, and also usually lower priced. If you already own some basic ankle booties, consider trying an embellished ankle boot which is very hot this fall and a fun way to update a closet of basics.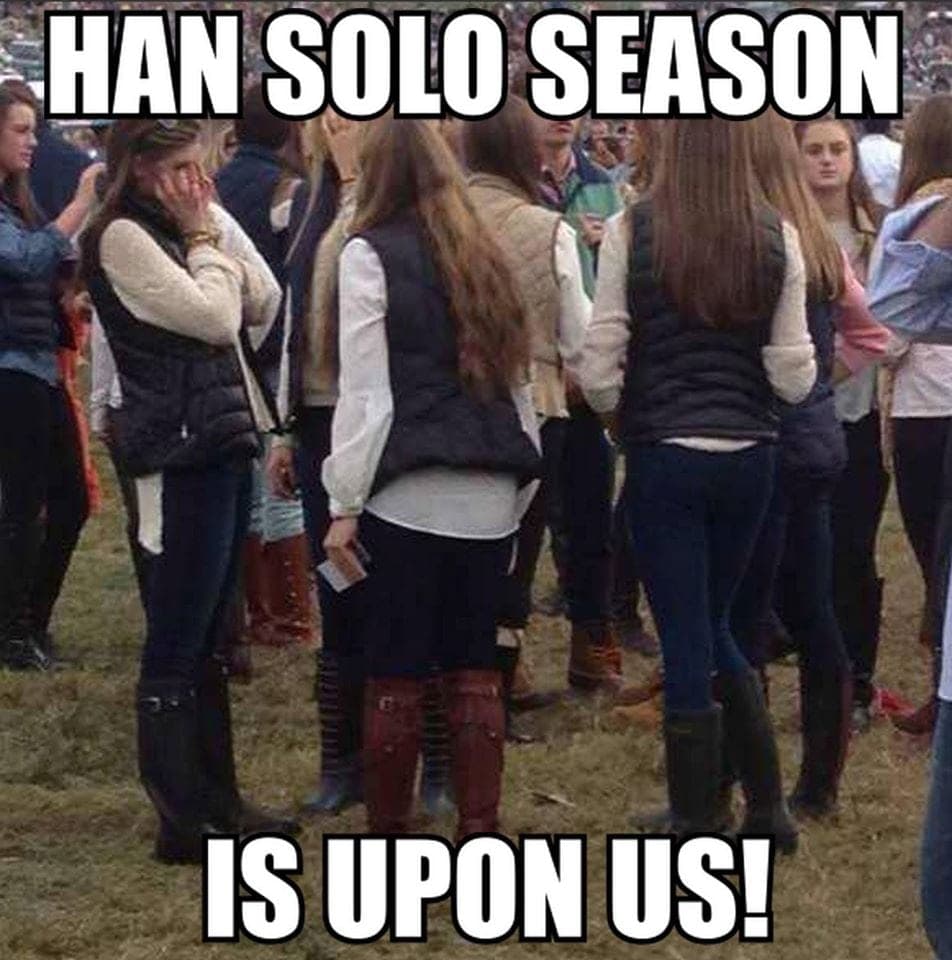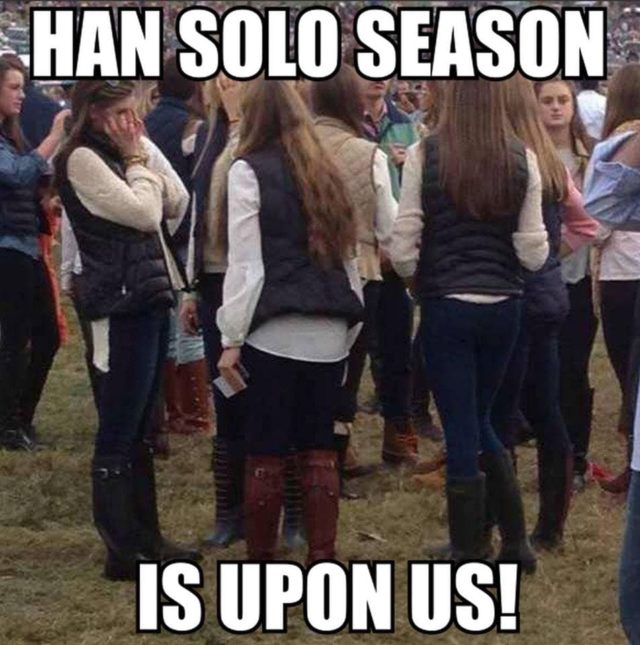 But what about all of us who own and love quality knee-high and riding boots? Is there any way to wear them and look stylish and modern? Below I provide a few suggestions on how to wear knee-high boots in a manner that is current and not at all Han Solo.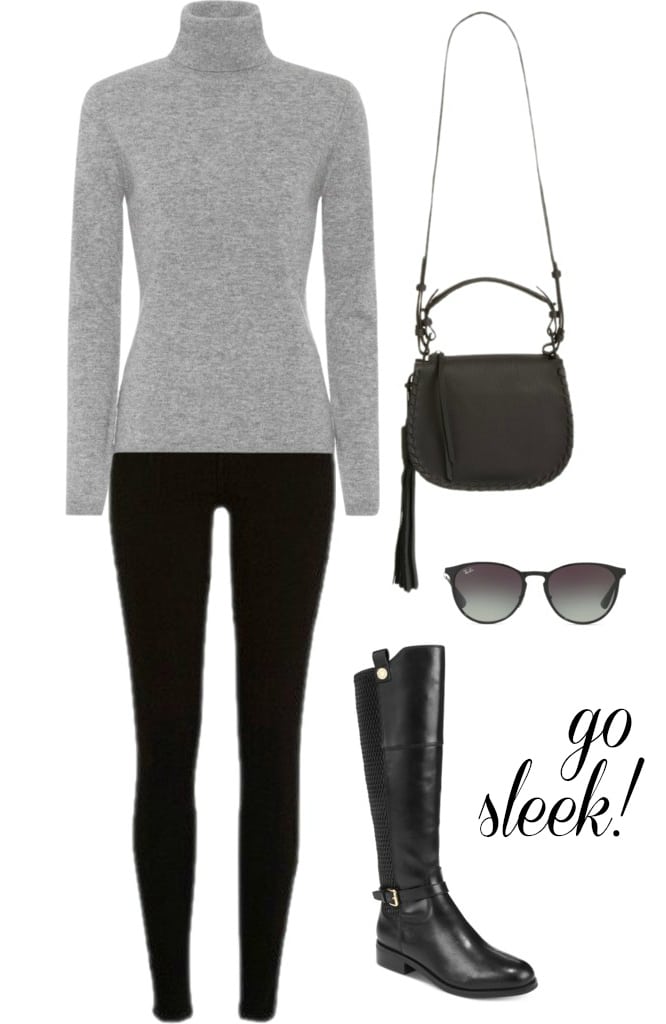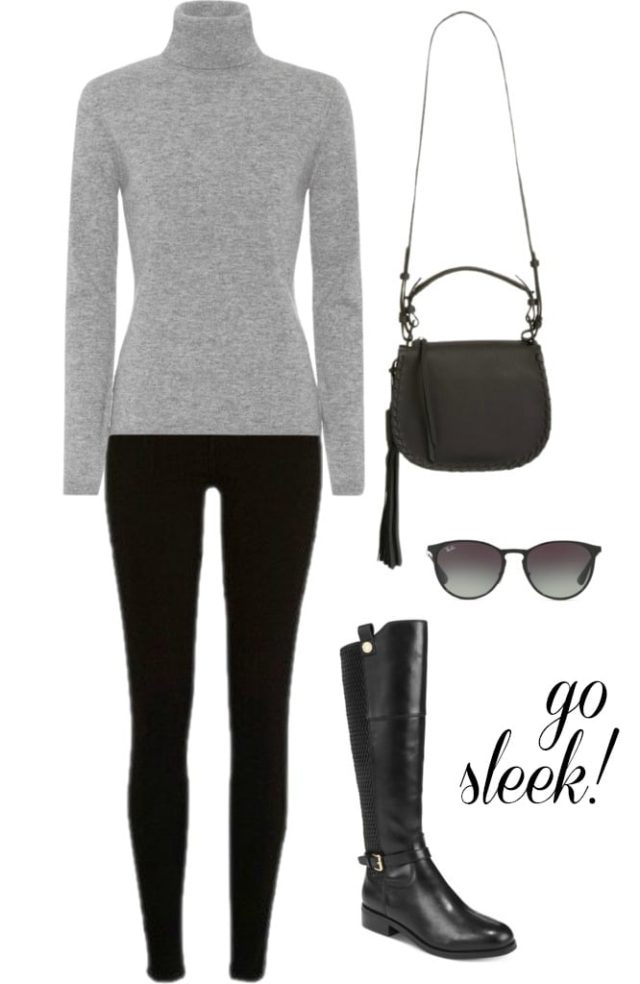 Shop the Look:
sweater | black jeans | riding boots | sunglasses | bag
This look incorporates a classic pair of black riding boots. Keeping the look slim and tailored, the bulk of the knee-high boot is balanced and modern. With the pant (this is a skinny jean, but could easily be switched out for a skinny black pant in ponte or another heavyweight stretch fabric) in the same color as the boot, there's less contrast, creating a more modern effect. I specifically chose a neutral sweater in a color not too much of a contrast from the black to keep elongating the line. Choose modern accessories that aren't too equestrian or too rocker chic to make the boot look contemporary.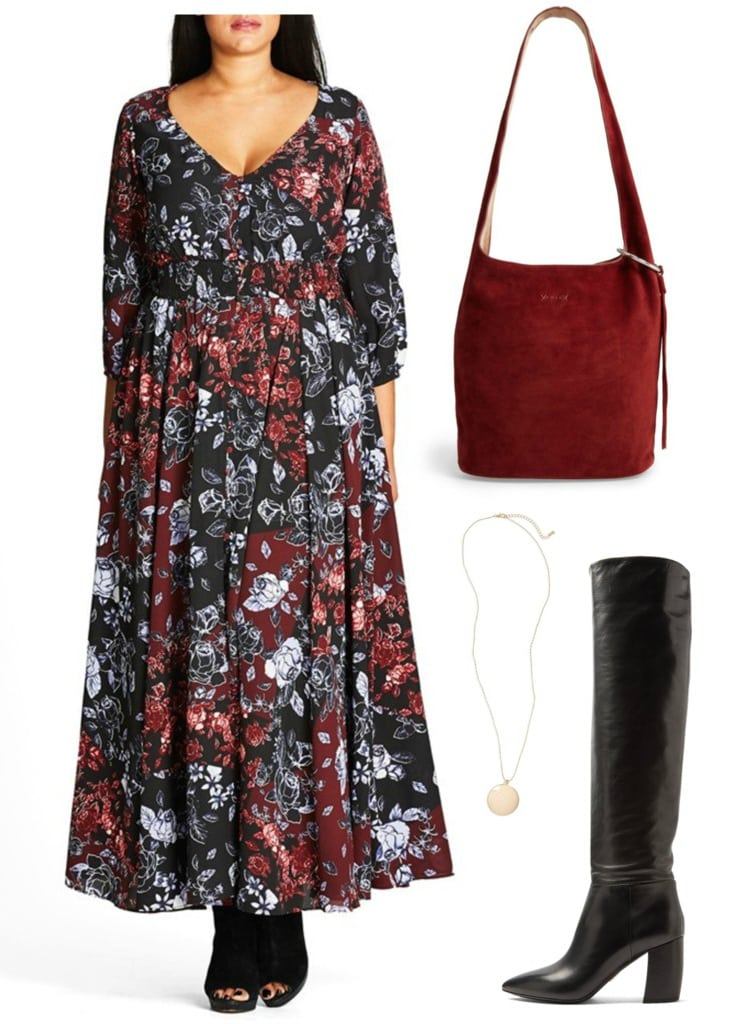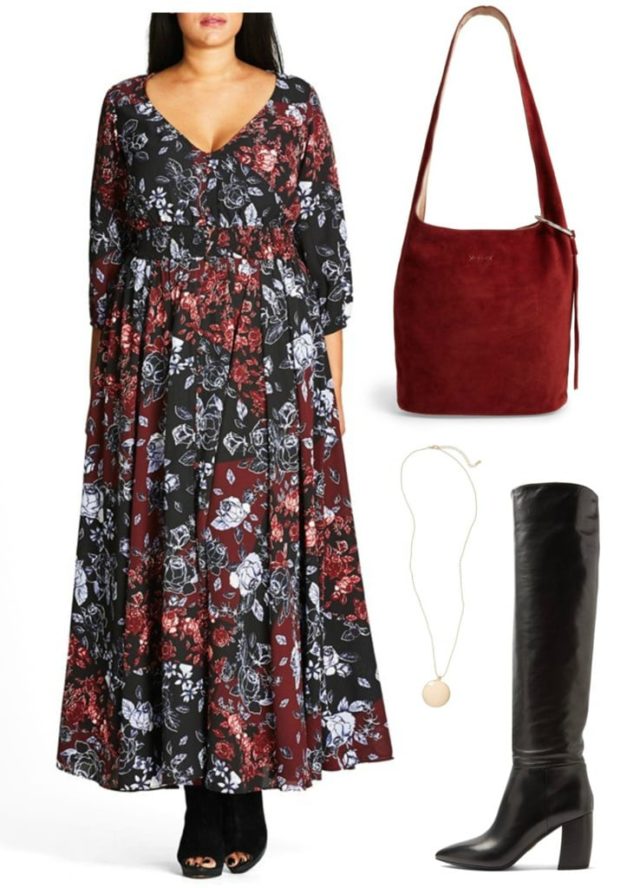 Shop the Look:
dress | bag | necklace | heeled boots
Another way to wear knee-high boots in a current manner is by embracing the boho trend. A long flowing floral skirt can work quite well with riding boots, or a heeled style as featured in the graphic. Depending on your dress color, you can make it work with brown, black, and even other colors of boots. Choosing a dress with a lot of flow (rayon, chiffon overlay, fuller skirt or layers) will balance the bulk of the boot. If the boot is bulky or thicker at the ankles, go with a longer dress. If the boot it more sleek, it could work with high-low or midi length dresses.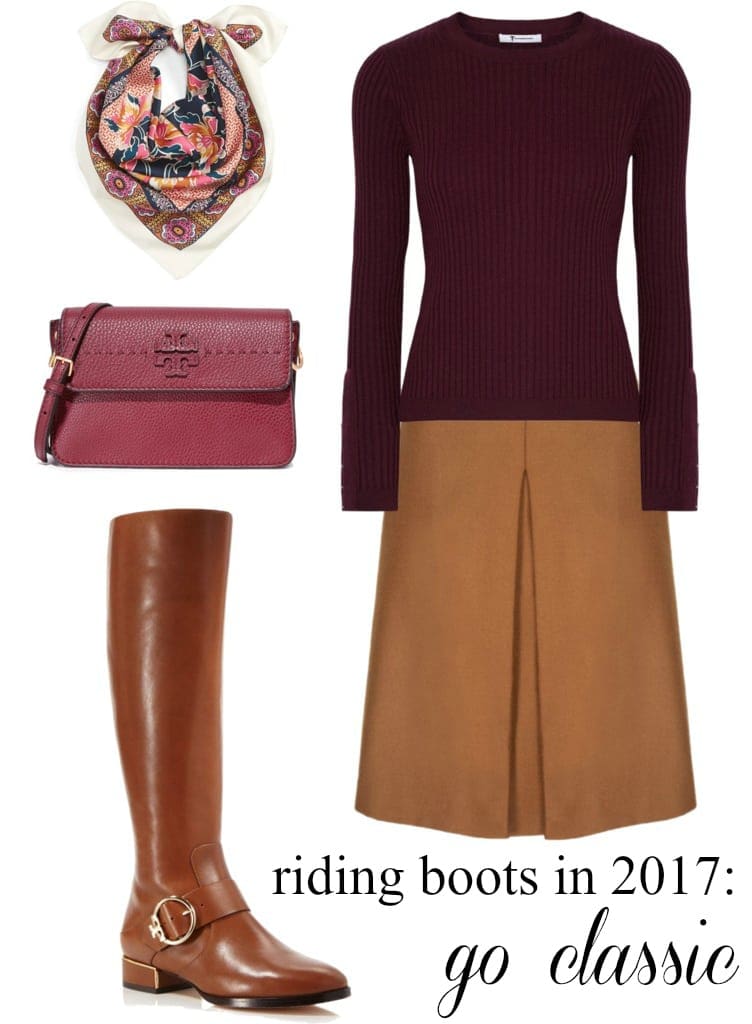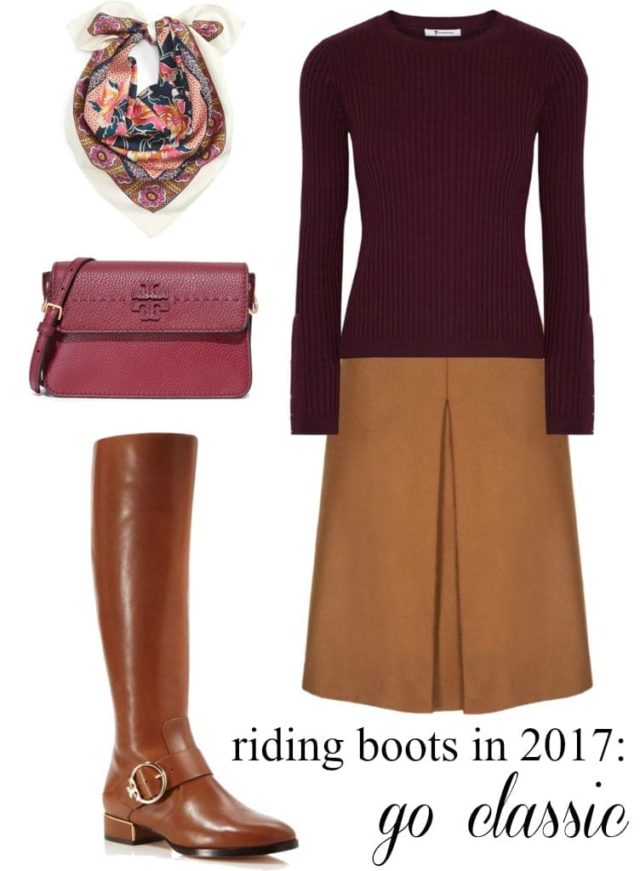 Shop the Look:
sweater | skirt | scarf | bag | boots
Think classic when trying to style a pair of knee-high boots this season. Wool a-line and midi skirts, plaid or crested blazers with jeans, slim sweaters in merino, cashmere, a cableknit. A bit of collegiate style, a bit of Ali McGraw. Stick with autumnal colors and neutrals so it looks luxe and the boots blend in. add classic accessories – a gold watch or link bracelet, silk scarves, satchels or traditionally shaped smaller bags.
What Not to Wear with Knee-High Boots
There's a few looks you should shy away from when wearing riding boots or knee-high boots in 2017. Unless it's your signature style, these combinations can look dated this season:
Knee high boots with puffer vests – this is true Han Solo style, and the reason the riding boots fell out of favor in the first place.
Knee high boots with ponchos or ruanas – Again, veering into Star Wars fashion territory. The goal is to make the boots looks sleek, not utilitarian
Knee high boots with cropped pants – For a while, some were styling knee-high boots under wider gaucho-style pants. This is a look that looks good on very few, those that can rock it are likely not reading this blog. It may seem like a smart way to extend the season for cropped pants, but the look really distorts your body and just makes it look as though your pants shrunk and you're hoping no one noticed.
Knee high boots with lots of layers – Utility jackets and vests, tunics with multiple layers, tunics with long scarves… all this bulk from head to toe looks dated and isn't doing any figure any favors.
What to Wear with Knee-High Boots
Beyond the looks featured above, here's some tips to make your knee-high boots look modern and fresh this season:
Elongate the line. Pair black boots with slim black pants to balance the bulk of the boot. Balance the boot with fitted and tailored tops and jackets. Don't pair the boots with a skirt that is shorter as it segments the body.
Don't let the boots steal the spotlight. Style the boots with longer skirts, with pants of the same color, in ways where they complement the rest of the look but aren't the focal point.
Accept them for what they are. When you try to make your riding boots look rocker chic, it looks dated. These are classic boots with classic equestrian style and should be treated that way. Style in classic, equestrian, or boho ways that embrace the style of the boot.
Baby your boots. Unless it fits your personal style, a pair of beat up knee-high boots is going to look like… well like an old pair of boots you're trying to still make relevant. Polish them up, get them reheeled and resoled. If they're past their prime maybe it's time to retire them.