This article may contain affiliate links; if you click on a shopping link and make a purchase I may receive a commission. As an Amazon Associate, I earn from qualifying purchases.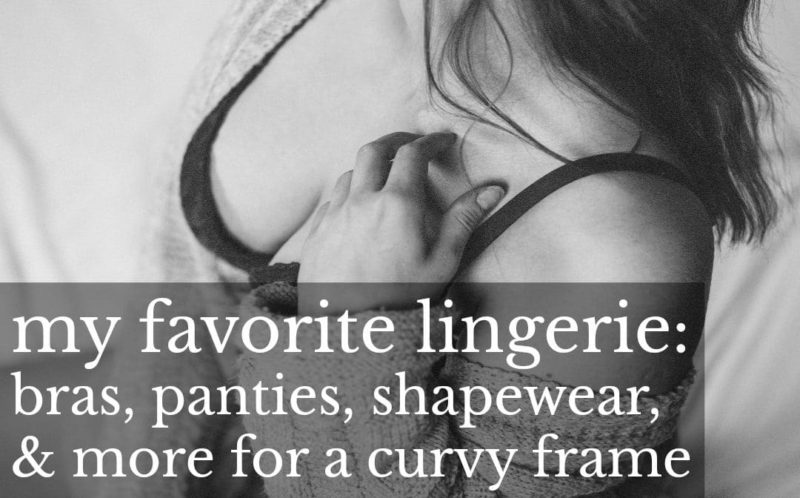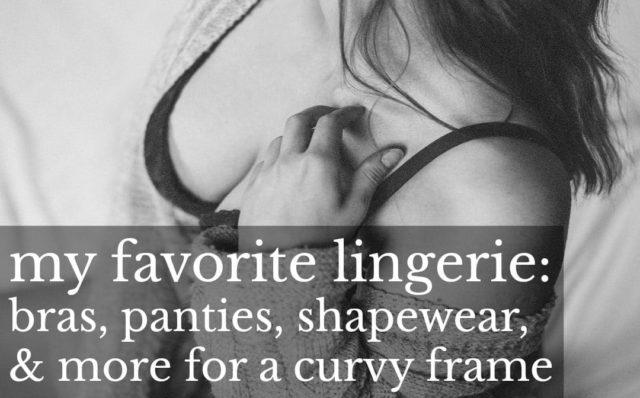 When I featured an off the shoulder sweater in a recent post there were a lot of comments on the blog, on Facebook, and by email… and they weren't about the sweater but what was I wearing underneath? As a full-figured woman, I'm not comfortable without a bra and there were no visible straps. Yes, I was wearing a strapless bra and a comfortable one at that! I've worn it on cross-country flights, for work days, for long evenings, and find it comfortable and supportive. I decided to share what are my favorite and must-have items in my lingerie drawer. Not only strapless bras but all sorts of other underpinnings for all kinds of occasions.
I bought this when I was a 38 F, when I was a 36 DD, I have one now (36 E). It's a molded cup bra, which helps keep the breasts lifted and looking full without straps. The band is very wide under the arms and thins a bit as it gets to the hooks, but still is a three-hook wide band. It also has silicone strips so the width and the grip keep it in place without having to dig. This bra is completely smooth so it's virtually invisible even under fitted garments and lightweight knits. My sister's rule for strapless bras is go down one band size and up one cup size; I find this can make my breasts look a bit sad and saggy in the cups, but everyone's breasts are different so if you're not finding the support you desire, consider trying this technique. I have one in beige, one in black. This bra is replaced every year because it does stretch out and also because I find that even if I don't change my diet and fitness level my breasts keep changing in size and density with age.
Again, this is a molded cup bra. I found with age and after breastfeeding that my breasts lost density and fullness but not size. A molded cup for me provides the shape I desire, prevents "headlights," and gives a smooth finish that I like with my clothing. Those who find molded cups too stiff or fake looking may be wearing the wrong size; even one cup or band too big and I find the bra looks like I'm trying to be Dolly Parton. But when it's the right fit (I replace these every 6-12 months) it's sooo good. This bra is comfortable, it doesn't dig, no seams to irritate, it supports, it could be slept in. I always have at least two nudes and one black in my drawer, in a variety of ages. I say this is my everyday bra because it truly is. I could be wearing a cocktail dress or overalls and 99% of the time this bra will be underneath.
I like a sports bra that functions like a normal bra (meaning separate, lifted breasts instead of a mound of flesh mushed against my breast bone) but looks like a sports bra (so it can show and I don't feel half naked). This one does all this AND it can convert to a racerback! This is a pretty heavy-duty bra which is great for those of us with large breasts who want to run, dance, and do other higher-impact activities. I have it in black, but there's a lot of fun colors if that's your thing.
I bought this thinking it was high-impact. Eh, it's far better than a standard sports bra but it's as high impact as my everyday molded cup bra. However, unlike my everyday bra this one is breathable fabric with ventilated places, it washes great and doesn't hold odor, the cups are cotton lined so they're comfortable, and it comes in a lot of fun colors and patterns which is rare for large busted ladies. The straps can be made criss-cross easily which is a nice feature. This is the bra I wear for my daily workouts at the gym which is mostly weight training and cardio (treadmill and agility).
I don't like how my breasts look in a lot of unlined, lacy, pretty bras. Well maybe my breasts look great but the effect under clothing isn't what I desire. I hate seeing the texture of the bra, the edge of the cups, the seams, and the shape. This bra gives my breasts a great shape, sand sure it's lacy and frilly but somehow it doesn't show as much under clothing. Not only that it doesn't itch or annoy me like many lace bras. And gosh, it's pretty and comes in really pretty color combinations too!
If bikinis are more your jam, that too is available. But I like this brief because it's not too high (just below my belly button), it really makes my tummy look cute, hides what I want to hide, flaunt what I want to flaunt, is super comfortable, doesn't ride or roll or sag, and it's nice to have a few matched sets in the drawer for days you want to feel fierce and fabulous. For reference, I wear a 14/16 and get these in XL.
I freaking love Hanky Panky, and I adore this underwear. Every time Nordstrom has a sale, I buy a pair or two. I like that they hit right below my belly button so they're hidden with jeans and tops, but aren't segmenting my lower belly. They don't fall down, they don't ride up, they don't dig, they don't cause wedgies, and they look pretty too. When I was a full 16 the XL fit great; now that I am closer to a 14 I can still wear my XLs no problem but plan on buying new pairs in L to replace over time.
They have the same rise as the Retro Vikini, which I find works best with a soft lower belly. I find the thong to be extremely comfortable, more comfortable than most any other thong I've ever worn. The lace is sexy but also practical, these don't ride up, I rarely end up having them rise and feel like they're slicing me in half (hate it when thongs do that), and the skin colors blend nicely enough that they are invisible under white pants and shorts.
I have the Bikini Brief, Lacy Full Cut Brief, and the Lacy Bikini. The bikini brief is my favorite because they cover the lower belly and don't slip under it when exercising, and don't dig in along the leg openings, but aren't higher than my leggings. However, I still wear my lacy bikinis, I just don't reach for them first. Like Hanky Panky, I am still wearing my XLs but will be buying new pairs in L. This underwear isn't cheap, but gosh is it pretty fantastic! Antimicrobial treatment reduces odor, breathable mesh keeps you cool and comfortable, the fabric is so durable you can wash them multiple times a week and they will still look great and fit the same in a year. These are awesome for travel because they're so comfy and breathable, and you can hand wash them in the sink and have them ready to go the next day.
Nine times out of ten I'm wearing this bodysuit in an outfit shoot. I love how it smooths the entire back and torso yet I can wear my favorite bra. It has silicone strips on the rear so it stays in place and also is virtually invisible (no VPL!). It doesn't constrict so much I end up with gas pains or look like a stuffed sausage, but gives a smooth look under all types of garments. The only problem with this is when I wear strapless or tank-style pieces because the wide straps end up showing. But I have one in black, one in nude, and I replace them every year or so when they get stretched out or my size changes.
I recommend if unsure, size up with this baby. When it's too small, it rolls down and causes VPL. Even if it doesn't suck in as much in the larger size, it will give a more natural effect, be more comfortable, stay in place, and be virtually invisible. This isn't as comfortable as the bodysuit from TC Fine Intimates, but is a great choice when wearing spaghetti straps, strapless, or tank style tops. It has straps to hook it to your bra, but because I'm short-torsoed it comes up over my bra in the back and that keeps it in place.
This hits right at the top of my kneecap with the straps shortened as much as possible. It's not too high in front, just enough to cover my bra so it can also work as a cami with low-cut dresses. It's super lightweight and disappears under dresses. I often wear in winter for a bit of wind protection sand love it under sweater dresses to prevent cling. I have one in nude, one in black. The M/L works fine, it's a bit fitted but doesn't affect drape of clothing and I think makes it even more invisible under clothing.
I would happily be the poster child for Jockey Skimmies, they are AMAZING. I find them thin enough to disappear under knits, thin enough to not cause heatstroke, the right length to prevent chafing without showing under shorter skirts, and comfortable even in swampy humid weather. I've tried other brands but these in my opinion are near perfect.  Read my first review of Jockey Skimmies, and my second Jockey Skimmies review.
Best Anti-Chafing Non-Shorts Product: Bandlettes
Did Bandlettes change their manufacturing? Because I used them years ago and hated them but this year tried them again and became obsessed. These are stretchy lace bands with silicone strips on the inside that you put on your upper thigh (I find it best for coverage and staying in place when they are right at the leg joint on the inner thigh and angle down about an inch lower on the outer thigh). These are awesome when you're wearing a flowy dress where a pair of Skimmies will just ruin the look, when you're all glammed up and just want to prevent chub rub, when you want to feel sexy while stopping the chafe. I've even gone with just one when the second was lost in the laundry and it gets the job done.
When you're short, tights are frustrating. They could practically be a strapless catsuit, they ride up so high and they bag at the ankles. Add less-stretchy fleece to the mix and it's pretty ridiculous. Berkshire carries a Queen Petite which is specifically for women my height and size and they fit better than any other fleece tights I've tried and have held up enough that I am wearing pairs from last winter. They're really rich black, opaque, and have survived the washer AND the dryer.
So many tights have a thick band at the top that segments your middle. These have a super wide high-waist that becomes invisible even under fitted dresses. I wear a Large which I don't find too tight/shaping to be uncomfortable and they don't bag at the ankles. These have also accidentally gone in the washer and dryer, have been worn more than one winter, and still look fantastic.
I've raved about these socks before. These are fantastic when you're wering loafers, oxfords, or sneakers and don't want a hint of sock to show. The wool wicks away moisture and reduces odor and is comfy even the summer. I find these on Amazon, they often have them at crazy good prices but they're worth even buying full price as they maintain their shape and quality (I have pairs that are two years old that I still wear and love).
Best Ankle Socks: Bombas
These are my favorite socks for wearing with ankle booties, to the gym, over tights to give my feet a bit more warmth. They're cushioned, well-shaped, durable, cute, and comfy. And with each pair of Bombas socks you provide a pair of socks to someone in a homeless shelter.
Now I want to hear from you! What are your favorite items in your lingerie drawer?