If you're a reader of multiple blogs, you must be SICK AND TIRED of reading posts about the Nordstrom Anniversary Sale. Thing is, it's a great sale, my favorite one of the year.  Also it doesn't hurt that Nordstrom has free returns, free shipping no minimum, and carries a great variety of sizes, styles, and pricepoints.  The sale opens for the public tomorrow.
I usually peruse the NSale and write a roundup of what I find to be the absolute best deals, separated by category. But when the sale launches, I will be likely on some lonesome highway with my child saying for the 50th time, "Are we there yet?" Since I won't be able to do a round up, I'm going to share how I go about making my roundups and how I shop myself for this sale.
At the top of Nordstrom's site there will be a link to the sale and likely a link for Women's Sale. If not, click sale, then choose women's. Since the sale isn't available at the time of posting this my directions may not be exactly accurate, but are a gauge on how to blast through all this merch.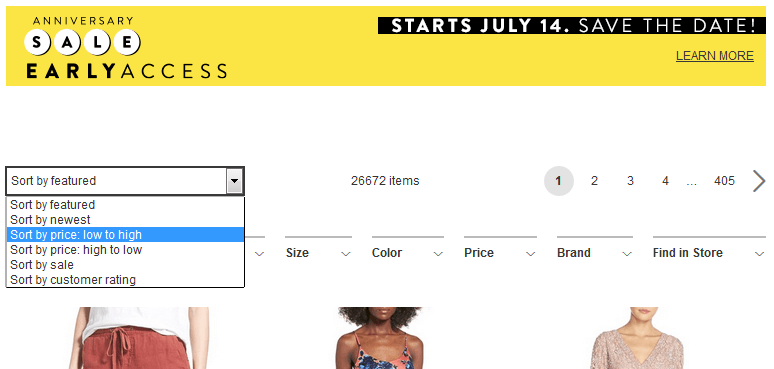 The next step I do is reorganize what I see. At the top of the items, you'll see a field that says, "Sort by Featured." You don't want this. Featured means the stuff that Nordstrom WANTS you to buy. The more pricey stuff, the popular stuff, the eye-catching stuff. Maybe you want that, but most likely you want deals that work for YOU. So click that field and change it to, "Sort by Price: low to high." Yeah, that's more like it. Now it's easier to stop at your maximum pricepoint (for a sale like this, my cap is $200, for example, so I can easily stop when I get near that number and not be swayed by a super cute $245 thing).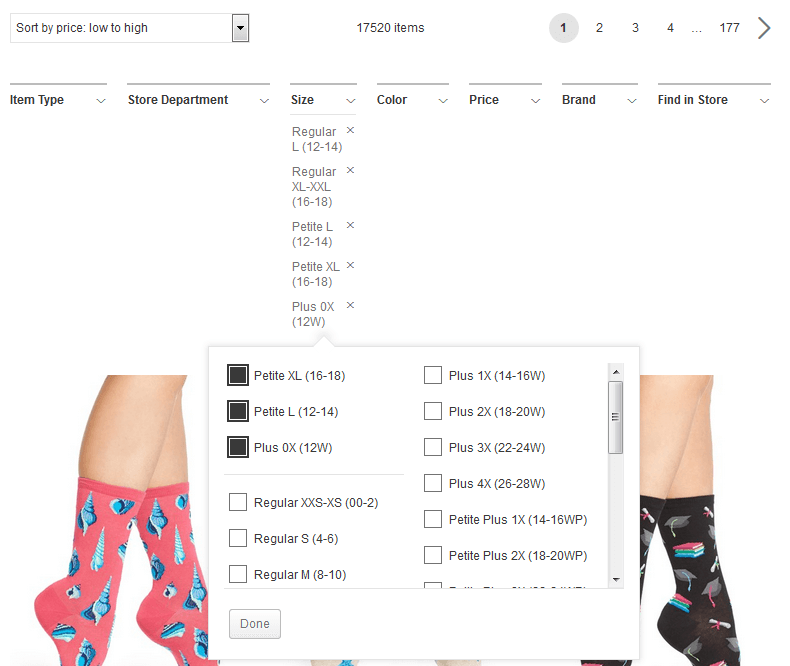 Next, sort by size. There's nothing worse than admiring something, click to buy and find out your size isn't available. Nordstrom lets you pick more than one category; in the screenshot you see the size categories I always choose (and as a heads up, Nordstrom will remember this and next time you visit will have those sizes at the top for you).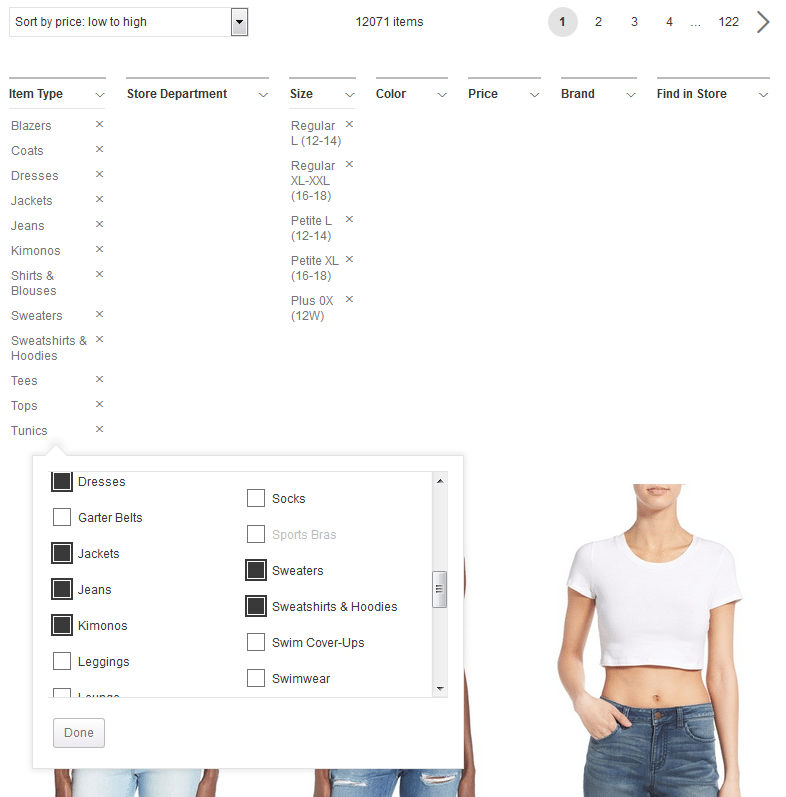 If this is still too much for you to handle, you can now narrow down categories. For example, I don't want hosiery, swimwear, or sleepwear. The categories are sort of odd, so if you think you may want something in it might as well include it.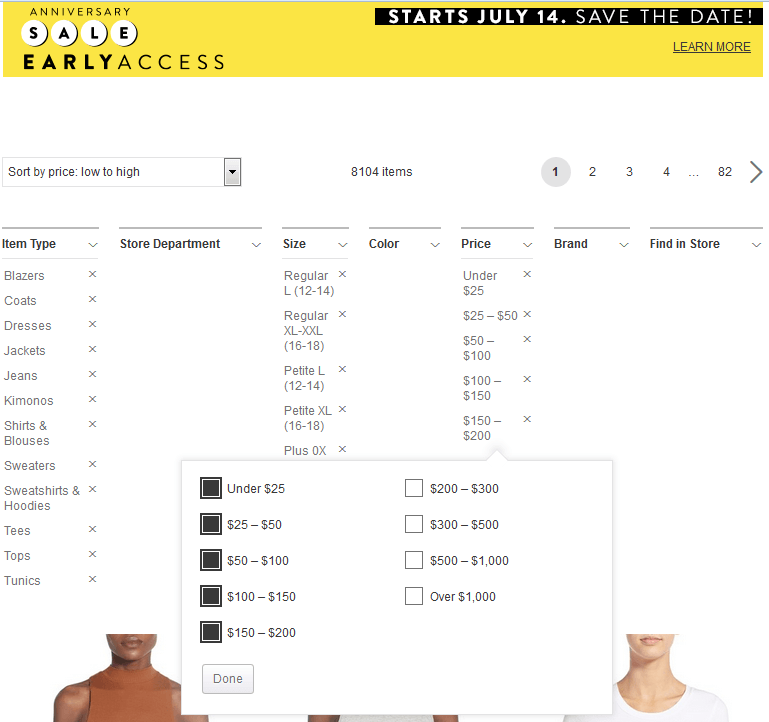 If you wish to narrow more, you can do a forced stop with price. This will help get the pages to a manageable number (in my mind that's fewer than 100 pages). Now, it's time for scrolling!
I scroll pretty quickly through the pages, if something is worthy it should catch my eye without much effort. If it does, I right click and open in another tab and keep going. I don't start looking at what I opened in another tab until I've gone through at least a half dozen pages.
Unfortunately, a lot of pieces in the NSale are brought in just for the sale so they don't have reviews. But if they do, read more than the first page. Read all the reviews and the ages of the reviewers because what gets 5 stars from a 21 year old may get 2 from a 40 year old. Read all the descriptions and look at all the photos. Note the laundry instructions, whether it's lined, what fabric it's made of. If it passes muster, put it in your virtual shopping cart.
When you've reviewed all the open tabs, go back to the main one. Scroll through another half dozen pages, read the tabs you opened, continue. This sounds monotonous, but I've gotten it down where I can do this shopping not just for me but for all of you in less than an hour. Be picky. The NSale is good, but it's not like Chanel for $50. If you don't need it and if the price isn't awesome, move on.
If there's any other categories you wish to peruse, follow the same steps. Once you've fully examined all you need to examine in the Nordstrom Anniversary Sale, head to your virtual shopping cart.
Now is the time to get real. Like real real, so real.
That neon pink backless dress is to DIE for and it's 45% off, but girl where are you planning on wearing it? And what bra do you own that will work with it?
Yes, those skinny jeans are an amazing price, but you still have three pairs from last year that are perfectly good.
You have been wanting a sparkly top for going out, dressing up suits for cocktail parties, and such but this one is a crew neck and you know you'd feel better with a lower neckline.
For the things you KNOW you don't need, delete them. For the ones where you're not sure, save for later. If they're gone by tomorrow they weren't meant to be. Life is telling you what you didn't want to admit. If it's still there, seriously consider why you hesitated. Remember, no dress will change your life.
Review and review, thinking about the wardrobe and lifestyle you currently possess. Be realistic, don't get drunk off discounts. Only when you're honest with your body, your wardrobe, your lifestyle, and your budget can you begin the payment process.
When your purchase arrives in the mail, keep the box. Unlike many retailers who send items in bags, Nordstrom has nice sturdy boxes that are perfect for shipping items back. As you unwrap items, be careful and stuff the plastic and tissue in the shipping box. This way, for any items that may not be right you can carefully return them. I also use the extra plastic and tissue as padding to keep returns from sloshing around, and I figure they can (hopefully) recycle the stuff with their other items in the Returns Department.
I have a vintage train case where I keep all packing slips, mailing labels, and invoices for online purchases. Nordstrom has clear descriptions on their packing slips, but if you may not recall what an item is (for not everyone is a dork like me and can look at a sweater in her closet and recall the brand, style name, and year it was purchased without seeing the tag), write descriptions that make sense to you on a Post-it and stick it on the packing slip before you put it in a safe place.
Since Nordstrom has a relaxed return policy, there's no need to try things on in a hurry. For me, when I get a package in the mail I use it as part of my post-work and commute decompression time. I grab a glass of ice water or a La Croix, head up to the bedroom, open the boxes, give a quick look, maybe try on some if I'm up to it, but at least put away the packing slip, unbox, and put the new items either on top of my bureau or on hangers in a separate part of my closet. This way they lose some of their wrinkles. I usually try on immediately the things that look at first glance to be hideous or spectacular. If hideous, I can often pull up to the knees or over the head and immediately know it won't fit and take it off before the struggle and the reflection sadness. Put back in plastic, stick right back in the box. The awesome I'll try, and if it's awesome… I still put it with the other items. Everything needs two tries, especially if you're tired, hot, stressed, or wearing the wrong bra the first go-round. And all try-ons should be done while completely sober and with a shiny clean mirror.
Do NOT take off the tags until you have put on for your first wear. You have on the shoes, the belt, the bracelet and you're ready to walk out the door. Only then do you pull those tags. And me personally, I put those tags in that train case, paper clipped to the shipping label in case there's a defect. Nordstrom will take some items back without a tag, but it's just good practice for all online shopping.
Finally, when someone says, "Omigawd I LURRRVE your dress!" Smile, say thank you, and tell them how cheap you got it at the Nordstrom Anniversary Sale and how Allie at Wardrobe Oxygen helped you find it! Happy shopping!