This article may contain affiliate links; if you click on a shopping link and make a purchase I may receive a commission. As an Amazon Associate, I earn from qualifying purchases.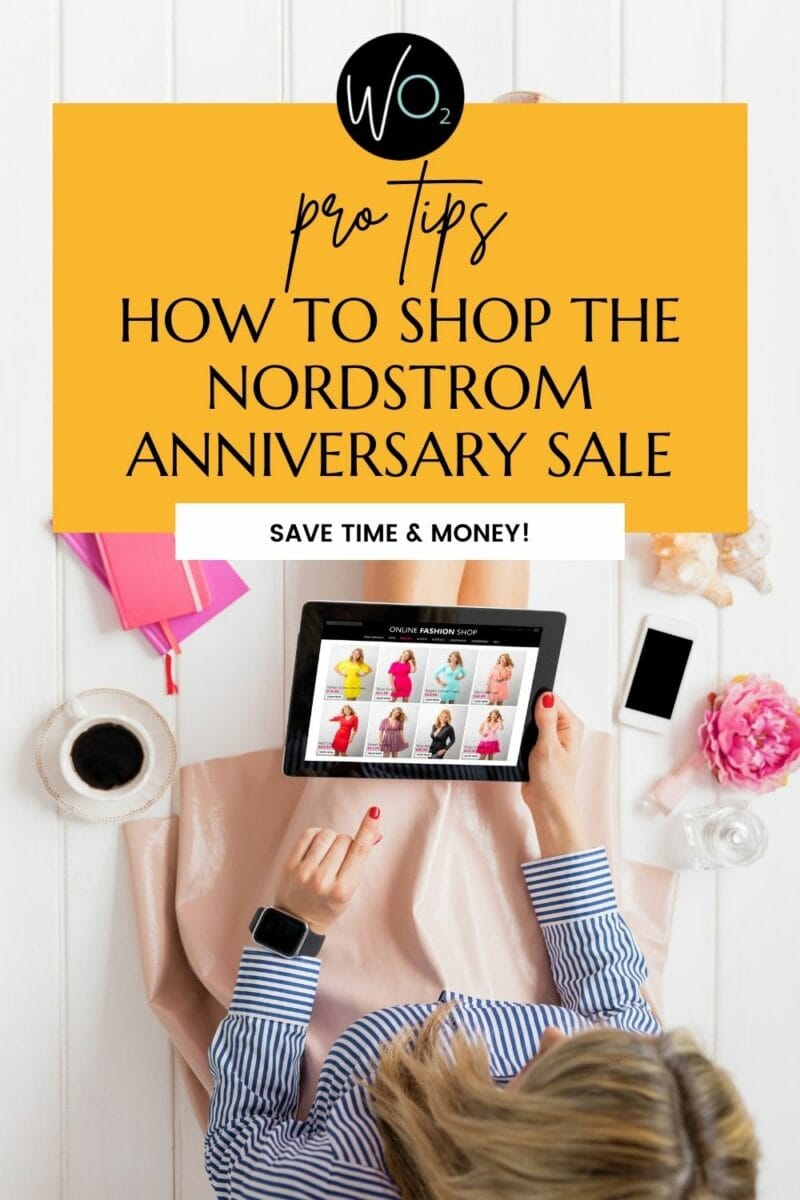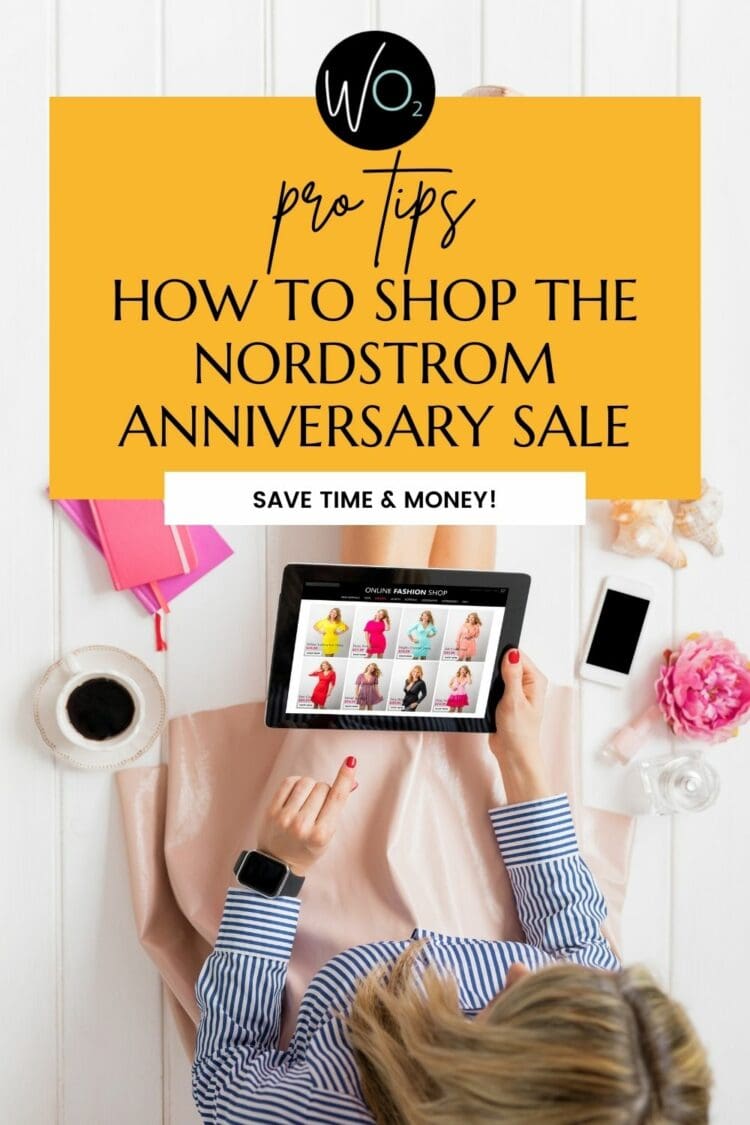 How To Shop the Nordstrom Anniversary Sale Like a Pro
If you're a reader of multiple blogs and newsletters, you must be SICK AND TIRED of reading posts about the Nordstrom Anniversary Sale. Thing is, during this sale, you can find some phenomenal deals on clothing you can wear now, not seasons from now. Also, it doesn't hurt that Nordstrom has free returns, free shipping no minimum, and carries a great variety of sizes, styles, and pricepoints. Shopping online is literally my job; below I share my tips on how to shop the Nordstrom Anniversary Sale, or shop Nordstrom online any time of the year.
I originally wrote this article in 2016, but update it yearly with the current Nordstrom Anniversary Sale schedule, how to shop the Nordstrom site after recent changes to it, how to shop after the year we just survived, and my honest thoughts on getting a Nordstrom credit card to be able to shop this sale earlier than the general public.
This is not a "what to buy" post, but a "how to buy" to help you shop this incredibly popular sale in an efficient manner where you can find the deals that are perfect for your unique tastes, size, style, and needs.
When is the Nordstrom Anniversary Sale?
The Nordstrom Anniversary Sale starts today, but depending on your status with Nordstrom (AKA if you're a cardholder and how much you spend at Nordstrom each year) determines when you are able to shop the sale.
July 3: The Sale preview is up. You can peruse items part of the sale, and add items to your wishlist.
July 11: Early Access to the Nordstrom Anniversary Sale for cardmembers with Icon Status. To be eligible for Icon Status, you must purchase an annual minimum of $15,000 in net purchases from Nordstrom using their credit card.
July 12: Early Access to the Nordstrom Anniversary Sale for cardmembers with Ambassador Status. To be eligible for Ambassador Status, you must purchase at least $5,000 a year from Nordstrom and put it on your Nordstrom card.
July 13: Early Access to the Nordstrom Anniversary Sale for cardmembers with Influencer Status. Some places on the Nordstrom site it says you have to spend $500/year to be Influencer status, some say just having the card puts you in this status. If you click this link you can find out which level you are at.
July 17: The Nordstrom Anniversary Sale opens to the general public.
The sale ends August 6th. From past experience shopping the Nordstrom Anniversary Sale, I learned you should shop as early as possible for the best selection as items sell out. However, check the sale again in a couple of weeks because returns happen and items sometimes come back in stock. I have also seen Nordstrom add a few more styles later in the sale because it sells out so fast.
Is it Worth it to Get a Nordstrom Credit Card to Shop the Anniversary Sale?
Nordstrom has been one of my favorite shopping destinations for decades, and it is the only store credit card I still own. A big reason I have kept my Nordstrom credit card is so I can shop the Anniversary Sale earlier than the general public. I would charge to the card with plans to pay it off when the bill arrived.
I know I am not the only person who swears they will pay the bill off in full and then only pay a bit of it, and then charge a bit more and next thing have a bunch of debt and not be sure what was even purchased with it. This past year, I paid off my Nordstrom card, and I don't plan to use it unless I'm making a big purchase and want it to be my Double Points day. Because of that, I am now just Influencer Status with my Nordstrom card. And I am okay with that.
If the Nordstrom Anniversary Sale is a big deal for you and a time when you stock up and you have had great success in the past… then maybe the Nordstrom card is a good value for you. Even if you open it up today, you will still be able to shop the sale several days days before the public. Nordstrom offers a store-only card as well as a Visa card; the details are at this link. But otherwise… I am not a financial advisor, you do you but I think if you haven't gotten one yet maybe you don't really need it.
What is Available at the Nordstrom Anniversary Sale?
The Nordstrom Anniversary Sale used to be my favorite sale to prepare for fall and winter. I'd get amazing deals on leather, outerwear, and popular brands of higher-end costume jewelry. I'd often grab a cashmere pashmina for the price of one made of acrylic, maybe some designer sunglasses at 40% off, a new serum or skincare device, and have bought some of my favorite bed linens and homegoods… it was fantastic.
But in recent years, the Nordstrom Anniversary Sale has changed where it is very specific brands part of the sale, as well as very specific products. Some are annual bestsellers, some are trendy pieces they know will be a hit that coming season… but a lot is mediocre product from popular brands created just for the sale.
Nordstrom got a lot of flack in the past couple of years for changing the sale, making is such a limited number of brands, and having the equivalent of outlet products at "sale" prices. Because of that, this year Nordstrom is really stressing the quality and quantity of brands available in the sale.
This year, some of the brands included in the Nordstrom Anniversary Sale are Veronica Beard, Good American, Dyson, Rails, Birkenstock, Vince, and Dyson. Nordstrom in-house brands like Zella, Halogen, Caslon, and Nordstrom Signature are always included in this sale.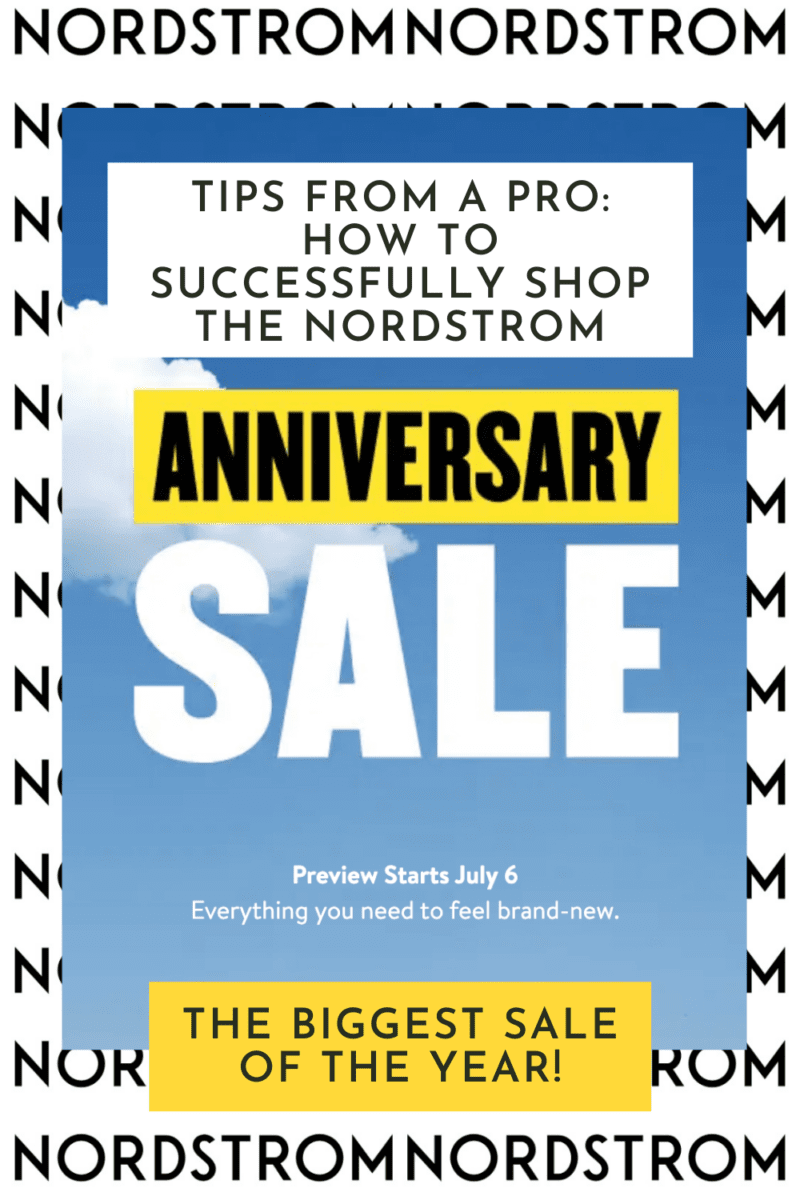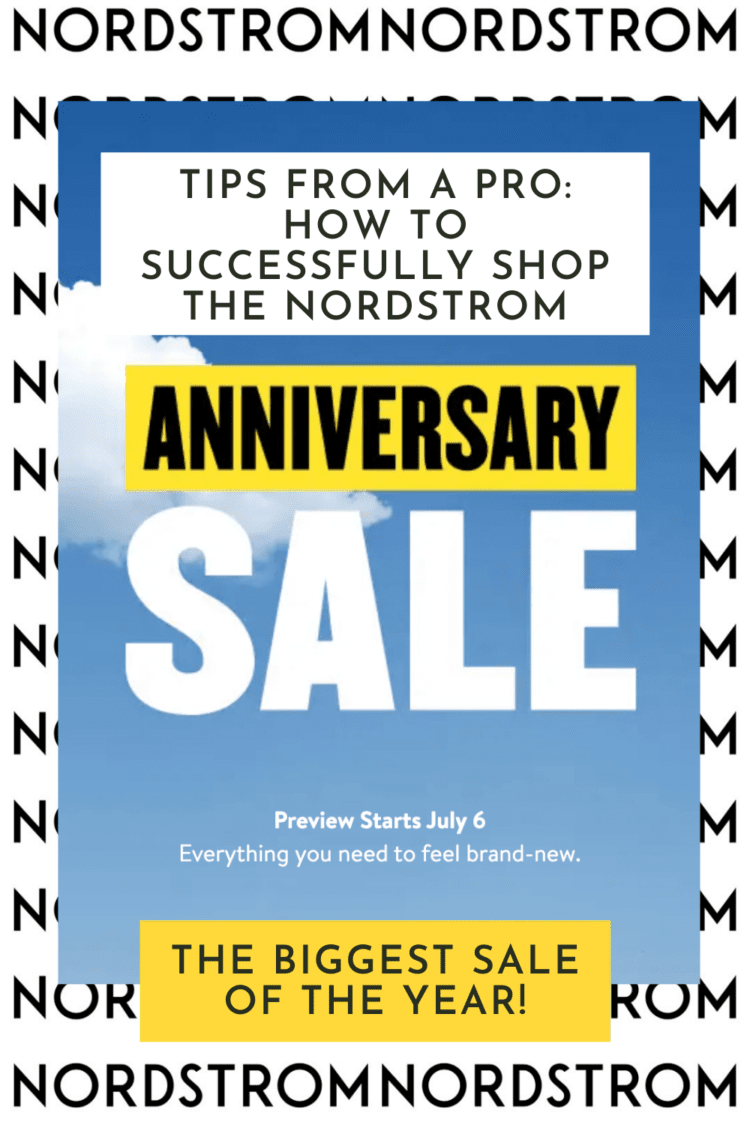 How to Shop the Nordstrom Anniversary Sale Like a Pro
This sale is fast-paced, and can be frustrating because items sell out super fast. Expect to see social media personalities share their hauls as soon as July starts, and by time you can buy them, they're sold out. But to have your best chances in getting what you want without spending hours scrolling through the tens of thousands of items in the sale, I suggest the method below:
Tip #1
The top tip? SHOP ON YOUR DESKTOP. You will want to see all the features, be able to open multiple tabs and do comparisons, read the reviews. Mobile is quick and effective, but for major sales, it's worth some time with your laptop.
Tip #2
When you visit the Nordstrom site, there will be a graphic on the home page about the Nordstrom Anniversary Sale. It will have buttons to click to visit a certain department: Women, Men, Kids, Beauty, Home, etc. Click the one that you wish to shop first.
Tip #3
On the left of the screen next to the merchandise is a menu. The first section of the menu will be Category. Here you can tailor down to just clothing, shoes, beauty, etc. I recommend choosing a category; you will save time doing multiple niche searches instead of one broader one.
Tip #4
If you are searching footwear or apparel, return to this menu and choose Size. Click ALL the options for your size. For example, I am a size 14, sometimes petite. I will choose Regular L and XL, Petite L and XL, 14 petite and large, and 16 petite. Nordstrom makes it easy to shop multiple sizes; and especially with items selling out fast, this will reduce your frustration.
Tip #5
Next click Price. If you know you won't pay more than a certain dollar amount, why be tempted by items outside that range? Be realistic with yourself and your budget. No dress (or serum or pair of boots or fragrance diffuser) will change your life.
Tip #6
Look through that side menu and see if there are any other ways you can trim down the selections. Color? Fabric? Brand? Each search will let you choose multiples, so you can seek cotton and silk and linen, you can seek just the eight brands you love. The more niche your search, the more likely you will find something you truly need or love, versus buying out of frustration.
Tip #7
Now, scroll back up to the top of the options now available and click the tab to the right of the screen above the merchandise that says Sort by Featured and change it to Sort by Price: Low to High. This way, if you're exhausted at a point, you at least saw the best deals. If you're perusing the sale on a later date, consider switching this filter to Sort By Newest.
Tip #8
I then scroll with the down arrow key instead of grabbing the sidebar and pulling down the page. I move pretty quickly, looking for the specific silhouettes and colors I like. This way I don't get distracted by a designer name for a crazy low price. True style comes from buying the right items, not the right brands.
Tip #9
When I see something that looks appealing, I click to open it in a separate browser tab/window, and keep going. I don't stop to look at that one item just yet.
Tip #10
After I've scrolled through one page, I click to go to the next page, and NOW I peruse those open tabs. I'll close any that are definite NO upon review. This usually leaves 1-3 tabs. I usually leave them open, not clicking to put anything in my cart. You never know, on page 6 you may find a better version of the same item…
Tip #11
Once I've gone through all the pages with this process, I then settle in and review all the open tabs. I look for:
Customer reviews
Nordstrom Anniversary Sale items are often new and don't have reviews, but for those that do have reviews, don't judge by one review. I often narrow the reviews to just 4 and 3 stars (if they're not blown away or ragey they usually have a more specific and detailed review) and often by age (I'll relate more to the fit on a 45 year old than a 25 year old).
The color I REALLY want in stock.
So what if it's a fabulous blouse; if it's only in mustard and you're a winter there's no point in considering it. You know you'll wear it maybe once and then retire it to the back of your closet.  Keep that money for the really good purchases. For sales like this, if unsure I'll order in two sizes. Nordstrom has free shipping and returns so it's easy to send back what didn't fit. Also items move fast; if you find the piece you got is the wrong size you very well may not be able to purchase the other size at a later date.
The size I REALLY need in stock.
There is never a good time to sacrifice fit for price. And if you DARE say to yourself that you'll lose weight to fit it I'll reach through this screen and strangle you. I'd rather you size up and cut out the tag than size down and feel bad about yourself. I have yet to meet a woman who has truly lost those 5 pounds and been thrilled she scored that sale item.
The laundry instructions.
Be as realistic with your lifestyle as your budget. If you know you won't handwash and dry flat, don't buy anything, no matter how good of a deal, that requires that.
Whether it's really needed.
Omigoodness those purple suede over the knee stiletto boots are usually $750 and on sale for only $250 and I saw similar on my favorite actress/singer/influencer! That's fine and good, but do you really need them? Can you think of three existing outfits in your closet that would benefit from them? Is there a hole in your wardrobe that will be filled with this purchase?
Whether it's for Current You or Beforetimes You.
Sure, this country is acting as though 2020 never happened, but it did and whether you realize it or not, it changed you and your lifestyle. Are you now working from home 80%? Then do you really need ANOTHER blazer? You haven't dress shoes in over a year, do you really think you'll rock those 3″ heeled boots? And it's very likely and very NORMAL that your shape and size has changed. Honor your body that survived a hell of a year by purchasing what fits it NOW, not pounds or inches from now.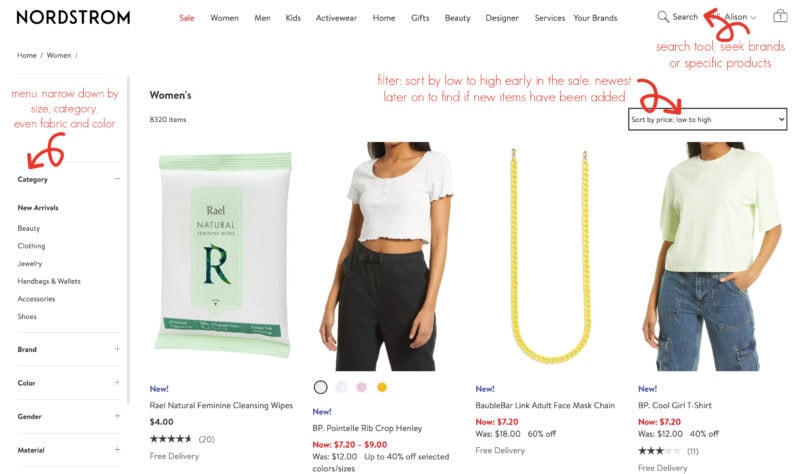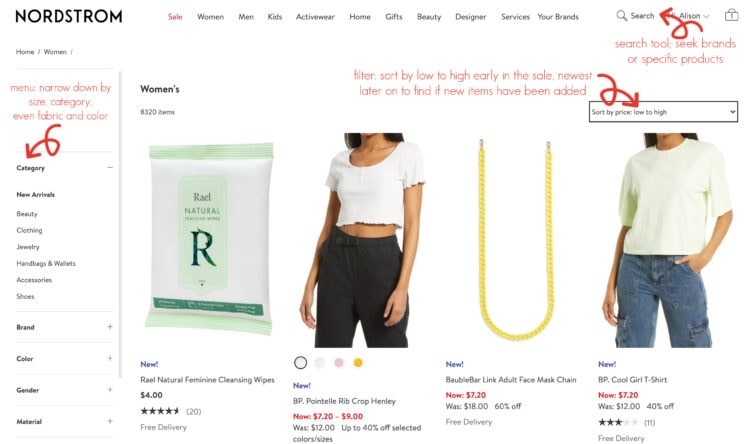 When you've reviewed all your open tabs, go back to the main one. Scroll through another half dozen pages, read the tabs you opened, continue. This sounds monotonous, but I've gotten it down where I can do this shopping not just for me but for all of you in less than an hour. Be picky. The Nordstrom Anniversary is good, but it's not like a Chanel bag for $50 good. If you don't need it and if the price isn't awesome, move on.
If there are any other categories you wish to peruse, follow the same steps. Once you've fully examined all you need to examine in the Nordstrom Anniversary Sale, head to your virtual shopping cart.
Now is the time to get real. Like real real, so real.
That floral chiffon confection is so gorgeous, so dreamy, and such a great price. But where are you going to wear it? Do you own footwear to work with it or will you need to now buy shoes? Will you need to purchase special undergarments to make it work?
It's your favorite denim brand, it's a style you own and love, and the price is really right. But come on, do you need another pair of the same jeans? Even if they are a different wash… do you really need them? Maybe the answer is yes, and I fully support your choice to buy multiples of a wardrobe staple. But usually, we are fine with what we have and another of the same is either a waste of money or guilts us into sticking to the same style even if we have changed.
For the things you KNOW you don't need, delete them. For the ones where you're not sure, save for later. If they're gone by tomorrow they weren't meant to be. Life is telling you what you didn't want to admit. If it's still there, seriously consider why you hesitated. Remember, no dress will change your life.
Review and review, thinking about the wardrobe and lifestyle you currently possess. Be realistic, don't get drunk off discounts. Only when you're honest with your body, your wardrobe, your lifestyle, and your budget can you begin the payment process and place your Nordstrom Anniversary Sale order.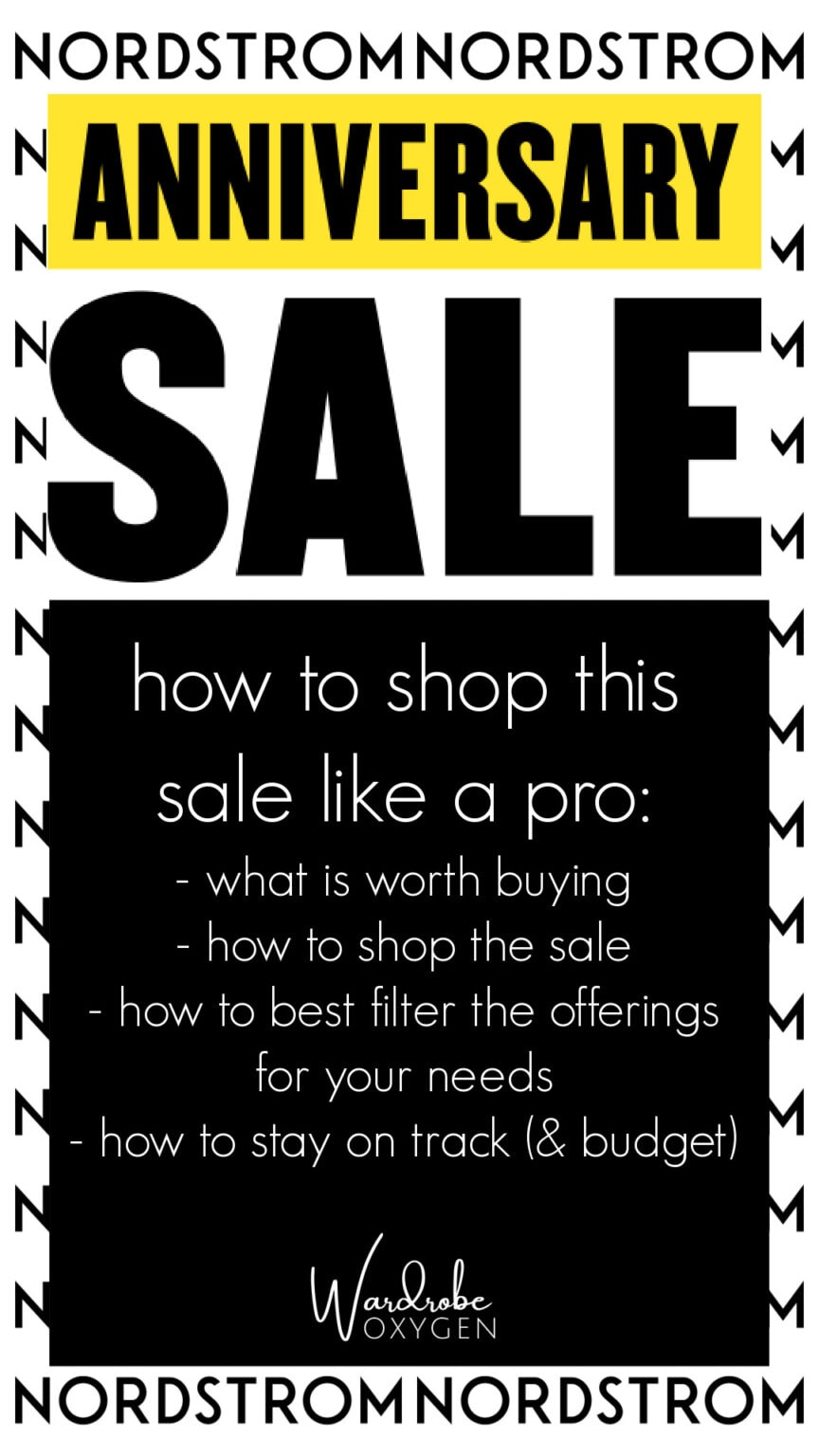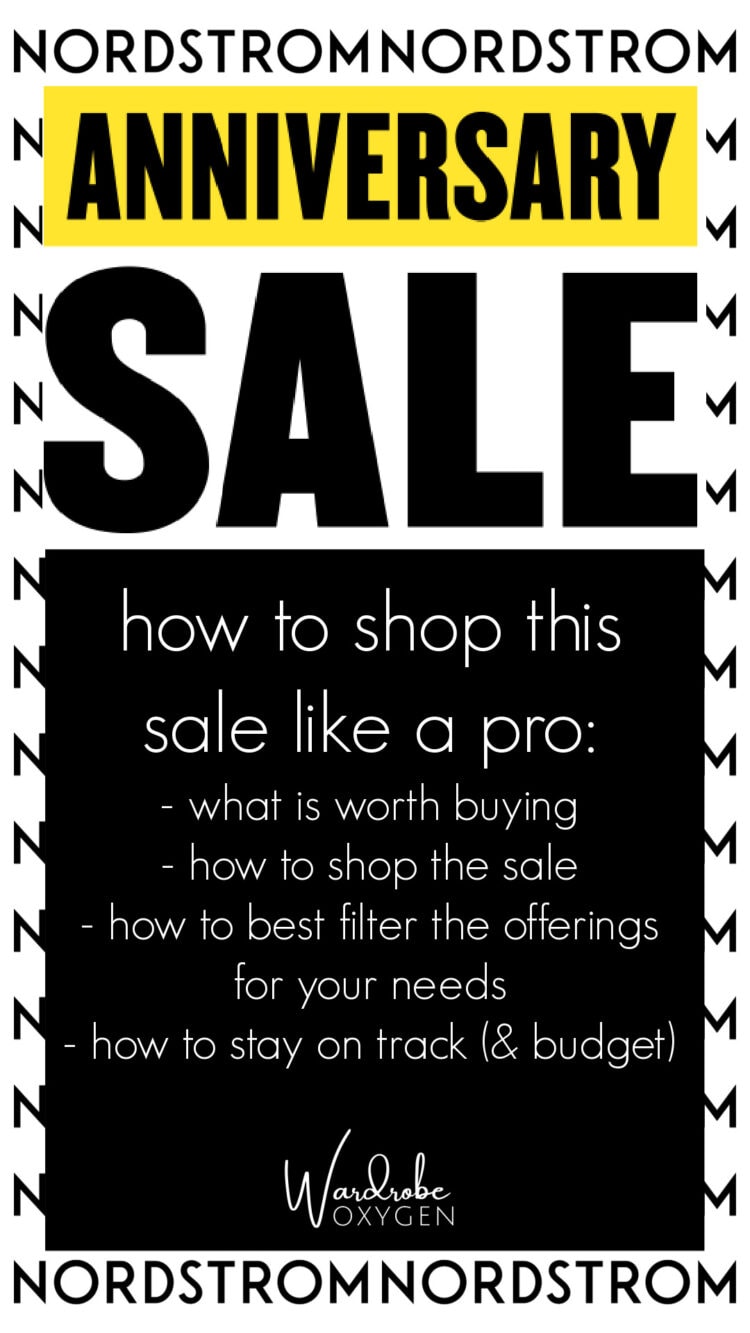 How to Handle Your Nordstrom Anniversary Sale Purchases Once They Arrive
When your purchases arrive in the mail, keep the packaging. As you unwrap items, be careful and stuff the plastic and tissue in the shipping box or bag. This way, for any items that may not be right you can carefully return them. I also use the extra plastic and tissue as padding to keep returns from sloshing around, and I figure they can (hopefully) recycle the stuff with their other items in the Returns Department.
I have a vintage train case where I keep all packing slips, mailing labels, and invoices for online purchases. Nordstrom usually has clear descriptions on their packing slips, but if you may not recall what an item is (for not everyone is a dork like me and can look at a sweater in her closet and recall the brand, style name, and year it was purchased without seeing the tag), write descriptions that make sense to you on a Post-it and stick it on the packing slip before you put it in a safe place.
Since Nordstrom has a relaxed return policy, there's no need to try things on in a hurry. For me, when I get a package in the mail I use it as part of my post-work and commute decompression time. I grab a glass of ice water a flavored seltzer, head up to the bedroom, turn on some low music, open the packages, give a quick look, maybe try on some if I'm up to it, but at least put away the packing slip, unbox, and put the new items either on top of my bureau or on hangers in a separate part of my closet. This way they lose some of their wrinkles.
I usually try on immediately the things that look at first glance to be hideous or spectacular. If hideous, I can often pull up to the knees or over the head and immediately know it won't fit and take it off before the struggle and the reflection sadness. Put back in plastic, stick right back in the box. The awesome I'll try, and if it's awesome… I still put it with the other items.
Everything you ordered needs at least two try-ons.
Especially if you're tired, hot, stressed, or wearing the wrong bra the first go-round. And all try-ons should be done while completely sober and with a shiny clean mirror and the undergarments you'd wear with such a piece. I also recommend figuring out the footwear situation; shoes can often determine if an item really will fit into your wardrobe and life.
Give it a gentle audition.
Don't go for a hike in those new boots, but give each item as much of a "workout" as you may in a brick and mortar shop. Walk around, sit down, squat. Try it on with different items, try it tucked in, bloused out. Look at it on your from different angles with your full-length mirror, or even consider using your phone's selfie mode to take photos or videos to see how the piece will work out in the world.
Do NOT take off the tags until you are putting it on for your first wear.
You have on the shoes, the belt, the bracelet and you're ready to walk out the door. Only then do you pull those tags. And me personally, I put those tags in that train case, paper clipped to the shipping label in case there's a defect. Nordstrom will take some items back without a tag, but it's just good practice for all online shopping.
Nordstrom Anniversary Sale Returns
So you followed all the steps above and you still have items that aren't deserving of space in your closet. There is nothing wrong with your shopping skills, your body, your home, your skin, your face, your life. You are fabulous, it's the purchase that is the problem. Don't "make it work," send it back.
Your fails may be another customer's hit, so return with care. Carefully fold items, put them back in plastic so if the box gets wet in shipment it won't ruin the items. If there is any leftover tissue or plastic, stuff it in to keep items from not shifting and crumpling.
Nordstrom used to ship orders with a prepaid label for easy returns. They have stopped doing that so you need to either scan the QR code on your packing slip, or visit this link and enter your order number. You can print out a free return label and send back USPS.
Nordstrom does not have a time limit on returns. If something seems perfect but it's hard to gauge on August 10th how it will work come October 10th, don't be afraid to hang the item up, maybe cover the shoulders with plastic to keep it from getting dusty, and try it again later.
But if you KNOW an item is not right for you, I encourage you to return it sooner rather than later. Not only do you want your money back ASAP, but if Nordstrom gets it back before the sale ends, it could possibly be sold to another customer who will love it.
Finally, when someone says, "Omigawd I LURRRVE your outfit!" Smile, say thank you, and tell them what a great price it was at the Nordstrom Anniversary Sale and how Alison at Wardrobe Oxygen helped you find it! Happy shopping!