This article may contain affiliate links; if you click on a shopping link and make a purchase I may receive a commission. As an Amazon Associate, I earn from qualifying purchases. 
I'd love to see if you can dig up any information on plus size maternity clothes. There are a couple of decent roundups online, but the clothes all seem to skew a little young, cutesy, and boho for my taste, or too casual. I'm a 34 year old size 18 professional woman (expecting twins!) working in an artsy, creative environment whose tastes run more towards the minimalist. Everything I see seems to be covered in crochet, flowers, and lace, or too casual to wear to a workplace that isn't corporate formal, but isn't jeans and peasant tops either.
I understand your issue; when I was pregnant I had a hard time finding professional maternity clothing and at the time I was a size 12. Luckily, both maternity and plus size fashion has improved over the years and it seems retailers are finally realizing that women in Corporate America do get pregnant and need maternity work clothing. Here's the retailers I found who offer maternity fashion that isn't too cutesy, too twee, or too casual for the office:
PLUS SIZE MATERNITY FASHION: THE BEST ONLINE RETAILERS
Pink Blush Maternity considers itself, "Not your mother's maternity clothes" and prides itself on offering styles that can be wearable after your pregnancy. The best thing is they have an extensive plus size selection. While Pink Blush skews more boho/romantic and casual, they have some great dresses that would work in the office and with your minimalist personal style. My picks: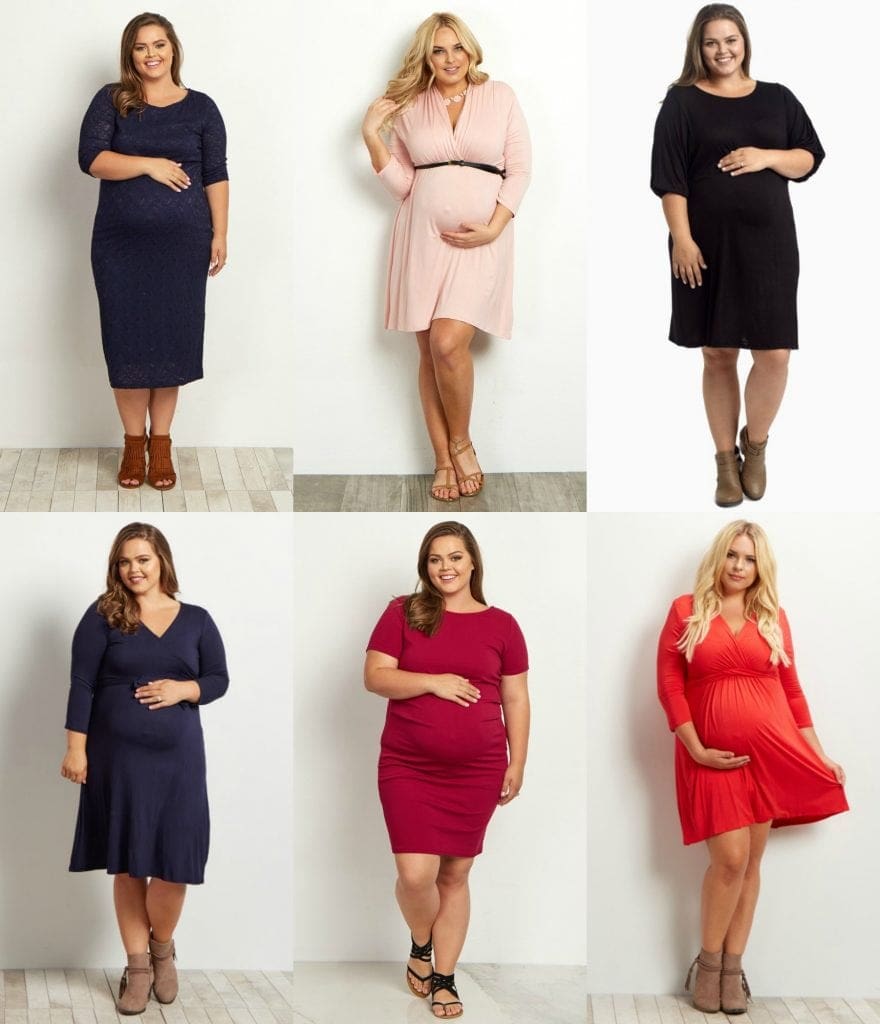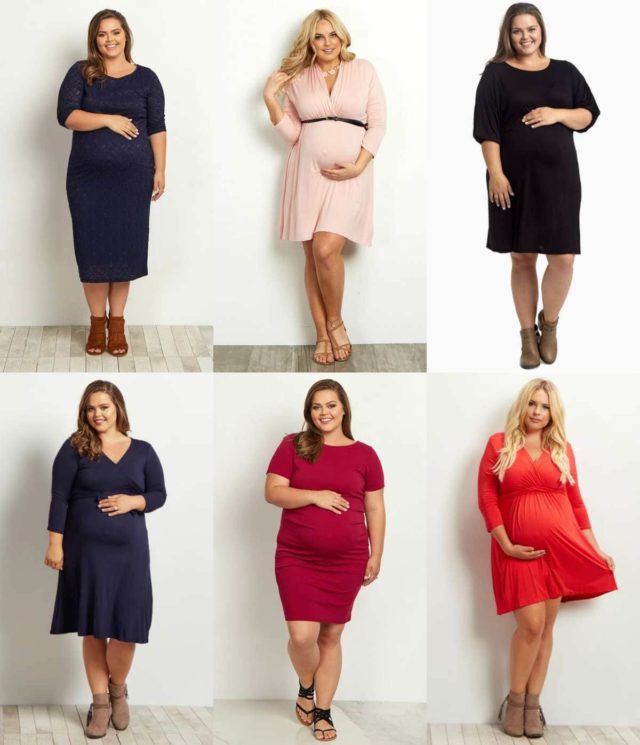 Top: one | two | three
Bottom: four | five | six
Target was my go-to for maternity work fashion and where I found silk-like shells, suits, and more for the office. The Liz Lange for Target collection was amazing and such great quality the pieces I had were passed down to several other women and we all wore them to work when we were expecting.  Sadly, it seems that much of their selection is not only casual, but smaller sizes. However, there's still some gems and most come in XXL. My picks: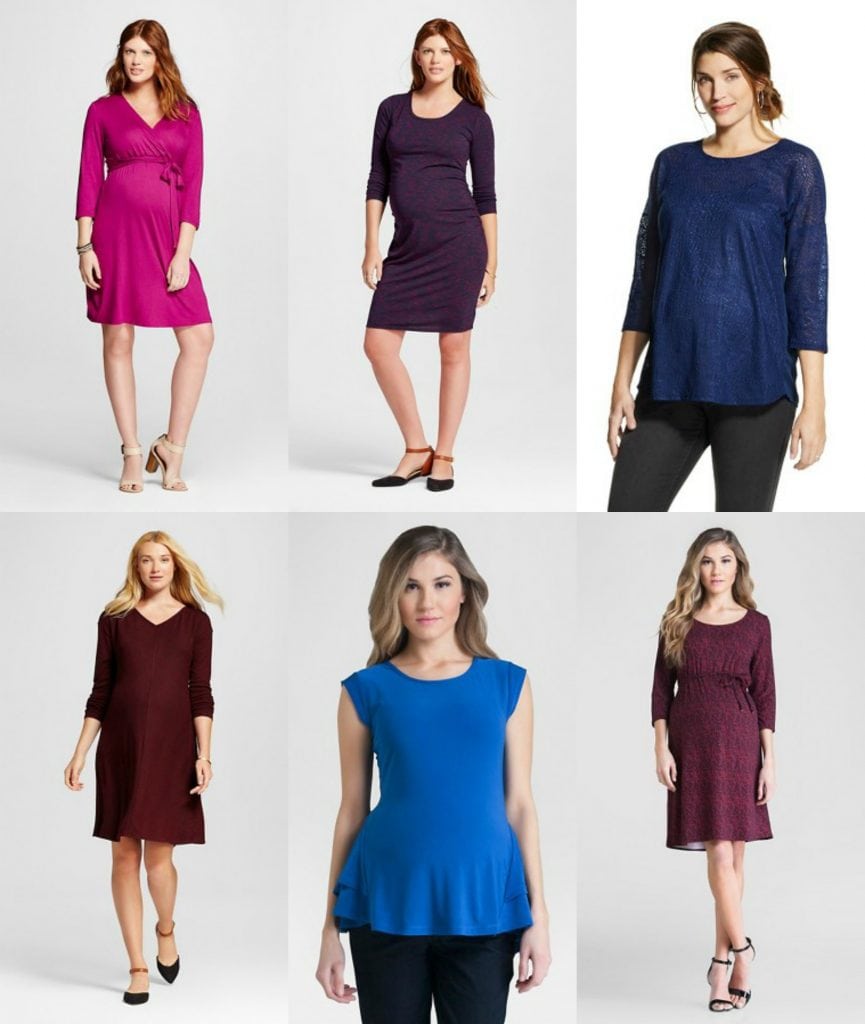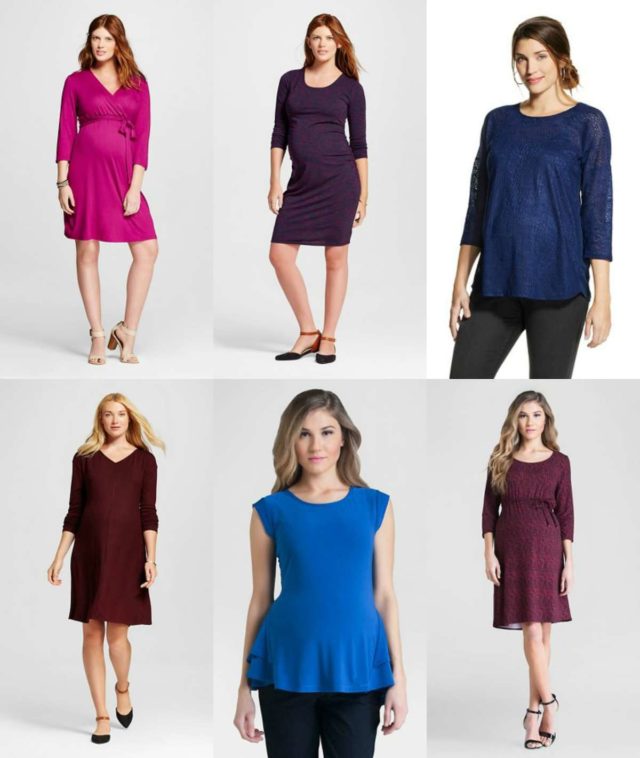 Top: one | two | three
Bottom: four | five | six
Motherhood Maternity carries plus size clothing, but like many other retailers their collection is quite casual. However, they have a good selection of office-friendly pants and they should be checked periodically as they seem to change their dress and blouse selection regularly: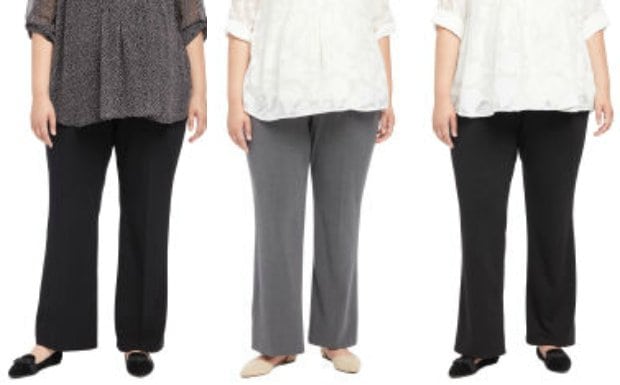 Zulily is a great place to score baby and kid items for less, but they also have great deals on adult clothing too! I checked and was pleased to find an extensive plus size maternity collection with pieces I hadn't seen elsewhere online. Zulily's selection changes daily so it's worth it to check in periodically. A few of my favorites for the workplace: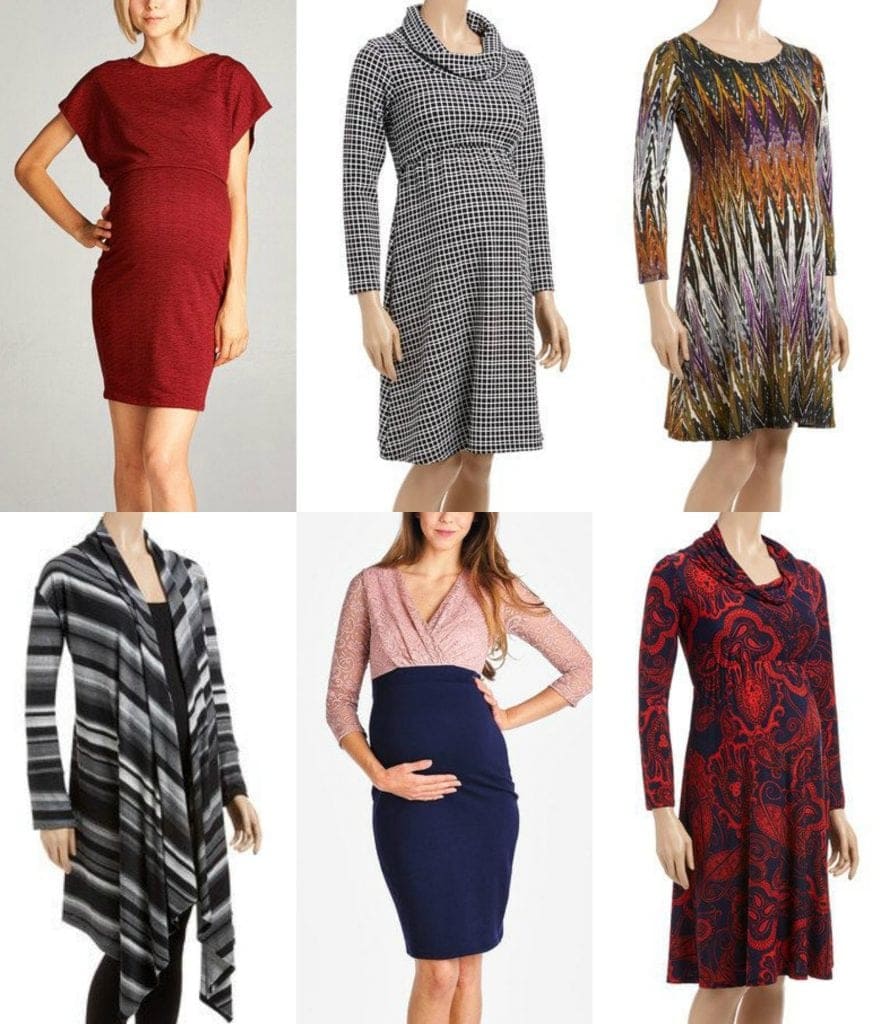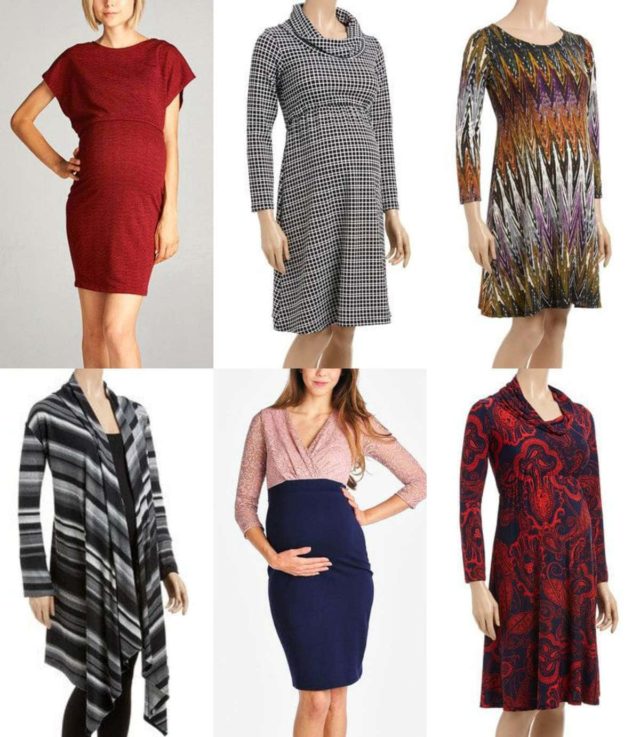 Top: one | two | three
Bottom: four | five | six
JCPenney
When I was pregnant, I found unicorns of amazing maternity fashion at JCPenney. While most of the selection was extremely basic (or cheesy) I'd occasionally find a blouse or dress that was stylish, well made, and good for the workplace. I checked with them for this post and the selection seems similar to what I experienced years ago, but I was pleased to find as many unicorns in plus size as standard. My picks: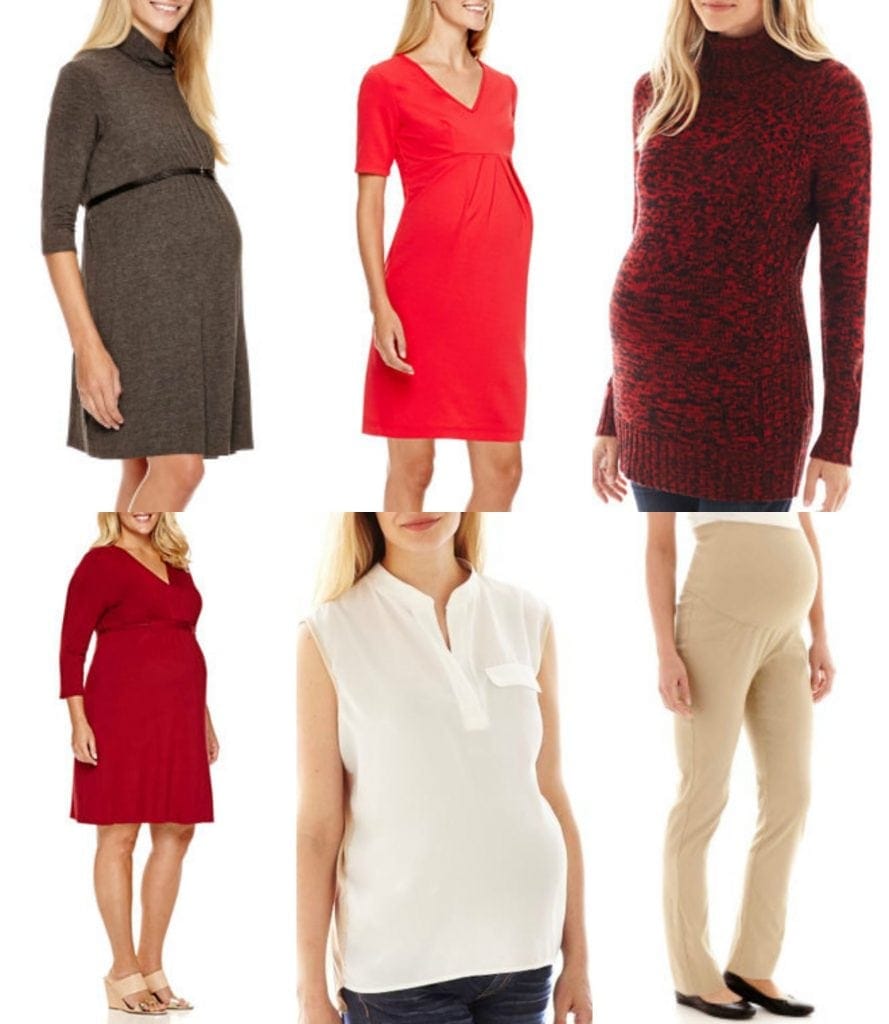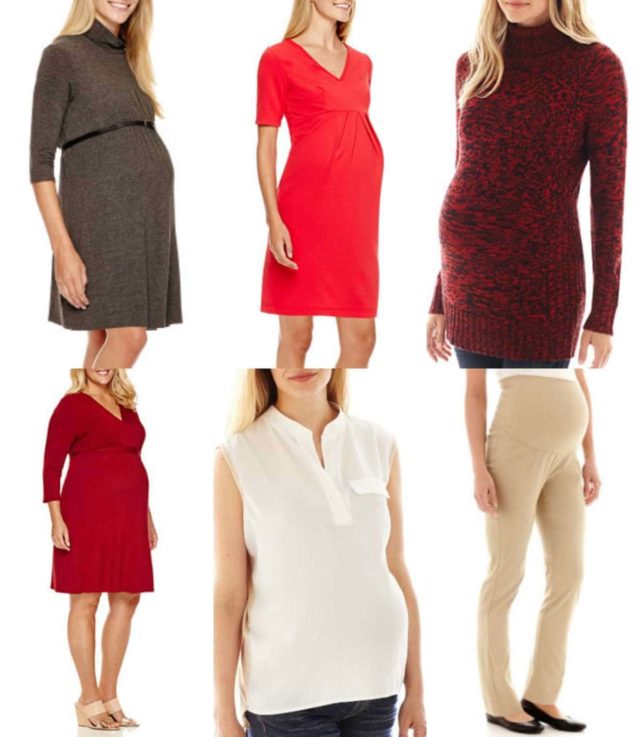 Top: one | two | three
Bottom: four | five | six
eBay
eBay was where I found some of my maternity wardrobe… and where I sold it. You can score some great gently used pieces on there that are not only great prices, but great styles not currently available in stores. While you will have to scroll through a ton of well-worn tee shirts and yoga pants, you can find plenty of professional pieces. Some items I found when writing this piece: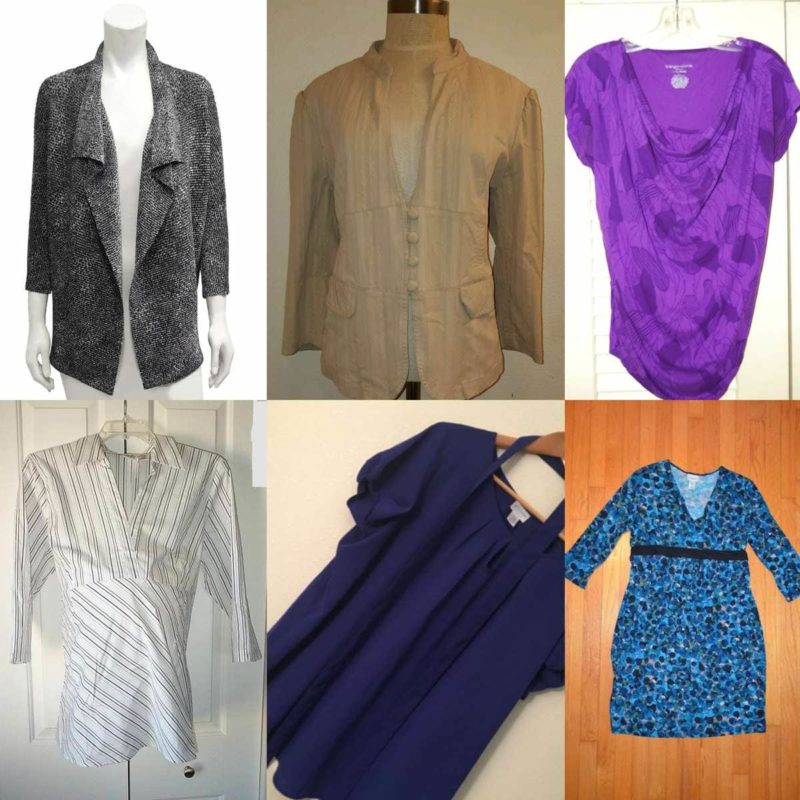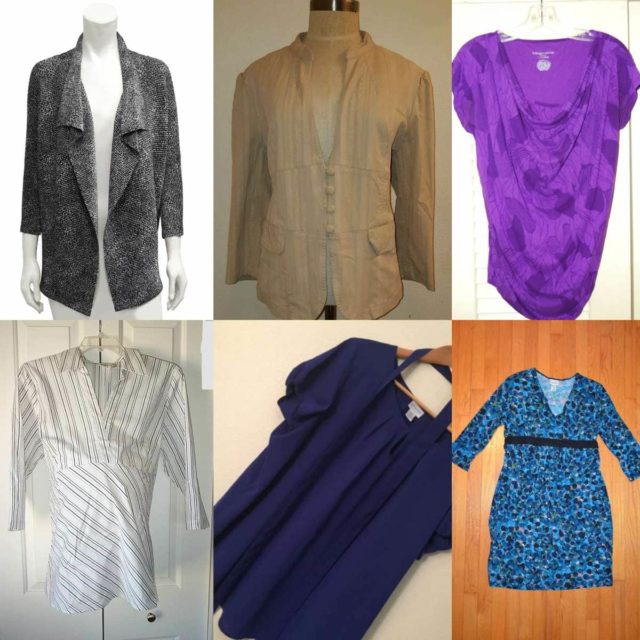 Top: one | two | three
Bottom: four | five | six
Non-Maternity Fashion
While I was able to find a maternity suit from Liz Lange for Target, one of my favorite maternity suit jackets wasn't maternity at all. It was a ponte knit collarless jacket that may not have been able to button over my belly mid-third trimester, but it looked polished and professional.
Considering dresses as tunics, using knits, and sizing up can provide you with more options that aren't necessarily maternity but will work with your changing figure. If you know you need a polished blazer, consider buying large and having it tailored to fit in the shoulders and arms.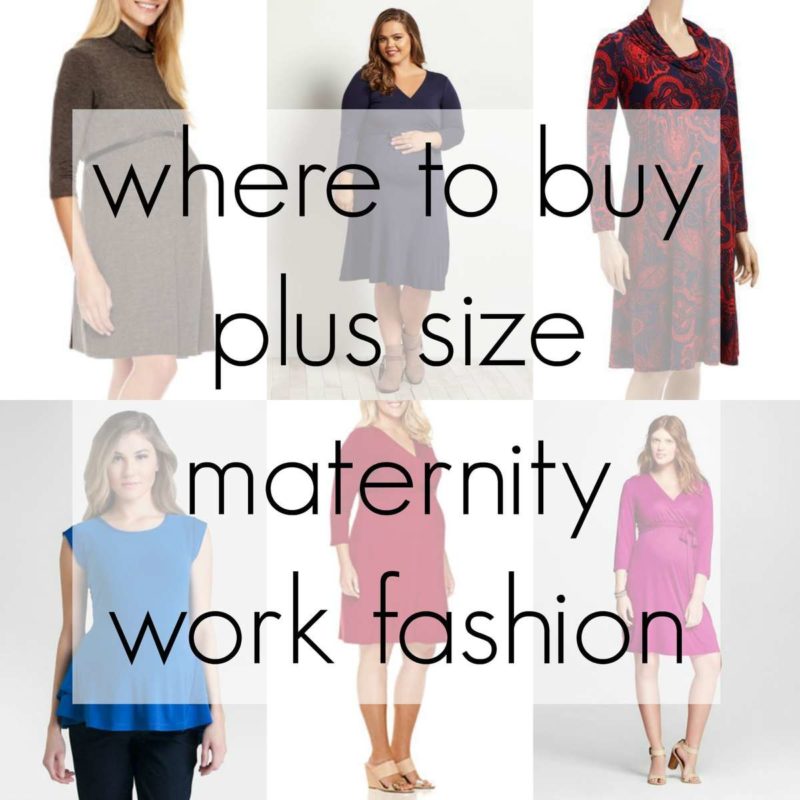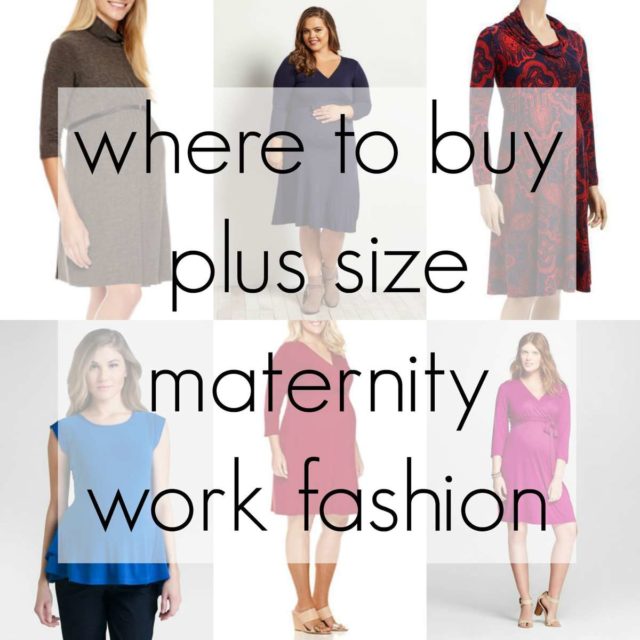 Tips for Plus Size Maternity Office Clothing:
You Can't Predict Your Size (or hemlength!) – I made the mistake of hemming all my maternity pants early on in my pregnancy. By my third trimester they were highwaters. Not only does the belly take up some of your inseam, but your whole body changes. Hips, rear, thighs, bust, arms… it all affects not only size but length.
Give Yourself Some Slack – Rarely will a job expect you to have as extensive and polished of a wardrobe when pregnant as you do when not. I've worked with many a pregnant woman who wore the same black dress more than once a week. When I was pregnant, I had two pairs of pants and I would wear one or the other almost every day of the workweek. I had a single pink matte jersey top that looked professional and I wore it sometimes twice a week, and I too was one of those women who had a black dress that was worn multiple times a week. I relied on scarves and necklaces to switch up the look. If you have two dresses, two pairs of pants, two non-tee shirt tops, a sweater and a cardigan or jacket, and a pair of comfortable black flats you have enough to survive Corporate America.
Keep it Simple – I don't know why so much maternity fashion is elaborate. Ditzy florals, ruffles, keyhole necklines, self belts, flutter sleeves, ribbon trim, crystal buttons and that can all be on one blouse. When you find classic pieces I recommend snagging them. They're not as memorable so you can rewear them in the same week, and you're less likely to hate them after a few weeks of very regular wear.
Comfort Trumps Style – I found stiff cotton shirts and fitted non-stretch pieces uncomfortable especially later in pregnancy. Though I was due in January, I was so warm in my third pregnancy that I was wearing short sleeves. I found matte jersey and ponte to be my career wear best buds when I was expecting because they stretched, were machine washable, didn't wrinkle, and looked office appropriate. With the addition of a scarf you can make a lot of simple knit dresses and tops looks professional.
Save
Save
Save