This article may contain affiliate links; if you click on a shopping link and make a purchase I may receive a commission. As an Amazon Associate, I earn from qualifying purchases. 
I was wondering if you could do a capsule collection for the casual workplace. My workplace is so casual that I have coworkers who walk around in cargo shorts and flip-flops all summer, pretty much everyone wears jeans always, and I'm pretty sure I've seen a coworker or two in actual pajamas. I like dresses and skirts, I love jewelry, but lately I've been defaulting to a uniform of jeans/sneakers/artsy tee/cardigan. I'd like to get out of that rut but still fit in.

I work in a very casual place people wear yoga pants and flip flops to work. I like to dress nicely but don't want to stand out or look snooty any advice?

I work for myself but in a collaborative office setting; the dress code is casual but everyone is very visually inspired and aware of fashion. I'm a jeans and tee shirt sort of girl, any ideas on what I can wear to be comfortable, be me, but not be a clueless slob?
I once worked in a very casual office environment, and understand your issue. While on the surface a very relaxed dress code can seem like a treat, but when you really break it down it can be even more difficult and confusing than a conservative corporate environment. Even if you CAN wear yoga pants and dollar store flip flops, that doesn't mean you should. You want to fit in, but also show your dedication to the company, be ready for the chance meeting with a customer, and also lead by example. This can be done without a single blazer or blouse!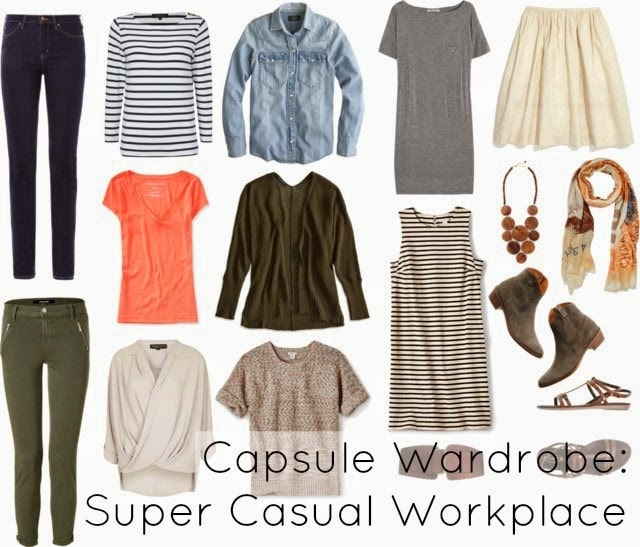 With this sample capsule wardrobe, I took casual basics and stepped them up a slight notch so they look a bit more polished, but just as comfortable. With jeans, I chose a dark wash that looks more polished and is usually more versatile than distressed. A pair of jeans or twill pants in a neutral like olive adds variety to a wardrobe without being too memorable for versatility. For knits, break out of the basic tee-shirt rut by incorporating classic prints, unique fabrics like linen and silk, and interesting draping. Layers keep you comfortable in an overly air conditioned office and add mileage to your wardrobe basics. A denim shirt looks great on its own, tied over a dress, or worn open with a tank and skinny jeans. An open cardigan can be worn as-is or can be transformed with a wide belt. A short-sleeved sweater in a loose weave is comfortable in an office in the summer, but also layers nicely over longer-sleeved knits and shirts when the temperature drops. Tee-shirt dresses are easy one-piece dressing that can dress up with a scarf and wedges or get uber casual with sandals and a ponytail. A gathered knee-length skirt in a lightweight cotton dresses up simple tees and tanks without sacrificing comfort.
Accessories are a way to add personality and jazz up simple knits and denim. For this collection of soft neutrals, I added a wood necklace and a floral printed gauze scarf; neither are too glitzy or shiny for a casual office. As for shoes, a pair of ankle boots with a flat heel look great with dresses, skirts, and pants; a pair of leather sandals are smart with dresses but also pair nicely with denim for a bit of a boho look. As previously mentioned, a wide belt (smart to have in the same color/material as your shoes) can transform not just an open cardigan, but dresses and tunics.
Stick to casual fabrics – linen, cotton, jersey, denim, chambray. This will keep the casual vibe even if it's a more formal silhouette. While staying in these fabrics, choose saturated colors. Faded, distressed, and weathered fabrics are hot this summer but can easily look messy and too casual for an office.
And finally, flip flops should be kept for the pool and yoga pants for yoga. These days there are so many comfortable shoes and pants available, there's no need to wear workout clothes to the office. Consider stretch denim, jersey, and ponte knit for pants and a pair of espadrilles or flat sandals in place of the flops.
Follow Me | Twitter | Facebook | Instagram