This article may contain affiliate links; if you click on a shopping link and make a purchase I may receive a commission. As an Amazon Associate, I earn from qualifying purchases. 
Cold weather is approaching (and already has landed in the more northern parts of the planet) and with all the cute dresses and skirts in the stores this season, what's a girl supposed to do to prevent frostbite on her knees?
You know by now my opinion on pantyhose (hate it, only approve when an interview, your religion supports it, your job demands it or it's funky/cool and you are a True Fashionista who can pull it off). But tights, tights are a different story. Tights actually DO keep your legs a bit warm (sorry ladies, I have worn hose in Maine and think I was warmer bare legged than having the cold cling to that polyester), they are very much in style and far less difficult to mess up style-wise.
What color? What texture? When are they appropriate?
Color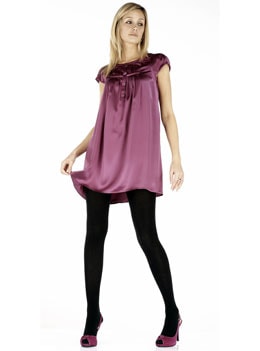 Black is a great option. If they are well-made and very opaque, they can go with so many things. The past few seasons has paired black with every color under the planet (yes even brown and navy) so this is a great first choice for a tights wardrobe. I recommend a matte pair so they are more versatile and less looking like part of a Rockette's ensemble.
This season they are showing black tights with colored shoes and dress (think purple dress and burgundy shoes), black tights with black shoes and a colored dress or skirt so there is much variety. I love the heeled oxfords and mature spin on heeled Mary Janes this season – they are a perfect pair with tights to look adult and sophisticated, but with a touch of feminine whimsy.
Brown is a good second if you do wear brown. Spanx actually has a reversible pair of tights that are black on one side and gray or brown on the other. This makes them doubly warm, strong and useful. Brown is great with lighter colors (camel, ivory) and can be less harsh. Make sure your brown has a nice chocolate tone and isn't yellow-tinged like children's tights.
As for other colors, well it depends on your personal style. Burgundy is a nice choice this season – really makes black, dark gray and dark brown pop and be less ordinary. Purple is another popular shade this season and cute in legwear – again keep the color dark and cool-hued so you don't look like a Strawberry Shortcake doll (Sour Grapes anyone?). Other darker jewel tones (dark amber, forest green, navy and even dove gray) can also look great but aren't the hot colors for legwear this season – proceed only if these are signature colors in your wardrobe. But imagine your little black sheath, a pair of black heeled Mary Janes and then a pair of tights in a rich indigo hue. How about your ivory fisherman sweater, dark denim skirt, some brown boots and maroon tights… not traditional, but a cheap way to add color and a current trend to your wardrobe basics.
Unless you are a real creative with your style, I suggest avoiding white, cream and ivory tights. One false move, and you look like a 6-year old on her first day of school.
Texture
If you are new to tights, I recommend going for a smooth, matte finish. This is a basic that works from season to season, doesn't add unflattering sheen to the larger parts of the leg, won't be as likely to show through when stretched and will go with a multitude of skirt and dress fabrics.
If you are considering other textures (ornate lace styles, cable-knit, etc.) I say proceed with caution and pair with heavier fabrics on top. Textured tights can work with denim and wool, very rarely with silk and crepe. If you are doing textured legs, keep everything else simple – pattern and texture-free dresses, simple shoes, minimal jewelry and accessories.
Location
Tights are great for work – they keep you warm, they aren't too flashy and keep you under wraps while still looking professional. Pair with boots (tall classic styles, calf and ankle booties), heels (the new heeled oxfords, t-strap and round toe retro-inspired pumps, Mary Janes) and ballet flats (only if you already wear ballet flats, and I recommend printed flats with colored tights, black flats with black tights for a streamlined look).
Tights can take your favorite denim skirts and make them winter-appropriate. Instead of little tees and camis with sandals in the summer, pair your denim skirt with a chunky sweater or slim knit turtleneck, tights and a pair of boots.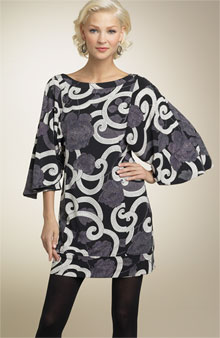 Tights are great for nights out on the town – keeps your legs warm while in line or dashing from the car, and look very current. The short-sleeved shifts of this season are perfect matches with tights and boots or heels. This fall has shown a ton of optic prints and bright jewel-toned solids which both are showcased but a solid black leg.
Tights are also being shown for more formal occasions, but here I also request that you proceed with caution. Black tights could be worn at an evening affair, if the heel is high and feminine and the dress is short and of a strong color. Banana Republic has a short emerald-green satin shift that I think could be worn to a holiday party or evening wedding with black tights and heels. My friend has a dark red taffeta strapless a-line dress that she has paired with black tights and heels and has looked very cute. Do know that black may be slimming, but it also cuts your body so you will look shorter. Shorter skirts (above knee) and higher heels on your shoes will help balance the look out.
Other
A great thing about tights is that they hide a multitude of sins – cellulite, spider veins, pale legs, even a week without shaving! They can also assist with small bulges at the tummy and hips with all varieties of control tops. I do recommend that if you are heavier and softer in the middle to either go with a high-waisted style that hits under your bra (gives a smooth line) or forego the control so you don't look cut in the middle.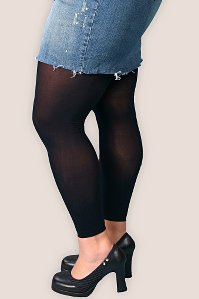 As for footless tights and leggings – I must admit I sported them quite a lot last season to mixed reviews (by others, and by me each time I looked at myself in the mirror). If you are here for basic fashion advice, then I am telling you to NOT buy footless tights unless you plan to pair them with boots (sometimes is more comfortable and no one is the wiser). Footless tights can look very cool, or terribly terrible. They cut the line of the body, they can make you look like a fashion victim, and they pair with very few classic OR current styles.