This article may contain affiliate links; if you click on a shopping link and make a purchase I may receive a commission. As an Amazon Associate, I earn from qualifying purchases. 
Well it's Valentine's Day, I should be writing about love and how to dress yourself in red and pink and make some weird craft incorporating hearts, right? Instead I'm taking the day to share what I've been loving lately. Consider it a bit of a Treat Yourself post, with beauty and pampering things I have been loving the past freezing snowy weeks: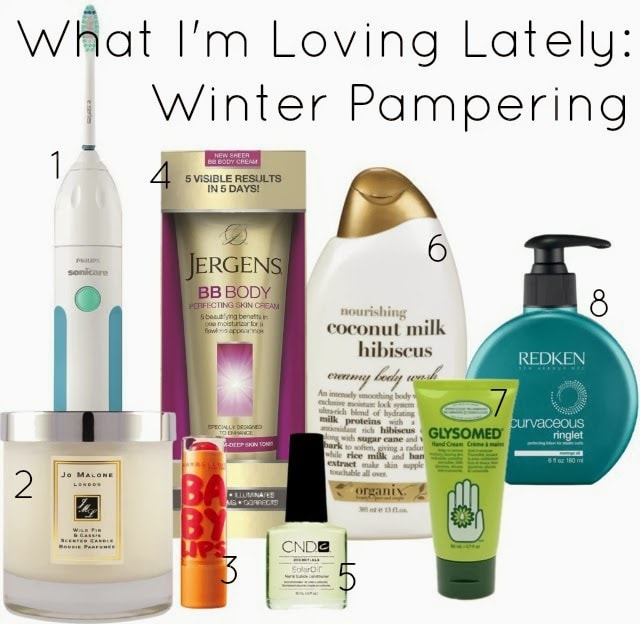 1. Phillips Sonicare Essence Toothbrush. Karl has used an electric toothbrush for years, but I didn't get how it was any better than my manual brush. I always have good dentist visits, haven't had a cavity since high school. When we went to Norfolk for a wedding, Karl thought he forgot his toothbrush at the hotel and went to Target to get a new one. Then we found his toothbrush under a seat in the car. Guess what I got for Christmas?
Well it may seem like a lame present, but I now understand the obsession. I have always loved brushing my teeth, I love the slick feel of clean teeth, the crisp minty feel in my mouth, and after a childhood with dental issues it still feels awesome to have a hygienist or my dentist praise me on my tooth care. But with an electric toothbrush, it's a whole new ballgame. My teeth and mouth feel cleaner, that minty fresh feeling lasts longer, and it seems to help with that older-person-sticky-tooth issue that I never understood until this past year. I love how it is timed, I can't scrimp on my brushing any more. Also, I think my teeth are whiter. Why did I wait so long to switch to electronic?
2. Jo Malone Wild Fig & Cassis Candle. Every Christmas I ask for ridiculous luxury items I wouldn't otherwise own. Fancy coffee table books, expensive body lotions, and designer candles. This Christmas my mom bought me the Jo Malone Wild Fig & Cassis candle and I am in love. I have always enjoyed fig-scented candles (currently have the Voluspa Maison Noir Black Figue & Chypre one in my living room), and this one is equally as elegant, not too feminine for Karl, nice year-round, and just plain lovely. The candle not lit will still scent my entire bathroom, lit it fragrances our large bedroom and part of the attached home office.
3. Maybelline Baby Lips. This is not the most hydrating lip balm in my arsenal, but it's the one I reach for more often. While in the summer I hate overly fragrant lip balms, come winter they are a treat. The Cherry Me Baby Lips leaves a bit of color, enough to not make me look like a corpse, a natural shine, and a fun fruity scent that isn't too sickly sweet. On weekends it's usually my sole lipcolor; I keep it in my junk drawer and put it on as soon as I get home from work and each time I pass through the kitchen. Emerson loves the smell of it and often asks to smell my lips when I'm wearing it!
4. Jergens BB Body Skin Perfecting Cream. I used to be a tanning bed addict, I don't tan any more, I'm quite the klutz, and I'm not getting any younger. Put all of these together, and I have some rough looking legs. Dark knees, scars, bruises, dark spots, and veins, oh my! I don't like self-tanners, too much time and opportunity for my klutzy self to make a mess. So when I heard about Jergens' BB Body Skin Perfecting Cream I immediately ordered myself a tube from Drugstore.com. It claims to change your skin in five days. I have been using it a bit over a week and while I don't have perfect legs, my skin does look better. A bit more even, a bit less translucent. I've also been using it on the rest of my body and while I haven't seen much of a change on my arms, I do think my hands look more even and younger, and my chest/décolleté looks better. Since it's so cold and dry, I use it with another moisturizer. After my shower I slather on a thick lotion and apply the BB Body Cream once my skin is dry; I reapply it as I am getting ready for bed or when I wake up (depends on shower schedule) so I get an application twice a day.
5. CND Solar Oil. I've been using this stuff on and off for years, but right now with this cold weather, it's a best friend. I keep it in the console of my car and apply it at a long stop light. I've been driving more often lately since I have had to get into work early, so I end up using this at least twice a day. No dry, cracked cuticles; in fact my fingers look softer and younger than they did this summer. It absorbs quickly, has a very faint scent, and can handle getting cold in the car.
6. OGX Nourishing Coconut Milk Hibiscus Creamy Body Wash. If you shop CVS, this body wash is often on sale 2/$5. When I see it on sale, I stock up. Insane price for a yummy smelling hydrating body wash not tested on animals and free of sulfates! It hydrates, makes a great bubble bath, and a little goes a long way. And the dork in me finds the bottle very elegant, not typical of drugstore products. Seriously, this stuff could go for $25 at Sephora and no one would bat an eye, it's just as good of quality and fragrance.
7. Glysomed. Oh how I love you, dear Glysomed. My sister told me about this hand cream a year ago and I have been an addict since. Karl isn't a big fan of herbal, medicinal, or strong floral ("grandma") scents, so I'm careful what I put on before we go to bed. Glysomed gets an approval rating from Mr. Gary ("you smell pretty"), and an approval rating from me for effectiveness. It absorbs super fast, and I can wake with hands just as soft as they were after applying before going to sleep.
8. Redken Ringlet. I've had this product for a long while. I bought it hoping it would give me beachy waves and soft curls this summer but it just seemed to weigh down my hair. When I got my hair cut for the curls, I was using a blend of it and mousse to get definition and height. Now that it's winter, I tried Ringlet again for soft waves and curls and it works beautifully. I put about four pumps in my hands and apply to wet hair straight from the shower. I twirl a few sections to get the curls going, and occasionally scrunch as it is air drying. I can wash my hair at 5:00am and when I leave at 6:30 it's dry and really pretty natural waves and curls without crunch, grease, or going flat in a half hour. It also isn't so heavy that my hair looks greasy or dirty Day 2. It's my weekend hairstyle go-to, and a perfect solution for early workday mornings.
Follow Me | Twitter | Facebook | Instagram