This article may contain affiliate links; if you click on a shopping link and make a purchase I may receive a commission. As an Amazon Associate, I earn from qualifying purchases.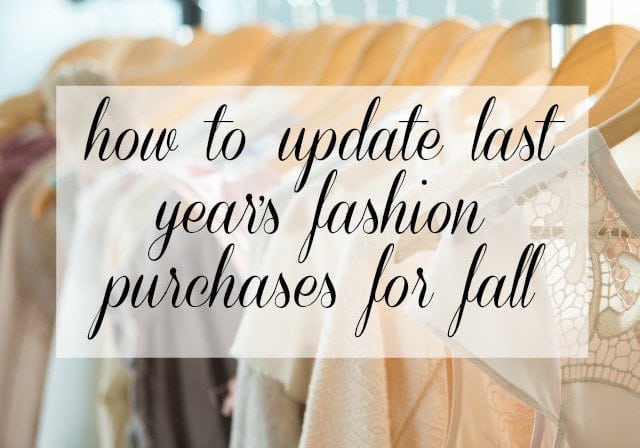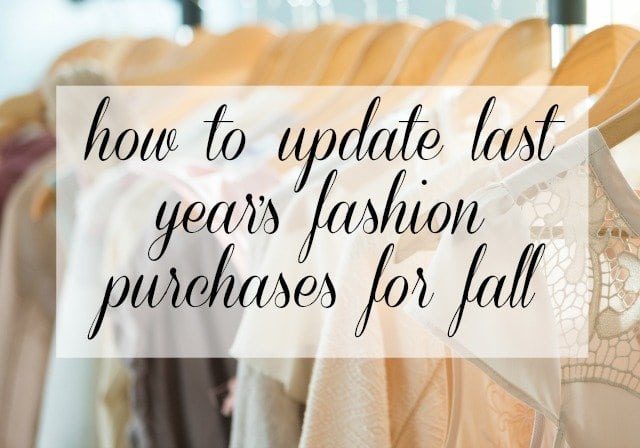 Don't want to buy a whole new wardrobe but want to look current?  How can you make your old riding boots, jeggings, or dresses look fresh and modern for Fall 2016?  Below I share ways to wear your favorite pieces from last fall but make small tweaks to give them a new life for the new season…
How to Update Riding Boots for 2016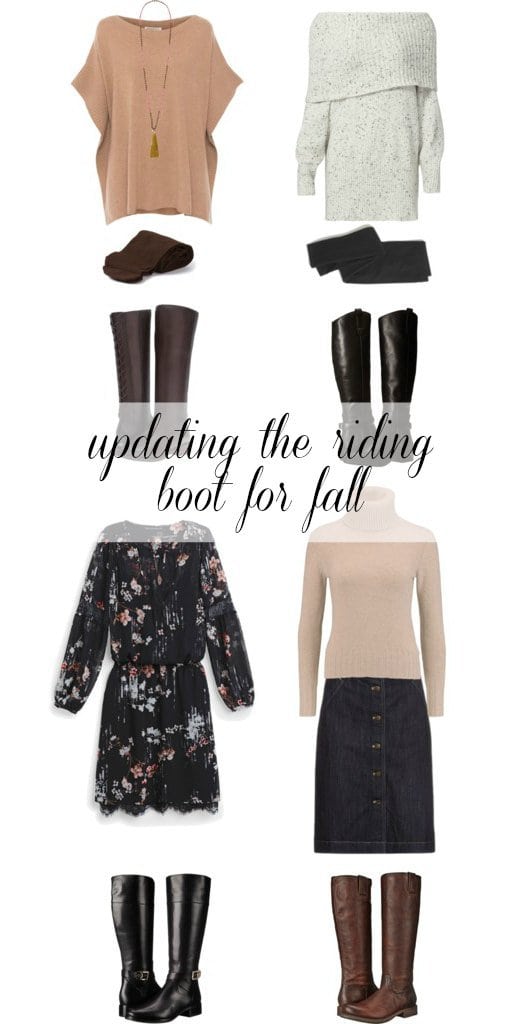 Shop Similar: poncho tunic | tassel necklace | off the shoulder tunic | floral dress | turtleneck | denim skirt
For the past few falls and winters, an easy go-to has been a pair of skinny jeans tucked into tall boots. Riding, moto, and all other knee-high styles have been a wardrobe staple. Paired with anything from a ruffled silk blouse to a puffer vest, this has been a safe bet as well as a warm one. While you don't need to toss your riding boots, consider wearing them with something other than jeggings:
Sweater dresses and long tunic sweaters are in style this season, and an easy way to transition your riding boots to a newer silhouette. Paired with sweater tights or leggings, style with a longer necklace, wear a turtleneck underneath, add a gauze scarf and embrace the current trends of athleisure, minimalism, and volume. This fall neutrals are hot; instead of styling with brights or jewel tones consider having your whole look shades similar to your boot to keep it on trend and looking luxe.
Shop Sweater Dresses and Tunics:

Dresses and skirts are great with tall boots; the key is to go short or long. A denim mini can look very chic with tall boots, but may be hard for many to carry off. Shifts and other dresses with volume look great with tall boots; have at least your kneecap exposed between both for balance. Take advantage of the '70s trend and pair riding boots with a-line midi skirts; keep it modern with neutrals and incorporate a current trend (turtlenecks, off the shoulder, denim, etc.) so it looks purposeful.
How to Update Skinny Jeans for 2016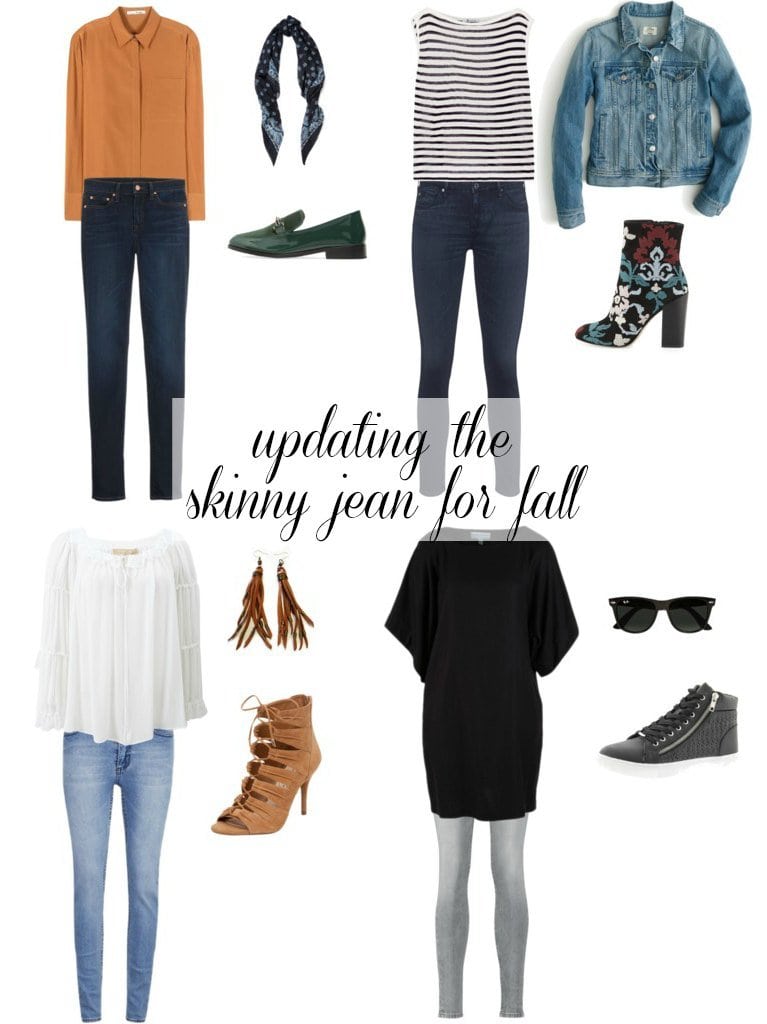 Shop similar: blouse | scarf | loafers | striped top | denim jacket | embroidered boots | peasant top | tassel earrings | lace-up booties | tunic dress | sunglasses | sneakers
Skinny jeans have been a mainstay for a couple years now. This season, silhouettes are getting more relaxed and fuller denim styles are popping up at all retailers. That doesn't mean you have to toss all your skinny jeans. Here's some ways to restyle your jeggings and skinny jeans for an on-trend look for Fall 2016:
Balance the skinny silhouette with volume to look on trend this season. Jackets, coats, longer sweaters, tunics, and even dresses are a great pairing with skinny jeans this fall. Tuck in a traditional button-front shirt and let it blouse out a bit for volume; style with a pair of flat loafers or brogues and a silk scarf at the throat to update the look for 2016. Pair denim with denim for a fresh look for fall. A slouchy oversized denim jacket looks great with skinny jeans; use the single-color ensemble to highlight the statement boots that are so hot this season. Embroidery, velvet, lacing, sequins and more are begging to be paired with a pair of skinny denim jeans.
Shop Blouses and Shirts:

The boho look is in with voluminous blouses and peasant tops. A pair of skinny jeans in a lighter wash are a great pairing for these full tops; again use the skinny jean as a way to highlight your footwear. A ghille pump or bootie is a hot trend and a great way to customize your fit for narrow or wide feet. Instead of a necklace, consider a statement earring with tassels to complete the look.
Shop Statement Boots:

The '90s are back and with it is dresses over jeans. Unlike the '90s when we paired babydolls and silk slips over flares, this time look for shifts and tunics with volume to slip over your jeggings. While last year the look was with riding boots or ankle booties, this season consider pairing with a chunky-soled creeper or on-trend sneakers for a fresh feel without losing comfort. Get a rocker feel with a pair of classic Wayfarers, some beachy waves, a smoky eye, or a funky ear cuff to keep the look from being too loungewear.
How to Update Dresses and Sweaters for 2016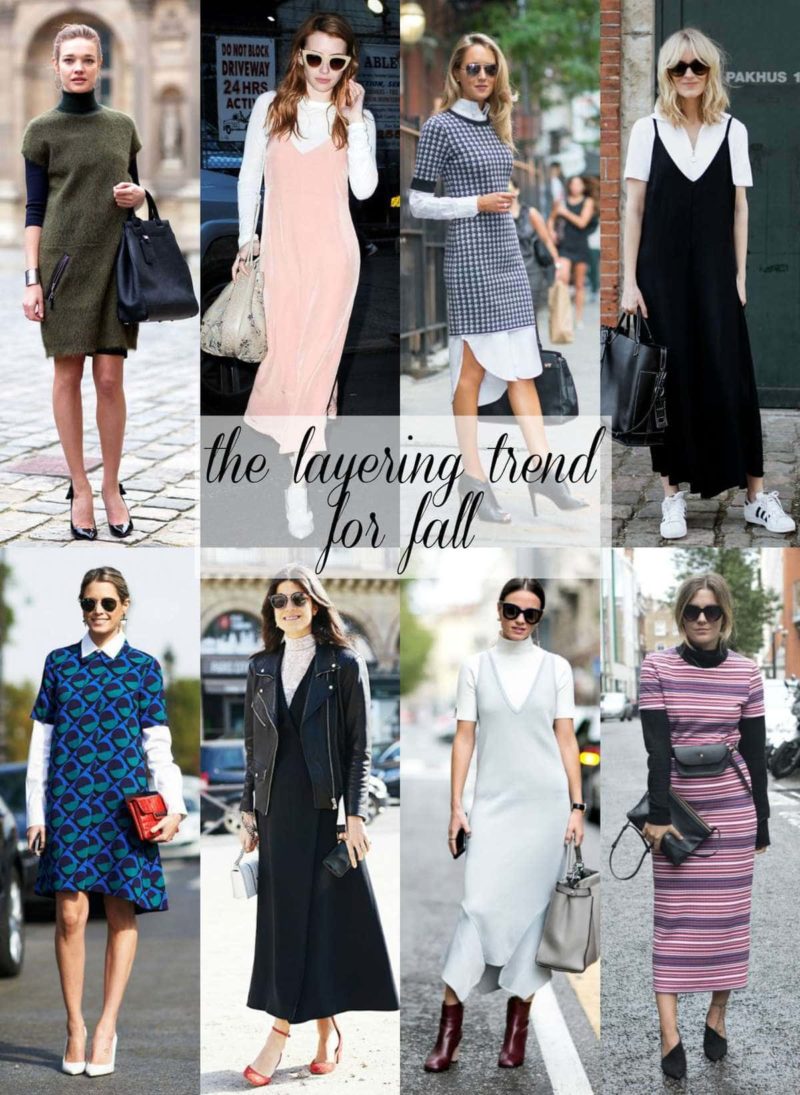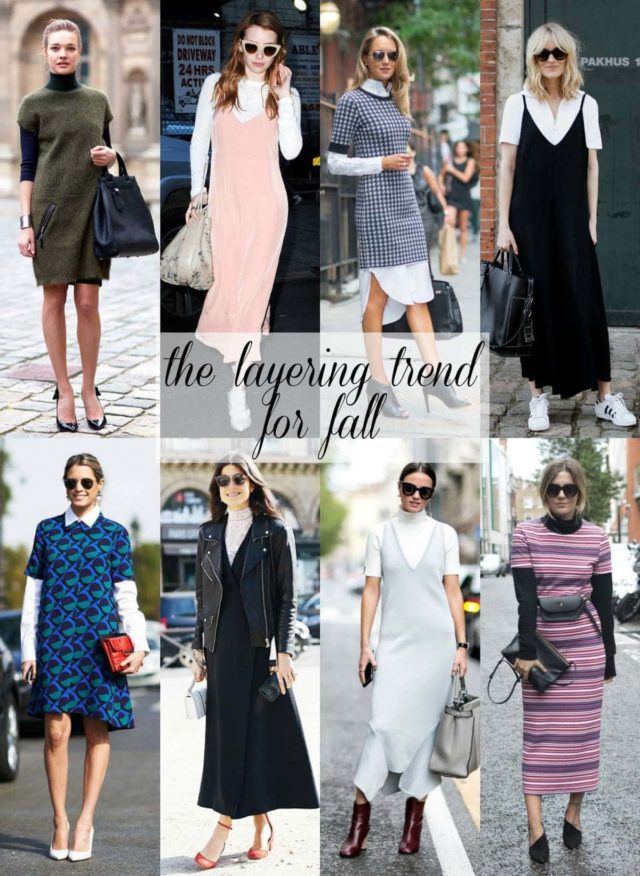 Layering is key this fall, isn't it great when a trend is also practical? Stay warm and cozy this fall and winter with the return of wearing shirts and turtlenecks under most everything. Give your shifts and sheath dresses a new life and extend their life a bit longer into the season with these additions. And if you don't like the bulk of a full layer, you're in luck. False collars, previously known as dickies and now known as bibs are a way to get the look for less money and less fabric! This is a trend that also works with sleeveless, short sleeve, and long sleeve sweaters. As for those loose shirtdresses that started showing on racks late summer? Go ahead and pair with boots, but also try putting that entire dress under another dress for a completely different effect.
Shop Turtlenecks, Bibs, and Layering Tops:

I haven't been this excited about fall trends in a long while. These are trends that won't be a flash in the pan, they're wearable, comfortable, functional, and can be accomplished at most any pricepoint. In summary:
Consider investing in a tissue-weight turtleneck or a bib to change up the look of dresses and sweaters
Balance skinny jeans with volume – dresses, tunics, looser jackets, shoes with block heels or platform soles
Separate the riding boots from the puffer jacket and jeggings. Pair with sweater dresses, tunics, long cardigans and go more Obi Wan Kanobi and less Han Solo.