This article may contain affiliate links; if you click on a shopping link and make a purchase I may receive a commission. As an Amazon Associate, I earn from qualifying purchases. 
Whether you're working at home on the computer or chasing after little ones, this is a capsule wardrobe for you. I've been working from home for the past few months and this capsule wardrobe is based upon what I have been wearing and found the easiest, most stylish, and versatile for the occasions that come up when working from home. Comfortable, available at a variety of price points, and machine washable, this is also a great capsule wardrobe for stay at home moms and weekends.
Capsule Wardrobe for Working from Home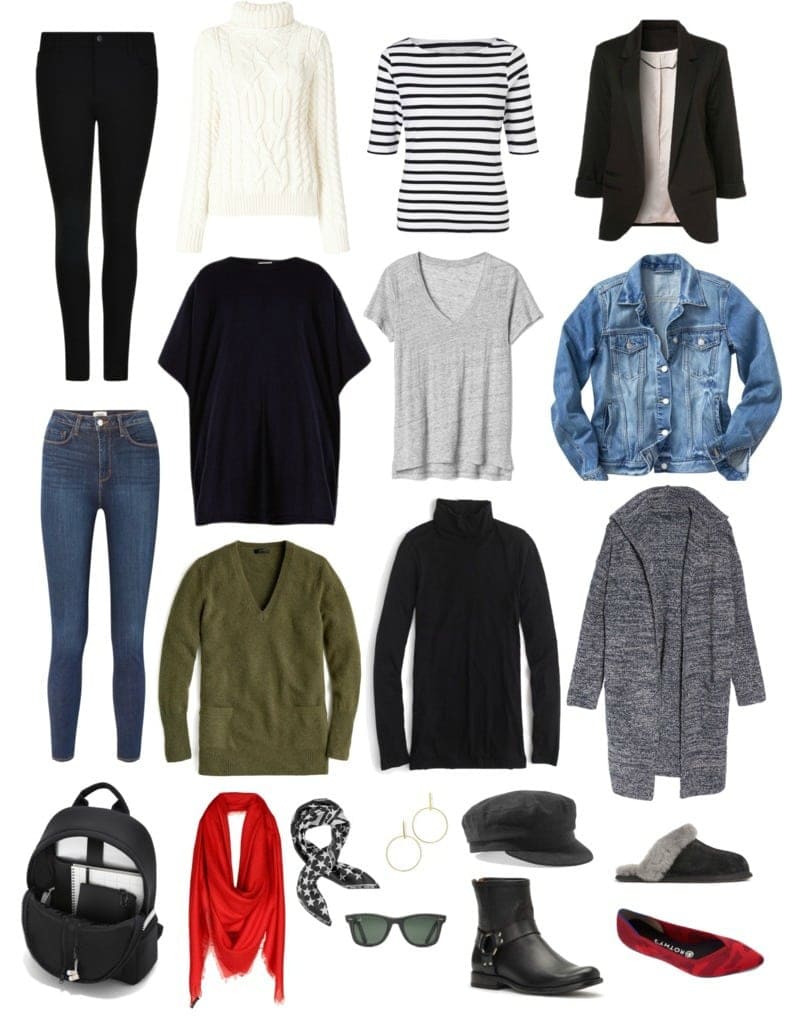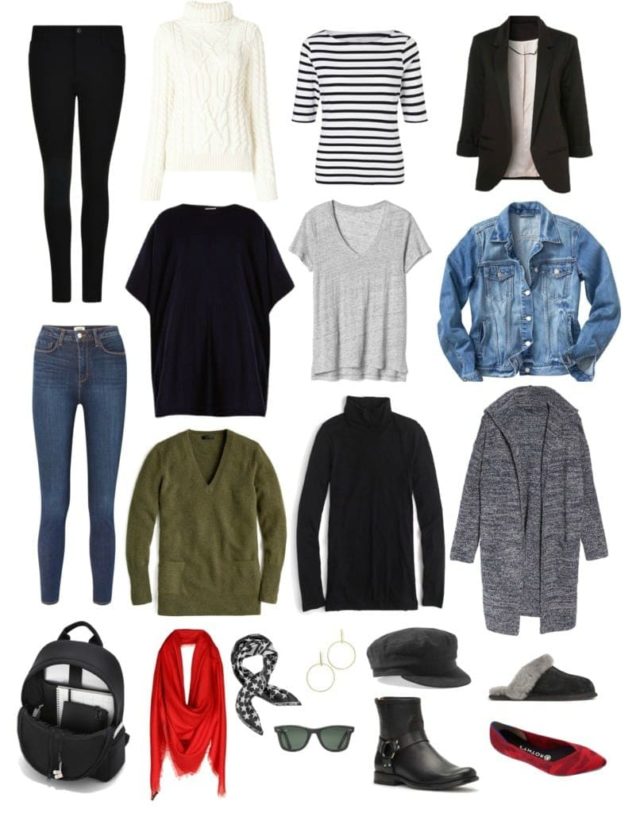 Shop Similar:
Ponte jeans (plus option) | Stretchy jeans (plus option) | Refined backpack | Cableknit sweater (comes in a good range of sizes) | Poncho-like sweater (plus option) | V-neck tunic sweater (comes in a good range of sizes) | Striped knit (plus option) | V-neck knit (plus option) | Turtleneck (plus option) | Ponte blazer (plus option – I own this one and love it) | Denim jacket (plus option) | Sweater coat (plus option) | Pashmina | Square scarf | Statement earrings | On-trend yet classic sunglasses | On-trend cap | Sturdy boots | Warm slipper with rubber sole | Pointed-toe comfortable flats
Sample Outfits from the Work from Home Capsule Wardrobe
With 20 pieces including shoes and accessories I created 30 outfits to get you through a month of working from home, coffee dates, lunch meetings, and more. Click on any thumbnail graphic in the gallery to see the full-size images and descriptions. Hover over the images to find arrows to advance and go back within the gallery. If there's an ad in the way, x it out to read captions. Click the X at the top right of an enlarged image to close the gallery and return to this blog post.
Neutrals with a Pop of Color for a Cohesive Capsule Wardrobe
This wardrobe is primarily neutrals with a pop of red. Neutrals are great because they are less memorable, easier to mix and match, and are better with hiding stains. With a base of neutrals you need fewer clothes, and therefore can possibly afford better quality and be more careful with buying replacements that are truly the right fit, style, and type for you. Neutrals don't have to be black and grey; consider navy, olive, burgundy, dark teal, or camel. While I used red as a statement color, this could really be any color or mix of colors you desire.
Machine Washable and Durable Capsule Wardrobe Pieces
Since this capsule wardrobe is based upon many items I already own and love, I can give some backstory. I have the same ponte jeans I linked to; they're heavier weight than leggings and with a proper fly, buttons, and jean detail it's a bit more coverage when not wearing long tops and sweaters. I've thrown them in the dryer without issue. I have a different cardigan from Barefoot Dreams (this one) and it has been washed several times without issue, but I line dry it. The sweater I linked to is a crewneck, which I have as well as the turtleneck version (no longer available). I trust LL Bean and Lands' End for great sweaters that can take a beating. I've never been much of a turtleneck fan until I worked from home. It's a way to stay cozy without a lot of bulk; Lands' End has great layering turtlenecks as does J. Crew. I have both ponte blazers that I linked to above; only one I have washed and it's the plus size option and I line dried it. However, other readers have told me they have laundered both without issue.
Accessories are Essential to any Capsule Wardrobe
Accessories are what can take these pieces from sloppy to chic. Dark sunglasses in a cool yet not too trendy style can hide dark circles or lack of makeup. A pair of statement earrings that aren't too trendy can make a messy bun or updo look purposeful. I'm a big fan of caps to hide a bad hair day or outgrown roots. A baker boy cap is a popular look this season and easy to find at any pricepoint; berets are also a great option that may better fit your personal style. These will look more chic than a baseball cap or beanie. While in the house, a pair of slippers may make the most sense; choose a style with a rubber sole so you can wear them to get the mail, let out the dog, or sign for that FedEx package. When leaving the house, you can still be comfortable without looking like you just left the gym. A pair of slip-on engineer boots with a low sole at the door can be pulled on over slim jeans and pants and add style to wardrobe basics. I am a fan of Rothy's flats, which are made from recycled water bottles. They have a cushy sole, stretch, are machine washable, and come in a great variety of colors and patterns. Scarves are fantastic for finishing a look. I love a pashmina which adds warmth and a pop of color; a square scarf or bandana is perfect for tying around the throat to make a simple tee and cardigan or jacket look like a proper ensemble. I also often tie scarves like these on the handle of my purse, in my jean's beltloops, or even over my hair to add interest to a look.
A backpack may seem like an unlikely choice for everyday purse, but I've found it to be the best choice for me since I started working from home. It has a sleeve for my laptop, pockets to organize and compartmentalize, and space to hold small purchases, a snack, things for my family. I like being able to wear it on my back to lighten the load and wear it on my front when on public transportation or in a crowd. I own this exact backpack and with it's all black hardware, it's very sleek looking and works well with these outfits. If black isn't your thing, this bag comes in a variety of colors, all with matching colored zippers and hardware.
That's not to say you won't find me some days working in my pajama pants or loungewear. However, by having pieces like this in my closet it makes it easier to quickly slip on an outfit before taking my daughter to school or powering on my laptop. I find when I feel pulled together I perform better, and I am more willing to leave the house to socialize, get a change of environment, or network. I know many of you work from home, I'd love to read your tips or hear about your typical outfits in the comments below!