This article may contain affiliate links; if you click on a shopping link and make a purchase I may receive a commission. As an Amazon Associate, I earn from qualifying purchases.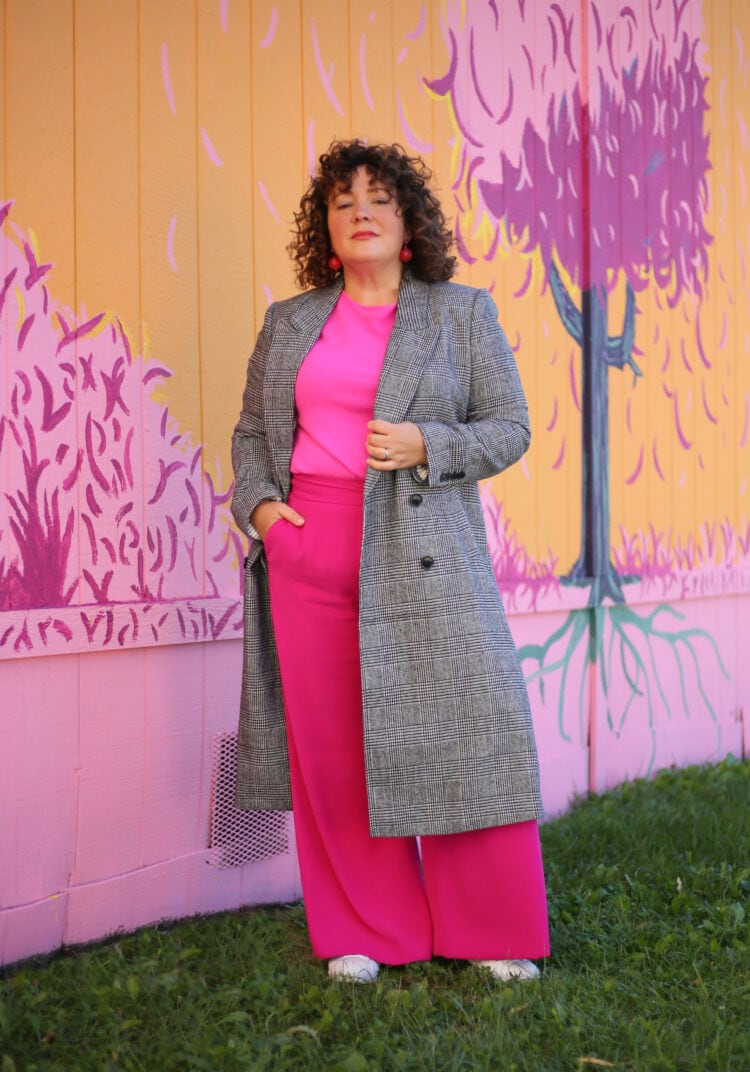 As I mentioned in last week's Friday Shop, I did a bit of shopping when the latest Target Designer Collection dropped last month. My order arrived last week and I did a full review on Instagram Stories (I saved it as a Highlight called Target Designer which can be seen on a PC or mobile). I ended up only keeping the Rachel Comey earrings and the Nili Lotan x Target plaid overcoat.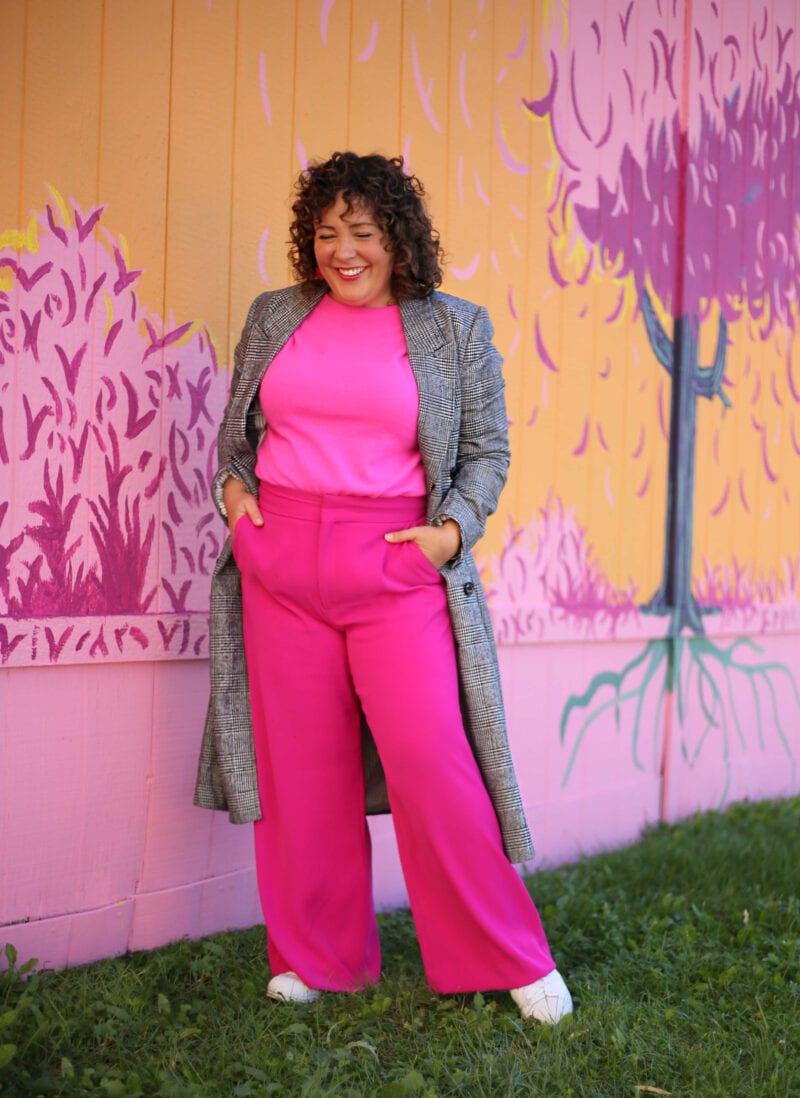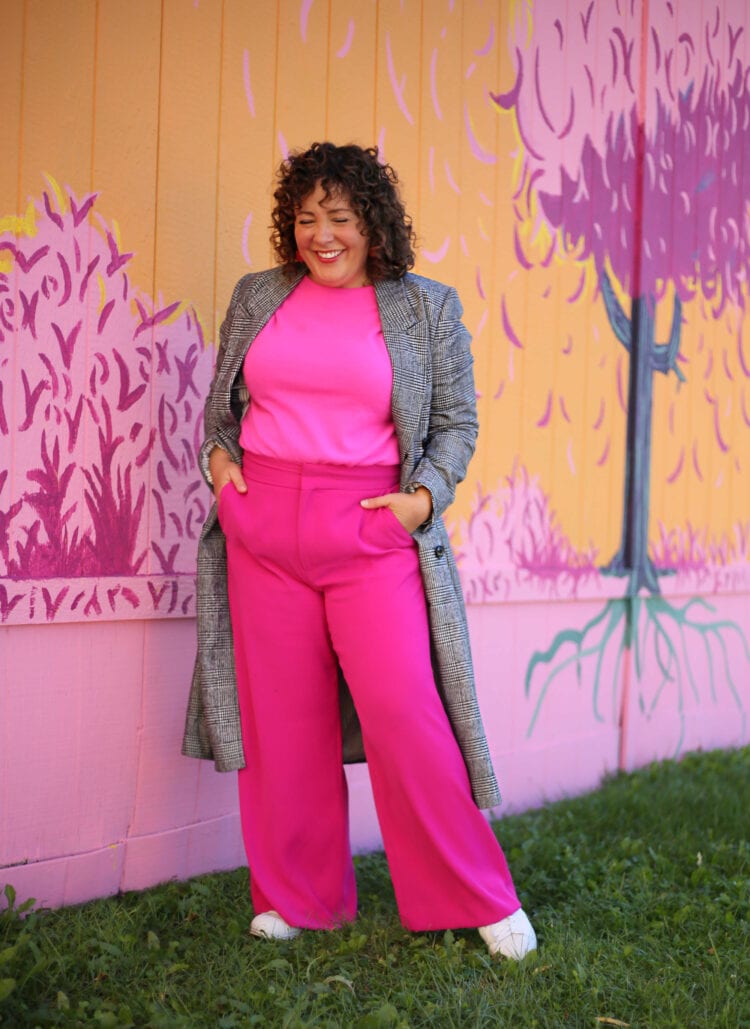 I joked on Instagram Stories that this coat feels very John Bender in The Breakfast Club; my husband also said it was also very Lloyd Dobler in Say Anything. I have no problem with either of those iconic references. And while I will most likely rock this fall-weight coat with jeans and Bretons or band tees, for its inaugural out-of-the-house moment, I thought it would be fun to pair the menswear-inspired item with some soft and feminine pink pieces.
While I am usually a size 14 and get XL for most outerwear and blazers, I know the Target Designer Collection this spring ran large so I assumed the same this go-round and went with large. I am glad I did, the fit is pretty perfect. The coat is mid-calf length on me but I am 5'3″; I think for most it would hit below the knee to top of the calf. FYI, this coat comes in sizes XXS-4X though some sizes may be out of stock by time this goes live (I wrote this Friday).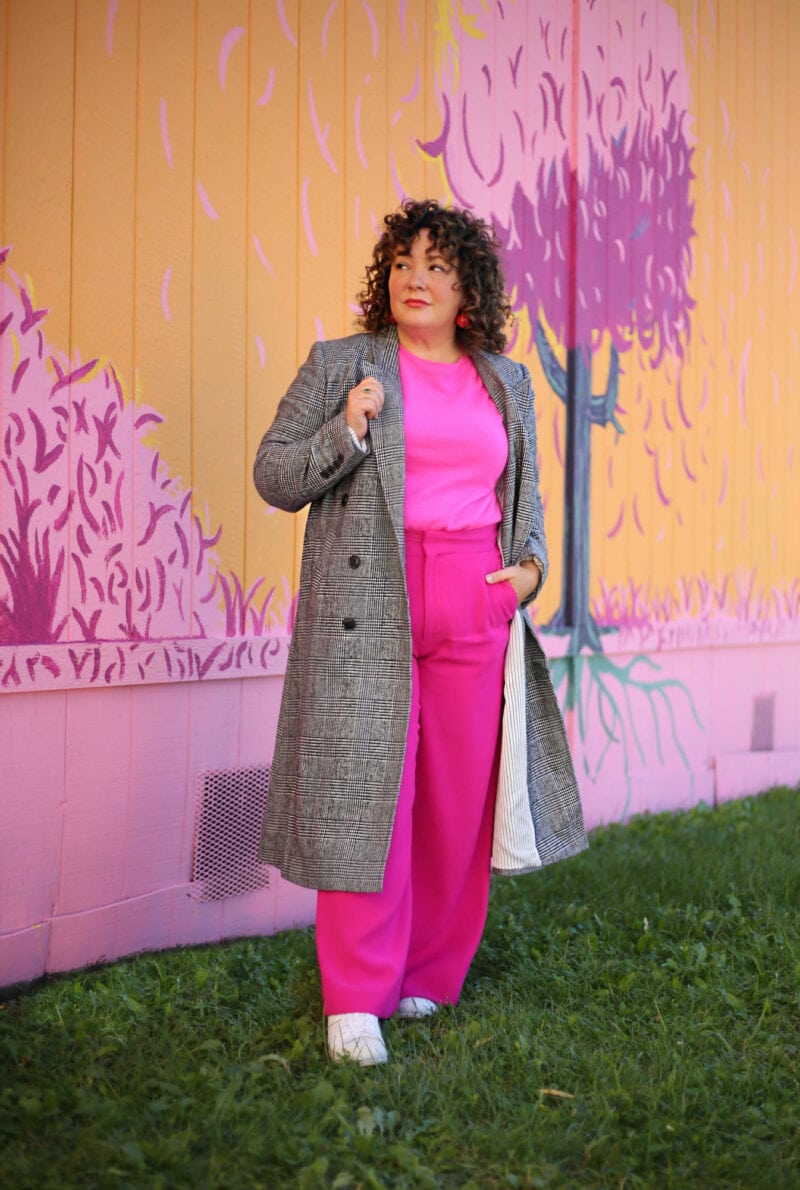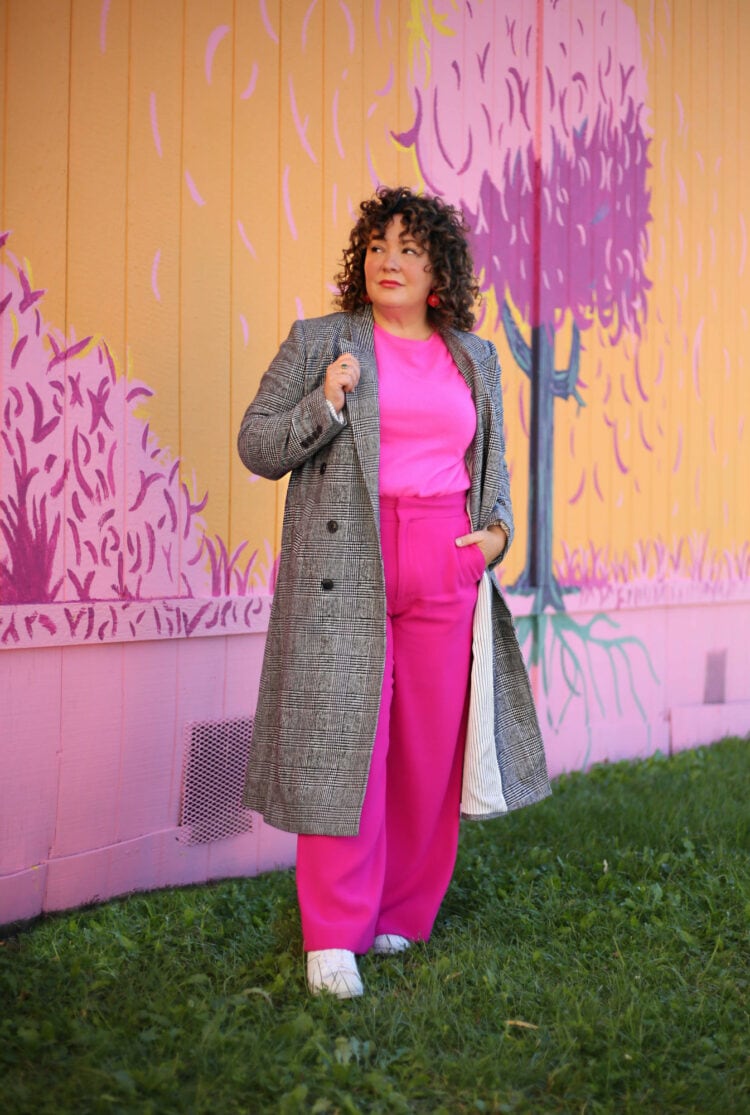 The coat is an $80 coat, I need to emphasize this. On Instagram, many were asking if it was 100% wool, if the plaids lined up, they noticed the lining peeking out a bit, etc. Well, yeah, this is a popular designer's interpretation made for the masses. That being said, even though this is 90% polyester and 10% wool and the plaids don't match up perfectly at the seams (but better than a lot of department store brands), this is a stellar overcoat at a stellar price.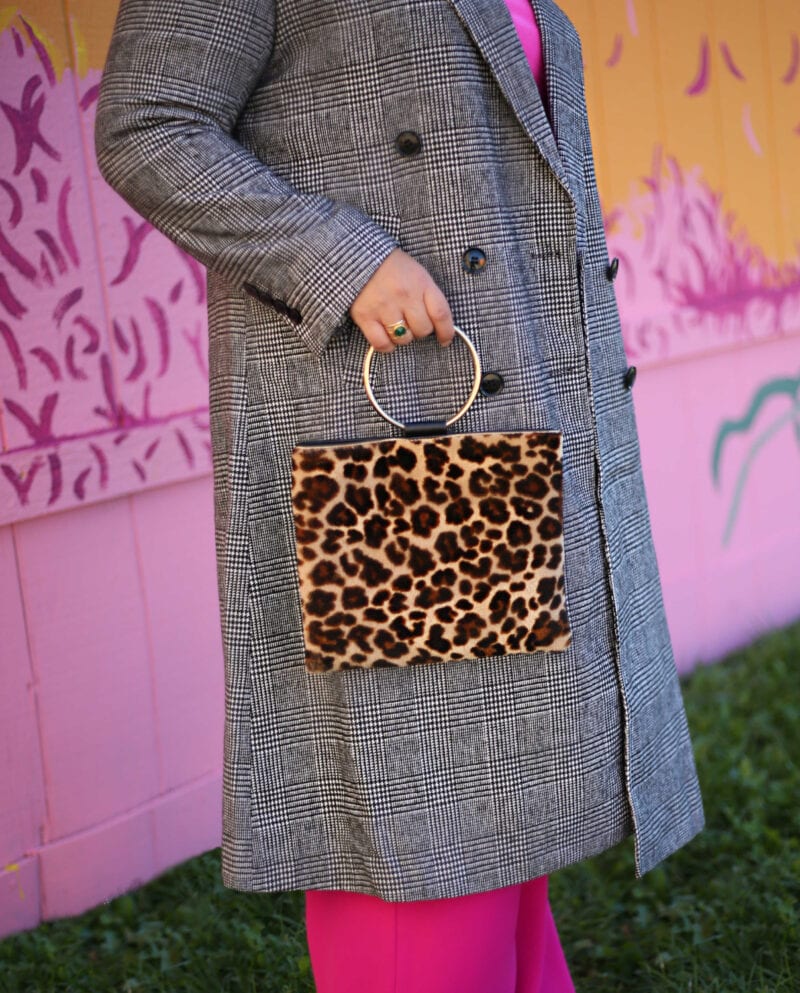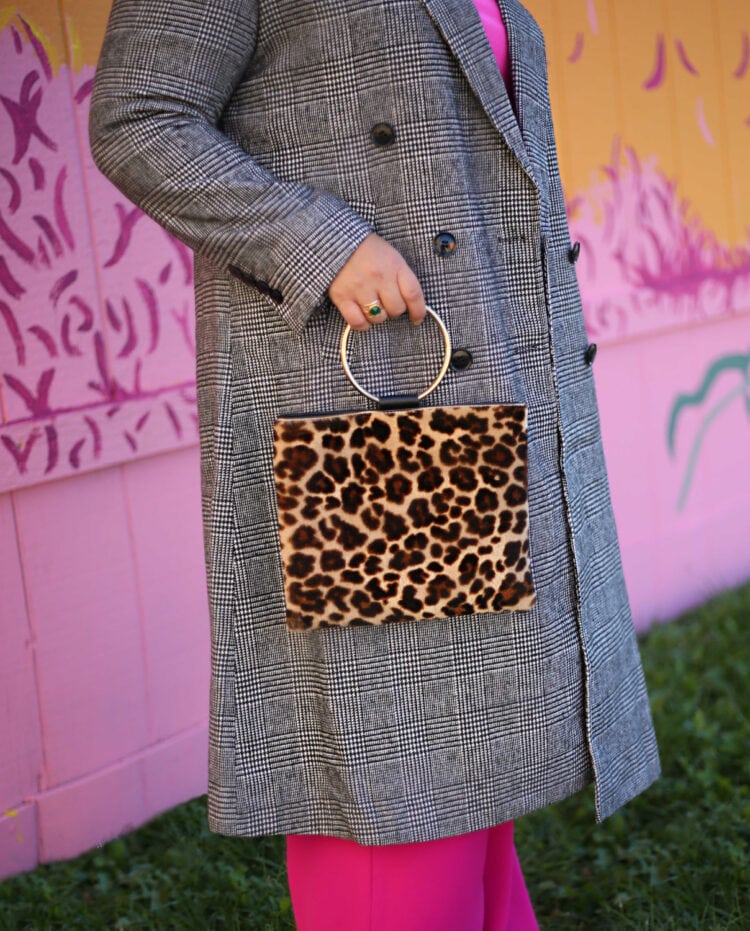 The fit is really good. The fabric, while primarily polyester, doesn't look it. The plaid is subtle, which makes it look more expensive, and is so classic it will be on trend now and stylish next year (and the year after that). This is a coat that you'd pay $150 for if it had a tag from Vince Camuto or Madewell on it.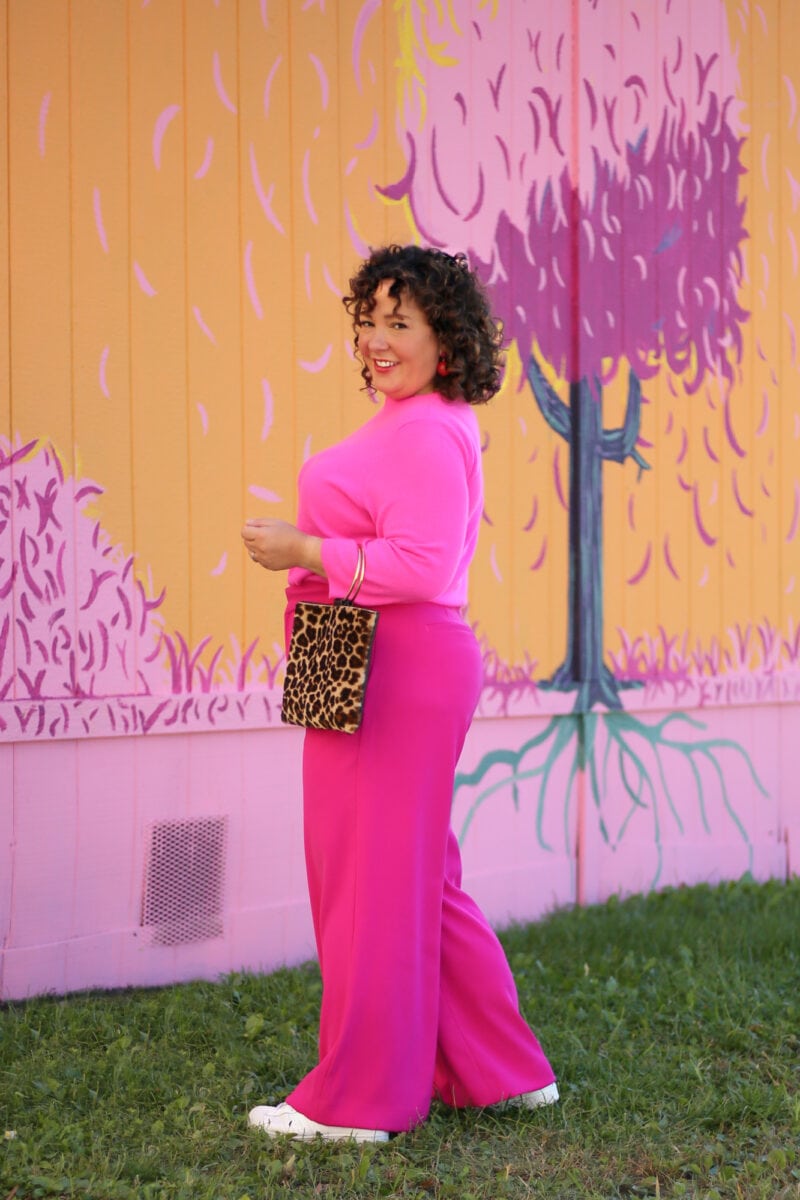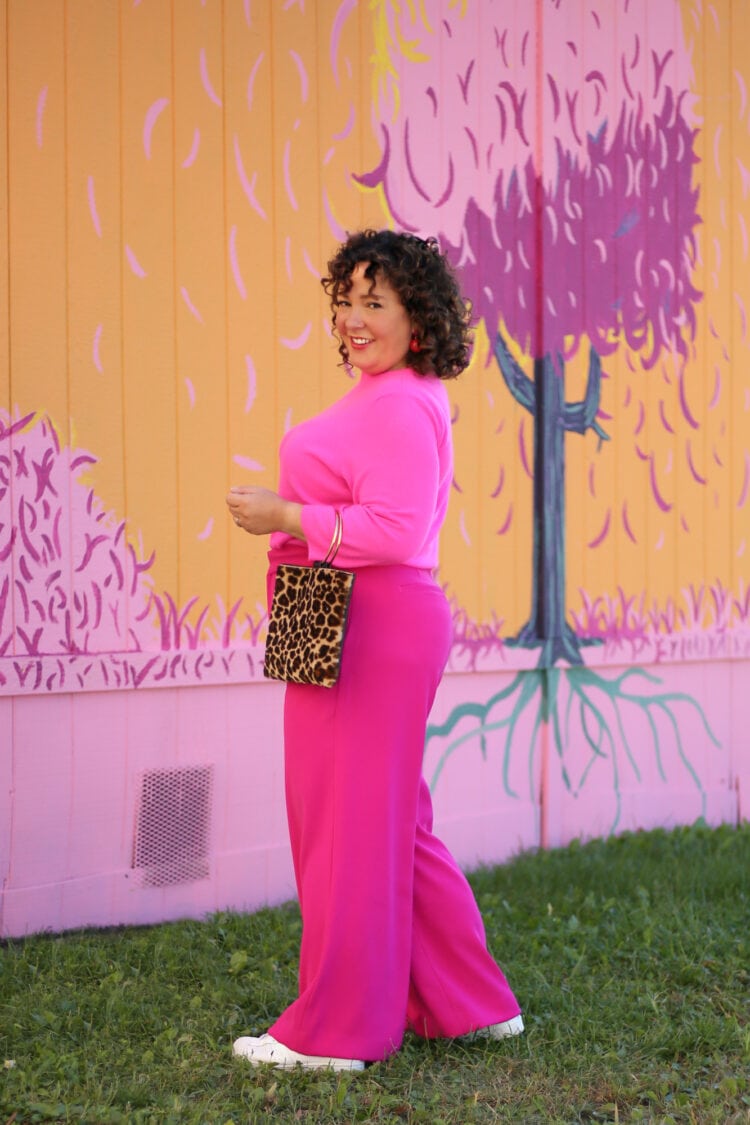 The pants are old; you've seen them before in this post and this post and several others. They are the kind of pants you wish you bought multiples. Since then, I have been returning to Banana Republic hoping to find this season's version of the pants to no avail. This season, I tried these pants. And while they're nice fabric and style, a 14 is too snug for me, a 16 is too large, and the petite and short versions will still need a minimum of 6″ hacked off the bottom to function.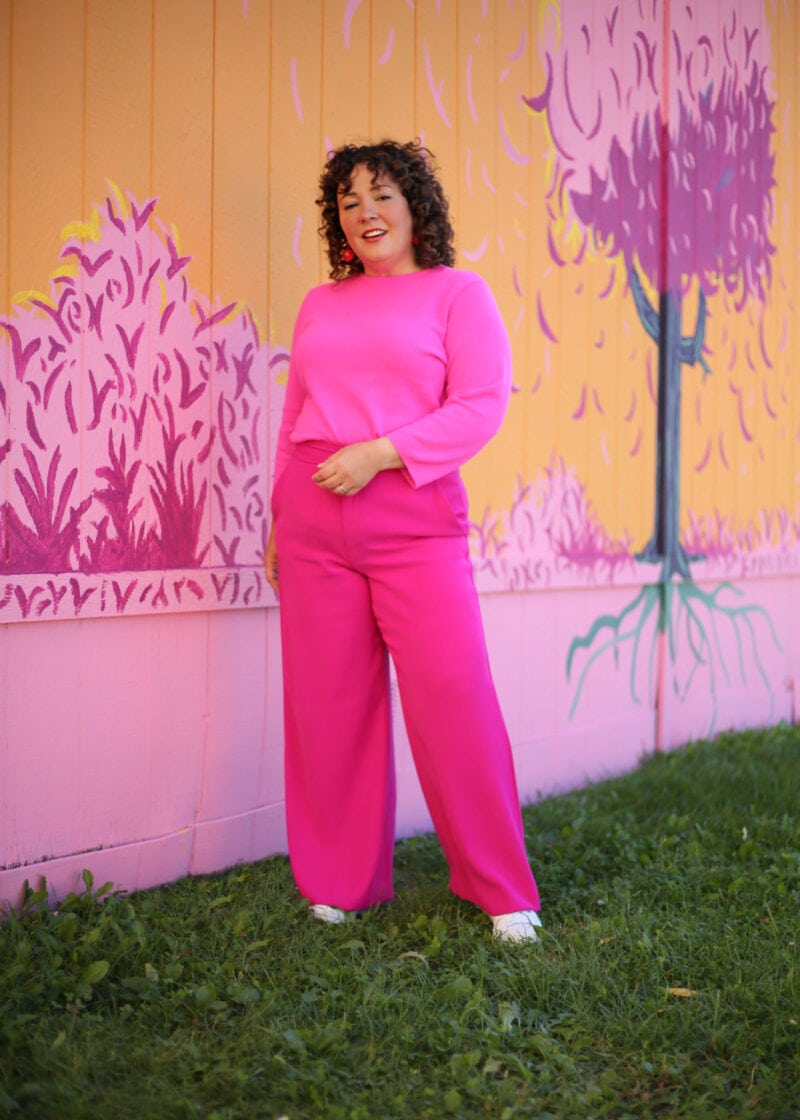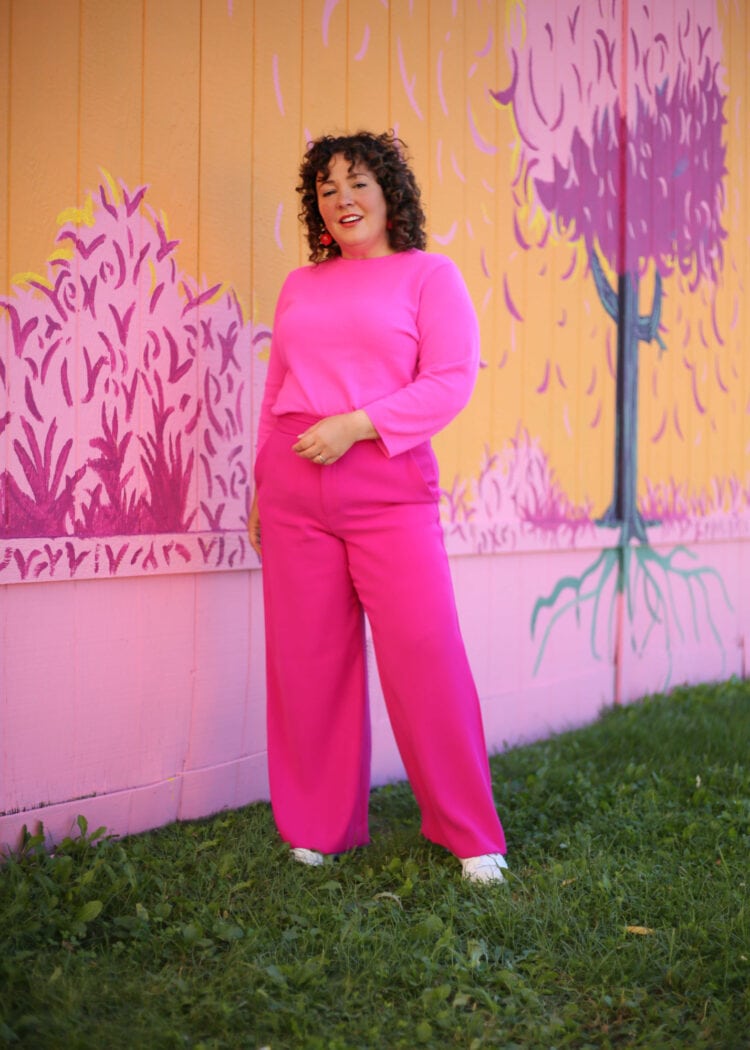 The sweater is this one from Talbots. I went up to a size XL desiring a more relaxed fit and I am glad I did. With the higher rises in pants and silhouettes making me feel more confident to admit I have a soft lower belly, I have been tucking in a lot of my sweaters. This looser fit looks better tucked in while not looking sloppy. My quick tip is to gather the bulk at the small of your back, but I am writing a post detailing how I tuck in sweaters. Stay tuned!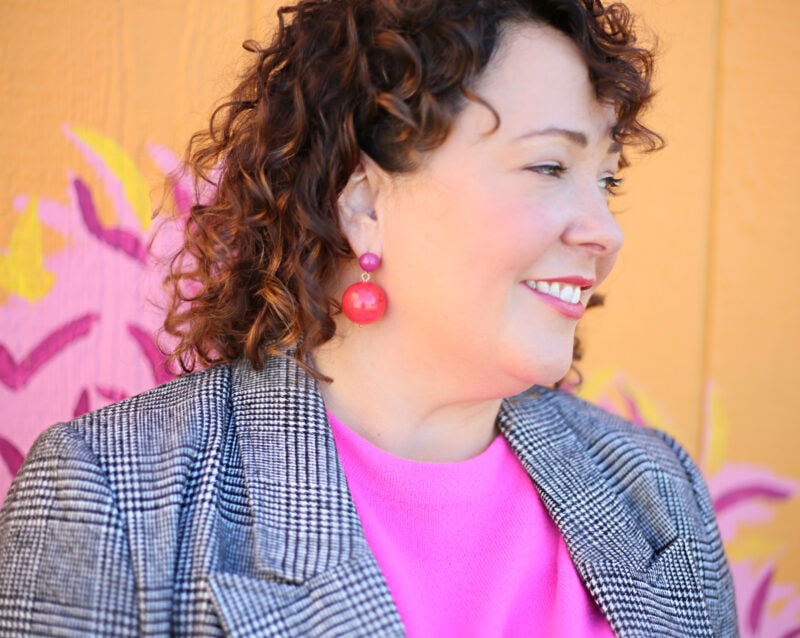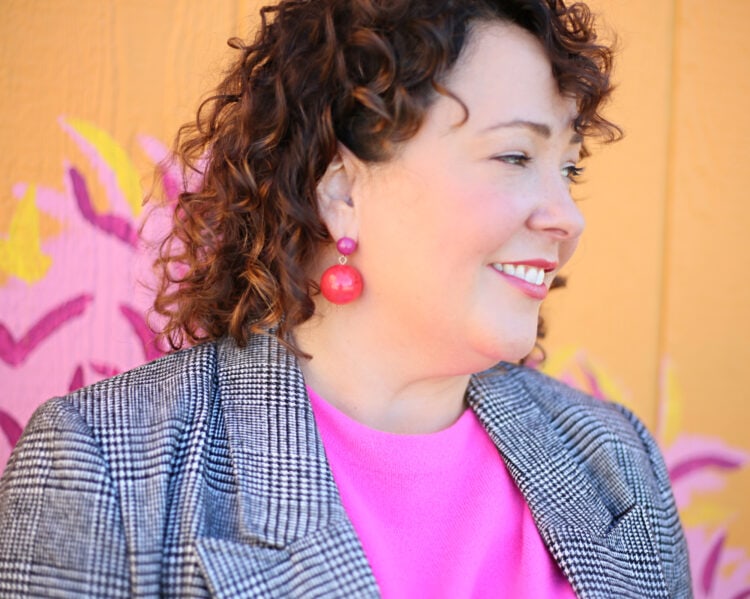 The earrings are also from the Target Designer Collection and are by Rachel Comey. These earrings are super nice quality and quite comfortable to wear. The bag is from Thacker NYC, I've had it for a while (see the previous times I've worn my Thacker NYC leopard pouch). This exact bag is no longer available, but here's a smaller version on clearance for less than $40 and here's the same exact bag but in black leather. And the shoes are my beloved Adidas "Shelltops"! I think they have just the right amount of bulk and structure to work well with wider leg trousers.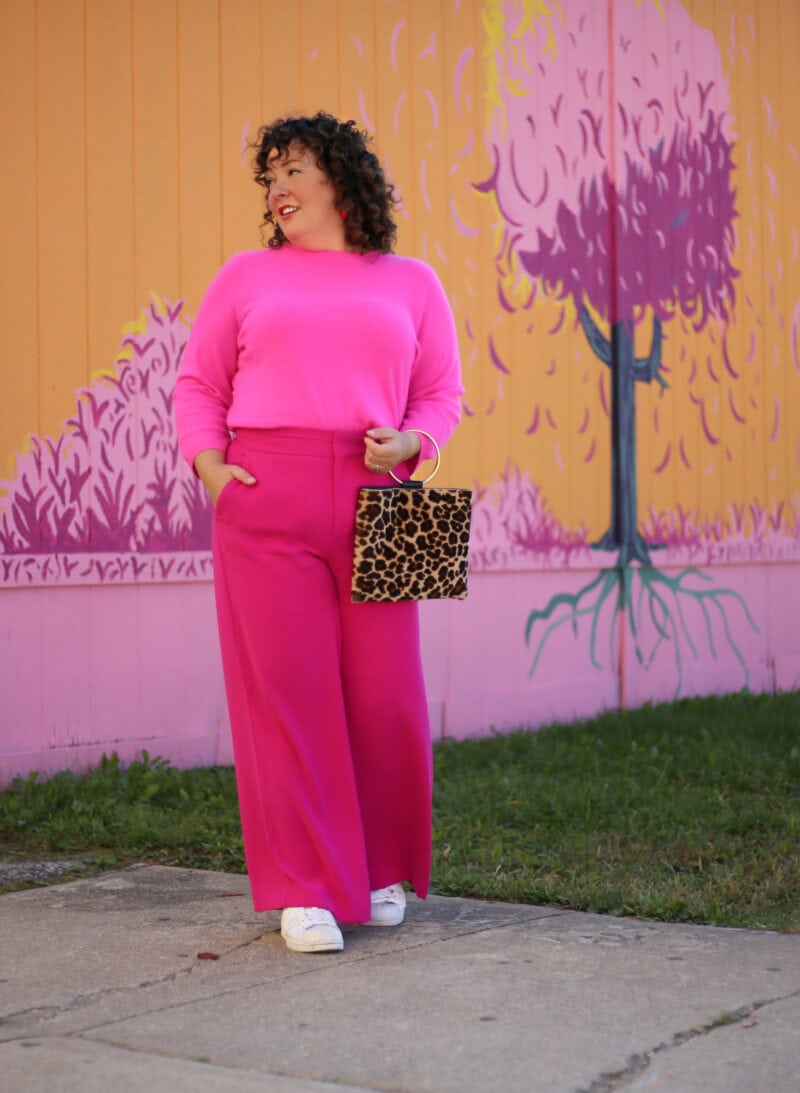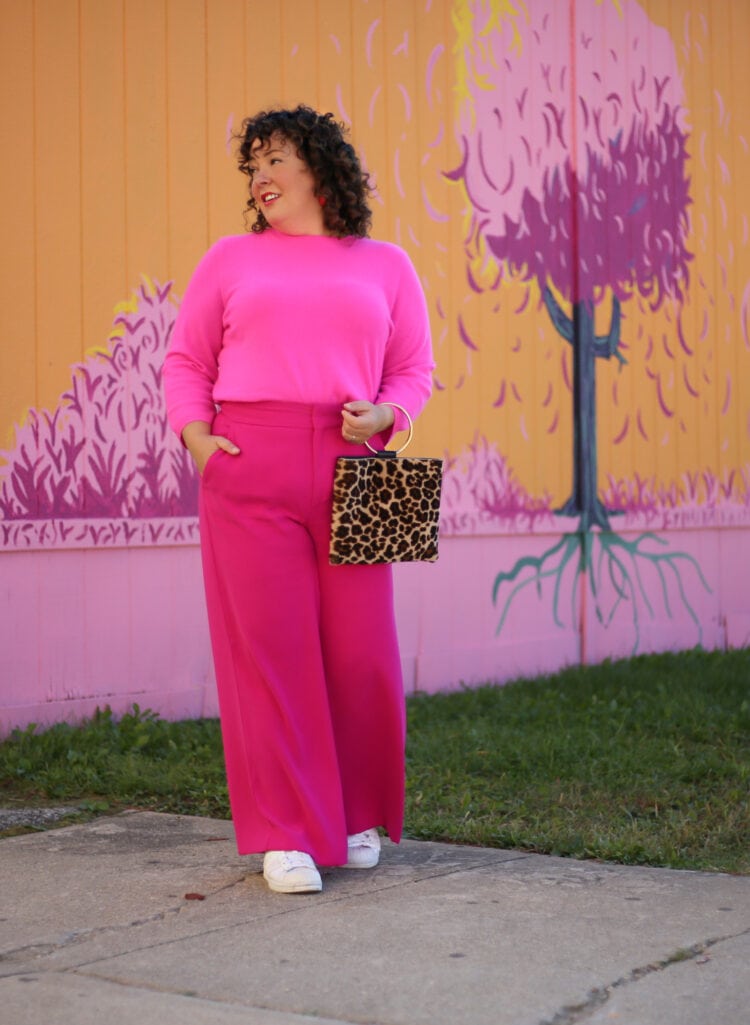 Shop the Look: