This article may contain affiliate links; if you click on a shopping link and make a purchase I may receive a commission. As an Amazon Associate, I earn from qualifying purchases.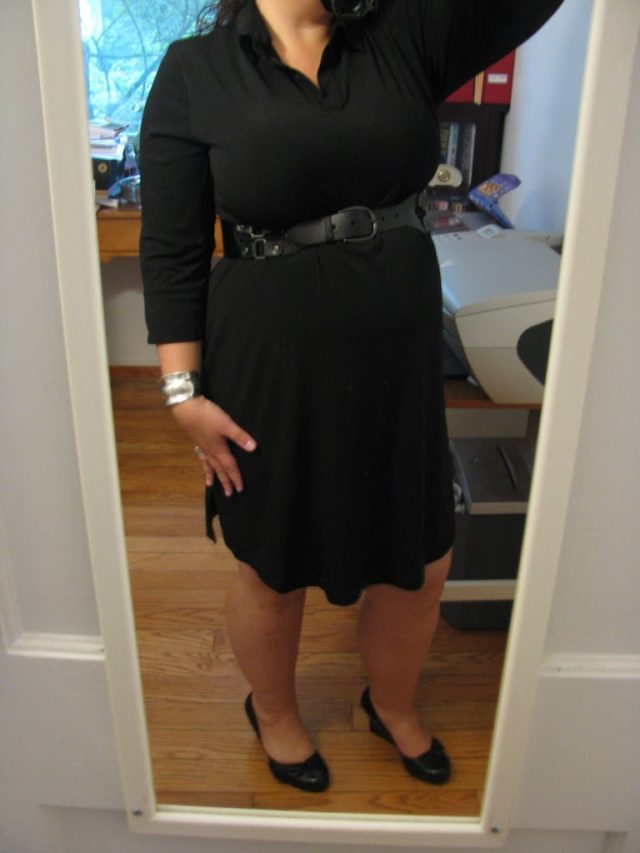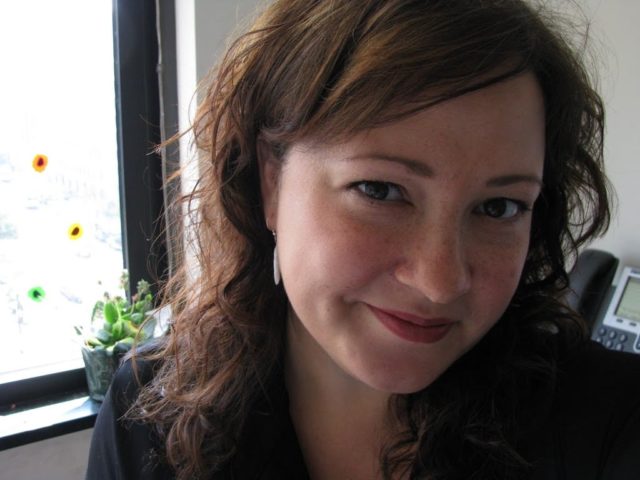 Another picture from once at work since I left the house with wet hair…
Attire:
Liz Lange for Target (awesome score from eBay): Black matte jersey polo-neck dress (removed self-belt)
Gap: Black leather belt
Report: Black leather wedges
Cheeky Jewelery: Silver "Twig" Earrings
Silver cuff
Hair:
Washed and conditioned
Matrix Curl.Life Contouring Milk
Dried bangs with round brush and dryer, rest air dry
Beauty:
L'Oreal: True Match foundation in C3
Nars: Blush in Orgasm
Revlon: ColorStay Lipcolor in Rich Raisin
Maybelline: Brow powder in Dark Brown, UltraLiner in Black
Cover Girl: LashBlast mascara in Rich Black
Shu Eumura: Lash Curler (forget to mention this all the time – use it DAILY)
Burberry London
Friday I left work early and met my sister at the West Falls Church Metro and took the shuttle to Wolf Trap, where we met my husband and some of our friends. We got there early and scored a great spot right at the very front of the lawn. We had dinner of Lebenese Taverna take-out, chocolate chip cookies and pineapple and red wine for the non-pregnant folks. 🙂 The show was pretty fab – it rained for a short while but it wasn't hard enough for us to need to duck for cover. I went mainly for John Butler Trio and they were utterly fabulous. G. Love and Tristan Prettyman were also good. My sister was able to meet John Butler and got his autograph! Yum!
Saturday started with cleaning – it was my husband's cousin's baby shower so while us ladies lunched and ooohed over cute baby things, a few of the menfolks hung out at my house to drink beer and watch The Olympics. So the morning was buffing up the casa. The shower was really nice – his cousin is having a boy and is due at the beginning of October. I wore the dress I wore to work on Monday and my hair… looked the same then as it does today since I was so late from cleaning that I let it dry on the ride to the shower.
The shower was lovely – his cousin was positively glowing, the food was awesome, they made her the cutest cake echoing the theme of the nursery and the weather was perfect.
I didn't get home until after 5pm so the rest of the night was pretty chill. We watched some Netflix, had a light dinner and chilled.
Sunday we did our routine of yoga at the lake, hit up the Farmer's Market, the grocery, and then home for a sunny lunch on the back deck with our fresh produce. We enjoyed having no plans and spent the day just together. I wore my gray Old Navy dress and some flip flops and no makeup and enjoyed this amazing weather we are having.

Many of you may also be experiencing zucchini overload – it's in your garden, your neighbor's garden and at every farmer's market and produce section of a grocery. I grew up with a vegetable garden and dreaded zucchini season – it seemed to be in every meal and it just got boring. Well now as an adult I have made some really cool dishes with zucchini and thought I'd share a few with you. Also don't forget about zucchini bread – always a winner and freezes well!
*Zucchini Crabcakes AND Chocolate Chip Cookies (both tested and both delish! I don't fry the cakes, but just use no-stick and make some cocktail sauce with horseradish and ketchup)
*Last night's side dish (and today's lunch) – Disappearing Zucchini Orzo
*Zucchini Pasta – I do a variation of this with whatever herbs are on hand, and usually only add the tomatoes at the last minute so they stay firm. I am also a garlic-aholic so I add plenty, and make the zucchini into very thin quarter-moons and sautee until transparent. Whole wheat pasta is a great texture with this dish, and feel free to add some red pepper flakes if you like kick!
*Plus my favorite pantry cleaner – zucchini boats! Slice the zucchini in half, scoop out seeds so there is a reservoir, and make a mixture with what you have on hand – a quarter of an onion chopped, leftover rice from Chinese take-out, some shredded chicken, chopped bell pepper, mushrooms, leftover angel hair chopped, some feta or mozzarella, chopped olives… whatever you have mixed with some herbs and bread crumbs you can add to the zucchini boats and then bake until golden brown. Serve alone or with a bit of marinara!