This article may contain affiliate links; if you click on a shopping link and make a purchase I may receive a commission. As an Amazon Associate, I earn from qualifying purchases.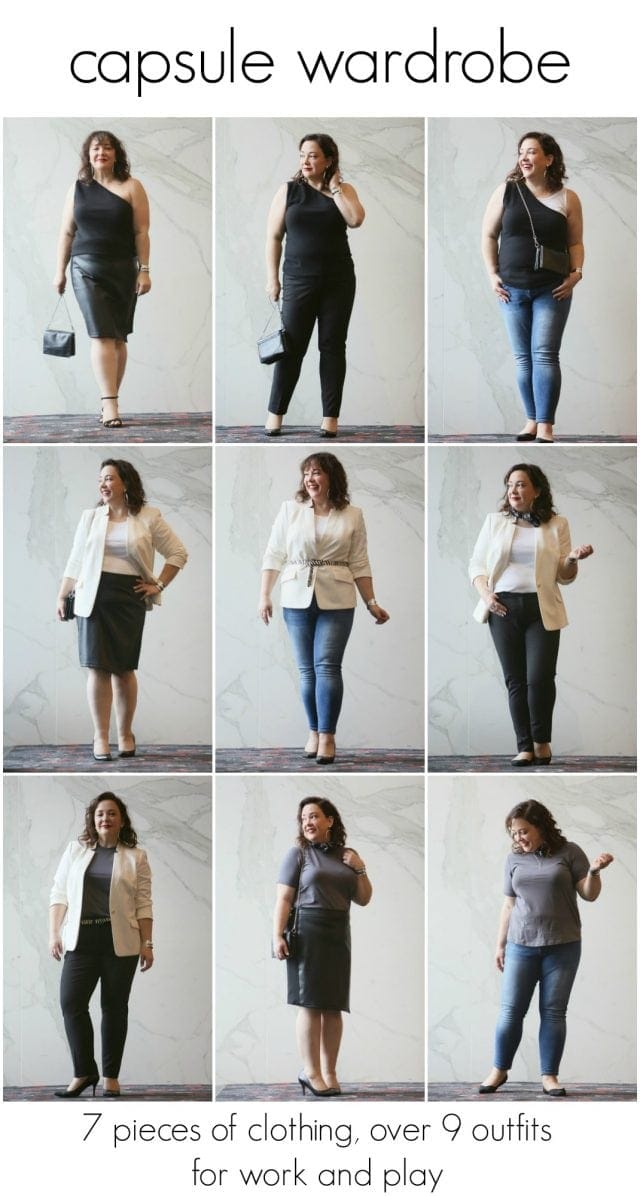 I regularly write about capsule wardrobes and create capsule wardrobes for different situations, but I rarely walk the talk. I feature outfit posts, but rarely any cohesion from look to look. This post features a real life capsule wardrobe created from items currently residing in my closet. Seven pieces of clothing, three pairs of shoes, five accessories to create 17 different looks for work, play, and beyond. Some of these pieces you've seen before on the blog, some haven't yet made their debut but have gotten a lot of wear in real life, and some are relatively new.
A Real Life Capsule Wardrobe for Work and Play
Before any new garment is purchased or added to my closet, I envision it with at least three looks. If I can't achieve that (or if it isn't a stand-out statement piece that works on its own) it doesn't join the wardrobe. But if it passes the test, before I hang it up with its new family, I play dress up. I confirm that yes, it does work with those other items, or find other ways to make it work. Better to play dress-up at 7pm on a Tuesday than ten minutes before I have to head out the door for an event. I received some new things in the past couple of weeks and played dress up and saw a recurring theme… a capsule wardrobe if you will. I wrote down the looks and photographed myself in some of them so you can see a real life capsule wardrobe in action. In the following days I will break down these looks, provide larger photos, and explain how I came to create the outfits.
Shop My Real Life Capsule Wardrobe: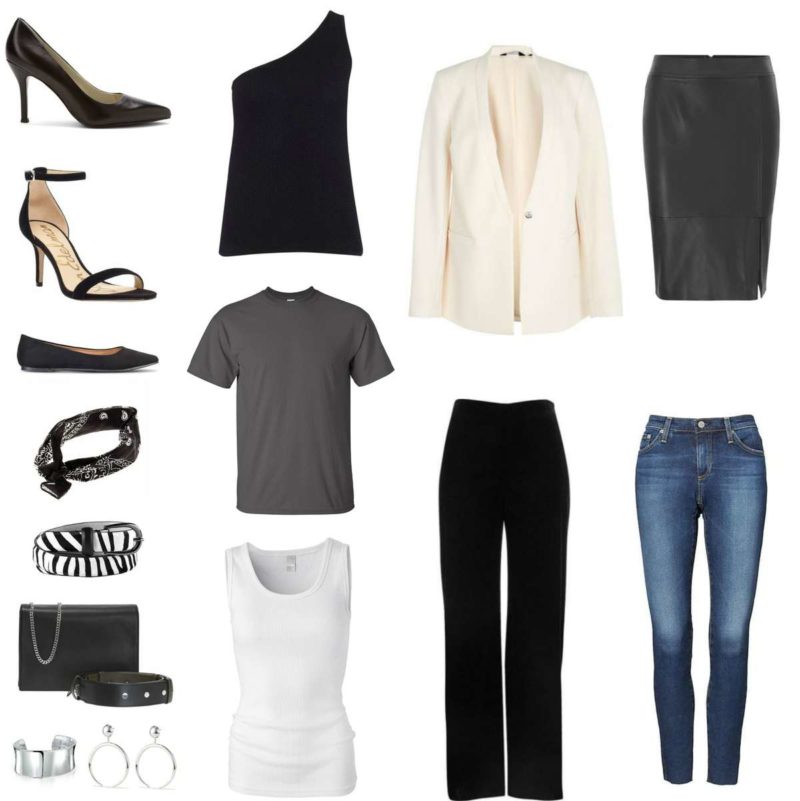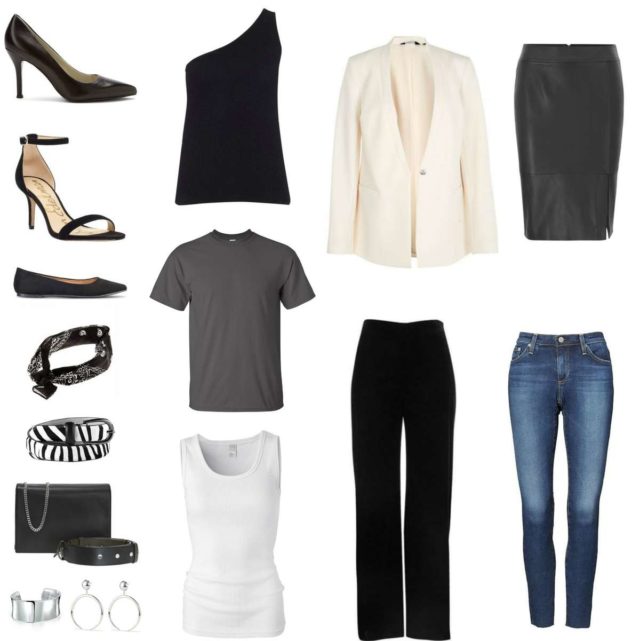 Blazer (comes in misses, petites, and plus sizes; this is a 14P previously seen in this post) | Tank (available in regular and petite sizes 6-32; this is an XSP) | Faux leather-front skirt (available in regular and petite sizes 6-32; this is an XSP) | T-shirt (available in regular and petite sizes 6-32; this is an XSP) | Jeans (available in regular, petite, and tall up to size 33; these are 32P previously seen in this post; plus size alternative) | One-shouldered sweater (available in sizes 6-32; this is an XS) | Pants (available in regular, petite, and plus sizes; these are a 12P) | Belt (no longer available; this one is similar and available up to a 60" waist) | Flats | Pumps | Ankle-strap Heels (no longer available, similar) | Oversized bandana (old; similar) | Initial necklace (old; similar) | Cuff bracelet (old; budget-friendly alternative) | Earrings | Bag
Sample Outfits from the Capsule Wardrobe
With 7 pieces of clothing, 3 pairs of shoes, and 4 accessories I created 17 outfits for a creative office place, nights outs, and weekends. Click on any thumbnail graphic in the gallery to see the full-size images and descriptions. Hover over the images to find arrows to advance and go back within the gallery. If there's an ad in the way, x it out to read captions. Click the X at the top right of an enlarged image to close the gallery and return to this blog post.

This is the kind of capsule wardrobe you can build on. Add cream trousers to match the blazer and/or a black blazer to work with the pants. A silky shell or t-shirt in a pop of color is a good addition or replacement to the white tank to add a level of polish and professionalism. A striped knit top is a good way to add variety to the look while still having a cohesive wardrobe. A sheath dress is a piece you can add that would fit nicely (try wearing the sweater over it, a white button-front shirt under it, or the belt at the waist to switch up the look). Consider a long pendant in place of earrings or a scarf to switch up the silhouette and vibe of looks already created. Add your favorite work bag or laptop briefcase for the office and a larger tote for the weekend. The goal is to help you see separates in a new life, a way to create different outfits possibly with pieces already in your closet!