This article may contain affiliate links; if you click on a shopping link and make a purchase I may receive a commission. As an Amazon Associate, I earn from qualifying purchases.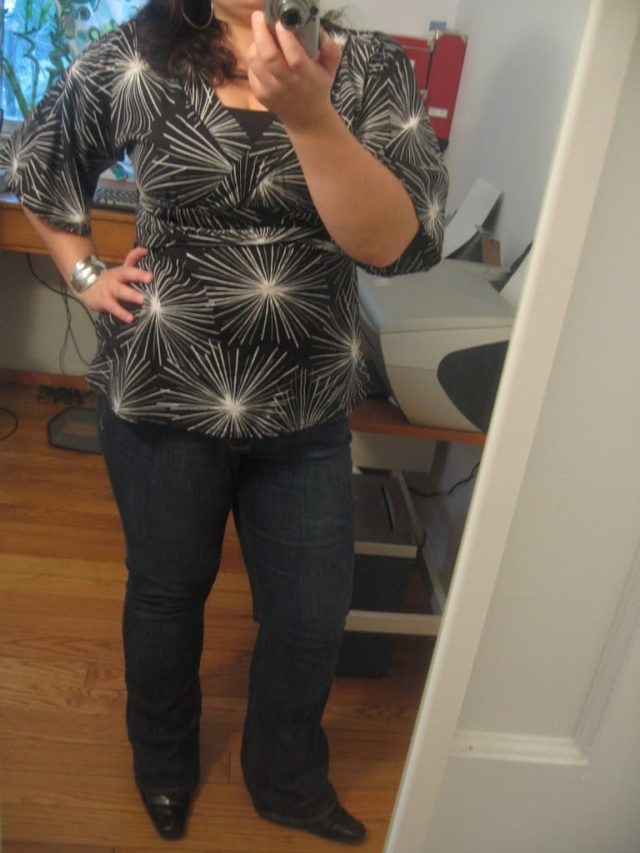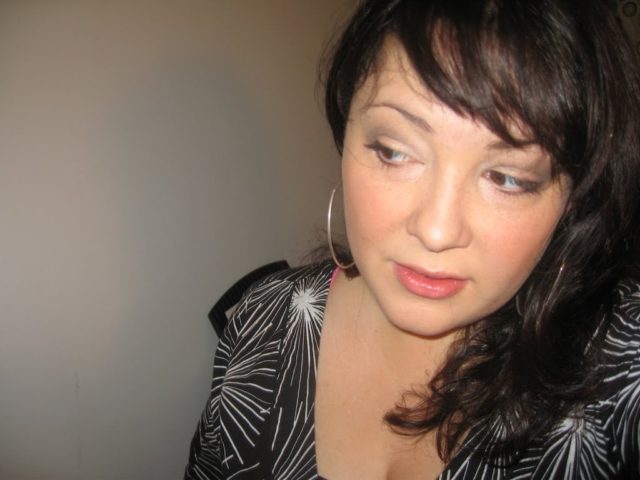 Black and white cotton kimono-inspired top from H&M, black synthetic camisole from Victoria's Secret, dark "The Flirt" bootcut jeans from Old Navy, black city boots from Impo, silver hoops and cuff bracelet.
Hair was washed and conditioned, a bit of PureOlogy's Root Lift at roots, Jonathan Silky Dirt at ends and dried fast with a paddle brush and hands. Used a curling iron afterwards to smooth bangs and a bit of Jonathan Silky Dirt twirled around pieces for separation, shine and de-frizz.
Makeup is L'Oreal True Match concealer in W4-5, philosophy's The Supernatural in Beige, Cargo Matte BeachBlush in Tenerife, Revlon ColorStay shadow quad in Neutral Khakis – ivory in inner corners, khaki on lid, chocolate in crease and along lash lines. Lashes curled, two coats of DiorShow mascara in black. On lips is Revlon Super Lustrous Lip Gloss in Glossy Rose.
Product Reviews:


PureOlogy Root Lift – I got it because it was 50% off at my local grocery. I can usually create volume in my hair no problem, but the roots often are a bit flat. This is not the first root lift I have used – I purchase, I follow the instructions, and my hair looks exactly the same as without it – just maybe greasier looking a bit faster. However, I have adored PureOlogy and my stylist swears by the line and uses it on me when I visit, so I decided to give a root lifter another chance.
Not impressed. Does the same thing as the Suave Professionals root lifter, the BedHead lifter, the Redken lifter, all the others. Guess this one will keep my color longer by not having alcohol and other stripping ingredients, but I didn't see much difference in the volume of my hair. Maybe it's just my hair – it has never been a head of hair to warm up to styling products – everything either makes it limp or slimy.
Old Navy's "The Flirt" Bootcut Jeans – Okay, this is pretty close to $29.50 Nirvana. They fit very well, the denim has a touch of stretch to keep its shape, but little enough that the denim still looks expensive. It has that dark premium wash I adore that shows the white threads and looks heavier and more expensive than it really is. The leg opening is slim enough that the cut isn't dated, but wide enough to balance out my midsection. they are tight in the thigh, but I have big thighs and they stretched out nicely without getting weird in the crotch area. And speaking of the crotch area – no looking like a diaper, no "camel-toe" or other weird things that often happen with cheaper jeans.
Best thing? Waistband doesn't cut into my belly AND when I sit and bend over, my underwear is still covered. All that AND a cool below-the-belly button rise.
Now, on to the negatives. The back pockets are ugly. They look as though the jeans are standard-issue from a surplus store. Not are they just plain, they have reinforced stitching that make them look as though they are meant for heavy duty, not day wear. I despise the pockets. Even one little stitch across would help but no, just a big expanse of navy with reinforced seams. Very unhip and unflattering and an easy way to proclaim to the world, "yo, I have cheap jeans on." Almost as bad as overly embellished pockets. Luckily, they are partially covered with my longer tops.
Second negative? Like most jeans, come the end of the day there is a bit of bagging under the rear. Enough that my husband said the other night, "Beeb, your jeans look too big." The waistband was still tailored to my shape, the kneees hadn't gotten baggy, it was jsut the bum. However, most jeans do this sop it's far nicer to have it happen with cheaper denim.
Finally, they do shrink. Not really in width, but after washing and drying once, they shortened almost an inch. Second washing and drying, it made a complete inch shortage. Good for me because when I purchased them I knew I could pair them only with my highest heels, but something to keep in mind when shopping (my location did not have lengths available but they are available online).
There is a huge variety of denim colors, weights and of course inconsistent sizing with these jeans. This was the second darkest pair I could find without being a solid indigo, and the darker pair was impossible to even pull up in a 12 and I could have fit two of me in a 14. With a different shade, I was able to be utterly comfortable in a 10 and another pair, wondered if I could have fit in an 8. Keep in mind, I am a pretty straight 12 petite in Ann Taylor, Gap, Caslon, Joe's Jeans, David Khan, Tahari, Ann Taylor Loft and a 14 petite in J. Crew and Banana Republic and higher end brands. Allie is NOT an 8 nor has been since 1997.
So, I think these jeans are in general worth a shot but I recommend to save your shipping fees and try them on in the store. And right now they are on sale for $25!