This article may contain affiliate links; if you click on a shopping link and make a purchase I may receive a commission. As an Amazon Associate, I earn from qualifying purchases.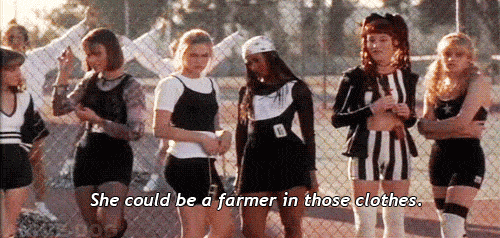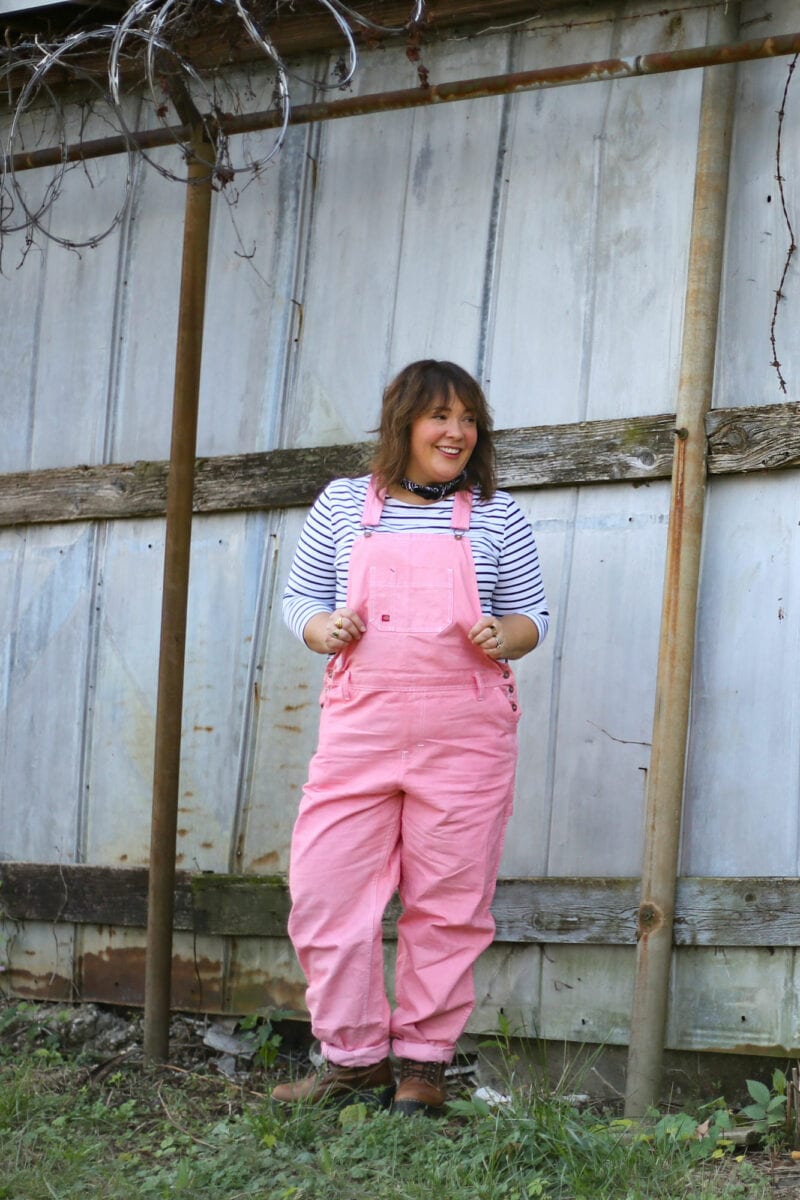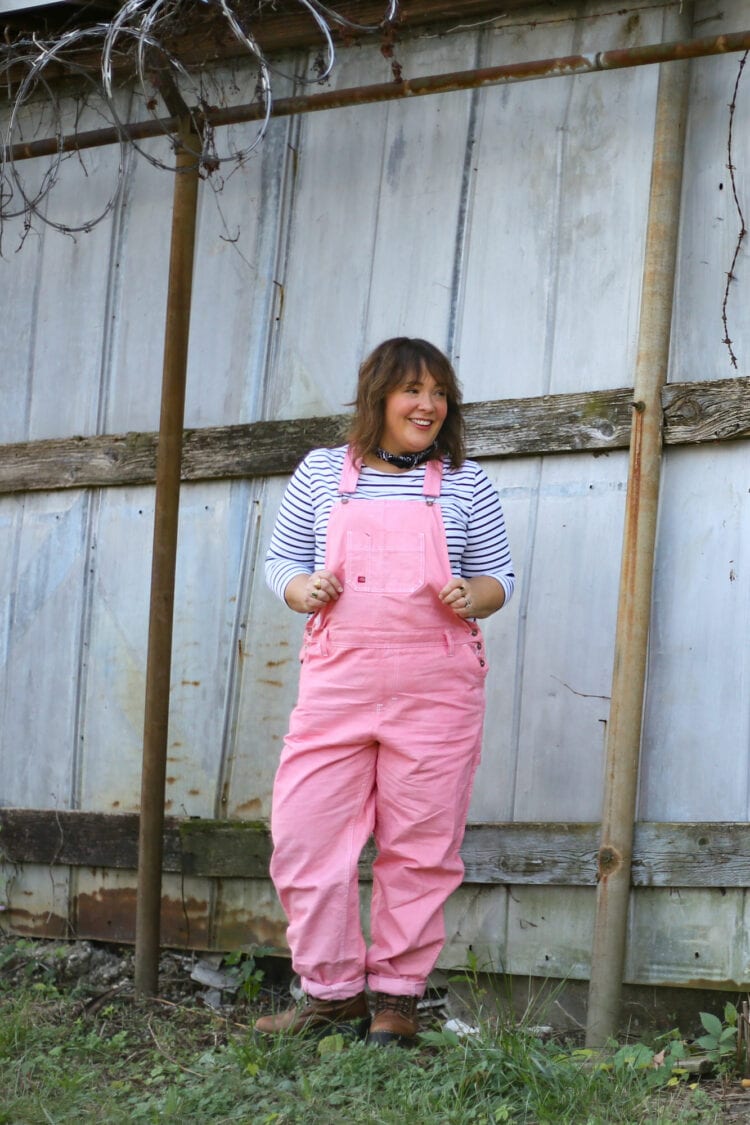 This summer, I was watching TikTok and a random video came up. I can't recall the topic the woman in the video was discussing, but I do remember her fabulous pink Dickies overalls. I went to the comment section and someone else was into the overalls and asked where she got them. She said from her friends who run Grapefruit WV. I googled Grapefruit WV overalls, didn't find a brand website but it had an Instagram account which I began following.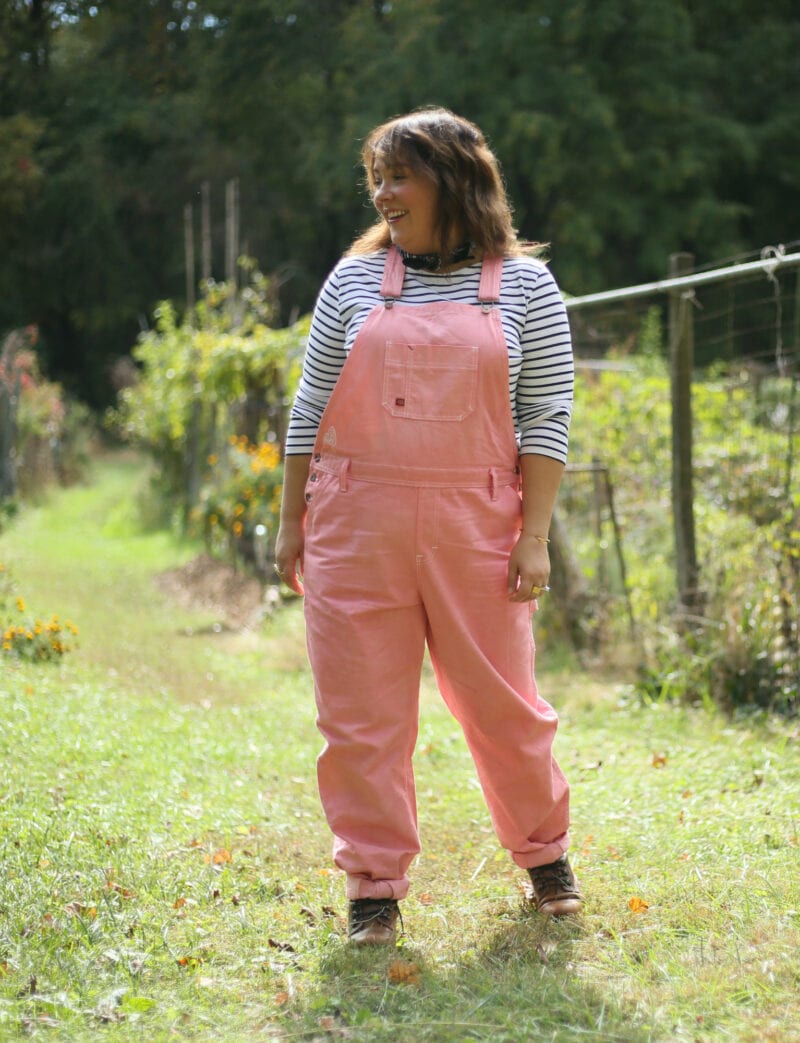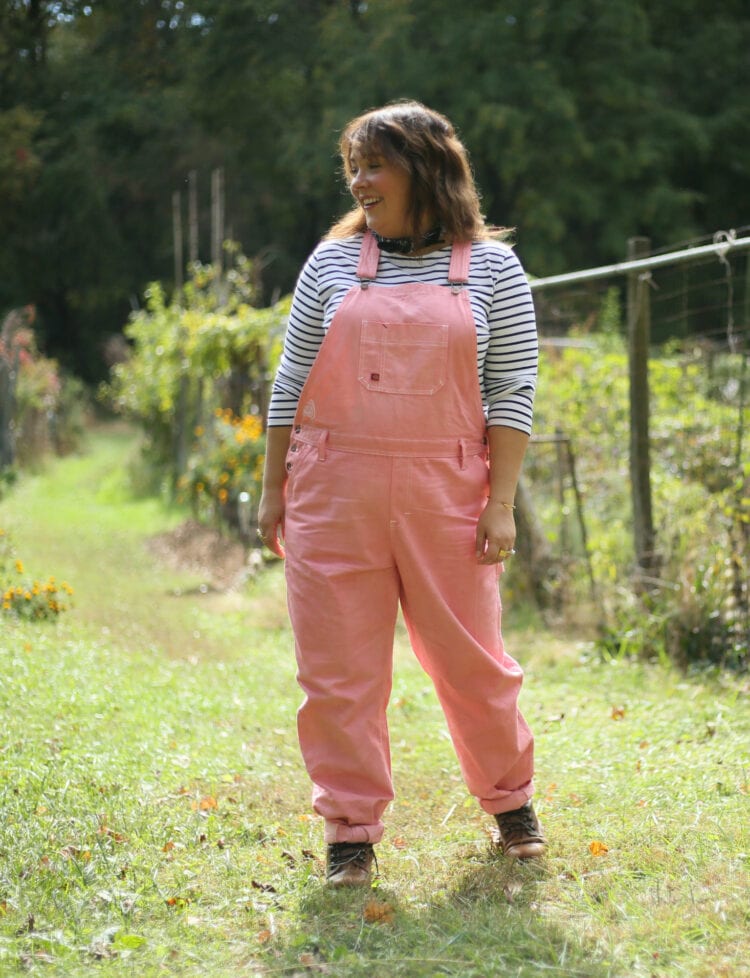 Grapefruit WV only did sales through their Instagram, having drops and you had to DM them or something that my Old self found to be too haphazard and complicated. But I kept following, and in August they mentioned on their Instagram that they had a website to take orders and had a collection of pink Dickies overalls ready in a range of sizes. I headed over to their brand-spanking-new site and ordered a pair of Grapefruit WV overalls in pink, size XL.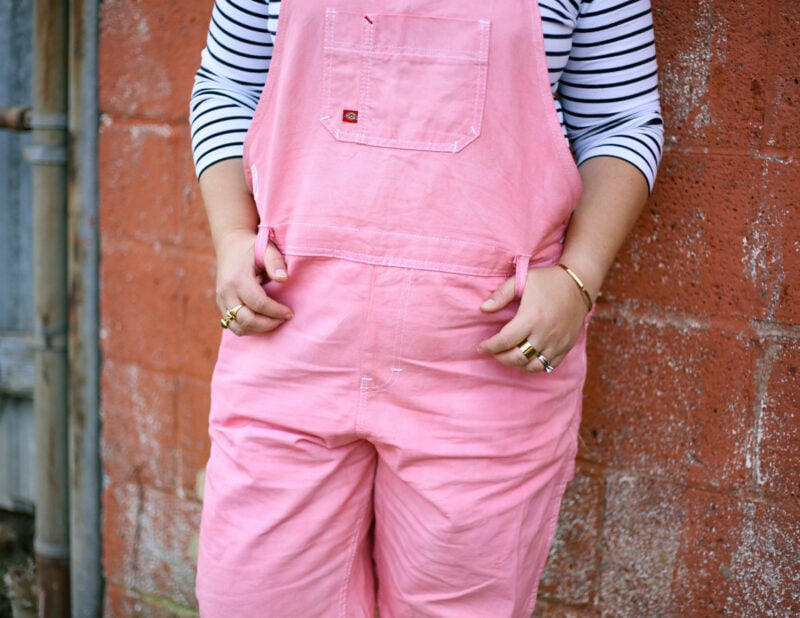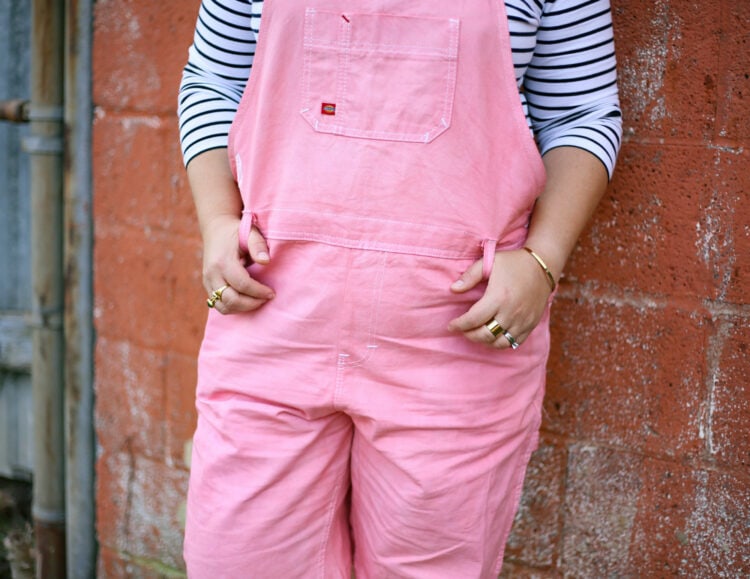 The website explained they were a small company, everything was made to order, and it could take up to 12 weeks to get my Grapefruit WV overalls. I was fine with that. I had spent all summer toying with DIYing a pair of Dickies overalls into a similar color but the thought of the time and mess and supplies… it didn't seem worth it. It seemed worth it to support a small business that already had all the tools and know-how to do it right.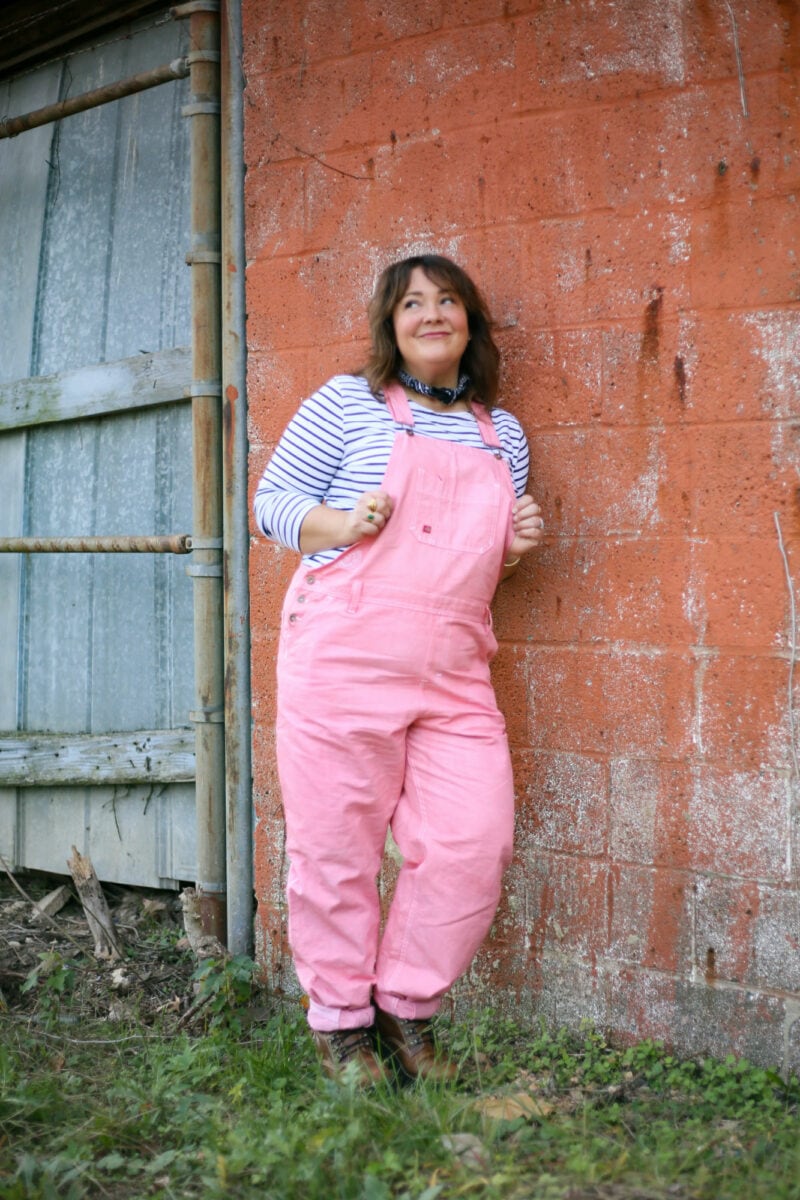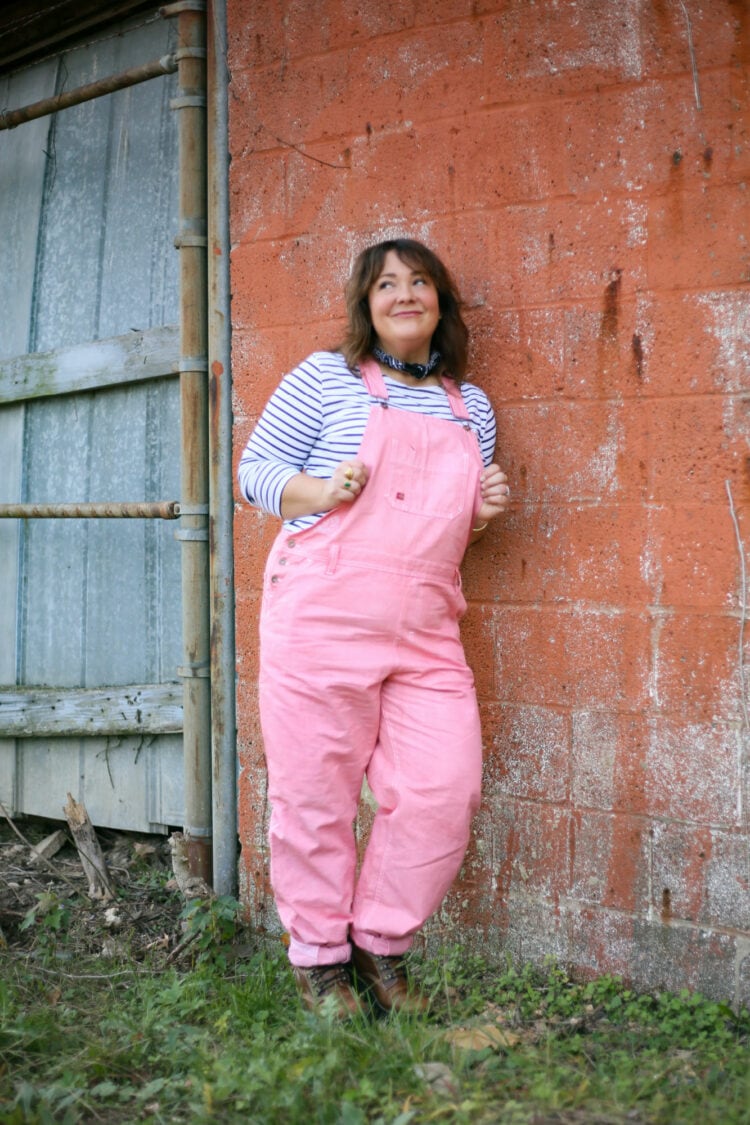 Grapefruit WV Overalls Review
This past weekend, my Grapefruit WV overalls in LUS pink arrived. And they're fabulous. Let me tell you why a pair of $60 overalls were worth it for me to pay $125:
The dye job is good. It's clearly hand-dyed because there are some imperfections, but subtle ones that make them not so mass-produced. the color is soft but also bright and saturated.
The overalls are embroidered with the Grapefruit WV logo and G2 which makes them special
The overalls arrived in a padded mailer the same color as the overalls
In the front pocket was a hand-written note to me, thanking me for the order and explaining a bit about the company and how my purchase benefited them.
There was a "legend" with a hand drawing on an index card of overalls and what was in each of the overalls pockets
In each overall pocket was a gift – stickers, a little plastic sword used for cocktails, some wooden matches, a rose gold heart-shaped paper clip, branded stickers, etc.
It's a small business creating a product folks want, and doing it well. I'm willing to pay more for such skill from a smaller artistan, designer, or crafter.
I didn't have to dye them myself.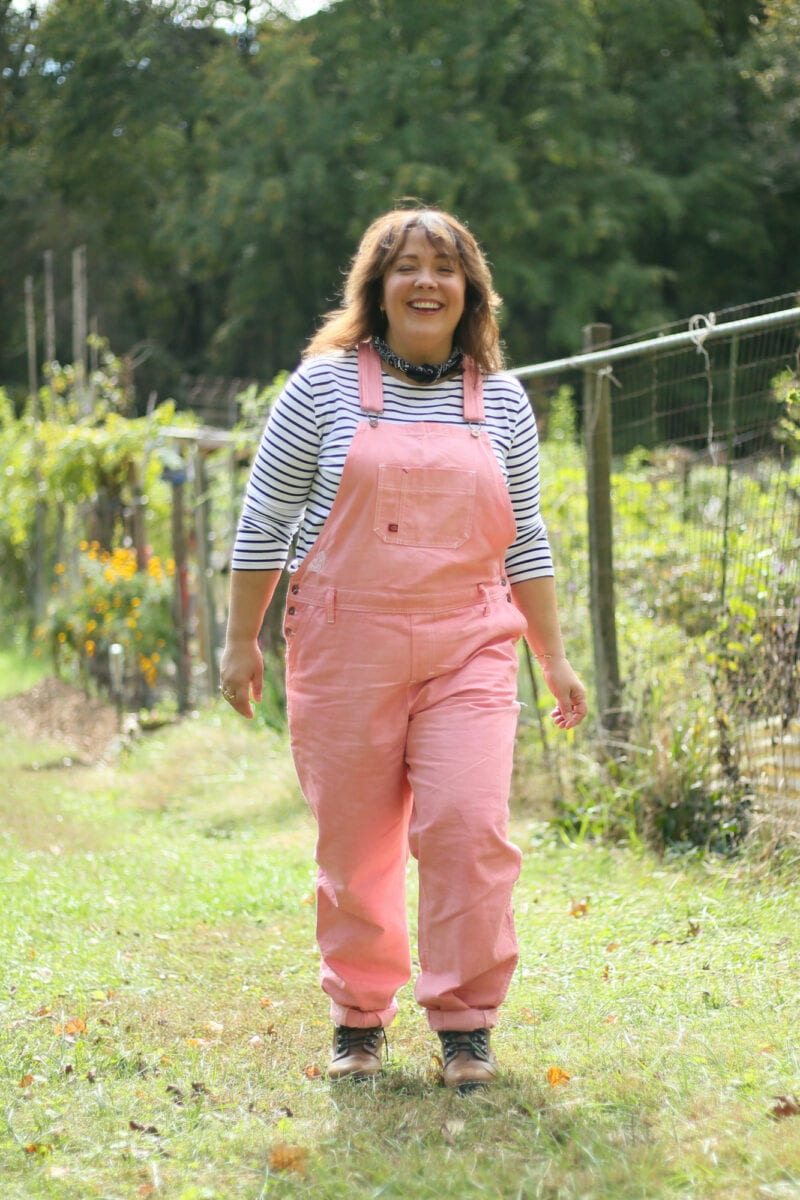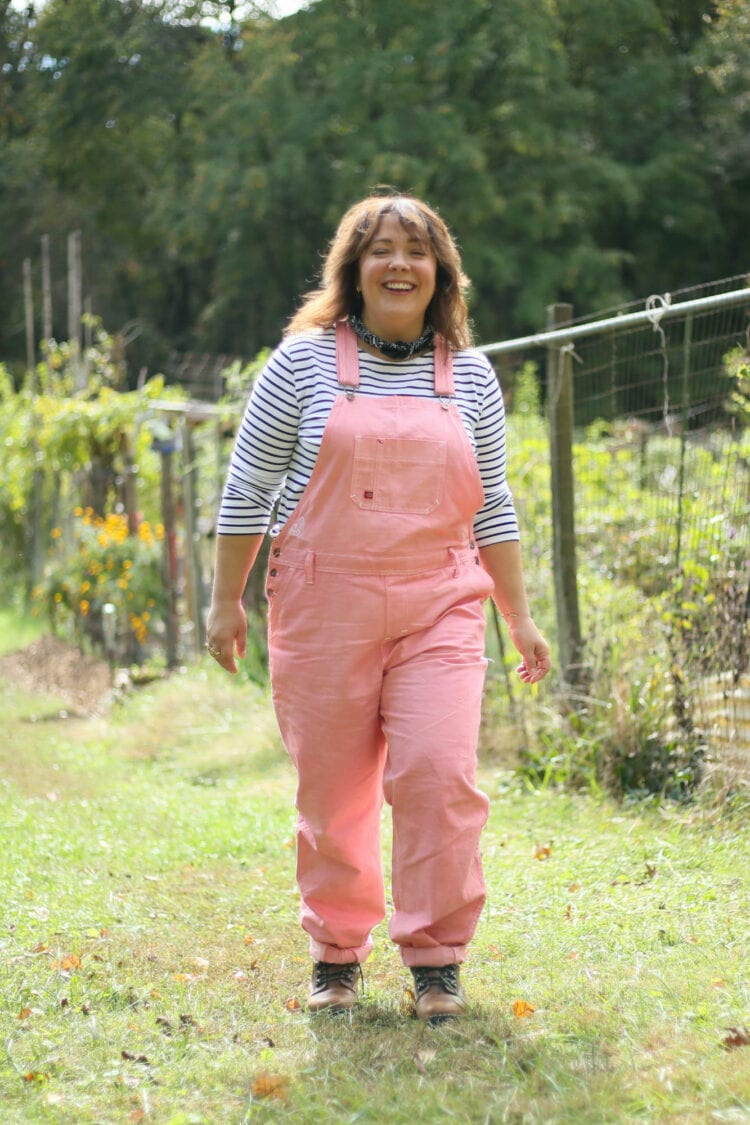 Grapefruit WV is located in Water Valley, Mississippi. If you're in the area you can get a pair in person in less than a week. And now, the company has a 4-6 weeks ship time instead of three months. The overalls run long; I considered hemming them but they also fit my husband (we have the same waist size, just different inseams). This go-round, I roll-cuffed them but I'm going to play around. I may end up just hemming them and next spring he can get his own pair in the color he likes best.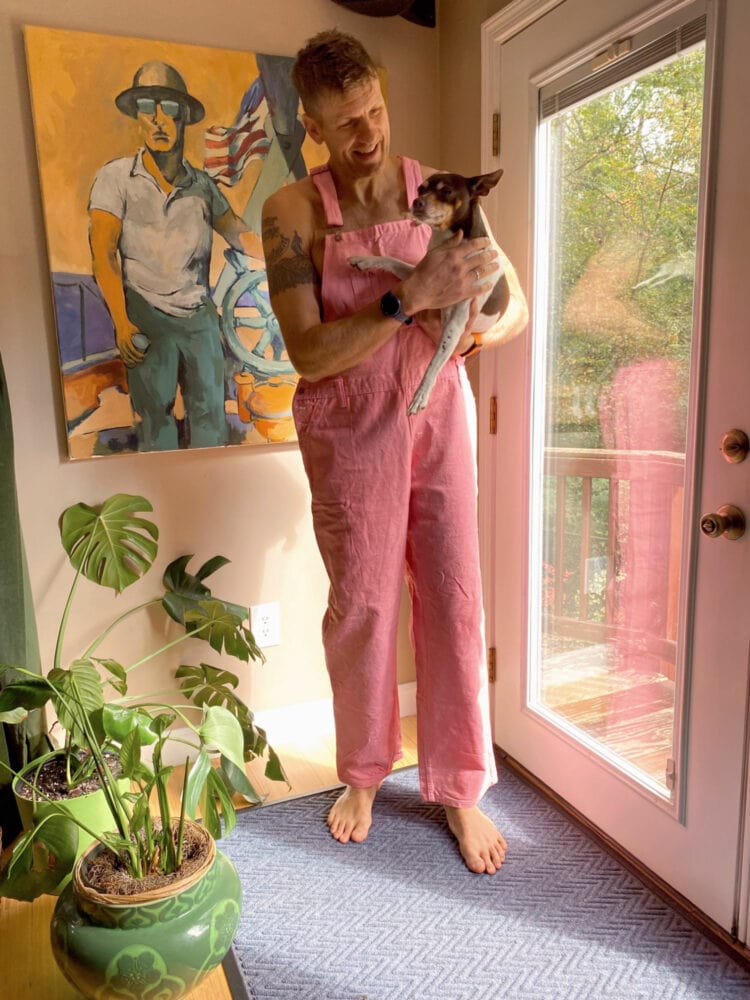 The Grapefruit WV overalls are available up to a women's XXL but also come in men's/standard waist/inseam sizing up to a 44 waist with 32 inseam. While I got pink (they call LUS pink after one of their friends), the overalls also come in peach, olive, purple, and a few other colors. Grapefruit WV also sells t-shirts and occasionally offers baseball caps and bucket hats.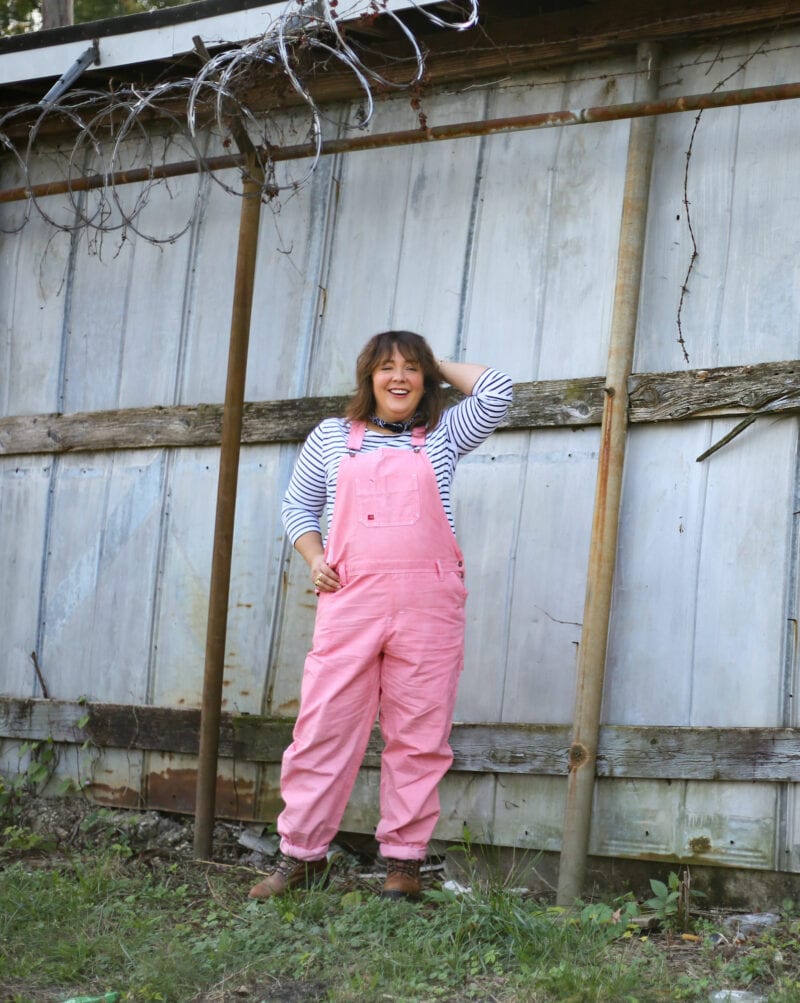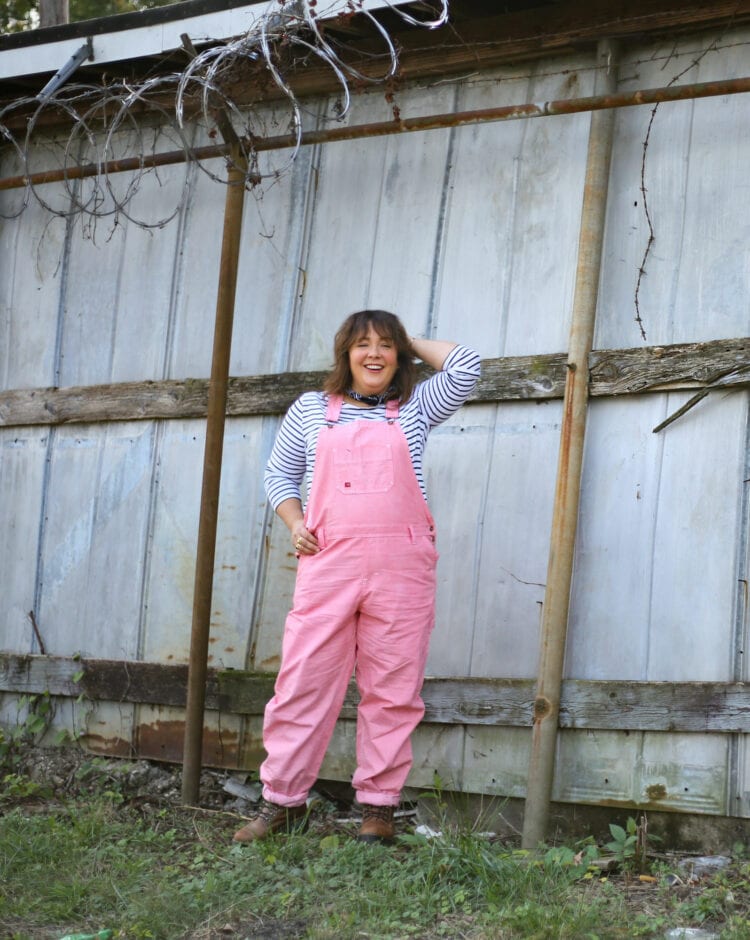 In the summer, I plan to wear these pink Dickies brand Grapefruit WV overalls from Grapefruit WV with a white tank and Birkenstocks. In winter, I think they'd be cute with a turtleneck sweater (maybe my purple cashmere one). I thought I'd do my bright pink cashmere crew, but it's not the same shade of pink (the overalls are more warm/coral toned). But if I had a darker or lighter pink in the same tone, I'd totally rock it with these pink overalls!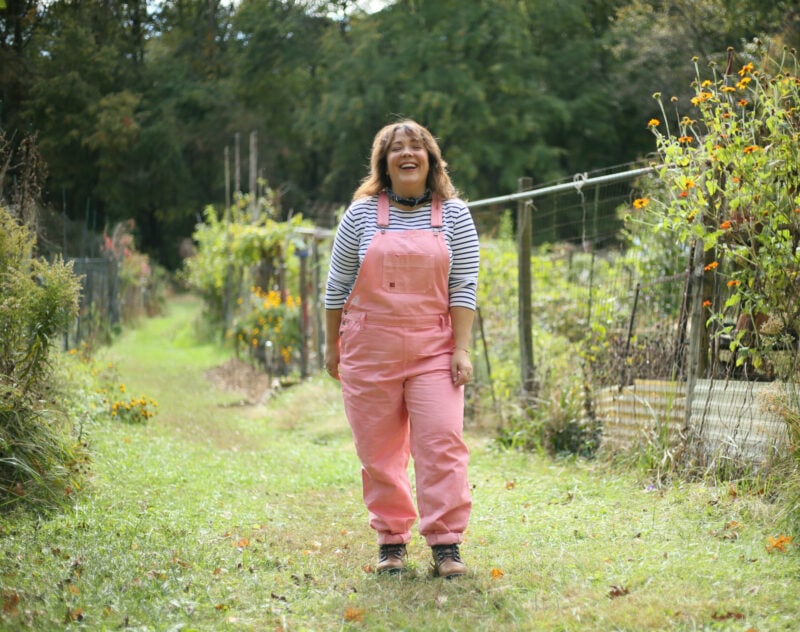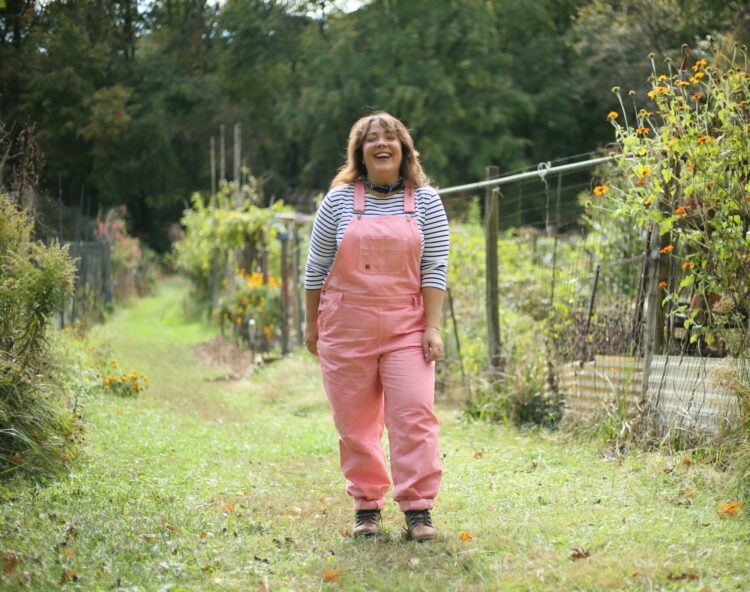 For this in-between weather, I chose a striped long-sleeved tee. This one is from Amazon and I heard of it from one of you readers. If in doubt, size up but don't expect it to shrink, even if you put it in the dryer. I have washed and dried this a dozen times and it looks great and fits the same. Not bad for less than $25!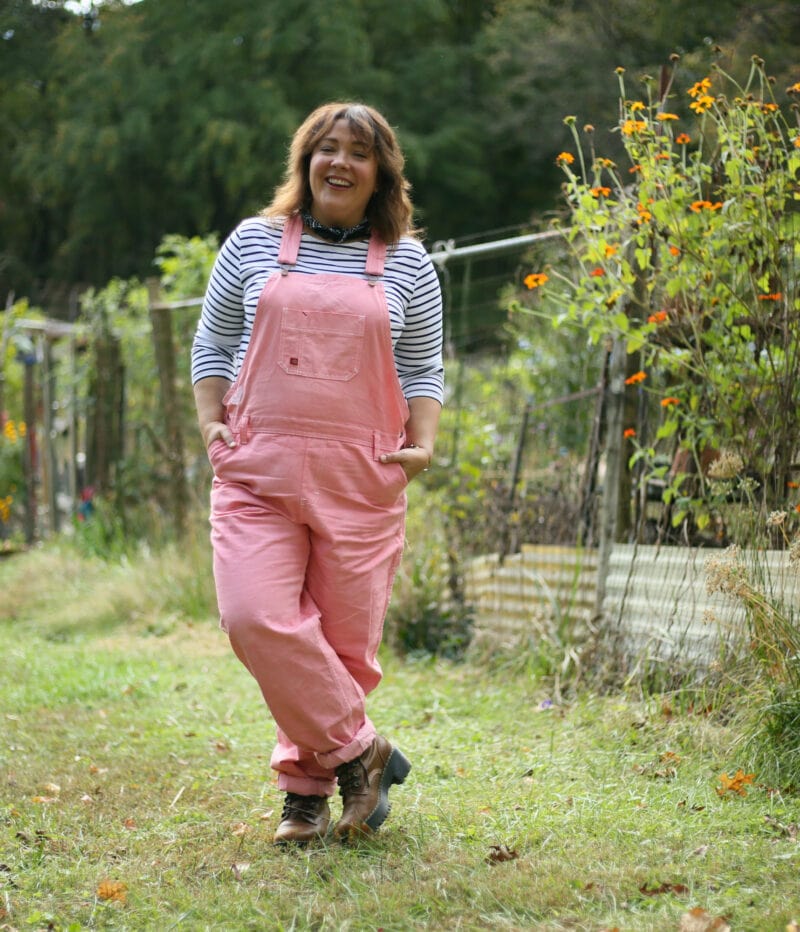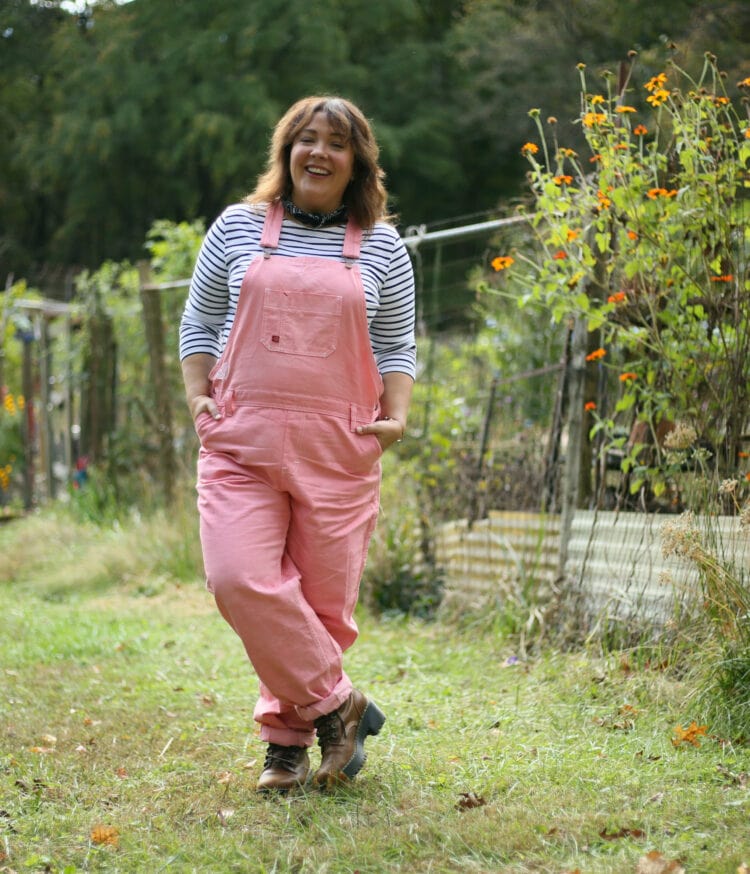 And surprise surprise, I am again wearing my Doc Marten Leona boots. They're super hard to find anywhere these days; Amazon has a few sizes, Shopbop has them in black, American Eagle has a small number of sizes in both colors. I went with my regular size, I find this style wide enough for my wide feet (other Docs notsomuch), and they were comfy right out of the box (other Docs notsomuch).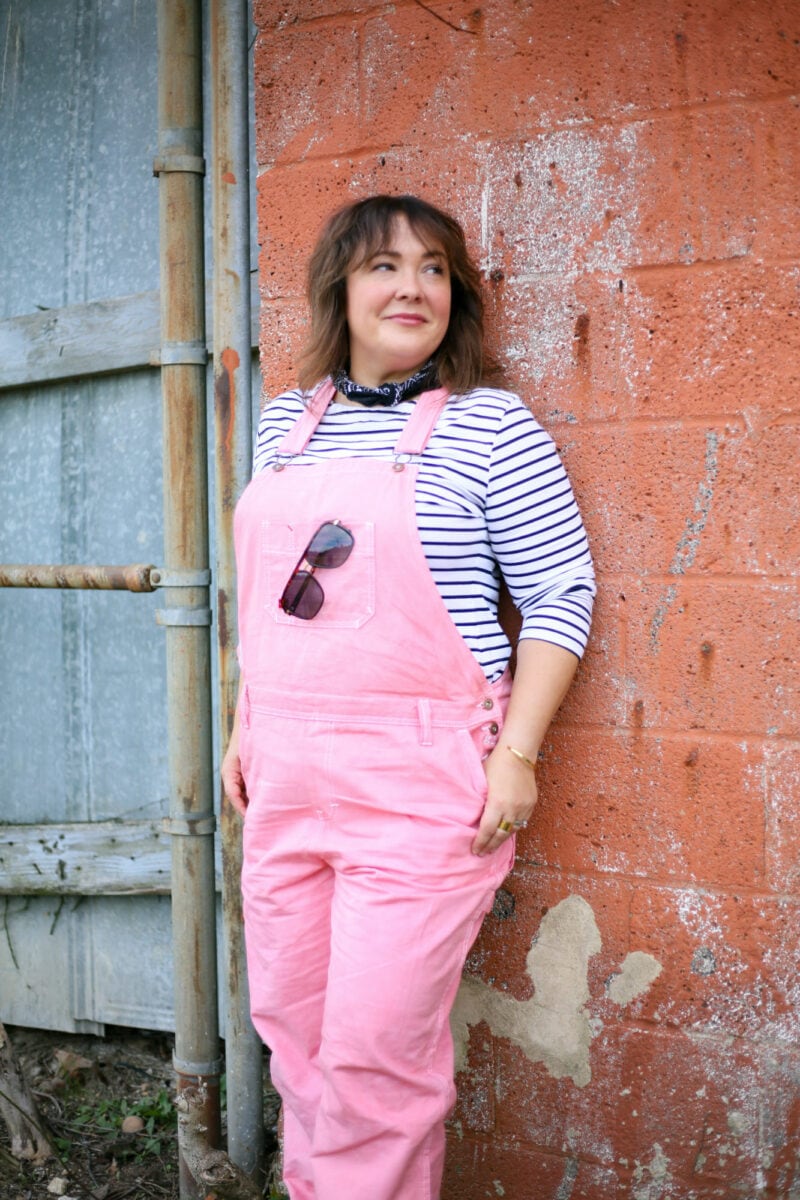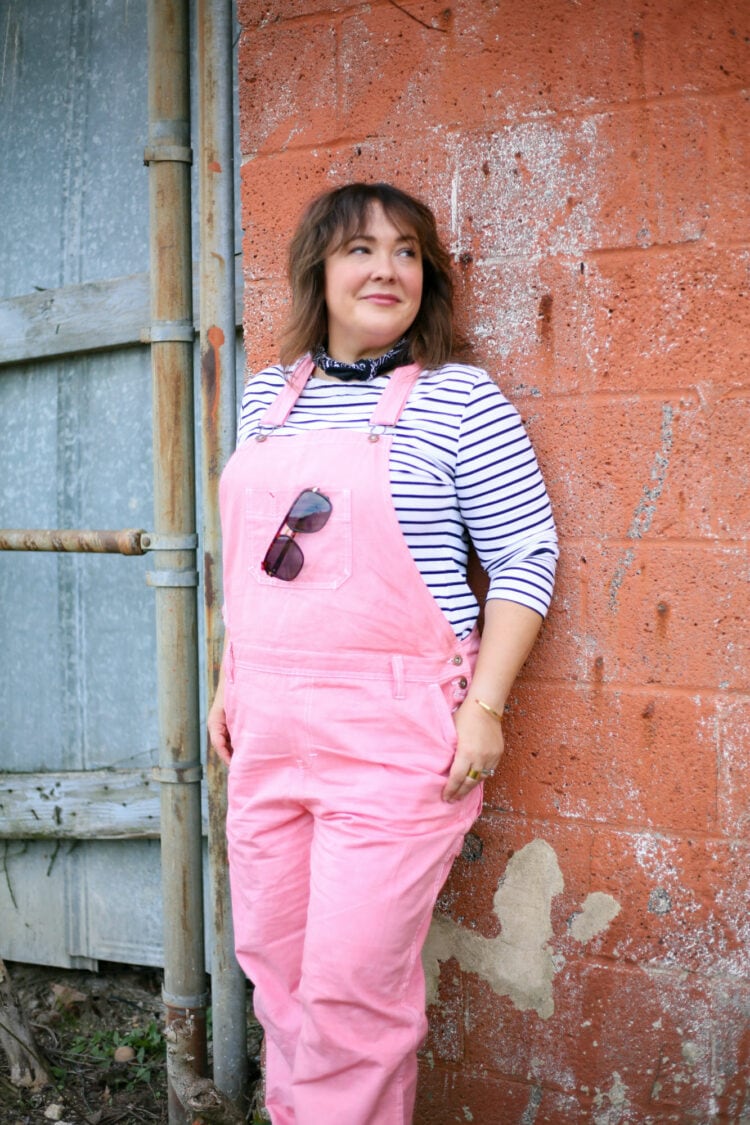 As for accessories… an old black bandana which I think toned down the toddler feel of overalls and a striped shirt. My bracelet is from Metal Marvels; I have the same one as my two best friends and recommend this retailer to check out for holiday gifts. My earrings are these little lightning bold huggies from Rellery. These earrings have held up great; they've been worn in the shower, the ocean, chlorine and bromide pools, hot tubs, and still are shiny gold. My rings… I am wearing one with a lion's face that is vintage, this green and gold ring, and this gold cigar band ring (size up at least one size if you get).
Shop the Post: