This article may contain affiliate links; if you click on a shopping link and make a purchase I may receive a commission. As an Amazon Associate, I earn from qualifying purchases.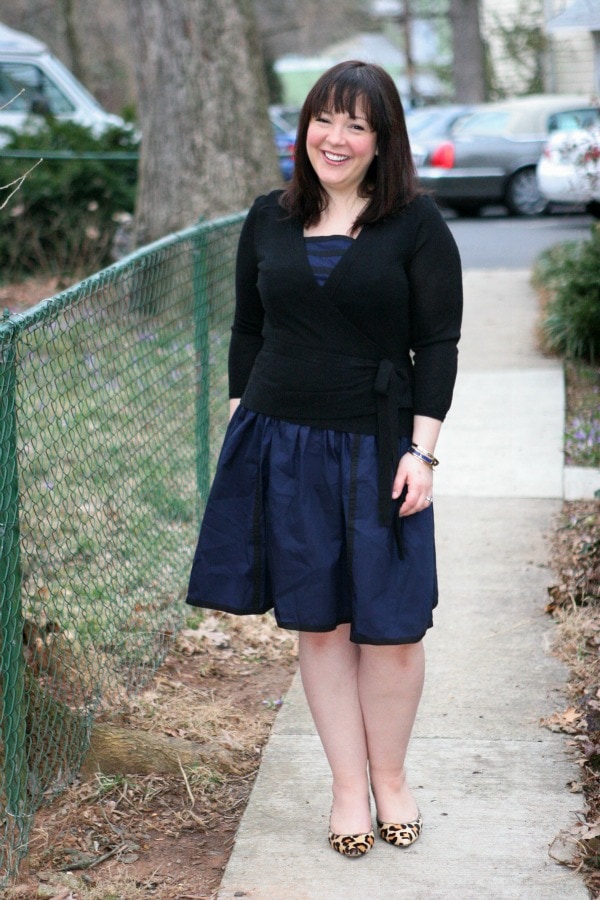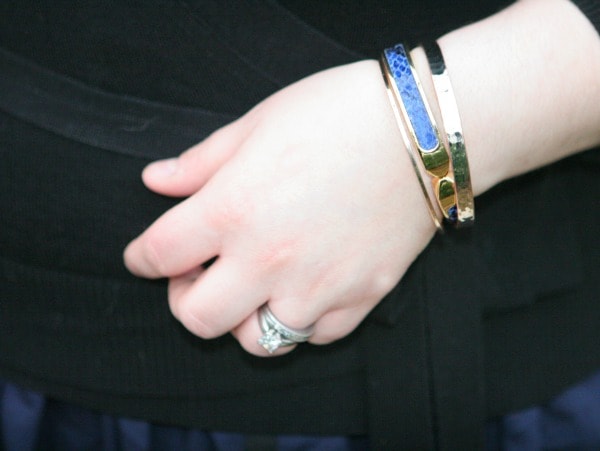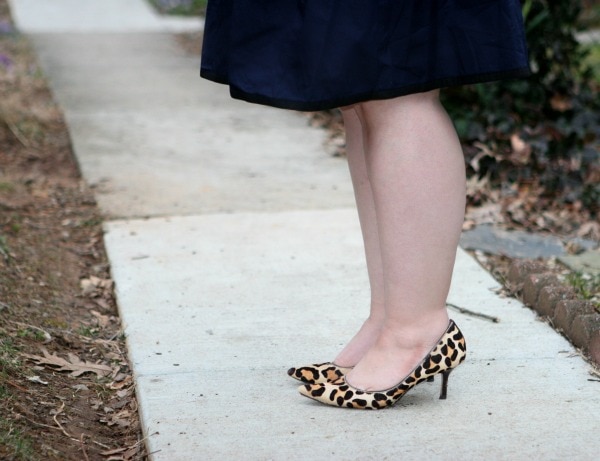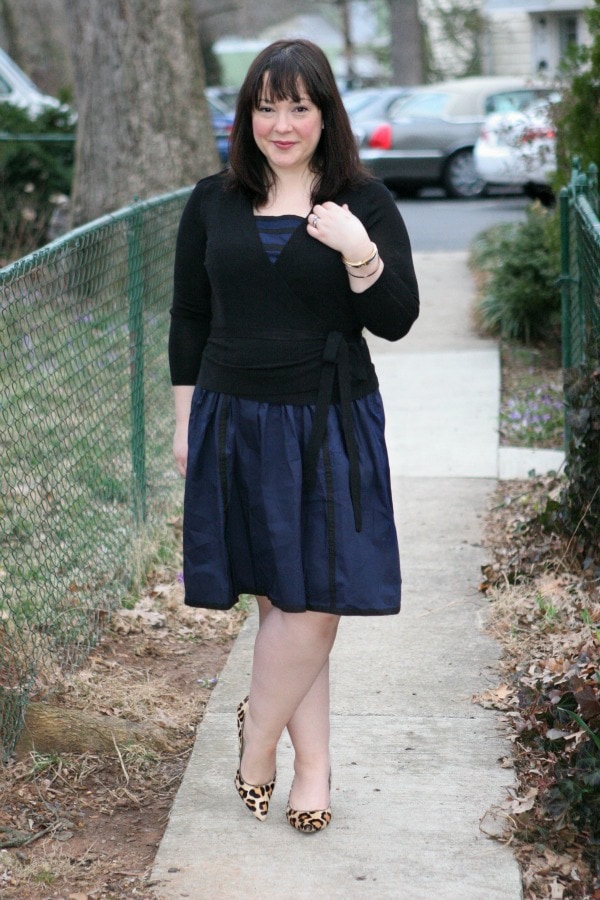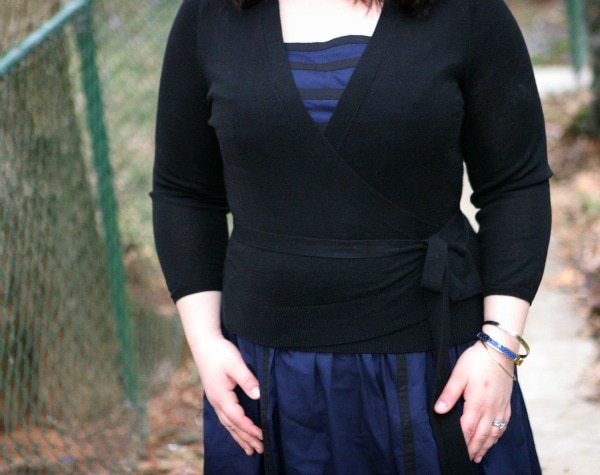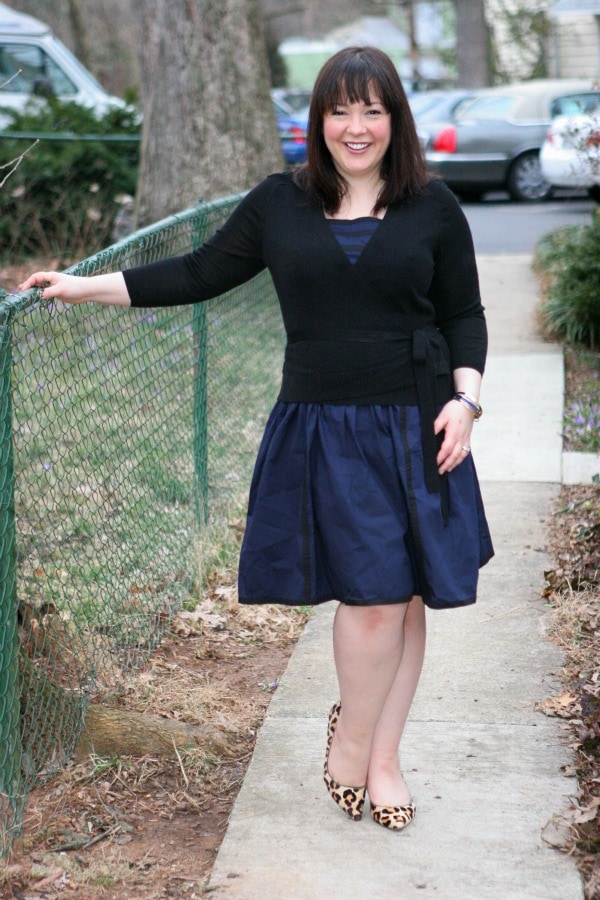 Dress: c/o eShakti | Cardigan: Ann Taylor (similar) | Shoes: Ivanka Trump | Bracelets: "Emerson" c/o Kristin Biggs, Stella and Dot (other two are from sets I purchased this past year from Nordstrom)
Two years ago, I tried out eShakti and didn't have the most perfect of experiences. So when they contacted me last month asking me to try the line again but do a custom fit dress, I was excited. Many of you said the fit of the dress was bad because it was a straight size, so the idea of a custom dress appealed to me. At home, I had my husband measure me and entered it all into the eShakti site. Less than two weeks later, the dress arrived. And yes, the fit is MUCH better. No bra showing under the arms, the waist is at the right place for my petite figure, plenty of room for my bust and no chance of a strap slipping throughout the day. However, I just don't think the dress is very flattering on me; my husband said I looked like a milkmaid or a beer wench.  The fabric is very stiff and the entire dress including the bodice sticks out from my body making the dress look more like a costume. I think such a fabric may work better on a taller person who can better balance the volume.  The dress doesn't seem to be on the site any more, it has a square neckline in front, a v-neckline in back, a size zipper (though I didn't need it to get it on), and pockets.  The black are ribbon stripes sewn onto the navy dress; there is one of these ribbons defining the waist which is sits just above my belly button.
While today is springlike in DC, there's still a chill in the air. I tried a traditional cardigan and it looked a bit too twee on me; this wrap cardigan not only make the ensemble fit better with my personal style, but also cinched in the dress. I have to say, this dress will be pretty awesome in the hot humid months of summer but I'll have to do some tinkering with it so it is a bit more flattering. The fit issue could be my fault – maybe the measurements weren't accurate, and maybe I chose the wrong style dress. Have you used eShakti? What have you thought of the experience?
UPDATE: eShakti is sweet enough to offer all Wardrobe Oxygen readers 20% off their next order!  Just use code WRDRBEXYGE at checkout for 20% off.  This code is valid until March 20, 2013.
Follow Me | Twitter | Facebook | Instagram