This article may contain affiliate links; if you click on a shopping link and make a purchase I may receive a commission. As an Amazon Associate, I earn from qualifying purchases. 
While it's fun to read about the beauty habits of celebrities, I find it most helpful to learn about the beauty habits of women who have lifestyles, ages, or budgets similar to mine. In this series, I've asked amazing women I know to share their beauty routines. These are women from across the country, different ages, lifestyles, professions, and beauty/skincare priorities.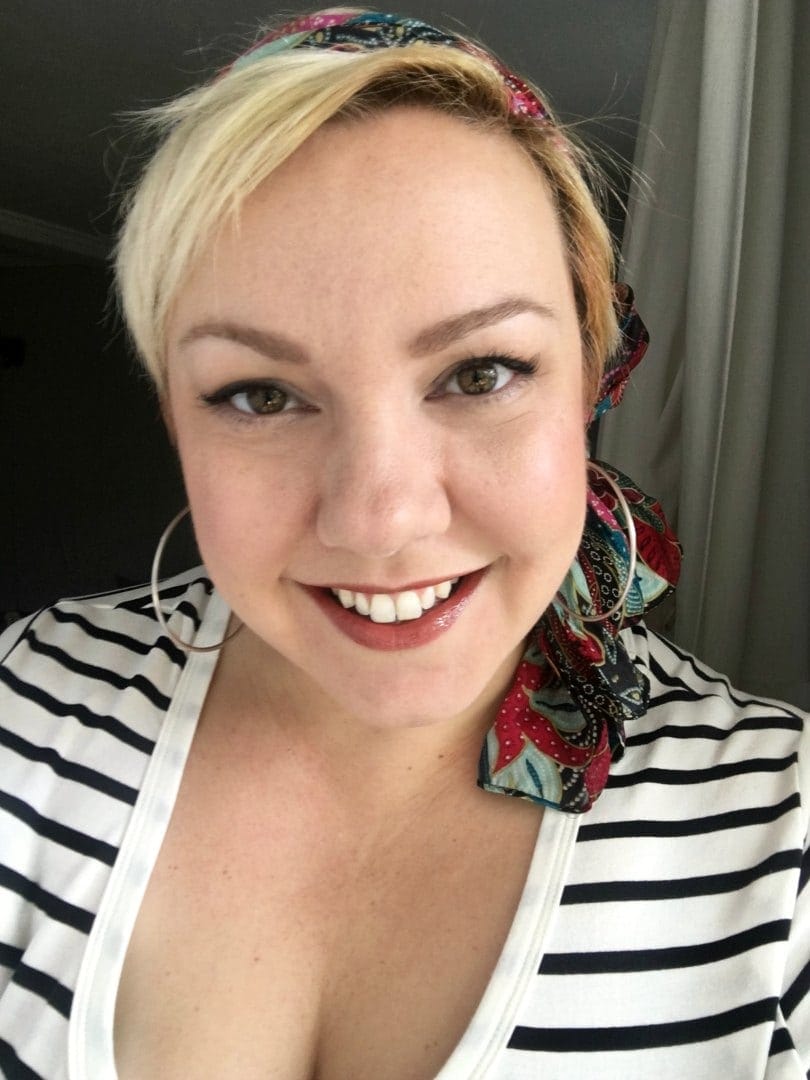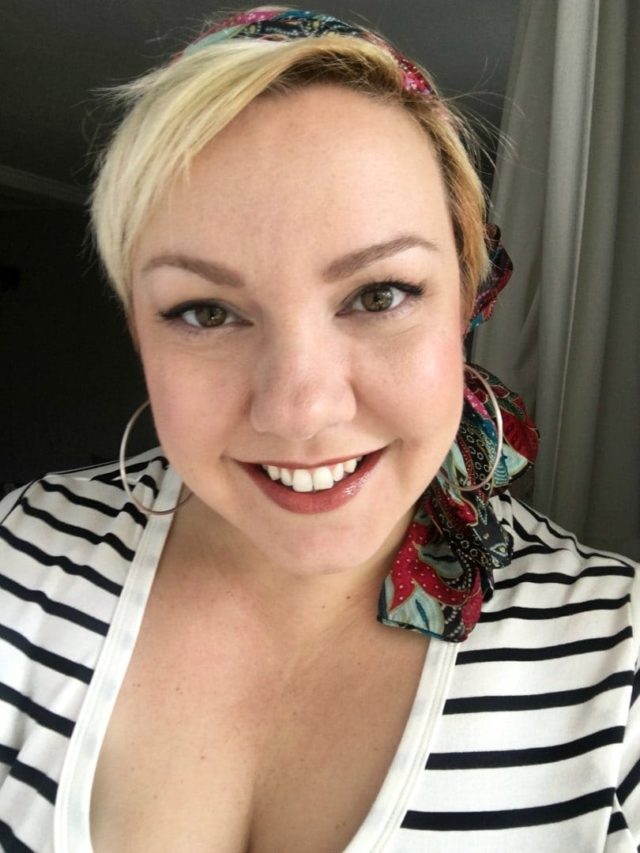 Name: Debbie (she's my sister!)

Age: 40

Location: Greenbelt, Maryland

Profession: Broadcast Production Manager for a media consulting firm (follow Debbie on Twitter and Instagram)
Tell me a bit about your skincare and/or routine.
My routine is constantly changing and something that feels like my holy grail right now might be completely out of the picture in three months. Often, I only come back to a product after I've tried something else that didn't wow me. But I'm always looking for the next thing, something that will work better or that's as effective but cheaper. Once I started really paying attention to my skincare, it took a while – maybe a year? two years? – to really start feeling like I was starting to know how to read my skin and how to pick out ingredients that I know I'll like. It's such a process, but it's a really fun one!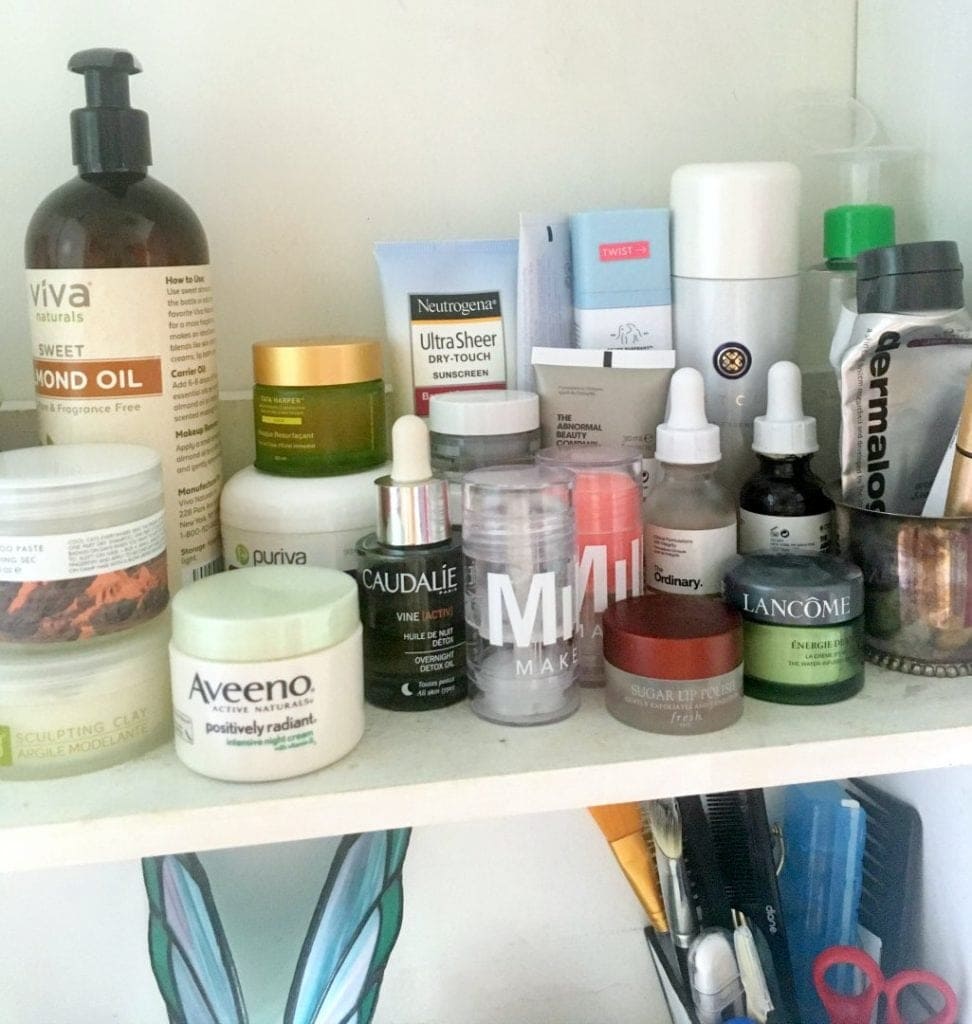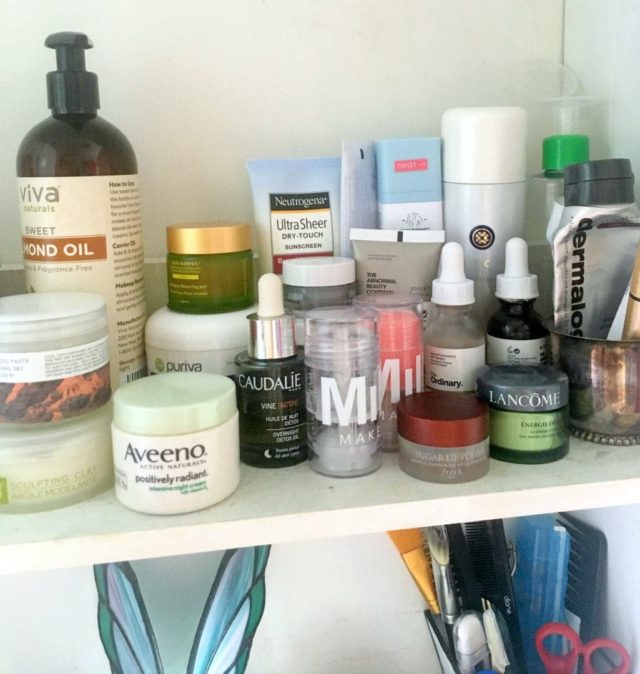 PM Routine
I double-wash my face, using sweet almond oil to take off my makeup, washing it off with a washcloth and cold-to-tepid water, then Tata Harper Regenerating Cleanser, also washed off with the same washcloth. This cleanser is AMAZING. I didn't want to like it because it's stupid expensive, but I really love it. My skin has never been so soft or smooth. I follow this up with The Ordinary Vitamin C Suspension 23%, mixing it with The Ordinary Resveratrol 3% + Ferulic Acid 3%. Then I apply Fresh Black Tea Firming and De-Puffing and end with Aveeno Positively Radiant Night Cream.
A couple times a week I use a mask, often as a way to perk myself and my skin up before going out if it's been a long day, or when I haven't slept well (the coolness of a sheet mask is almost as good as a cup of coffee). My current favorites are Dermalogica Multivitamin Power Recovery Masque and Tata Harper Resurfacing Mask, but I'm always trying new ones. I have done the TH Regenerating Cleanser + Resurfacing Mask combo and my skin was not just plump and bouncy (which the Dermalogica one also does) but had a really nice glow that lasted. I'm currently out of Resurfacing but will definitely be restocking during Sephora's next sale. I also like using raw, organic honey as a mask (with a plain sheet mask on top so it doesn't run quite as much). It's super hydrating. For sheet masks, I like Tony Moly Pearl or Avocado and Pacifica Energized Glow, but then I generally don't see a huge difference between any of them, so go for whatever is on sale. They all add a nice hit of hydration. Ulta often has 2 for 1 type deals and I've done those big collections from Amazon. I also highly recommend using a jade roller while using a sheet mask. I don't know if it actually does anything, but it feels really great, especially when my sinuses are congested.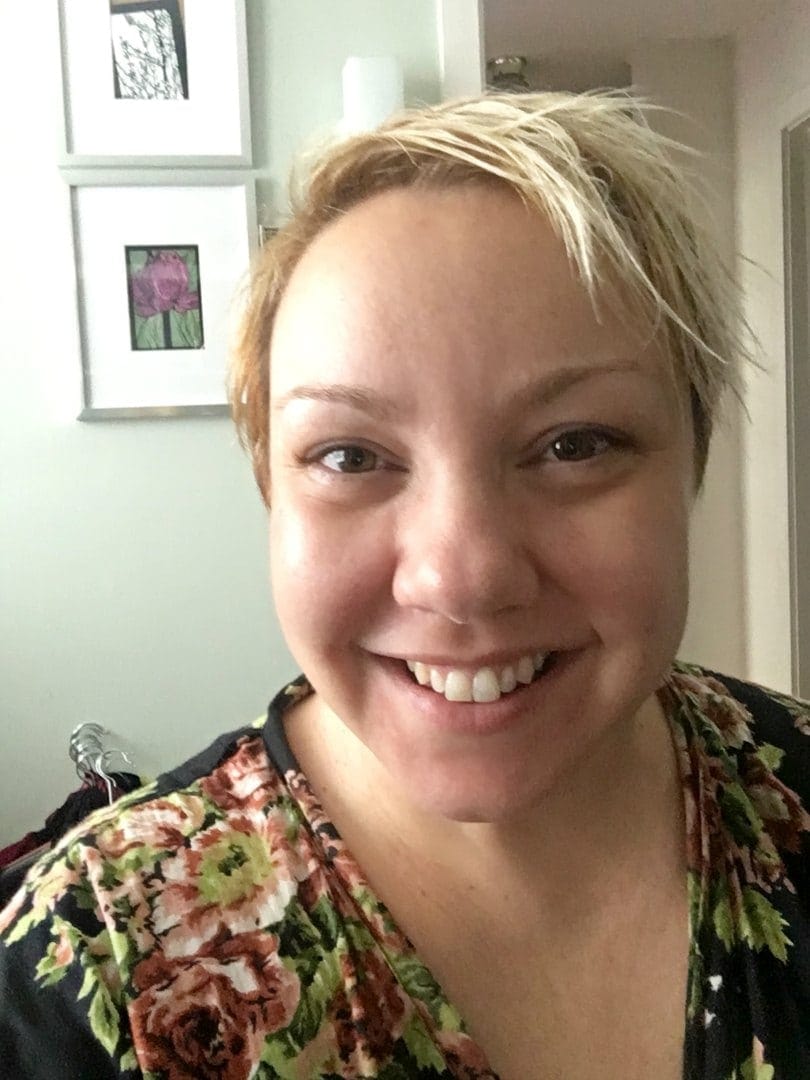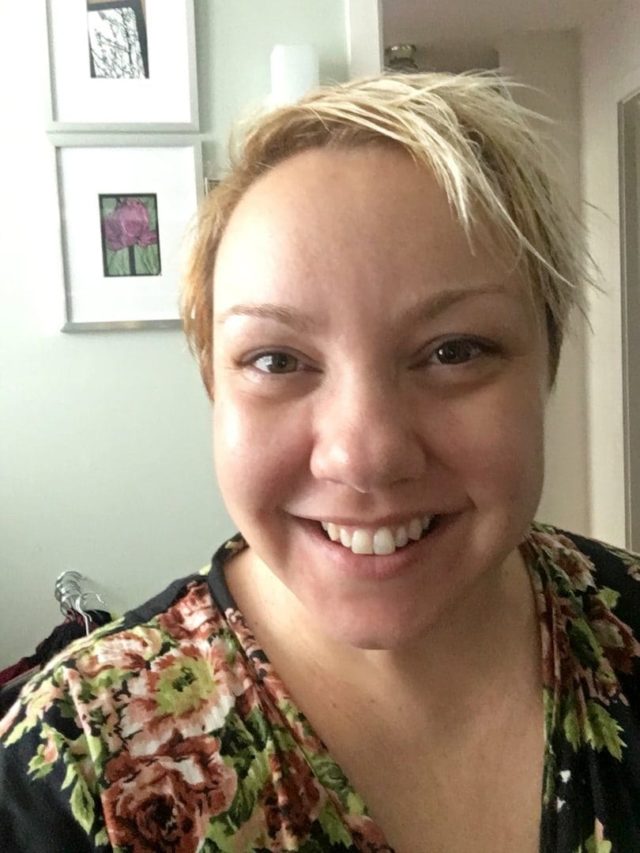 AM Routine
I don't wash my face in the morning unless it feels particularly off. I might run damp hands over my face and eyes to clear off the sleep, but only as needed. Immediately out of the shower, I'll use Pixi Glow Tonic and let it dry a bit on my face while I put stuff in my hair and brush my teeth. The Glow Tonic is new to my routine, I added it a bit before starting with the Regenerating cleanser and I think the combination (one at night, one in the morning) has really changed my skin. I have fewer dry or red patches and my pores are barely visible. It's great. Next is Milk Watermelon Brightening Serum followed by the Fresh Black Tea eye cream and then some sort of moisturizer. I'm currently going through all of my samples, but Drunk Elephant Protini is in the lead. Sunscreen is Neutrogena Ultra Sheer Dry-Touch Sunblock SPF 30.
On the weekend, especially if I'm not leaving the house or otherwise not wearing makeup, I'll use Milk Hydrating Oil Stick as my moisturizer – it smells and feels amazing, but takes a while to soak in.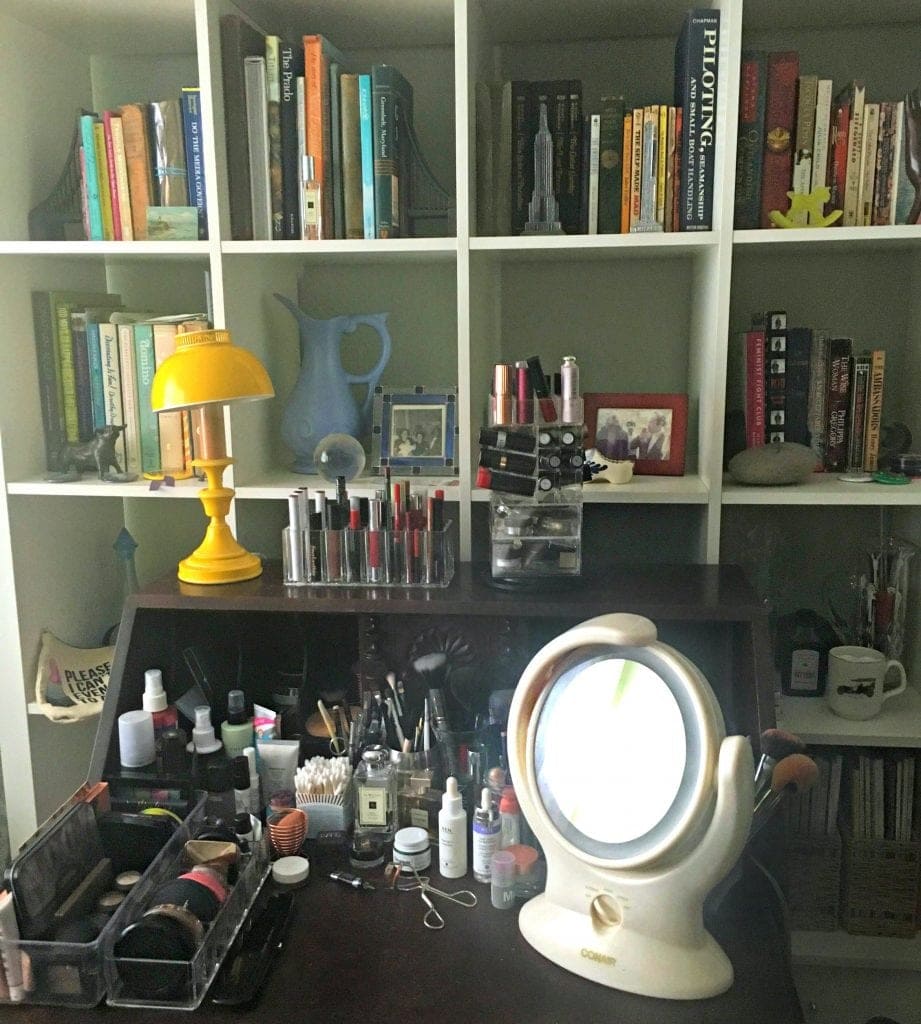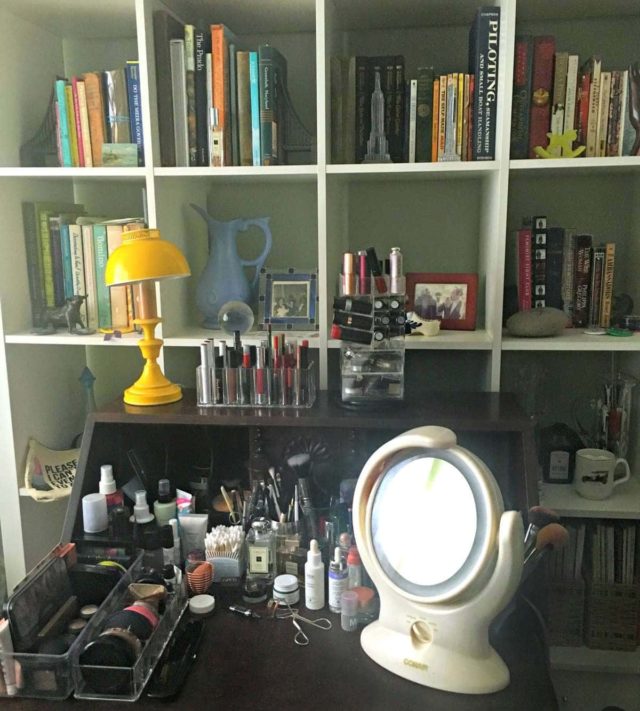 Makeup
I start with First Aid Beauty Coconut Skin Smoothie Priming Moisturizer all over my face, especially under my eyes and on the sides of my mouth. This 2ndshot of moisture has been a game-changer for me this summer and my skin doesn't get that shiny throughout the day anymore (and I had started getting shiny by the time I got to work). It's also changed my relationship with foundation – I had basically given up on liquid foundation because nothing ever sat right on my face or lasted throughout the day, but now it actually lasts. I randomly decided to try Wet n Wild Photo Focus foundation and I really like it. And because it's so cheap, I bought three shades, so I can mix and match as my tan comes and goes. I apply the foundation with a Sigma F80 Flat Kabuki brush. Concealer is IT Cosmetics Bye Bye Under Eye concealer, which I usually apply with my fingers, so it can warm up a little. I usually apply it first, so I can blend it in with my foundation. I find this order helps cover zits and any redness I might have below my nose or on my chin a little better. I use a Real Techniques Setting Brush to apply NYX HD Finishing Powder in Translucent under my eyes, on my nose, forehead, chin, sides of my mouth, and any zits I've (tried to) cover up. If it's going to be a long, hot day and I still want to have on a full face, I'll use Urban Decay All-Nighter at this point. Or if I've just gone a little overboard with the powder, I'll spritz with something alcohol-free. I'm not really loyal to anything here, but currently I have MAC Fix+, Pacifica Coconut Essence Hydro Mist, Heritage Rosewater & Glycerin, and CoverFX Mattifying Setting Spray.
It's summer and I'm very slightly tan, both of which makes me want to go terracotta with my makeup, rather than my normal pink/mauve/red combo. So my current blush is Hourglass Ambient Lighting Blush in Dim Infusion, sometimes with Tarte Amazonian Clay 12-Hour Blush in Paaarty or NARS The Multiple in Malibu layered underneath. Blush is my absolute favorite and I'm always fighting a battle with myself to not add too much. Now that I'm back to using liquid foundation with a brush, I can run whatever foundation's left on the brush lightly over my cheeks to tone everything down a bit. And while the Hourglass blush usually has enough of a sheen for me, if I'm feeling extra, I'll use IT Cosmetics Hello Light Powder Illuminizer.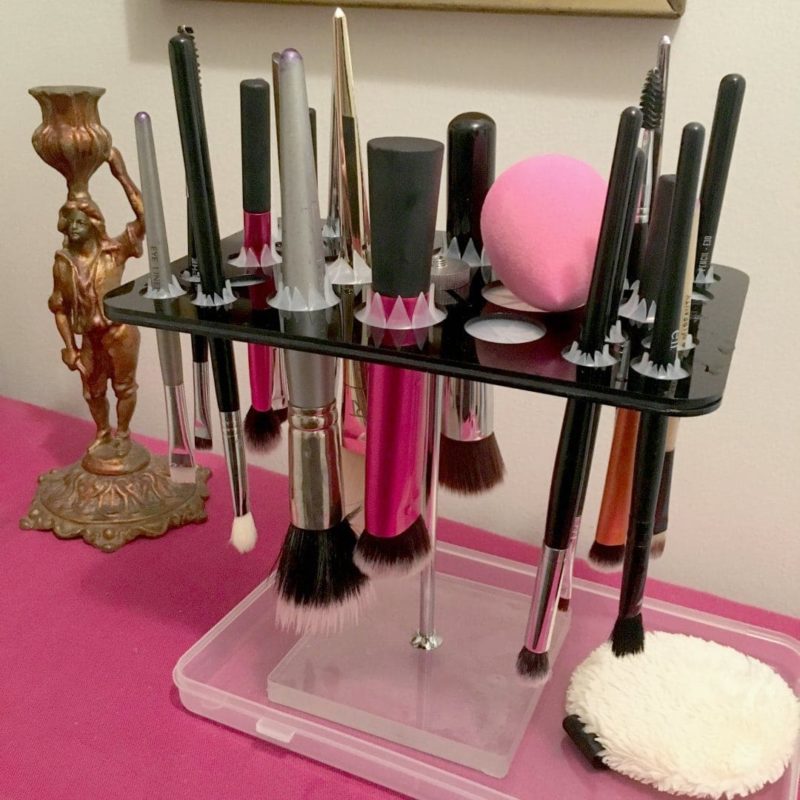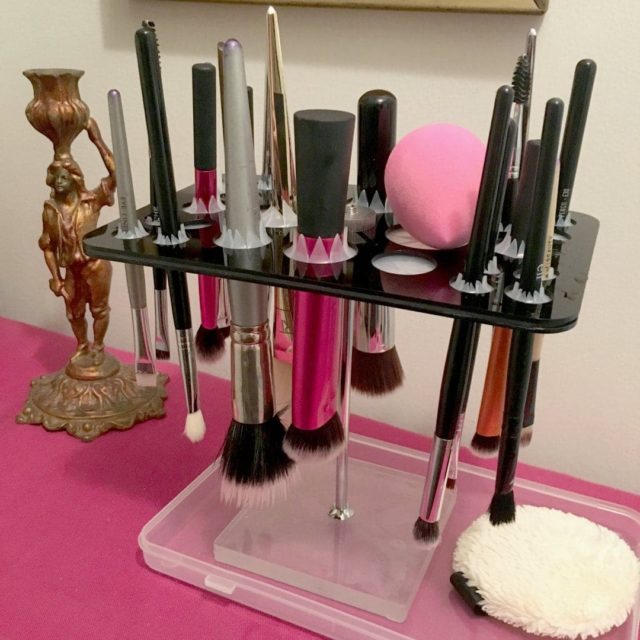 Next are eyes and I'm super boring here, doing basically the same thing no matter what I'm doing. I use MAC Paint Pot in Painterly as my base with some sort of pale shade across my moveable eyelid (MAC Vanilla or Anastasia Beverly Hills Soft Peach), and taupe in and above my crease (Bobbi Brown in Taupe). Eyeliner is black eyeshadow (MAC Carbon), stamped on with the Make Up Forever 256 brush, which is the BEST brush for this out of the many, many I've tried. I have several other eyeshadow palettes and singles, but these are the ones I reach for on a daily basis. If I'm going out at night, I might add a darker taupe or brown in my outer third, or even a full on black smoky eye, if I have time. Or maybe something glittery or shiny, like Stila Glitter & Glow in Kitten Karma or Milk Eye Pigment in Gig, though I generally stay away from actual colors unless it's a costume or theme party. After the shadow and liner is done, I curl my eyelashes with Kevyn Aucoin's curler and then apply lots and lots and lots of black mascara. I'm not crazy about any of my current mascaras. L'Oreal Lash Paradise did not work for me – it would flake and smear under my eyes, which never happens for me. I had stopped using L'Oreal Voluminous when I was using an eyelash growth serum, but since I've stopped the serum, maybe I'll go old school again. It IS a great mascara.
Usually, I do my brows between coats one and two of mascara. I clean them up with a Tinkle razor just about every day because it's so easy and quick. Then I fill in and even things out, using either the Dior Brow Styler Ultra-Fine Precision Brow Pencil in Universal Dark Brown or Anastasia Beverly Hills Dipbrow in Medium Brown. My brows will never be – and I don't think they should be – twins, but I like them to at least be sisters, not distant cousins who don't like each other all that much. I then go over it all with either Dior Bold Brow in Medium or Benefit Gimmer Brow + Volumizing Eyebrow Gel in 4.5 (if I'm feeling more dramatic), brushing the hairs up so they are as bushy as possible. If I'm running late or just want a subtler look, either gel works well enough on its own. I do really want to try the Milk Kush Fiber Brow Gel, so that's currently in my Sephora cart, waiting for my other stuff to run out.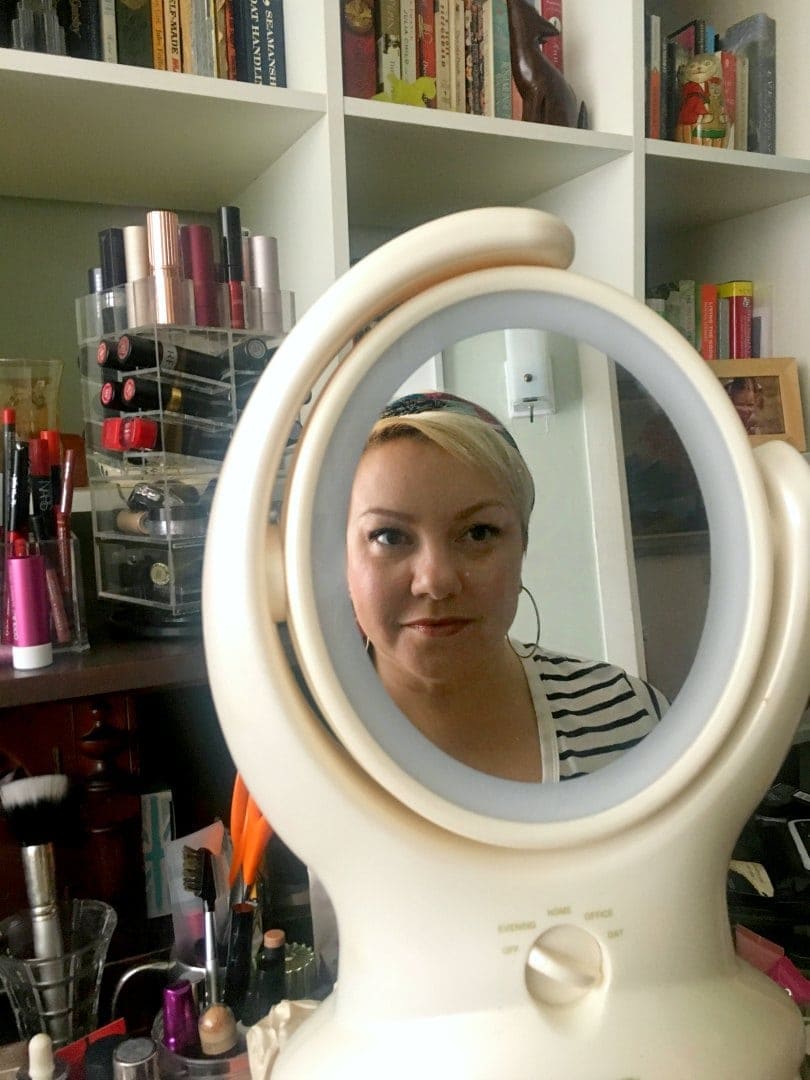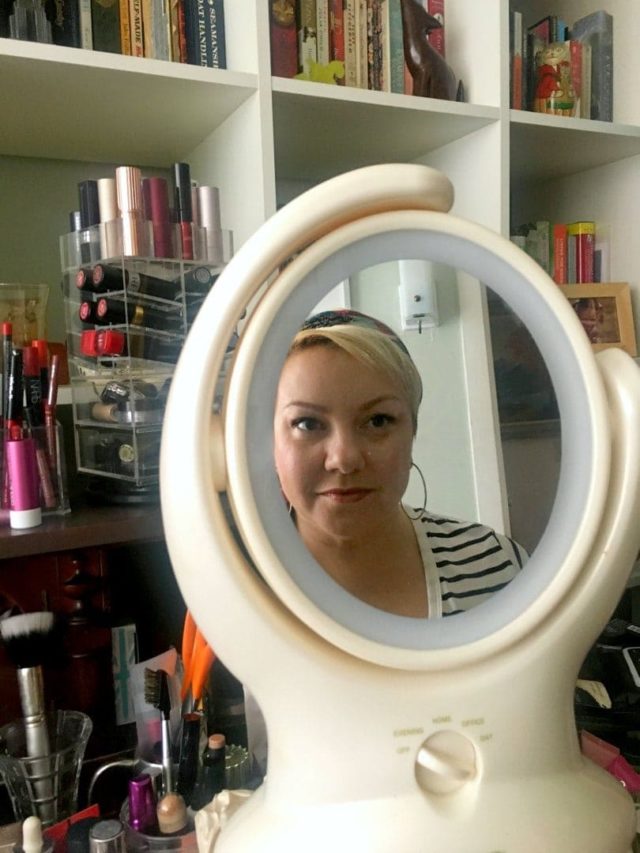 Last are my lips, which I usually apply in the garage when I get to work. When I first went blonde, I felt the need to wear red lipstick every day to add some color back to my face. I've mostly gotten over that, but I still love lipstick and have dozens, all different shades of red, brown, pink and coral. Red is still my standard – I don't wear it to work all that much right now, but I imagine that will change come fall. Right now, I'm obsessed with Lancome L'Absolu in 274 Beige Sensation. It has enough color to brighten my face, is glossy enough to satisfy my summer mood, and stays on well enough through my near-constant water consumption. It does wear off as the day goes on (and I reapply after lunch), but it seems to do so evenly and there's always something left when I take off my makeup.
My other favorite lipsticks are Sephora Cream Lip Stain in 01 and 76, ColourPop Lippie Stix in Love Life, and NARS Pigalle and Gipsy. And then Fenty Gloss Bomb got me liking gloss again. It's the most perfect color and formula and is great applied over a matte lipstick when the matte-ness gets to be too much.
I love the ritual of my makeup and skincare routines. I use my grandmother's writing desk as my makeup table and love having a dedicated space for applying makeup. Actually sitting down and taking the time to apply everything has become a really nice and calming way to start my day.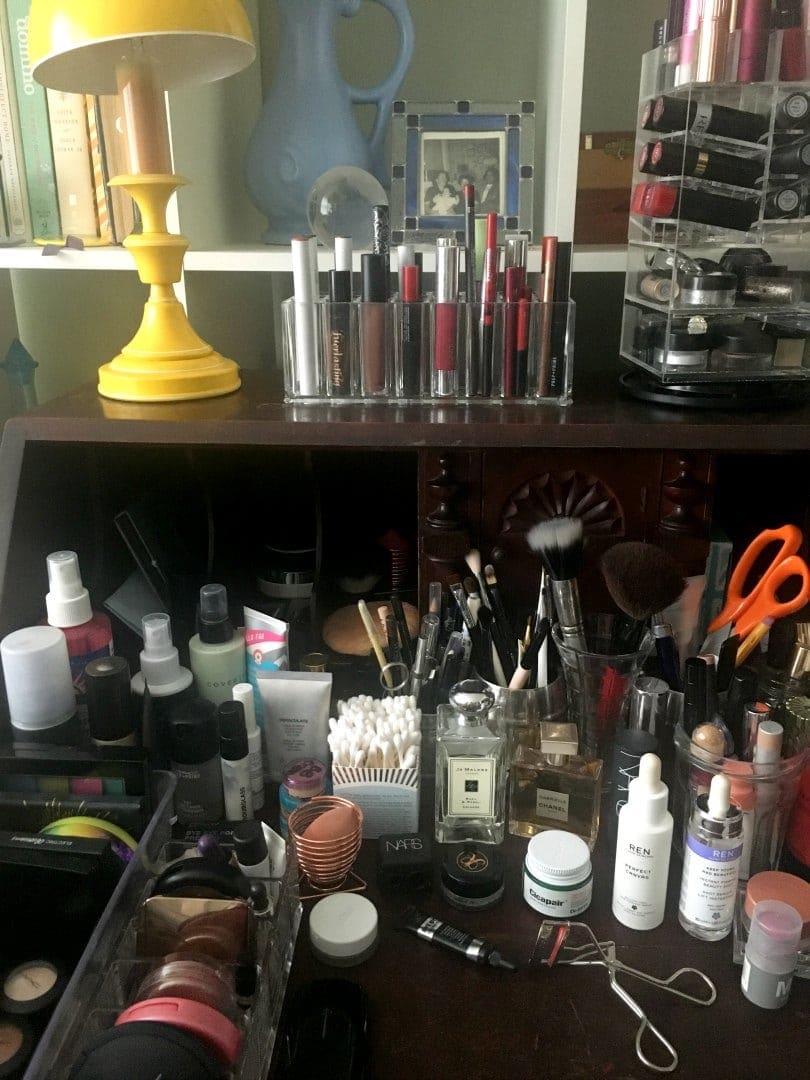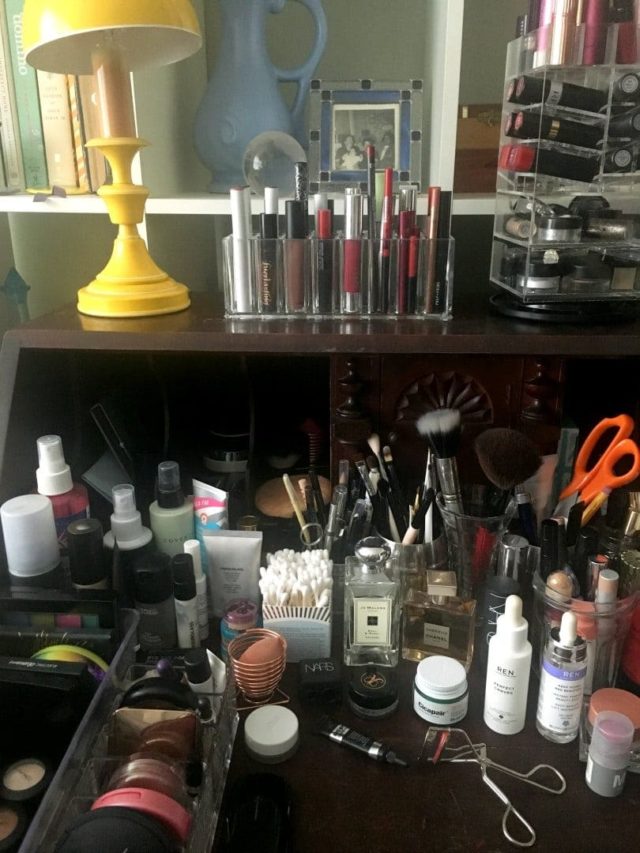 Has your skincare and/or beauty routine changed due to age, lifestyle, career, etc.?
In my early 30's, my acne was HORRIBLE. I learned about oil cleansing and switched to coconut oil for everything – I washed my face with coconut oil (washing it off with a washcloth, with usually cold or lukewarm water because I'm too impatient to wait for it to get hot, as well as hating the idea of wasting so much water) and moisturizing with the same coconut oil, morning and night. This cleared up my skin and that horrible acne hasn't come back, even as I've changed up my routine. Can one cure one's skin with oil or did I just grow out of it? No idea, but I like to think coconut oil cured my acne. Don't @ me.
Over the years, I've tried various beauty oils, but nothing worked as well as straight oil, whether coconut, sesame, olive, or sweet almond. If you feel like your skin doesn't like oil and you've only tried fancy (or not-so-fancy) beauty oils, try the stuff you cook with. You just might like it.
As I'm getting older, either my eyelids are becoming more hooded or I'm just noticing it more, and I definitely prefer how they look when I use a slightly darker shade in and above my crease. It helps my eyes look like "my" eyes.
What is the best skincare or beauty advice you ever got and from whom?
Wash your face every night, no matter how tired you are. It's very common advice repeated in every woman's magazine and from every expert, but I can't remember where I first heard it. But they're all right.
What is your must-have holy grail beauty or skincare product?
Oil, obviously! And I would narrow that down to sweet almond oil, it's definitely been my favorite.
But also, Clinique Repairwear Intensive Lip Treatment. I use this every night before bed – and only then because it's expensive for a lip balm – but I really think it improves my lips. I tried Bite Agave Lip Mask, which felt great, but the next day my lipstick would bleed outside my lips. I went back to the Clinique and saw an immediate improvement.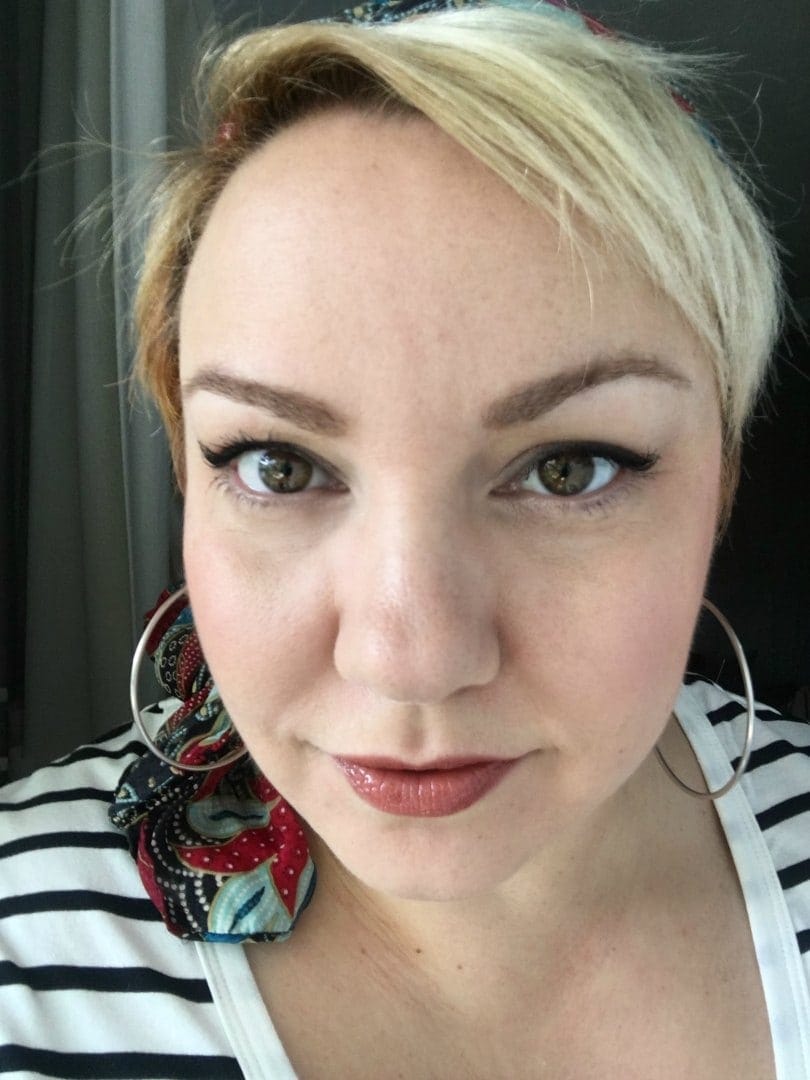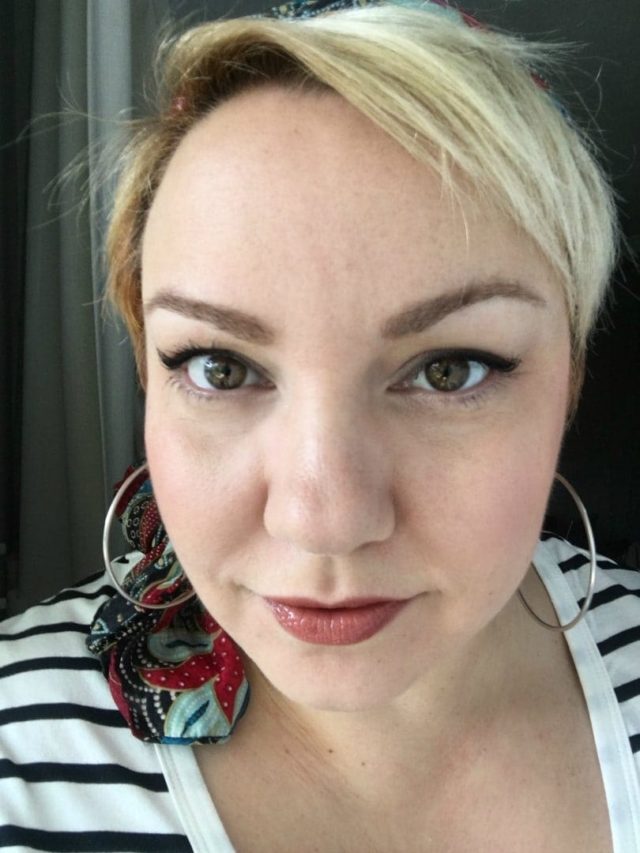 What is your biggest beauty or skincare regret or embarrassment?
Forgetting that the skin on my neck doesn't like lactic acid. It turns BRIGHT red and itchy. Surprisingly, glycolic acid clears it up, though it takes about a week. But twice now in the past few months, I've forgotten and run lactic acid down my neck. Which is why I think I'm off lactic, at least for now.
What nugget of skincare or beauty wisdom do you wish you could give to your younger self?
Start cleansing with oil earlier!
Anything else you'd like to share?
Don't ever feel you can't wear a certain look! I think usually it's just that you need to get used to the way your face looks with red lipstick or a super smoky eye. Or in my case, without lipstick.
And if your makeup starts to look a little off during the day or is settling into creases, rub your (clean) hands back and forth until they're warmed up and then press that onto the problem areas. The heat will smooth everything out again.
Shop the Post: