This article may contain affiliate links; if you click on a shopping link and make a purchase I may receive a commission. As an Amazon Associate, I earn from qualifying purchases.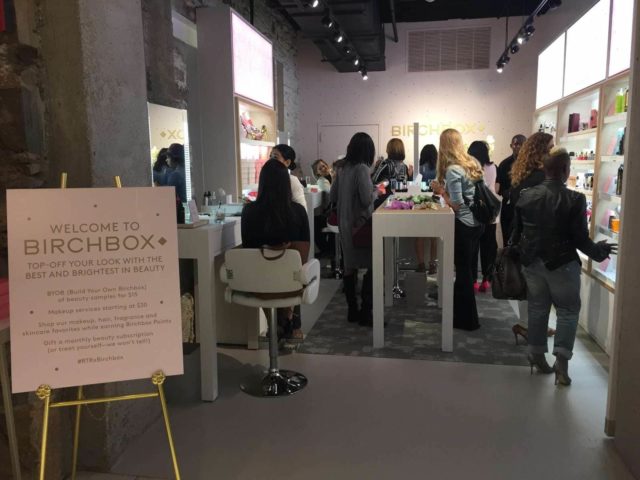 By Leyla Balimtas
Last Friday, Nov. 6, I had the opportunity of representing Wardrobe Oxygen at the grand opening of Birchbox in the Rent the Runway store in Georgetown. The event started at 9 a.m., so naturally, I got there way too early (8 a.m. in fact…), but fortunately, M Street has a great selection of stores, so I window shopped (and plotted my post-event trip to Georgetown Cupcake) to pass the time.
The event took place on the bottom floor of the Rent the Runway shop, and when I arrived, I was instantly greeted by every member of the Birchbox staff (they were so welcoming!). The main part of the event was the featured "Build Your Own Box" table, which allowed each guest to create a Birchbox of their own. I was amped – free stuff and food all before 10am?! Every college student's dream.
Birchbox has a mission to help its subscribers find products that they love. Each month, subscribers receive deliveries of beauty or grooming samples, which are tailored based on your personal preferences. With this new store, customers are now able to physically select their options and subscribe to a Birchbox in person! This was definitely a change of pace from my past experiences with Birchbox. Growing up, my sister received a Birchbox subscription as a Christmas present, and I was always envious when she got her monthly box in the mail. Before long, I began commandeering the items she didn't want, and eventually, my mom loved the idea of Birchbox so much that she got a subscription of her own! Looks like I'm the last Balimtas girl to jump on the bandwagon…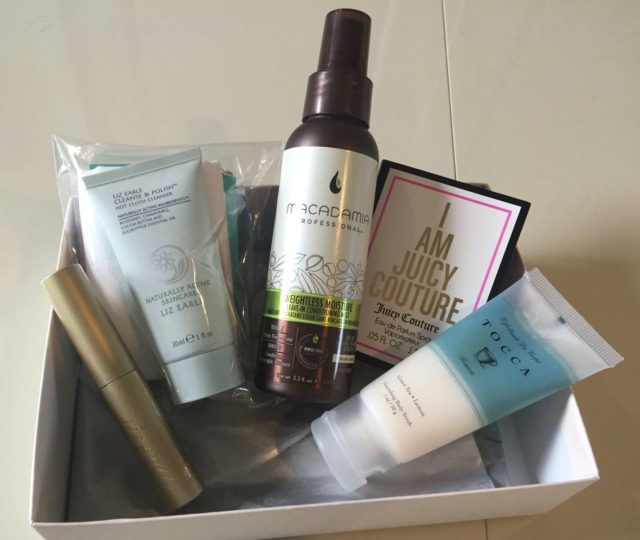 At this kickoff event, each guest was able to pick an item from five different sections: hair, skin, makeup, fragrance, and body. My selections included samples of the Macadamia Professional™ Weightless Moisture Leave-In Conditioning Mist, the Liz Earle Cleanse & Polish Hot Cloth Cleanser, the Stila Huge Extreme Lash Mascara, the Juicy Couture I Am Juicy Couture Eau de Parfum, and the TOCCA Esfoliante da Corpo Nourishing Body Scrub – Bianca. Not being that hip to a lot of these items, I was a little nervous at first. I'm the kind of gal who typically buys her cosmetics from the local Target or CVS, so having all of these brands in front of me was a little overwhelming. But, with the helpful hints from some of the Birchbox employees, I carefully made my selections, and so far, I've used each of the samples I picked out. And I adore all of them!
Now, to be perfectly honest, I've never really cared much for body scrub or skincare treatments besides the standard acne treatment and drug store body wash I use on a regular basis (can you tell I'm a little new to this game?). But after using the Liz Earle Cleanse & Polish Hot Cloth Cleanser, I've discovered a whole new meaning to skincare. After just one use, my skin felt fresher, more exfoliated and rejuvenated. Immediately after, I yelled to my sorority sisters, "you guys, come try this stuff it's life changing!" Needless to say, the sample size I received only a week ago is now gone.
The TOCCA Esfoliante da Corpo Nourishing Body Scrub – Bianca was also perfect for getting all of the dirt and grime off after a long day. Which is nice, especially after a rough week of classes. After a couple uses, I felt a noticeable difference between using this and the soap I use when I shower. And although I've mainly stuck to body sprays in the past, the Juicy Couture perfume was clean, feminine and lasted hours on end, which came in handy after running around in DC all morning! I may never go back to the standard body sprays I've been using for years and years. Looks like Birchbox may have changed me for good.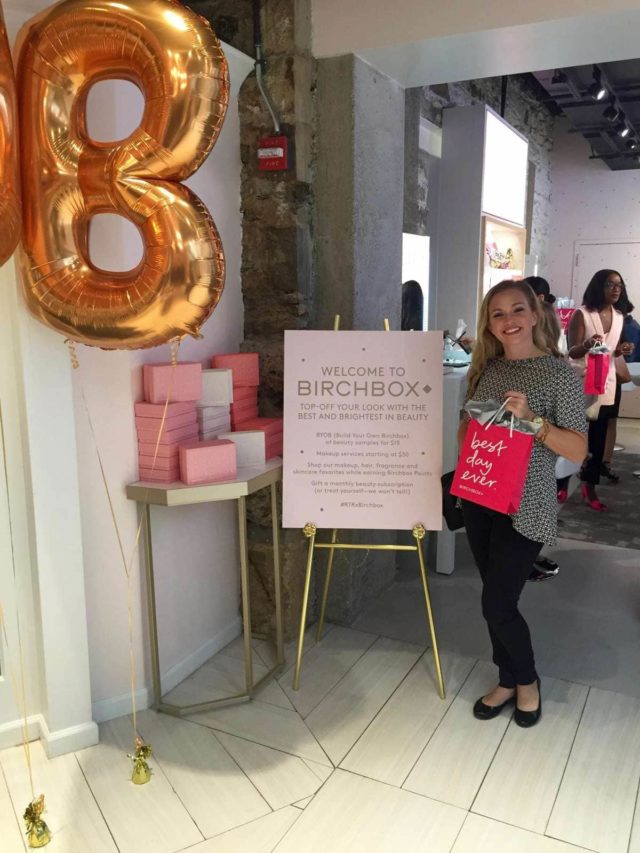 While I'm not a huge fan of body scrubs and lotions, I do take pride in my makeup and hair. The Stila Huge Extreme Lash Mascara was a nice change of pace for me, as I have generally stuck to other mascaras in the past. I was gifted with naturally long eyelashes (shout-out to my mom for that one), and this mascara really accentuates that quality! And while it gave me tremendous length on my lashes, it didn't clump up, which allowed for a more natural finish.
And as someone who has very fine hair, I was elated to stumble upon the Weightless Moisture Leave-In Conditioning Mist. It made my hair feel softer and thicker, which is something that I've found hard to achieve with other hair care products. Also, it was an easy fix to regenerate my hair without showering. As someone who basically has every minute of her day scheduled, this was nice to spray quickly and then be out the door.
After browsing the Birchbox event for awhile, I had a few moments to ask some of the employees some questions, including the store manager, Anna Fraser. She mentioned that Birchbox and Rent the Runway originally partnered together because both began as e-commerce, but aspired to enter the retail world in stores. Birchbox currently has a year partnership with Rent the Runway and has since opened up stores in New York and Georgetown.
I loved having the opportunity to represent Wardrobe Oxygen at this event and give some insight on some of the products I received! This will definitely be a store I'll be returning to, especially since it's right by some other great shops on M Street. To learn even more about Birchbox or their new location in Georgetown, be sure to visit their website here.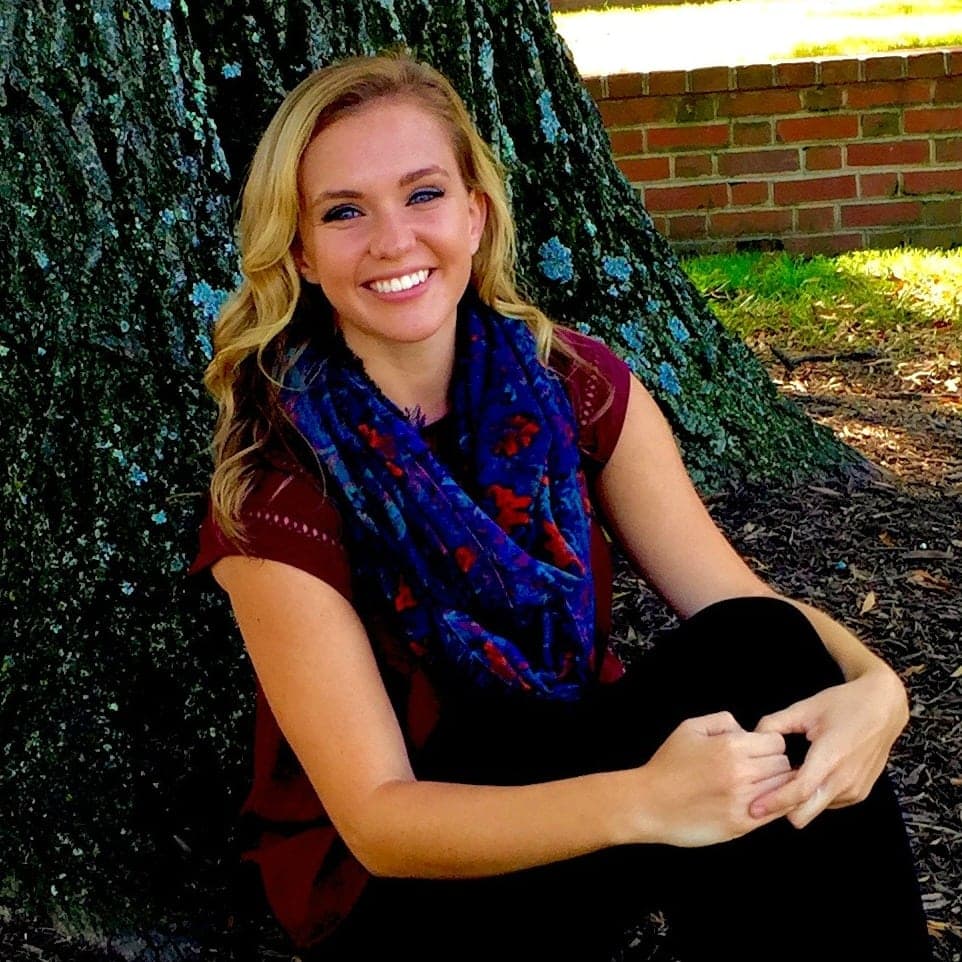 Leyla Balimtas is a Junior Communications – Public Relations major at the University of Maryland College Park. She is the Vice President of Public Relations for the Gamma Theta chapter of Alpha Chi Omega, a tour guide with Maryland Images, and a member of the Science and Global Change Scholars program. Leyla is the Blog Assistant for Wardrobe Oxygen.