This article may contain affiliate links; if you click on a shopping link and make a purchase I may receive a commission. As an Amazon Associate, I earn from qualifying purchases. 
I hate style books.
I have dozens at home, and almost every time I purchase one I want to kick myself. Yes, there are a few out there that offer some worthy and unique advice, but the majority are utter crap and cruel.
Cruel?
I said this to a friend today and she thought I was being harsh. Well let's take a portion from a new book, Nina Garcia's The One Hundred: A Guide to the Pieces Every Stylish Woman Must Own
.
Bootie Call (a chapter discussing the merits of ankle booties)
• When wearing with pants, keep the colors the same. Black pants tucked into black booties will elongate the leg and make you feel fabulous.
• When wearing with miniskirts, try them with Black Opaque Tights (#10) to keep your line going and going and going. Unless you have fabulous legs, illusion is our master craft.
• Make sure the bootie does not cut off straight at the ankle like a traditional bootie – these boots are made to be worn under pants and will chop off the leg and make it look stumpy.
• It is a great alternative to the pump – always consider it if the pump seems too safe.
• The bootie is a classic way to mix the masculine with the feminine, so don't be afraid to flaunt a little femininity when you have this more masculine shoe on. One must mix it to risk it…
Okay, this sounds pretty fun and helpful. I agree, combining a black pant or tights with a black shoe hides flaws and makes the leg look long. But let's take this apart…
In general, the woman who purchases and reads this book is one who feels as though she does not possess a sense of style, thinks she is not fashionable and is looking for advice.
Black pants tucked into black booties… well what type of black pants? Can one wear her black twill chinos? Black polyester pants that she wears to the nightclub? Black suiting trousers? And can any ankle bootie work? The previous page mentions Louboutin and Prada as bootie designers… not really brands that most women can afford (or even find at her local mall). So are we looking for a pull-on style? One that laces up? Chunky heel? Wedge heel? Stiletto heel? Flat boot? Suede or leather or microfiber? How about contrast stitching or trim?
A miniskirt with black tights and black booties. A miniskirt? Well she does mention in another part of the book that a miniskirt may be too short, but black opaque tights makes a very short skirt fashionably short. So this look of mini skirt, black tights and booties will work for the office? And since this works with miniskirts, that means it can look good with my denim skirt? How about my purple floral rayon skirt that shrunk a bit in the wash but is still cute?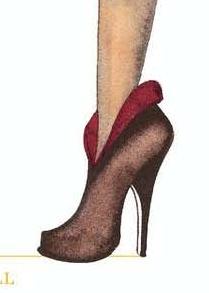 Okay, so now we hear we don't want a bootie that cuts straight across and the illustration shows one that dips down in front, is black with a stiletto heel and a red collar of sorts around the ankle (see illustration above, taken directly from her book). Is this the style of boot we should be looking for? This is the boot we should wear with black tights and denim miniskirts or with our black chinos?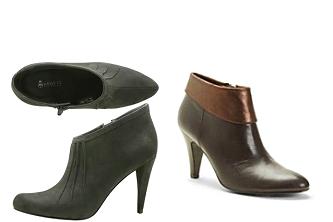 Hitting up the most widely accessible retailers for American women (Payless, Target, Wal Mart, Zappos and Macy's), the only boots I could find under $100 that seemed to slightly fit the description Nina Garcia gave (black, ankle bootie, not a straight cut, black) were these pleated suede numbers from Abaete for Payless (left), and the "Darcy" bootie by Alfani (Found at Macy's) (the boot on the right).
So next, Nina tells us that this boot can replace classic black pumps. So pretty much, one can get the Darcy bootie (which has a two-tone look JUST like the bootie that Nina suggests) and be able to wear it with black pants tucked in them, pair it with black tights and a denim mini skirt, or wear them to a wedding this weekend with a black crepe sheath dress and pearls! Awesome!
Please know I am saying this with pure sarcasm, and that I don't think either boot pictured would work for what Nina is suggesting.
On top of all this bootie confusion, what if the woman is 4'11"? Or maybe she is 6'2"? What if she is a size 16? Has a size 12 foot? What if she is 21? Or what if she is 71?
How is this "wardrobe staple" advice?
I'll admit it, I have seen some women look utterly fabulous with black pants tucked into boots like these. Thing is, the woman usually works in a creative field, has legs a mile long, wears a single-digit clothing size, and knows that the pants need to be very skinny and the boot a little bit of slouch/definition to actually look cool and appropriate. The same holds for the bootie with a mini – she already knows that this will look best with a solid colored dress or skirt of either a substantial fabric or a special fabric (leather, sequins). She also knows how short is short, and what would be appropriate for her workplace. Finally, she would rock the heck out of those boots with an LBD, but she knows the look is for the wedding of her artist cousin's Big Day in Chicago, not the one of her college roommate who lives in the next town and is a private-school teacher.
However, women read these books, try their darnedest to emulate the stylish author with what they have available – a far smaller budget, limited shopping locations, a far more traditional social calendar, a more conservative or casual work environment, and a body that is usually not built thanks to home-delivered Zone diets, a nutritionist, yoga instructor and personal trainer. The reader gathers that which she can afford or replicate on the list, feeling that if she at least has a few Hanes tee shirts or an H&M trench she will be that much closer to style success.
However style doesn't come with what you collect, or what list you follow. Yes, even I have a list but I know it won't necessarily work for all women and I know it doesn't create instant style. My list is created for those who do not know exactly where to start – my hope is it is a canvas, a survival kit so all women have a base wardrobe. Style does not come from aviator sunglasses or diamond studs, style does not come from imitating another. Style comes from getting to know and understand yourself, your life, your body, your mind. Having a base wardrobe helps free up the mind to get creative and personal; it takes guesswork out of every day. It forces you to think… what will make this simple sweater and pants combination more ME?
I adore Nina Garcia – I find her style to be unique yet full of class, I love her brutal honesty and view on Project Runway, and always gobble up her articles in Elle. However Nina Garcia's books (and the books by many celebrities and celebrity stylists) are more so Chick Lit than reference; they are a peek into a fabulous world of a fashion editor or actress who jet-sets, works in a field where daring fashion is expected, and has drinks with celebutantes. To read Garcia's list of one hundred items that create style is to peek into her closet and her life, not to help one find her own sense of style.
The problem is America is full of women who are confused. Dove tells us to love our bodies yet stores predominately sell clothing for a different shaped person. We are told to manage our money, yet are told that we can't be chic without an It Bag. We are celebrated for being intelligent, and trashed for not donning the latest fashions. Magazines, television shows, even the news informs us of what is hot, what is a must-have without considering finances or lifestyle. We are bombarded with products to make us look younger, be thinner, pretend to be richer, attempt to imitate the latest hot celebrity. All these so-called "style" books just add to the frustration and confusion, and it's just plain cruel. It's taking advantage of these confused women, stealing away their precious pennies in hopes of finding Fashion Nirvana between the pages.
I know that most women I encounter are just trying to figure out how to get through the day looking presentable and appropriate, not what to wear to a black tie gala or a trip to Ibiza. And most women I encounter can't or wouldn't wear half of the things suggested on must-have lists or as style savers.
Point is, enjoy the books as you would a great piece of Chick Lit, or even a coffee table art book. See the beauty, get lost inn the fantasy, and even use it for a bit of inspiration. But know that most of these style books are not gospel, and are normally not written for the average woman.
Some style books that I have found to actually be helpful: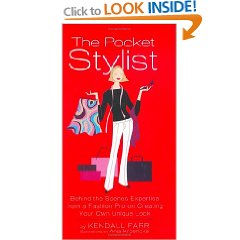 The Pocket Stylist: Behind-the-Scenes Expertise from a Fashion Pro on Creating Your Own Look
– This book from Kendall Farr breaks things down for different shapes of bodies, and different weights. She offers timeless tips on how to shop, maintain clothing and build style. It is easy to read, easy to reference, and easy to connect to your actual life. This is one of the few books I have purchased that has not caused me to roll my eyes every chapter.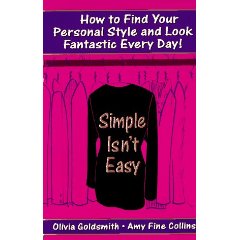 Simple Isn't Easy: How to Find Your Personal Style and Look Fantastic Every Day!
– Olivia Goldsmith (RIP) and Amy Fine Collins know the fashion world, the society world, and the real world. These teensy book may lack helpful photographs and illustrations, but jams in TONS of really helpful, realistic and fabulous advice on creating style and a working wardrobe. I bought this book in college and it still works with today's trends. It also has been a wonderful reference for me as well as my mother – different generations, different lifestyles, different personal styles.
Color Me Beautiful
– I know this is terribly Old School (gosh some of you younger readers may not even know about this book), but Carole Jackson's classic really has helped so many women get a grasp on color. I have never been one to stick to my seasonal palette (I am a Winter but gosh do I love me some orange!!!), but it helped narrow down things, and realize it's not me that looks terrible, it's the seafoam green sweater that is causing it. One can wear an expensive dress and look like death warmed over, or a cheap dress and look like a million bucks purely based upon the colors on her face, in her hair and on her body. The book I have linked is the original from the '80s – do take the makeup and shoulder pad advice with a grain of salt. However do not be afraid to tear out the color sheets and take them to the mall, your hairdresser, and to your best friend's house.