This article may contain affiliate links; if you click on a shopping link and make a purchase I may receive a commission. As an Amazon Associate, I earn from qualifying purchases. 
So Rockport contacted me a few weeks ago regarding their new line of shoes called Total Motion.  They claim the concept is, "…where soft fit meets lightweight stability. The soft fit is apparent the moment you try on the shoe with its glove-like upper and ultra-soft foot bed, this fusion of strength and softness creates a shoe you won't want to take off." Hey, I like to share comfortable yet stylish shoes with you folks, so I said go ahead, send me a pair, if I like them, I'll feature them in a post.  you guys always ask for advice on comfortable work-appropriate footwear, right?
The other day I came home to a new pair of Rockport pumps. I had worn my high heeled black booties to work and my piggies were a bit aching from the long day. Worst time to try on new shoes, my feet were hot and a bit sweaty and swollen and just wanted to be barefoot. But how can you resist a new pair of shoes? So I slipped them on… and aaaahhhhhhhhh.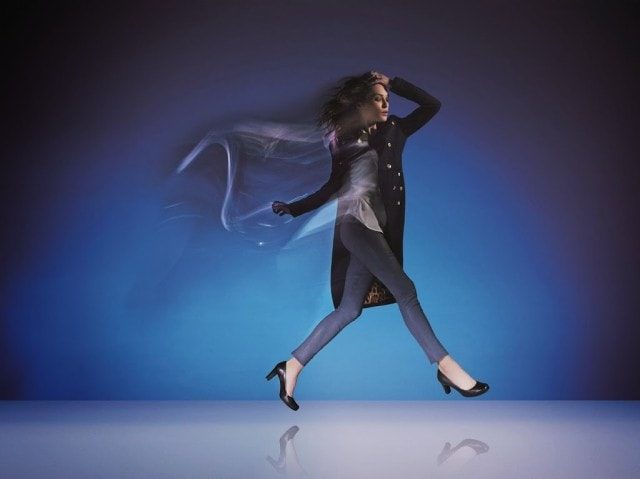 The gorgeous Erin Wasson rocking some Rockports
Seriously, these shoes were so comfortable, my feet felt better in them than barefoot. I spent the rest of the evening in a tee shirt, yoga pants, and taupe pumps. It reminded me of my Birkenstock days (I know they're back and en vogue but I just can NOT do it again), when I could come home and slip off my pointy stilettos and give my feet a vacation in molded cork soles. The leather is butter soft and a gorgeous luxe quality, the sole is extremely flexible with a nice rubber base which would be excellent on the slippery DC marble sidewalks. The heel is thick, but thicker heels have come back in style and it still has an elegant shape to it that would work with skirts but also with trousers.
The next morning, with fresh happy feet I tried on the shoes… and they still fit and still felt great! Totally impressed. I have shoes from other brands with athletic shoe brand technology, but the comfort can't rival Rockport Total Motion. The only issue I have with these shoes is the color – I didn't request a certain shade and they sent me "Fossil" (a taupe color) with a black sole.  I found the color a bit too conservative, a weird contrast with my skintone, and well… a bit too mature to match my current wardrobe. If I had been smart and asked for black, you'd likely see these shoes on my feet at least once a month on this blog.
I didn't have to write this post, Rockport didn't ask me to and when I asked for the hi-res picture of Erin Wasson above it took a while to even hear back from them because they just sent me the shoes to be nice, not to have a post. I'll be honest, I have a few pairs of shoes at home that have never been mentioned on this blog because while it's so nice to send them to me, if I don't believe in the quality, fit, comfort, or style I won't share them with you readers.  I just had to take a moment to rave because I was so highly impressed with these shoes. They're comfortable, they're well made, and they also have this technology in a pair of pretty awesome tall boots with a wedge heel and stretch shaft. They are worthy of the hype.
Rockport's Total Motion collection for Women is currently available at Nordstrom and both
the boots
and
the pumps
come in regular and wide widths and are under $200.
Follow Me | Twitter | Facebook | Instagram