This article may contain affiliate links; if you click on a shopping link and make a purchase I may receive a commission. As an Amazon Associate, I earn from qualifying purchases.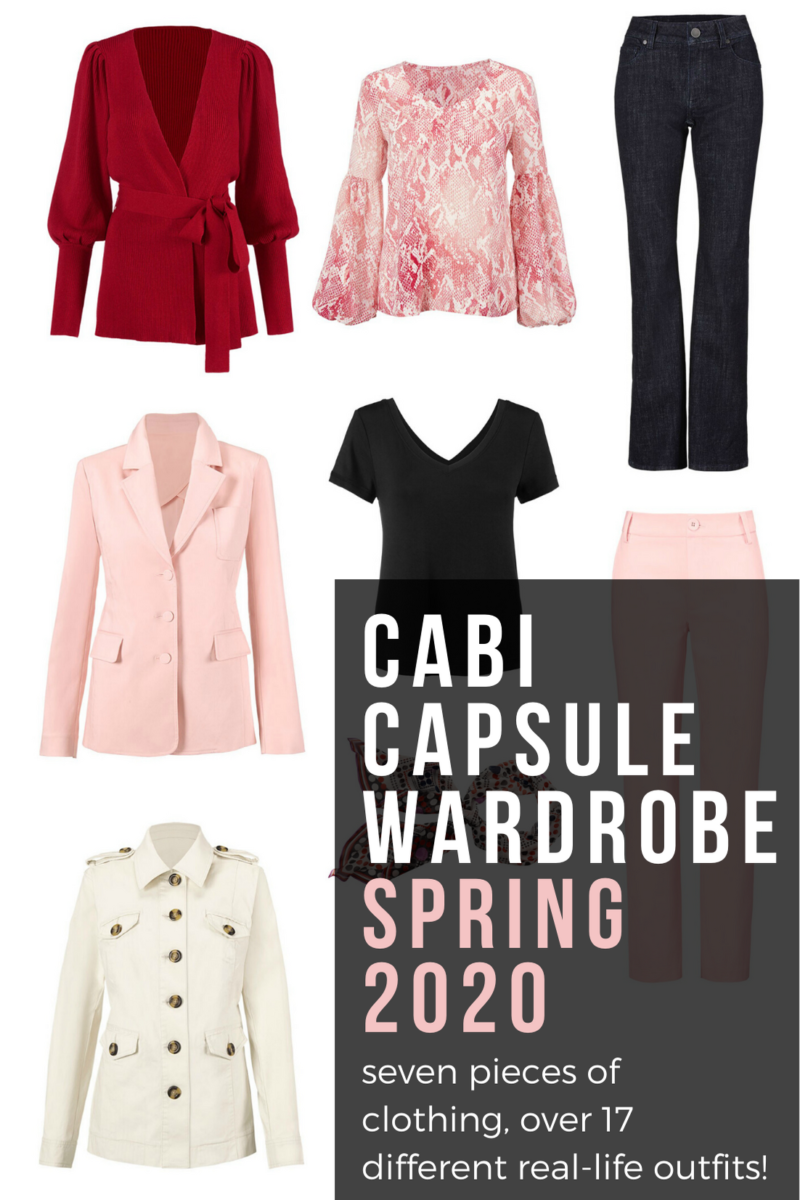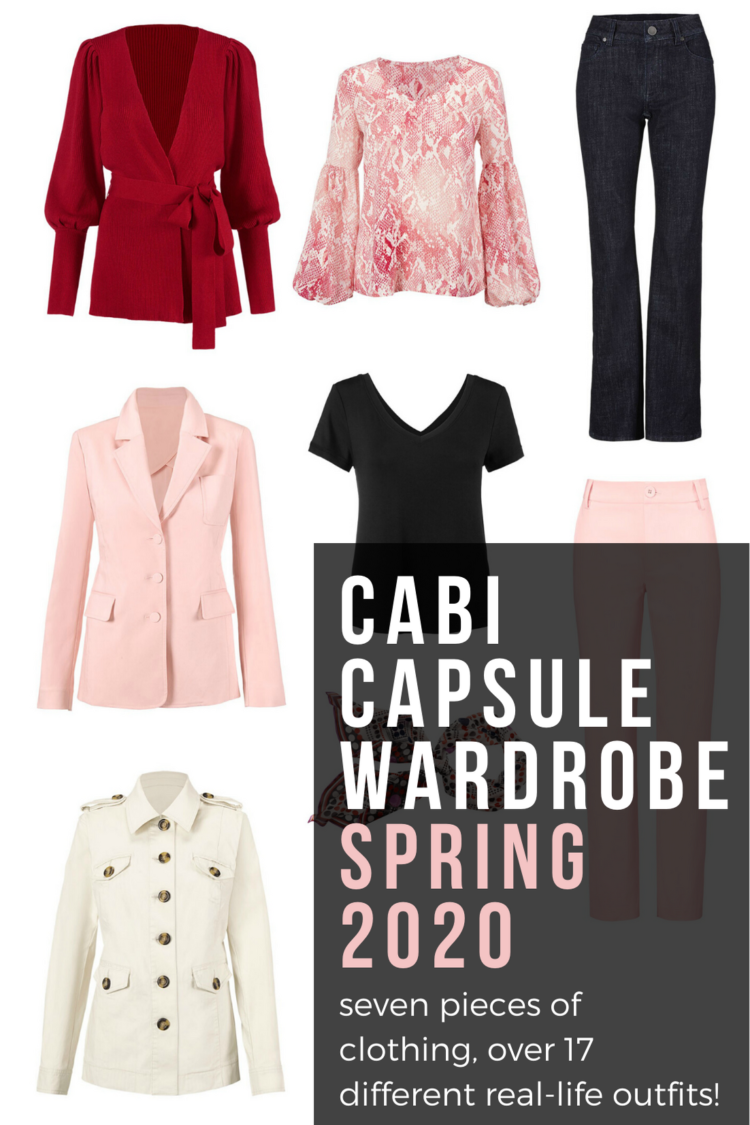 I have been creating capsule wardrobes on Wardrobe Oxygen since 2005; not only is it one of the most popular content on this site, but it is the most fun to put together. I truly believe you can achieve big style with a small closet, and love proving that by creating collections of clothing that mix and match beautifully. While my capsules usually contain over a dozen pieces of clothing, considering all that is going on in the world right now, I want to create a capsule wardrobe with fewer pieces, but just as many looks, inspiring you to achieve more while purchasing less.
This capsule wardrobe is sponsored by cabi.
This is my fifth capsule wardrobe for the clothing company cabi. I made my first one in 2017 inspired by the runway show for the brand I had the pleasure of attending. cabi is a company that lends itself to capsule wardrobes; they use the same colors and fabrics not just within one season but season to season. They want you to wear and rewear their clothing year after year, building a cohesive and hardworking wardrobe. And this spring 2020 collection is no different. I was thrilled with the cheerful colors in cabi's spring 2020 collection; not only is it a palate cleanser after the dark colors of winter, but it also brings joy to what has been a tough year thus far. I love how the pieces can dress up for work, but also transition for weekend, social occasions, and while not in this capsule, many of cabi's pieces this season are fabulous for working from home or a more casual lifestyle. Not only that, but this season cabi has also extended its size range to 20 or XXL for several pieces, and I have included some of them in this capsule wardrobe (I will note throughout the post which ones are available in extended sizes).
cabi Capsule Wardrobe for Spring 2020
This capsule wardrobe uses seven pieces of clothing from the spring 2020 cabi collection plus a variety of accessories to create 18 different outfits. It was fun to challenge myself to find the right pieces to accomplish this many outfits; this is a great challenge for anyone looking to extend their wardrobe or make smart purchases for their closet. My rule of thumb is a new piece for my wardrobe needs to be able to be styled at least three different ways and in this capsule wardrobe, I show you how you can switch up the styling of traditional garments to create very different looks for very different occasions.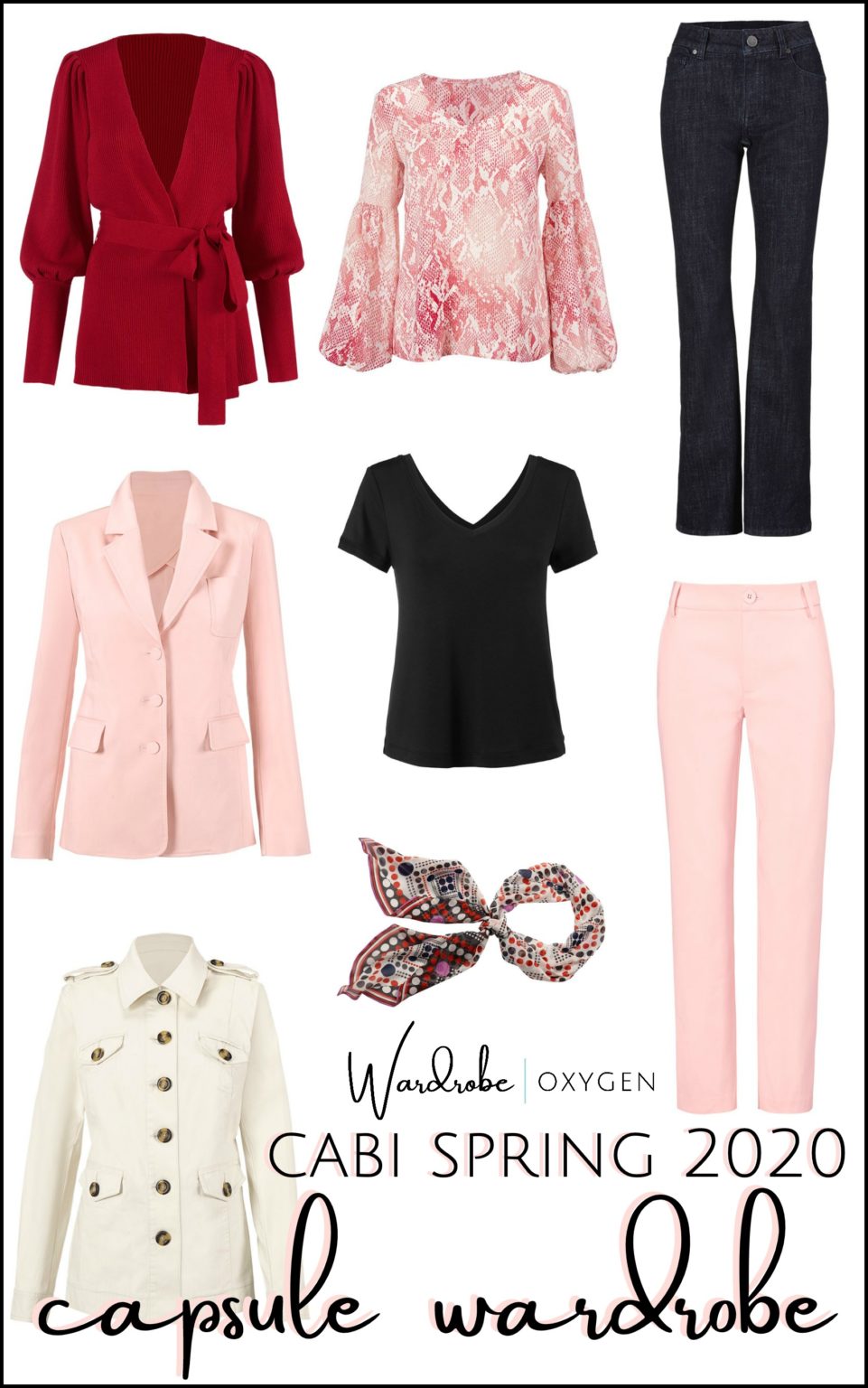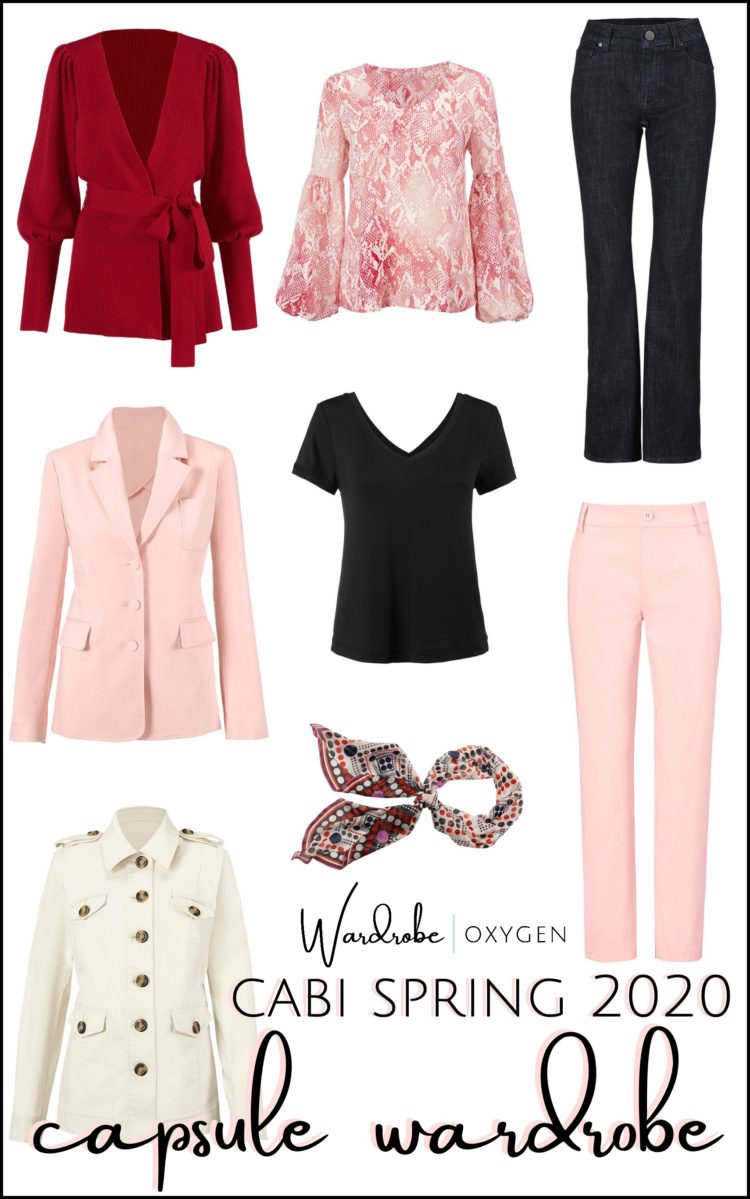 shop the capsule wardrobe:
red "Cabaret Cardigan" | pink snakeskin print "Bethany Blouse" (available up to XXL) | dark denim "Trouser Jean" (available up to size 20) | pink "Grace Blazer" | black "Relax Escape Tee" | pink "Grace Trouser" | off-white "Kenya Jacket" (available up to size XXL) | printed "Shrimpton Scarf"
Pink is a hot trend for this spring and into summer, and this capsule wardrobe shows it's a color that can look strong, sophisticated, and can be quite versatile with a variety of other colors. I used it as the base color with a pop of red (mixing pink with red is another hot trend right now) and several neutrals to show how it can be a statement color or also stand in as a neutral.
For reference, I am usually a size 12/14 and often choose items, especially pants and blazers, in petite sizing. I am 5'3″ and have lifted weights for two years resulting in large shoulders, arms, and thighs. I had both pants in this capsule shortened by my tailor but no other alterations were done on the collection. Please note the Grace Trouser has slits on the outer sides of each leg; by having the pants shortened I still had a stylish amount of slit left to still enjoy this cool fashion detail. While the Trouser Jean is a flared style, the way the pant is cut I still was able to maintain a good amount of that detail even with having a couple of inches removed. All items I am wearing below are a size 12 or Large.
sample outfits from the cabi capsule wardrobe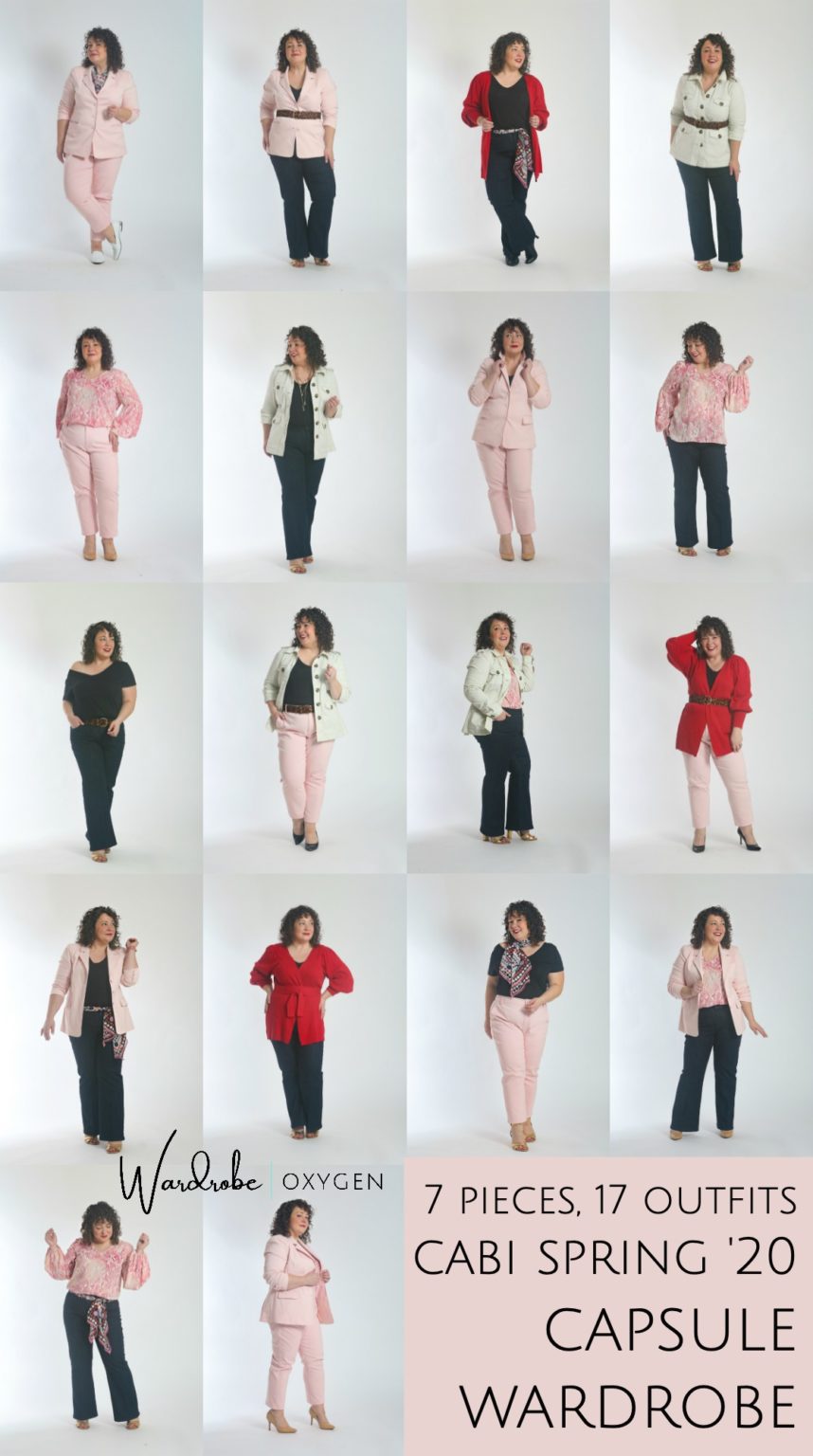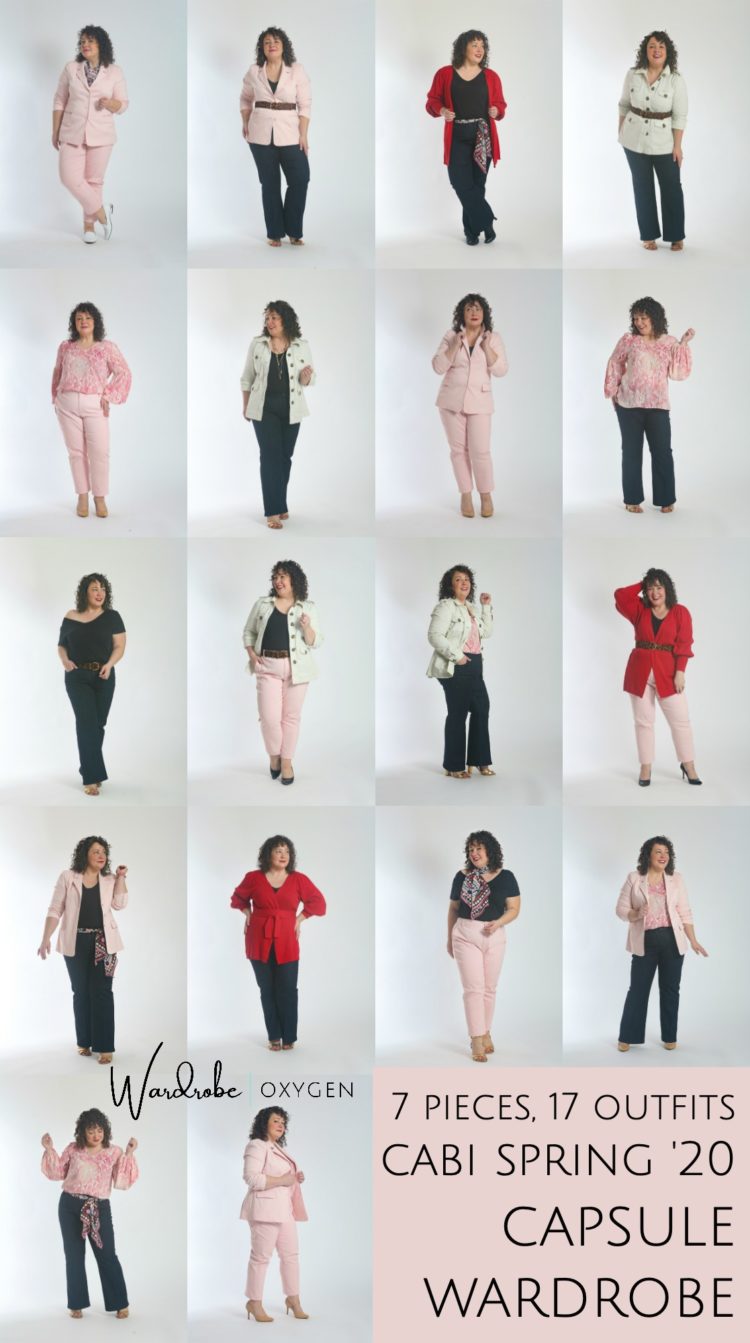 While I created 18 looks, you could easily create more incorporating pieces already existing in your closet. A pair of white jeans (or the cabi Lido Crop which I've been wearing like crazy with everything from graphic tees and sneakers to cashmere sweaters and loafers), a denim jacket (this one from cabi is a super cool silhouette), and a classic Breton top would all be great additions to get more mileage out of these pieces and several more outfits. Below is a gallery of all 18 looks. Click on any thumbnail graphic in the gallery to see the full-size images and descriptions. Hover over the images to find arrows to advance and go back within the gallery. Click the X at the top right of an enlarged image to close the gallery and return to this blog post.
Why I Chose These Items for the Capsule Wardrobe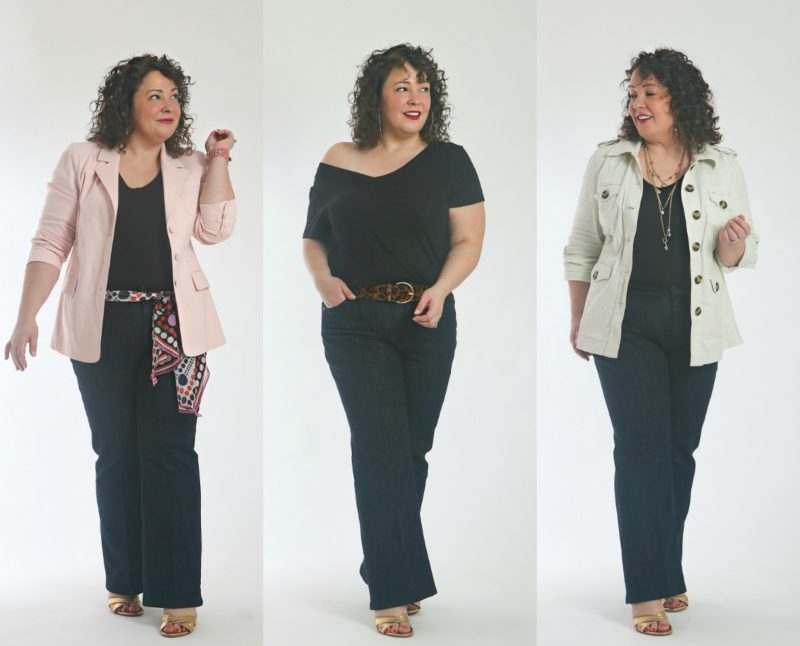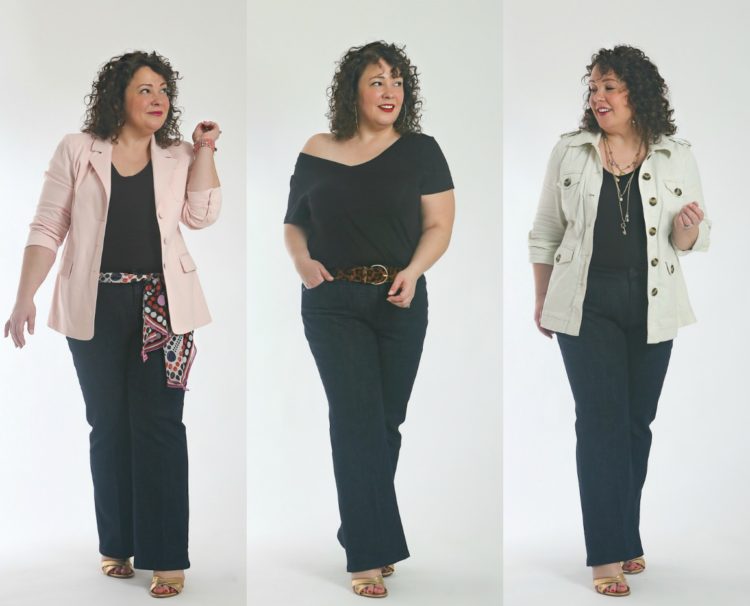 I find the hero piece from this capsule wardrobe to be the Trouser Jean. They are the perfect weight to be comfortable as the temps begin to rise while also being thick enough to hold their shape, skim the body, and look crisp. These can be dressed up with a blazer for work, glammed up with heels and a silky top for a night out, but also look chic with sneakers and a graphic t-shirt on the weekend. I am so glad that cabi made their Trouser Jean up to a size 20 as they are pants that can work in so many wardrobes. They were the first item I picked from the spring collection to incorporate into a capsule wardrobe.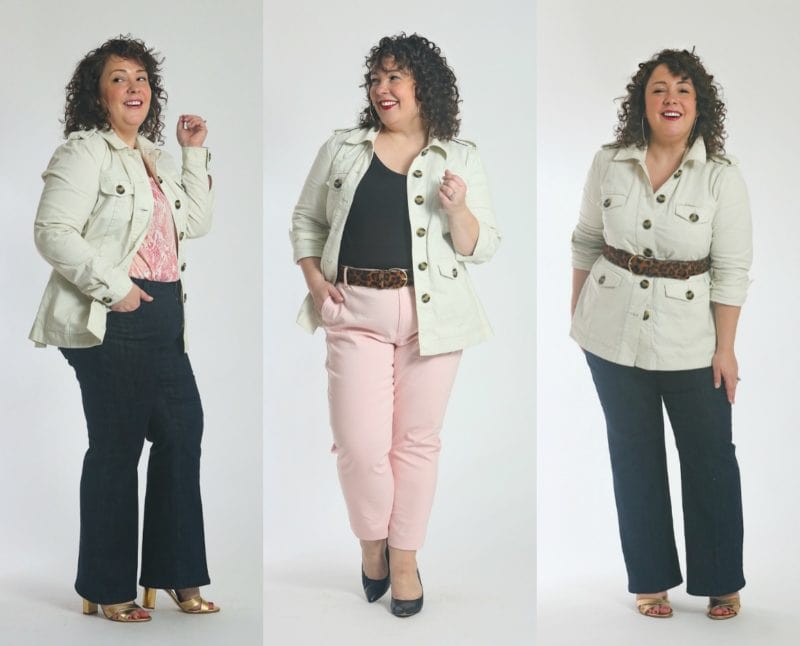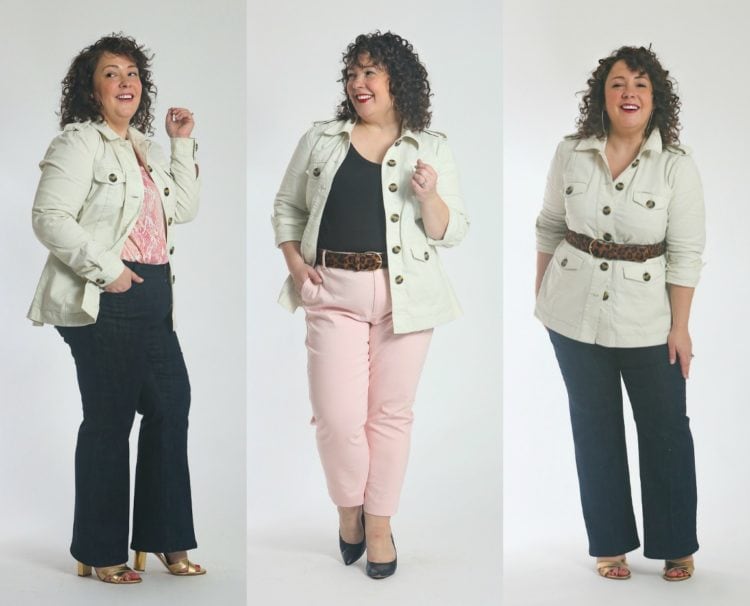 The Kenya Jacket pleasantly surprised me. At first, I thought the jacket would be stiff and bulky. However, once I owned it I realized how ingenious it is. The fabric has stretch, but not so much it becomes soft and floppy. It was comfortable over my larger arms and shoulders, buttoned up without issue over my large bust, had plenty of practical pockets, and an elasticized waist for a good shape and comfortable fit. I also love that this jacket is available up to size XXL. This is a great spring topper or to wear like a blazer with more business casual of looks.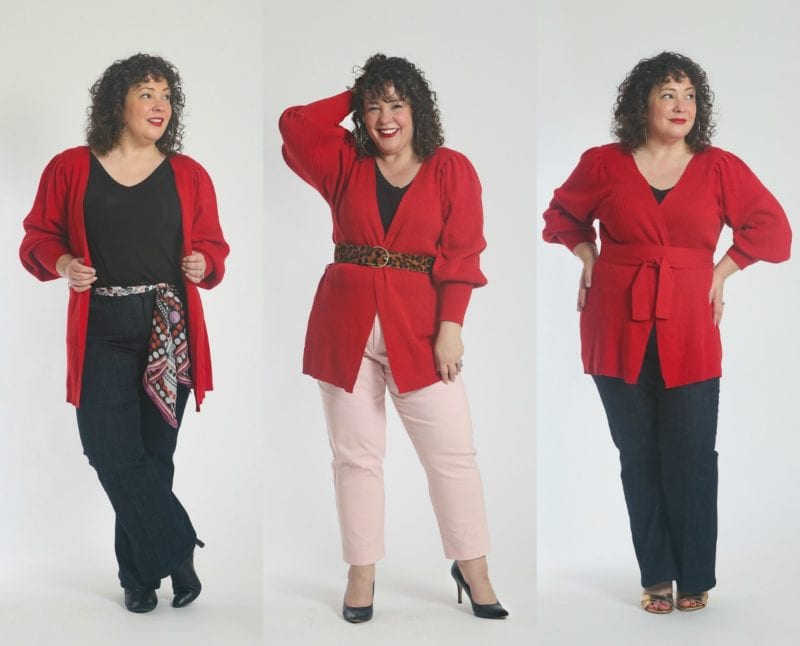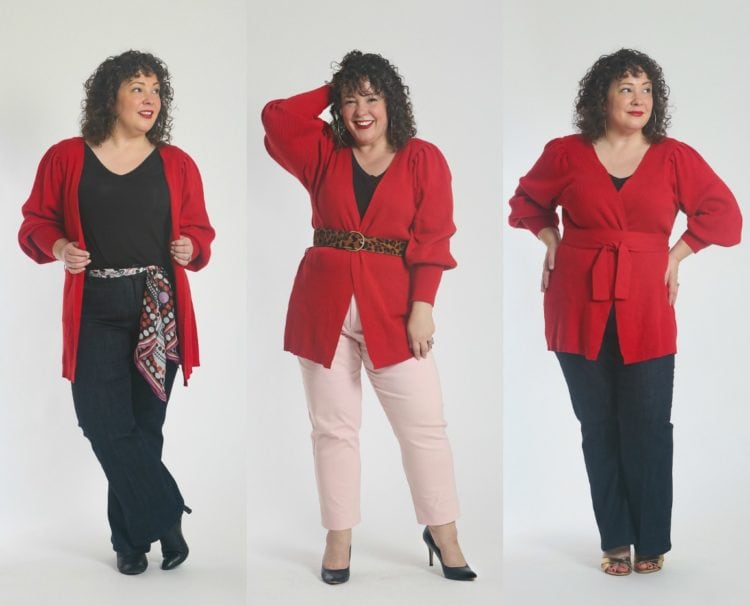 I'm not a big cardigan person. I get how they are practical, but they are often so basic they strip the rest of the outfit of personality. Not true with the cabi Cabaret Cardigan. The bell sleeves with the elongated cuffs are dramatic, fun, and add a luxe factor. I loved the longer self-belt so I could double-tie it to create an obi belt effect, though the cardigan also looks amazing without the self-belt or belted with a different belt residing in your closet!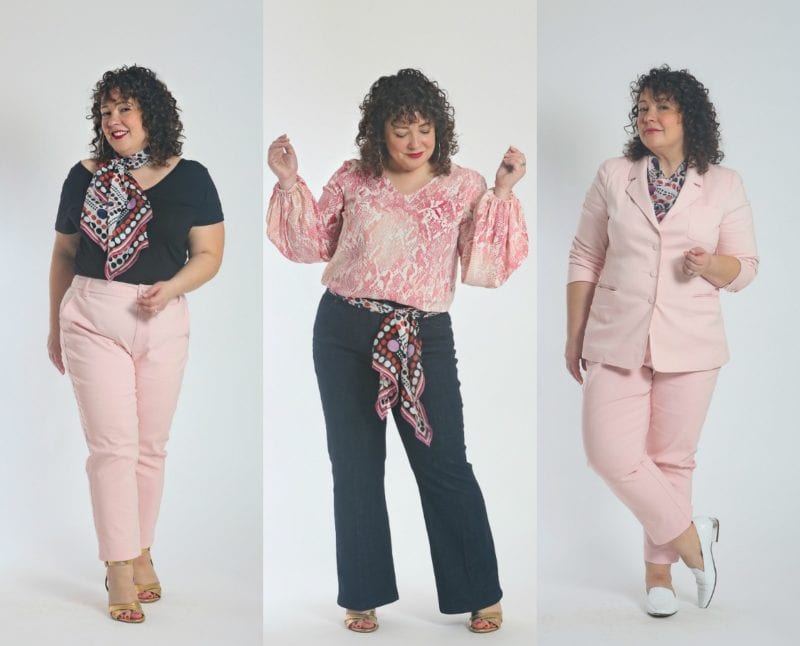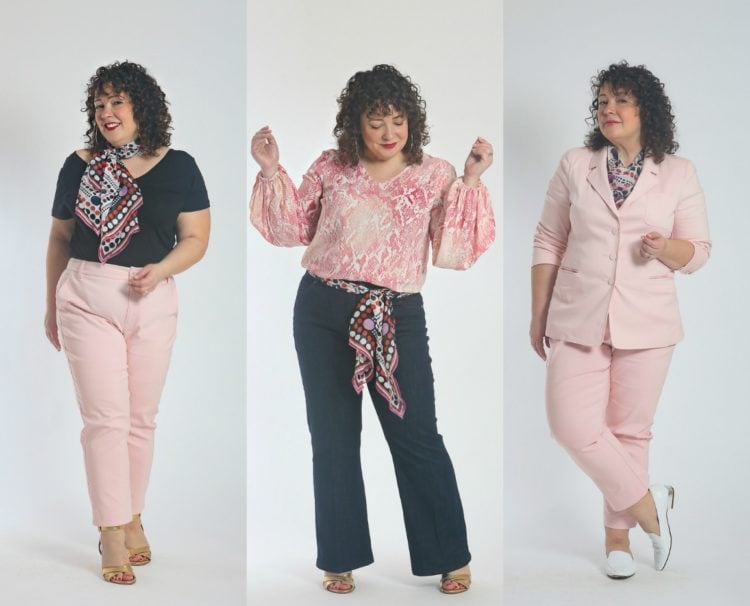 I positively adore the Shrimpton Scarf. It's the perfect length to double as a belt, and wide enough that I could do a loose loop and tuck the edges into my bra and create the effect of a blouse under a buttoned-up blazer. There are so many fantastic colors in the scarf you'll find it seems to go with everything in your closet and makes everything feel more modern and fresh. Double it around the neck, tie it onto a loose ponytail, or wrap it around your handbag's strap to give it a spring makeover. cabi makes some of the best accessories; in fact the leopard belt seen in many of these outfits is from last fall's collection and was featured quite a lot in my fall cabi capsule wardrobe. Don't sleep on their accessories, they are some of the pieces I wear the most year after year for style, versatility, and quality!
I hope this capsule wardrobe has inspired you to look at your existing closet with fresh eyes, and find ways to achieve more style with fewer pieces. Thank you to cabi for sponsoring this post, I had a blast creating these looks and know I'll be wearing so much of this capsule through this season and beyond!