This article may contain affiliate links; if you click on a shopping link and make a purchase I may receive a commission. As an Amazon Associate, I earn from qualifying purchases. 
I hate it when I want clothes and can't find them in stores.
Each season, I make a list of what I'd like to add to my wardrobe to make it complete and up-to-date with trends. While most of what I own is simple or weird enough to not be passé after a year, combining them with of-the-moment trends gives them a new life. Along with a few trendy pieces, I often need to replace wardrobe staples that no longer fit or wore out with use. Usually I only find a fraction of these pieces for my mind doesn't seem to be on the same wavelength as mass retailers. These are the items I would love to have for this season but have yet to find.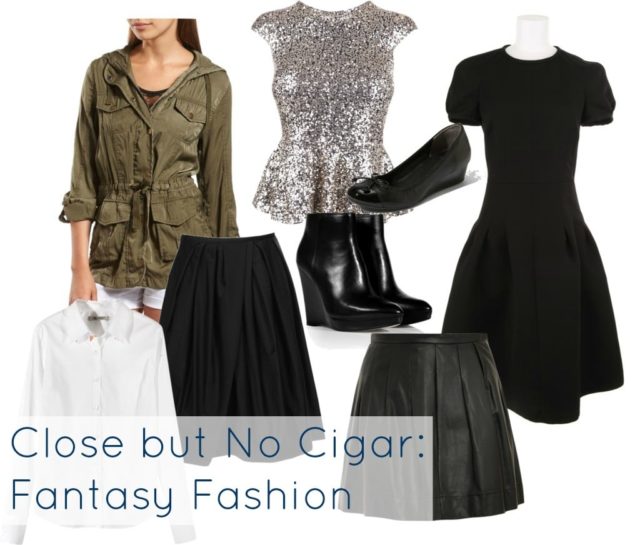 Sequined Peplum Top
I tried one on yesterday at Nordstrom Rack; it was from Alive + Olivia, was gold, but it was wrong. Not a true peplum, weird boxy shoulders that made me look like a linebacker, and unflattering neckline. That was the closest I have found.
I'd like it to have a round neckline – not a scoop, not a crew, just something that doesn't make me have a log neck. Short puffed sleeves to balance out my thick arms and shoulders. A peplum that is obviously one, but doesn't stick out like a shelf. I'd love it in peacock, teal… some sort of dark green with a blue in it. Could wear it with boyfriend jeans and stilettos, with black pants and pointed-toe pumps, or with a pencil skirt.
Olive Anorak-Style Jacket
Cotton, lightweight, looks good with the sleeves rolled up. I have one that has a belt, but there's too many epaulets and straps and stuff. I want one with the bungee cord in the waist to cinch it. Something I can pair with my brown Karen Kane sequined skirt, a striped tee and booties for a hodgepodge that looks really good in my mind.
Black Wedge Booties
I know, there's a kazillion black wedge booties on the market. Thing is, they all look wrong. I want ones that are loose at the top so they don't look as though I replaced my feet with hooves – something that has space between shoe and ankle. I don't want them super platform, or with a strange cut-out wedge. I don't want them suede, or textured leather, or patent. Something very simple that I could wear with tights and a shift dress.
Black Photography Dress
My black shirtdress has become my photographer's assistant uniform. It has deep pockets to hold batteries and memory cards, is full enough to let me get on the ground easily, is cotton which is comfortable and breathable at hot weddings and venues. I wear with a wide elastic belt and low shoes and I look cute, professional, appropriate. Well this dress has been laundered far too many times and I think only has one or two wearings left.
I ordered this dress from MICHAEL Michael Kors and while on paper it's near perfect, on me it looks like a cheap flight attendant uniform. It's very hard to find black dresses with pockets that actually can hold more than your hand and a lip gloss!
Black Photography Pants Ensemble
I know most photographers wear random black easy-care pants, flat comfortable shoes, and a faded black tee shirt or sweater. I just don't feel good in that, I don't feel myself. I'd love to find some Ponte separates – pants with a wider leg that have front and back pockets, a matching top that maybe has patch pockets on the front. Very clean lines, not too tight, plenty of stretch and places to store things. Oh, and if it could be machine washable!
Black Photography Shoes
Something closed toe with a slight wedge heel, comfortable, squishy, simple. Leather so I can polish them up when they get scuffed and they can handle some moisture.  Nothing dowdy, I'd like to also wear these shoes with jeans on weekends if I need to walk or stand for long periods of time. No flats, no separate heels that can sink in wet grass, no Mary Jane, but something that would also work with dresses.
White Cotton Shirt
I want this every year but I never find what I am looking for. Wrinkle-resistant (at least not the type to look crumpled after an hour) but not heavy or with a sheen. No boob pockets. Seaming so it doesn't hang straight from the bustline. A collar that looks good regular or popped. No oxford, no voile, no mixed-media. Simple pearlized buttons. Looks good untucked, tucked in, or tied at the bottom and you can't see the hooks of my bra through the fabric.
Black Leather Pleated Skirt
I thought I found the perfect leather skirt during the Nordstrom Anniversary Sale, but when it arrived I saw it wasn't. The leather was far too stiff for the pleating, the drop waist hit at a weird place, and it was tight in weird places but gaping a bit at the waist.
I want a slightly dropped waist so the bulk isn't right on my tummy, and soft enough leather that the pleats move and don't get stuck together. Hit above the knee.
Black Taffeta Party Skirt
I want a big black taffeta skirt that hits at the lower calf. Pockets, defined waistband, maybe even a slightly dropped waist like my Banana Republic skirt, though that's not necessary if it's not too full. I want to wear it with a heather gray v-neck tee and booties, or with a crisp white shirt and channel Carolina Herrera. I'd even pair with a cashmere or sequined tank and wear to a more formal event.
***
Retailers, am I asking too much? I feel that these things I could use in my closet are relatively basic and would look fabulous on multiple shapes of women who have varied lifestyles.
Follow Me | Twitter | Facebook