This article may contain affiliate links; if you click on a shopping link and make a purchase I may receive a commission. As an Amazon Associate, I earn from qualifying purchases.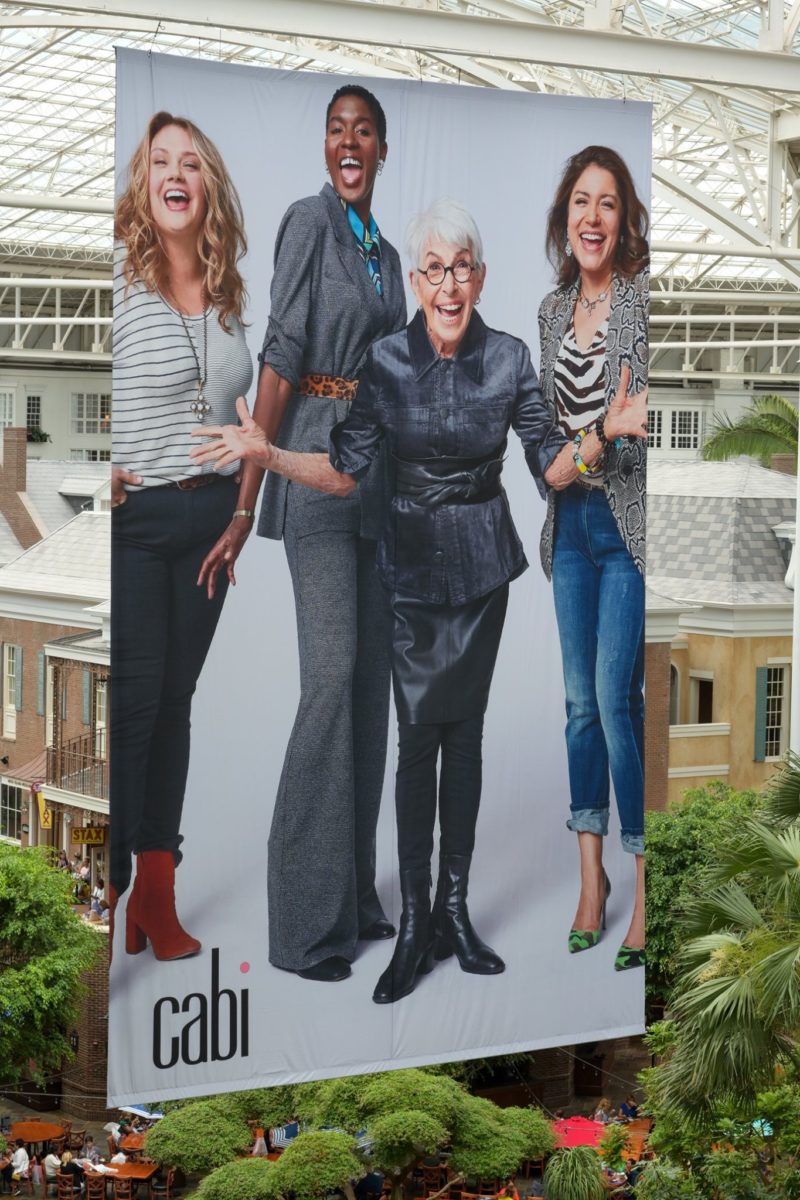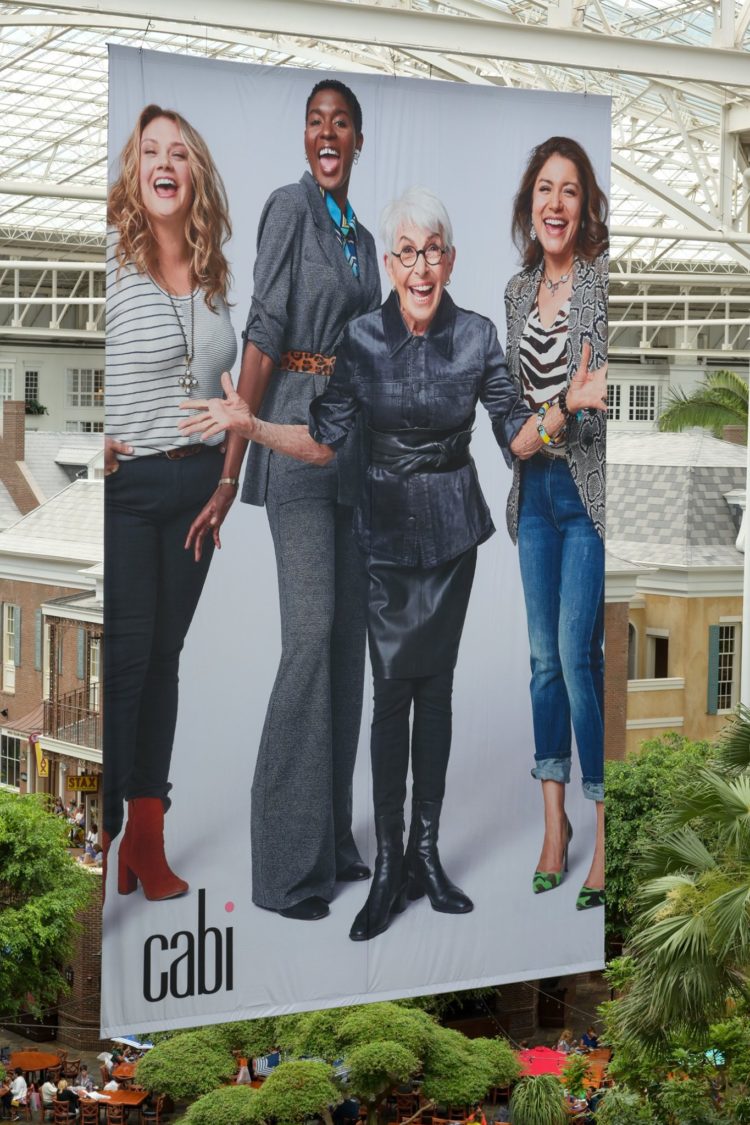 In 2011, my friend Lisa invited me to her house to check out a new clothing line she was selling called cabi. I shared my review of cabi and soon after shared a recap of hosting a cabi fashion experience. Later that year, cabi found me through these blog posts and sent me a couple of pieces from their line as a thank you gift. The following year, my friend Lisa and I took photos of us together in our cabi clothes for cabi's 2012 model contest (we didn't win but we had fun!). In 2017, I began a relationship with cabi, a company I had grown to love. I flew out to LA to participate in an event they called cabi Conversations: a multi-course dinner with guided discussion at the tables with cabi exec members where we discussed work/life balance, being a woman in business, motherhood, self-care, and more. Later that year, I was invited to cabi Scoop, the brand's seasonal conference where they provide training for their stylists and have a fashion show of the new season's collection. Cabi invited me to film the introduction for the online streaming of this fashion show.
I have had many amazing opportunities with cabi since, but my time at Scoop remains one of the highlights of my blogging career. It was the first time I truly got to know the heart of this brand, and I met dozens of cabi stylists and got to know how the company treats, supports, and mentors them to truly succeed. I got to see the business behind the brand, and left feeling so inspired and motivated to also make a positive impact through my favorite subject – fashion.  Below I share my cabi Scoop recap.
cabi Scoop Recap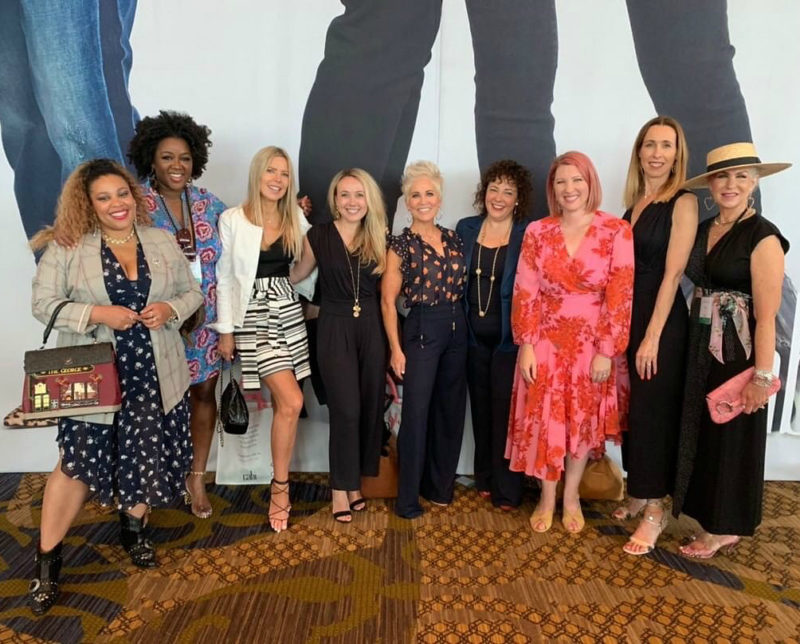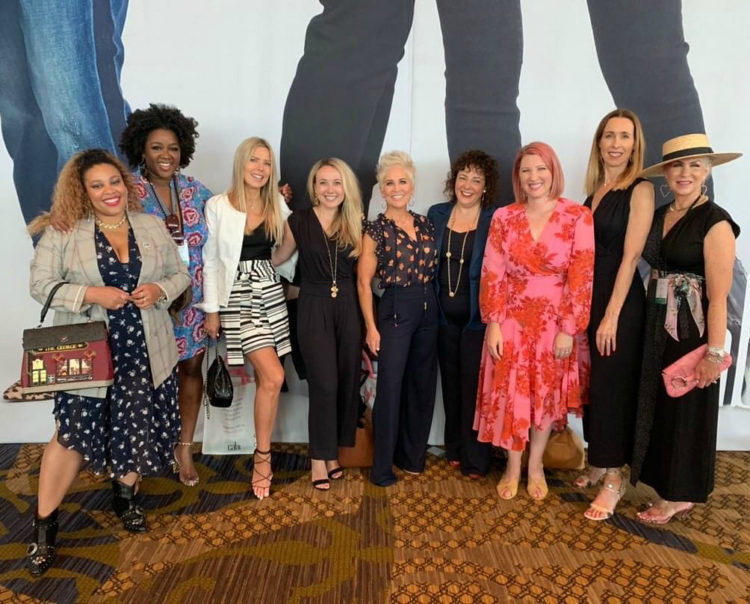 So when cabi invited me to attend Scoop again this summer, I was so excited! Like Scoop in 2017, this event took place at the Gaylord Opryland in Nashville. If you have never been to this hotel… it is INTENSE. It's like an entire town under one roof. There is a tropical forest, a little village of shops, multiple conference and ballrooms, a water park, a spa, several restaurants, and thousands of rooms, many with balconies overlooking the forest atrium. When you check in, they provide a map to get around; there is even an app for the hotel! It's surreal.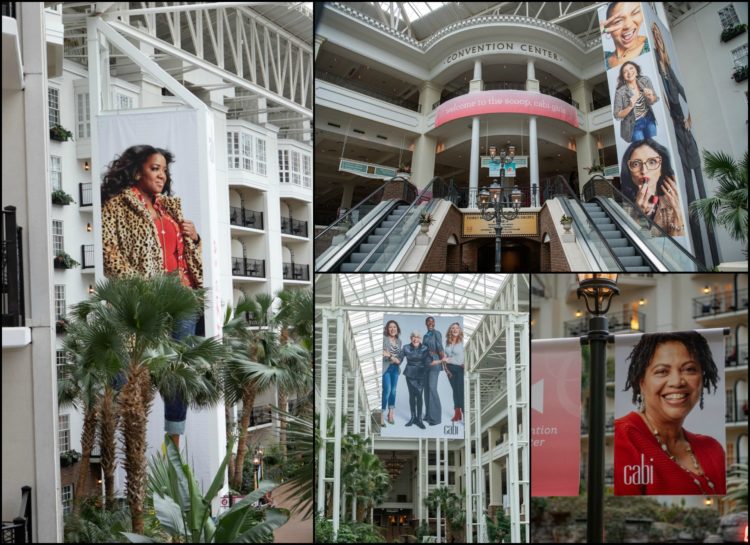 What makes it even more surreal, is that cabi takes over the majority of the resort. Cabi signage on the front doors, almost every guest wearing cabi, and once you walk into the atrium there are 50-foot tall banners with women in cabi clothing for the coming season. Cabi signage is everywhere, it's like spending the weekend at cabitown. And what made it even more amazing is this fall's campaign features a variety of women – yes some models, but also bartenders, project managers, grandmothers, and even some influencer friends like Shauna, Danielle, and Jenna. To walk in and see a 20-foot tall Danielle or Jenna was awe-inspiring. I KNOW them! They're like ME!  And speaking of wearing cabi… the coolest thing is seeing a sea of women in cabi not just from the current season but from years ago, seasons styled together, styled in ways I'd never think of.  If you ever attend Scoop as a Stylist or as an influencer, I recommend wearing cabi head to toe, whether it's current or old.  It's the best conversation starter! I met one woman in this dotted blouse and it reminded me to see if I still have it up in my attic.
Day 1 of cabi Scoop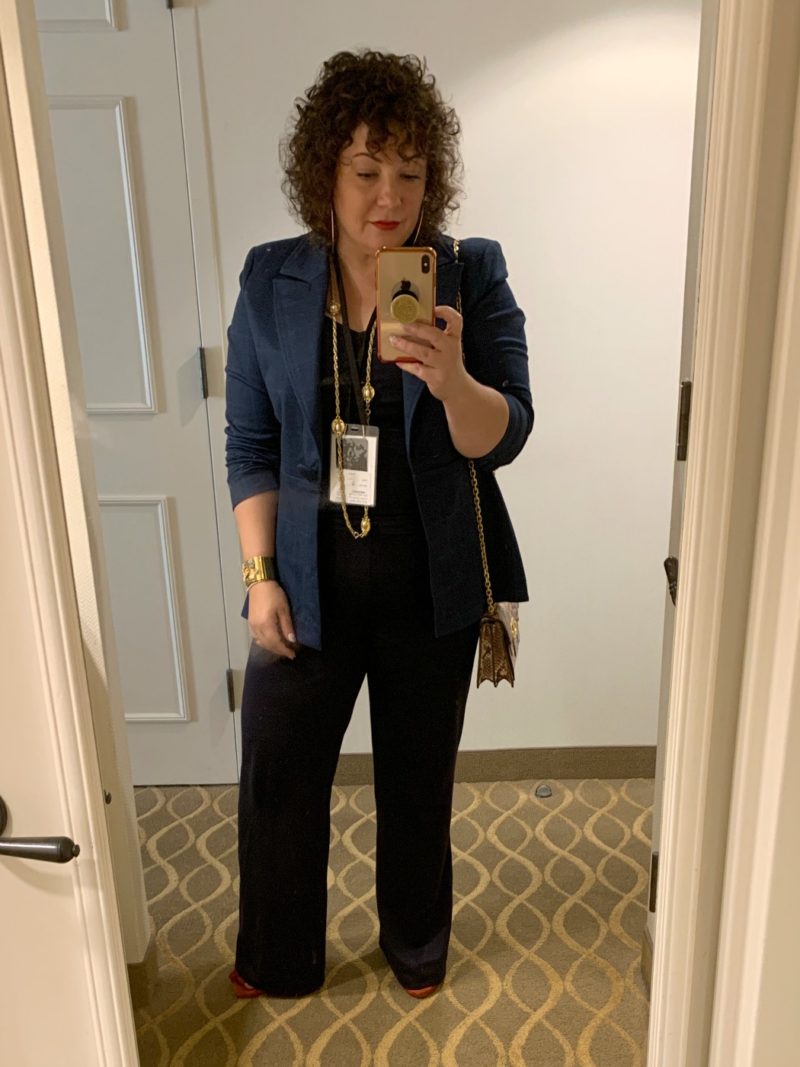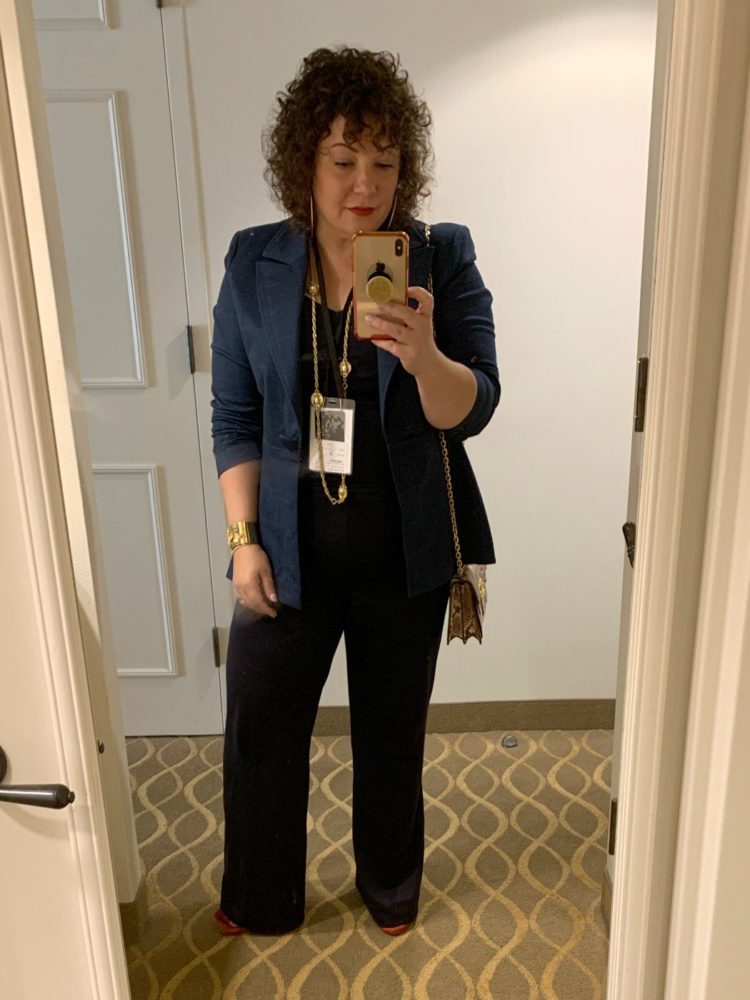 I arrived Friday around noon and had some time to get settled in my room, freshen up, and then I headed down to the shopping event. At Scoop, cabi takes over the largest room at the Gaylord and turns it into a warehouse sale of items from previous seasons. Cabi provided me with a $100 shopping credit; they also provided me with a 50% off card but I didn't realize it until after I shopped. The clothing is tempting, but right now I'm trying to have fewer clothes, not more. I went straight to the jewelry; cabi makes amazing jewelry of high quality that is unique and fun. I was so excited to see The Secret Garden Cuff as one of the pieces available. It was from a couple of seasons ago and continues to be one of my most-worn and favorite bracelets (see me wear it here and here). I loved it so much that when I did a second campaign that month with cabi I asked for another. I would wear one on each wrist like I was Wonder Woman. A dear friend was robbed a few months ago and they took her entire jewelry box. I gave her one of my Secret Garden Cuffs to help rebuild her collection, knowing she too loves fab jewelry that makes a statement. Seeing them at the shopping experience meant I could go back to being Wonder Woman with two cuffs! But then I thought… I love these bracelets so much and right now they're only $20 (they were originally almost $100) I got 4 of them! I gave away one on Instagram Stories the other week and stay tuned, I will be giving away two more of them in the near future. I also got another of the Buzz Necklace (see me wear it here and here). The only clothing I got was a black Henley from a couple of seasons ago. I got it in an XL and it was a bit too big but it worked (see me wear it in this post). Well now it's ridiculous on me, plus I accidentally caught it in a drawer when closing it and got a hole near the hem. I scored a replacement one in size Medium for just $19!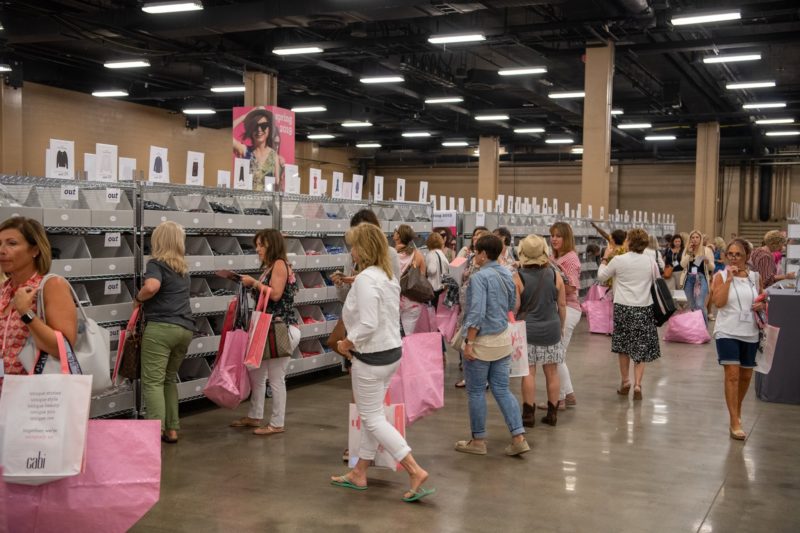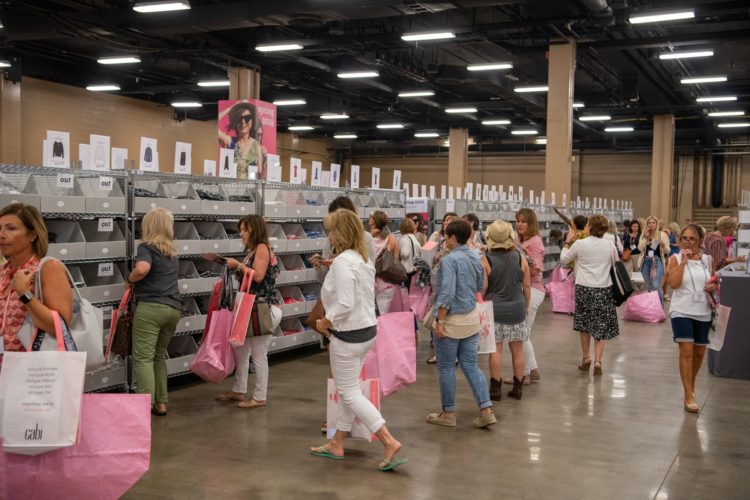 At the shopping event, I met up with my friend Carly from the blog Lipgloss and Crayons. I met Carly two years ago at the previous cabi Scoop in Nashville. She's smart, she's kind, and I love her message of motivating moms to feel more confident in their bodies. We also have a great time together. We ended up spending most of Scoop together, and as we met women at Scoop, found that we have a lot of the same followers!
I will be updating this post with the Fashion Show video once it is made available; in the meantime, this video showcases many pieces from the Fall collection and you can click here to register to see a video of the fashion show.
The cabi Fashion Show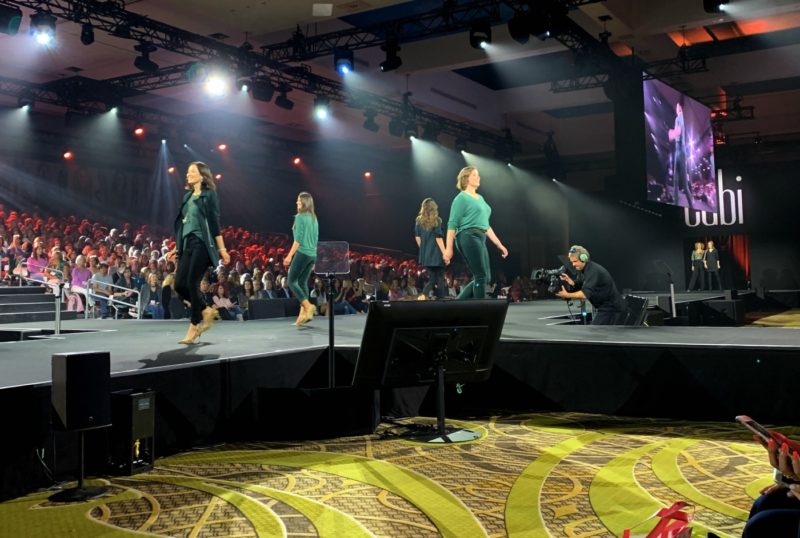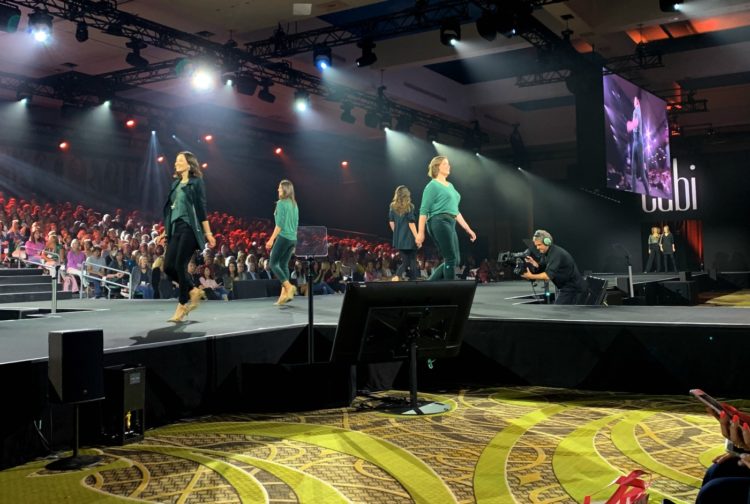 After shopping, I returned to my room to drop off my purchases and freshen up, and then it was back to Scoop for the highlight of the weekend – the Fashion Show! I had the pleasure of seeing the Fall 2019 collection this past spring when I spoke at their Mid-Year Conference, but the fashion show is a fantastic way to see the collection styled in different ways, featured on different bodies. Cabi used an amazing mix of models – different ethnicities, body shapes, and sizes. The show featured two women with different shapes wearing the same exact outfit. It was a great way to show the versatility of the clothing. One of the models was Jenna Pliant; she too has been an influencer who worked with cabi a long time. She was invited to be part of their campaign and was a runway model too! I have no desire to be a runway model, but it was hella inspiring to see a peer achieve a life goal with a company that "gets" her and supports her.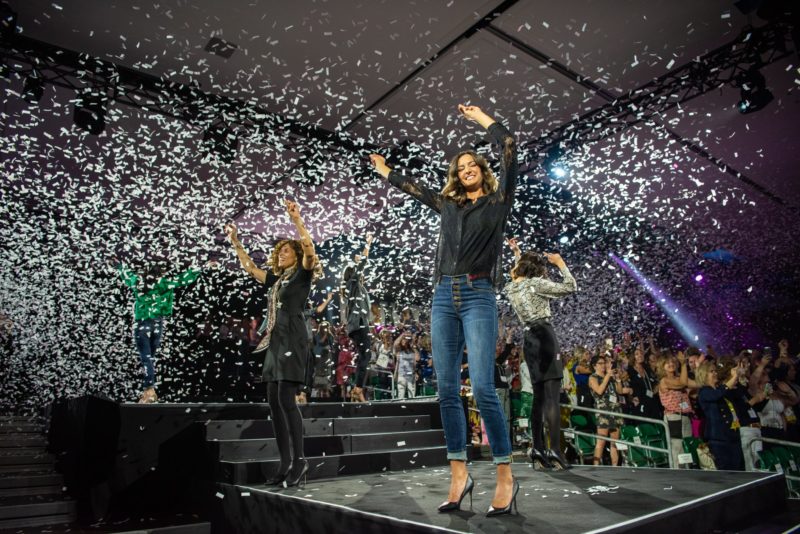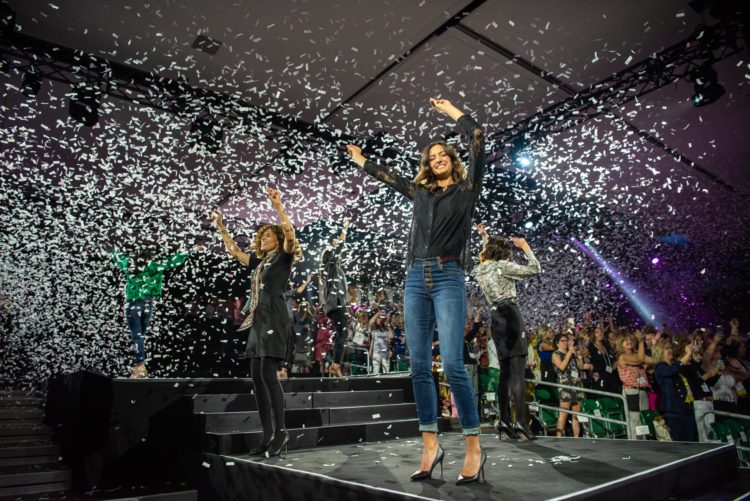 After the fashion show, Kimberly Inskeep, President and CCO of cabi spoke. I have had the honor of hearing Kimberly speak before, and even sat across from her at cabi Conversations. She's as heartfelt and inspiring in person as she appears on stage. Each season, cabi has a phrase that is their theme. This season is Uniquely Us. Kimberly discussed how every zebra has a different pattern of stripes. A group of zebras is called a dazzle, and zebras aren't trying to blend in, that as a group they confuse the eye, and when one zebra is hurt the rest don't run away but gather around to protect their own. How cabi women are like zebras – we stand out in a crowd, we support one another, and together we dazzle. Okay, right now out of context it sounds hokey but at the time it really spoke to me. They gave each of us a pin with a zebra print on it, representing how we're all part of the dazzle. But what really hit me the most was how cabi was encouraging their stylists to embrace others' uniqueness. To speak to those different than them, those they may find weird or scary or confusing. With all that is going on in our country right now that is dividing us, I felt this was extremely timely and progressive. I was excited by the fact that these thousands of women across the US, Canada, and the UK will go home inspired to reach out and connect with someone different than them, opening their minds and hearts in the process.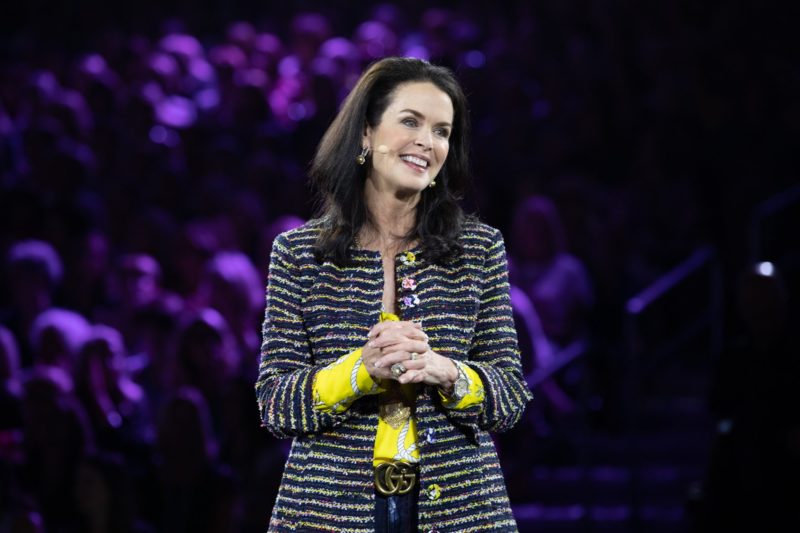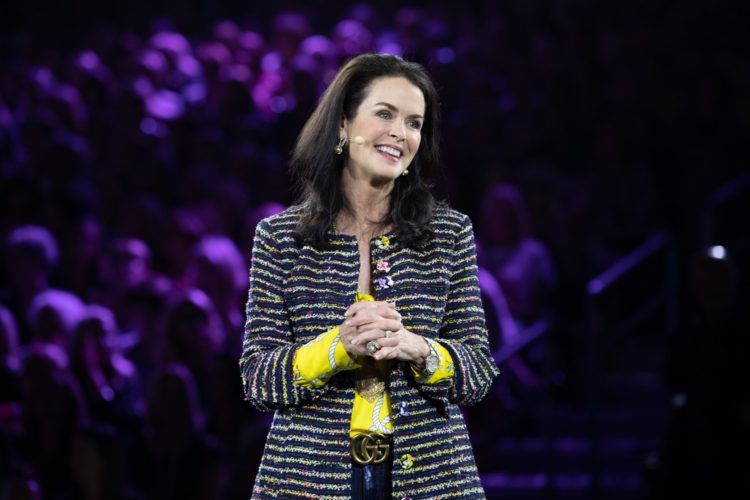 Cabi also gave out awards to stylists at this event. I often get criticism that cabi is an MLM and why am I supporting such a company. The difference between cabi and many other at-home sales companies is stylists make most of their money from their own business, not recruiting downlines. I sold an MLM over a decade ago and have many friends who do and did sell them. The key to success isn't selling, it's recruiting and you're constantly trying to build your downline and push them to sell so you can profit off them. Those at Scoop who won awards for recruiting, it was for recruiting maybe four people in total. And that was one of the dozens of awards. The rest of the awards were focused on sales, on being a mentor, on supporting The Heart of cabi, and being successful businesswomen. When I sold an MLM, the person who recruited me held a monthly meeting but I hardly got any support after that. At Scoop, I met teams, women who worked together at parties, who came there together, helped pay one another's travel to attend, saw one another more like family than meal tickets. No competition or aggressiveness, everyone was super happy for one another's success. My friend Lisa still sells cabi, but I met so many women who have been selling for 10 or 15 years. I was impressed to find that cabi has an 88% retention rate of stylists; that's a retention rate unheard of anywhere, especially with at-home sales. It's hard not to drink the cabi Kool-Aid at Scoop, it's a very positive and earnest experience.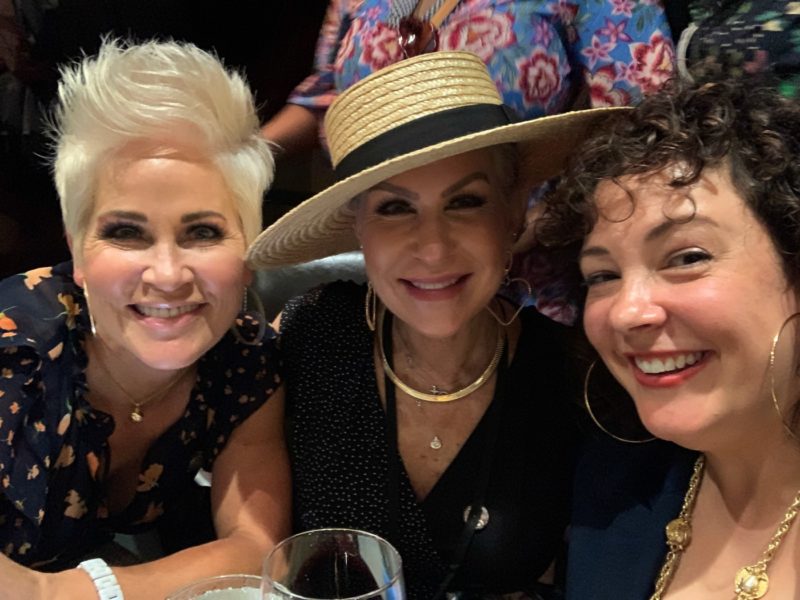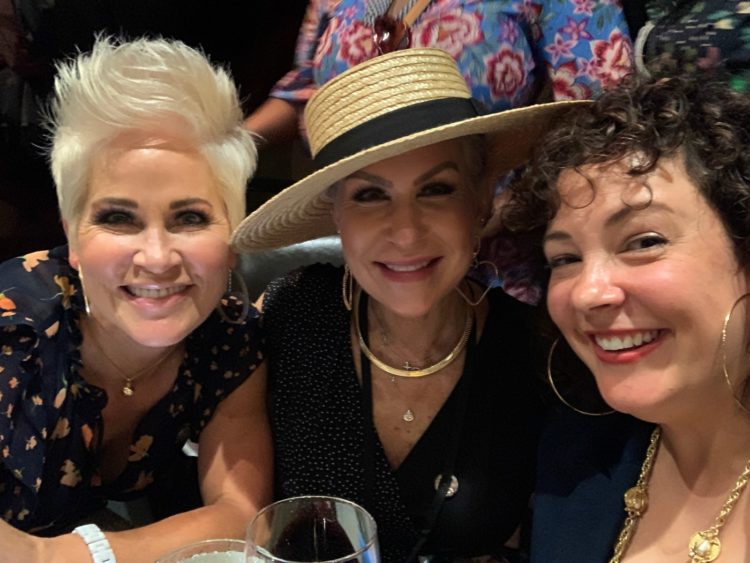 That evening, cabi took us influencers to dinner off the Gaylord campus. It was a good time to get to know the other women on the trip better, but to be honest I wasn't the best company. I was EXHAUSTED. I woke at 5 am, it was 10 pm my time, I got my period the day prior, I drank two glasses of wine, and I was ready to curl up under the table and go to sleep. I was glad when Ubers were called and there weren't any plans to party afterward! I came back to the hotel room feeling exhausted both mentally and physically from an intense day.
Day 2 of cabi Scoop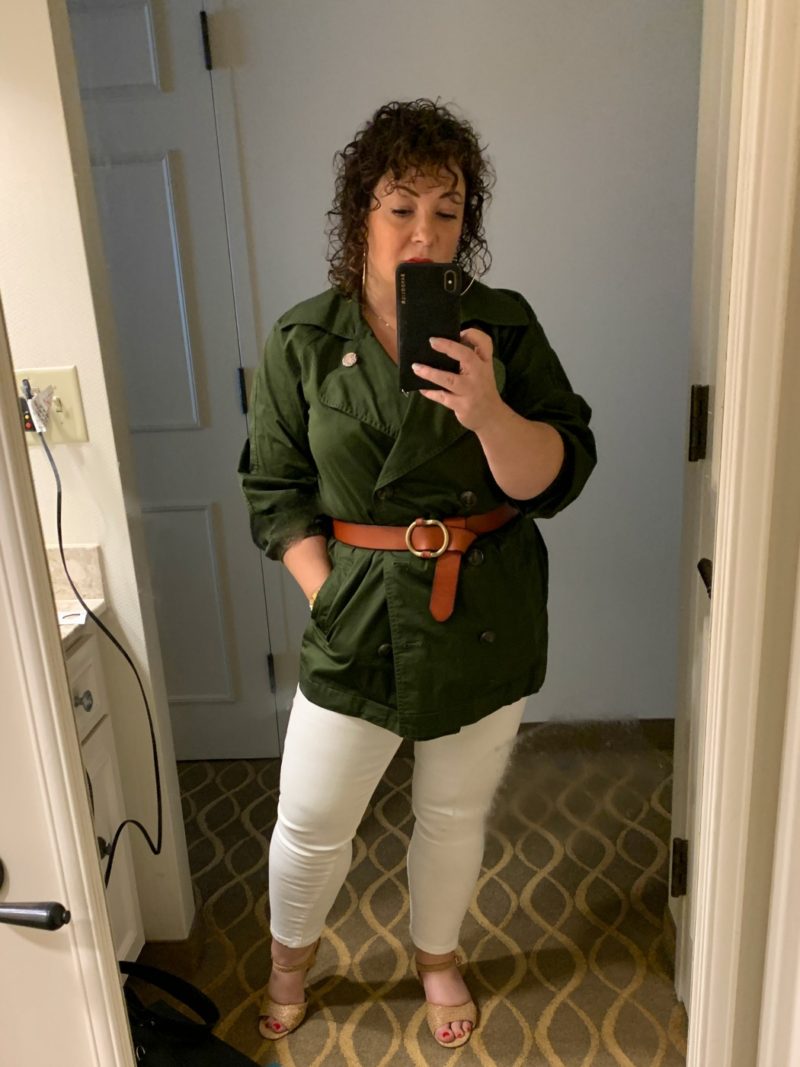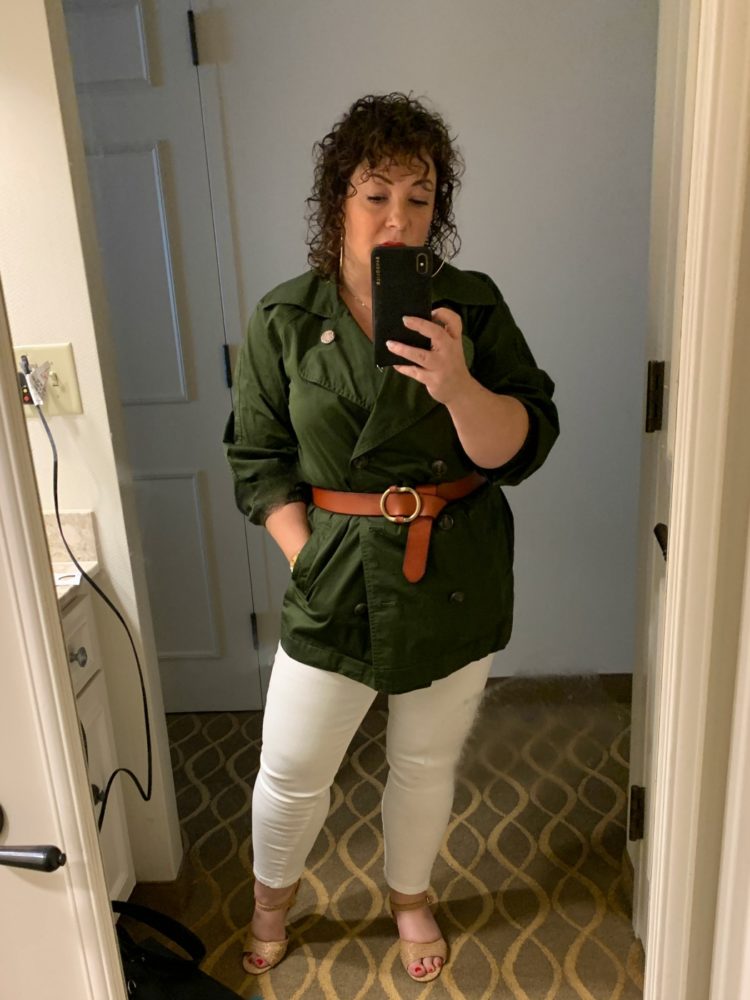 The next morning, I did an in-room workout of exercises I learned from my personal trainer, ordered myself some room service, and started to get ready for another jam-packed day. I went to take my shower, my razor slipped off the side of the tub, I stepped on it not only slicing open the bottom of my foot but caused me to slip and slam against the wall and land on my ass.  I was glad to be in the shower so I could have a good old ugly cry. But there was no time to wallow, I bandaged up my foot (after 2017 Scoop where I dealt with bad footwear I now keep Band-Aids of all sizes and Neosporin in my toiletries kit), made a shoe switch to put less pressure on my foot, and headed to the first event of the day.  Cabi set up a video shoot and interviewed each of us influencers. I can't discuss what it is for, but once it's live I'll be sure to share it with you!  It was great to work with Juniper and team again; I worked with them at the 2017 Scoop and they do such a fantastic job with the video content for the brand. I was still a bit shaken (and my hair still damp) from my shower experience but they put me at ease, powdered my nose, and I'm actually looking forward to the final result.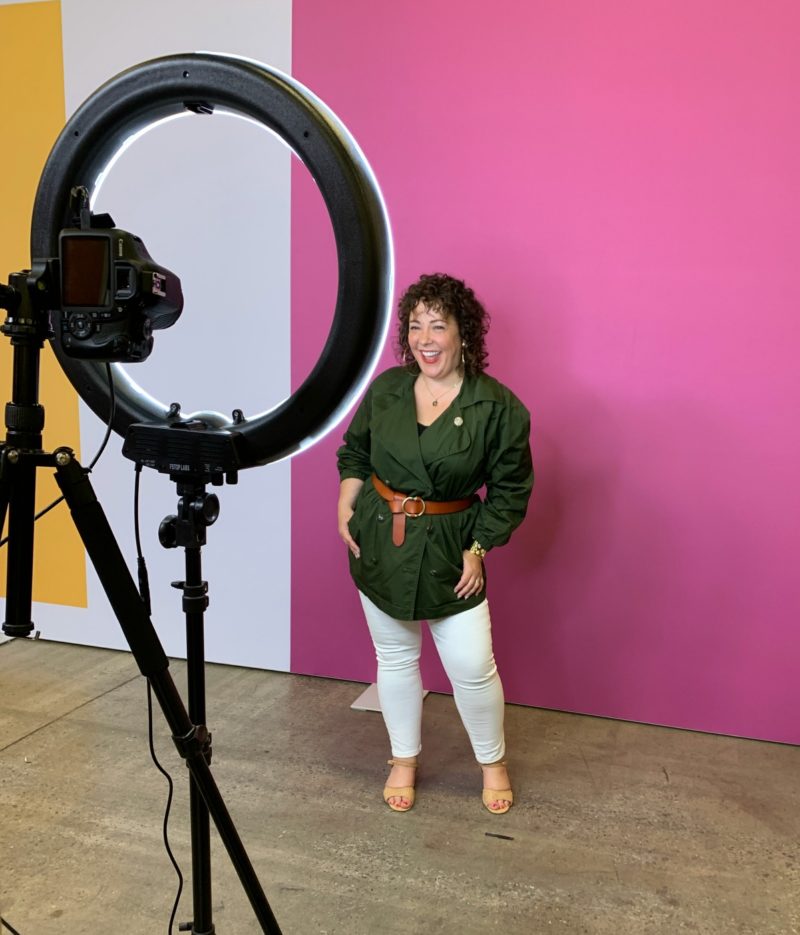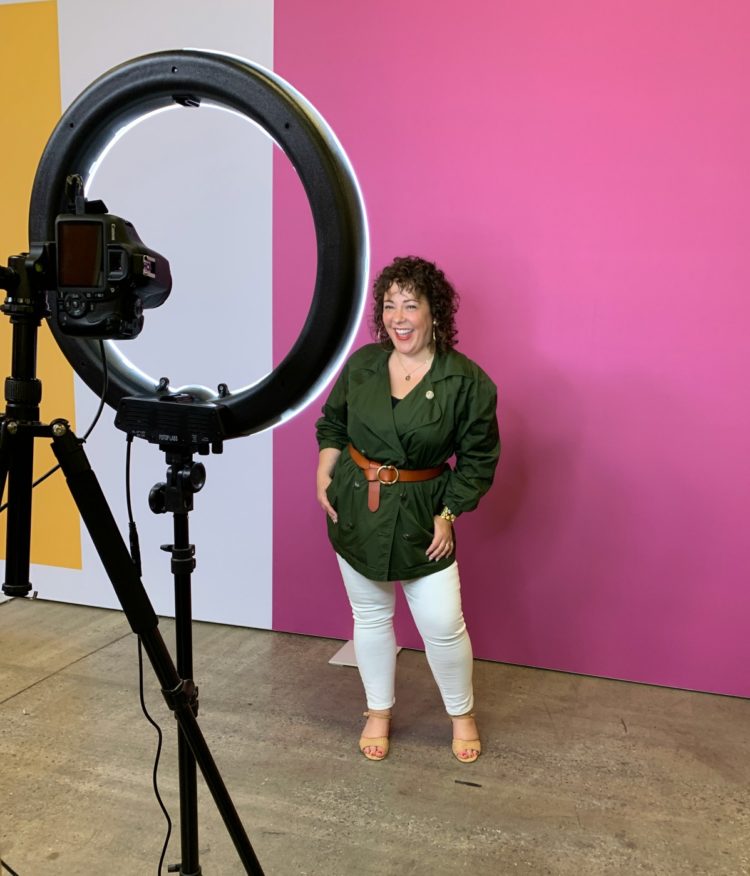 I met up with Carly and we went to check out The Hub. Another huge warehouse-sized space at the Gaylord, this room was set up with multiple activations. They had sets designed to look like fall and winter; you could put on clothes from the Fall 2019 cabi collection and take photos with your friends. They had trainings. You could get a sneak peek of the New Arrivals that will drop throughout the season. There was so much, but I didn't get a chance to check them all out. I did participate in one activation and will be sharing it on my social August 1st.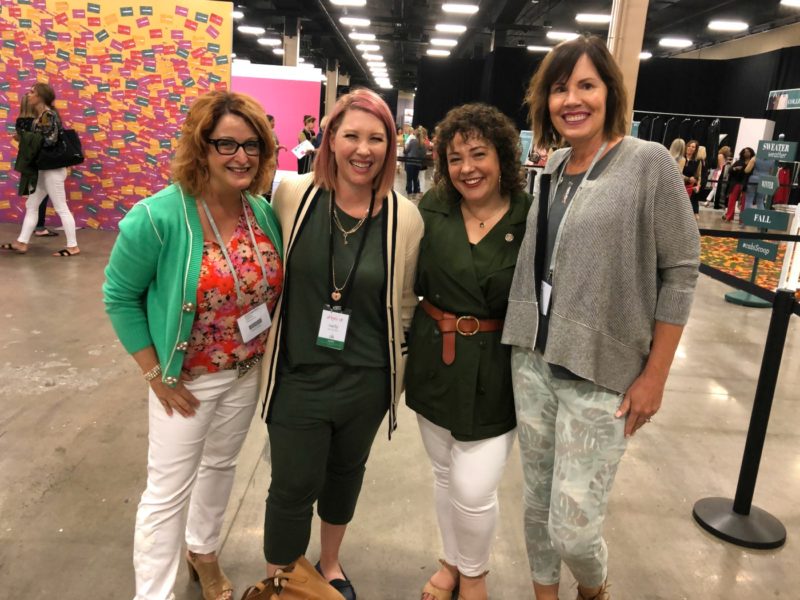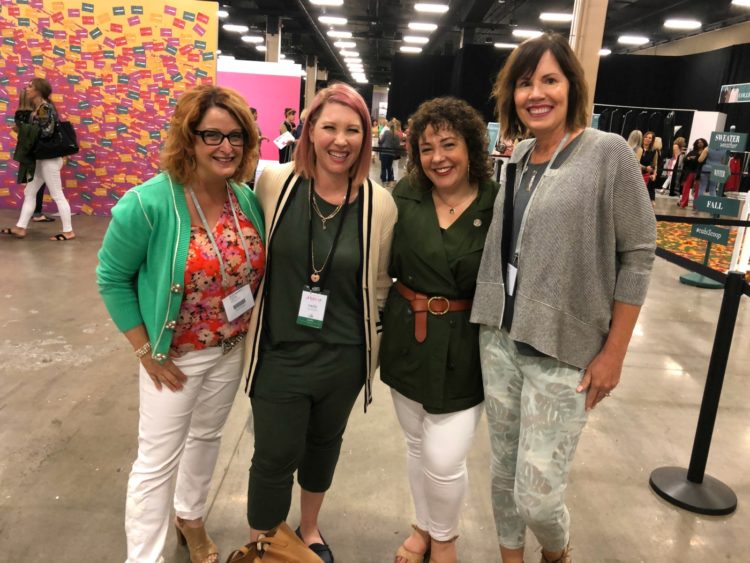 I met so many women at The Hub and other parts of Scoop who know me through this blog or social media. Many tears were shed and many hugs were given. It's pretty cool to meet you all in person, a true honor. And it reminded me why this is my profession. I'm not doing this to become the next big Instagram star, I'm doing this for the community of women, to write, to connect. And connecting with so many of you at Scoop filled me with such joy and energy for this crazy job.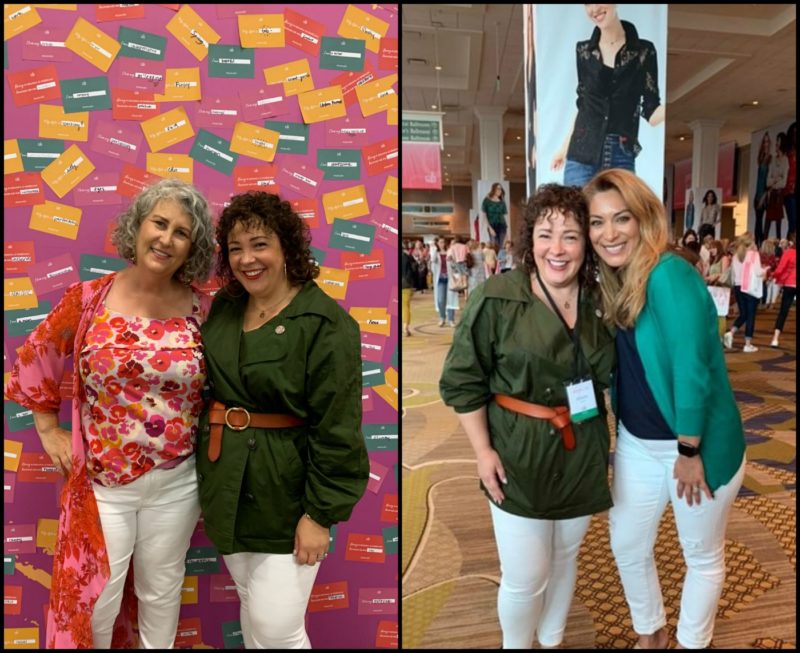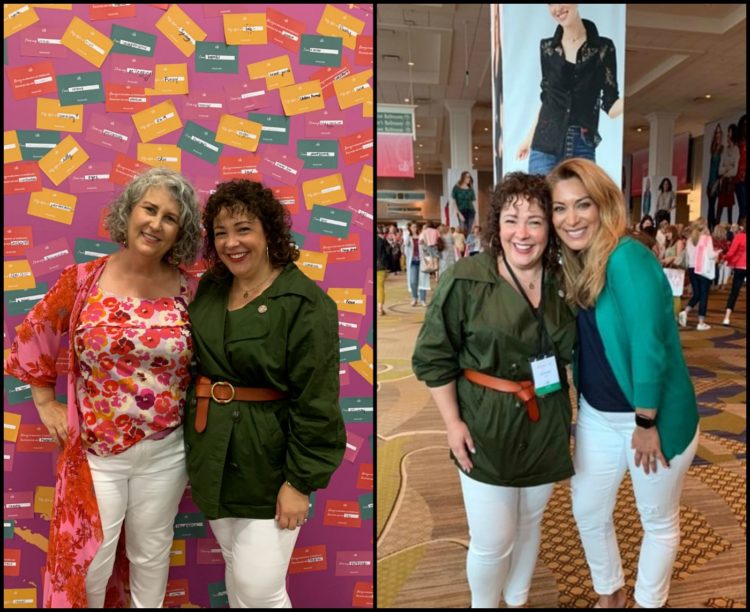 While cabi offered lunch to us, Carly and I decided to meet Greivy and Danielle, two other influencers on the trip, for lunch at one of the restaurants in the Gaylord. The four of us had a great conversation about our jobs. Each of us has such a different platform, different audience, different goals. But we all are smart women with hearts who care about our communities. The night before the conversation about work left me feeling as though I'm not doing enough to grow my following, to build my Instagram.  This conversation was a good reminder to stay in my lane because we're all on different journeys even though we all have the same job title.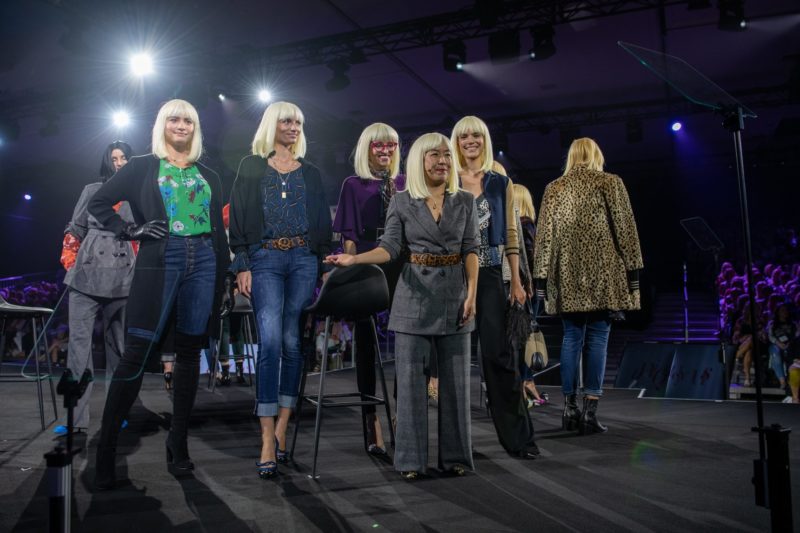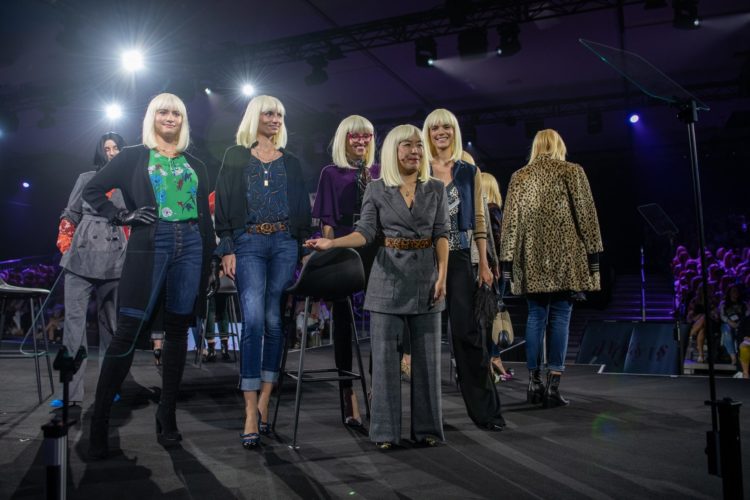 After lunch, we headed to the same auditorium where the fashion show was held. Today was General Session, AKA the second big part of the conference. We saw the clothes again, but in detail to learn which pieces work well for very petite women, for larger sizes, ways to style the same item differently. We learned more about The Heart of Cabi Foundation and all the good it has done across the globe. We heard from cabi CEO Lynne Coté who discussed the state of cabi and how it's so on the pulse of current trends in shopping and fashion. Parts of this discussion were at the Mid-Year Conference, and they had been on my mind for a while. I see how shopping trends change with this blog. More and more people want a personal experience. Everyone left the malls due to poor service and selection. However, shopping online is starting to feel hollow and the personal interaction and styling support are lacking. Smaller boutiques and pop-up stores are gaining traction so individuals can touch and try on the clothes they've admired online. Places like Trunk Club are gaining popularity where a human, not an algorithm, picks clothes for you and helps you find the right style and size for your unique self. Apps that are more than a shopping tool are desired; ones that "get" you, save your preferences, and become more helpful with each use. And all these things cabi is doing.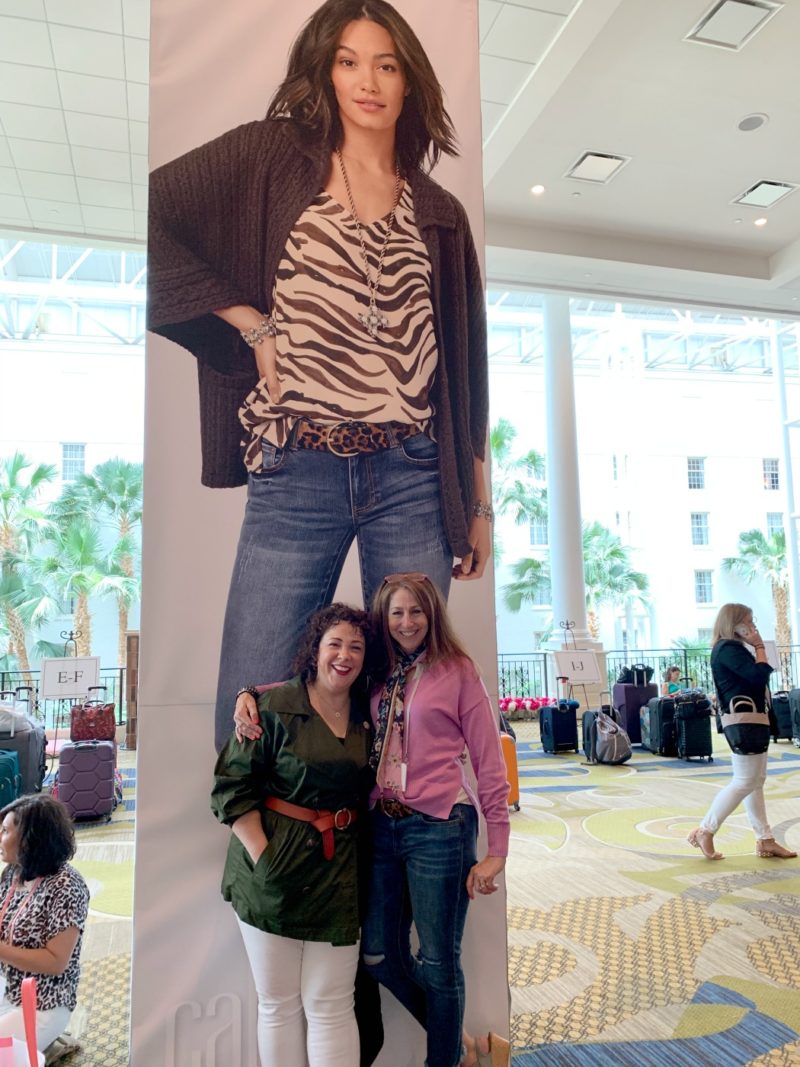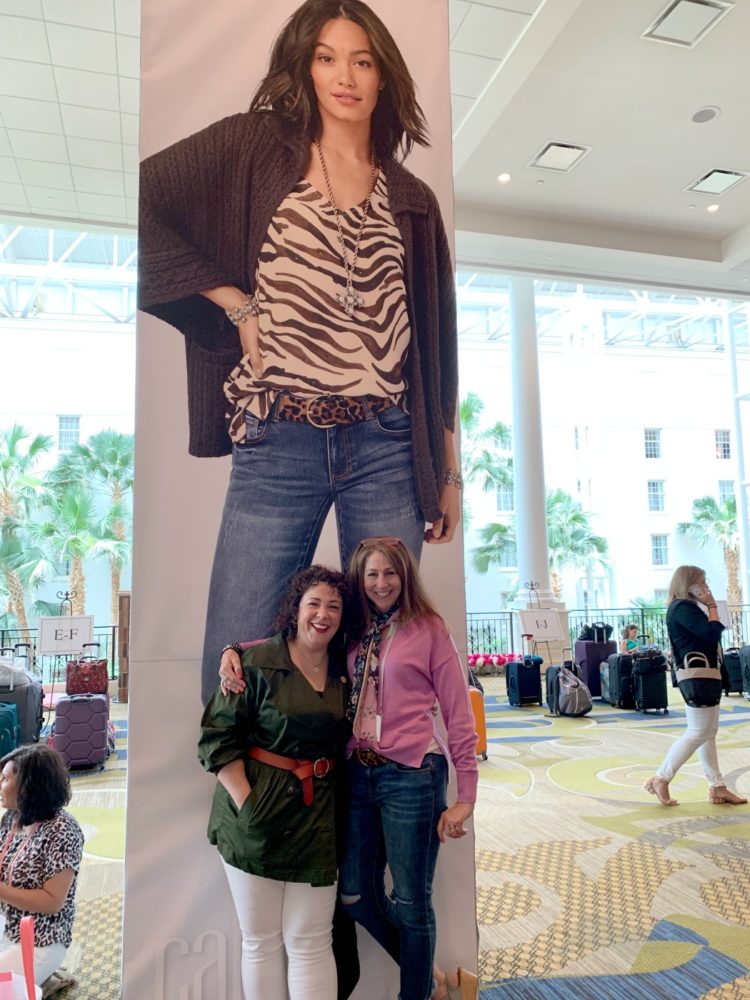 The first comment I get is that cabi is an MLM; the second is that cabi isn't size-inclusive. This is something I have been complaining about since I first learned of the brand in 2011. Well cabi has responded and this coming Spring will have clothing in XXL, 18, and some in 20. They will be testing them out, if they are successful they will do more. I loved seeing size 14 and 16 women both in their fall campaign and on the runway; brands that have a larger size range already don't show anything but slim bodies in their campaigns yet cabi is not only embracing a variety of bodies but showing how great they look in their clothes. The feeling when you see a body that looks like yours rocking the runway can't be described, and deserves to be felt by everyone. So many brands use influencers for models, but those influencers might as well be models with their perfect measurements. Cabi's Fall 2019 campaign shows such a variety, proving that "perfect" actually comes in every shape, size, color, and ability.
I ended Day 1 of cabi Scoop exhausted and ended Day 2 so energized I didn't need coffee to get through the long day. I wanted to race home and write, to connect, to create, to do something better than I had the day prior. Speaking with the women I met at Scoop and those of you Stylists who have emailed and DMed me since, this isn't an unusual feeling. It helps me understand that 88% retention rate and it's why year after year I choose to work with this brand.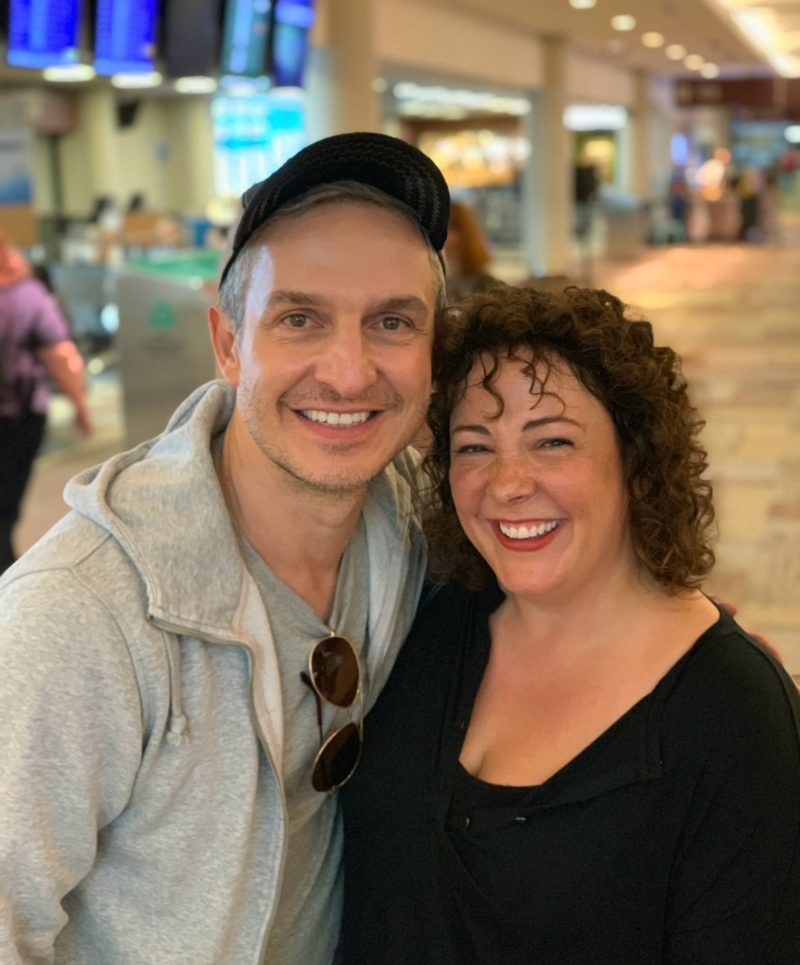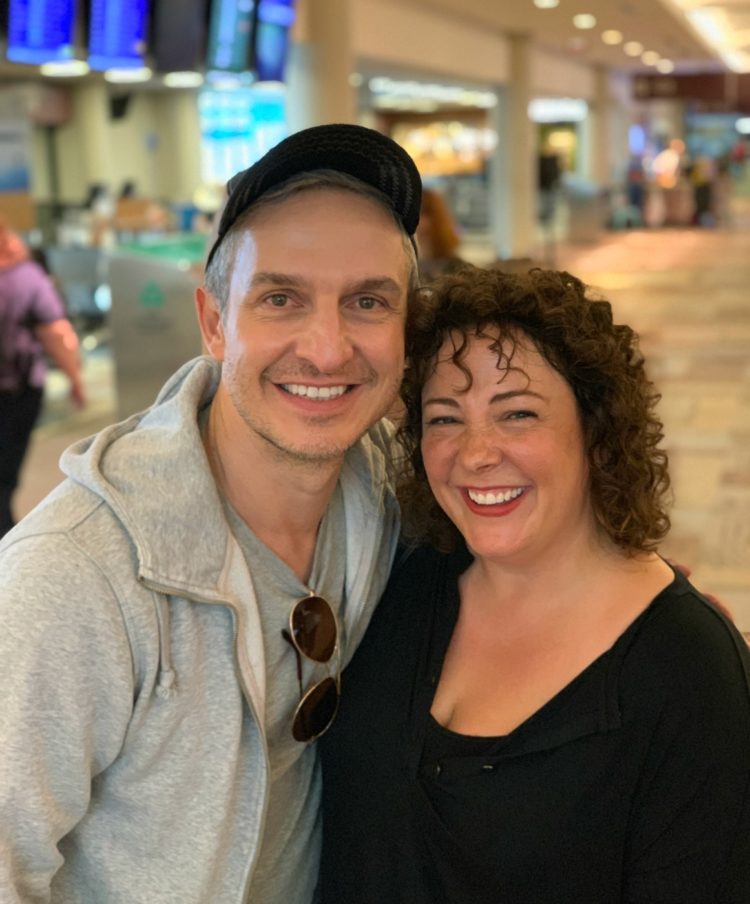 My friend Lisa had the same flight home I did, and she was with two other stylists from her team. The four of us caught an Uber to the airport together and grabbed dinner before our flight. In the airport we bumped into Daniele Trussardi, cabi's Executive Creative Director and the brain behind this inclusive, gorgeous Fall 2019 campaign. I have had the pleasure of meeting Daniele many times before but didn't see him at Scoop (that is beyond the videos and peeks of him in the audience up on the Jumbotrons). I was glad to be able to give him a hug and thank him for the beautiful, inspiring message of the collection. And typical of every person I have met on the exec team at cabi, he remembered me, was glad to see me, so gracious, and thrilled to meet the other women in my group.
The flight home was half empty and at least half of the people on the plane were from cabi Scoop. Lisa and I shared a row and caught up since we hadn't seen each other in person since I attended a cabi Fashion Experience that she led. It was the perfect ending to a whirlwind weekend, sharing it with the woman who first introduced me to cabi.
Over the years of working with cabi, it has introduced me to many cabi customers and stylists and I know a lot of you are reading this today. I want to thank you for constantly inspiring me, for sharing my content, for being such a welcoming community. While I think cabi is a great company, I continue to partner with them because of you. I love crafting capsule wardrobes like the ones I did for the Fall 2018 and Spring 2019 collections, finding new ways to style the clothes and be an example that the clothing can work on a mix of body shapes and sizes.
cabi paid for my travel and accommodations, gifted me an outfit of my choice from their Spring 2019 line to wear to Scoop, and gave me a $100 shopping credit to spend at Scoop; I was not paid in any other manner and all words and thoughts in this blog post are my own. There are no affiliate links in this post. Please click this link to learn how blogs make money.