This article may contain affiliate links; if you click on a shopping link and make a purchase I may receive a commission. As an Amazon Associate, I earn from qualifying purchases. 
Whether you work in finance or fashion, physics or a philanthropy, there are some basic needs for a corporate wardrobe. Maybe you will speak at a conference, possibly you will be interviewing for a new position, possibly you are traveling on business. Below are the top six things I have learned over the years in different fields, to be the items necessary for a completely polished, professional wardrobe. These items are the pieces I see women most often NOT own and by not owning it usually diminishes their professional appearance.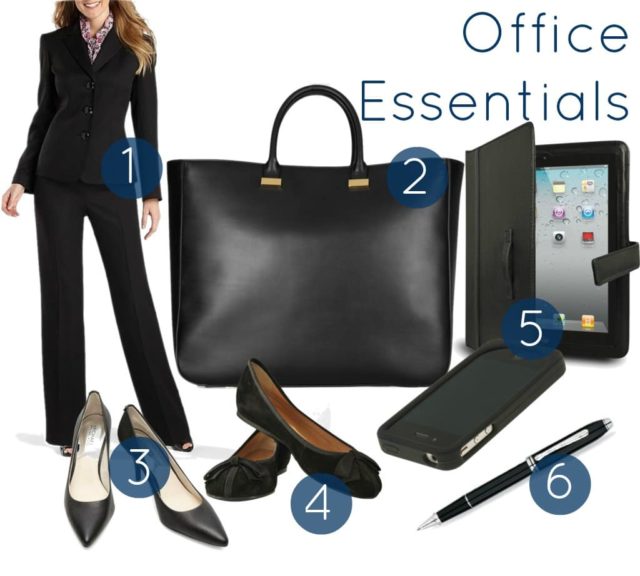 1. A Suit. Seriously, you should own a suit. While a crisp shirt and trousers or a simple dress will work for most work events, there is always that situation where you wished you had a suit. Possibly you're being interviewed on TV, or maybe you're speaking at a conference. Maybe you're chosen to give clients a tour of the facility, or you're having your headshot taken for the company website. Murphy's Law, if you don't own a suit a situation will arise where one is necessary.
Skirt suits are no longer a necessity, and they leave you wondering about appropriate footwear, if hosiery is necessary, and the proper length or need for a slip. I deal with conservative government clients and find none of them blink at a woman in a pantsuit. If you choose black, it's extremely versatile, slimming, seasonless, and less likely to look dated in a couple of years. Buy quality – a cheap suit looks cheap from a mile away. No need for designer, you can find sale suiting quite easily at chain retailers like Ann Taylor, Lord & Taylor, and J. Crew.
2. A Simple Leather Tote Bag. This item is the inspiration for this post. The other morning I was walking past the Mayflower Hotel and I saw a woman leading a group of individuals, most likely from the hotel to a place for breakfast. It was all men in gray and navy suits looking confused, and this woman, on a cell phone, looking extremely competent and in control. Sleek bob, a black skirt suit with cobalt blouse, expensive black pumps… and a canvas and lemon yellow patent leather tote bag with a stain on it.
In 2001 when I changed jobs, I treated myself to a black leather tote from J. Crew. It was on sale for $99 and I questioned the idea behind spending so much for something I didn't necessarily need. In the past decade, I have used this tote on numerous occasions – for interviews, to carry my laptop to business meetings and conferences, as my carry-on for day flights to client sites. It's sleek, structured, free of logos and embellishments, and some of the best money I have spent.
It's better to buy a lesser-known brand free of a logo than a big fancy It Bag with logoed fabric or a big brass plaque on the front. Visible logos are never professional, and interest in certain designers change from year to year. Have it structured so it can hold your laptop in a sleeve, keep your resume from getting creased, and sit on its own on a table or the floor. Have at least once zippered compartment for small essentials and keep it clean and conditioned so it looks great now and five years from now.
3. Black Pumps. No more than a 3" heel, slightly pointed or almond toe, no visible decorations, no platforms or peeptoes or wedge heels. Smooth leather, no fancy finishes. Have them comfortable, classic, sleek. Polish them regularly and take them to the cobbler each season to be reheeled, resoled, and to have nicks on the heels covered. Wear with everything from cocktail dresses to trousers with twinsets. Buy wisely, and be willing to spend more than $50. If you care for them, these shoes will last you for many years of stylish professional wear.
4. Black Commuter Flats. there's nothing worse than seeing a professional woman in a fabulously-tailored power suit, dashing across K Street in a pair of dirty TOMS or puffy sneakers. Not only that, there will be times when you will need to leave your office and walk to another location, give a tour of the campus, hoof it from one end of an airport to the other to catch your connecting flight. Be prepared with comfortable, broken-in but not beaten-down commuter shoes that have a closed toe and can be tucked in your tote and slipped on in a second. As with the pumps, polish them often and keep them looking clean and fresh.
5. A Simple Phone Cover/iPad Case/Laptop Skin. So you've been given a big break at work, the woman upstairs has asked you to lead the presentation. You head to the boardroom in your sleek black suit and power pumps, set your black structured tote on the table and whip out your hot pink laptop with band stickers all over it. Or maybe you attend a conference and end up at a table with some power players in your field, you go to tweet the event on your iPhone with a Swarvoski crystal-encrusted cover. The point is, having a fun or fancy cover for your technology destroys any credibility.
I love my iPhone and I take it everywhere. I love me some leopard print and was tempted to get a cover of that print. But then I realized that while I use my iPhone to Instagram my outfits and friends at events, I also use it to handle business for my day job. So I use a matte black cover from Incipio that protects, doesn't slide off tables, and is subtle and professional.
Go ahead and have the Hello Kitty iPad case, but have a simple one on standby for those times when it's important to look polished and professional.
6. A Nice Pen. It doesn't have to be a Montblanc, but it looks impressive to whip out a nice-quality pen when you have to jot something down or loan one to a colleague. Luckily my company has really nice hematite ones with the logo etched into the side; at my old job I had a Cross which I carried in my work tote. You wouldn't believe how many times people commented on the pen in a positive way.
***
The rest? It can vary from profession to profession. Some offices are more conservative, some more laid-back. Needs depend on your industry, your location on this planet, and your position with the company. However these six simple things can take your good work look and make it great. Having such pieces in your wardrobe already means less stress and scrambling when you get that opportunity to lead, impress, or represent your company.
Follow Me | Twitter | Facebook