This article may contain affiliate links; if you click on a shopping link and make a purchase I may receive a commission. As an Amazon Associate, I earn from qualifying purchases. 
We "old school" bloggers stick together. We remember when the fashion blogosphere was much smaller, less commercial, and just about sharing personal style and connecting with like-minded folks across the globe.  While we may lose touch a bit from time to time, there's always a place in our hearts for one another.   Pearl Westwood is one of those "old school" bloggers who I have followed over the years. While she has always had killer style, it has been so much fun to see her hone it over the time on her blog, Fashion Pearls of Wisdom.
Pearl's blog is no longer in existence, but I kept her interview for style inspiration.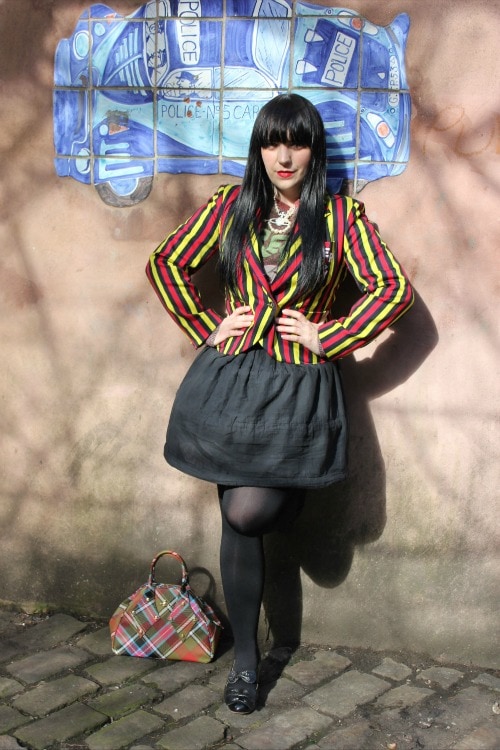 Pearl really knows herself, and how to use clothing to express it. Her look shows that she is an individual, celebrates it, yet has a passion for fashion. Pearl epitomizes what I think of as British fashion – edgy, eclectic, yet relaxed. The Brits see the fun in fashion, yet take it quite seriously. It is no surprise that Pearl's favorite fashion designer is Vivienne Westwood.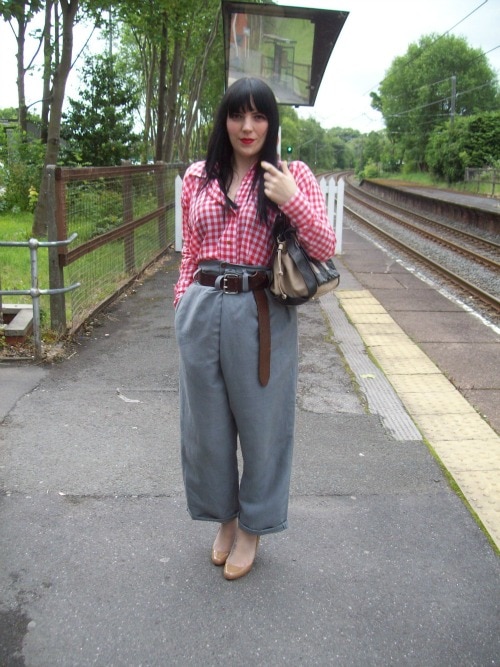 Pearl's blog doesn't just feature her personal style and recent purchases, but breaks down the latest looks and runway shows, analyzing the concept, thought, and designer. Pearl understands and respects the talent and history behind fashion.  She will often feature a designer I had never heard of but instantly love and respect thanks to her analysis.  I love how she will drop a fact about an obscure brand or a designer's collection from a decade ago as easily as many speak of reality TV or current events.  Sharing of such information isn't for Pearl to show off her immense fashion knowledge, but because she loves and lives fashion.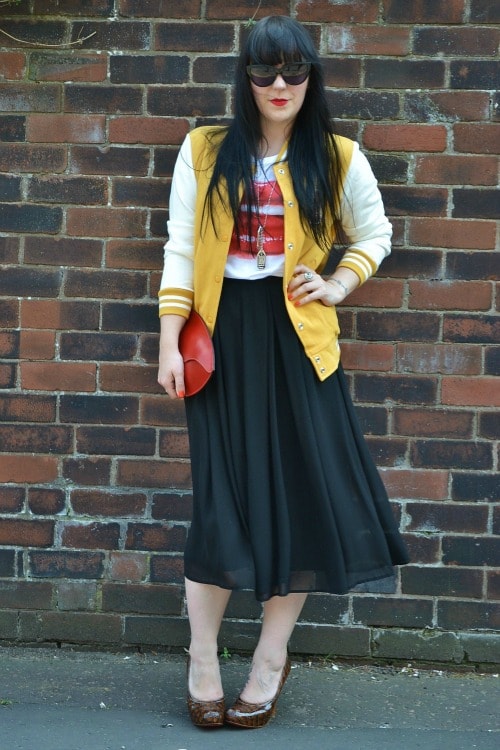 While Pearl is quite aware of what is current in fashion, she stays true to her personal aesthetic and only takes on the trends that adhere to her personal style.  I think what I admire most about Pearl's style is how consistent it is.  Consistent isn't a bad thing – one look at Pearl's blog and you can see that her style is anything but boring.  But she knows herself, what she likes, and what she wishes to say with fashion and is always true to herself.
Enough of me raving about Pearl, here's her side of the story. As with every other True Fashionista, I have asked her to answer the same five questions:
How would you describe your personal style?
'Like Vivienne Westwood vomited all over me' is how one friend likes to describe me ha ha good job we share a wicked sense of humour! I hold my hands up and have to admit Vivienne Westwood features heavily in my wardrobe, I just love everything about her designs. I don't think there is any other designer who pushes the boundaries quite liker her and the fact that many of her pieces come with political messages, such as to save the rainforests, they have have meaning as well as style. Mixed in with that are other carefully chosen designer pieces and a stack of vintage. I don't really care where my clothes come from, it's not about the label, but about how they look. I would rather have one thing that I am totally obsessed with and wear everyday than a bag full of things I wasn't all that fussed about. My key items are jackets particularly vintage sequin ones, ankle socks and crazy heels.

Where did you get your passion for fashion?
You know I'm not really sure, it has always been something I was interested in. My mum says I get it from my maternal grandmother, who I sadly never met and since my mum is totally glam herself I would say it runs in the family. I think my mum really helped by encouraging me to experiment with fashion as a child, when I was a kid she would braid multi-coloured ribbons into my hair so I could look like 80's pop star Boy George!
Where do you find sartorial inspiration?
I gobble up everything and anything fashion, from runway shows, glossy magazines and hundreds of blogs it is my job to know about all the latest trends and I love to learn so I can't deny this has influence on me. But what I really find inspiring is vintage shopping, just getting to examine beautiful and unique things sets my imagination off. I also really like to see what other people are wearing, I find it fascinating how two people can wear the same thing in such a different way. I admire people who dress for themselves regardless of current trends such as Dame Vivienne Westwood and the late Anna Piaggi. I try to take all this on board to feed my own imagination but most of all the one thing that inspires me are the clothes themselves. Nothing can beat that feeling of finding a item which you just fall for head over heels, be it for it's beauty or unusual construction, the pieces that you put on and want to twirl around in, fashion should be fun above all else.
What is the difference between fashion and style?
Ah the ago old question! I think anyone can go out and buy fashion but it takes style to be able to wear it well. That said everone has their own opinions on what defines the two. Personally I love fashion, I love a new trend and I love getting dressed up. Perhaps it is more to do with your attitude, you could wear a bin-bag and be stylish so long as you had the confidence. I am reminded of a story about Vivienne Westwood, when she had gotten caught out in the rain whilst riding her bicycle to a meeting. Ever the DIY advocate Vivienne had fashioned herself a hat out of one of her store carrier bags to save her hair getting a soaking. Pulling up under the window to park her bike, those she was meeting laughed and ridiculed her, even taking a photography and publishing it in a mocking way. So Vivienne went and embroidered that very photo inside her couture clothing, the eccentric lady with a plastic bag on her head grinning at you as you handed over thousands of pounds to her. I think we can safely say it was Vivienne to get the last laugh. Have faith in yourself and take your own opinion, it is you who has to wear the clothes at the end of the day.
Any advice for a woman who is starting to find her personal style?
Enjoy it! I actually started my blog because I wanted to record the style journey I was on. Having had an interest in fashion for many years it wasn't until I finished my undergrad degree at uni and I guess started to grow up that I really found myself conscious of fashion again. I was on a personal journey as I had to decide on my career and also a journey of self discovery as I finally lost the weight I had been wanting to shift for the past couple of years. Suddenly fashion became something I was able to play around with instead of just having to wear whatever I could find to fit. I realise now that most of my problems with fashion had been in my own head, it was more to do with confidence than dress size. So now I would advise everyone to stop worrying about what anyone else thinks, stop worrying about all the 'style rules', pick and choose what tips you like and get out there and start having fun. If you want to wear bright pink and orange do it! If you want to go into a designer boutique do it, don't be intimidated. Have no fear!