This article may contain affiliate links; if you click on a shopping link and make a purchase I may receive a commission. As an Amazon Associate, I earn from qualifying purchases. 
We often purchase a new sweater, shoes or dress that seems fantastic but a year or two later is either in the donation bag or the dusty back of the closet. Even though I try to be careful and thoughtful with my purchases, this happens to me as well.
Last week I was on the DC Metro heading to work and I looked down at my outfit to realize most of the pieces I was wearing were things I had not purchased recently. I decided then to make a list of the top ten best purchases I have made over the past five years. These are not necessarily the best purchases for others, but have been great buys for me – a 30-something petite, curvy professional who lives in the Mid-Atlantic portion of the United States. I encourage you to share your best buys as well, and the reasons WHY they are best buys. You never know, your best buy may be exactly what another reader is needing for her wardrobe!
1. Lands End Commuter Coat – Two years ago I changed jobs from one where I drove to a building in the DC suburbs, to one where I took the Metro and walked a few blocks in the city to my workplace. This change affected my wardrobe, especially my outerwear collection. No longer could I get away with a pashmina and umbrella for the majority of the year – I needed garments to properly protect me from the elements.
My first purchase was a proper winter coat – after many online reviews and great previous experience with Lands End, I purchased their Commuter Coat. I needed a coat that would keep me warm without bulk, work with pants or a dress, keep my bum warm on a cold bench and also work if snow turned to sleet.
This coat did it all and more. The Commuter Coat is a simple silhouette that doesn't look dated even though it is being worn for its third season. It's super warm, but thin enough to be stuffed into a tote bag when the Metro car is 95 degrees. The coat is reversible (though I find the non-quilted side to look a bit dowdy) which means there are always secure interior pockets. Speaking of pockets, they zip close and are deep so I never fear losing my SmartTrip card or cell phone. Being a petite curvy woman, a quilted coat can easily make me look as though I am wearing a sleeping bag; this coat is far more flattering than any other quilted coat I have ever dared to try on. The high neck protects me against cold winds, and the style is tailored enough that I can wear it with a business suit and not look like a confused Sherpa, and it always looks great with a colorful scarf, jeans and boots.
I am a woman who finds a wool coat to be more stylish and versatile than a quilted nylon coat, but sometimes a woman needs more function that wool can offer. This coat gets the job done without sacrificing all style.
(Style I own currently not available on Lands End site but it has been available on their site for at least the last three winters – so check back this fall!)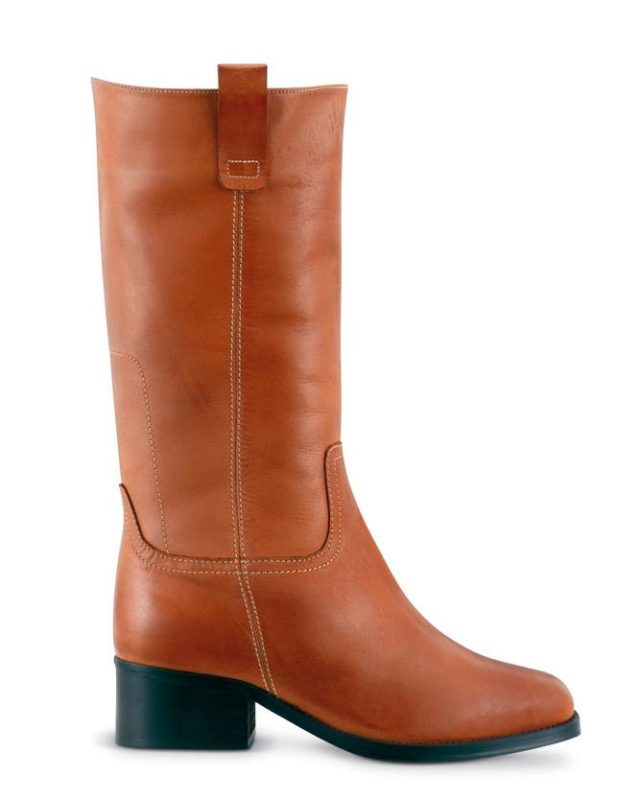 2. My Bern boots from DUO Boots – Part of me didn't want to put these on the list because I have recently been frustrated with DUO, but I love these boots so much.
DUO makes amazing, high quality boots and shoes for all widths of calf and foot. If you live in or visit the UK, I recommend you check them out in person. However if you live outside the UK, the shipping is so much and the return policy so difficult, it may not be worth it to try this company. I currently have a pair of boots from them that I need to put on eBay because the boots were backordered so long that by time they arrived, I was on pregnancy bedrest (and they were shipped to my office, not my house). By time I was able to get ahold of them, it was past the return period and I found they didn't fit over my ankles. I have asked them twice for advice on what boots could fit my large ankles like the Bern and both times I have gotten emails that either misunderstand what I am asking (they tell me wide foot styles) or else offer suggestions that do not fit in any manner like the Bern (hence me having a pair of boots in my office that need to be put on eBay).
That being said, my Bern boots from DUO are awesome. They fit my large "I was a child toewalker" ankles as well as calves and have a style similar to the Frye Harness boots. They are a pretty classic style that can be worn with jeans or with dresses. They are fleece-lined so they keep me cozy in winter and don't make me sweat in the summer. But best of all – these are boots I can wear all day. Seriously, all day. They are just as comfortable as a pair of slippers – maybe more so because there is arch support. When I have a day where my heels kill me, I will come home and instead of going barefoot I will put on my DUO boots. When I went to the Bonnaroo Music Festival in Tennessee, I took my DUO boots. I used some waterproofing solution on them and wore them with my sundresses in the 100-degree weather, on the hot dusty days, and the rainy mucky days. These boots survived this four-day event (as did my feet) and they still look work-appropriate.
If I won the lottery, I would order another pair of Bern boots from DUO in black. I wish they had the same exact style with a slightly higher heel – if they did I would want them in every color.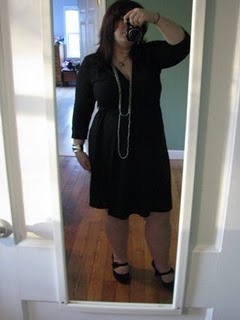 3. Black Matte Jersey Wrap Dress from Old Navy – I am a huge fan of matte jersey, and of wrap dresses. I have owned at least a dozen in the past decade, but this one from Old Navy has by far been my best purchase. Unfortunately I can't link to this item because even when I bought it two years ago, it was on the clearance rack in the store for $19.99 and I had never seen it online.
Why this wrap dress and not the one I have from Maggy London, Ann Taylor or Talbots? Because it has everything I could possible need for fit, style and versatility. It has a ¾ sleeve which means I can wear it in winter or spring without looking out of season. There are no details or adornments that make it memorable, and means I can dress it up with pearls and peeptoes for a day wedding or a beaded necklace and boots for work. The length hits right at the top part of my knee so it hides my knee bulge but doesn't look matronly. It is a faux wrap so it won't fly open with a strong breeze, yet the wrap belt lets me cinch the waist to create a nice silhouette. I can throw it in the washer on the gentle cycle, hang it up and have it ready to wear the next day. Finally, it fit me when I was a 10, fit me when I was in my second trimester of pregnancy, fit me postpartum when I was a lumpy size 16/18, and fits me now.
I always say to purchase quality and not quantity, and that quality can be found anywhere and at any pricepoint. Well this Old Navy dress proves it!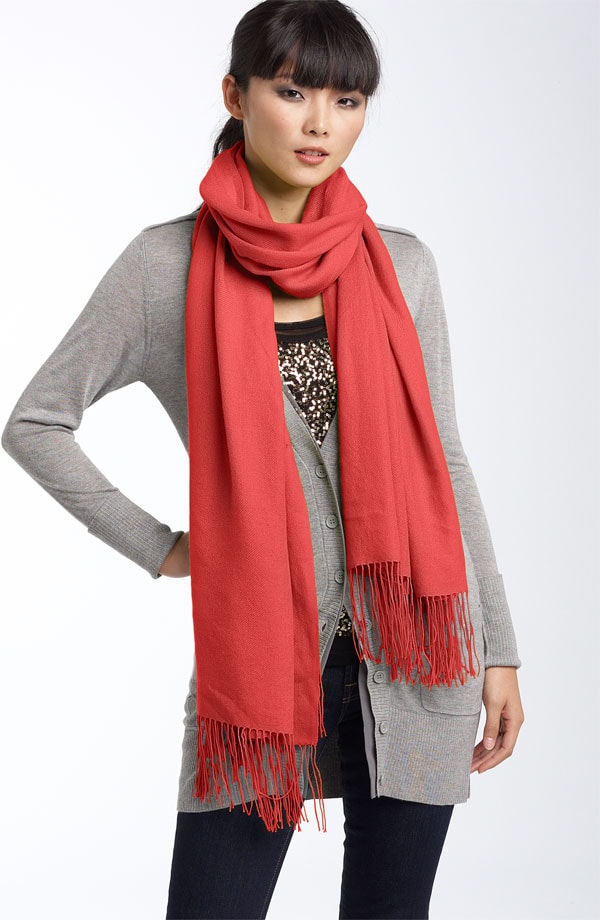 4. Pashminas from Nordstrom – I own five solid-colored pashminas and a few printed shawls that are the same size. They have been purchased at little boutiques, discount Big Box retailers, eBay shops, and have been given to me by online retailers so I can talk about them on my blog. I love them all and wear them all the time, but my pashminas from Nordstrom are the ones that get the most play and the most love.
Why? Because they are perfect. They aren't too thick, and aren't too thin. The fringe never unravels or gets tangled. The colors are rich and true and stay rich and true with multiple washings. They are so soft and cozy, you wish you had sheets and pajamas from the material. They are the perfect size to be a shawl with a dress, a scarf with a winter coat, a napping blanket on an airplane, even to be knotted at the breast and worn as a makeshift nightgown on business trips. They can be balled up and thrown in your carryon bag or purse and they come out looking fresh and fabulous.
Nope, they aren't cheap (usually $99 unless you find one during their Half-yearly Sales), but they are completely and fully worth the money. I bought an aqua one almost 10 years ago and it still looks perfect except for a hole in it from having it get caught in my office chair. I bought an avocado-green one during a sale a couple of years ago and it's a gorgeous color and still my favorite scarf in my collection.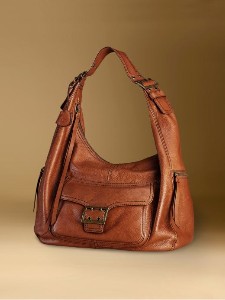 5. Camel Banana Republic Sandhurst XL Shoulder Bag/Hobo – I bought this… three years ago I believe. This was my first Banana Republic leather bag, and my first "expensive" purse. Before this bag, I always got purses from places like Express or TJ Maxx or Target. Once I got a bag from the clearance bin at Nordstrom for $70 and thought I was going crazy with the dinero.
Well one time in Banana Republic I saw this bag and fell in love. The leather was soft, yet looked like a football. It had the perfect pockets – one for my Blackberry, one for my cell, one for my SmartTrip card, and one to hold things like pens and lipglosses and things that get lost in a main compartment. It also had a keyhook that was easy to reach and use even while the bag was over my shoulder. The strap was the perfect length – it fit nicely under my arm, even while wearing a winter coat. It was around $300 – too rich for my blood. But I returned again and again to Banana Republic to look at it, touch it, try it on. I checked out the green, the black, the dark brown but kept going back to the light brown/camel color. I never wear camel, but I wanted this bag.
So I stalked it on eBay. And I got it for $200 in new condition, even with the storage bag. It arrived and I could smell the leather through the USPS flat-rate box. It was a classic style, yet looked expensive. I loved that it wasn't exactly brown and wasn't black so it worked with pretty much any shoe in my wardrobe. The hardware was blackened brass so it didn't clash with silver or gold jewelry. When I tossed it on a couch or over a chair back, I always got compliments. It didn't have obvious logos and I was often asked if it was some designer bag or if I got it in another country on some fabulous trip.
The next year, I saw another Banana Republic bag I loved. Again I stalked it on eBay and I got it for even better of a steal. It arrived pristine in the storage bag… and there wasn't the same love. It wasn't as perfect. The leather wasn't as supple and the color wore away on the strap. The pockets weren't as perfectly sized and my cell would fall out and get lost in the abyss of the main compartment. The strap was just a hair shorter – enough that I looked awkward wearing it on my shoulder with my winter coat. The love was lost when I had it on my lap one time on the Metro and used it to prop up the newspaper – when I got to my station I folded the paper and saw that the ink transferred all over this bag. I went online to find ways to clean the leather. I tried a very gentle soap on a spot and the entire color and finish as well as the newsprint wore away. I took it to a leather specialist who said the dye and finish wasn't study enough to handle a proper cleaning and he could possibly end up ruining it. I put this bag back in its storage bag and placed it in my closet. I returned to the Sandhurst and returned to weekly compliments and people asking where they too could get such a cute bag.
I kept using the Sandhurst until this past fall, when a bottle of expressed breast milk busted open and leaked all through the bag, the lining, through the leather and onto my lap. For those who have nursed and pumped, you know that breast milk goes sour very quickly. By time I had gotten home, the entire bag reeked of sour milk and no professional cleaning could completely get out the crunchy stain on the leather or the horrible smell. However I can't let go – the bag is in my closet in its storage bag, right next to my other Banana Republic purse.
I currently have another purse that has all the right pockets and is a versatile color and nice leather… but it's no Sandhurst.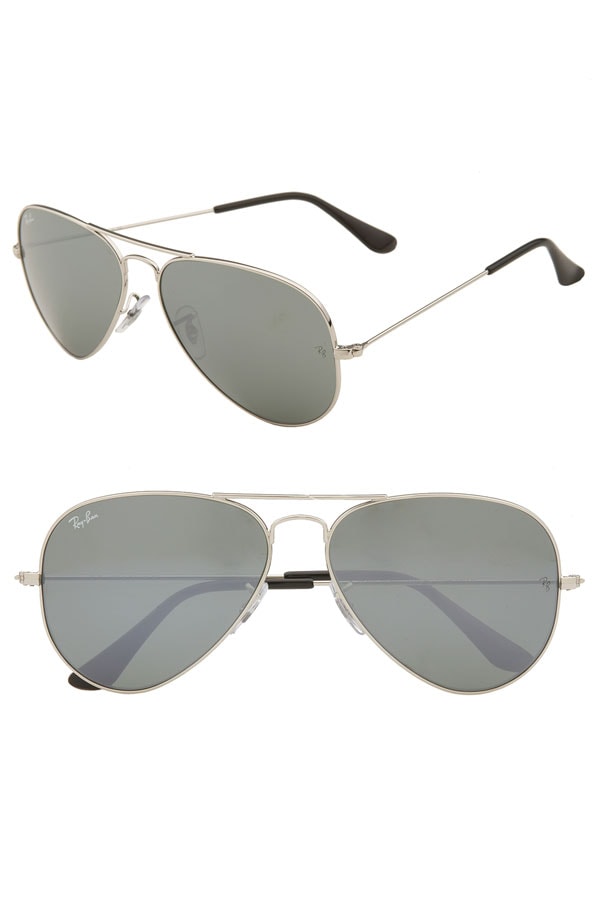 6. Ray Ban Aviator Sunglasses – As with purses, I have always been a discount sunglasses woman. Black plastic frames have been en vogue for so many years – who cares if they are Dior or from the drugstore? Anyway, I am one to step on sunglasses, lose sunglasses or forget them in a boiling hot car – it never made sense for me to drop bucks on a pair of shades.
Two years ago, I won a contest through a magazine where I got a weekend trip to Miami and a $500 gift card to Bal Harbour Shops. I decided that with this money, I should purchase something I would never ever otherwise buy. My goal was to get an It Bag, but I never saw one that weekend that I actually liked. So on the last day, I went into Celine and bought a $250 pair of sunglasses. They were very cool – I thought I looked like a rock star. I used the rest of my gift card on a bottle of perfume, a couple sale items from Banana Republic and the rest went toward a necklace my sister wanted from Tiffany. Of course as we were leaving the mall I saw a Marc Jacobs bag that I loved that was on sale but it was too late.
The sunglasses fell apart at lunch later that day. I was so upset. I went back to Celine and after FOREVER, fighting with the salesperson to get a replacement, etc. I left with a new pair. That pair fell apart a couple weeks later. When I contacted Celine stating that I was in a different state, my $250 sunglasses fell apart I received a response that pretty much said, "sucks to be you!"
I decided to go back to my discount sunglasses. Aviators were back in style and I was so glad as that IU have a big face that needs a larger style, and metal frames are less likely to get warped when being left on my dashboard in August. I bought a pair from Target – they were cute but didn't shield me enough from the sun. I got a pair from Ann Taylor Loft and they always sat funny on my ears. I found a pair at Marshall's and always felt that they looked as cheap as they cost.
I was 39 weeks pregnant and felt like crap. I was on bedrest and could only stand for 30 minutes at a time. I felt like a beached whale. My hair was in need of a cut and color, I hadn't seen my toes in weeks, my maternity clothes had been worn and reworn so often I wanted to burn them. My sister drove me to my midwife appointment and on the way home we passed a mall. My sister had a pair of shoes to return to Nordstrom and asked if she could do so. I said I wanted to come in – I would use my 30 minutes of standing that day for some much-needed retail therapy. In those 30 minutes I bought two pairs of silver earrings and a pair of silver aviators from Ray Ban. When 39 weeks pregnant, the only things I knew would fit me then and six months later were accessories. I then got myself a delicious fattening decaf coffee drink and met my sister to head back to the car.
It was a cloudy, dreary day. I didn't care, I put on my new sunglasses and felt cute for the first time in months. I felt cute and sassy. A year later, these sunglasses still make me feel cute and sassy. Unlike the pricey Celine shades, these sunglasses are super durable. They are a classic style that I think I can wear for years, but still look current and on trend. They are silver, which is my favorite color of metal. They look cute with a bathing suit, a sundress, weekend duds or a nicer outfit. They fit my face perfectly – more perfectly than any other sunglasses I have ever purchased. And though they weren't cheap, they are a value as that I have no need to purchase any other sunglasses as long as I have these. Again, proof of quality versus quantity and proof that money doesn't equal quality.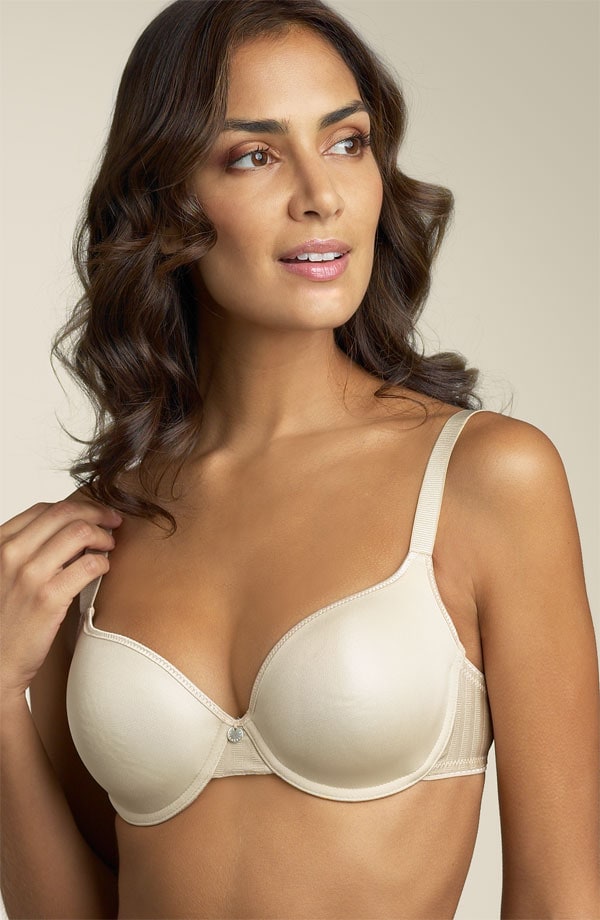 7. Chantelle "Senso" Bra – As I write this, I am wearing this bra. I think this is the fourth one I have purchased in the past five years.
I have large breasts, and it has always been hard for me to find a bra that is invisible under sheer knits, lifts and separates, doesn't make my shoulders ache at the end of the day, doesn't show with a scoop or low neck, and hides "high beams." Well this bra does all of this for me.
The Senso
is tight when you first get it – the band isn't very stretchy. I have pulled a muscle trying to latch a new Senso
bra. However this is one reason why it gives such amazing shape and doesn't dig into my shoulders. This bra molds to your shape – after a week or so it's easy to get on, yet it is still as supportive. For my fair complexion, I find the Nude color of the Senso
to be almost the same exact color as my skin – not a weird yellow-tan color like many other "nude" bras. The cups are slightly molded and padded – not so much that it makes my bust look bigger, but enough to give me a nice shape and smooth professional look.
Now that I have been nursing my daughter for almost a year, my breasts are not the same shape, size or firmness that they used to be. The Senso
hides this fact, by still giving me a perky bustline.
After six months, even with gentle care I find the Senso starts to fall apart – the wires pop out, the elastic starts stretching out. I still find these bras worth it and just purchase a replacement bra. I fear this bra being discontinued because I love it so much and it loves me in return.
8. Shoes by Sofft
– I have never been one to sacrifice style for comfort. Four-inch pointy toed pumps? Bring it on! However when carrying a baby in the third trimester, I found high heels not only painful but dangerous. I didn't want to waddle around town in
Crocs
and tennies, so I needed some alternative that would be kind to my feet while still having at least a bit of style.
Enter Sofft shoes. I started off with their "Veronica" Mary Jane in brown suede. It had a vintage-inspired silhouette and a cute little leather flower at the strap. I bought them a whole size larger than I wore pre-pregnancy and went from a medium to wide width and was in footwear heaven. These shoes were wearable all day, even when I was at the end of my last trimester and was swollen with high blood pressure. I constantly got compliments on how cute and sassy they were – quite a feat when puffy and pregnant.
Postpartum I realized I didn't fit into my old shoes and I no longer had the muscles or endurance for stilettos. However I just couldn't resort to dowdy flats and clunky loafers. Sofft came to the rescue again with "Carlina
," a dark red patent leather T-strap sandal that again had a cute vintage-inspired look. These shoes were so comfortable yet so incredibly cute. The red patent leather was an unexpected neutral that worked with most of my spring and summer wardrobe. I loved them so much I bought them in black and wore those with pants as well as dresses and skirts. I have even rocked the red pair this winter with opaque black tights. I then bought the Sofft "Vanna
" – a T-strap similar to the "Carlina
," but with a slightly higher stacked heel and in brown croco-embossed leather. These looked fantastic with dresses, with my ivory work trousers and with jeans. My summer shoe wardrobe was complete.
My foot muscles are coming back and I have slowly been infusing higher and skinnier heels back into the wardrobe. However I still have a, ahem… "Sofft" spot in my heart for Sofft shoes and am always looking to see what styles they have (and what styles are on sale).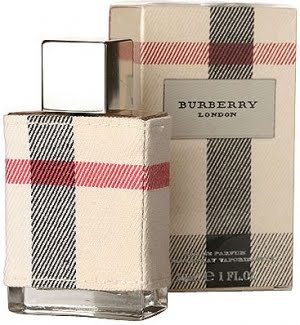 9. Burberry London Eau de Parfum
– I love fragrance. I must have two dozen bottles of perfumes and sprays on my dressing table. However I have spent the past two decades looking for The One. A fragrance that is me – not too girly, not too musky, not too fresh. A fragrance that I don't even notice, and a fragrance that I don't smell on every single other woman in the elevator. Many perfumes would give me headaches or cause me to sneeze so I needed one that didn't irritate. Unlike some women who love a different fragrance for every season and reason, I wanted a signature scent that I could spritz every morning and make part of my routine.
My husband and I both played hooky from work a few years ago and went Christmas shopping at a nearby mall. We stopped in Sephora so I could get him a new cologne. He suggested I try a couple fragrances (at this point in my life I had given up on wearing perfume). I talked to the salesperson and we discussed my sense of style, my personality, what fragrances in the past I have loved (Chanel No.5
but my mom wears it) and what I hated (Calvin Klein's Escape
makes me have a migraine). We tried a couple scents that were… okay and then she spritzed Burberry London on the inside of my elbow. I inhaled… and I felt comfortable, elegant, myself. My husband smelled it and smiled. "This smells like you when you are having a good hair day." I knew what he was trying to say, and it was exactly the type of scent I wanted for myself. He bought me a bottle and I have been wearing it almost every day ever since.
Unlike Chanel Chance
or Narscico Rodriguez for Her or Chanel No. 19
or Dune
or Opium
or any other fragrance I have tried and eventually hated on myself, I haven't lost the love for Burberry London. And now that I have a child, I love that I have a signature fragrance that she can smell and think of me (as I do with my mom and Chanel No. 5
). I love that I do a spritz on my wrists and one on one throat and then go to kiss my husband and daughter goodbye and my husband sniffs and says, "you smell pretty." I love that I finally have a fragrance where a friend can borrow my scarf and breathe in and say, "this smells like you" and has a face letting me know that it's a good thing.
An Alison fragrance… what I have always wanted!
10. Dresses by Muse
and Maggy London – When you are petite, over a size 12 and busty, it's hard to find cute dresses. Most dresses that fit in the bust are too large in the shoulders. If they are petite in shape, they are too tight in the body. If they fit in the body, they are too long in the arms and hem. And everything seems to make me look like a porn star and require a camisole and some strategically-placed safety pins. Styles and brands I covet do not come large enough fit me.
Thank God for Maggy London
and my new love – Muse
. These brands made great variations of designer styles, with a broader range of sizes (and a more wallet-friendly price point). After finding these brands, I have become a Dress Person. Nine times out of ten, if I purchase a 14 petite in Maggy London
or a 16 Petite or Large in Muse
, I will have what seems to be a custom fit. Yes the safety pin is still needed to make many of these dresses work-appropriate, but these dresses fit, flatter, are on trend, wear well, wash well and aren't overly trendy. Dresses I purchased five years ago still look new and stylish, and I love having a wardrobe of cute dresses I can easily toss on when I don't have the time or the creativity to build a look.
So tell me readers, what have been the best buys that you have made over the past few years?