This article may contain affiliate links; if you click on a shopping link and make a purchase I may receive a commission. As an Amazon Associate, I earn from qualifying purchases. 
Since I have been a few places over holiday where there were cameras, so I figured I would share what pictures I have…
Christmas Eve we had a lovely dinner at my sister's house (blue cowlneck merino and black pencil skirt both from Ann Taylor sale rack, tall black boots). I don't have a picture of me, but I do of Emerson in her lovely red holiday dress: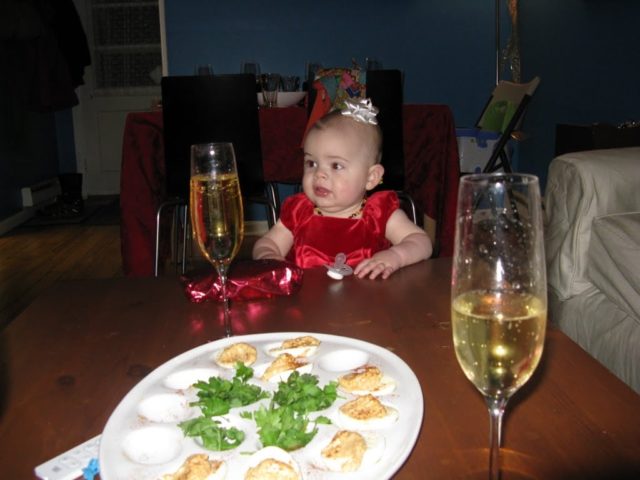 As you can see she was QUITE the life of the party! 🙂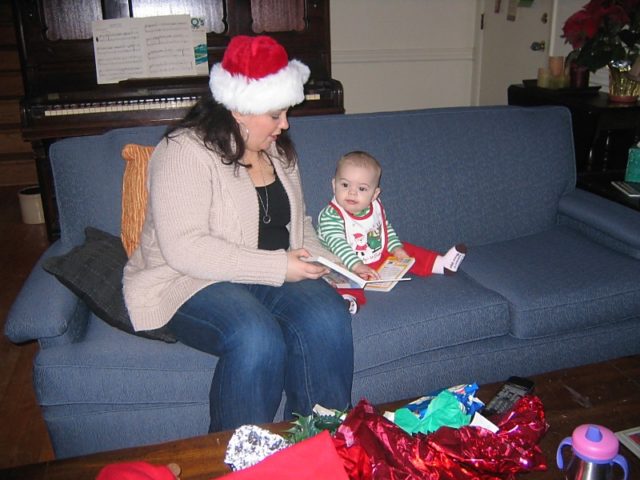 Here I am with Emerson on Christmas Day. Christmas Day is pretty casual for my family. We go to my mom's house for breakfast and to open presents, and then have a late lunch/dinner with friends. I am wearing a pair of Seven jeans I picked up at Filene's Basement for $39, a black pima cotton tank from Banana Republic, and a chunky beige cardigan from Ann Taylor (pricey but got an email for 40% off one item and I decided to use it on the cardigan). I believe I was wearing my black city boots. As you can see Emerson is more casul – this is the Santa's Elf outfit – green and white striped long-sleeved tee, red pants (both from Old Navy) and a "Baby's First Christmas" bib that was from a friend.
The Sunday after Christmas we celebrated the holiday with my husband's family. We were to get together the Sunday prior, but there was quite the snowstorm in the DC area and no one wanted to go out in that mess. No picture of me (wore my Seven jeans, my burgundy dolman-sleeved sweater tunic from Ann Taylor Loft and some hammered brass jewelry) but here is Emerson playing with her new presents: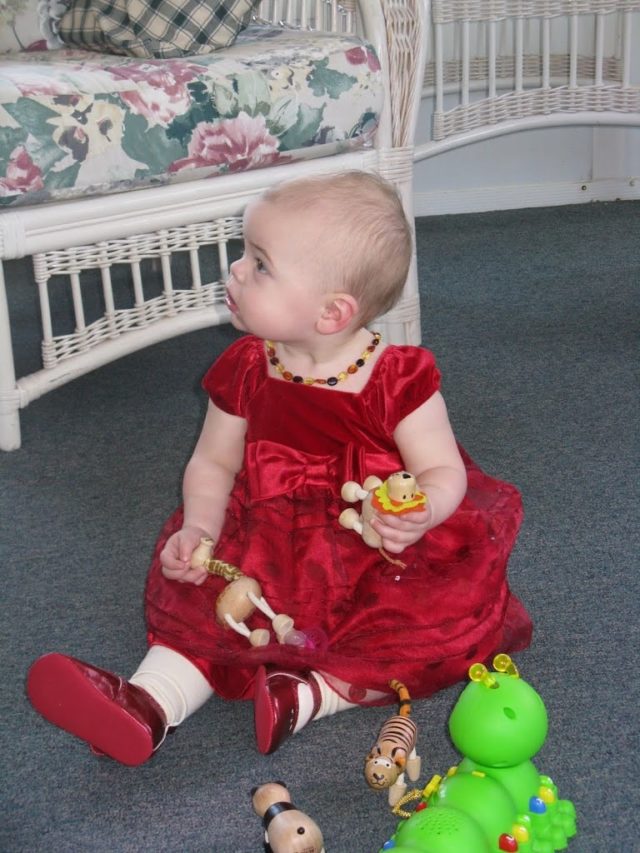 The dress and tights were a gift from her Aunt Debbie. Baltic amber teething necklace (totally swear by it – kiddo has acquired four teeth in the past month and not a bit of fussing!) from
PBi
.
Yesterday we went to my cousin's house to see her recent renovation and to celebrate the holidays. This isn't a great picture, but it shows me and my outfit: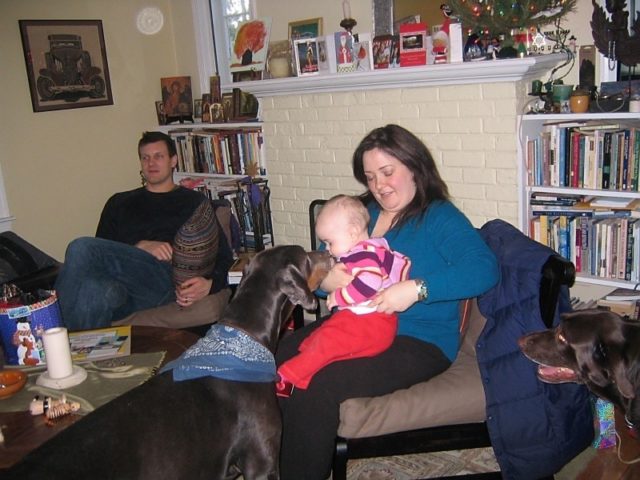 This is a new sweater from Banana Republic – teal merino shawl-neck and only $27.99 (they had a kazillion of them at Columbia Mall on New Year's Day – red, green, black, two-tone…)! With it I wore my New York & Company trousers, a black pima tank from Banana Republic and my black city boots. Silver and blue and green stone cuff and matching earrings from
Anne Koplik Jewlery
.
Emerson is again rocking the red pants from Old Navy (their sales on kids' clothes are SO good and then they have 30% off promotions and free shipping… 99% of her wardrobe is Gap and Old Navy) and a sweater also from Old Navy that she received as a Christmas gift.
Emerson is not yet walking but is darn close – lots of cruising, pulling herself up, standing. It is really hard to find soft-soled shoes for her at this size – they all seem too small or too large (too bad because she got some cute Robeez for Christmas!). These are the same Mary Janes she wore the Sunday after Christmas (Gap) because they are the only ones that properly fit her. When she's home we let her pad around in grippy-bottom socks or footie sleepers but since we were going out we wanted additional warmth and protection. She's just like Dorothy rocking her ruby slippers…
So what did I get for Christmas? I got some gorgeous purple cashmere-lined leather gloves from Nordstrom, a pair of fleece slippers from Lands End, some yummy body wash and my husband, sister and I bought ourselves gifts – we are returning to
Bonnaroo
this summer together!
My husband I decided to spend New Years at home as a family. They often say you should spend New Years Eve doing what you would like to do the rest of the year – well we would like nothing better than have a quiet, lovely time together in our house with our baby.
Emerson will be a year old this Friday and we are having a party for her Sunday – nothing huge, just family and our very closest friends. We have asked for no gifts. Family and friends were so generous this Christmas, and we jsut bought new "Big Girl" car seats for my husband's and my mom's car. So really… nothing is needed and wanted except love and fun for her big day!
I hope all of you had a wonderful holiday season. I am back to work tomorrow after having off since before Christmas so it will be hard to be away from Emerson and my husband all day (hope she remembers how to drink from a bottle!). However I am looking forward to a new year at work – we have a larger team, some great contracts we are working on and a lot of opportunity for growth and development!